While the natural hair movement is gaining popularity, many women of color are just at the start of the journey to their inborn texture. When considering various natural hairstyles, it's necessary to factor in many important aspects like your face shape, hair type, styling abilities and the latest trends. And we are ready to assist the beginners through all these steps, as well as to give an idea of trending hairstyles to hot-shots.
Trending Styles for Different Hair Lengths
Tastes differ, and this proverbial wisdom is very much applicable to lengths of black hairstyles. Some women of color give preference to crops, since they are bold and low maintenance. Others opt for mid-length cuts, as they allow for more versatility, while remaining less demanding in care compared to long locks. However, there are plenty of "long hair don't care" girls who praise the length for femininity and undeniable chic. Well, whichever preference is yours, we have fresh inspo for each length.
Short Natural Hairstyles with a Twist
"A lot of people who are coming in for big chops go for a complete fade, because it's easier to keep up with and requires less styling time," Daryce Brown, Mizani global educator and curl expert, tells Refinery29. Sure, when you are looking for haircuts that are easy to style and to care for, a fade, a tapered cut, an undercut or a TWA are the first ideas to think of. Still, crops can be more unique, eye-catching and stylish, when exciting details are added and extra styling efforts are placed in them. That's why we offer an array of short natural hairstyles, boasting some spice rather than easy care.
Are you ready for a new twist? Then get your side hair braided to create this unexpected Mohawk, full of juicy twists.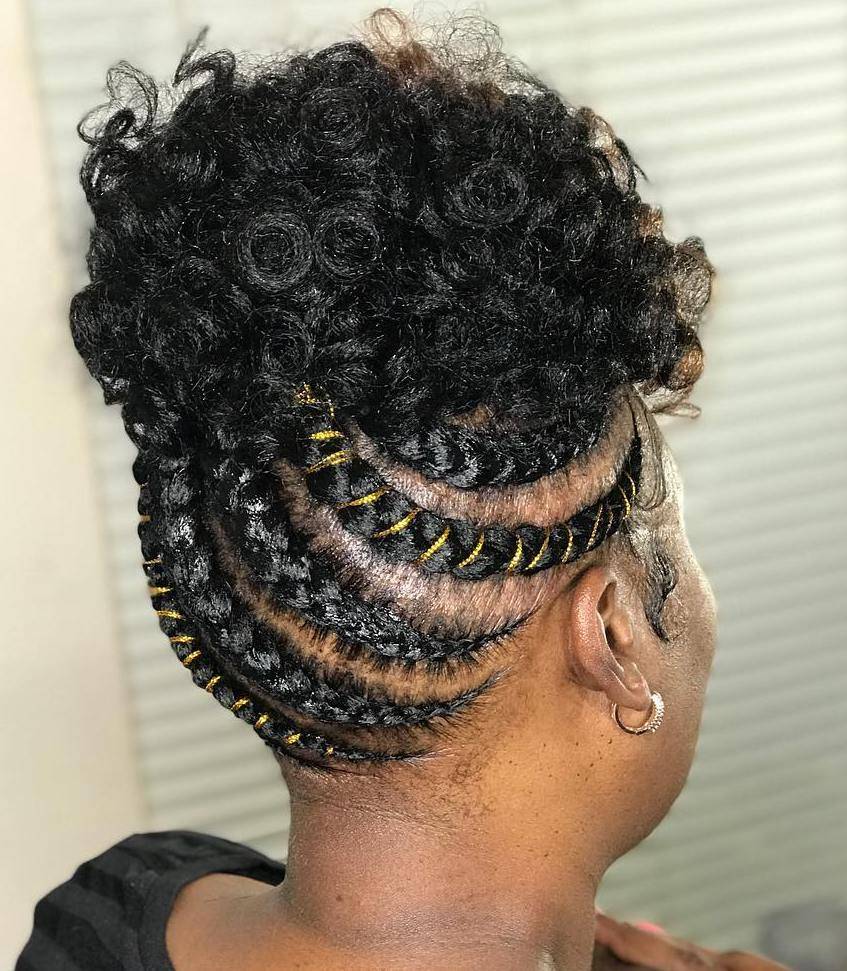 And these braids are wrapped around the bottom part of the head to land into a gorgeous Afro puff, catching the eye with its large tight spirals and highlights.
This half up is a real catch for African American girls with 4 type coils. Just pull the front pieces up to make a nice top knot, while leaving beautifully shaped hair in the back loose and big.
This hawk is a champion among stunning updos for short natural hair. It boasts a unique side pattern and shows tons of texture and volume.
Zorro, is this you? Never mind, just go for an undercut with your own design, which is especially dramatic in dark thick hair.
Medium Length Hair to Show to Your Hairdresser
Varying from a chin level to a shoulder length, medium hairstyles for black women are often seen as the most sought-after for their versatility in styling coupled with undemanding daily care. Besides, it's much faster for black girls to grow out mid-length hair, as we know that curls tend to get frayed because of the lack of oil, not to mention the natural shrinkage.
In the same breath, hairstylists say that it's easier to tame bushy natural ringlets, when keeping them on the longer side, since some extra weight comes with length, and it helps fight the frizz. With so many advantages the mid-length promises, it would be a big loss to miss trendy hairstyles from our collection.
Round-shaped curly bobs are ultimately adorable, and this one shines with perfectly defined curls and cherry red highlights.
This black girl is definitely a "go big or go home" adherent, showing her authentic vibe through a touchable layered cut.
This shoulder-length hairstyle is a bit spiced up with braids and ombre; the curls cascade down demonstrating their beautiful pattern.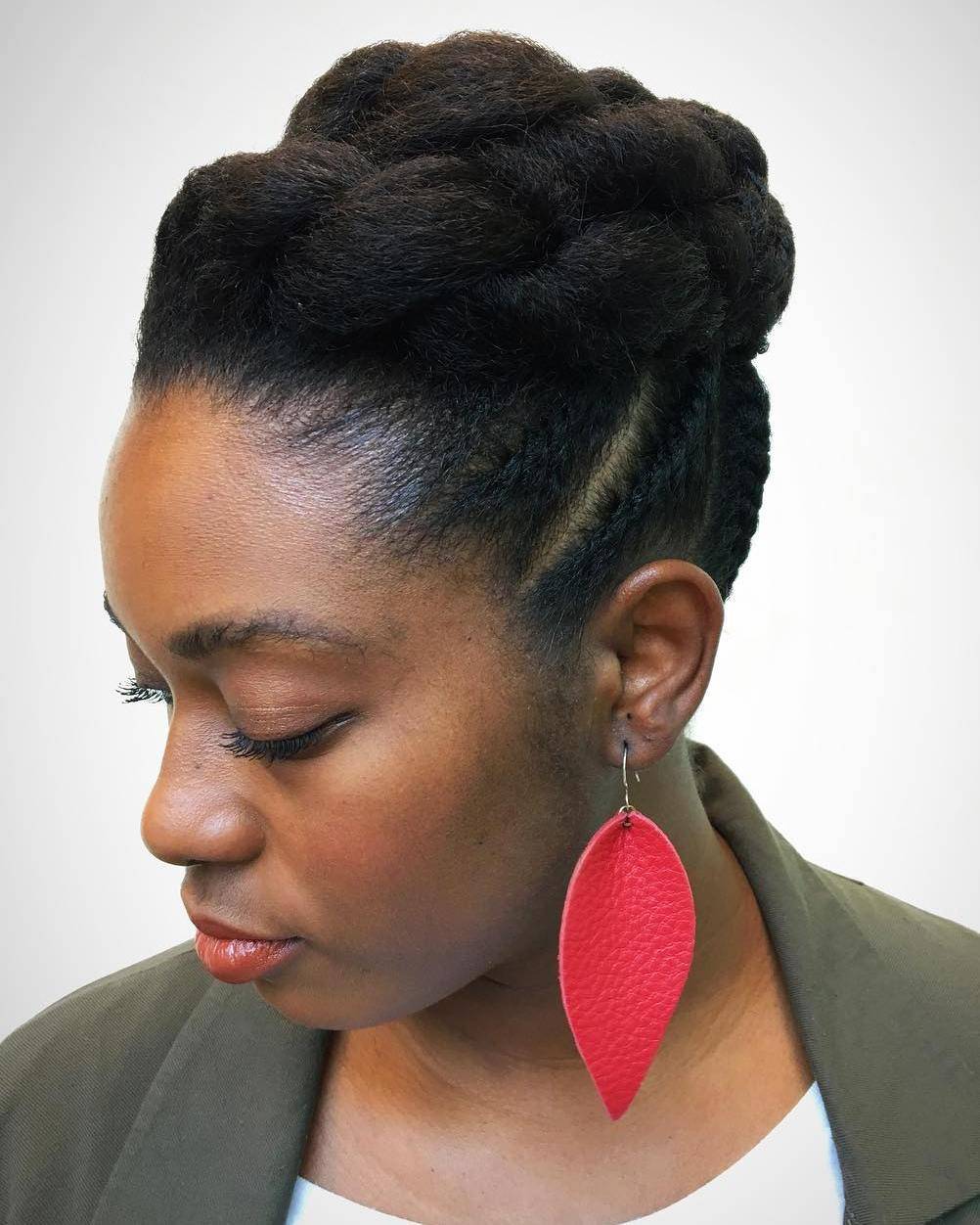 For a distinctive, yet professional look, opt for the awesome flat twist hairstyle, wrapped into a stylish crown bun.
It's amazing how simple two strand twist styling can be transformed into a piece of hair art through unique and intricate patterns.
Long Hairstyles Suited to Every Fancy
Dreaming of cool ponytails, chic updos and fun braids with no extensions added? "With natural Afro hair, long sections throughout the crown give you the ability to create a look that suits your fashion sense and lifestyle need," Charlotte Mensah, brand founder, salon owner and many-times winner of Afro Hairdresser of the Year, says to Marie Claire, but adds that there is no point in growing hair out if not investing in its health. So, if you are sick and tired of short haircuts for natural hair and don't mind spending time, money and effort on pampering your mane, than find your next hair goal in our photo gallery.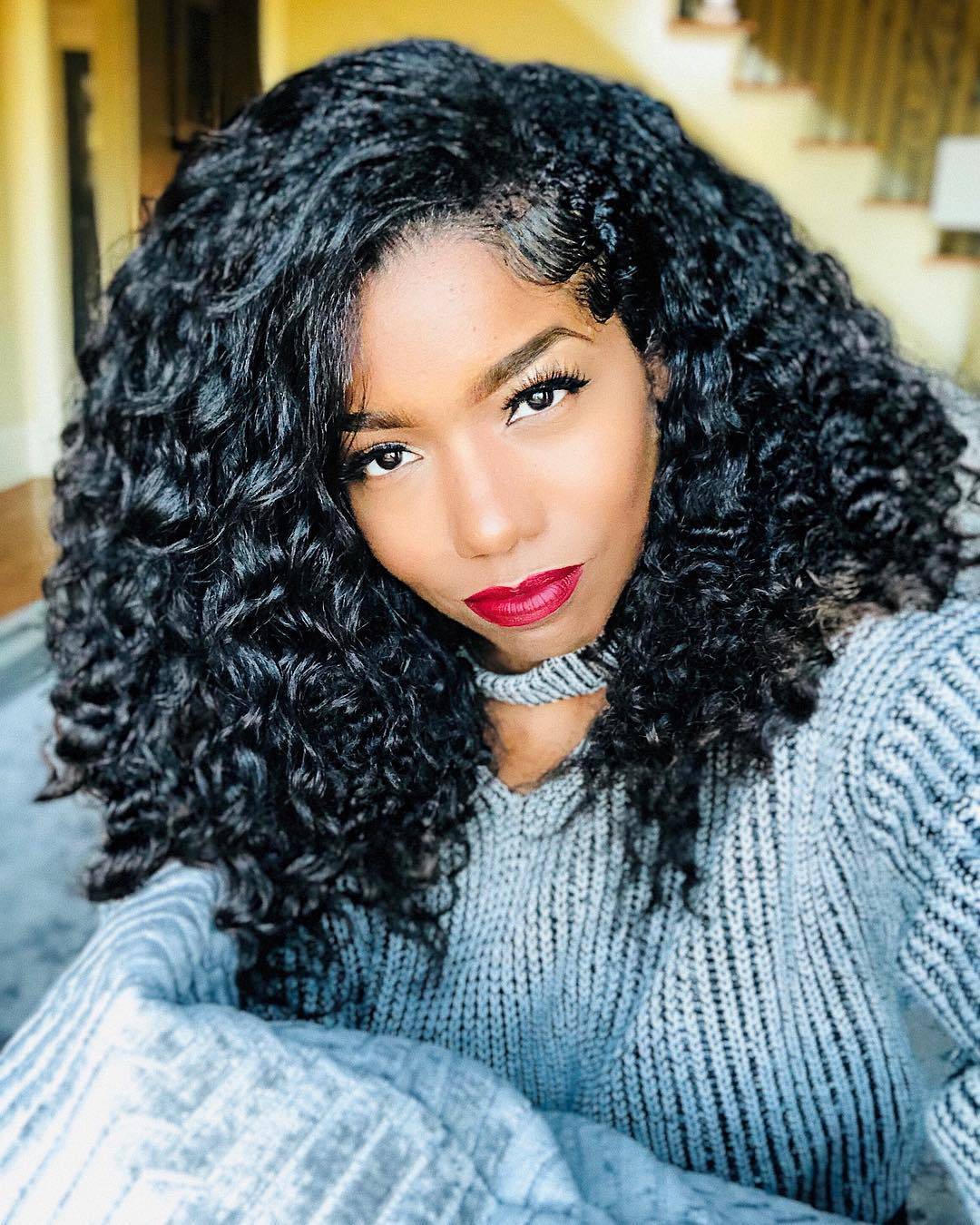 Can you believe that this glorious hairstyle takes a layered cut, a simple twist out and a shine-boosting product?
Oftentimes, less is more, and this kick ass cool silky-straight hair speaks volumes with minimal layering, texturizing and coloring.
This fancy cornrow hairstyle teams up braids, beads and a high pony, but those sweet baby hairs are truly our favorite part.
If you need an idea for a chic prom updo, try this textured hairstyle, made of multiple chunky twists and a pretty combo of warm brown hues.
In your daily routine, keep it really simple, like this center-parted wavy 'do that shifts volume to the bottom to frame the face flatteringly.
Fashionable Styles for Different Hair Types
The rule of thumb is that your hair texture dictates the length, shape and style, at least when it comes to low maintenance. This means that theoretically you can stuff your strands into any hairstyle you like, but it will be extremely difficult to keep it on a daily basis, when your texture is not intended for the style.
And it might require advanced styling abilities, which is not an option for beginners. So, discuss your hair goals with a hairdresser beforehand and ask for a wash and go hairstyle for your hair type, if everyday styling is not your cup of tea. Fortunately, there are so many options for each texture, and we gathered some nice examples in the slider below.
Why not play around with your thick curly mane by getting it nicely shaped and artistically highlighted for more curl definition?
When choosing to rock your hair straight, think of a neat little pixie with a short tapered back and longer top tresses melting into a thick fringe.
And we have a cool inspo for wavy locks – the heavily sliced and effortlessly curled lob with dark depth-adding roots and a drop-dead transition to unicorn pink.
Thin tresses tend to look fuller in short cuts, and you can always update your cute shortie by adding space buns and highlights.
Sure, there is also a half up for thick hair in our collection – this sophisticated mix of sleek and curled, crowned with a stunning textured top knot.
Fancy Coifs for Different Face Shapes
Do you know your face shape? "The face shape is broken down into three parts. The forehead and cheekbone width, the jawline and the face length. To identify your face shape, ask yourself, what is the widest part of my face? Is it my cheekbones? You probably have a round face.
Is it my forehead? You probably have an oval face," Vincent Oquendo, makeup artist who is responsible for Gigi Hadid, Karlie Kloss and many other celebrity looks, tells in his comments for Today.com. Follow his tips and then search for black hairstyles flattering to your face shape in our collection.
This cute red bob feels bouncy and touchable, and it's a smart idea to keep its parting off center, giving a bit of asymmetry to the round face.
Larger curls sitting on the sides add width to oval shaped faces, while they can pull off the wave of side-swept bangs no sweat.
If you have a long face and want to rock gorgeous crochet braids, make sure to create extra width, for example by sweeping the braids to the side.
This seriously big hair is masterfully structured to gain a perfectly round shape, which is great for square faces. And take note of those layered bangs, channeling attention to the eyes.
A curve in the front and wavy locks around the shoulders make this diamond-shaped face look wider at the forehead and chin.
Adding a Cool Braid to Your Haircut
Braids are among the most favorite hairstyles for black women, and they really have an innate talent for rocking braided 'dos. It originates from African culture, which is so versatile in braided styles and keeps inspiring us for new borrowings and creative interpretations. And for another thing, nowadays braids are part and parcel of protective styling, helping women of color protect their fragile curls from tear and wear, while creating authentic and cool looks. Besides, it's a great way to live through the embarrassing stage of transitioning from your previous hairstyle to natural hair, not to mention the fact that braids are trending now and can be seen everywhere, from streets to red carpets. Well, and on Instagram, of course, like those pretty looks we collected.
This short twist hairstyle with neat rows and an elegant textured bun at the nape is really versatile and low maintenance.
When searching for a fresh curly braided 'do to get inspired, look no further than this neon Mohawk with cool braids and beads on the sides.
Here is another chic pinky idea, featuring a tridimensional side braid, made of two textured Dutch braids sweeping around the head.
This awesome updo incorporates two upside down French braids, wrapped into each other in the front and brightened up with shiny light brown extensions.
It seems that box braids are never out of fashion from the times of Poetic Justice, and this long version with stick-straight tips looks edgy and carefree.
Nouvelle Protective Hairstyles
From the above-mentioned braids to multiple twists and buns, protective black hairstyles are available for almost all hair lengths and textures. Moreover, protective styling can be seen as the order of the day in modern hair art, amazing us with real masterpieces rocked by both celebrities and regular women. However, in this chase for sophisticated protective hairstyles, we shouldn't forget about their original purpose.
"If you don't take care of your scalp, it defeats the entire purpose of what should be a protective style," Pekela Riley, salon owner and celebrity hairstylist to Gabrielle Union and Issa Rae, says to Allure, recommending to keep the scalp as clean and balanced as possible using products, rich in argan oil, yet with a low pH. Take this into consideration and keep scrolling for inspiring looks.
This short bobbed style creatively combines braided space buns and dookie braids, placed symmetrically on the sides with one popping in the front.
Mixing black and purple, this shiny updo shows a nice blend of different-sized braids, wrapped into a voluminous top knot.
If your hair is not thick enough for this stunning 'do, try and replicate the braids and bun combo with weave, but don't forget to use bobby pins as a trendy accessory.
And what about creating a lovely heart pattern with braids on the crown to give a new twist to your protective style?
Bun hairstyles don't need to be intricate for having a vibe. This version is simple, yet boasting tons of texture and volume.
10 Best Natural Hairstyle Ideas to Steal from Instagram
You may find that it's not that easy to replicate trendy hairstyles for natural hair illustrated in our collection. Well, the race is got by running, and those real women who shared their beautiful pictures prove that the hairstyles are doable.
"When I work with clients on red carpet, I'm also showing women of color, 'Hey, you can wear your hair like this, too.' You might need to approach it differently and use different products to get there, but you can do it," Lacy Redway, celebrity hairstylist with Tessa Thompson and Jourdan Dunn among her clients, tells Byrdie. Take these words of encouragement and have a look at the chicest hairstyles worth to become your next hair goal.
This lavish weave hairstyle is soft and natural-looking, focusing attention rather on beautiful texture than on sophisticated styling.
While curly ponytail styles are all the rage, this high pony is a bit different, since it is shifted to the side to make the texture and dimension more visible.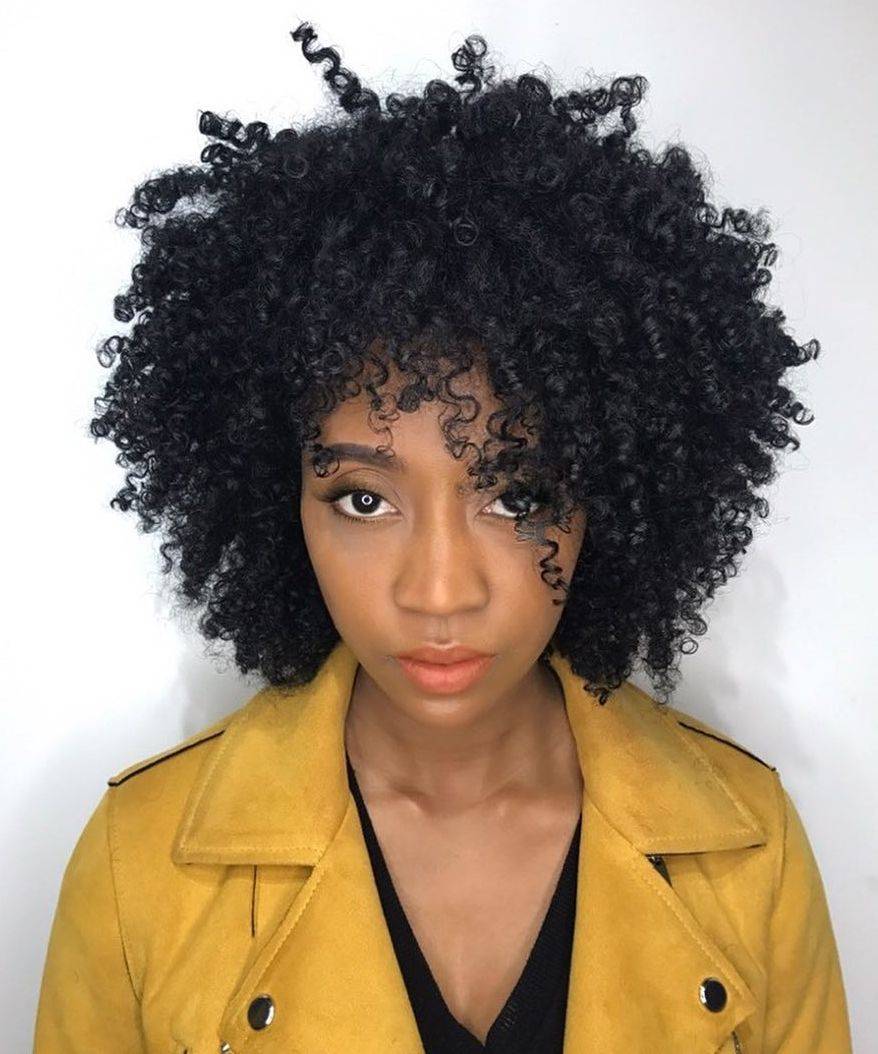 This African American beauty rocks a big structured Afro with handsomely defined spirals and cute bangs.
Radiating shine and boasting a stylish color transition, this crochet hairstyle is layered towards the bottom to give the corkscrew ringlets a nice shape.
A textured bun on the crown is a highly wearable summer look, but you can take it a step further by complimenting with long curled side-swept bangs.
This is an elegant and juicy protective updo that pairs twists on the sides with a voluminous twisted Mohawk.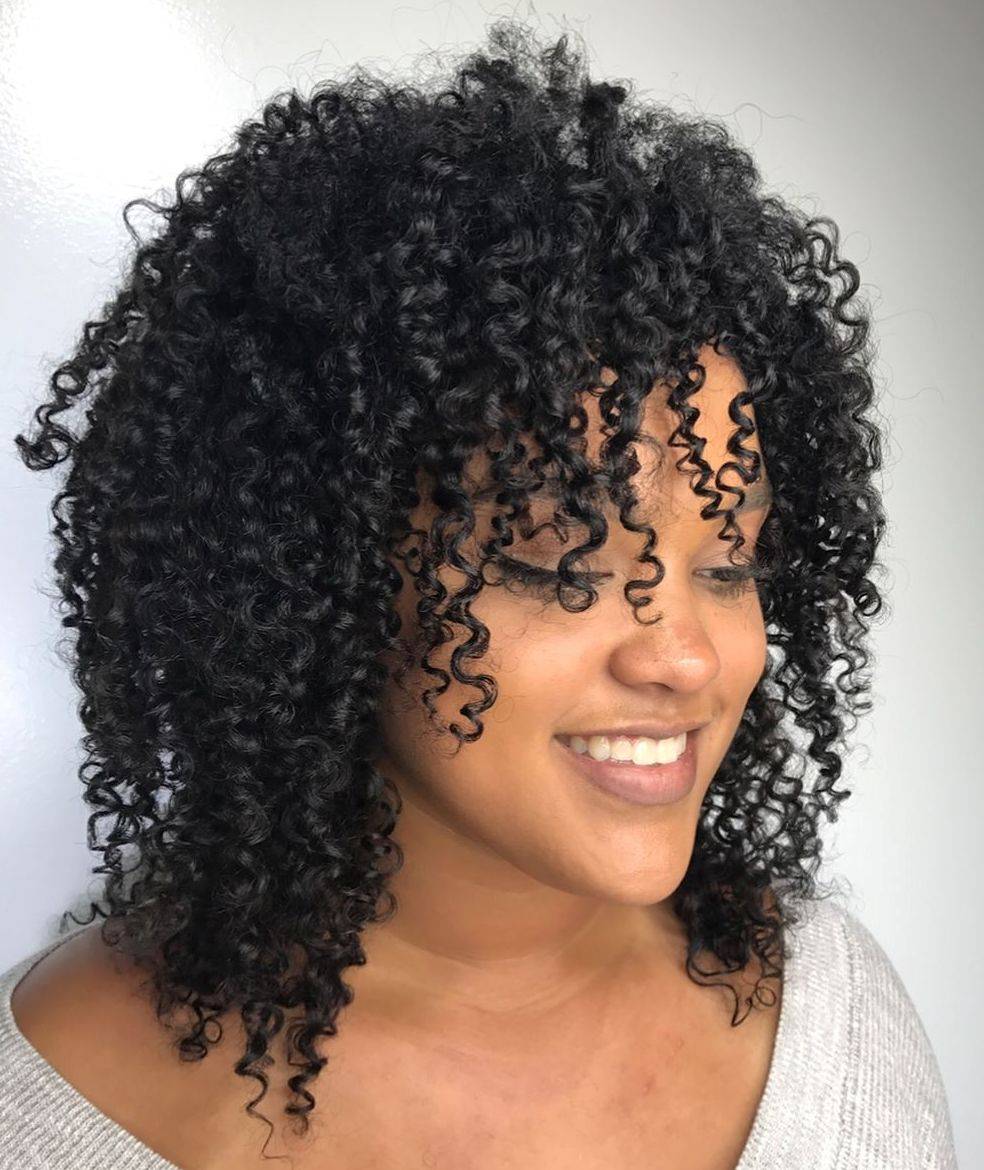 You can opt for a shoulder-grazing layered cut with bangs, which is wispier to the ends, while embracing frizz for a fuller appearance on top.
Rock your kinky curls pulled to the front to create a bouncy and volumetric look, but tuck your side tresses behind the ear to open the face and to add edge.
This bright red mane is eye-popping, but not only for its fiery color – it's perfectly defined and structured to gain a springy feel.
For bold girls, we suggest this bombshell twisted Mohawk with shaved sides, brightened up with both a fade design and rainbow coloring.
Hope, our pick of fancy hairstyles and haircuts for natural hair will come in handy for your future visits to a salon. Discuss your hair type, face shape, styling abilities and personal preferences with your hairdresser and get the most flattering 'do to turn all heads. Rest assured, our attention is riveted on Instagram, waiting for new screenshot-worthy looks from our users.