Let's get it straight – shoulder length haircuts are among our favorite topics. This length is trendy, convenient, and versatile. And it still offers much freedom for experiments, one of which is adding a fringe. So, let us guide you through the world of medium length hairstyles with bangs and show that a fringe can be perfectly suited for any face shape and hair type.
How to Find Your Perfect Bangs by Hair Type
No matter what kind of transformation you've decided to make with your shoulder-length hair, you should always start with determining the type of your hair. The same thing goes for fringes. If it's your first one, start off a little longer than you want.
And don't even think that it's better to avoid bangs if you have waves or curls – these hair types won't prevent you from losing your bangs virginity. "I love curly hair with bangs. It's a look that's not for the faint of heart, but it's wildly fashionable," says Jimmy Paul, editorial stylist currently working for Bumble and bumble, to W Magazine. So, just choose a unique approach and dry cutting technique for these types of hair, and you will fall in love with the result.
Fringes and straight hair were made for each other. Try a massive blunt bang with your inverted bob for the best face-framing.
Draw attention to your eyes with long, wispy bangs that run below your brows. Choose layers to make it work with your thick wavy hair.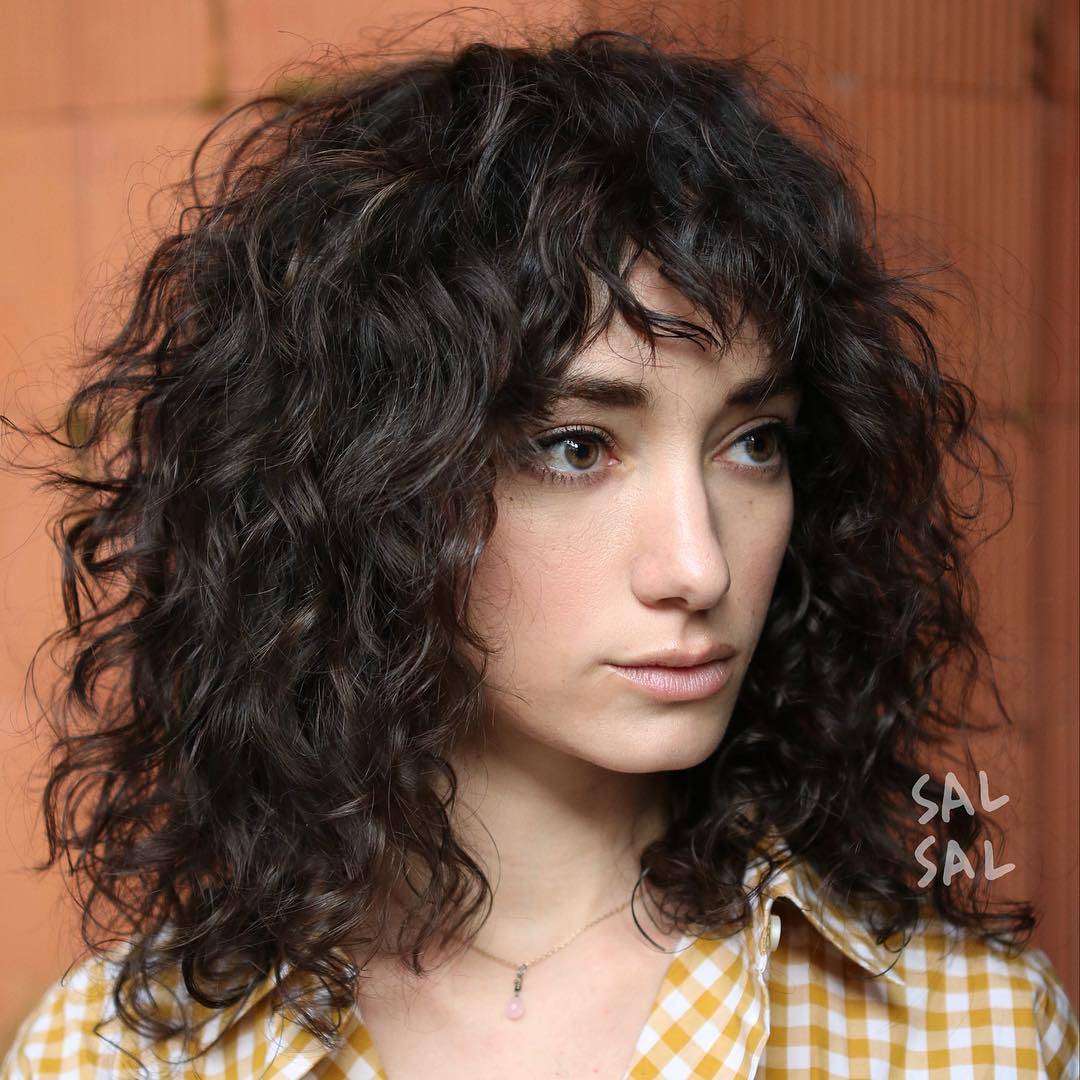 Despite the myths, a fringe can make your curly hair a real showpiece. Just don't forget to cut it a little longer than you want it to land.
A classy bang with slightly waved fine hair can work for a variety of occasions, whether formal or casual.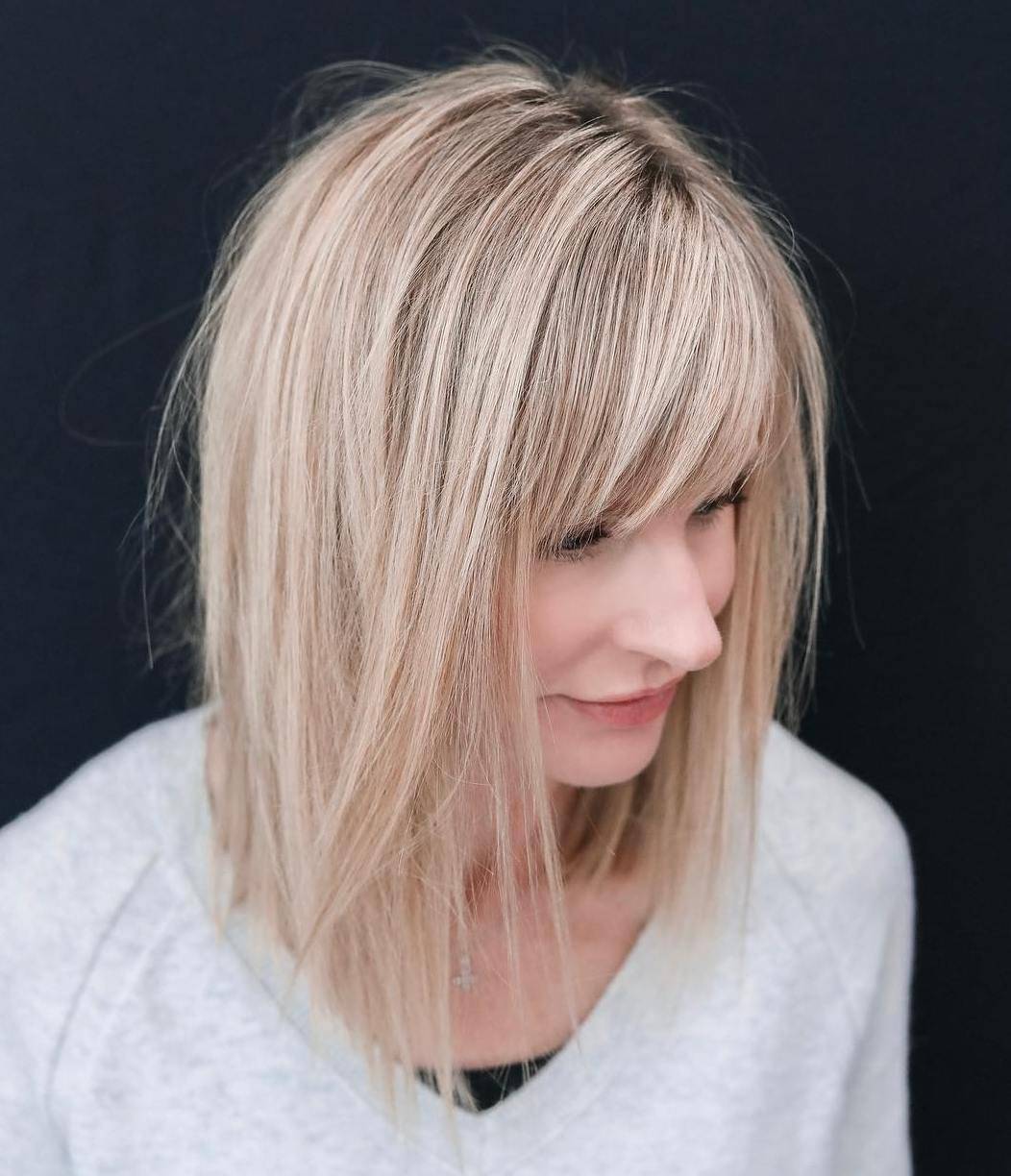 The piece-y medium length haircut with layered side bangs is a win-win choice for thin hair. You can style beach waves or leave it natural – it will be perfect anyway.
Cherry-Pick Bangs by Your Face Shape
Let's go from A to B and talk about picking up fringes for your face shape. And this is the second thing that bears no haste. If the trendiest style of the season is a short blunt fringe, it doesn't mean that you should go for it.
Moreover, you run a chance of looking silly if your face shape is far from the oval. Vice versa, the right bangs can and will complement your face shape, like a layered fringe can soften an angular face or a rounder face can be sharpened with an angled fringe.
And don't forget about little tricks. "Don't spray hairspray directly onto your fringe! Spray it onto a brush and then brush through for a very soft hold," says Adam Reed, session stylist, salon owner, and ghd Global Ambassador, to Marie Claire.
For round-faced girls, arched bangs coupled with a straight bob that hits the shoulders will work best.
Go for side bangs that get a bit longer towards the temples if your face shape is long. Ready for an adventure? Then make your fringe a little choppy.
Pull off any style of bangs you like, including this rather dense straight-across option – your oval face shape won't let you down.
Choose a fringe that hits mid-eyebrows with longer pieces to the sides for a square face. You can part it down the middle or push to the side in search of fresh looks.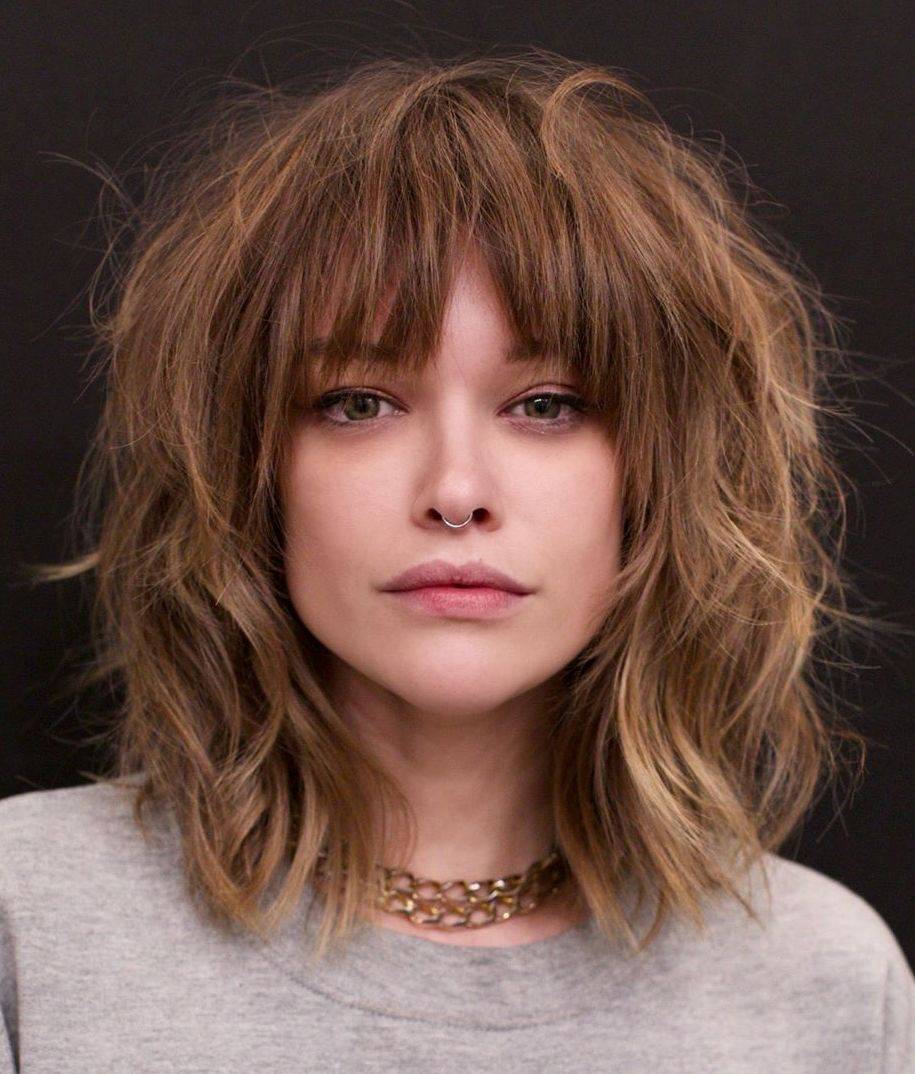 Ladies with a diamond-shaped face should soften the chin and jawline. Bold choppy bangs can be the best bid.
Modify Your Layered Cut with a Nice Fringe
Talking about layers. As for us, we always associate a good layered haircut with astonishing Jennifer Aniston. Remember that layered iconic 'do she donned in "Friends"? Ah, it was something that rolled over the hairstyle world and transferred shags into the heavyweight category.
Today, layered styles are in vogue, and you can cut a long layered fringe even at home. "Grab a comb and part your hair starting from side to side, creating a half-moon shape. Your guide points should be the middle of each eyebrow. You need to twist your hair so that when you cut it, it will have a layered effect.
If you have straight hair, cut it at your mouth; if you have wavy hair, cut it right below your mouth; and if you have curly hair, cut it near your chin," explains beauty blogger Camila Bravo to Allure. But if you think of something shorter, the next five pics will help you make the right choice.
Pair your choppy bob with a medium length shaggy bang for a cute and easy-to-style 'do.
If you're not ready for extreme chops, then go for a lob with side-swept bangs. It will create a softer and more feminine look.
Curly bangs are one of the hottest trends, so why don't you let in a little bit of Baby from Dirty Dancing to complement your style?
You can easily upgrade your shoulder-length chop with long wispy bangs. It will make your hair look full and direct attention to your eyes.
Add some glam to your polished bob with flipped out side bangs. Making the shortest layer hit the cheekbones will accentuate your eyes ideally.
10 Best Mid Length Hairstyles with Bangs to Find Your New Self
"Adding a bang is a great way to create a new style without the commitment of a drastic haircut or length change," says Melinda Danella, a hairstylist at Inspire Uptown Salon, to Glamour and suggest pairing blunt bangs with long bobs. Although a fringe is the easiest thing to make – some types you can cut on your own – it's a great way to reboot your everyday look and debut fabulously with a brand-new hairstyle. Just don't forget to consider your hair type and face shape together for getting a fringe that is easy to pull off without overusing styling products and tools.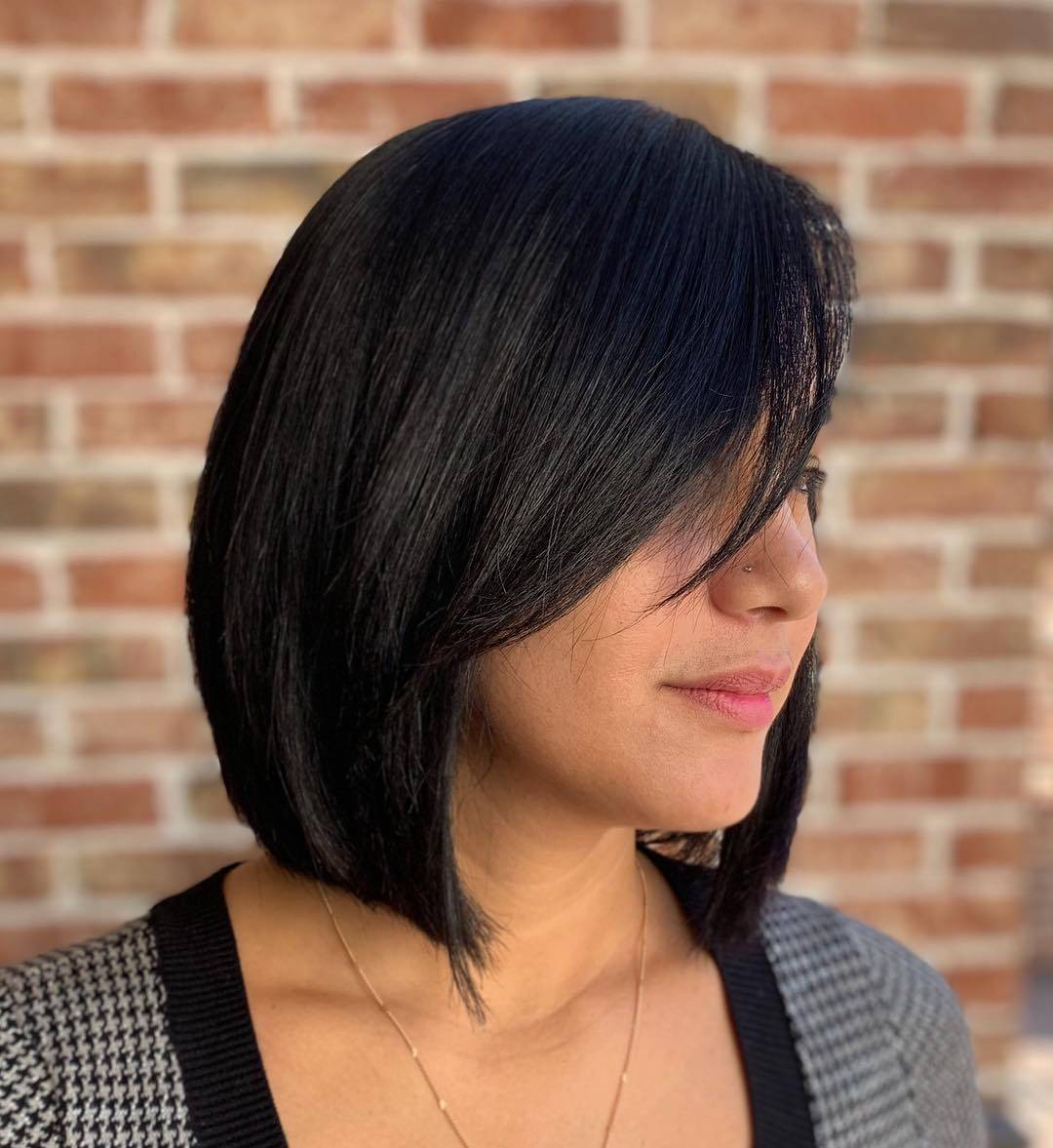 If it's your first fringe experiment, start from a safe mid-length with side bangs.
Long bangs with a shaggy touch hitting your jaw-line blend perfectly with shoulder-length layered haircuts.
A full, blunt fringe can transform your image in a single session, working as a magnificent frame to your face.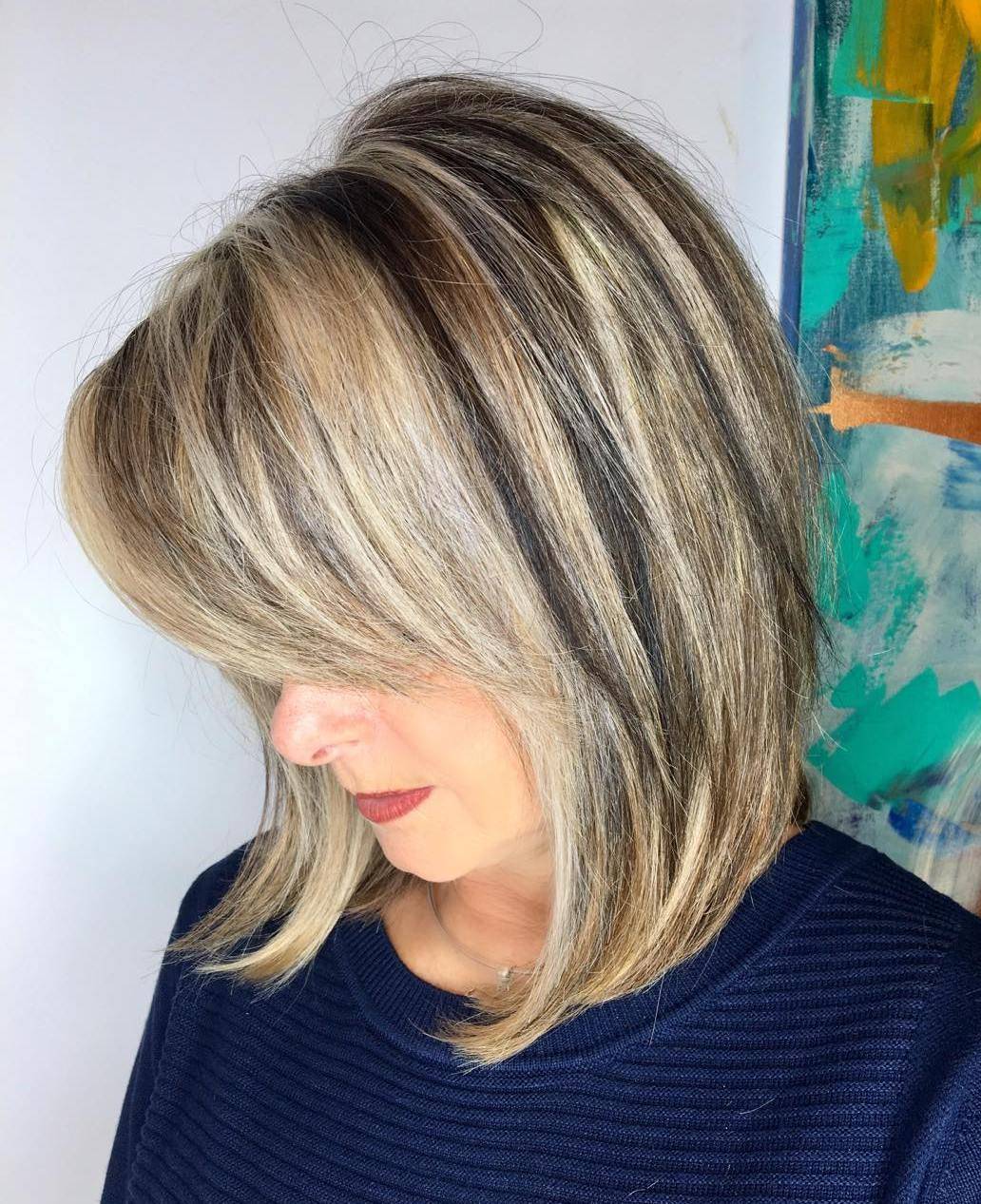 Consider spicing up your side bang with highlights. It will add interest to the entire hairstyle.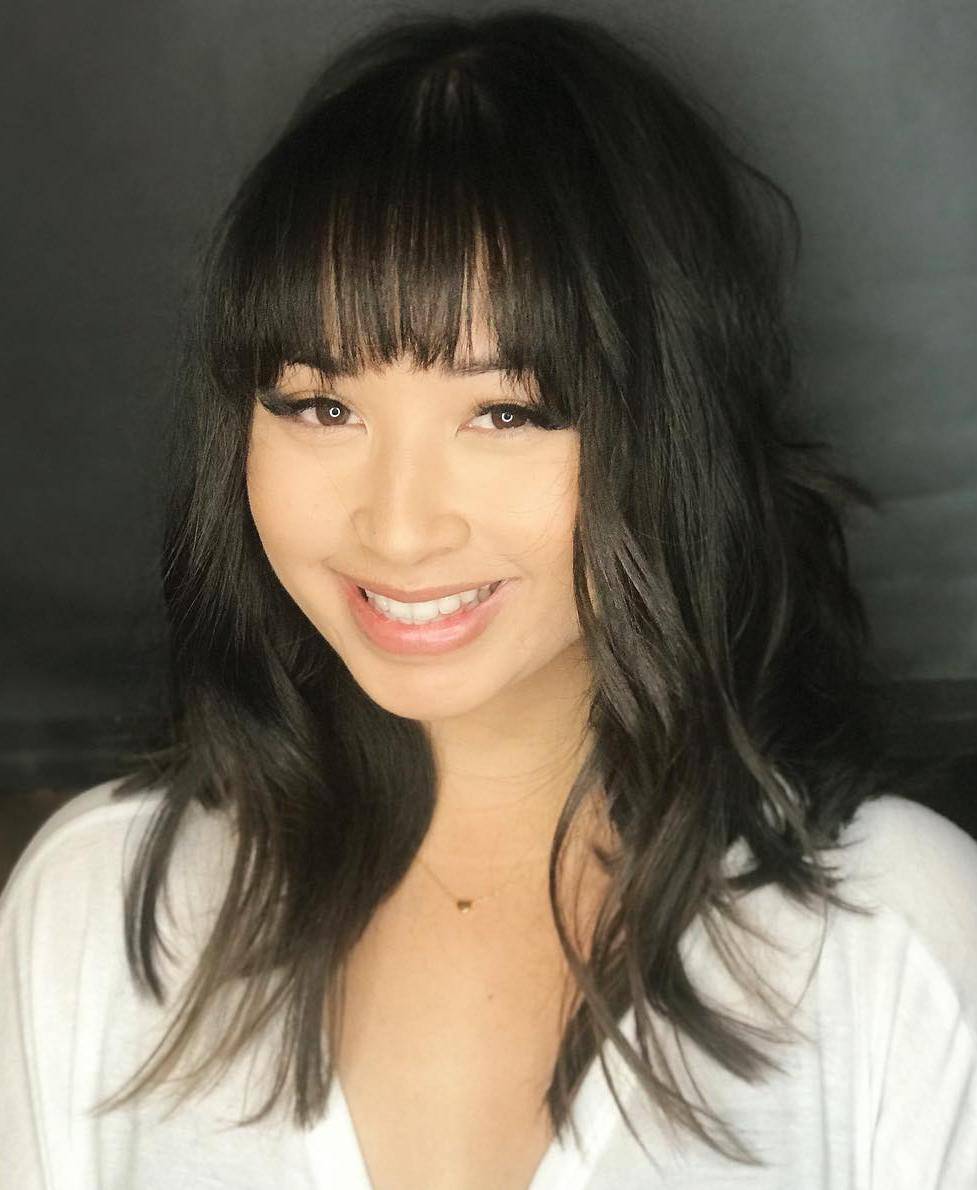 A solid dark color is the right base for rocking a cute and sexy wispy bang combined with beachy waves.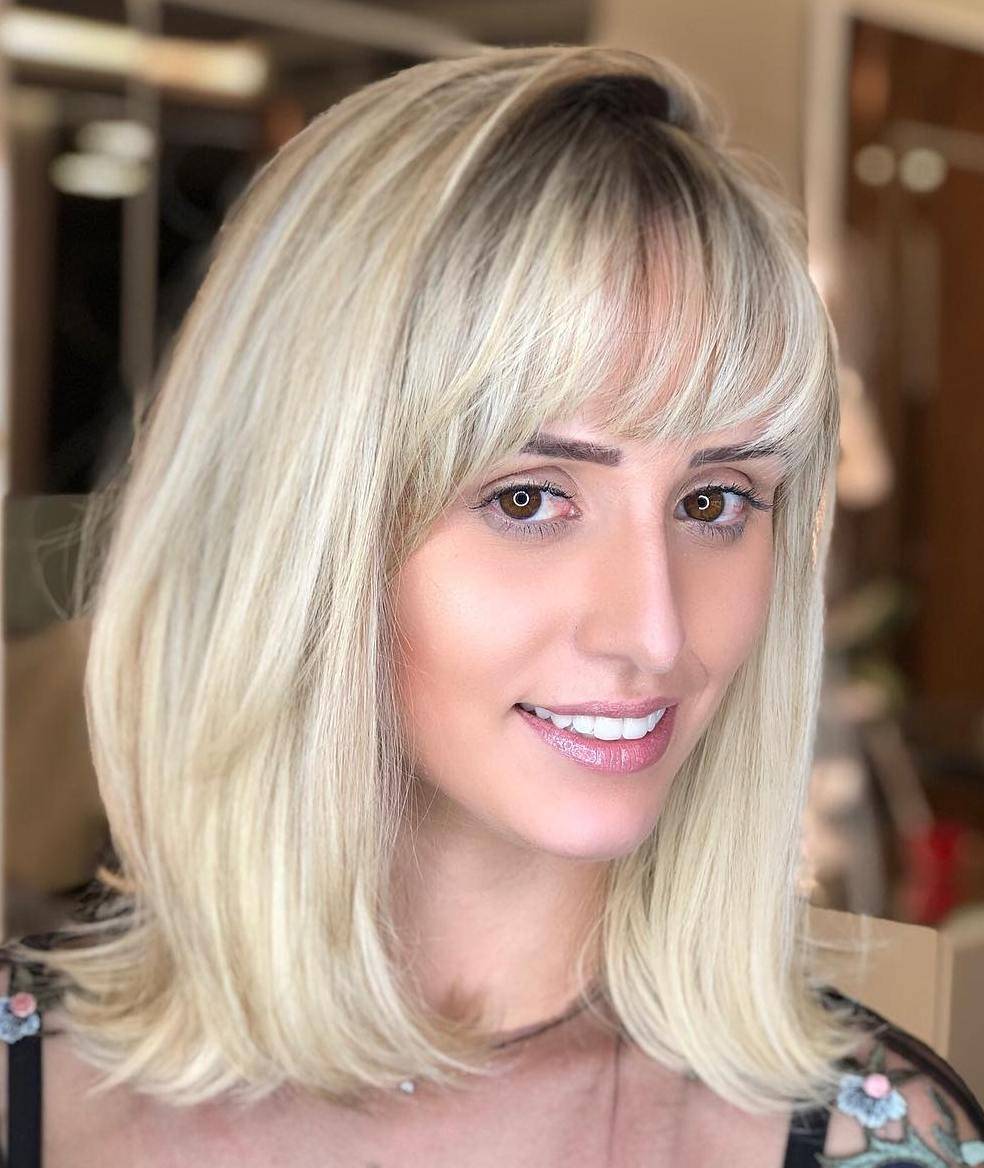 If you want to wear a classy style, then a combo of blonde layered hair and adorable piece-y bangs is your goal.
Embrace the contrast between a sleek angled bob and softly rounded bangs to be ready for both office and dance floor.
Mid-length waves with a long wispy split fringe work perfectly for a diamond-shaped face: it draws attention to those killer cheekbones and makes your eyes incredibly expressive.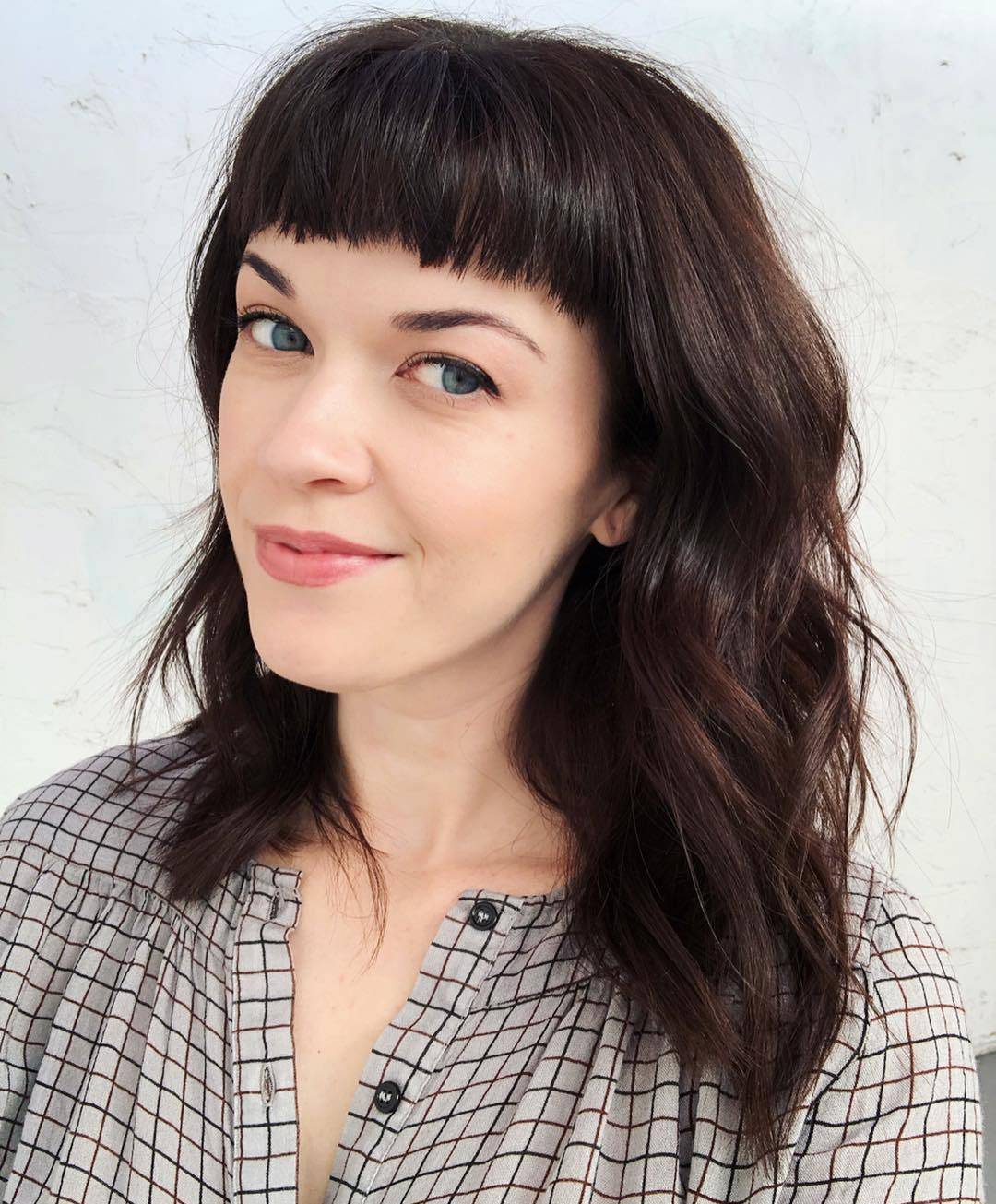 Give a twist to your shoulder-length brown hair with full but extra short choppy bangs. Adding light waves will put your 'do beyond any compliments.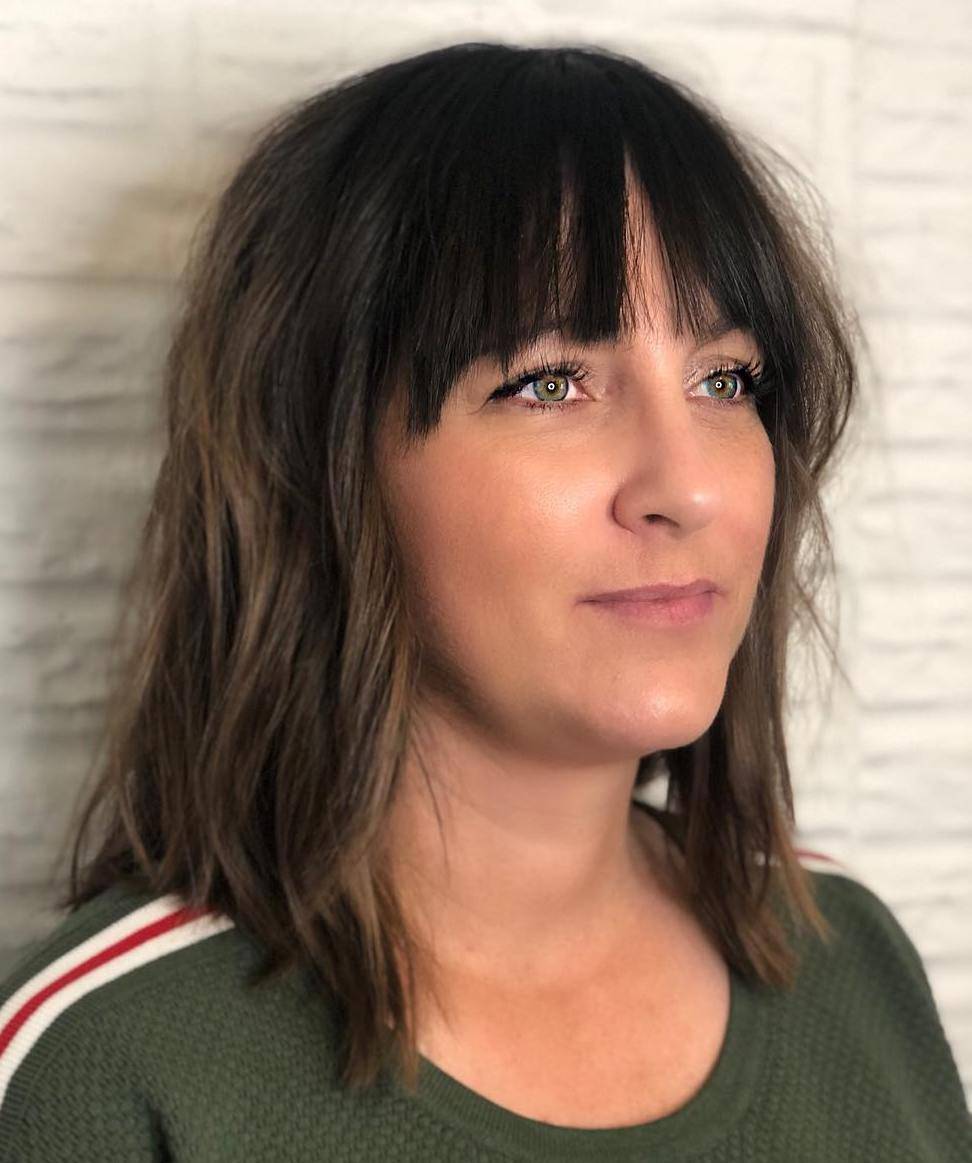 And once more about blunt fringes: opt for it if your hair is straight, but make it a little longer towards the cheekbones and wear it haphazardly parted for a modern laid-back feel.
Medium length haircuts with bangs are, definitely, the most versatile ones, while being timelessly chic. Now, after looking through our rich-for-ideas gallery of various haircuts with bangs, you know that there are so many options to create a unique and beautiful combo. Are you ready to pick one of these? Good luck!