While many women think that a layered bob is a hairstyle that features some visible disconnection and shorter pieces in the back, the cut can be done in many ways using different techniques to create various effects. Some layered 'dos actually seem blunt, as they come with internal layers to deliver a seamless feel. And we have 40 photos here to show amazing looks you can get in order to help you find the right bob.
Bobs Classified by Hair Lengths
Although the bob emerged as a very short cut with the length no longer than the chin level, today we can choose from a variety of lengths, starting from an ear level and down to the shoulders. And for every length, there is a range of shapes and finishes to make the choice even wider. Feathered, shaggy, chunky, wavy or straight and sleek, those cuts look utterly gorgeous to emphasize the uniqueness of every girl.
Shoulder-Grazing Long Layered Bob
The long bob, often reduced to lob, is recognized by hair experts as the safest length for long-haired women, thinking of a big chop. If you are not sure which cut you can pull off, start with the classic lob – eventually, you can easily go shorter or longer, as well as adapt any flattering shape. "The best thing about the lob is that it becomes a haircut and a style," Jon Reyman, celeb hairstylist and Spoke & Weal salons owner, says to Refinery29, emphasizing its versatility and multiple styling options. A softly layered bob cut that hits the collarbone level will suit any face shape and hair type, while you can wear it wavy or messy in line with hot beach-y and bedhead trends. "Just make sure that whoever cuts it is able to manage your length and your density," adds Jon Reyman. Well, let's look at good cases in point.
This gal rocks her long layered bob with bangs that are full and dense, yet handsomely chopped to add up to the sliced lengths.
We know that angled cuts are good for round faces, and this lob has plenty of them along with the "right" below-the-chin length and an all natural balayage.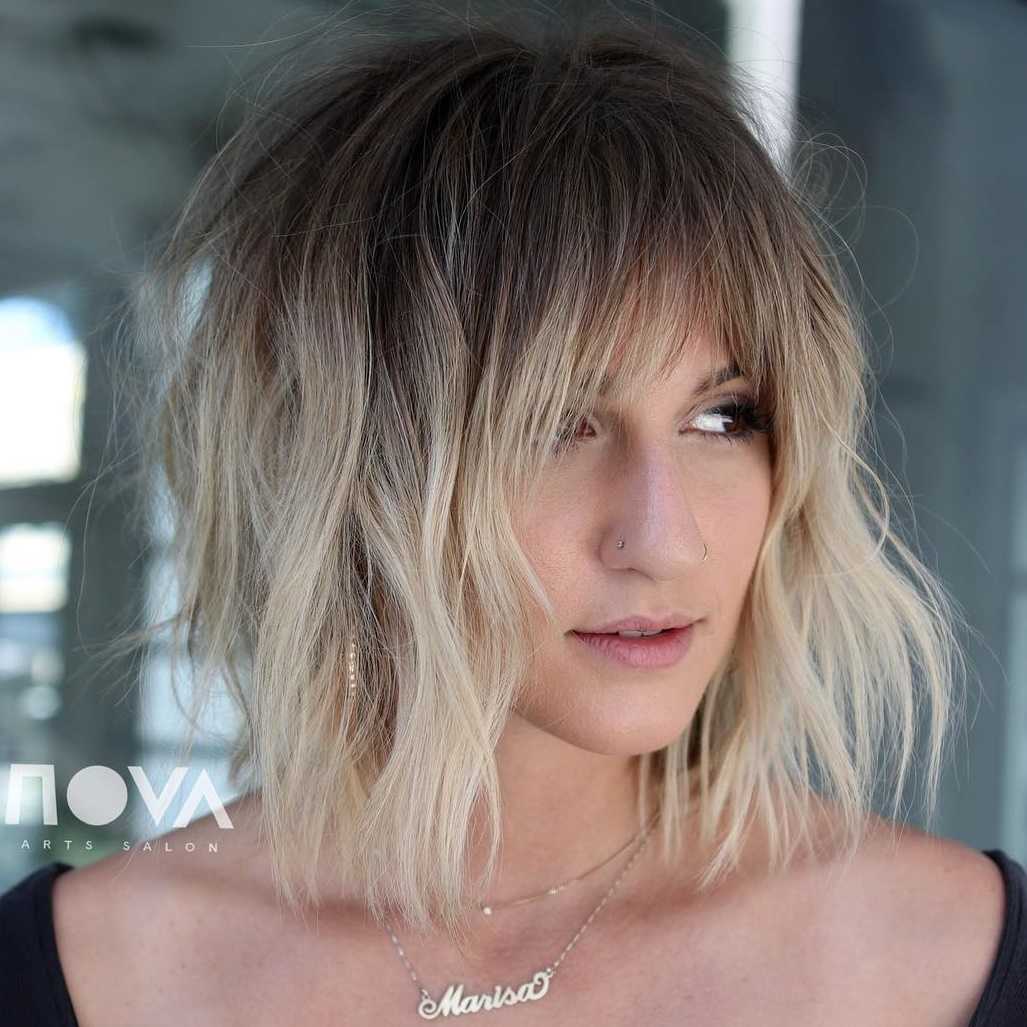 Your hair won't look thin if you have darker roots, while the big picture is still blonde. And these wispy bangs keep the scarcity behind the scene, too.
Boasting tons of built-in volume, this thick mane gains lightness and movement thanks to added layers on top that resonate with a side fringe.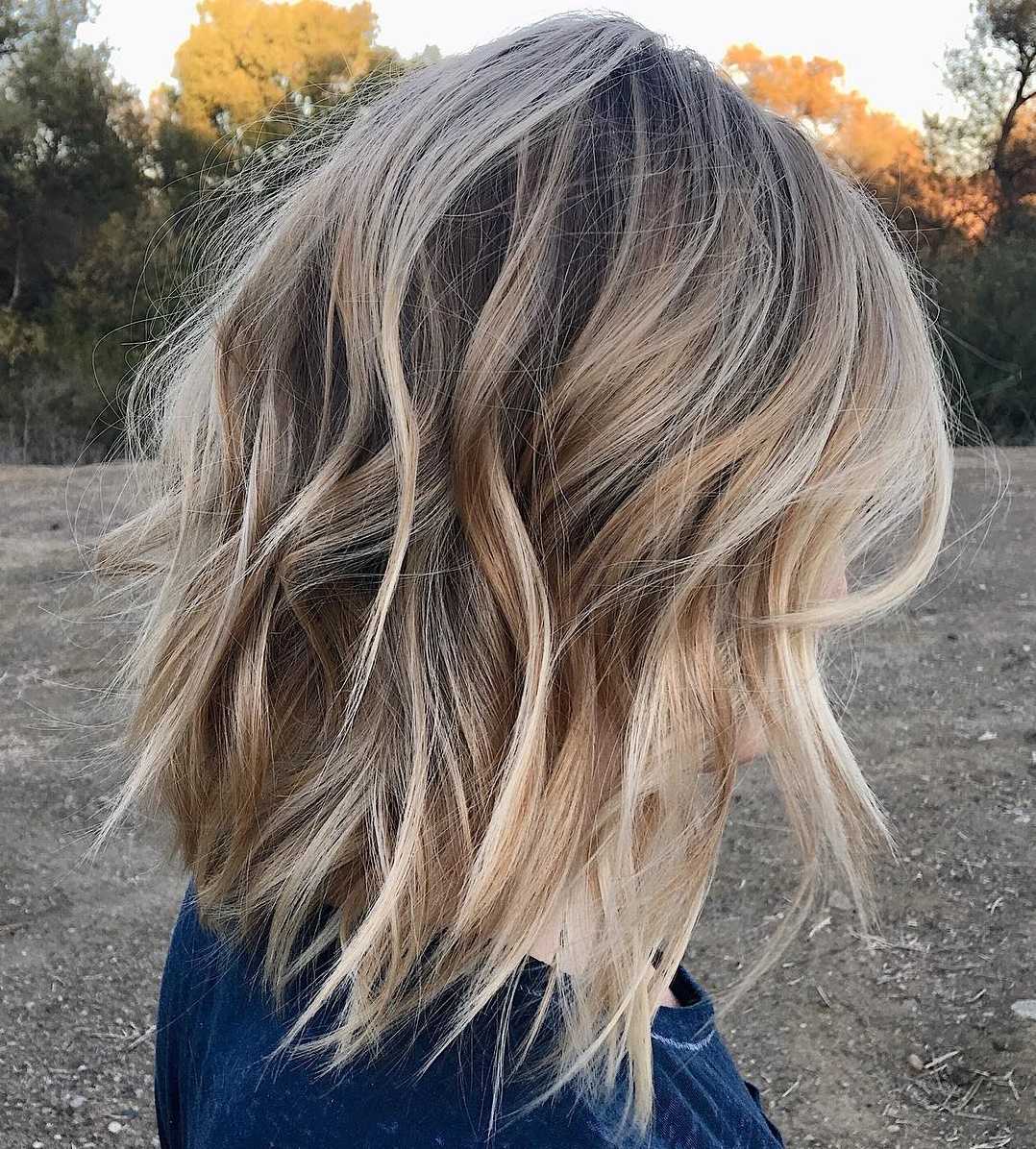 The trendy wavy lob is anything but flat due to the textured lengths, styled haphazardly to enhance movement and brightened up with a color transition.
Sassy Short Bobs
"So many girls I know are afraid to cut their hair because they think their styling options will be limited. It's NOT TRUE! Girls with short hair have just as much fun as mermaid-mane'd ladies," says Sunnie Brook, celeb hairstylist who does Elisabeth Moss's cut, in her blog and proves that the chin-length bob or even its shorter versions can be styled in a dozen ways. And you have no less options with layering, including hot hairstyles with shorter face-framing layers, choppy ends, beach-y waves and a slightly longer front. Explore our pick of short layered 'dos to get a better understanding of current trends.
This inverted bob boasts a clean shape with steep elongation to the front, but it's also seamlessly layered and textured for a fuller feel and vibe.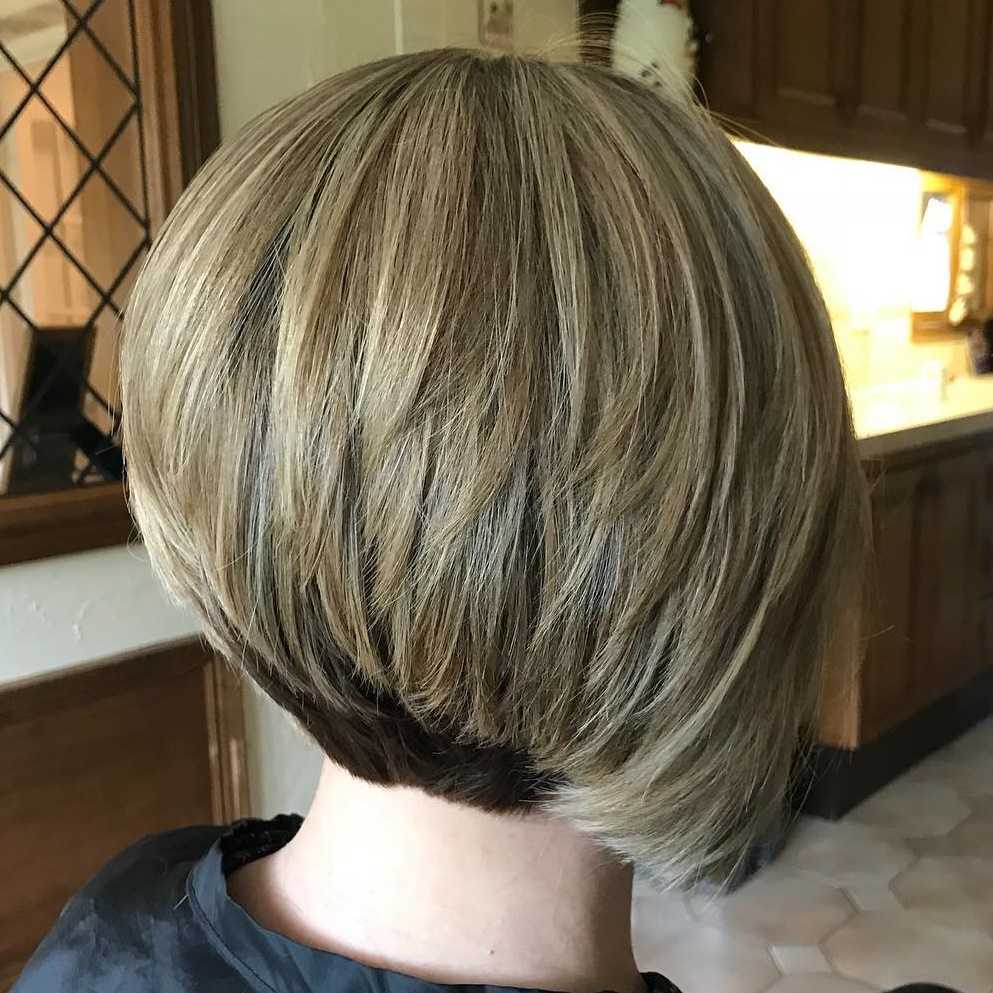 The stacked bob is a go-to option for those who want to get guaranteed dimension on the crown. A darker hue at the nape makes the cut even juicier.
If you are over 60, it's a great idea to refresh your classic chin-length bob with a bit of layering and an edgy fringe.
We adore choppy bobs, and this one is really cute with its lived-in color and one-length feel, while radiating texture through the razored ends.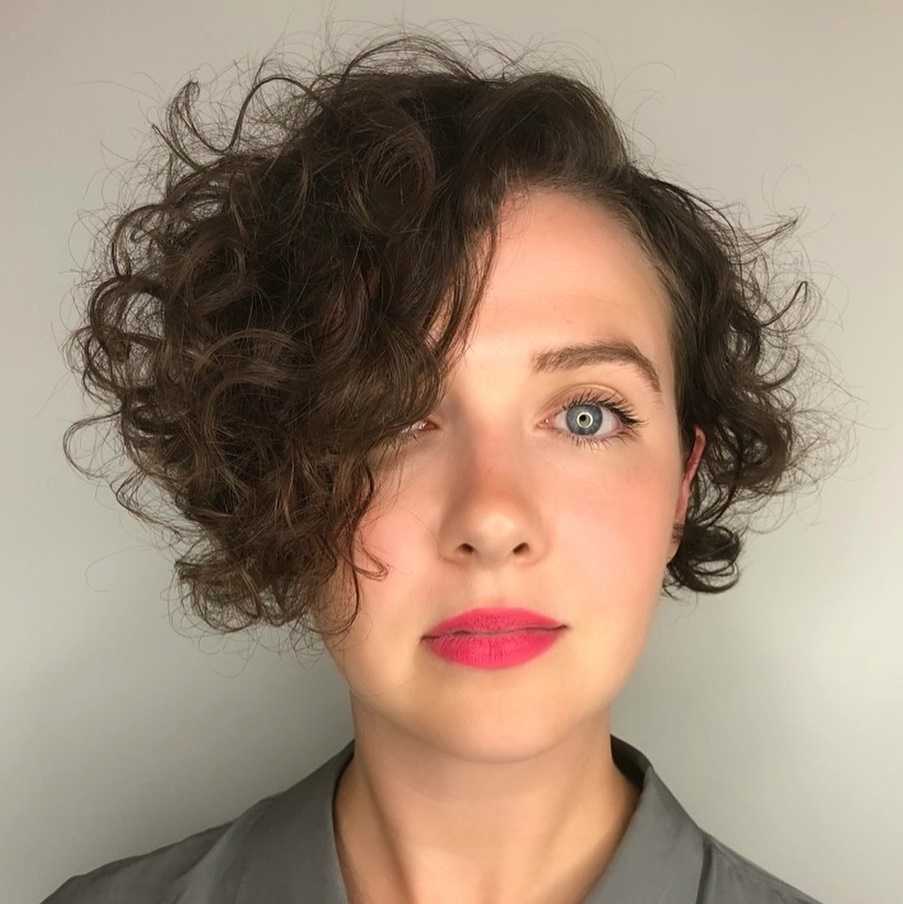 And this curly hair is boosted by an ear-length bob with a side part and airy, bouncy curls, swooping across the face.
Comfy Medium Length Cuts
By a mid-length layered bob cut we usually mean any hairstyle that hits somewhere between the chin and shoulder. It's a nice choice for anyone who wants to frame the face and open the neck without sacrificing too much length. Medium bobs with layers allow for a blunt perimeter, an A-line shape, as well as for sleek and messy styling. Fashionable laidback waves are also doable, and you can get them easily when learning a trick. "For a loose, natural wave, twist big sections around a large curling iron, letting the hair slide out almost immediately," says Garren, hair guru and R+Co founder, to Allure.
When sliced for boosted texture and layered for a better lift, fine locks may seem scarce. This mix of light-brown and blonde brings in depth for a fuller feel.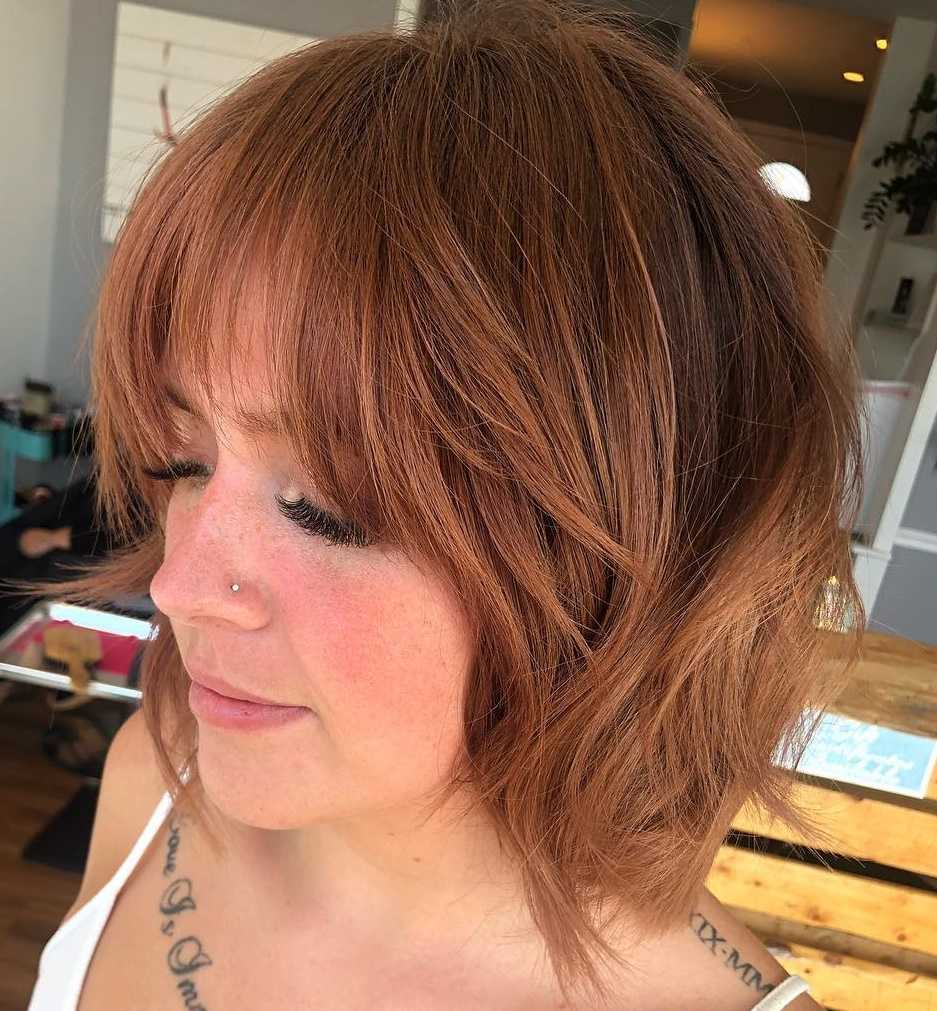 The reddish bob comes with fringe that is reminiscent of the iconic Brigitte Bardot look with sexy bangs, getting longer to the temples and then blending with side locks.
A modern version of the shaggy bob is all about texture and movement, which can be spiced up by a glossy golden shade of red.
This A line cut delivers an on-trend bedhead look, while keeping the hair light and voluminous, also offering options for various styling.
But if you have straight hair, you can wear your angled bob with a sleeker styling – stacked layers in the back add dynamics anyway.
Tips on Layered Bob Haircuts for Different Hair Types
The key to getting a stylish bob haircut with layers is finding a good hairdresser. Seriously, you need to find a pro who can adopt the shape, length and layers to your hair type and styling abilities. Otherwise, you risk ending up with the ill-reputed triangle cut, old-fashion mullet hair or an over-graduated "mom" hairstyle. "I hate that look. It's got a bouffant crown and it's cut behind the ears. A lot of people with that cut over-style it and that's why it looks like a mom bob. A bob looks chic when it's not over-styled. A mom bob is not cut right. It's not personalized to the client," says Jeanie Syfu, who does Padma Lakshmi's hair, to Allure. Below, you will find a couple of bobs that are definitely personalized by texture and, thus, look anything but mom.
These thick tresses are scenic thanks to the subtle blinks of highlights that serve to emphasize the movement of layered pieces.
Straight thin strands don't require a curling wand to look textured and voluminous, when they're skillfully razored and lifted at the roots.
Curly hair screams for layering to get a beautiful shape, while retaining its dimension. These ringlets have both plus some awesome bounce enhanced by highlights.
This wavy hairstyle features an accurate shape, slightly angled towards the front, which goes well with fine soft waves, creating a delicate look.
Here, fine straight tresses are handsomely layered to create a piece-y texture at the bottom and to keep the density on top.
How to Sport Layered Bob with Bangs
While many hair experts favor blunt bobs without any fringe, we can see a plethora of trendy layered looks coming with all kinds of bangs. Indeed, a bob cut with bangs looks more graphic, and there are countless options to flatter any face shape and hair texture. For example, if you want a classic short cut for your thick hair, try a shorter full fringe with a blunt, choppy or even jagged finish. "The fringe should be above the eyebrows and get slightly longer at the temples so that it blends right into the length," Sal Salcedo, one of the best L.A. hair artists and co-owner of Nova Arts Salon, tells Refinary29. For wavy hair, lighter and longer bangs will be easier to style, and wispy tresses won't reveal the scarcity of thin hair. Here are some other styles to consider.
This short cut looks crisp thanks to its piece-y texture and full straight bangs that hit just below the brows to accentuate the eyes.
Chin-length bobs work well with dense side swept bangs on oval faces, giving them a nice frame without excessive elongation.
Though this above-the-shoulder length 'do is styled wavy for better movement and dimension, it ties with the contrasting straight fringe, textured through the ends.
This straight hair could be blunt and look blocky, but it's actually finely textured to deliver a touchable effect.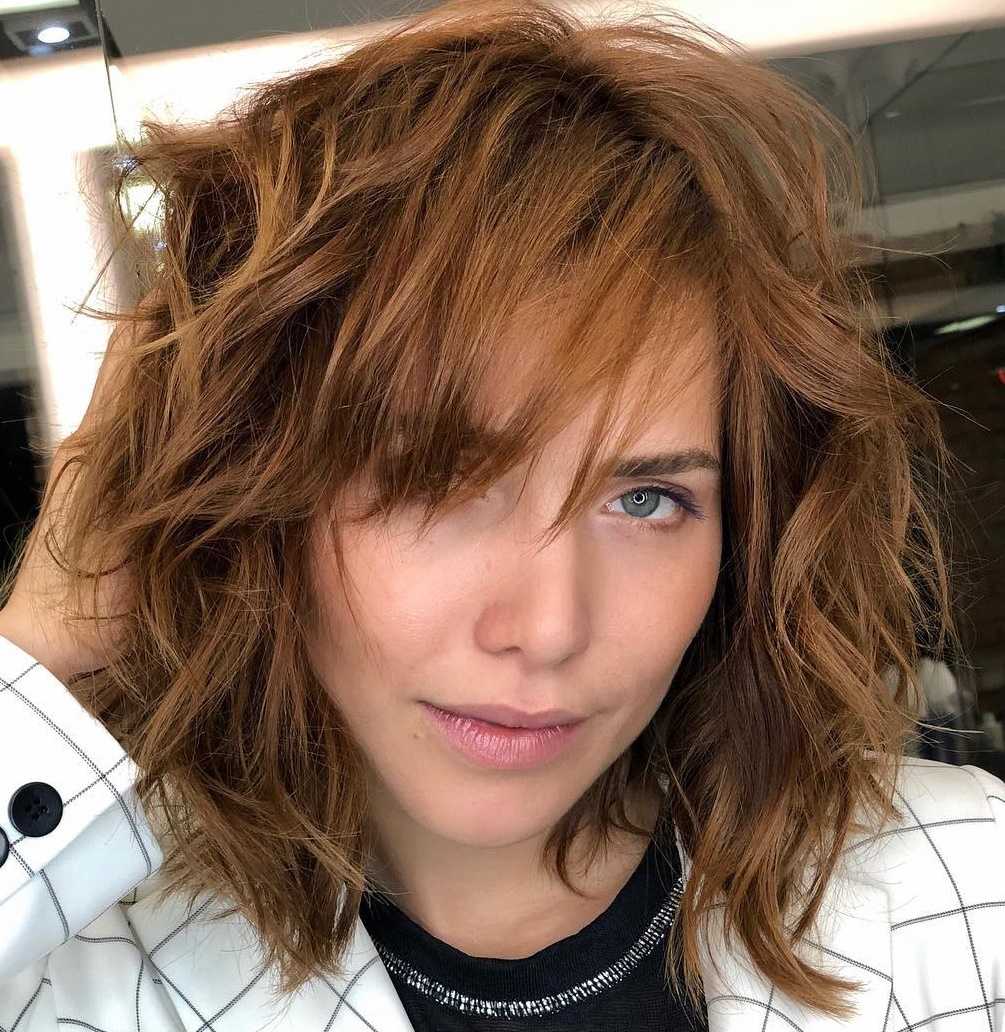 When giving preference to messy styling, opt for long eye-grazing, yet wispy bangs that can be easily air-dried and styled with a spritz of a texturizing product or hair spray.
Rocking Black Layered Bob Hairstyles
From naturally curly to relaxed and protective, layered bobs for African American girls are versatile and can be customized to any needs. If you prefer straightened hair, you can get your weighty mane beautifully debulked through layering. In case you prefer to wear your curls all natural, a shoulder-length bob will help tame and shape them. On the other hand, hairstylists offer to incorporate natural frizz into hipster tousled cuts. And don't forget about those cute spiral bangs! "You don't need to fear bangs with your curls… just make sure you are cutting them in their natural state — and while dry! […] Ask for tapered bangs that blend into shorter layers on the crown. The fullness from the layers and the dramatic bangs really give the hair great presence," says Shai Amiel, known as "Curl Doctor" and Amandla Stenberg's hairstylist, to Refinery29. Let's have a look at a couple of pretty black women, rocking various bobs.
This weave hairstyle sparkles with an awesome custom color, enhancing the angled pieces of the stacked and heavily layered pixie bob.
A one-color cut can be fun too, like this cute short 'do with an airy feathered finish and asymmetrical touch.
We do think that box braids packed into a distinct A-line shape are cool and eye-catching, oozing loads of texture, movement and volume.
This relaxed hair is no less voluminous, coming with bangs, a two-tier shape and flipped out styling at the bottom.
If you're an all natural African American gal, steal this lovely heart-shaped cut with tiny textured spirals, spiced up with subtle highlights.
10 Best Layered Bob Ideas to Take on Board in 2021
Now we know that bobs are diverse, and there is a world of ways to incorporate layers into the cut. But which bob hairstyles are huge in 2021 to give you the trendiest look? "A shorter bob puts an emphasis on the face, on the individual. It changes the way you appear. 2021 looks very much like the day of the short bob," says Nick Arrojo, celeb hairstylist, salons owner and educator, in The New York Times article. And don't forget to spice up your hairstyle with color! Ask for subtle highlights, graduated color, shadow roots, multiple color slicing or darkening at the nape to enjoy added dimension, depth, movement and vibe. Sure, we have some illustrated tips for you.
The stacked bob cut gives plenty of volume at the back and added lift on top, while razor-cut ends create some vibrant texture.
This choppy 'do is fashionably disheveled and allows for the popular wash and go style. Check these bent front pieces that work to envelope the face flatteringly.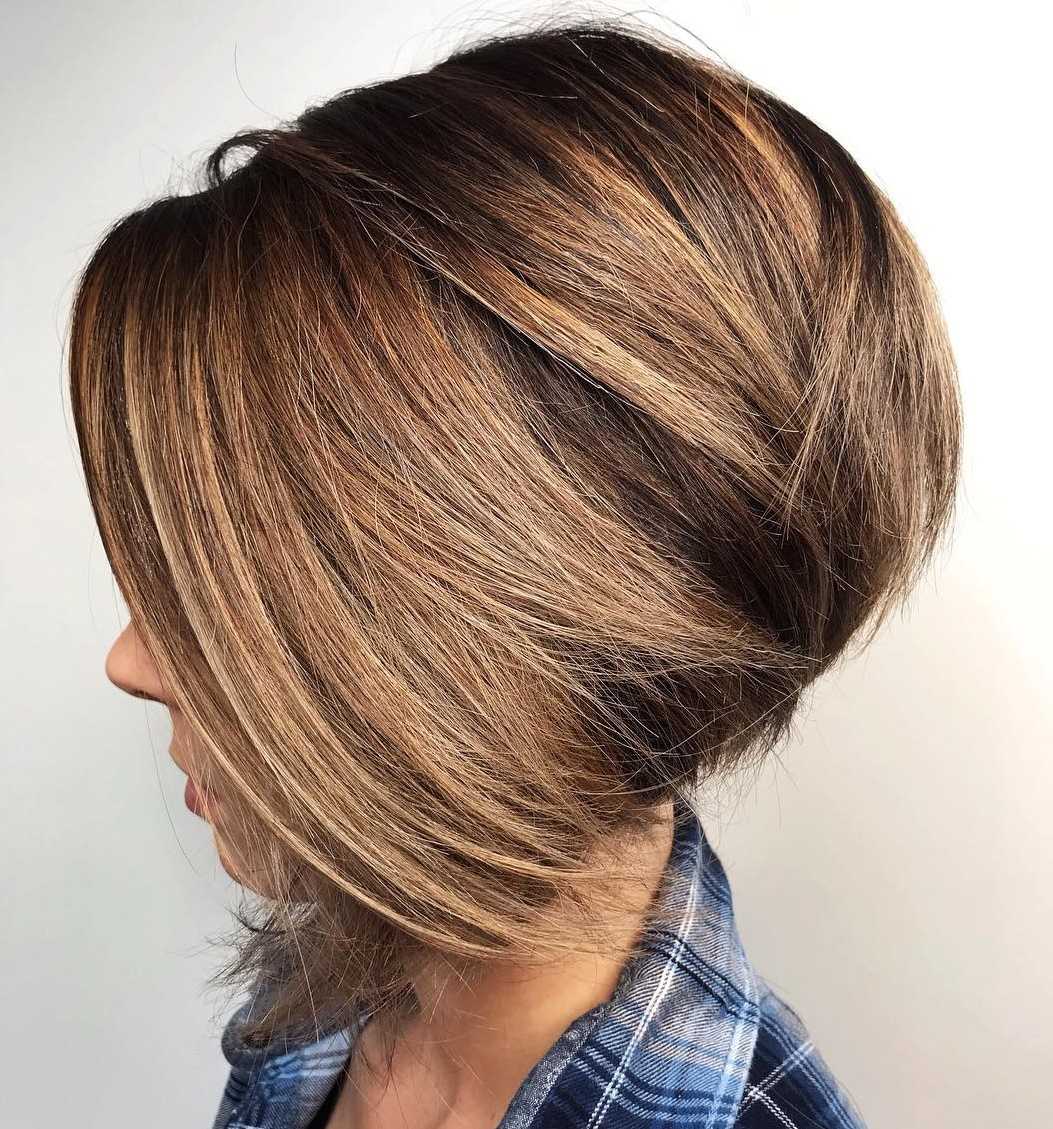 An inverted bob is a nice choice for thick hair, taking off some weight on the back, yet leaving a plethora of density.
Ladies over 50 shouldn't hesitate to get a crop with a rounded shape for a softer feel and flipped out pieces bringing in lightness and dynamics.
This graduated cut features a unique delicate color and long angled layers to make the thick hair bounce.
Is this a long pixie or a short bob? Actually, it's a great tip for those growing out their crops – the tousled cut will help you overcome this awkward stage with dignity.
This girl is daring enough to rock a dramatically asymmetrical hairstyle, side-parted to get a fuller feel in the front.
If you don't know how to wear your gray hair and look chic, follow the example of this lady who is embracing her grays with the help of a textured bob highlighted around the face.
Looking for new ideas in blonde color palettes? This unexpected and sophisticated combo of blonde hues looks even edgier with sliced ends.
A collarbone bob with loose waves is a go-to option for square faces, deflecting attention away from the strong jaw-line and softening the bone structure.
Are you ready to take the plunge and try a cool bob haircut with layers right now? Or, maybe, you got inspired to give an edgy twist to your current bob? Anyway, we are sure we've offered plenty of stunning options to choose from and just can't wait to see your unique take on them on Instagram.