From 1970's hairstyles worn by Joan Jett and Jane Fonda to modern Alexa Chung's and Taylor Swift's looks, shag haircuts seem to be adaptable to any trends, being literally timeless. Since the shag haircut allows for various layers and an array of bangs, it is great for each face shape, hair length and type. Let's explore the trendy options available for different individualities.
Hot Shags Sorted by Hair Length
Though originated from mainly shoulder-skimming or longer hairstyles, today's shag haircut is customized to multiple lengths, including chin-length bobs or even shorter. Depending on the type of your hair, its condition, your lifestyle and styling abilities, you can choose a new shaggy cut in line with current trends. And whereas messy styling is still on trend, you are free to experiment with more polished looks as you please.
Long Shag Haircut Nailed by Real Women
There is a bunch of reasons for choosing a shag hairstyle, when your hair is long. Layering saves long manes from falling flat, and this is a great way to retain the length, while gaining a chic look. "Long layers through the interior and shorter layers around the front add movement to longer hair," Ted Gibson, hairstylist working with Angelina Jolie, Rachel Brosnahan and other celebs, told Elle. Besides, you can still enjoy various updos, but shag hairstyles rather encourage wearing your hair loose with no to little heat styling tools used. Help your hair stay healthy with one of the stylish shags from our pick!
This thick hair radiates texture through the modern interpretation of the iconic Bardot hairstyle. The bedhead vibe is a must!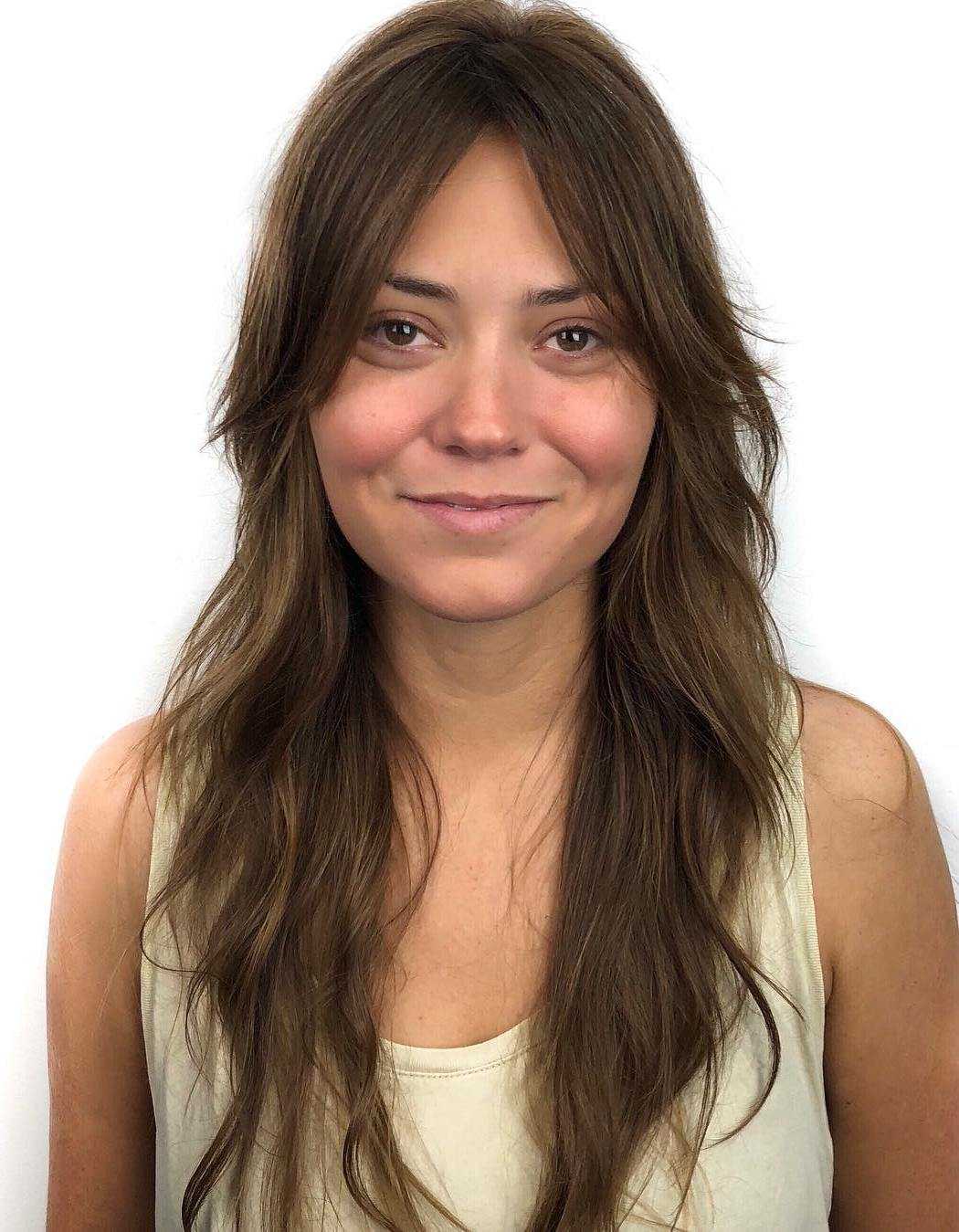 Girls with round faces will love this shag version – while curtain bangs call attention to the eyes rather than to the wider parts, razored layers deliver both dimension and an elongating effect.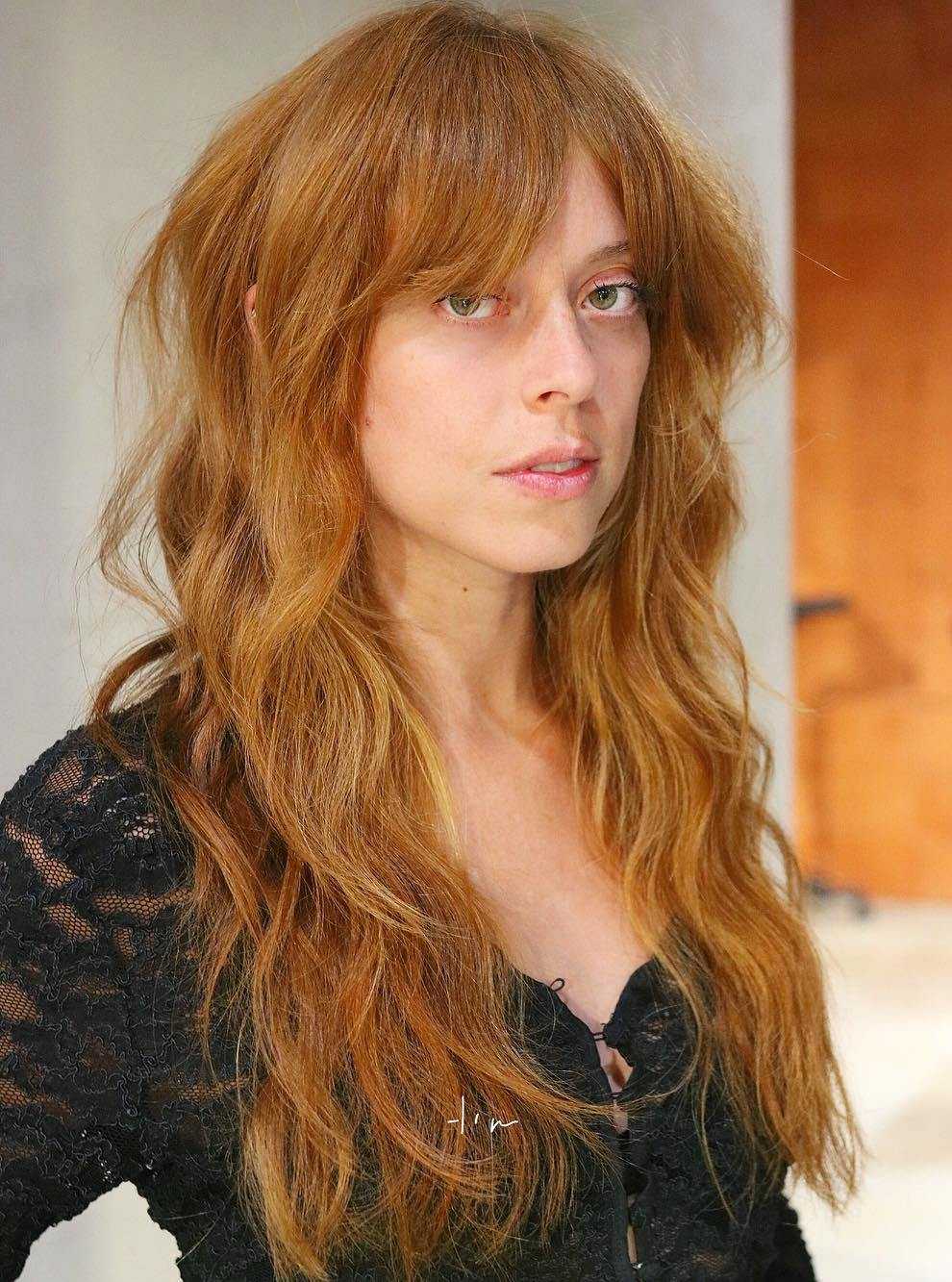 Natural waves can be handsomely enhanced with a layered haircut. This one incorporates center-parted bangs and effortless styling.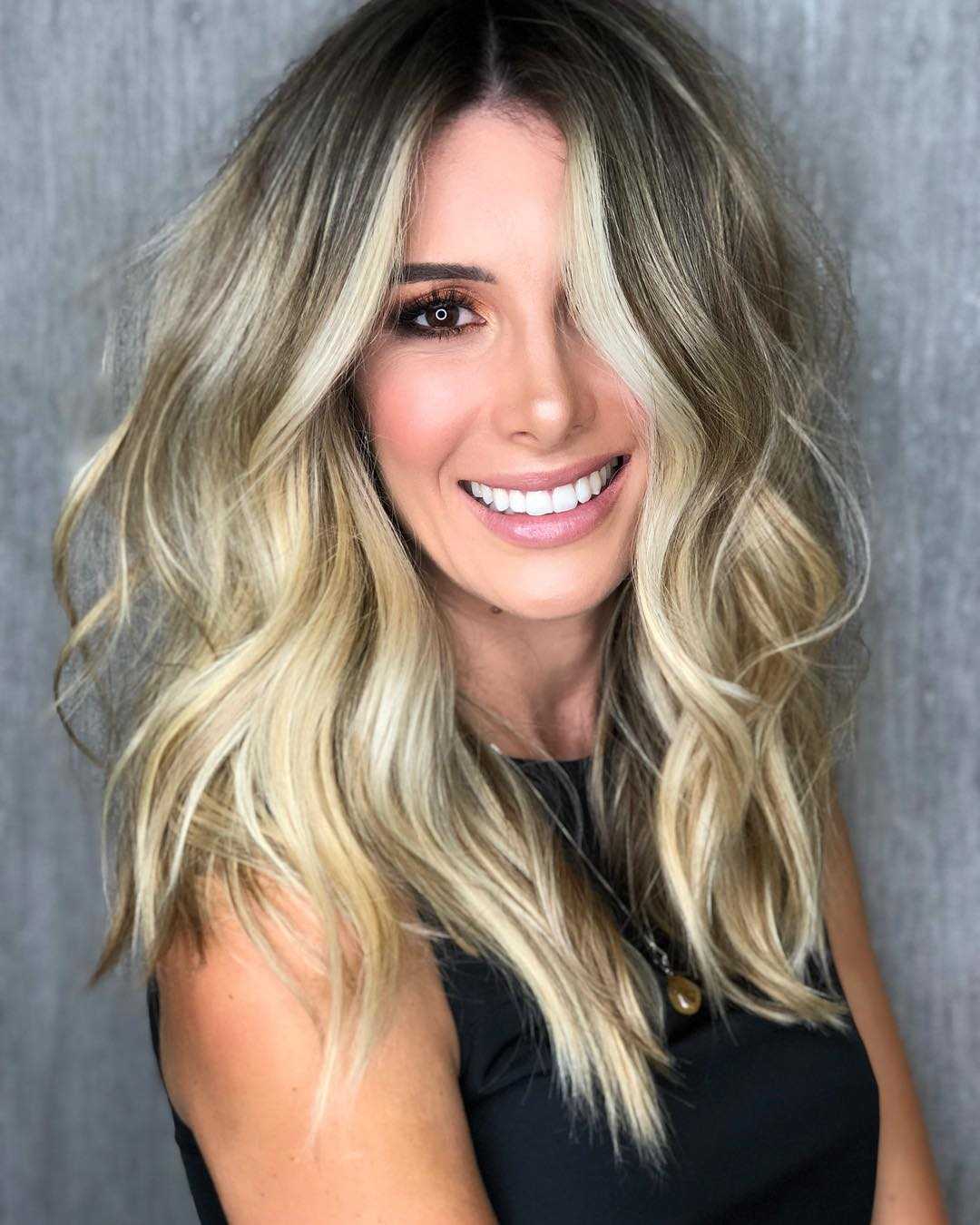 This blonde hair sparks with adorable highlights, accentuated through textured locks. Note how the face is brightened by the color and layers.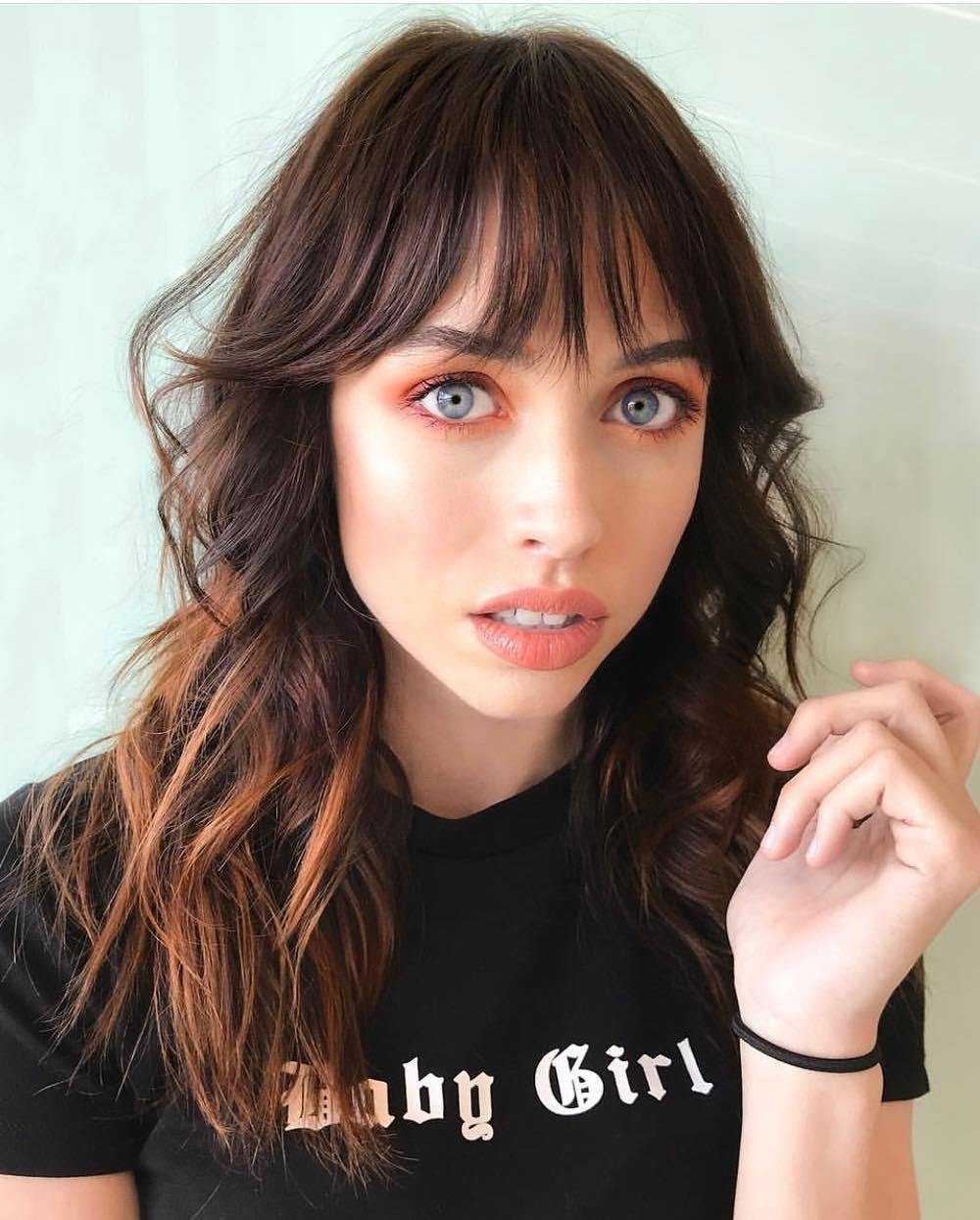 Flipped out 1970-esque bangs are back, now teamed up with the modern sliced texture. They blend well with messy styling, whether it's wavy or straight hair.
Medium Shags Nailed by Insta Girls
"A sharp, cool style that doesn't look like you've just stepped out of the salon. It suits anyone, it's long lasting and, with face framing layers, it looks better as it grows," says award-winning UK-based hairstylist Luke Hersheson about the shag to Glamour. Effortless, yet chic looks and easy styling were on our mind, too, when we were browsing the Web in search of the best shag cuts for mid-length hair. While we love the length for its versatility in styling, choppy cuts add a natural feel one just cannot resist. So, get inspired with this combo and a variety of effects you can create.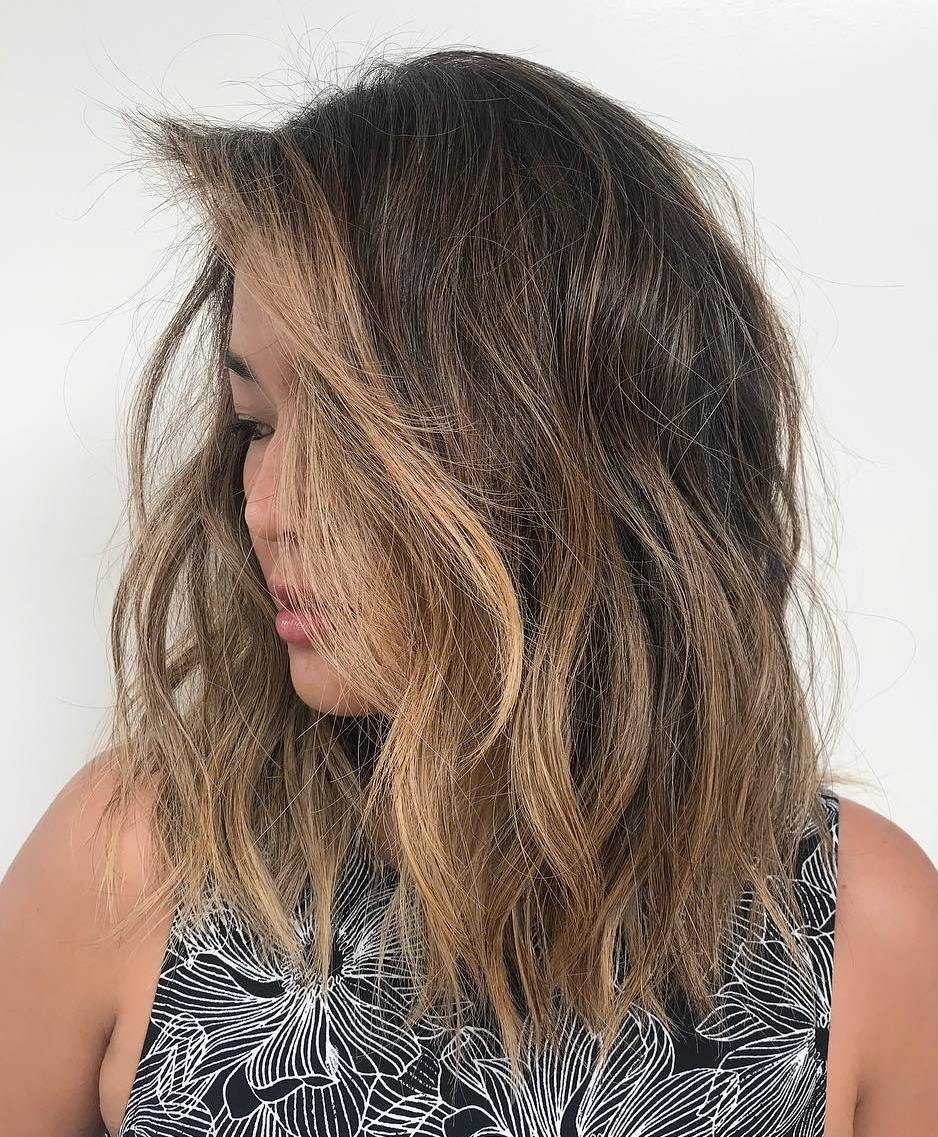 The shag haircut flatters the color scheme of this thick hair, making it look even more natural and touchable. Don't miss to blow dry bangs to the side for added volume!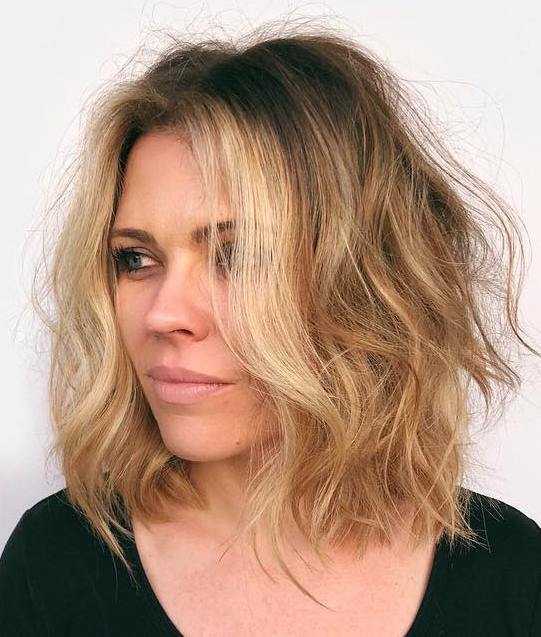 This long bob with subtle layers is easy to style using texturizing products rather than heat. And its color transition is cool, emphasizing the face and bringing more depth to the hair.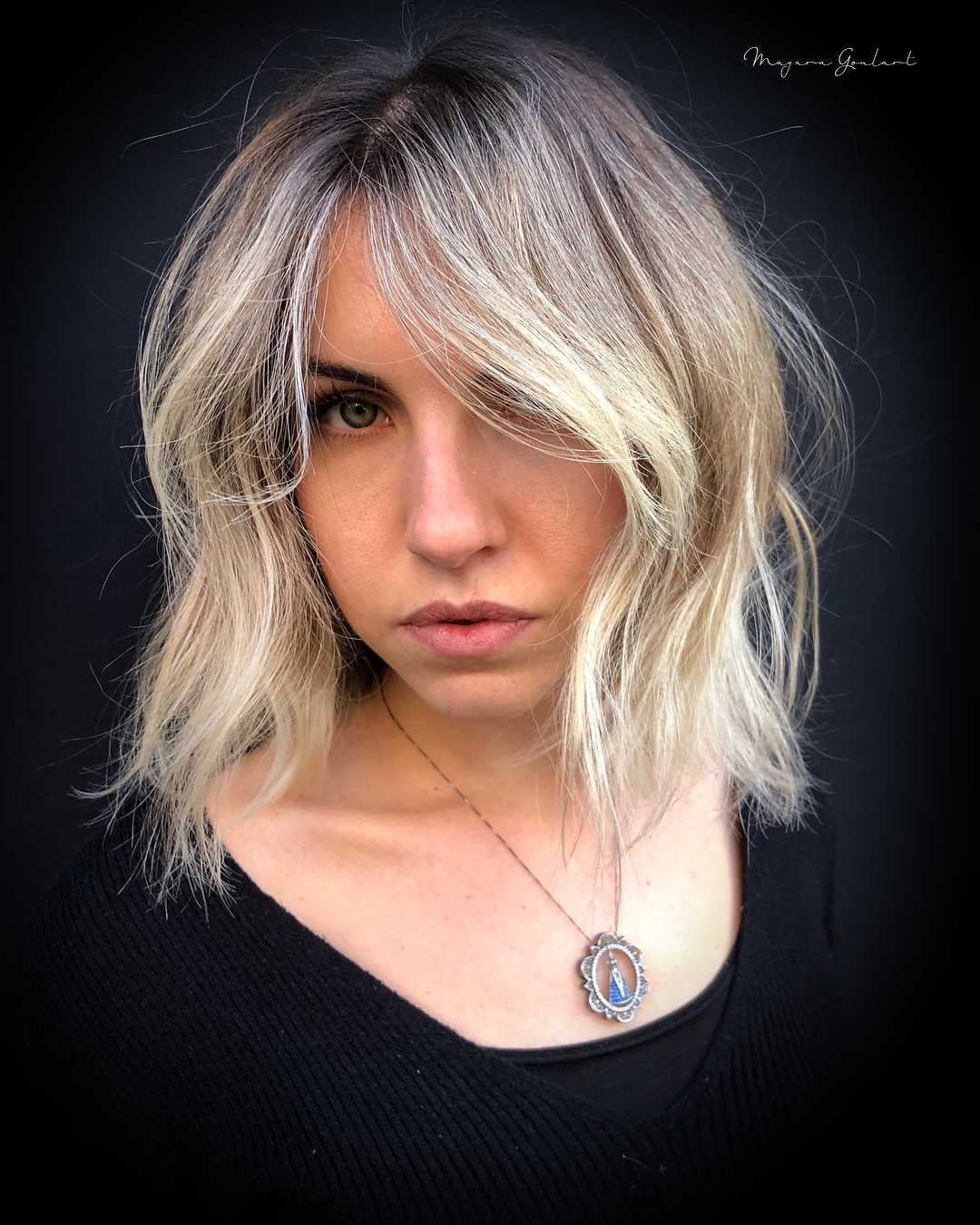 Thin hair always stands to gain from layering, since this gives it the dimension it lacks. No flat looks, but lots of crisp texture – this is what the shag bob does.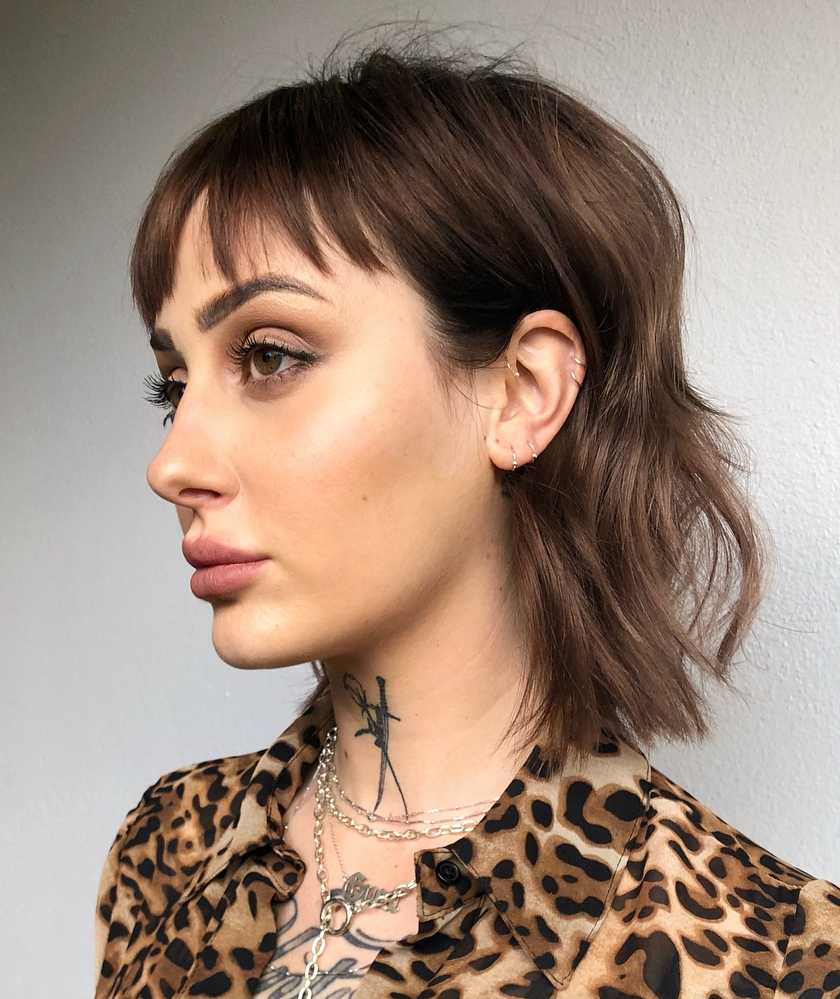 Here is how you can transform your hairstyle with one sweep. Just tuck your side tresses behind the ears to shift the focus to these dramatically short and structured bangs.
This shaggy shoulder length cut is hot for its vibrant, yet soft feel, created through both subtle layering and beautiful coloring.
Short Shaggy Hairstyles to Steal from Salons
"This is a time when you can embrace the razor because it frees up all your ends — you want lots of choppy layers," says celebrity hairstylist Matt Fugate to Teen Vogue and suggests creating tousled looks with only your hands instead of flat or curling irons. This goes for any short shag haircuts regardless of your hair texture – don't sweat to make your hair sleek and polished when you don't want to. Also note that this is a great option for growing out your hair, for example when going from pixie to lob. Here are some chopped looks to borrow, proving that short shags are doable for various ages, head shapes and hair types.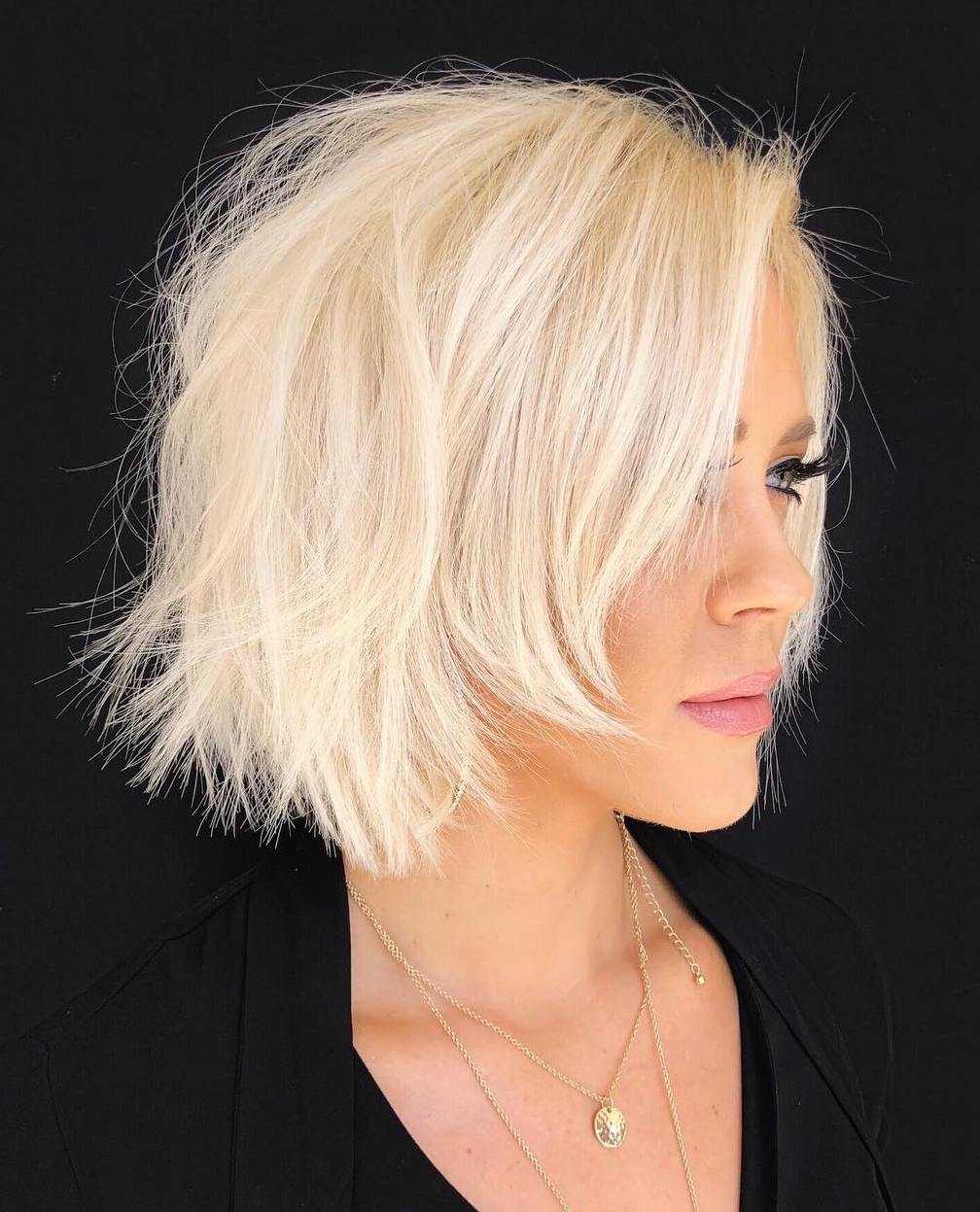 This edgy short cut comes with carefully styled side bangs to softly frame the face. Other tresses are scattered haphazardly to give the fine hair more volume.
Shaggy chops are so funky and flirty, that they just can't be ignored by a woman over 50! Bookmark this icy bob with shadow roots, side bangs and graduated layers.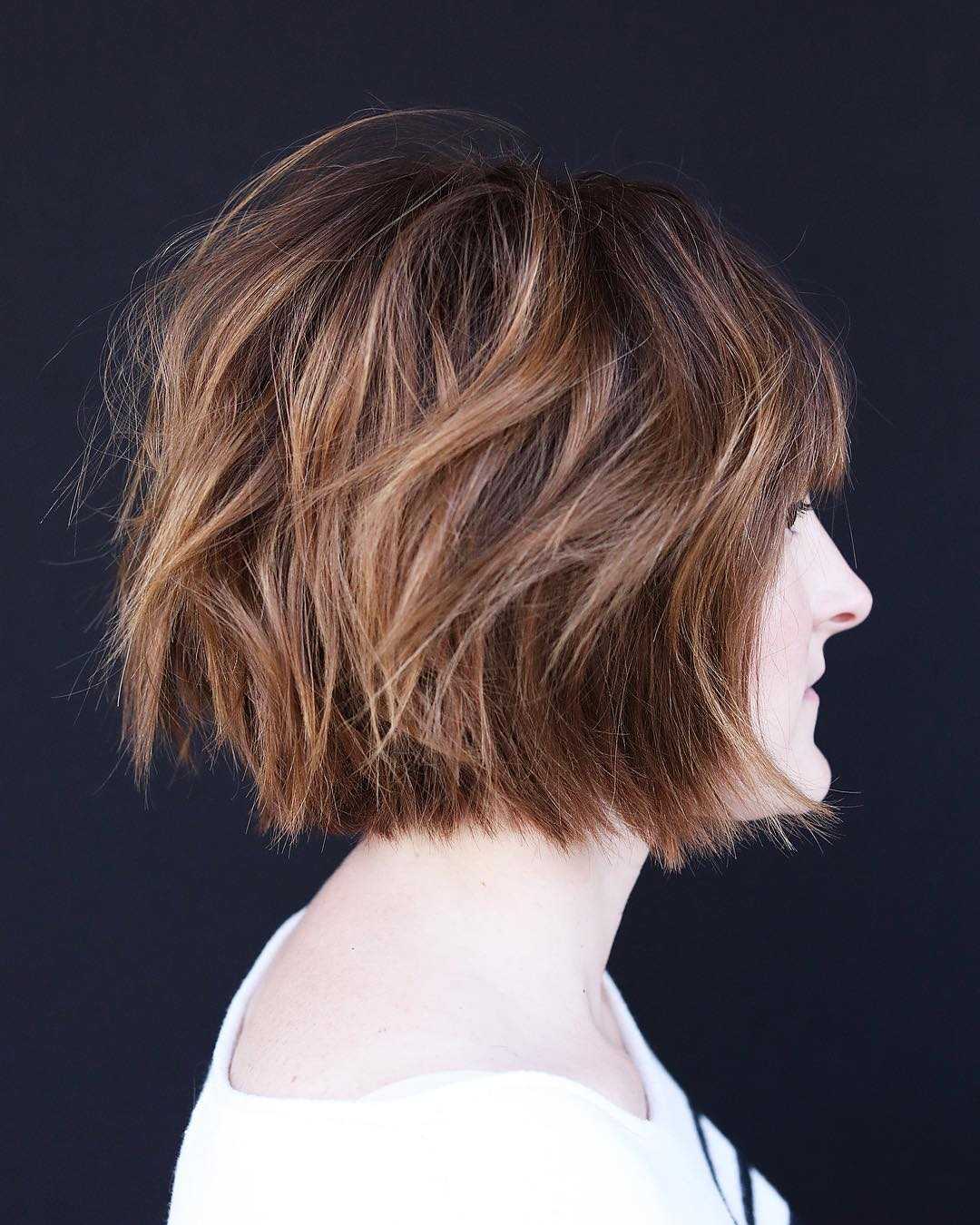 This bob features the classic shape, but that doesn't prevent it from looking nicely disheveled and wowie. With its sliced ends, the haircut oozes texture.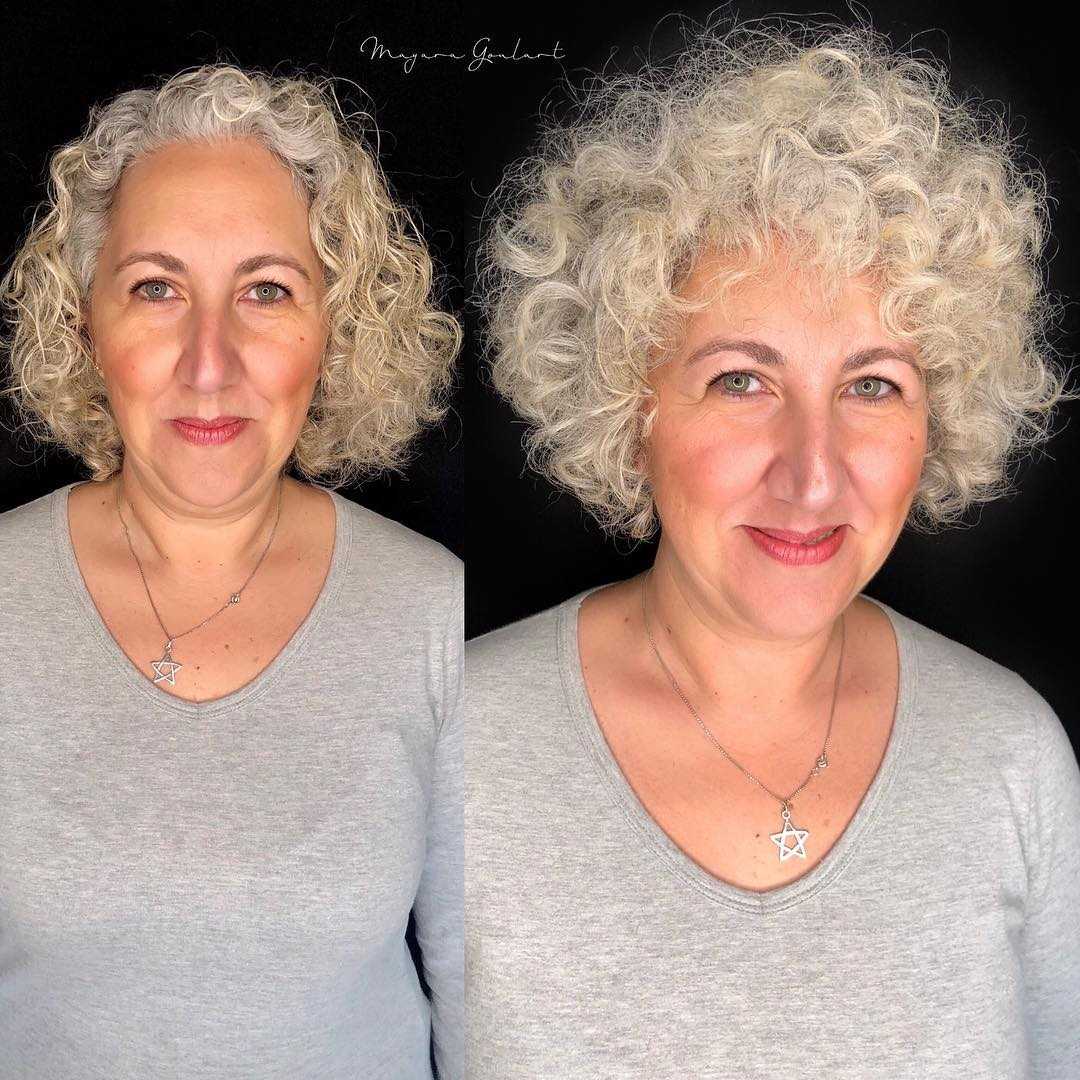 Playful ringlets for grey hair? No sweat! The best thing about this fabulously shaped haircut is that you don't have to worry about the fuzziness. It's shag, babe!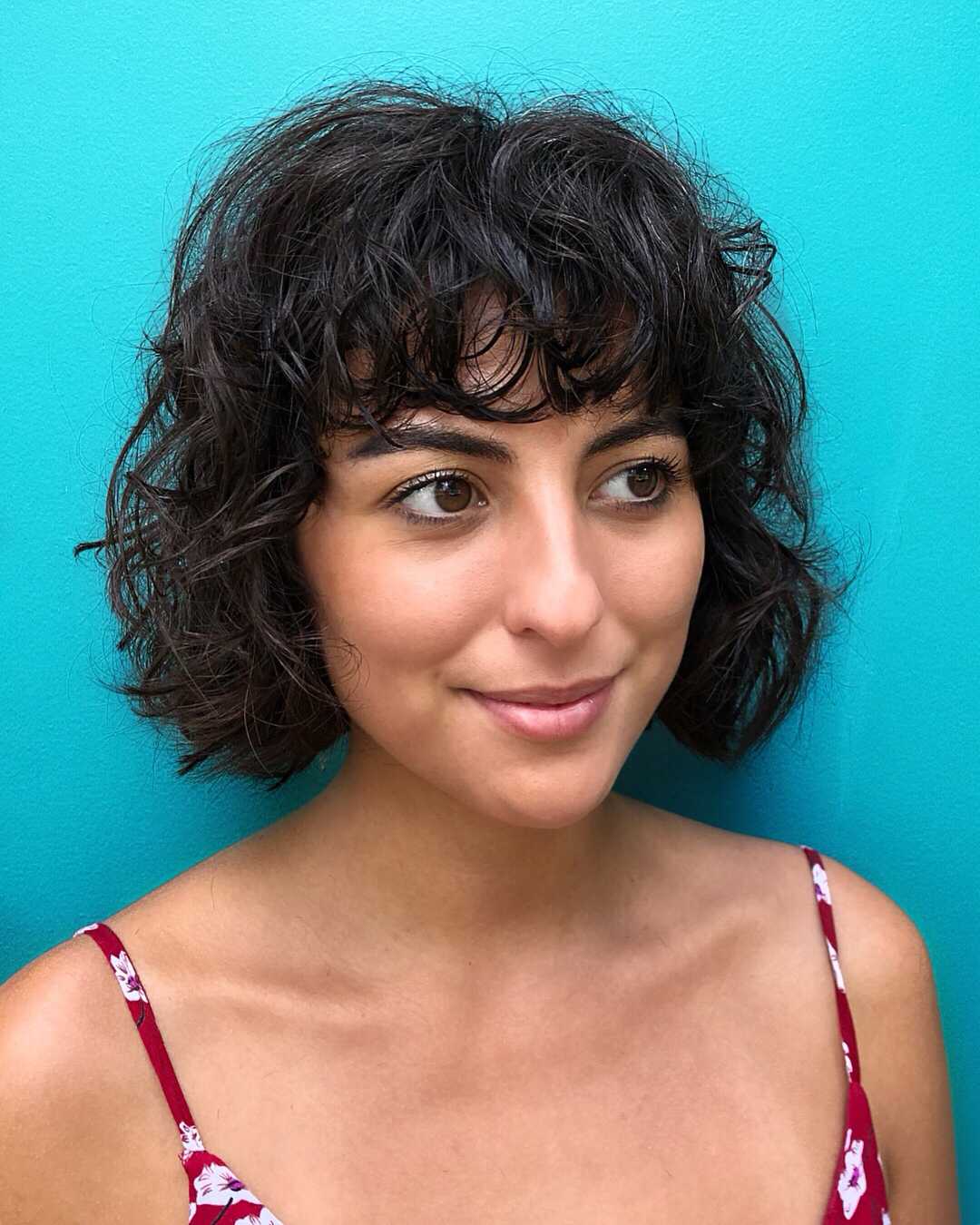 With curly hair, you can also opt for this effortless look, combining the classic bob and textured ringlets. And the random curls of the full fringe are charming.
Trendy Shags Classified By Hair Type
Everything old is new again, and hairstylists keep drawing inspiration from iconic looks of the past. "We're also seeing a lot of seventies inspiration in fashion right now, including clean cuts and natural textures (…)," celeb hairstylist Justine Marjan says to Glamour. The latter is just the thing to start with when searching for a shag hairstyle. When applied skillfully, those magic layers can unleash all the beauty of your hair, while hiding some downsides like frizz, lack of volume or heaviness. Get your shag haircut tailored to your hair density and texture and enjoy the signature look like those we have selected.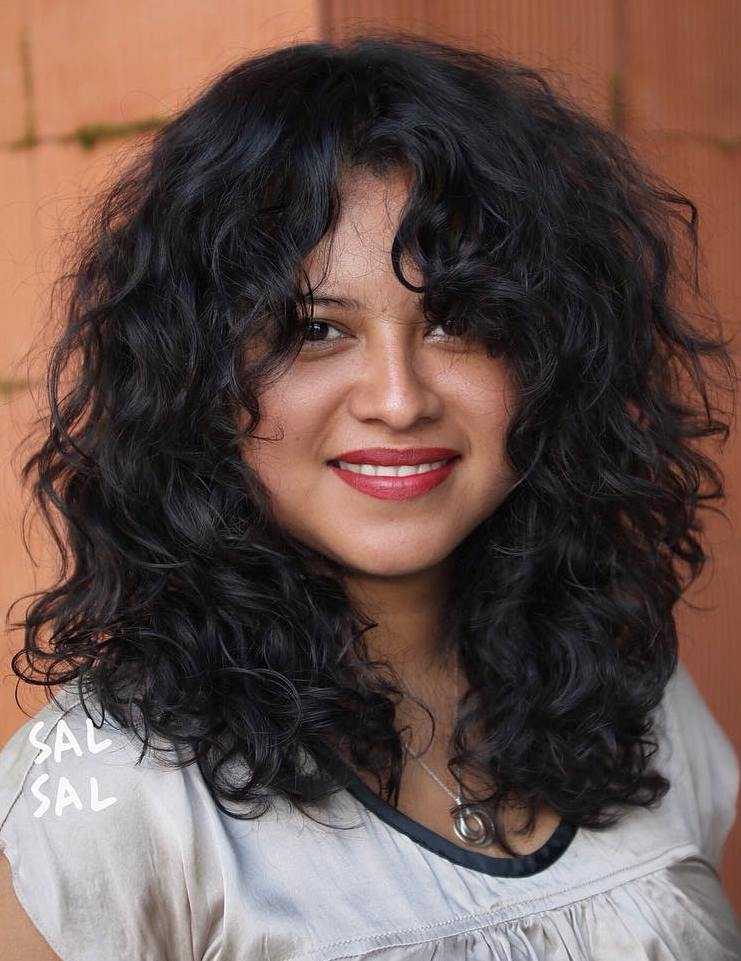 Though it sounds contradictory, you need to get your curly hair carefully structured in order to have it fashionably tousled. This spiral cut is a star to follow.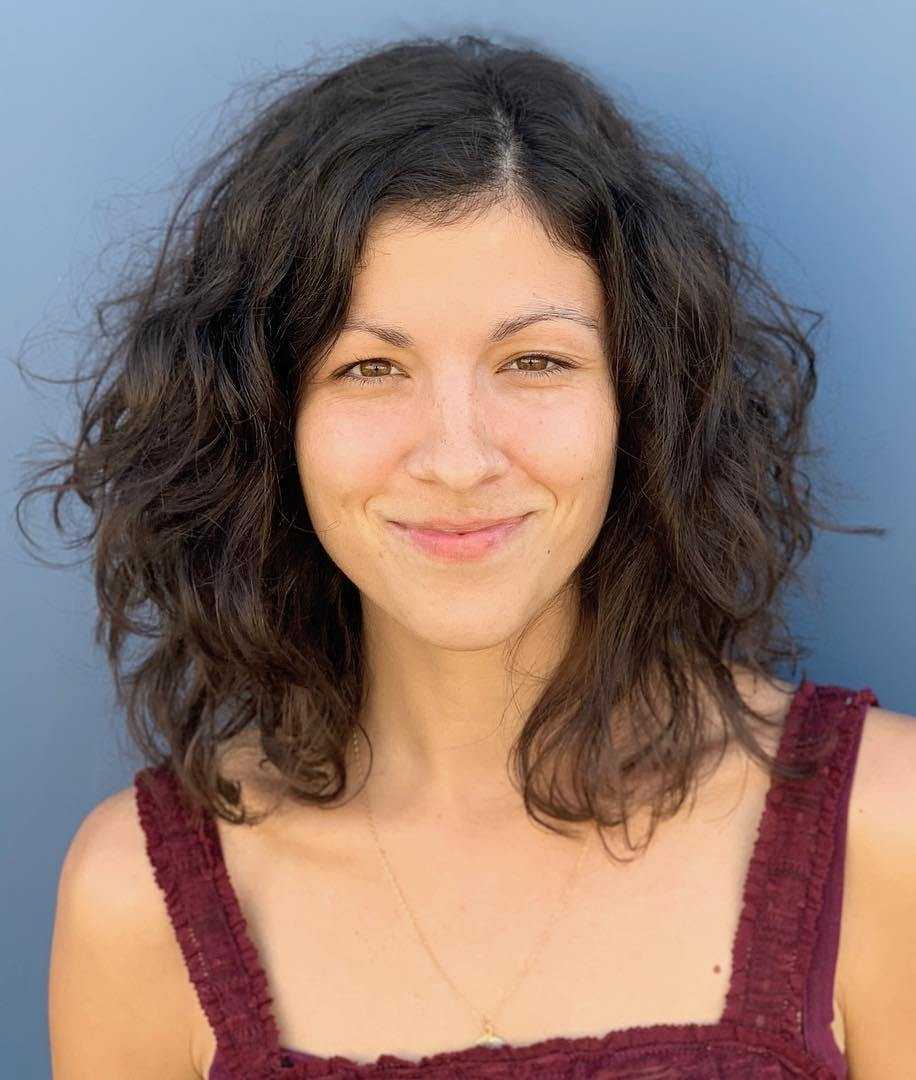 The layered lob looks great on this wavy hair, shaping it nicely. To avoid an overwhelming effect, open your face by pulling side tresses away from it.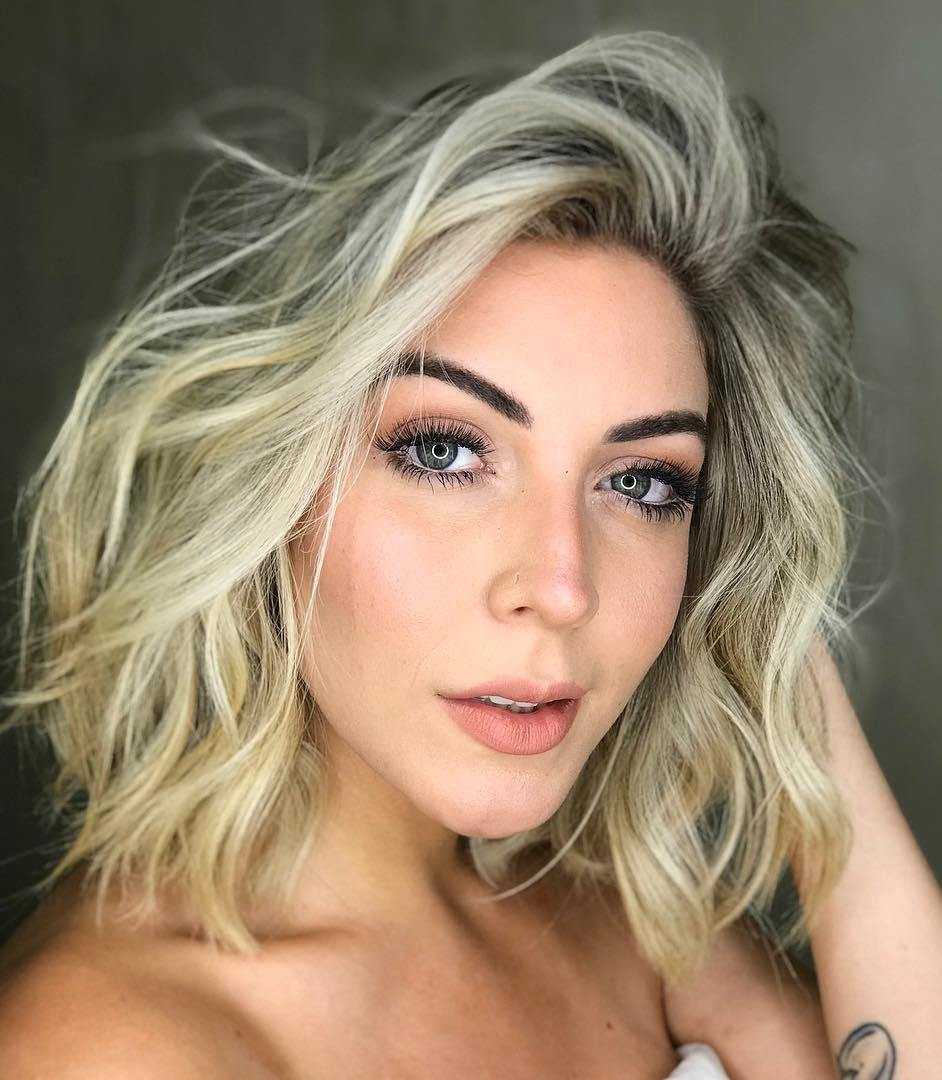 It feels a bit like the 80s mall fringe, but actually this amazing thick hair is artistically debulked and textured to get an airy and voguish touch.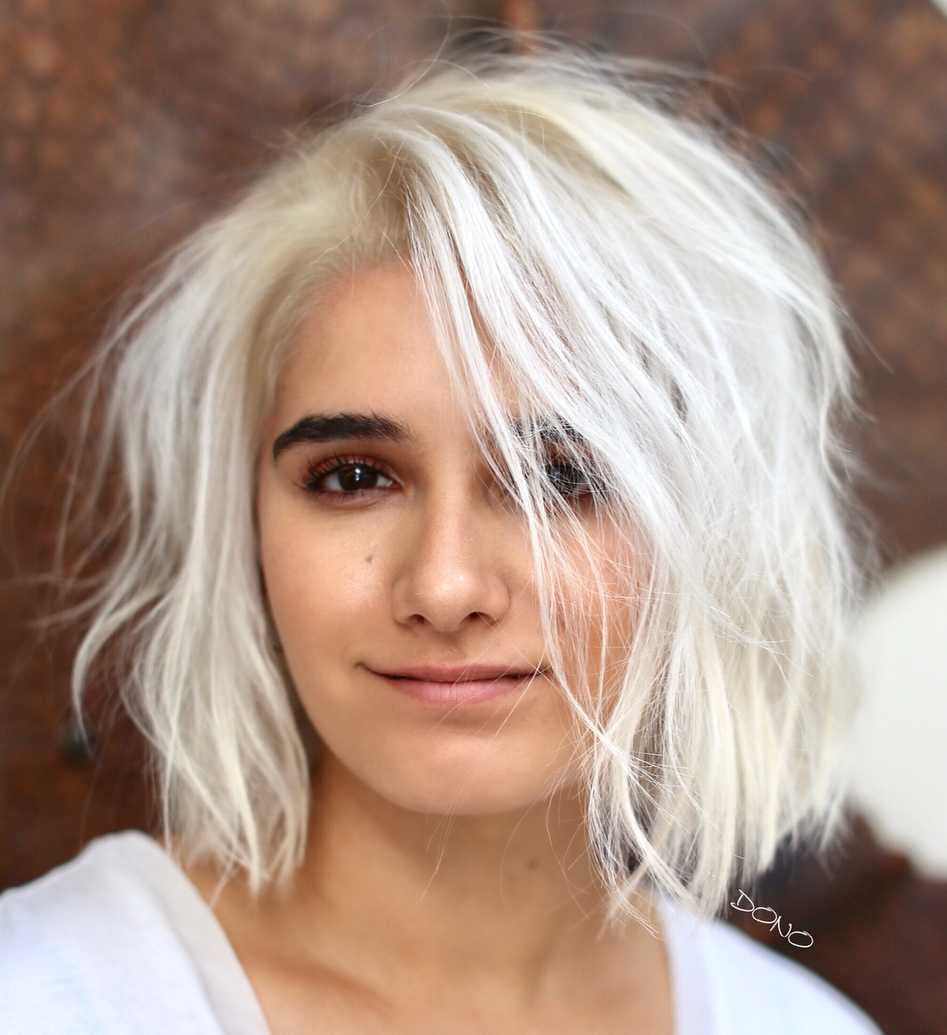 The airy shag bob involves some teasing to create an elevated top, which is perfect for thin hair. Subtle layers add to the delicacy of the white blonde.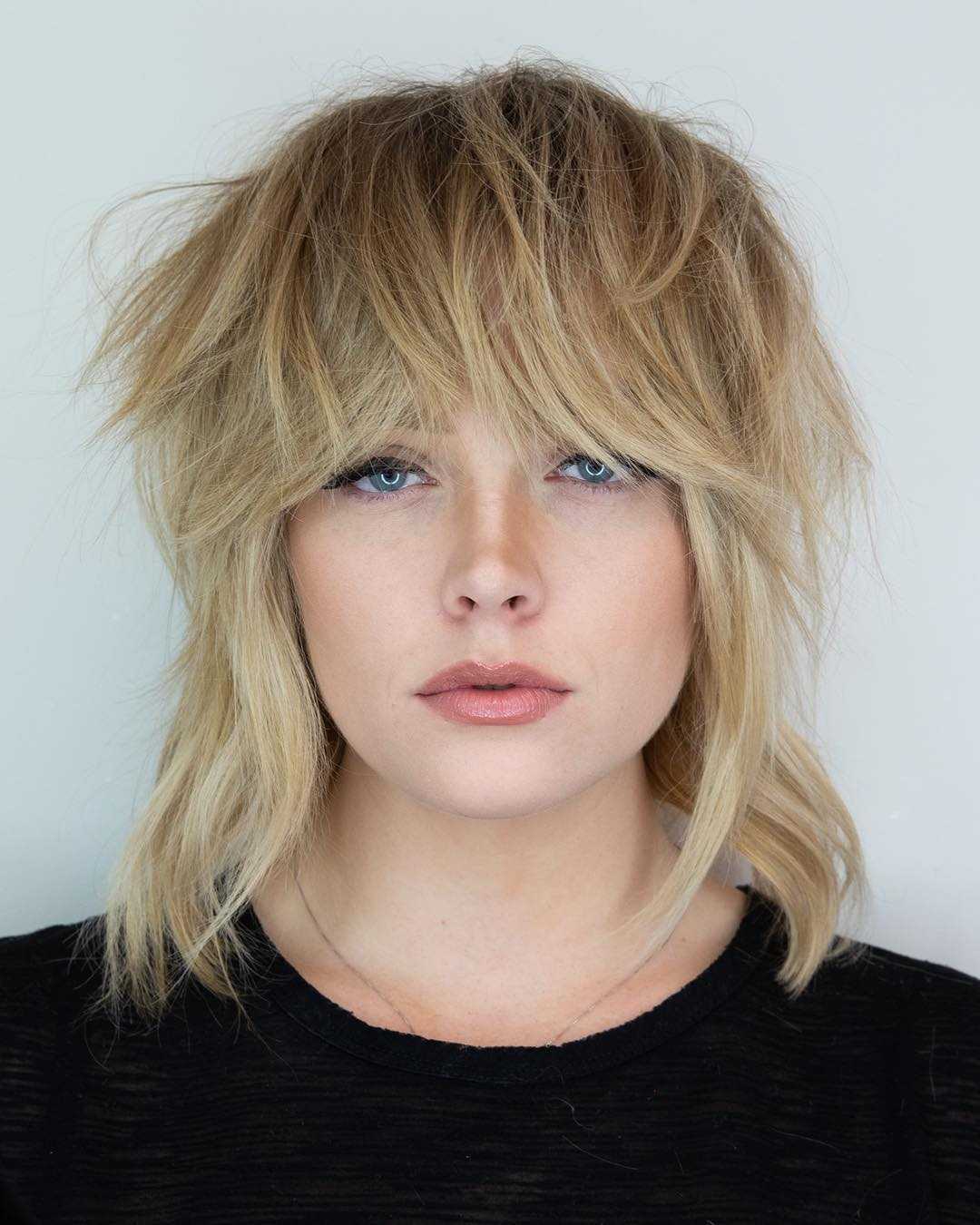 Straight doesn't mean sleek and flat, which is proved by the stunning shag below. The flipped eye-grazing fringe is our favorite part!
Flattering Haircuts by Face Shape
Don't listen to those saying that the shag haircut is not your cup of tea, just because your face is too long, too wide or too small. There is a shag for each face shape, and the width-to-length ratio is not the only thing that affects your look. In fact, any head shape and facial features can be balanced through many ways, including the haircut length, fringe type, parting, distance between layers and the level where they start. Sure, there are certain rules to follow, but there are also exceptions to the rules, as well as little tricks we are going to illustrate below.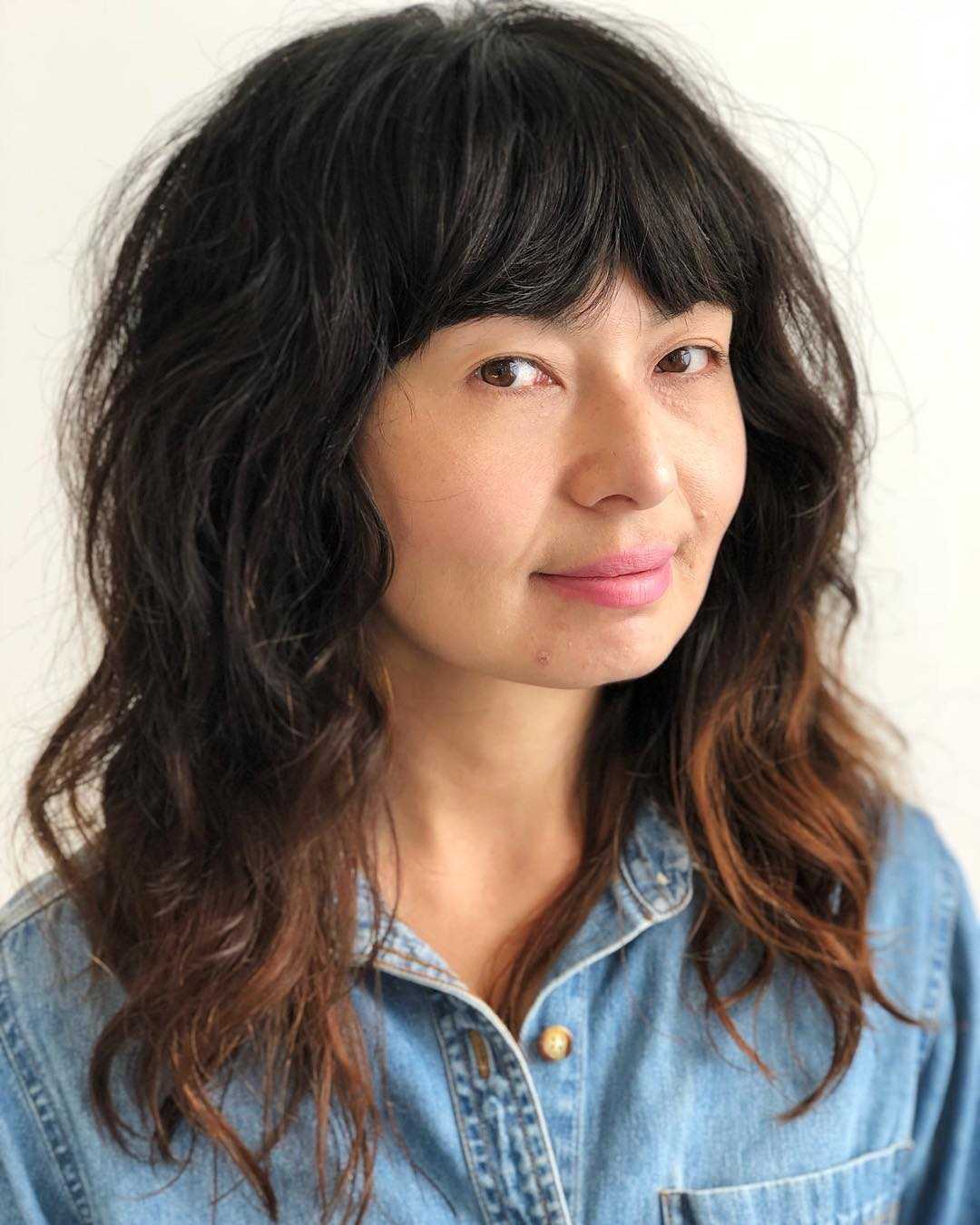 The thick straight-across fringe adds angles to this round face, also drawing attention to the eyes. Together with choppy layers and highlights, it gives a modern twist to the vintage hairstyle.
Full bangs work fine for oval faces, saving them from dragging down as the hair length is added. In this case, the generously textured mane also gains width to balance the look.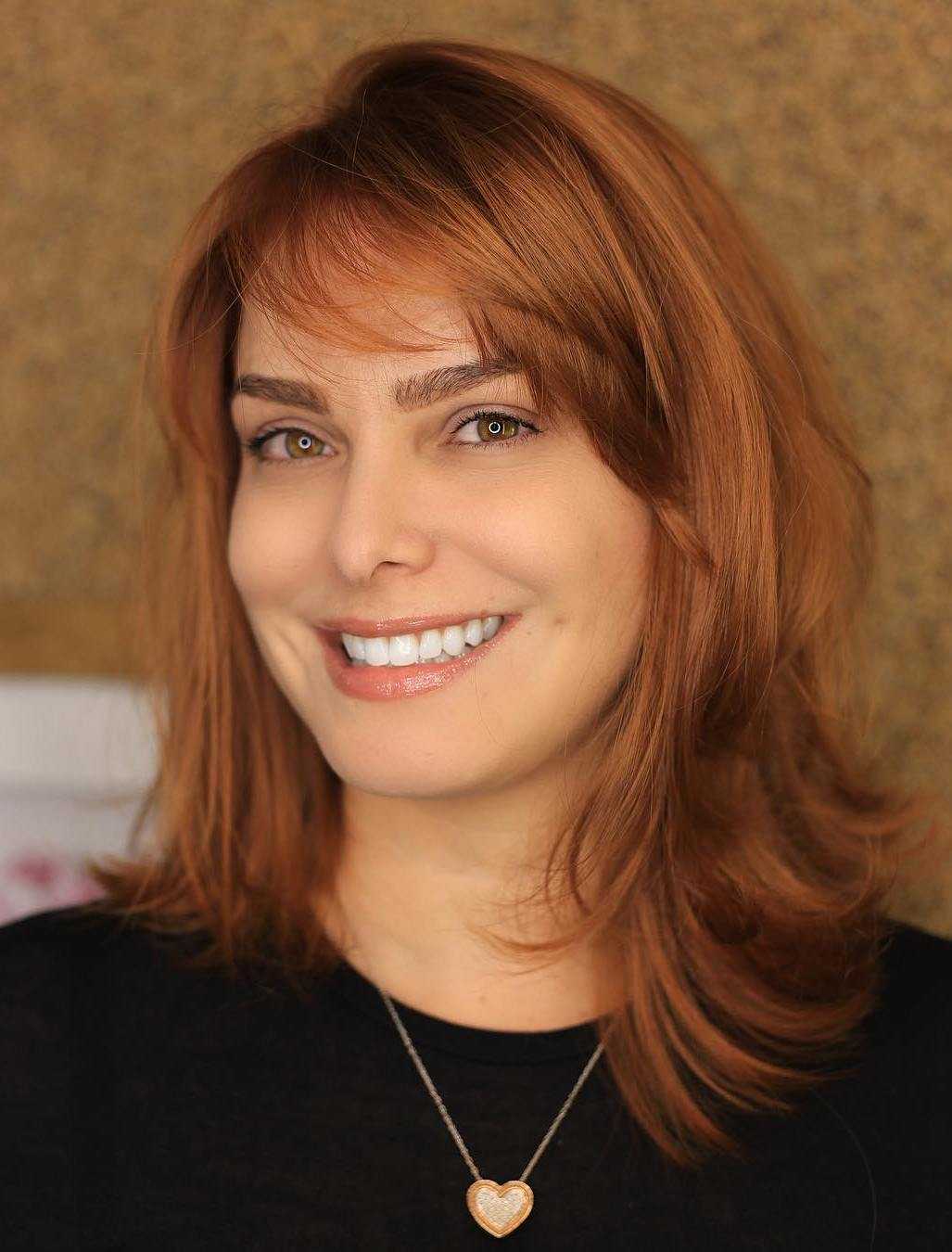 It's a good idea to soften this square face with airy side-swept bangs, falling gradually to the cheek. Flipped ends deliver even more curves to get the right proportion.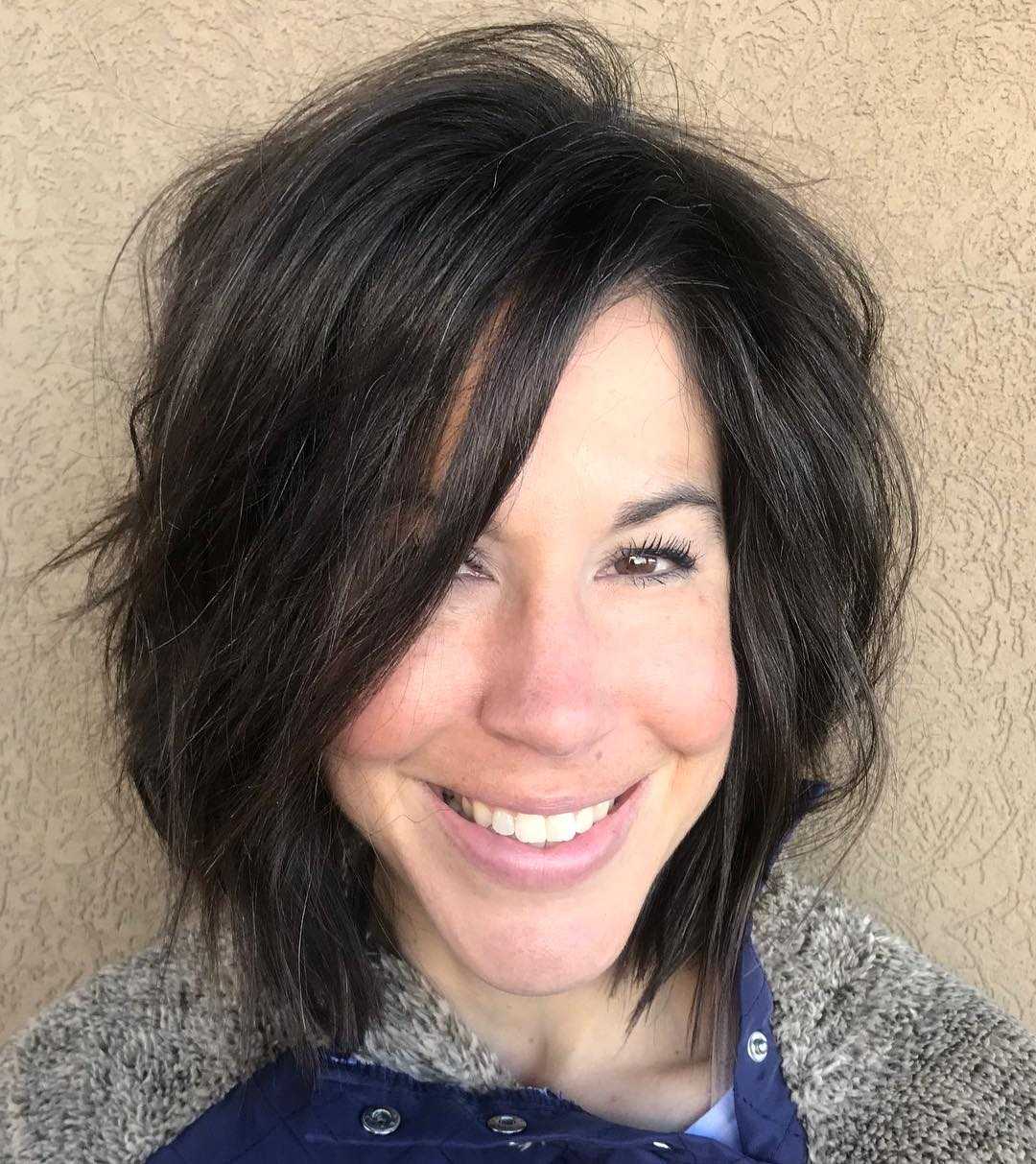 If your face is long, you want more volume on the sides, right? Have plenty of it with this side-parted messy bob.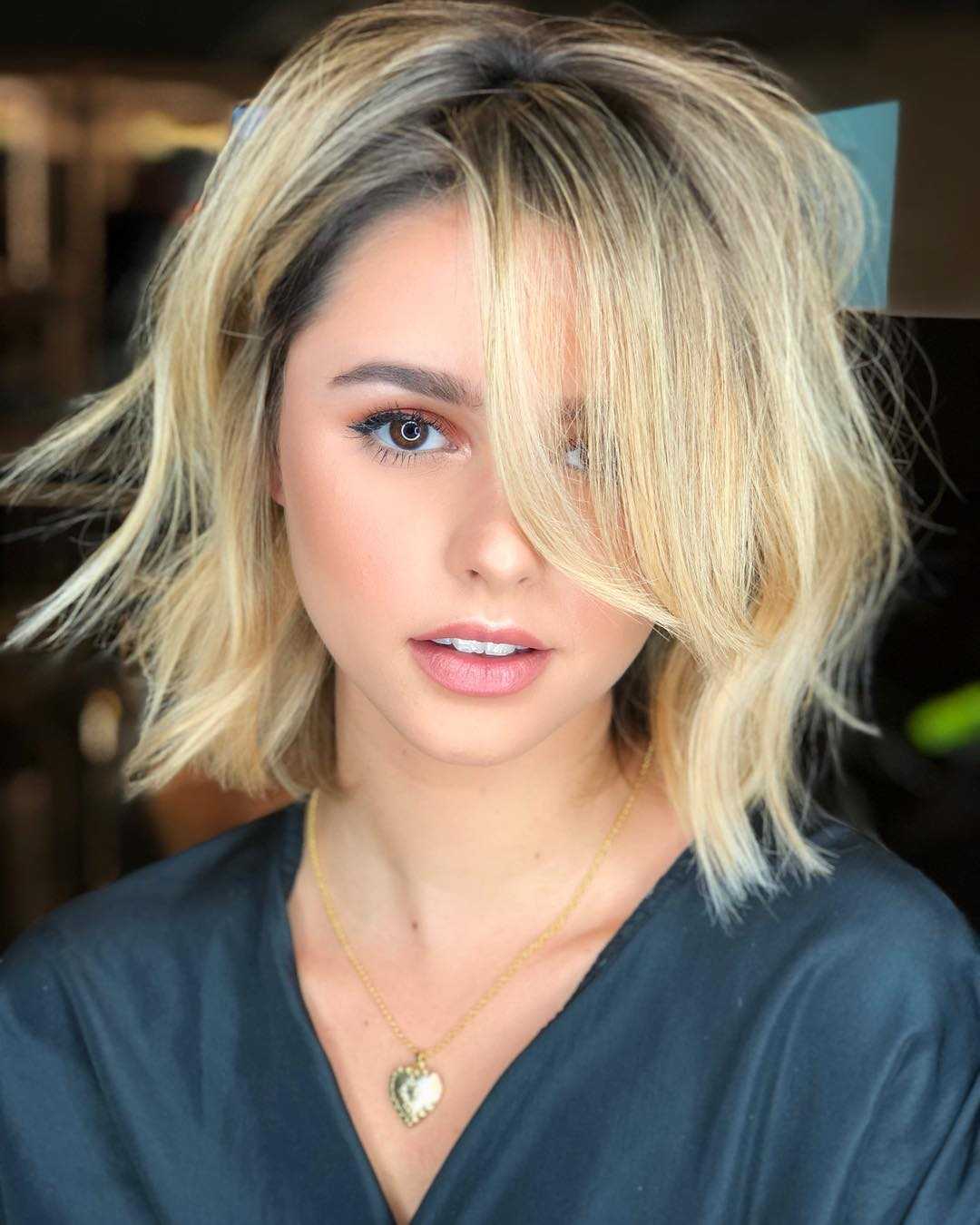 This hairstyle boasts so many details to draw attention away from the small, pointed chin of the lovely heart shaped face. From the long wispy bangs to the tucked side tresses, it emphasizes the middle part of the face, while balancing the jaw line with wild choppy tips.
Chic Shags with Bangs
A fringe is an inherent part of the original shag hairstyle, transformed into Farrah Fawcett's feathered bangs in the 80s and then converted into The Rachel's face-framing layers in the 90s. Nowadays, you are free to wear the shag cut with or without bangs, but since they are officially in vogue, it makes sense at least to have a try. The more so that you can choose from a plethora of options – long or micro, dense or wispy, straight or curly. "They have a bad reputation from when you were little, but really any age can work them," Matt Fugate says to Allure, encouraging even mature clients to go for bangs.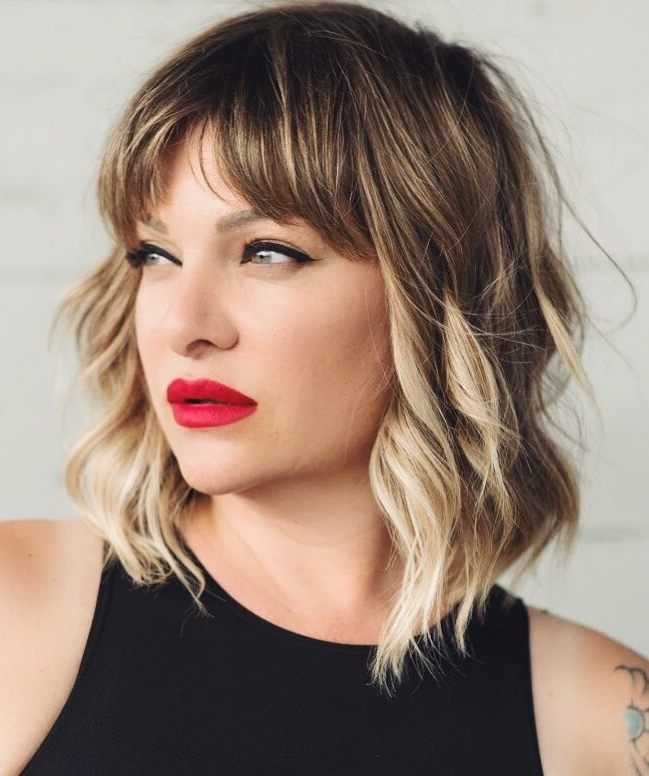 This medium shaggy layered bob is fabby, boasting creatively defined waves, placed exactly to display highlights. The dense center-parted fringe is the icing on the cake to bring out the eyes.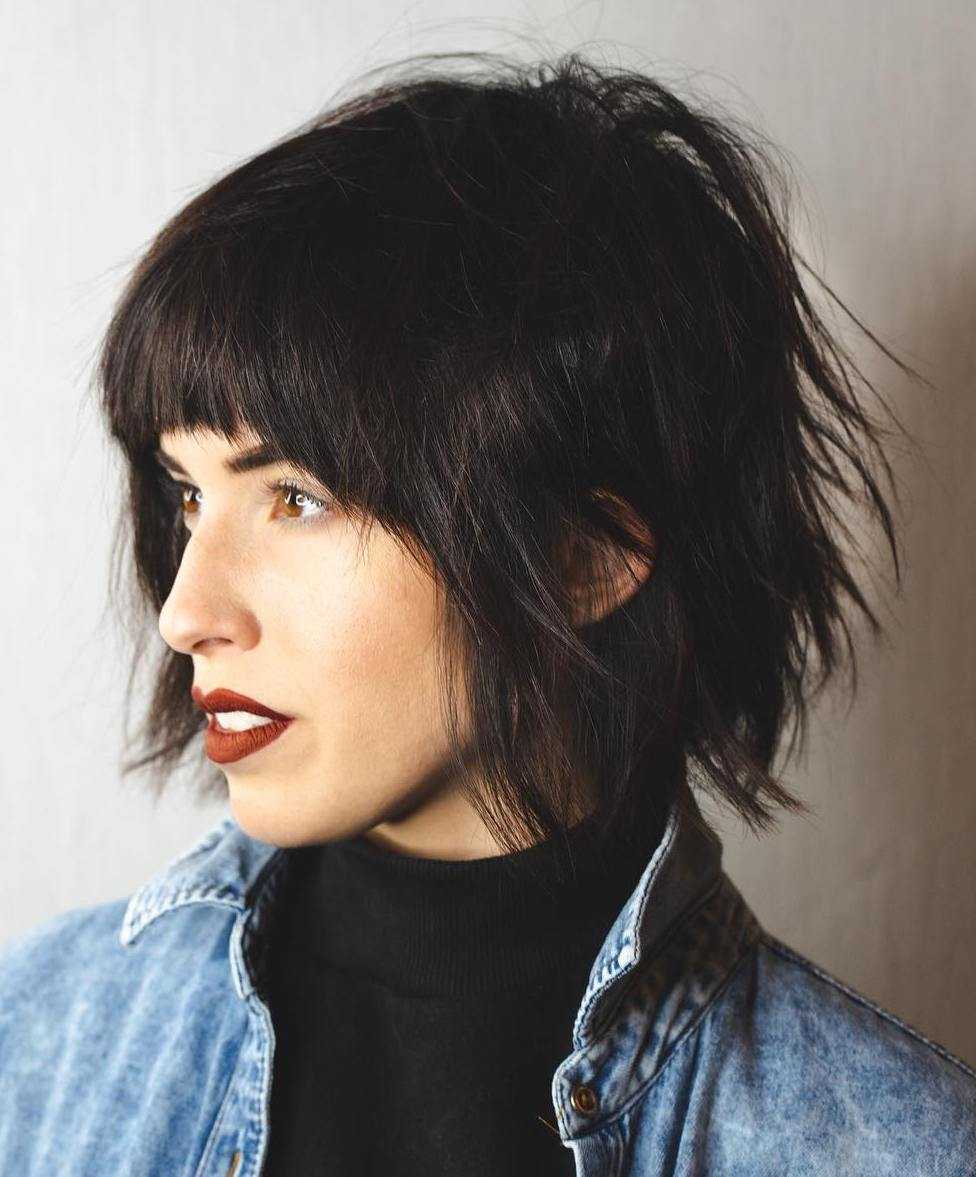 Go a bomb with a short shaggy bob paired with statement micro bangs! We cannot resist the exciting contrast between the chopped and tousled. What about you?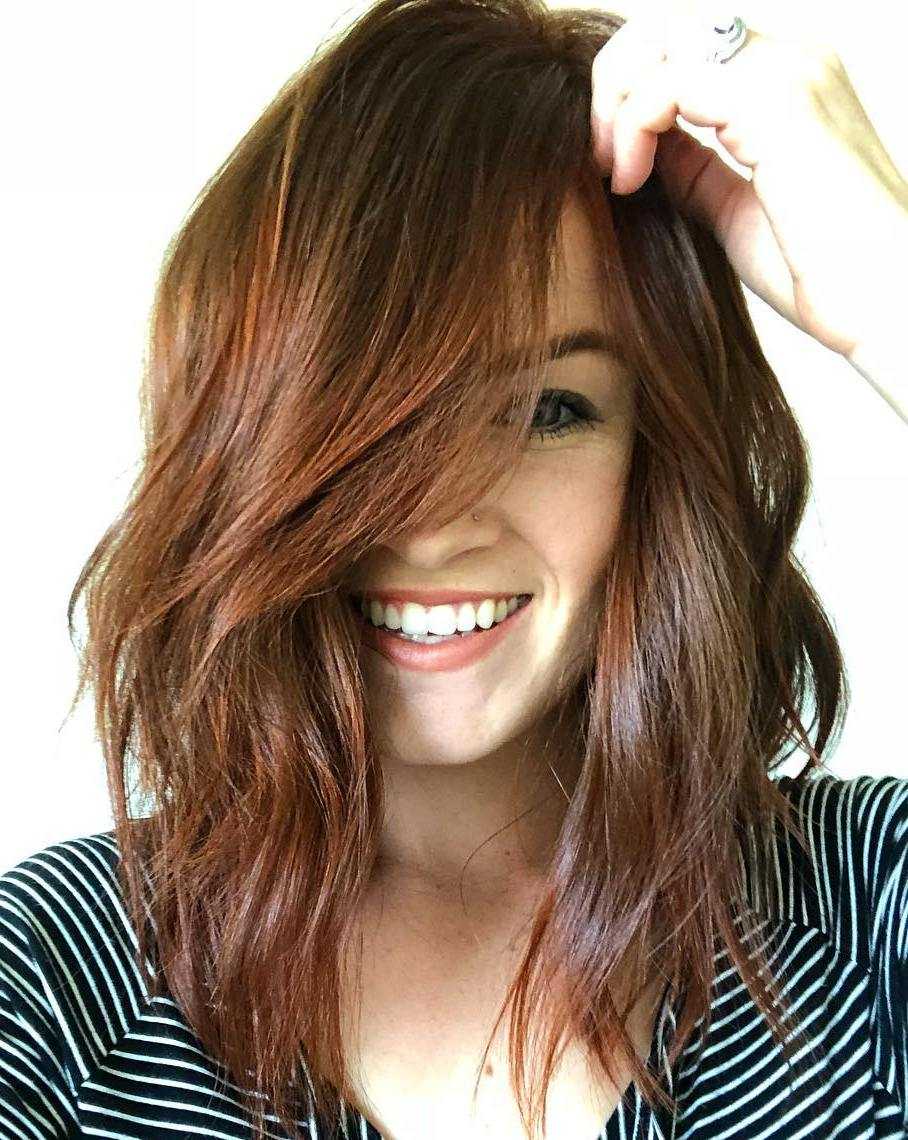 Extraordinary long side swept bangs are perfect for showing off a vibrant color like this warm shade of red. And the sliced layers are cool, by all odds.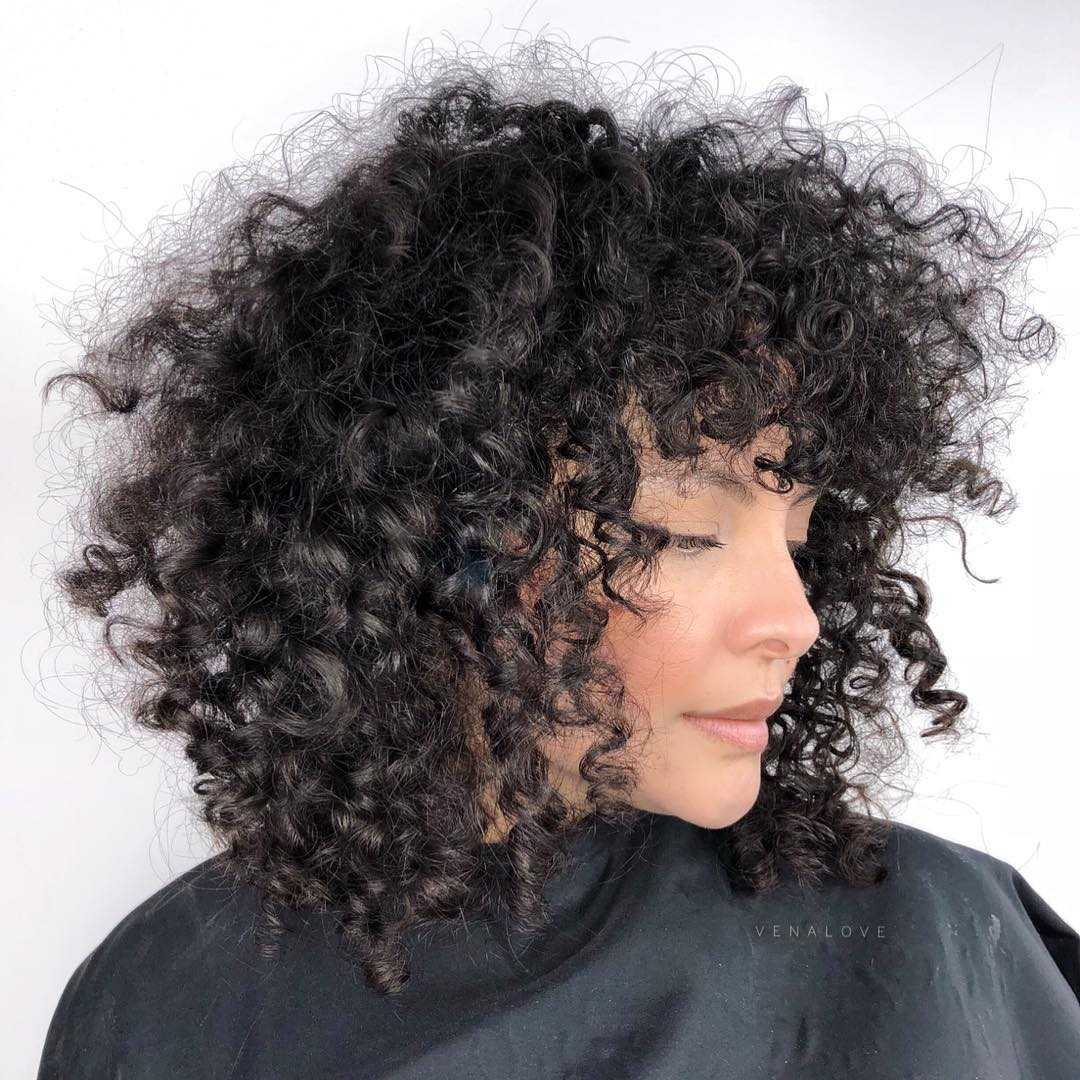 This big cut embraces full bangs to show curly hair in all its glory – with masterfully carved ringlets that envelope the face in a flirty manner.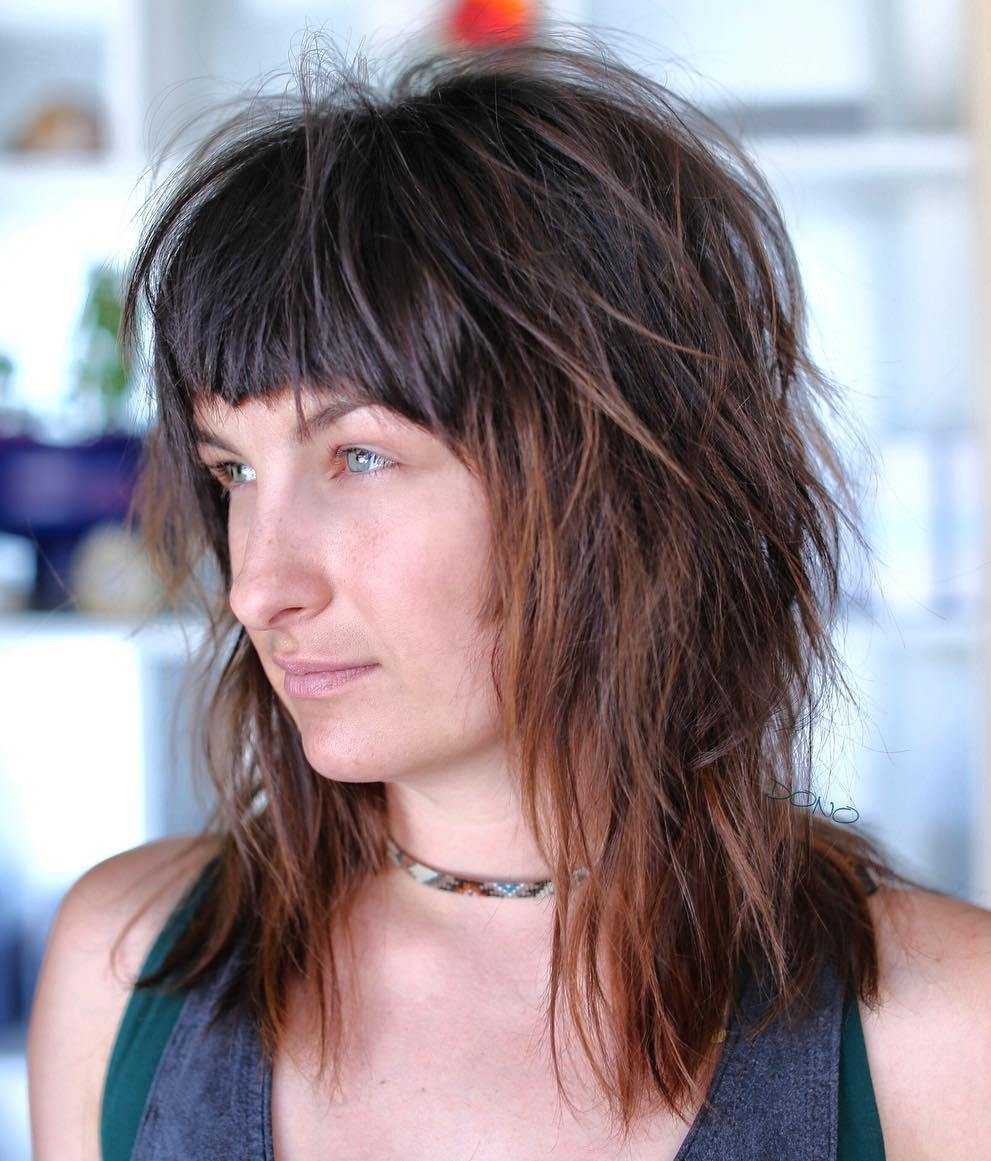 Heavily layered and nicely highlighted, this hairstyle is sure to turn heads due to its dense short fringe, which serves as a strong focal point.
Shaggy Bob Haircuts to Bookmark
"We've seen the bob have its major moment over the past few years, and the new shag works for the very same reason — there's something for everyone," Mara Roszak, hairstylist behind Emma Stone and Zoe Saldana, tells Refinery29. This is the best reason to get both of them by asking for a chic shaggy bob. Yes, we are talking of a layered chin-length cut, but you can go a bit longer or shorter to work your unique hairstyle. Be bold to play with shapes, since we are going to showcase that texture can dramatically change the way any haircut looks.
The asymmetrical bob is badass, and there is always a way to customize it for even a cooler feel. By adding waves and throwing in a piece in front of the ear you can hit the mark.
Here's your recipe for turning a forgettable inverted bob into something shaggy and special – a deep side parting for visible dimension plus a curling iron and styling products for some hip texture.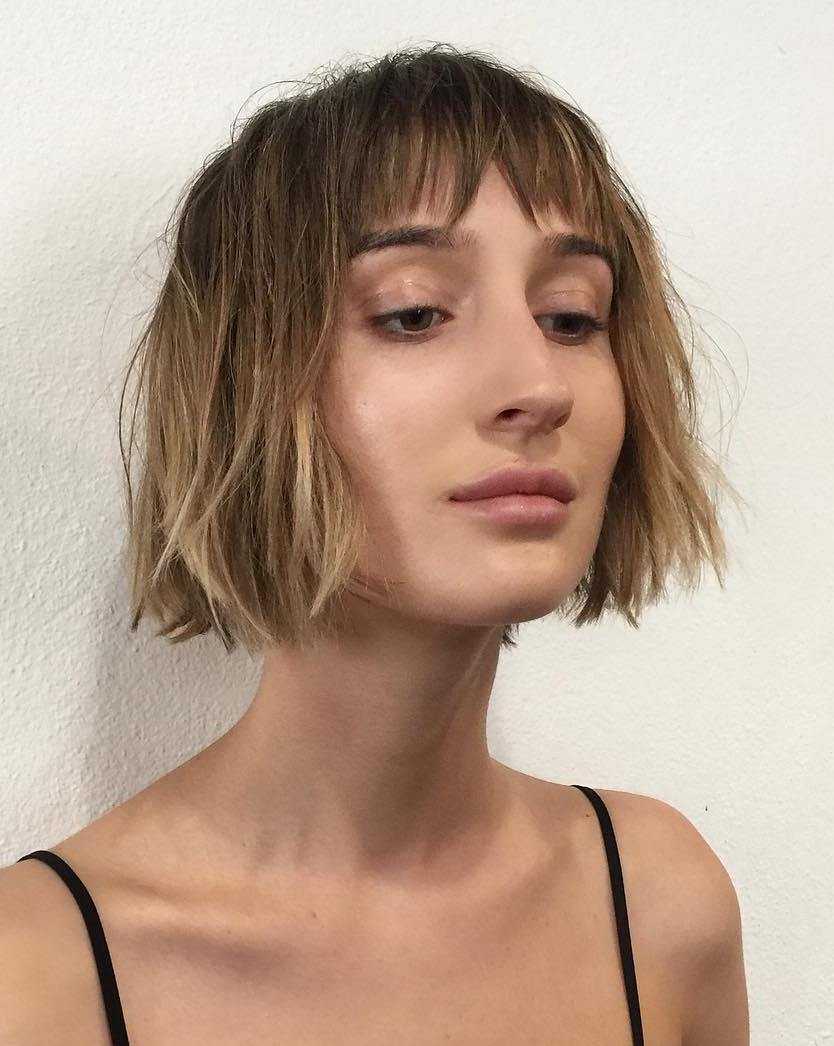 Think your bob looks too dull? Go shaggy with thinned out tips and get short perky bangs with this cute V-styling in the center.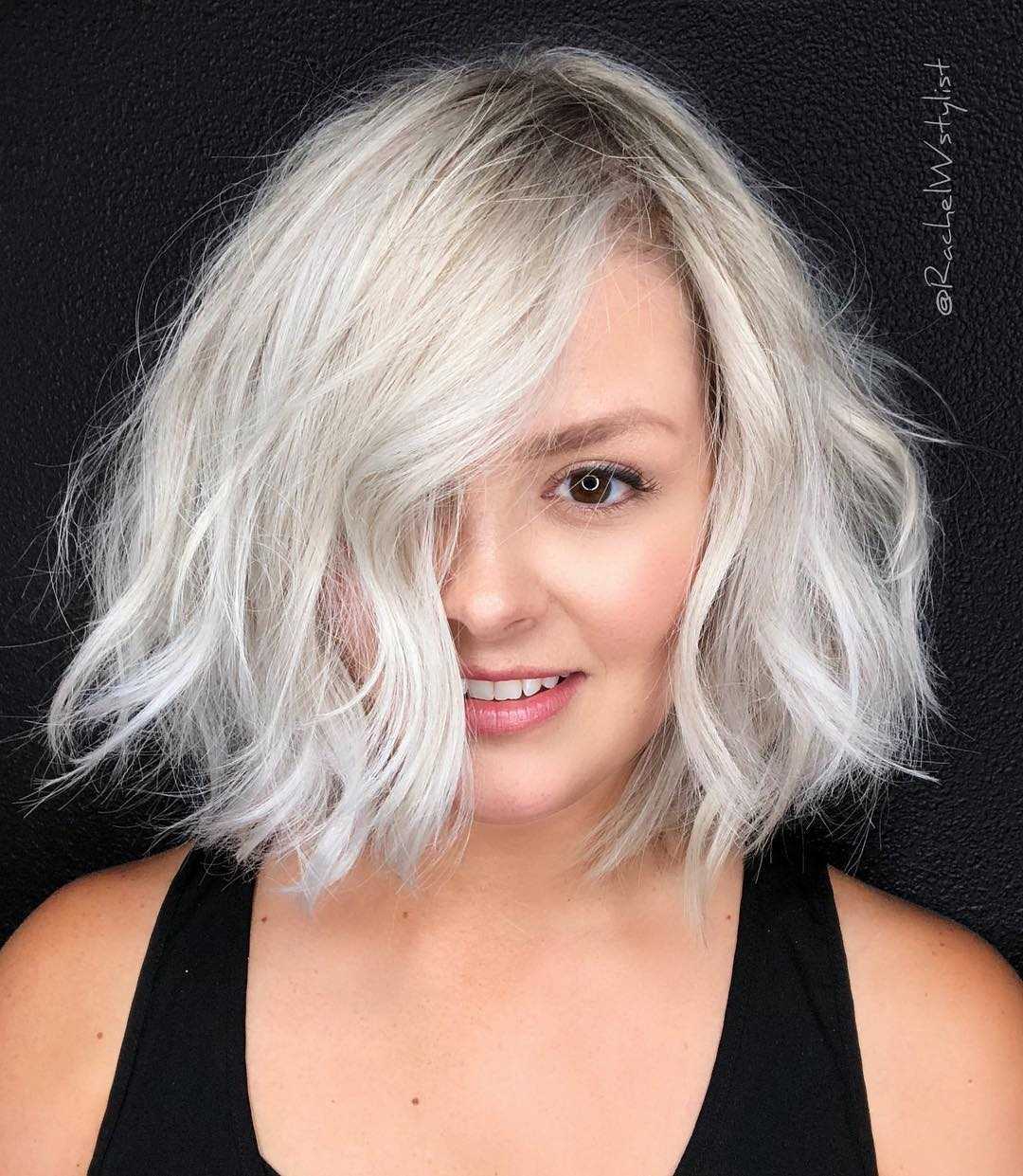 This cute round face is perfectly balanced with the triangle shape of the messy bob, which also adds a strong elongating line in the front.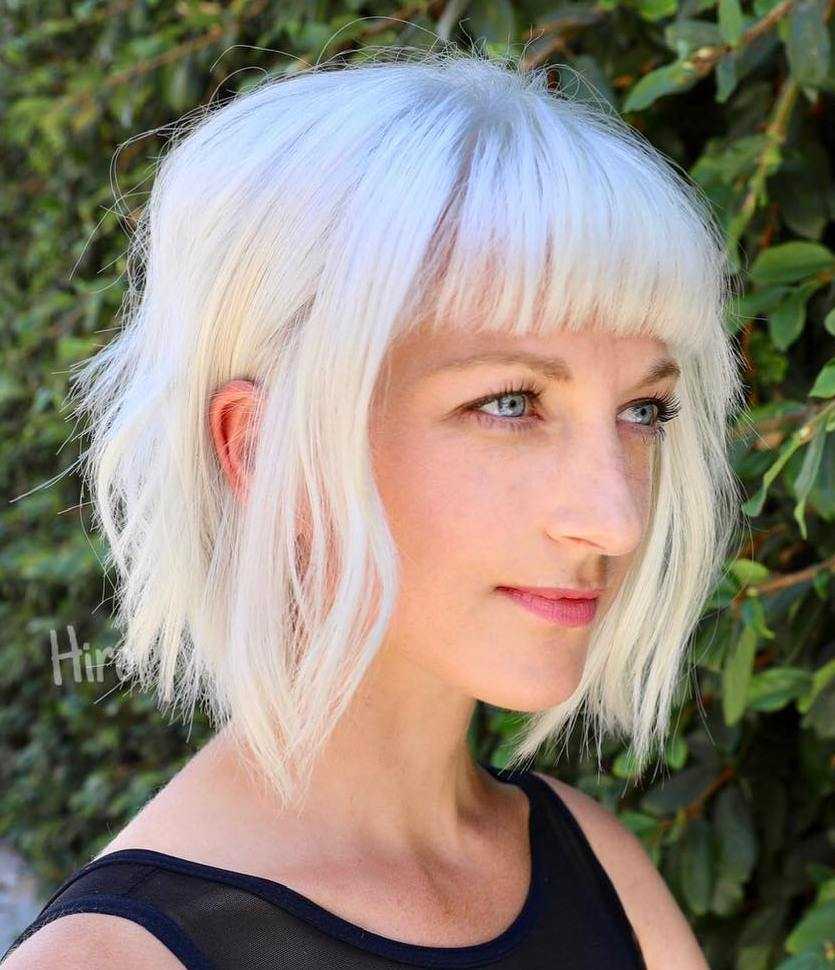 However, fine hair benefits from bluntness, since it creates a sense of density, like this lovely short fringe does. Sure, you can combine it with choppy layers for overall volume.
Best Shag Haircut Ideas to Find Inspiration
You couldn't fail to notice how diverse shag hairstyles are, offering modern vibes to various hair textures. Don't forget to pay heed to details, which help turn a haircut into a vibrant look. "It's never just about the cut. Amazing color work can completely change the effect of the shag by adding dimension," says award-winning hairdresser Paul Stafford to Behind the Chair, specifying one of the ways to create a stir. But if you are going to have your hair colored, make sure it's done after cutting, since the shag is heavily dependent on layering. Also, feel encouraged to experiment with razors, shears, texturizing products, and styling tools to create stunning customized shags, such as shown below.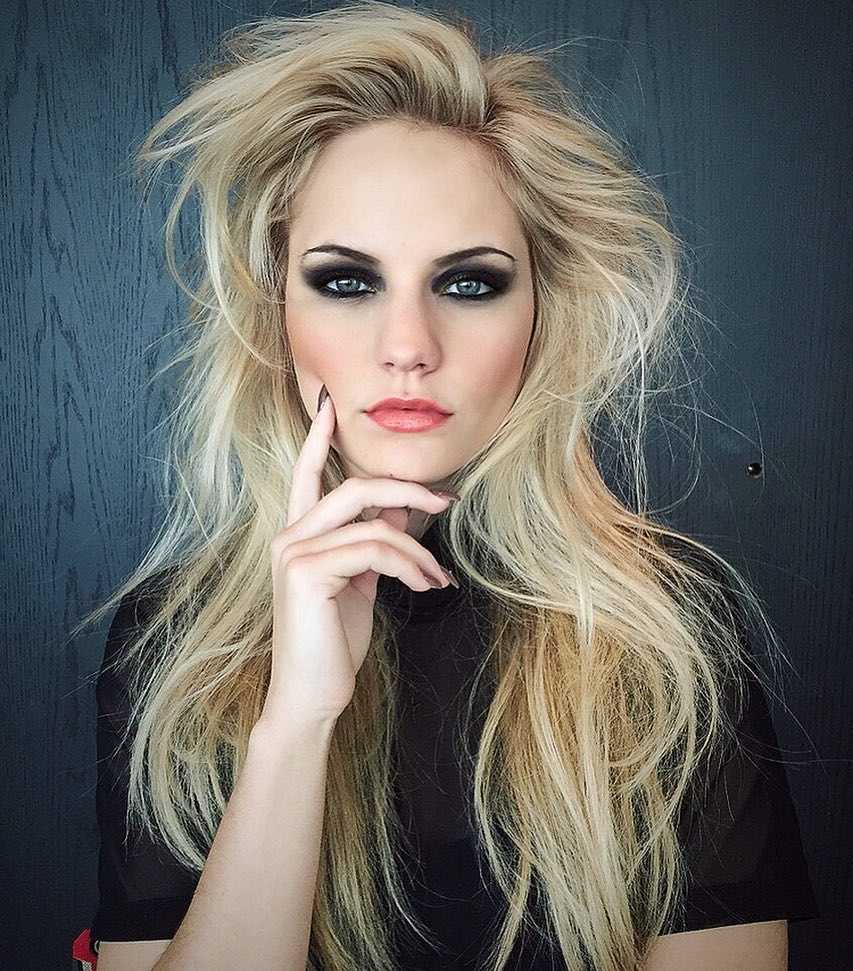 Look no further than this awesome messy hairstyle, boldly layered and textured from the sky high fringe to the very ends.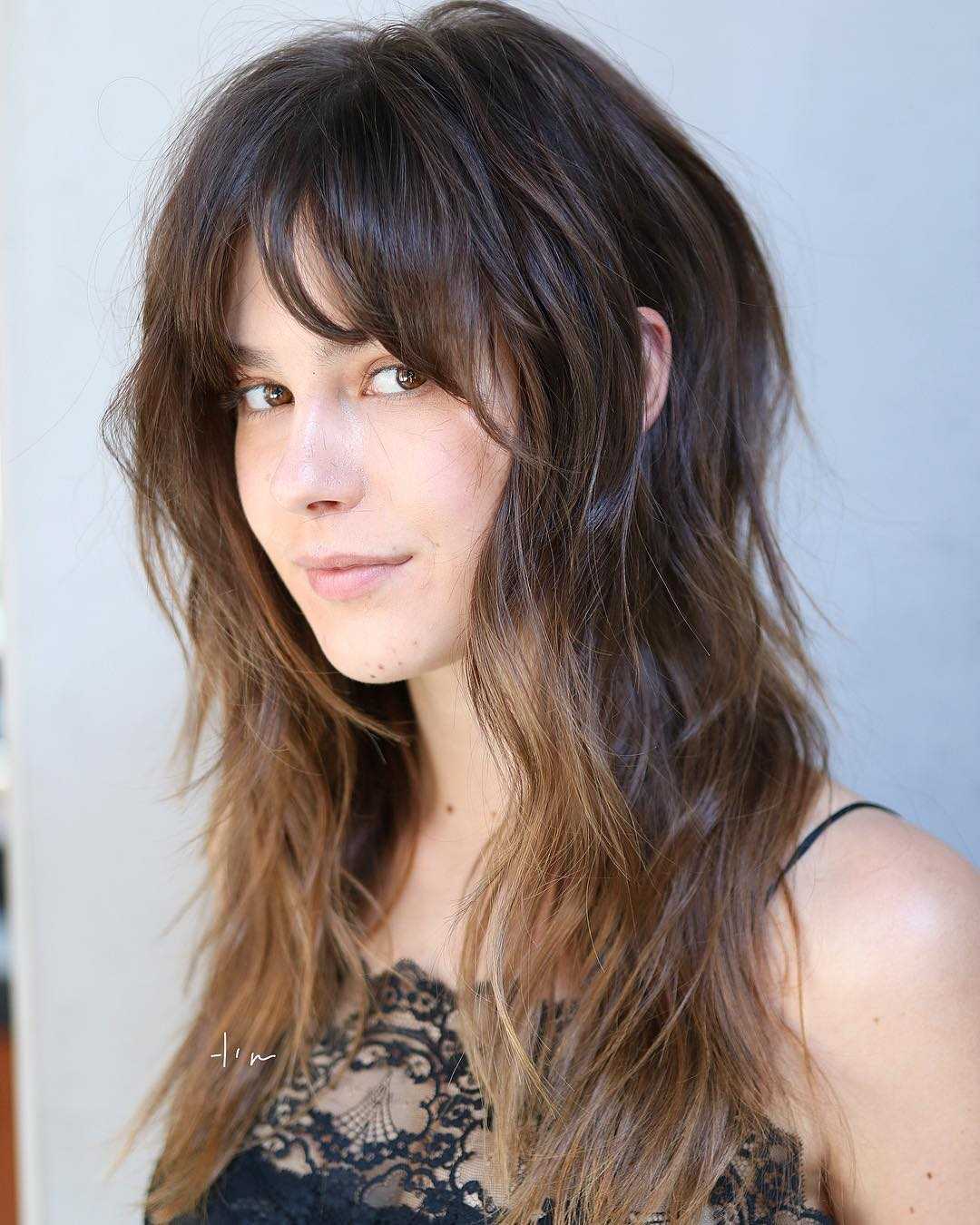 Go for the classic shag with lots of volume on the top, graduated bangs and long waves a la Stevie Nicks' gypsy hair.
Transform your gray hair into an eye-popping silver blonde hairstyle with a straight brow-skimming fringe and chopped tresses, swooping down the shoulders.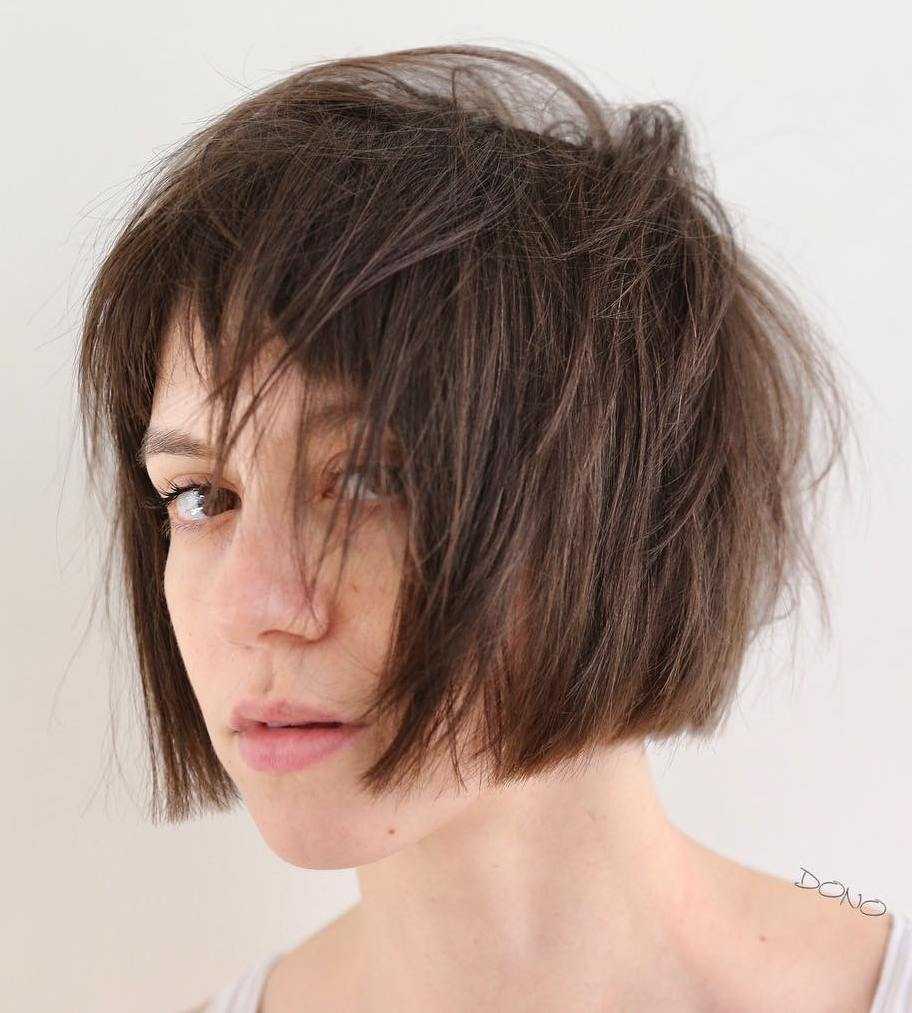 Opt for a "no frills" bob, which is handsomely textured and paired with jagged bangs to allow for easy, yet trendy styling.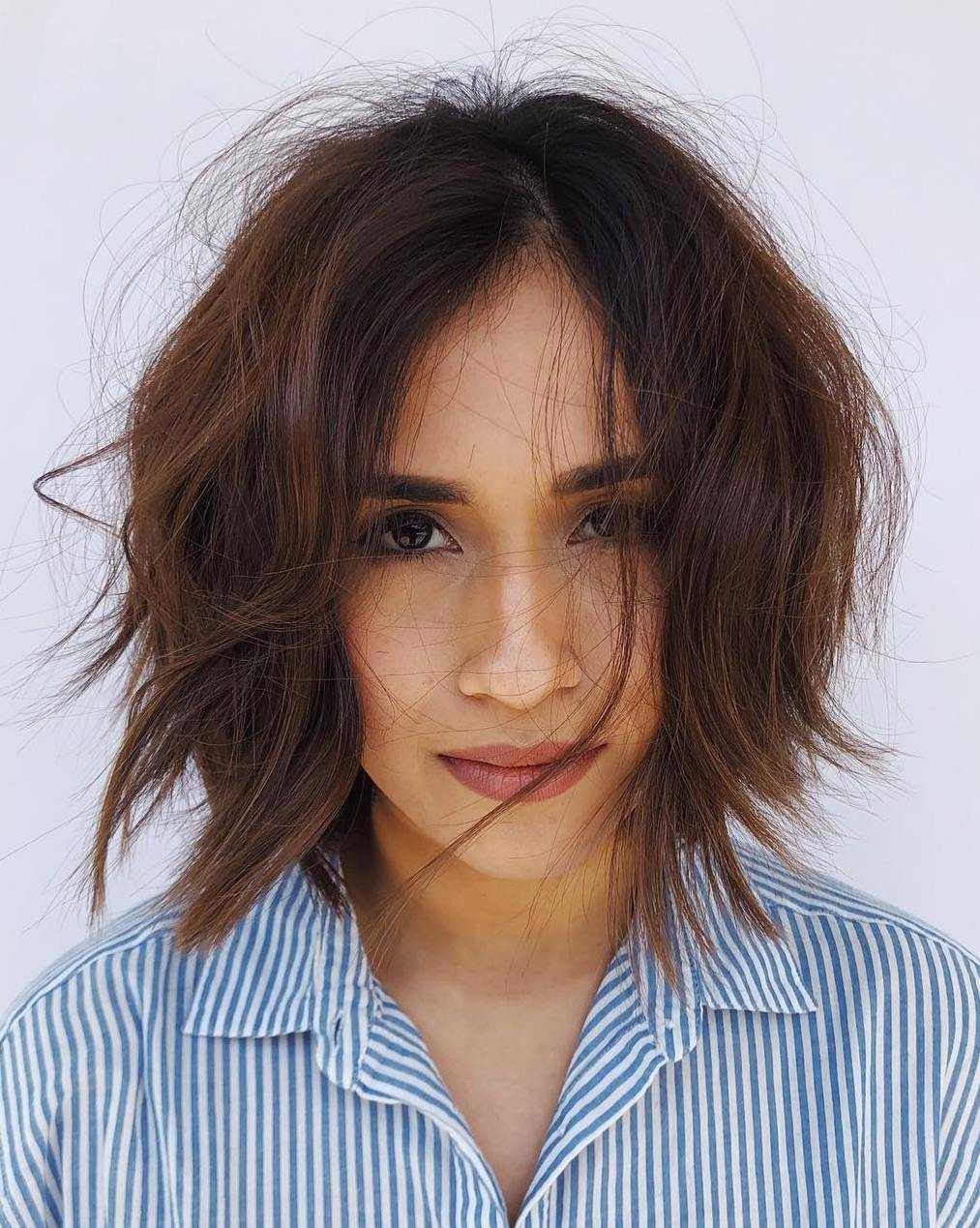 Choose a layered bob without bangs and make it shine through a trace of waves and tapered tips.
Don't hesitate to go shaggy, since the trend is expected to last throughout 2021, so it's a sure way to look stylish. Moreover, you have plenty of time to don various shags, playing with styling, bangs, colors, lengths, and shapes, while enjoying the hairstyle's easy maintenance. With so many celebrities joining the club, we will hardly run out of inspo. Just stay in touch!