Why hairdressers often recommend short hairstyles for women over 50? This is based on age-related changes in older ladies, which also affect their hair. When aging, the hair loses its volume and becomes drier, thinner and sparser. Short cuts help remove split ends in good time, also taking off excess weight for the ease of styling. However, for finding the right length and shape, you need to factor in your hair type and color, facial features, build and other aspects we are going to discuss further.
Picking Flattering Hairstyles According to Hair Types
While crops have some power to make you look younger, this doesn't mean that any of them will tie with your hair texture by default. Sure, you can straighten your ringlets or curl your straight tresses, but it's much more comfortable to tailor cuts to your natural texture for easy maintenance. Let's find out what tricks you can use to achieve the best possible results.
Gorgeous Short Hairstyles for Over 50 Fine Hair
As it's commonly known, fine hair lacks volume and often looks dull, which doesn't help in creating a rejuvenating effect. Even when your locks are cut short to gain lightness at the expense of length, it's still tricky to defy gravity. Yet, you can opt for flattering hairstyles which add visual fullness and vividness to fine locks without the use of extensions.
Getting a blunt bob is a time-honored way to imitate density, especially when you're not committed to crops and want to have some security blanket for growing your hair out. "There are different densities of fine hair that contribute to what you can or cannot do, but a blunt cut is typically best if you are going to grow it long," says celeb hairstylist Juan Carlos Maciques. That said, he also recommends pixie cuts and layered bobs like those illustrated below.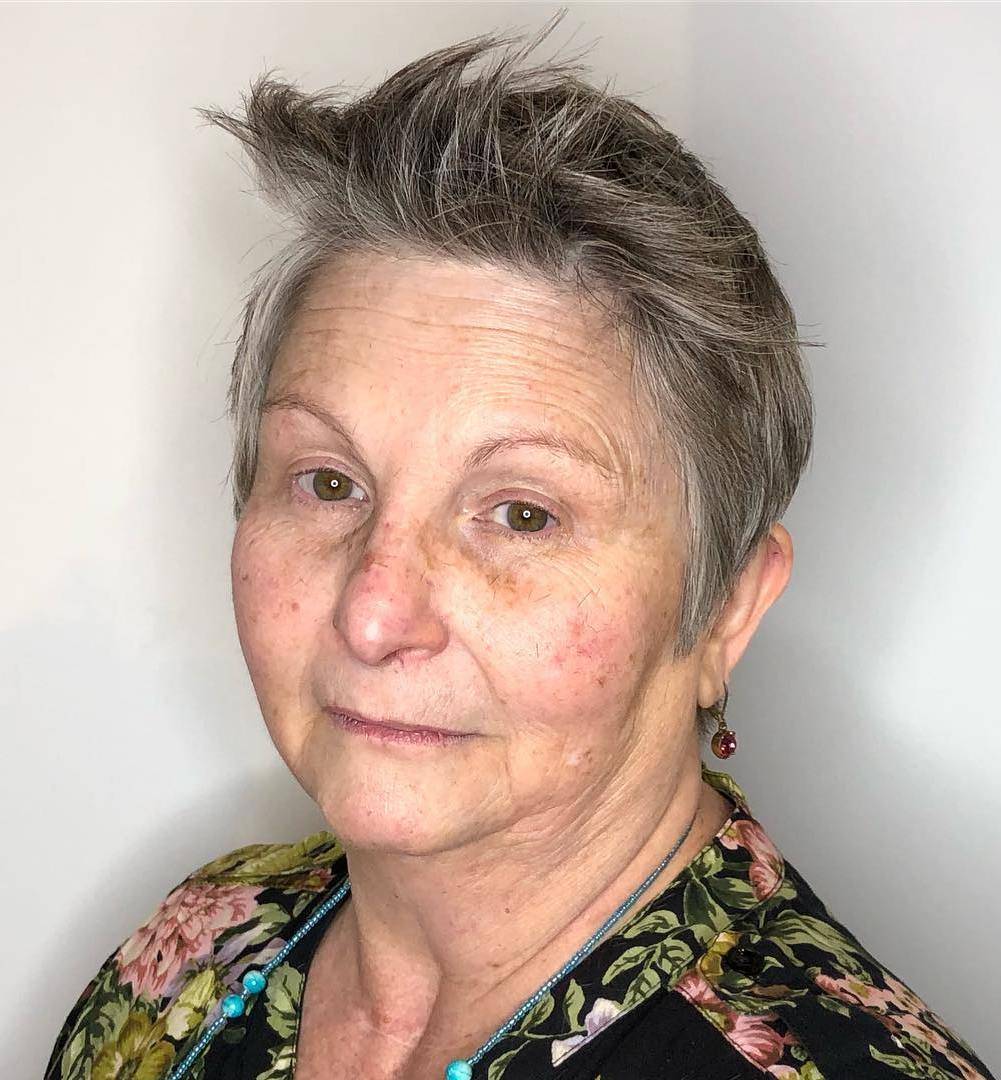 This round face is nicely framed with a textured pixie cut. A piece of hair in front of the ear is a must for stopping the roundness.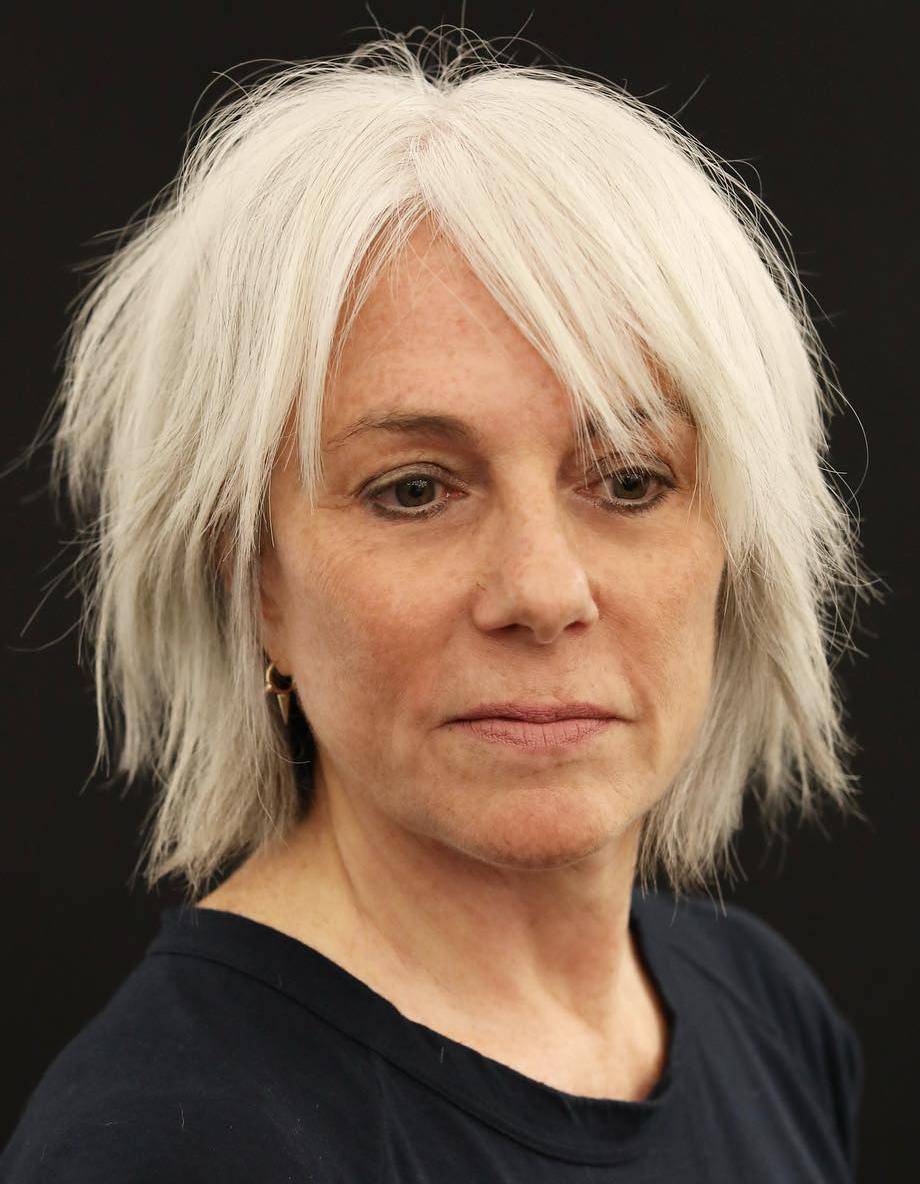 When choosing among bobs, don't hesitate to opt for a shaggy version for a more vibrant look.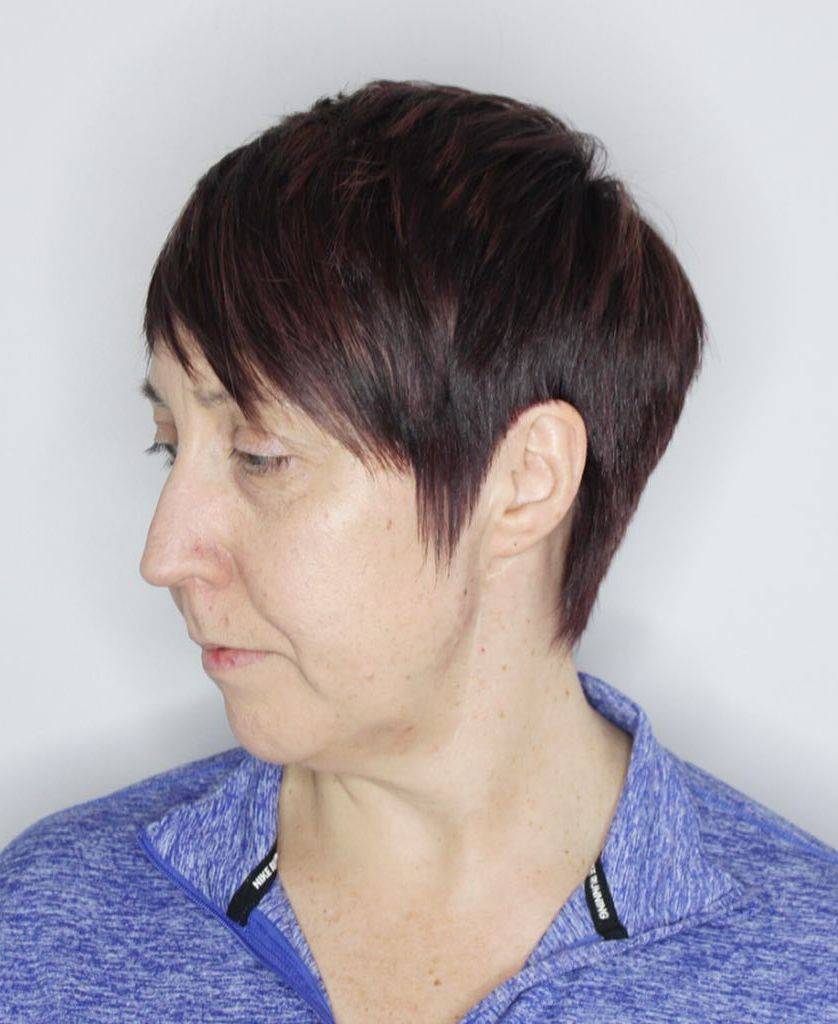 The piece-y bangs blend with the straight razored pixie to create a cool and youthful style, juiced up with lovely highlights.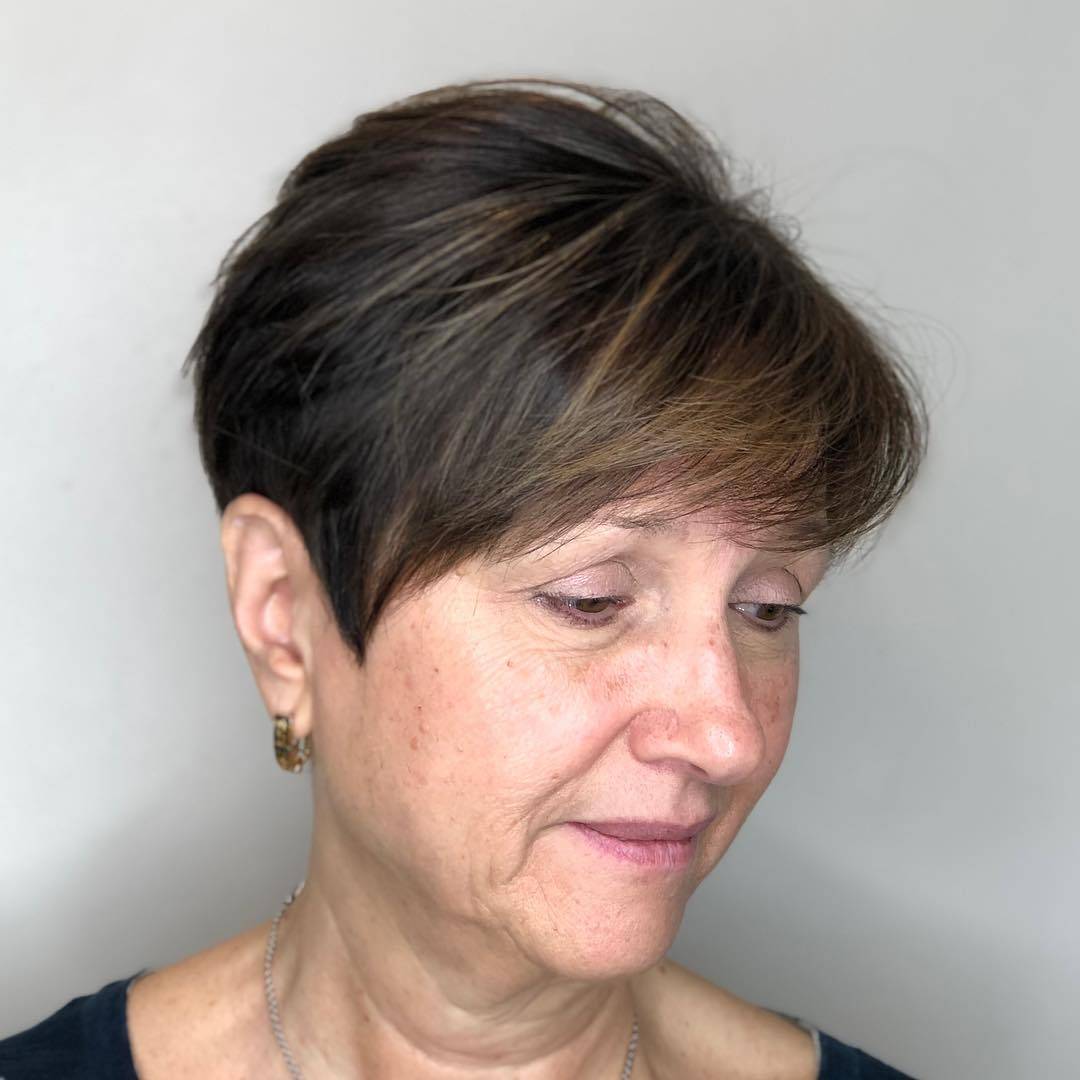 This rejuvenating chop with tapered temples and softly layered bangs is easy to manage, yet chic to wear.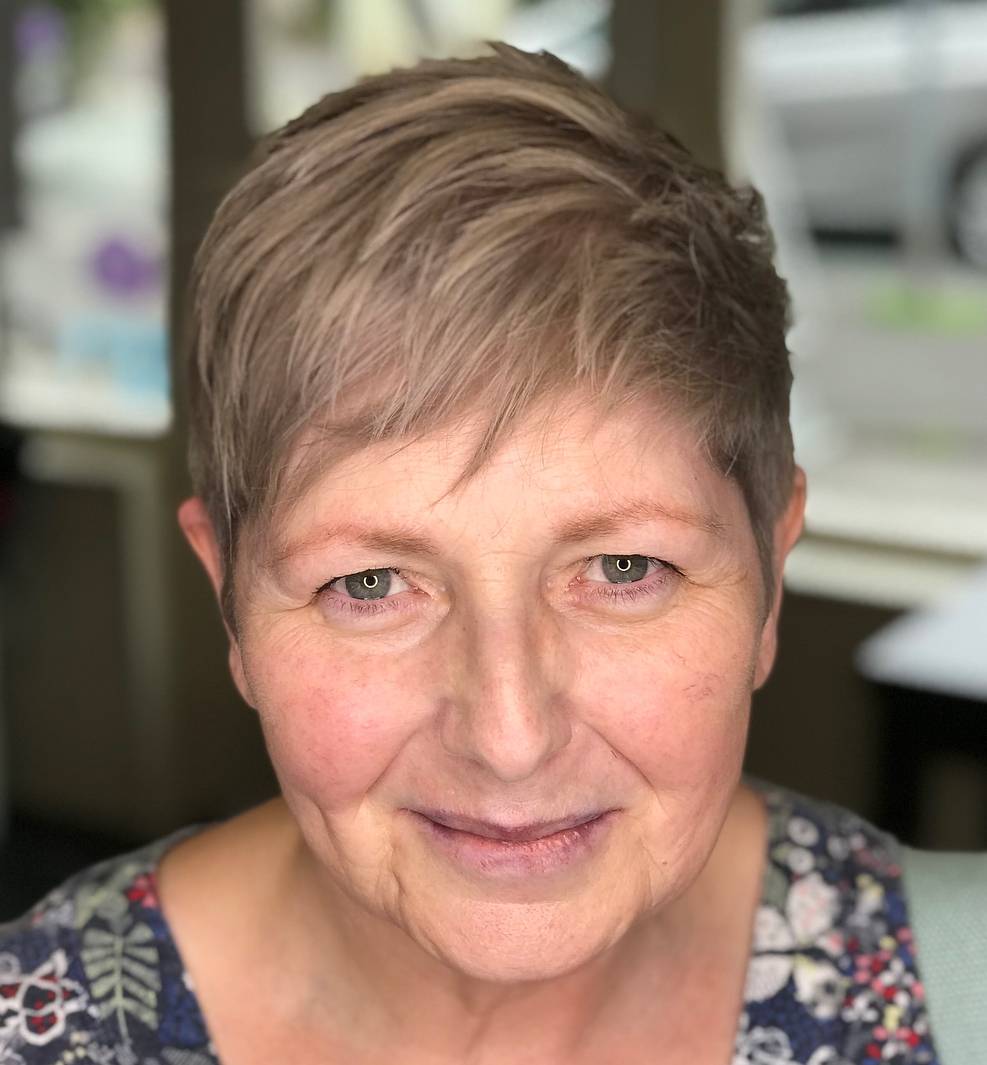 If your hair is thin, give preference to volume-adding spiky pieces enhanced by a lighter color.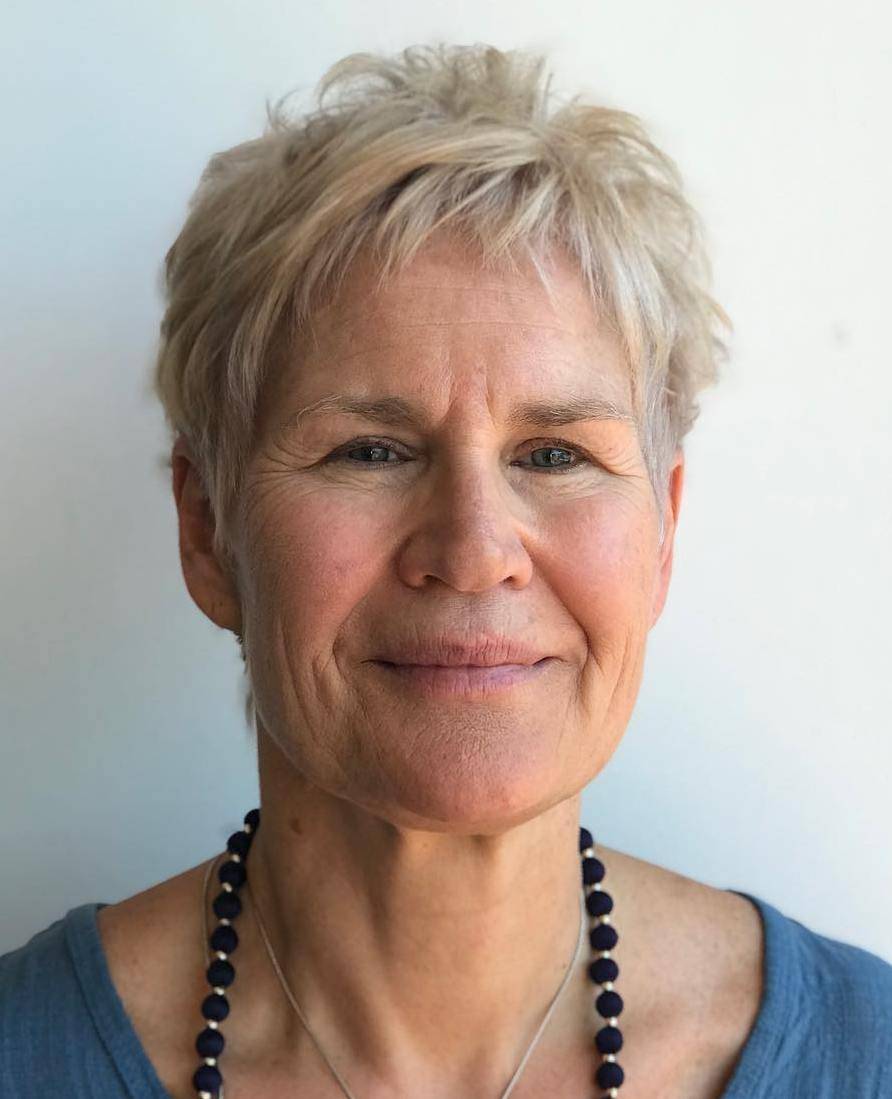 Basically, layered hairstyles work fine for older ladies, giving much space to play with texture and dimension.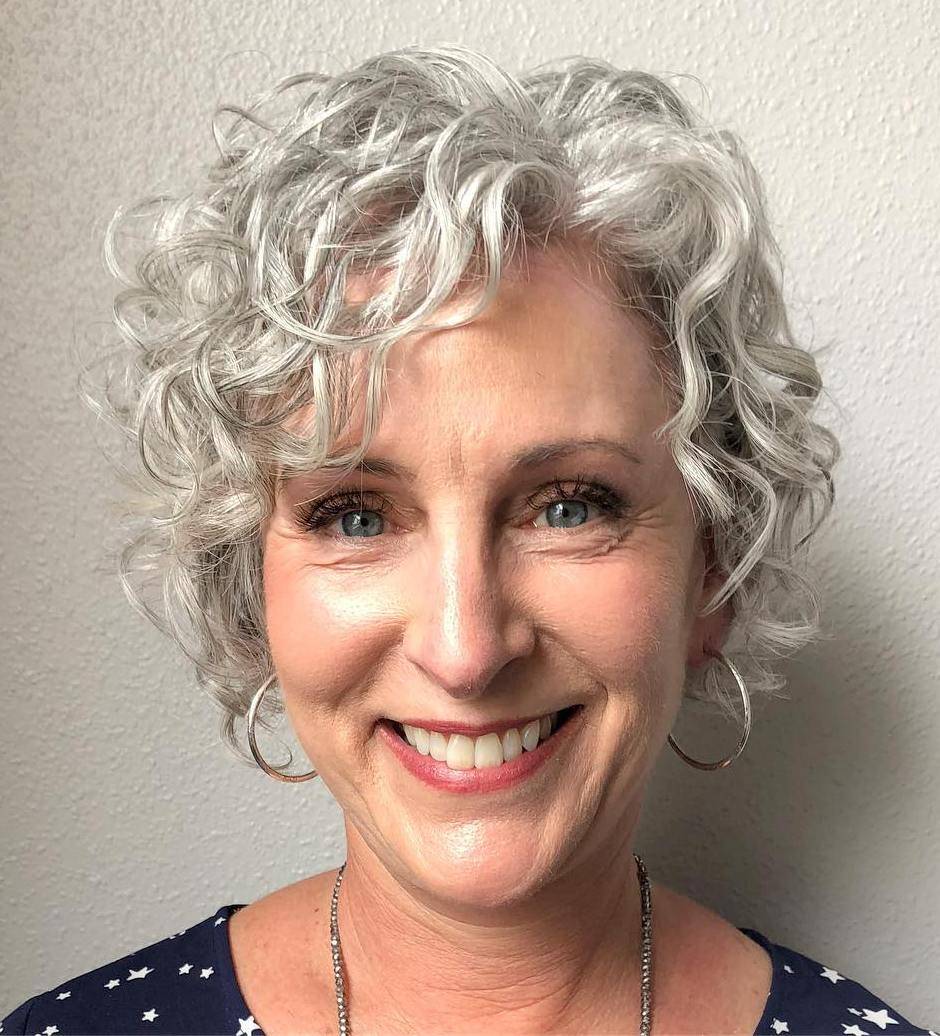 Bouncy curly locks and shiny silver to embrace your natural gray – what a stunning combo!
Want even bolder hair color ideas? Get inspired by this drop-dead pixie, with a sassy buzz cut and a bright red hue.
Even having very fine hair, you can create movement and lift on top through a short piece-y pixie cut.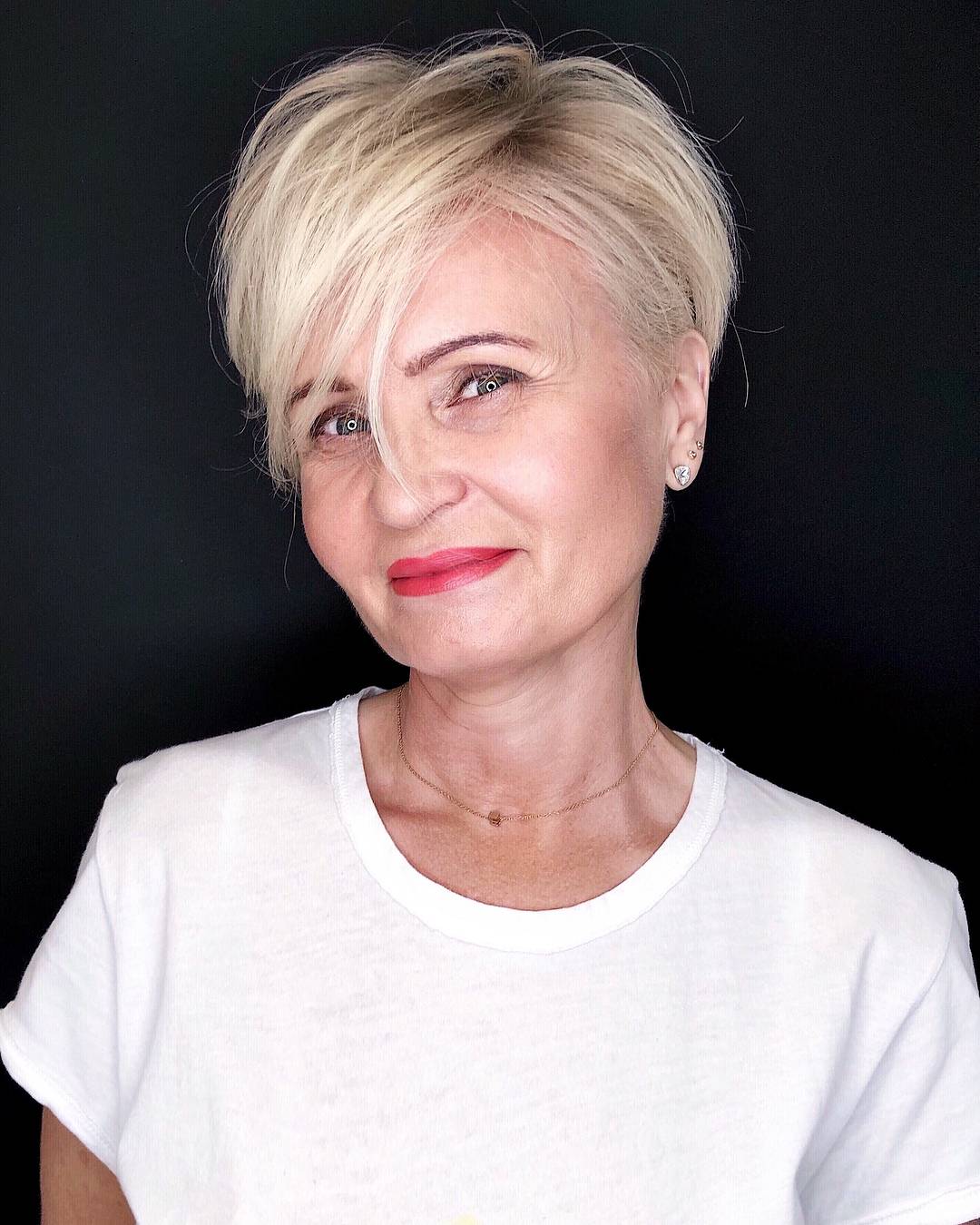 However, you shouldn't push yourself to short pixie haircuts, if you're not comfortable with crops. Go for a longer front and top, but keep them fashionably textured.
Chic Crops for Thick Manes
While thin and fine hair requires added dimension, thick locks come with an abundance of it, posing another challenge – how to get a stylish crop without excess frizz and bulk. You see, longer hairstyles weight the hair down, making it more manageable and smooth, which is not the case with short 'dos. And a frizzy pouf is definitely not the style a 50-year-old woman wants, since it adds years with one sweep.
Layered hairstyles, including lobs, bobs and pixie cuts, are real champions in removing bulk – when done professionally with due account for your head shape, facial features and build. Thinning some volume out will bring an airy, bouncy feel into your hairstyle without tipping over into age-adding puffiness.
Ladies with thick hair can wear their pixie either sleek or a bit tousled for a playful touch, like it's shown below.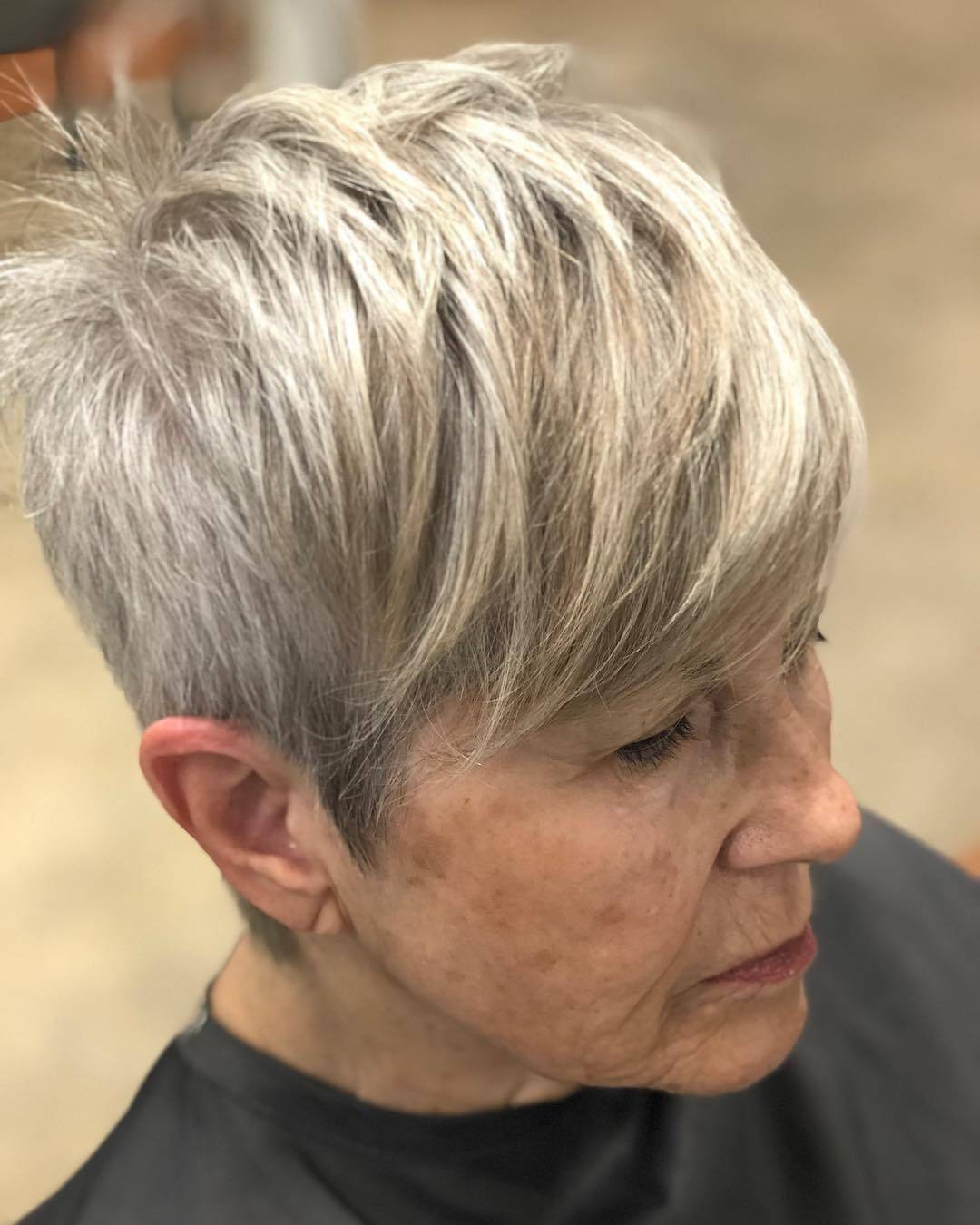 Spiky pieces on top melting into sassy bangs make this pixie style cool and refreshing for a woman over fifty.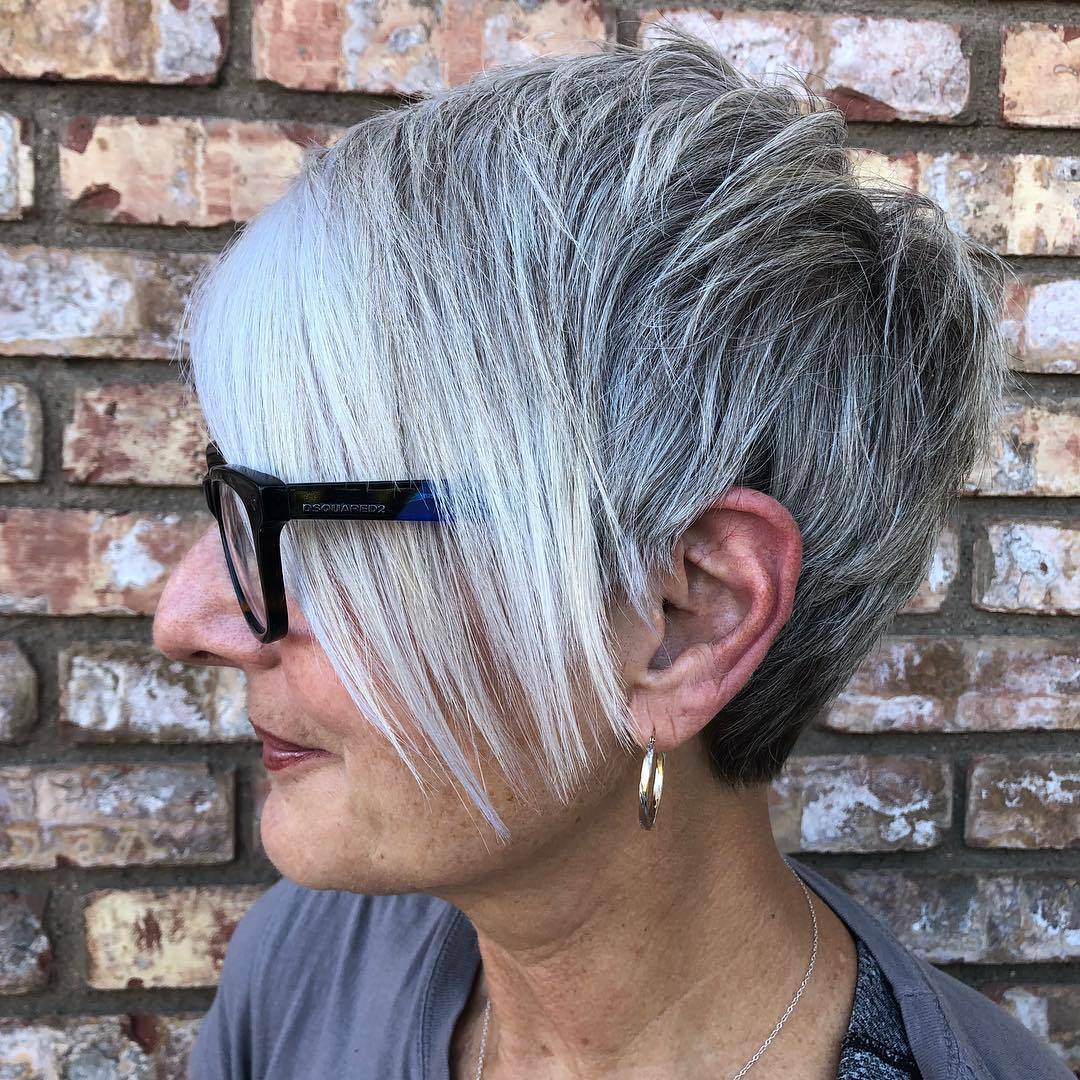 This salt-and-pepper crop with a dramatically long snow-white fringe is a great way to incorporate graying and embrace your age.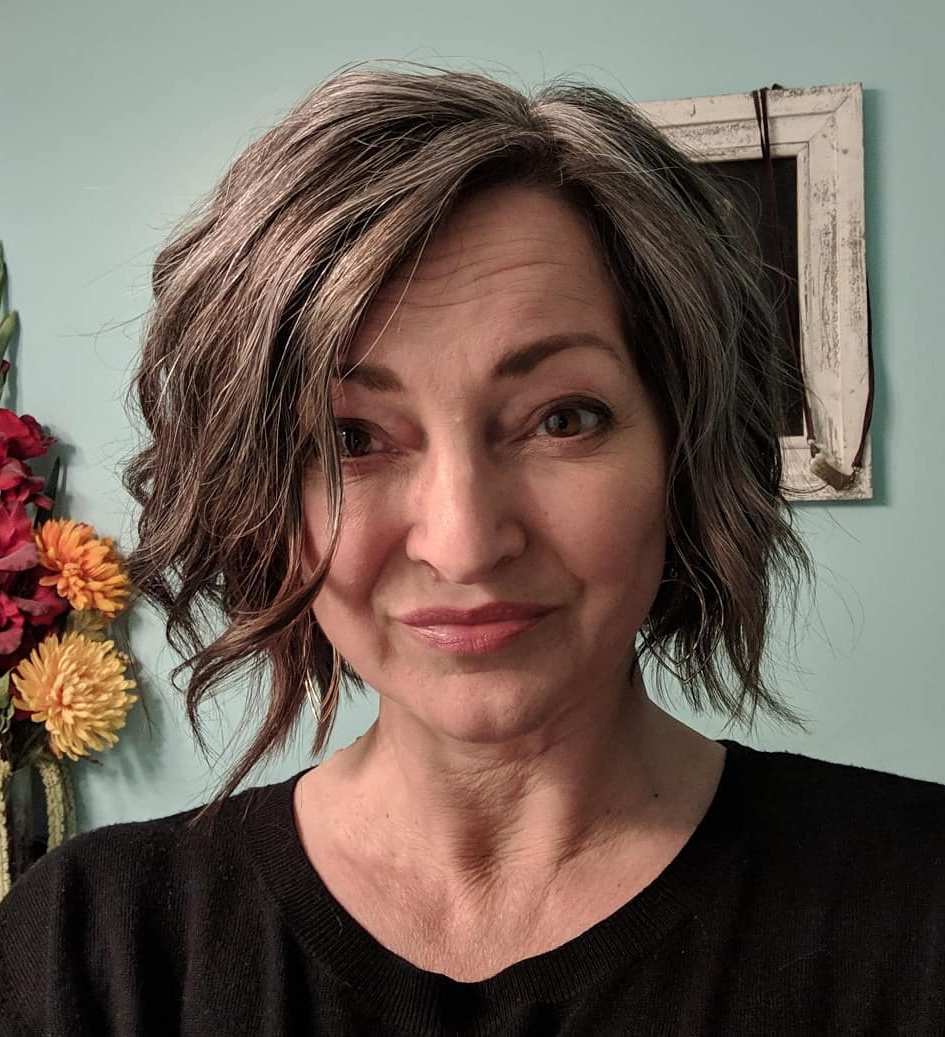 The wavy bob shows thick hair to the advantage through added movement, but make sure to keep the waves laid back and modern.
Coarse hair can be tamed with a bold pixie that features an undercut in the back and sliced locks on top.
Straight Hairstyles to Rock at Your 50
When strong and healthy, straight hair looks sleek, clean and shiny with little effort. But if affected by dryness and split ends, it's anything but glamorous. That's why bob and pixie crops are go-to haircuts for women over 50, making their tresses both healthy-looking and easy to style.
Sure, you need to choose based on the density of your hair, its condition and your face shape. If your hair is rather healthy, opt for longer locks and sleeker styling, while tousled, choppy and shorter versions are great for hiding damaged hair. Thick strands can come in very short helmet-like cuts, but fine locks require a mix of lengths and added texture. Let's explore other ways to customize straight hair to your next crop.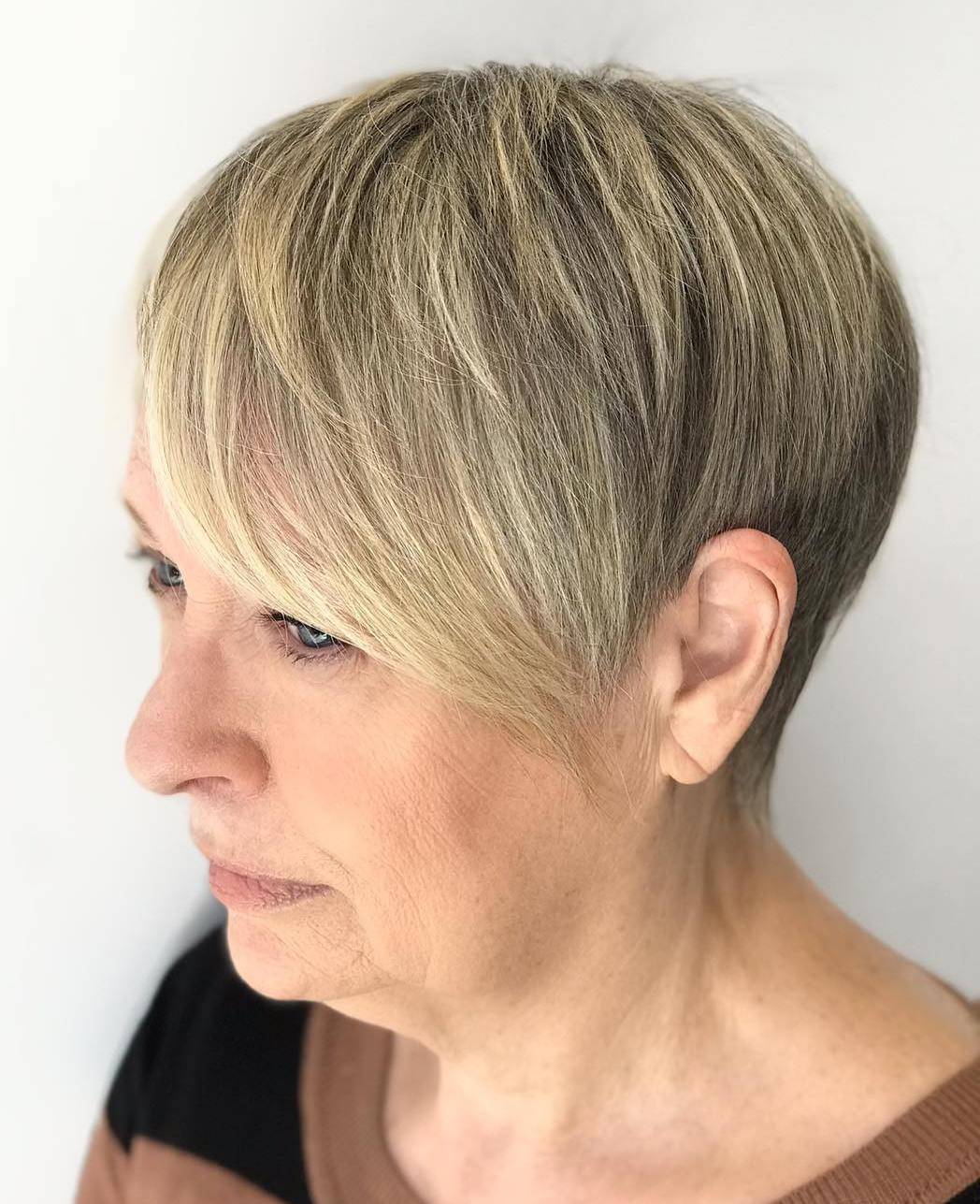 Straight hair won't look dull, even when styled sleek, if it's brightened up with color and feathered layers.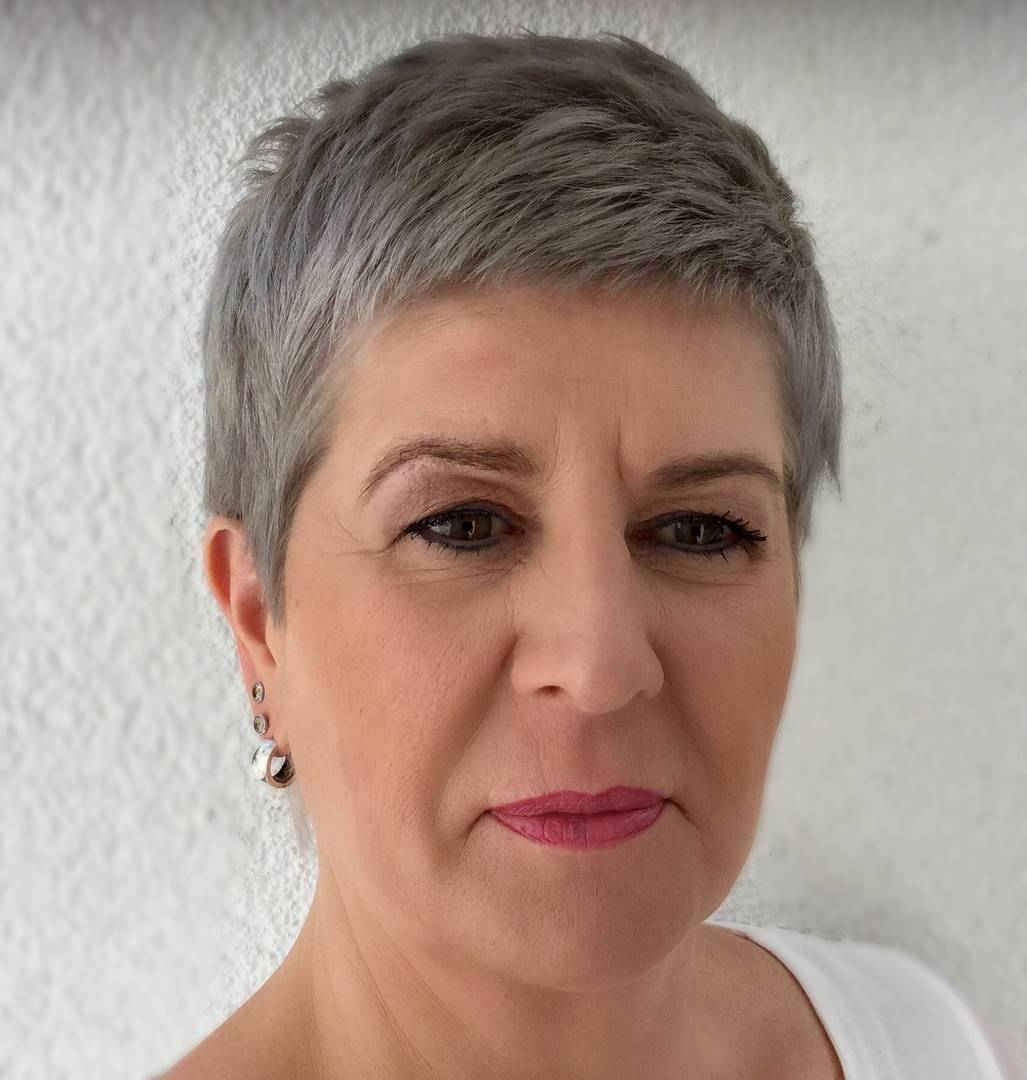 A shorter cut with one-length hair all throughout the head wins due to the wash and wear lifestyle it allows.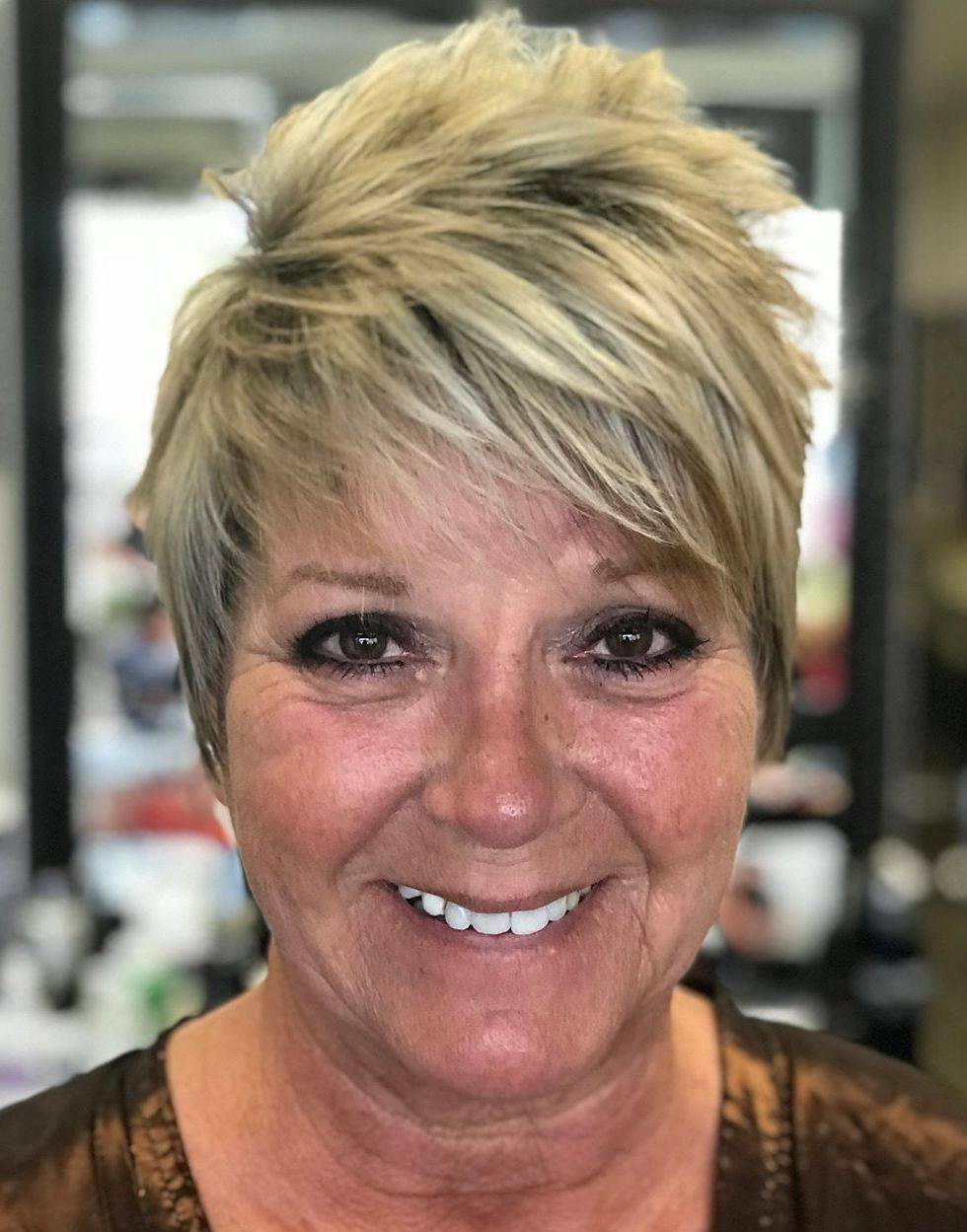 Shadow roots coupled with a warm blonde offer a nice chance for your hairstyle to last longer between visits to a salon.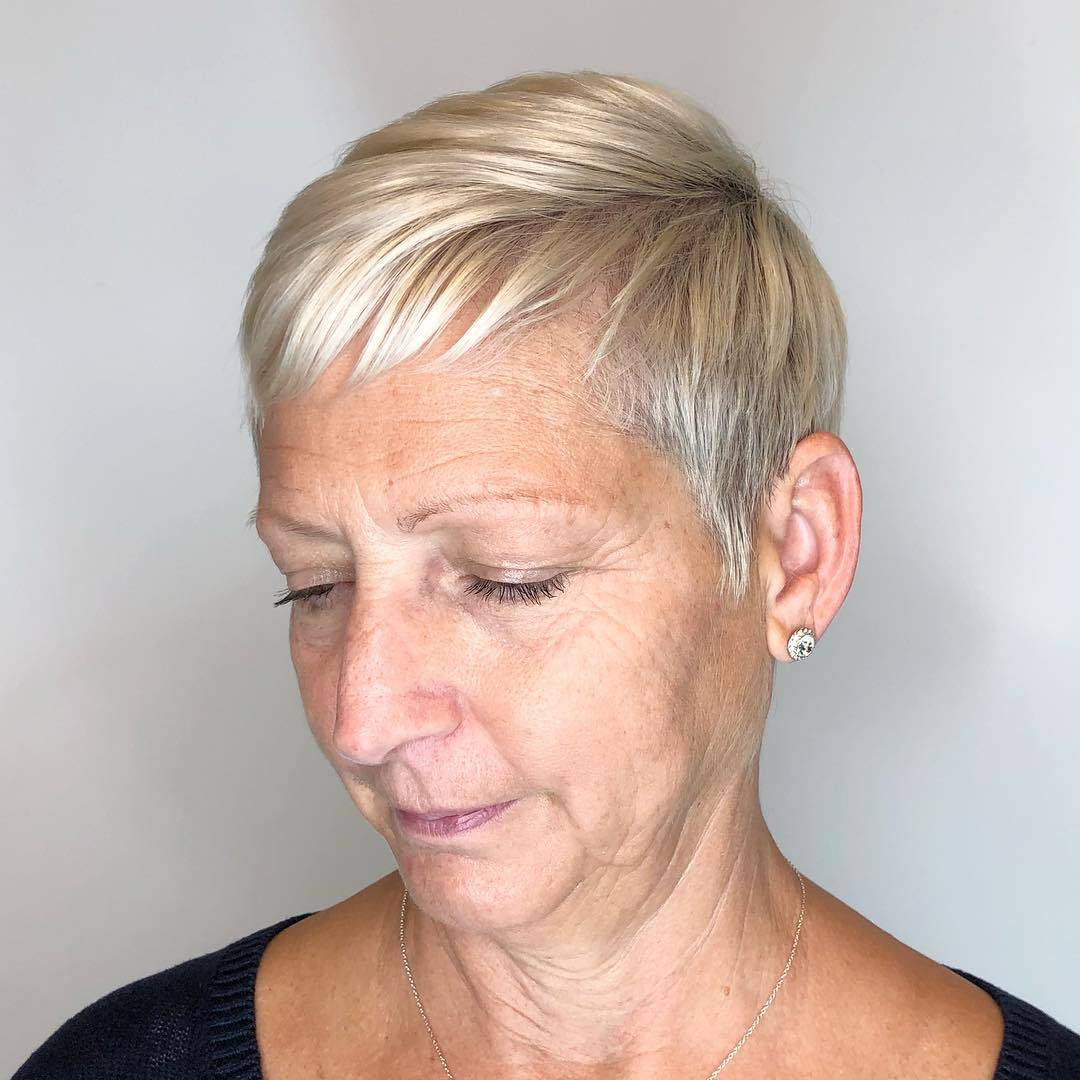 Look at those killer baby bangs added to the textured pixie cut! They are eye-catching, stylish and totally age appropriate.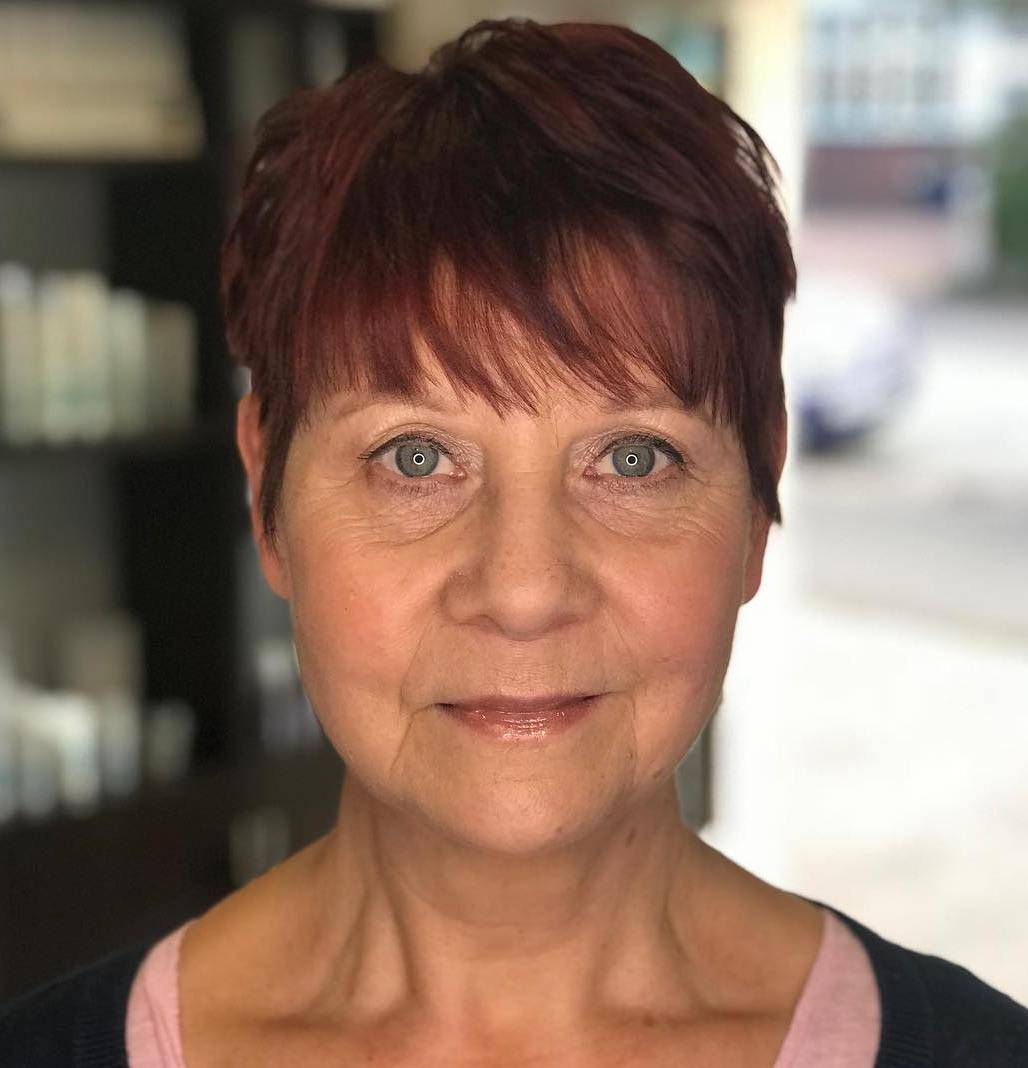 When you are not ready for a statement fringe, get inspired by the brow-grazing bangs that are thinned out for a lighter look.
On-Trend Wavy Chops for Older Ladies
Actually, it's a great piece of luck for a woman over fifty to have wavy or curly hair. Ringlets and waves are naturally playful and help bring in some vibe and movement, no sweat. Moreover, when your hair is cut short, it gets lightness, enhancing your curl pattern and its inherent bounce.
Yet, don't go too short, since you need some length to display your ringlets. Even when choosing a pixie cut, you can ask for longer tresses in the front for emphasized curls. "But don't give your hair too much bend, otherwise it will start to look matronly," says David Lopez, who works with Ashley Graham, Kristen Stewart and Anne Hathaway, in his comments for Allure.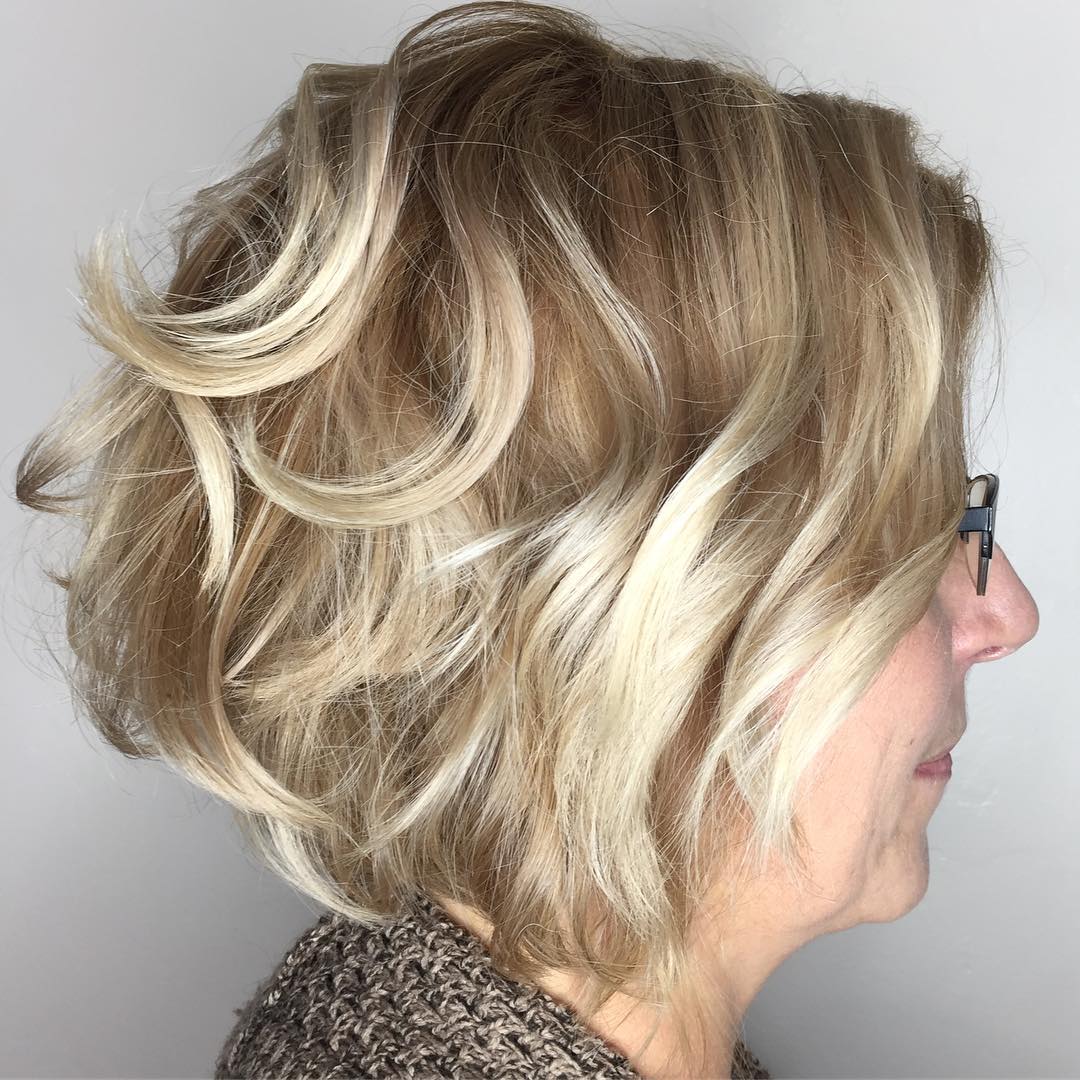 This sassy A-line bob shines with a lived-in balayage and playful locks, delivering a youthful look.
Beautifully shaped and well-defined curly hair can radiate cheerfulness and youth, even when it's all naturally silver.
A neutral red gains a truly inborn feel, if coupled with a choppy bob and laid back waves. A careless fringe is a crucial detail!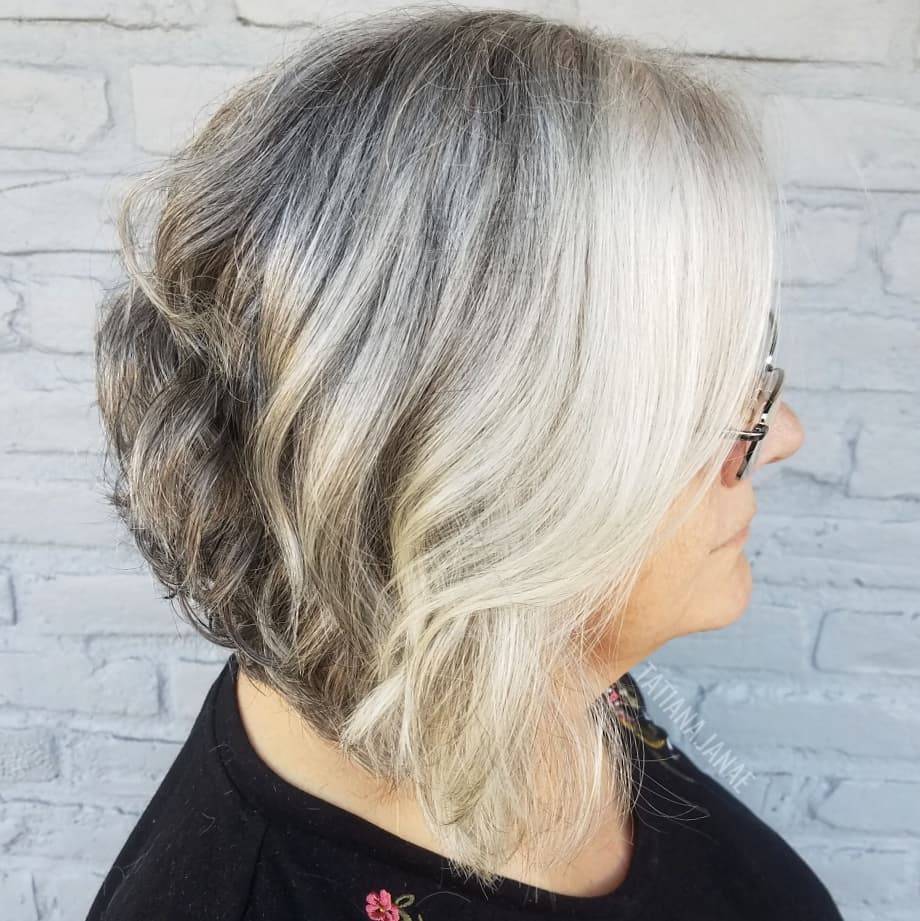 This cute graduated bob also harnesses the cool salt-and-pepper combo, spiced up with white strands in the front.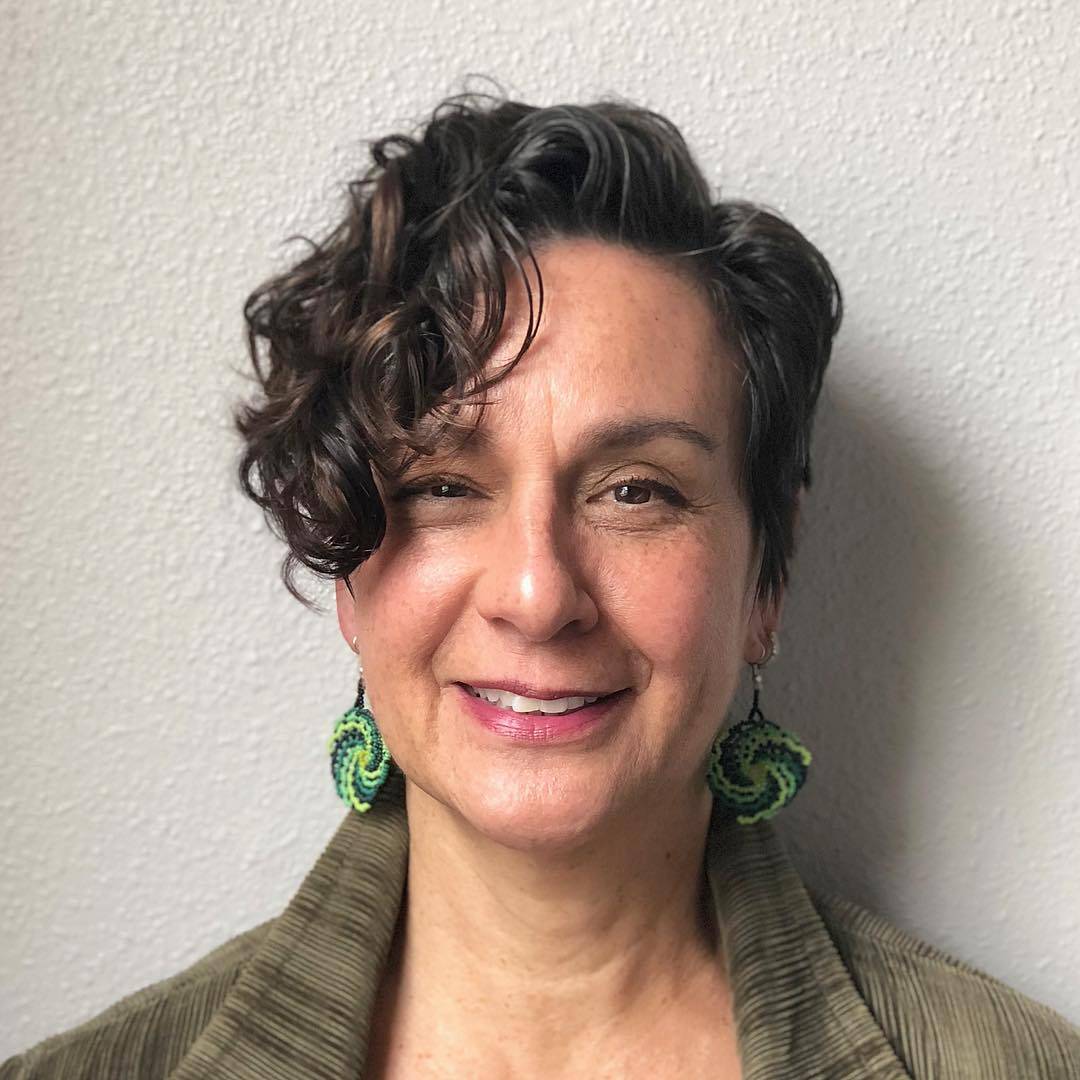 When you're searching for a shorter option, think of a pixie with long and bouncy top pieces to showcase your natural ringlets.
Trendy Hairstyles for Different Face Shapes
Whichever hair texture you have, you won't get a cute cut that flatters your facial features unless your face shape is also taken into account. It's particularly crucial for older women, since their faces undergo age-related changes that can be offset with carefully chosen hairstyles.
There are some big no-no's and certain rules to follow for every face shape. "With a square face shape, a rounder hairstyle will always suit more. This will essentially counteract the angles of the jawline to create a softer, less harsh look. Try a style with soft lines and a sweeping side fringe which always look fantastic," award-winning Lee Stafford shares his tricks with Cosmopolitan. Further, we have other face shapes illustrated based on pros' tips.
A chic pixie with lots of face-framing angles and lifted pieces on the top hits the spot, when it comes for a round face.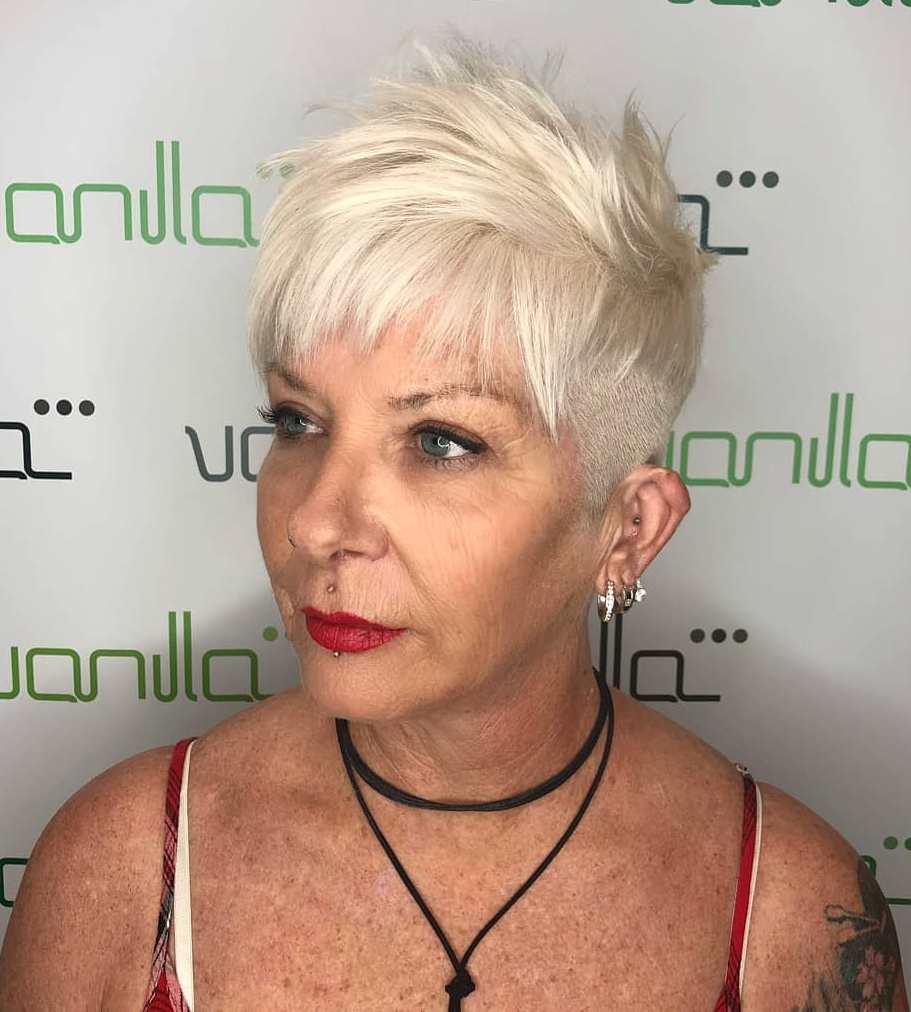 Oval faces can pull off really hot and spunky 'dos, like this spiky crop adorned with short layered bangs.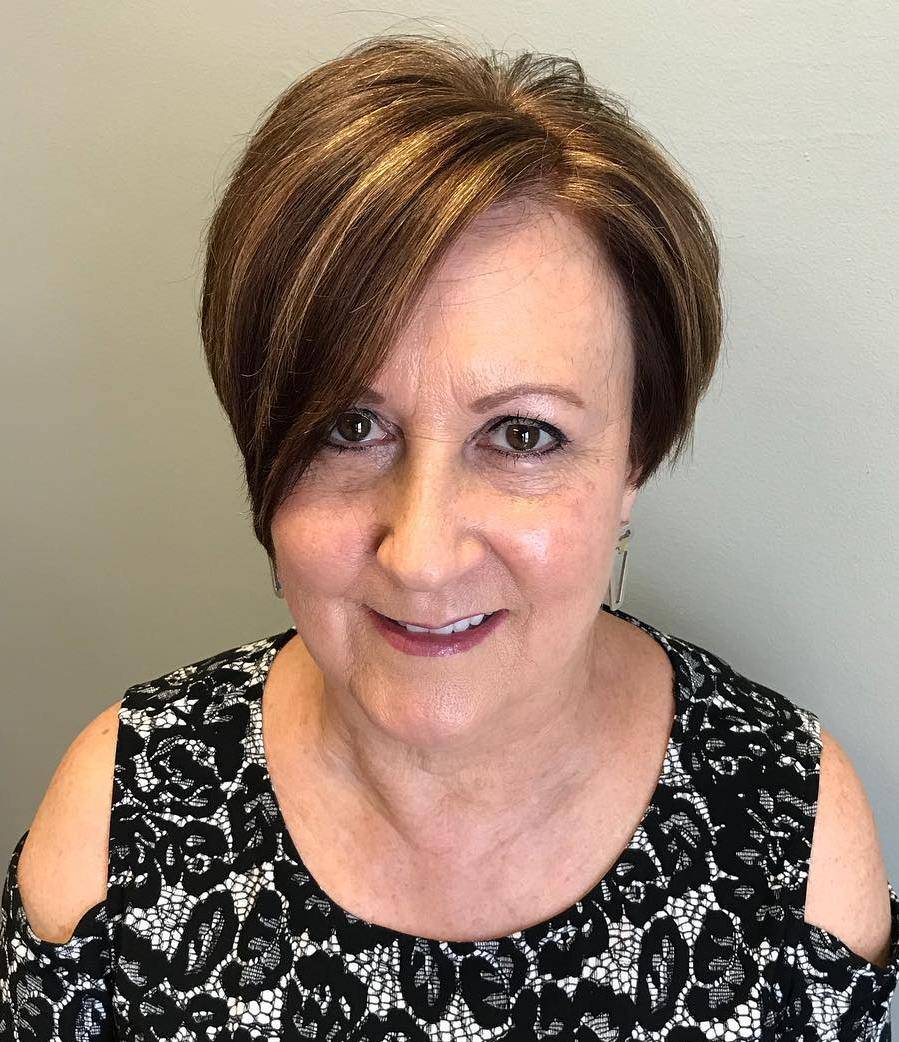 Long faces scream for added width that can be gained with a long asymmetrical pixie. This one is also juiced up with color streaks.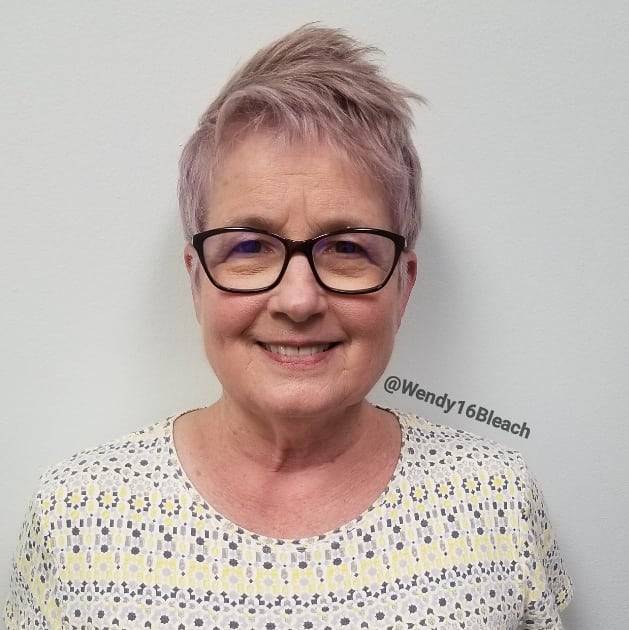 If your bone structure is square, ask for a pixie cut with face-framing hair coming close to your head for a rounder shape.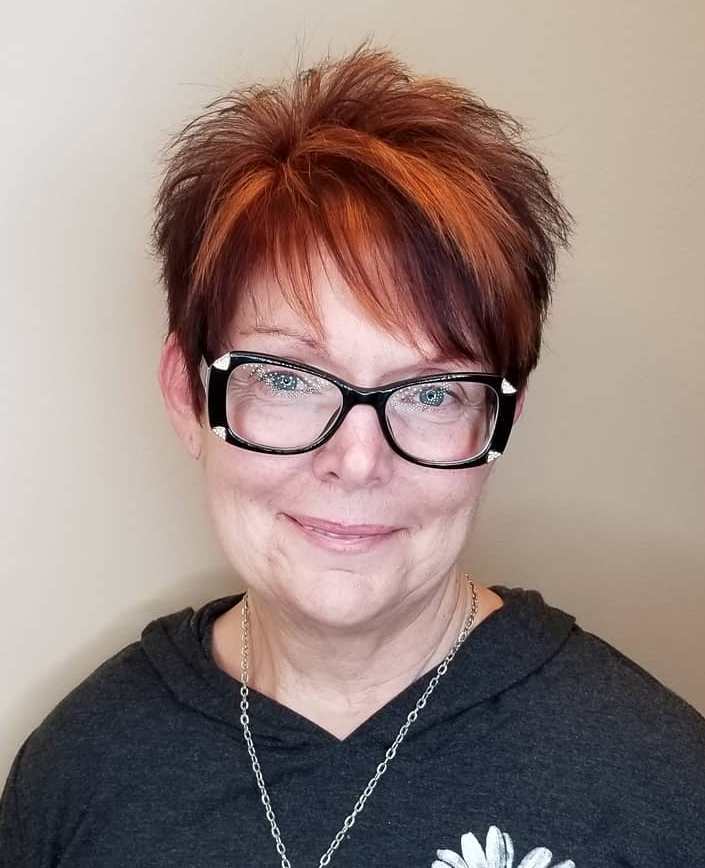 If your face is heart-shaped, an edgy two-tone pixie with feathered bangs will make you look younger, while shifting attention away from your chin.
Youthful Hairstyles for Grey Hair Over 50
From Jamie Lee Curtis to Helen Mirren, mature celebrities set the tone for older women, showing by personal example how sexy, exquisite and modern gray hair may look. So, now we have a kind of Going Natural Gray movement, giving freedom to age gracefully without dyes and glosses. "The interest in gray hair is part of a larger beauty trend moving away from the attitude of 'fixing' yourself and moving toward embracing imperfection," Kristina Rodulfo, senior beauty editor at Elle.com, told The Daily Beast. And if you are ready to join the trend, here are a couple of inspiring hair color ideas to don.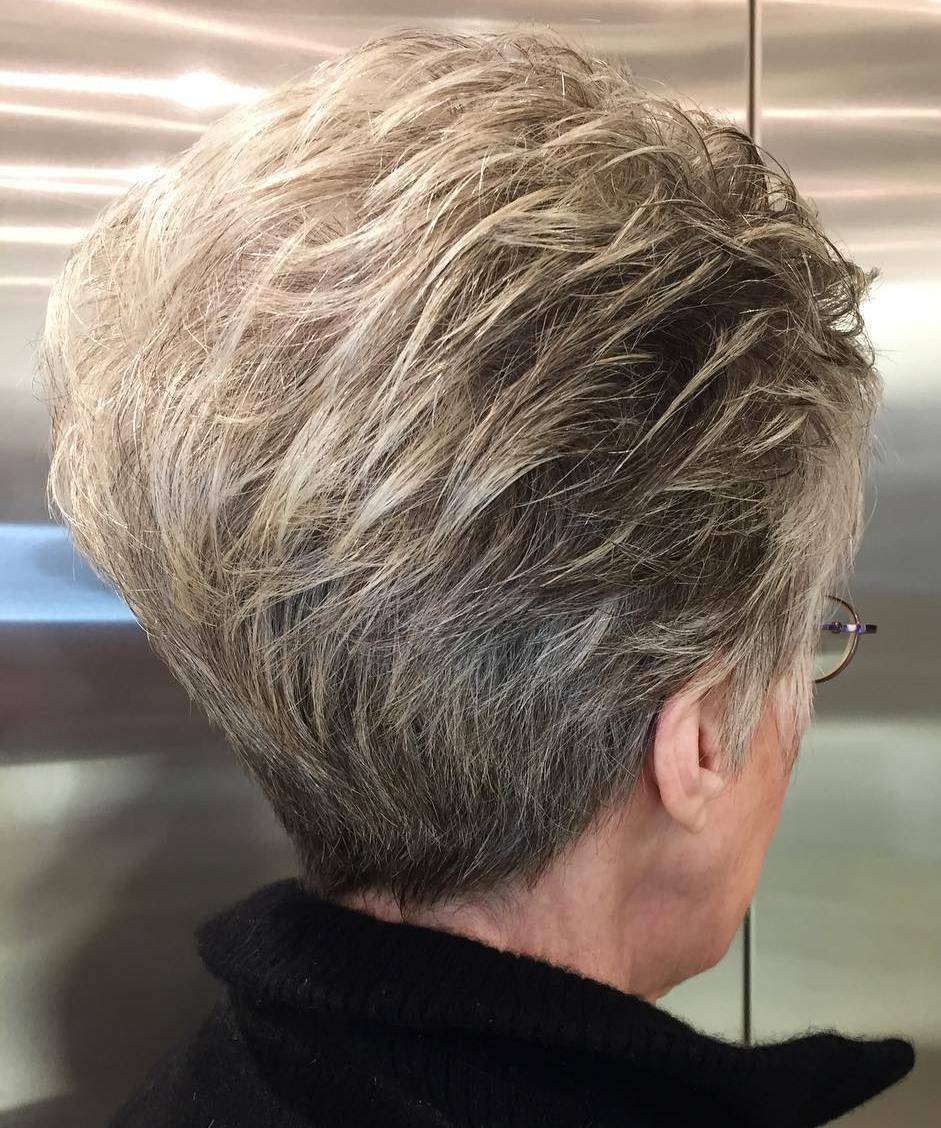 This salt-and-pepper version of natural gray is elegant and edgy, showing the splendor of thick locks through the dimensional top.
It's an exciting idea for a 50 year old woman to jazz up her natural grey with blinks of purple.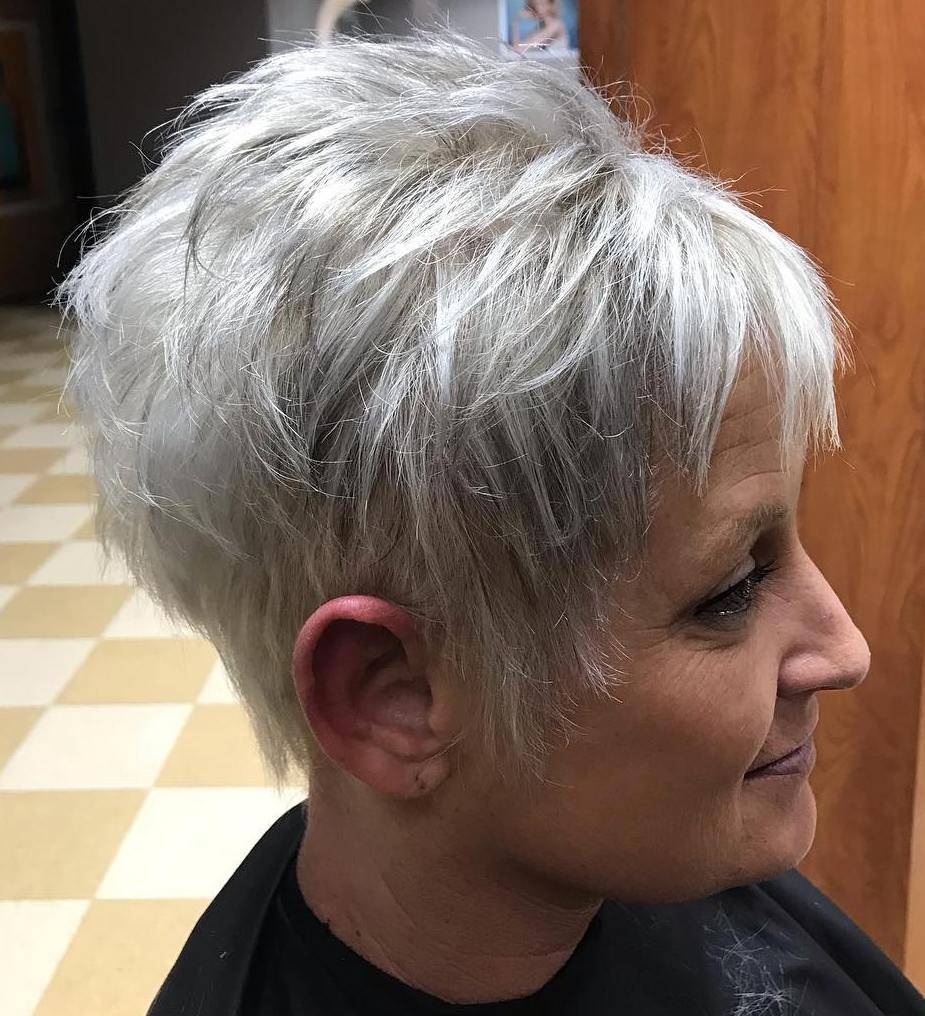 The icy pixie with razored texture and teased roots makes this thin hair voluminous, while grey lowlights give it depth and natural feel.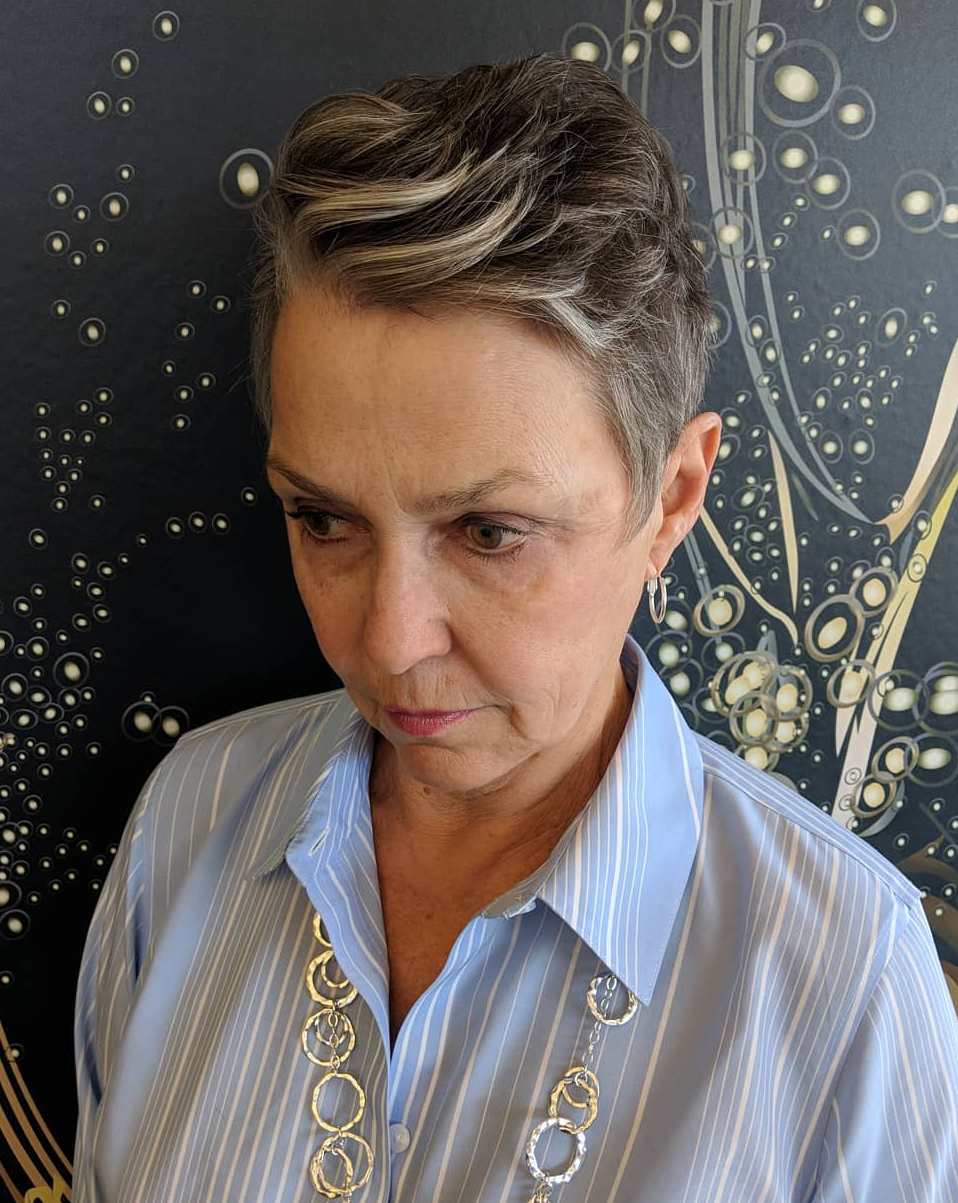 This trendy cut with pulled back waves displays an elegant brown gray highlighted with a delicate silver.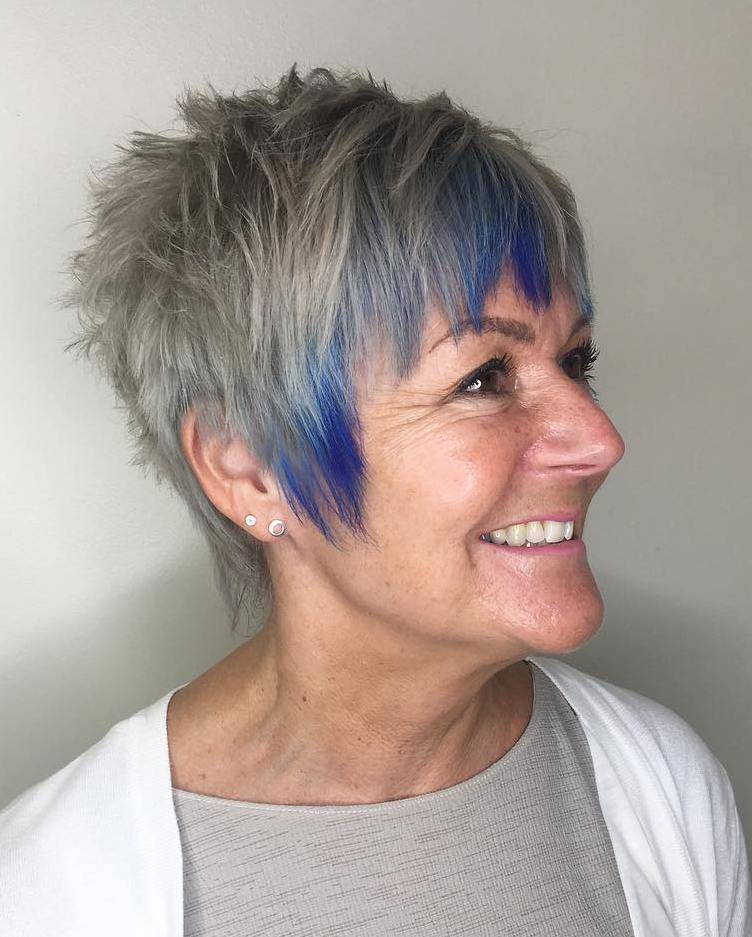 Have some fun and blend bright colors into an ash gray pixie with jagged face-framing pieces.
Pairing Cut with Glasses for an Edgy Look
It's no secret that many older women have to wear glasses either permanently or on occasions. And some of them feel really embarrassed about this, since they take glasses as a sign of aging. But you shouldn't, as wearing glasses can be fun and part of your hip and edgy look, slaying your 50s.
There is a wrinkle in that – you need to choose spectacles to chime with your face shape, skin tone, style and even hair color. "If you have dark hair, glasses in a dark tone that will bring out the richness in your coloring. If you have light hair, you might want to choose a frame that brings out the cream color, brightening your skin and your hair," says Selima Salaun, Selima Optique luxury eyewear brand founder, to Refinery29. Let's explore some age-appropriate combinations to take the lead from.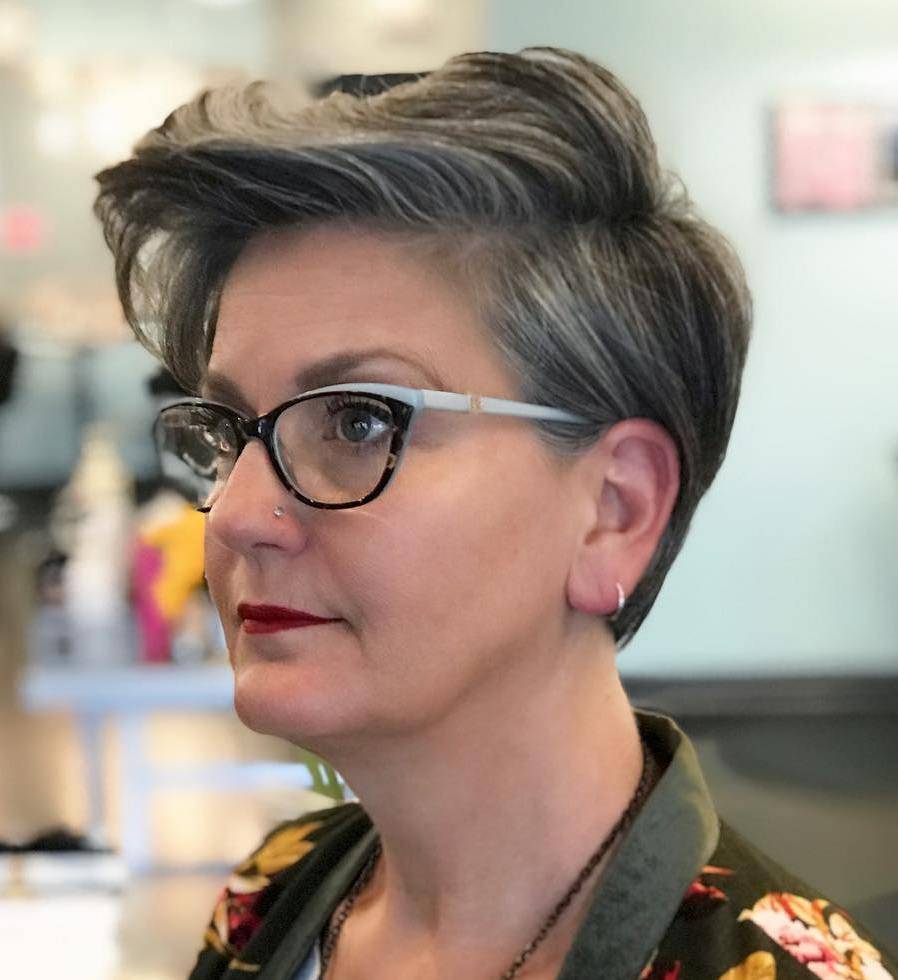 This exquisite pixie haircut with lifted bangs and top pieces is extremely cool and flattering for a woman wearing classy glasses.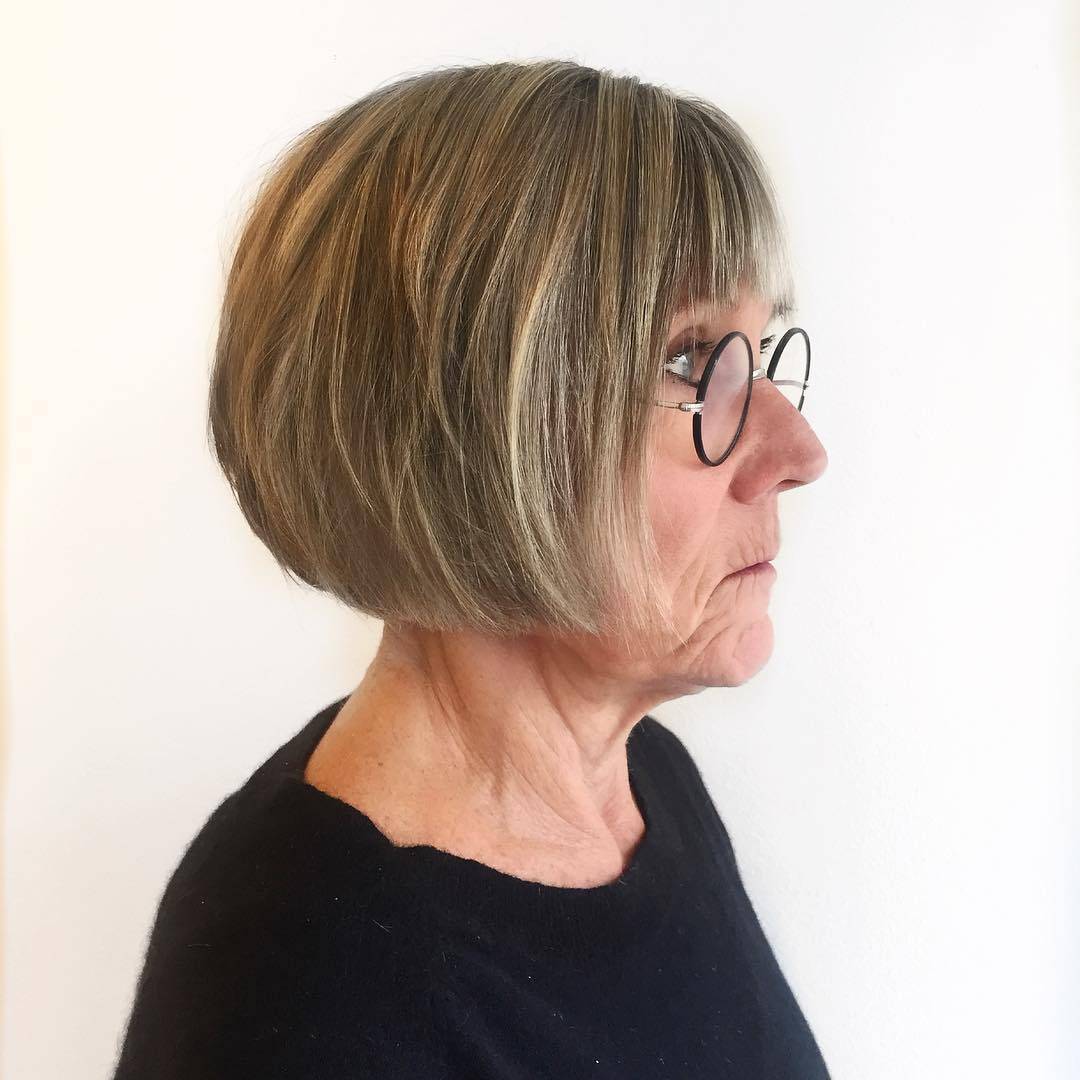 A full brow-skimming fringe paired with a layered bob opens your face to avoid overwhelming. And the delicate thin glasses fit wonderfully.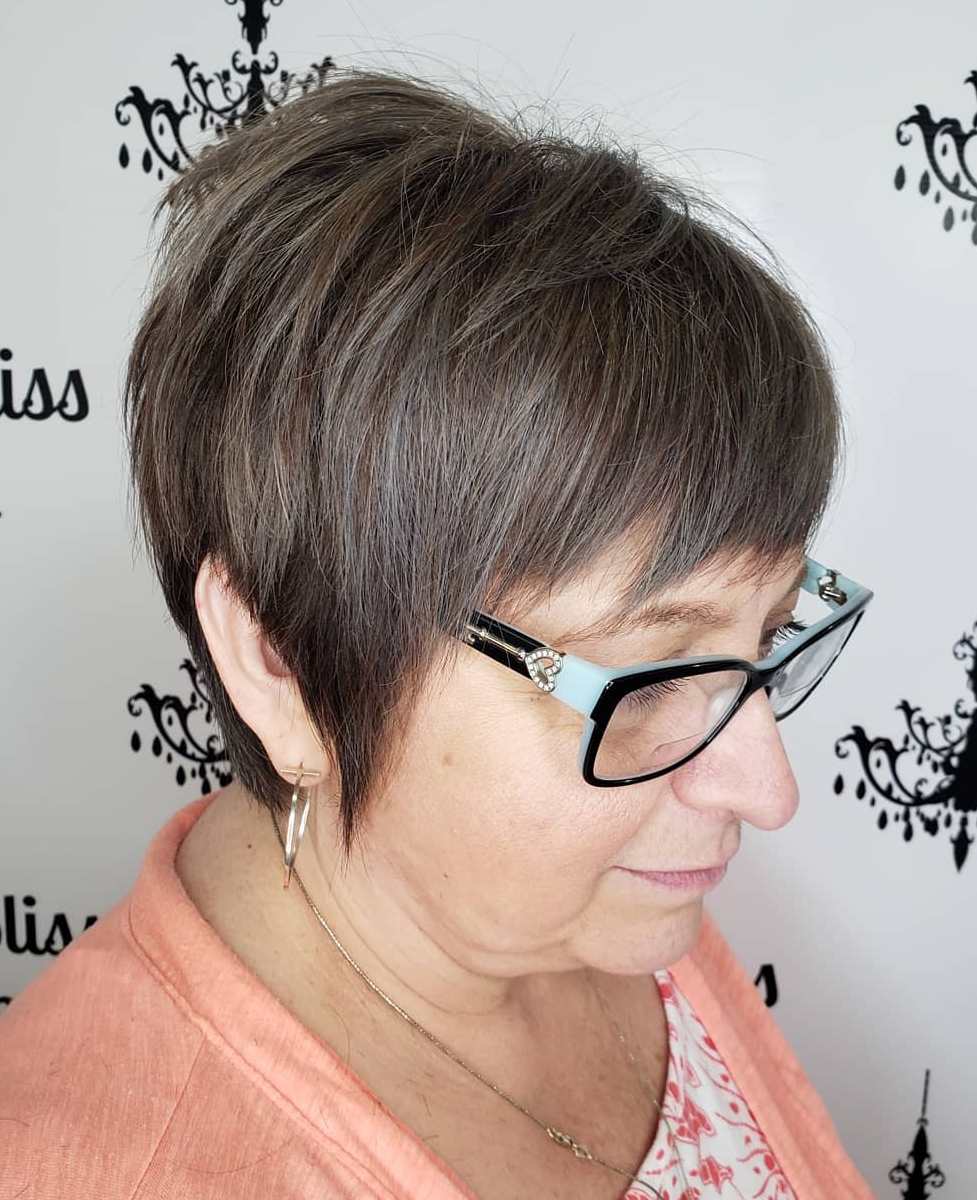 While wearing natural gray is a current trend, it doesn't mean you need too much of it. Sparks of gray blended into a graceful crop work great with smartly chosen frames.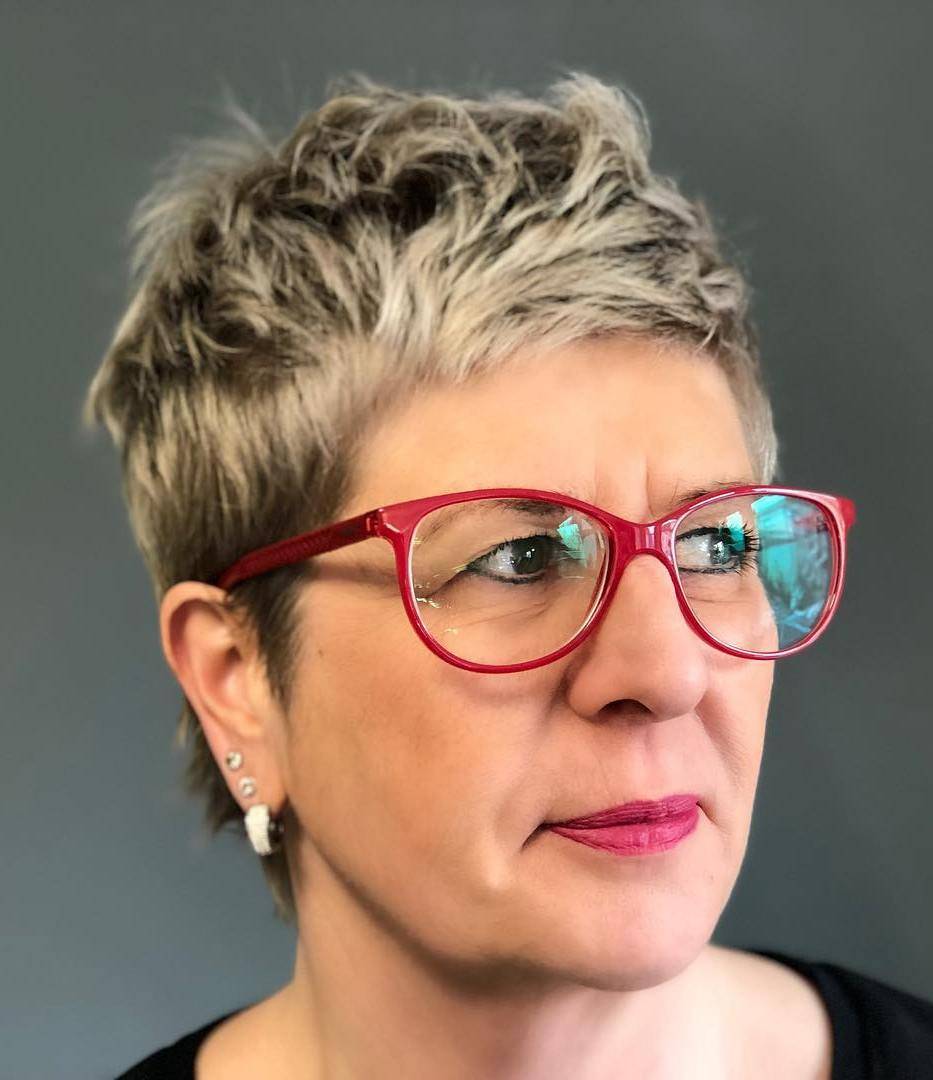 The choppy pixie that features haphazardly styled pieces is fairly bold to sit well with bright glasses and lips.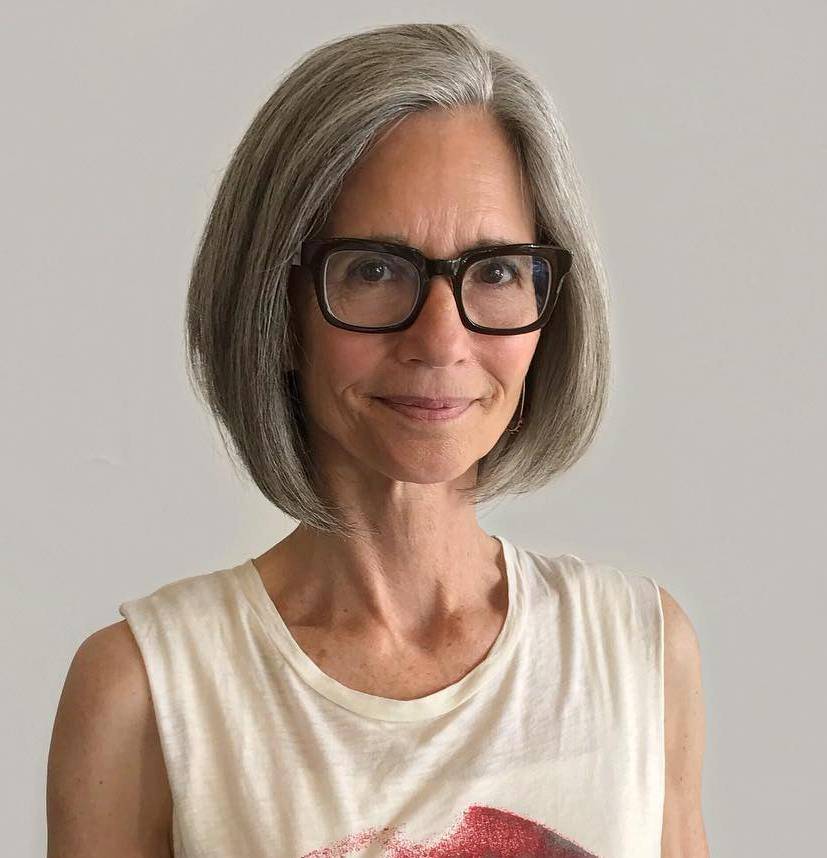 A rounded bob is among the classiest haircuts for women over 50. Make it crisper and pair it with a stronger pair of glasses.
Best Youthful Hairstyles for Women Over 50 to Take Cues from
The best thing about current trends is that you don't need to suffer sweeping changes in an attempt to take off years. "You can stick with your favorite style, but update it in little ways," says hair guru Mark Garrison, who works with Sandra Bullock, Julia Roberts and Nicole Kidman, to Good Housekeeping. You can make it by taking little steps like adding soft bangs that are also perfect for camouflaging forehead wrinkles and fine lines. Adding texture is another option, since it does a good job, easing fine lines and bringing in dynamics. Go through our pick to learn more tricks to defy your age.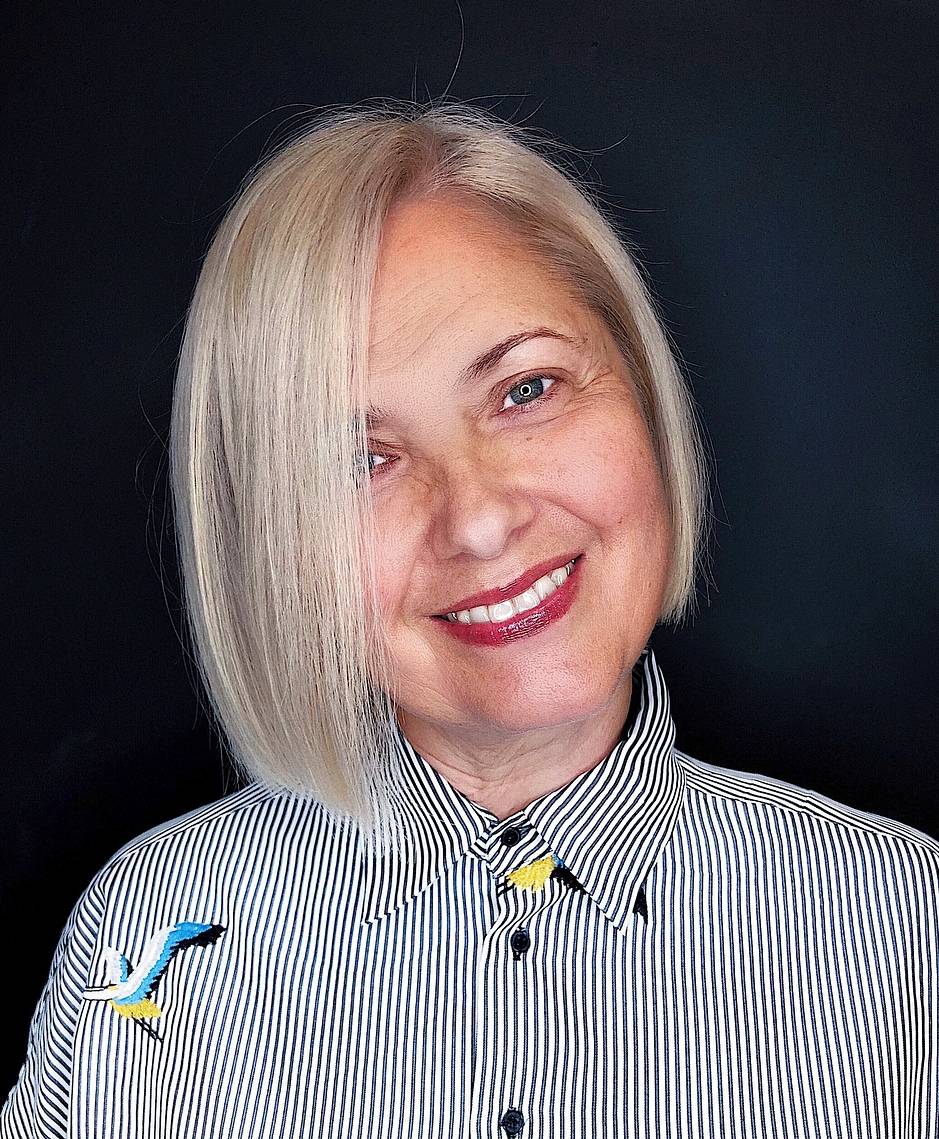 A blunt bob is a sure-fire way to get fullness when your hair is thin or fine. And it looks stunning when refined with natural silver.
This posh pixie proves that modern crops with fringes and height in the crown work fine for older ladies, calling attention to the eyes and lifting facial contours.
Layered hair with bangs is a great option when you need to create movement in straight tresses, which are prone to flatness.
A wedge shape with an elevated back and longer strands in the front is your best choice for getting a classy, eye-catching look.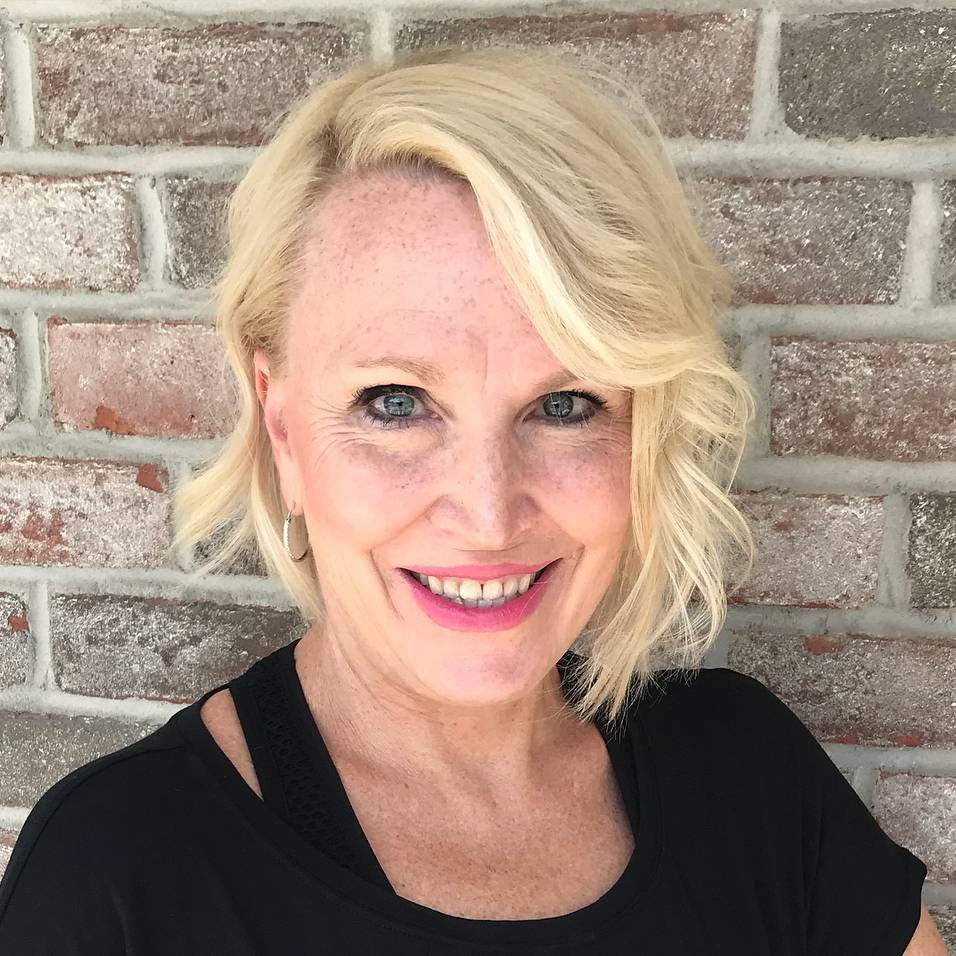 This light blonde chin-length bob boasts textured waves and side-swept bangs, adding vibe to thinning locks.
Brunettes can rev up their hairstyle by adding lively copper red hues and choppy layers.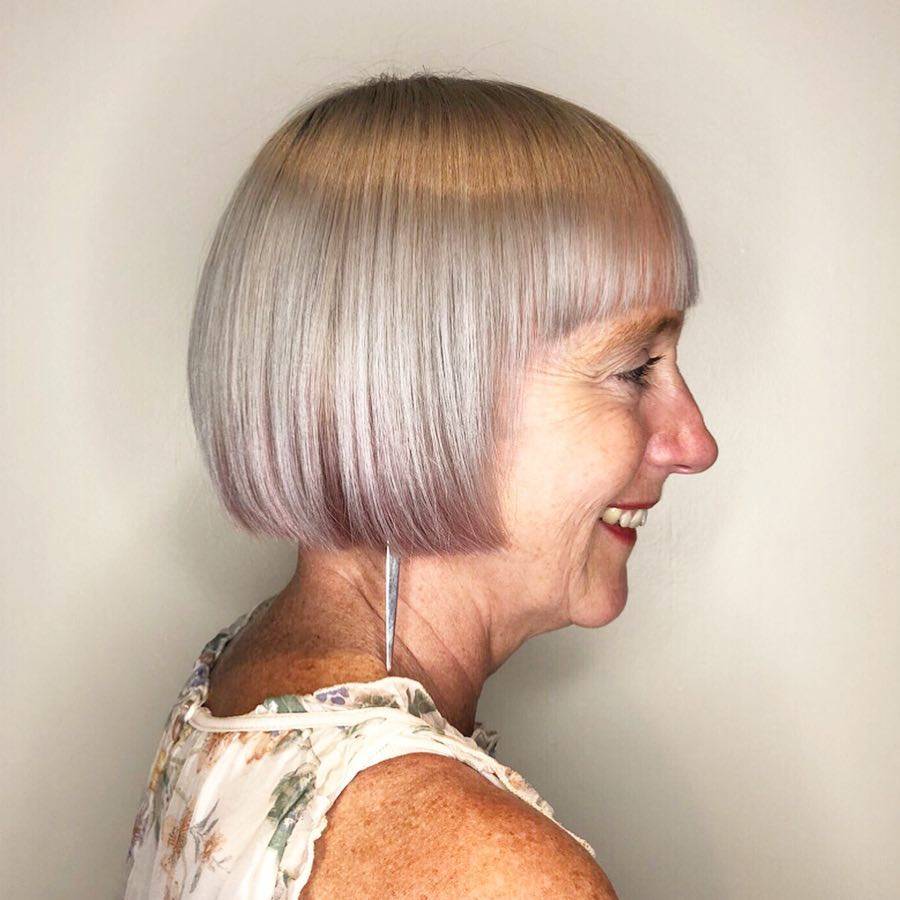 A classic ear-length bob with a blunt fringe is easily transformed into a fancy cut by super sleek styling and shiny metallic gray coloring.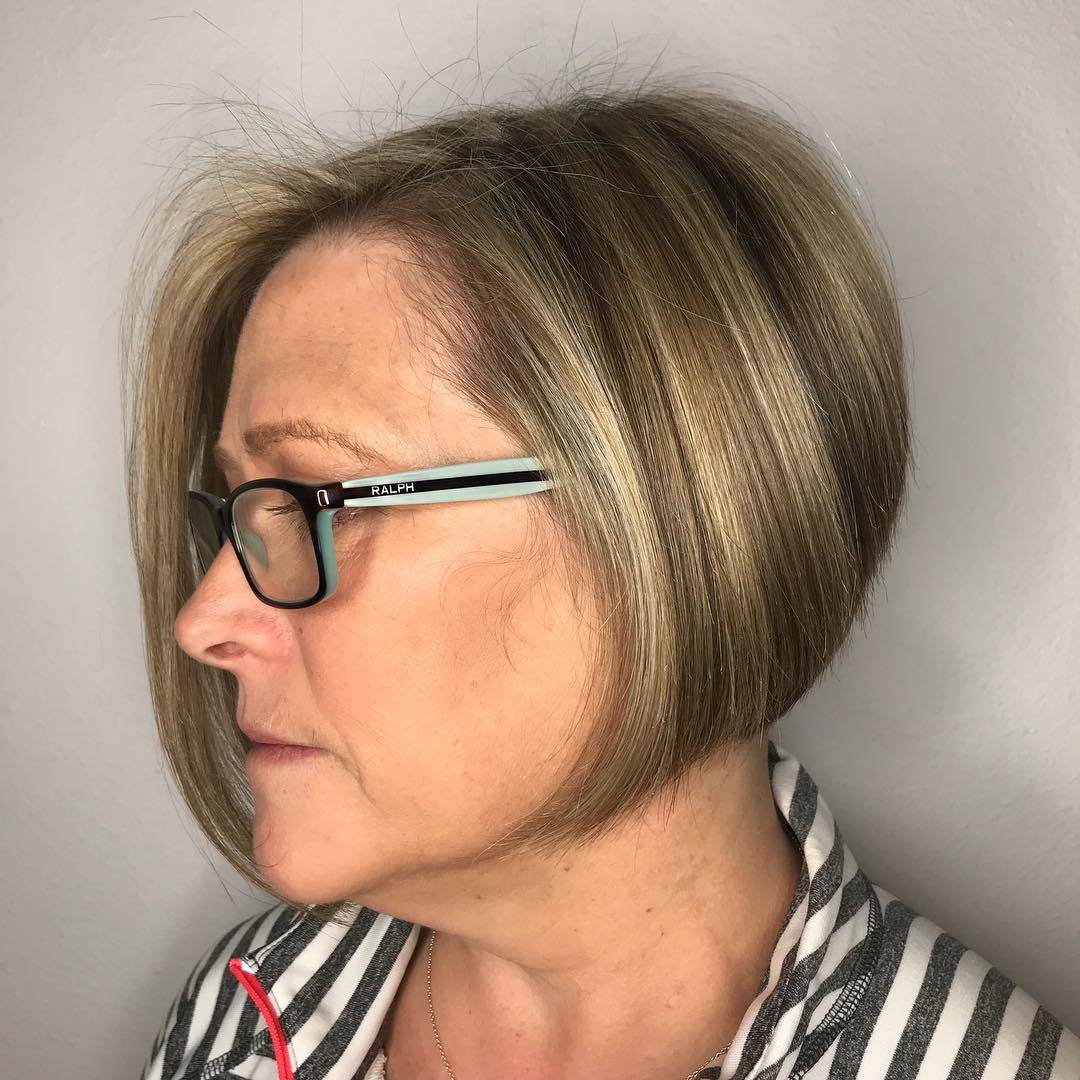 While a polished finish looks sophisticated, it may appear dull, unless brightened up with dimensional highlights.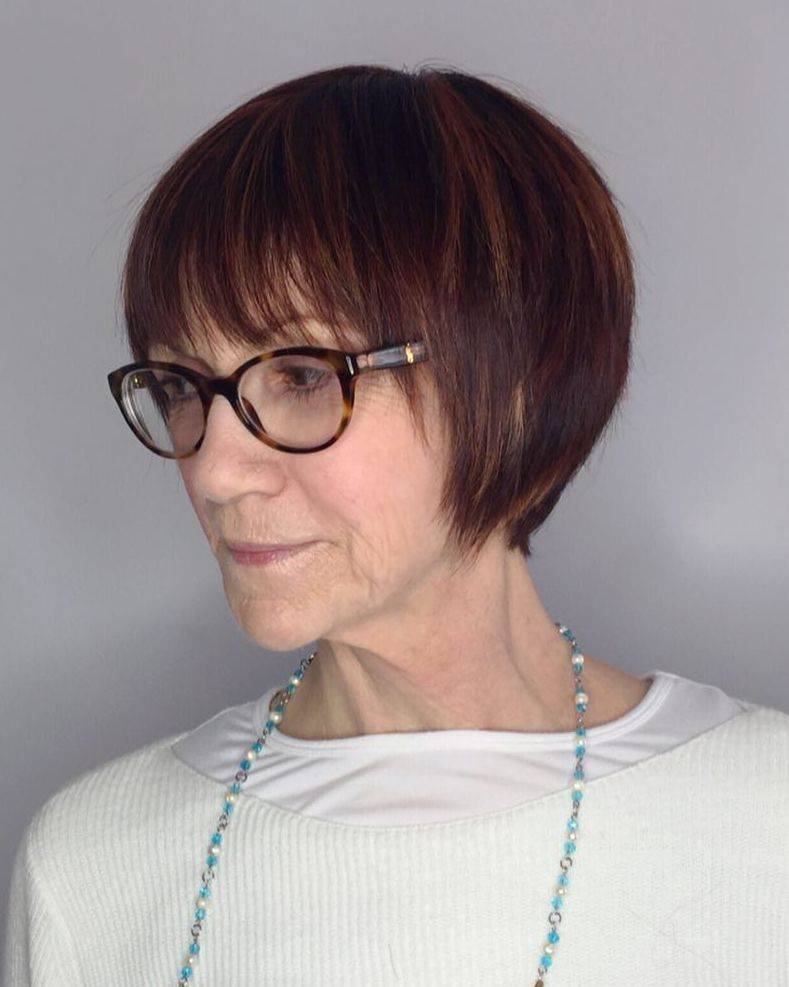 Do you want to get a new fashionable cut, still retaining your minimalistic professional image? Consider this neat, yet piece-y and edgy bob.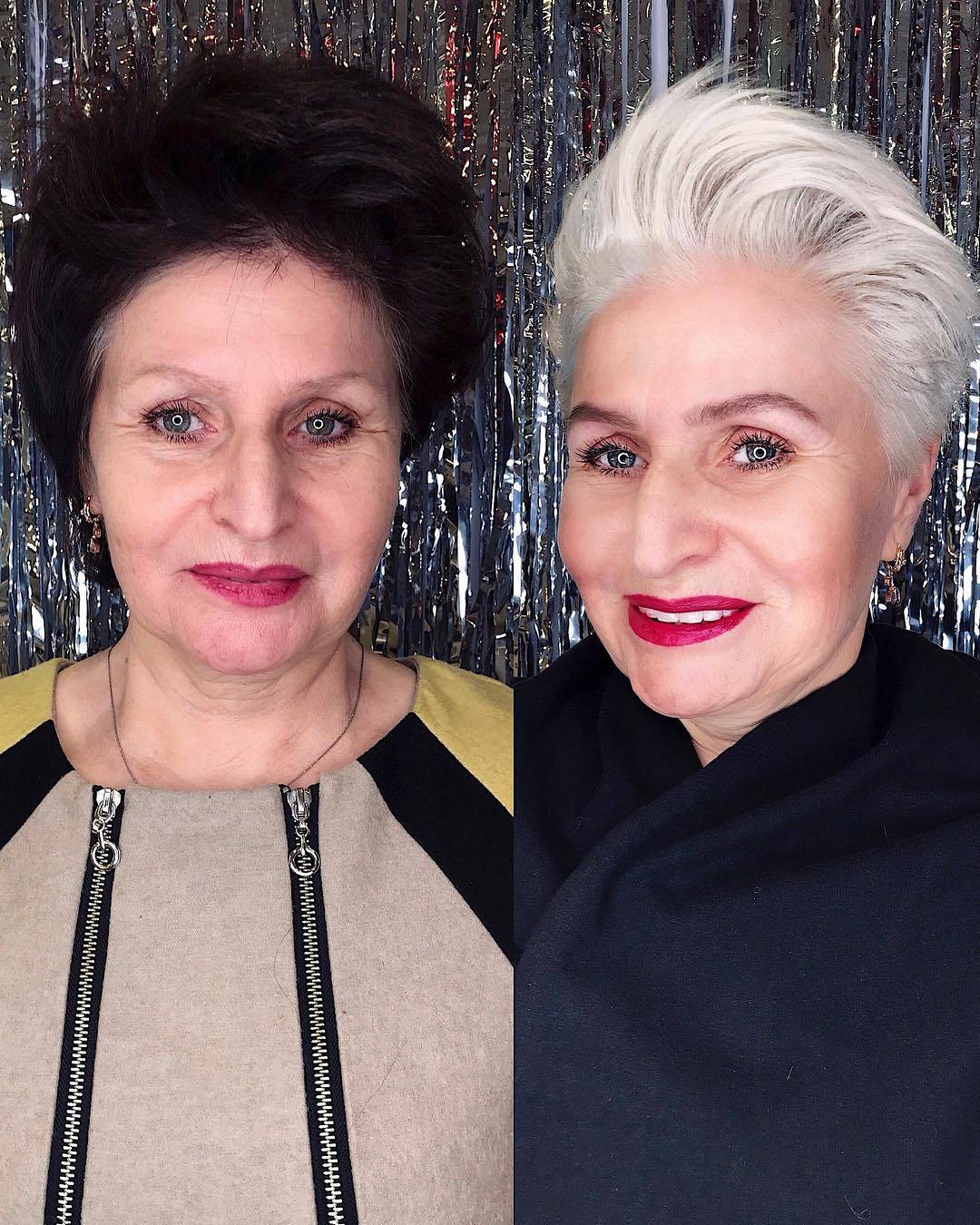 This lifted up and brushed back tapered pixie is bright and no fuss. What a wonderful makeover!
With this wealth of ideas for on-trend short hairstyles, any mature lady will be able to knock at least 10 years off her age. Whether you are a wash and wear adherent or a queen of a round brush and blow dryer, here is an option for you. And we hope you'll nail it and share your new style with us!