Love and hate – this is how many of us feel about bangs. We love them on Kardashians, but we hate the disastrous experience with bangs gained by ourselves. Well, it's time to put it to rest. Bangs are officially in vogue, and we'd better join the trend. All the more so since there are tons of chic and flattering hairstyles with bangs to steal from!
Hairstyles with Bangs by Hair Length for You to Get Inspired
No, this is not about choosing a chopped fringe for a short cut or spotting long bangs with a waist-skimming mane. Actually, there is some truth in this approach, as you need to keep in mind the balance of proportions, but the length is not the only thing to consider. Hair texture, facial features, and even body type, all work together with hair length to create a look. And we want you to find inspo in the best of them.
Balance Out Long Length Hairstyles with Bangs
The longer your hair, the more hassle you have – that's what many girls think. But let's take a look from a different perspective: a long length means plenty of room for color transitions, as well as for experiments with layering, not to mention a vast variety of updos you can try on. And bangs, of course! Whenever you feel tired of your hair routine, you can get a fringe that will change your entire hairstyle drastically. Not sure where to start your journey? Here is a tip for this fall from one of the most influential hair gurus. "I think wispy bangs will be making a comeback this fall!" writes celeb hairstylist Jen Atkin in her brand's blog. Bite on that and look through other choices.
Layered and flipped out, these gorgeous bangs command attention and give a modern touch to the '70s long shabby chic hairstyle.
Here we have a nice illustration of feathered side bangs swept off the face to the sides. Note the dimension and color contrast they add.
This full choppy fringe emphasizes the cool shaggy style, while highlights brighten up the voluminous brown hair, making it shine from the inside.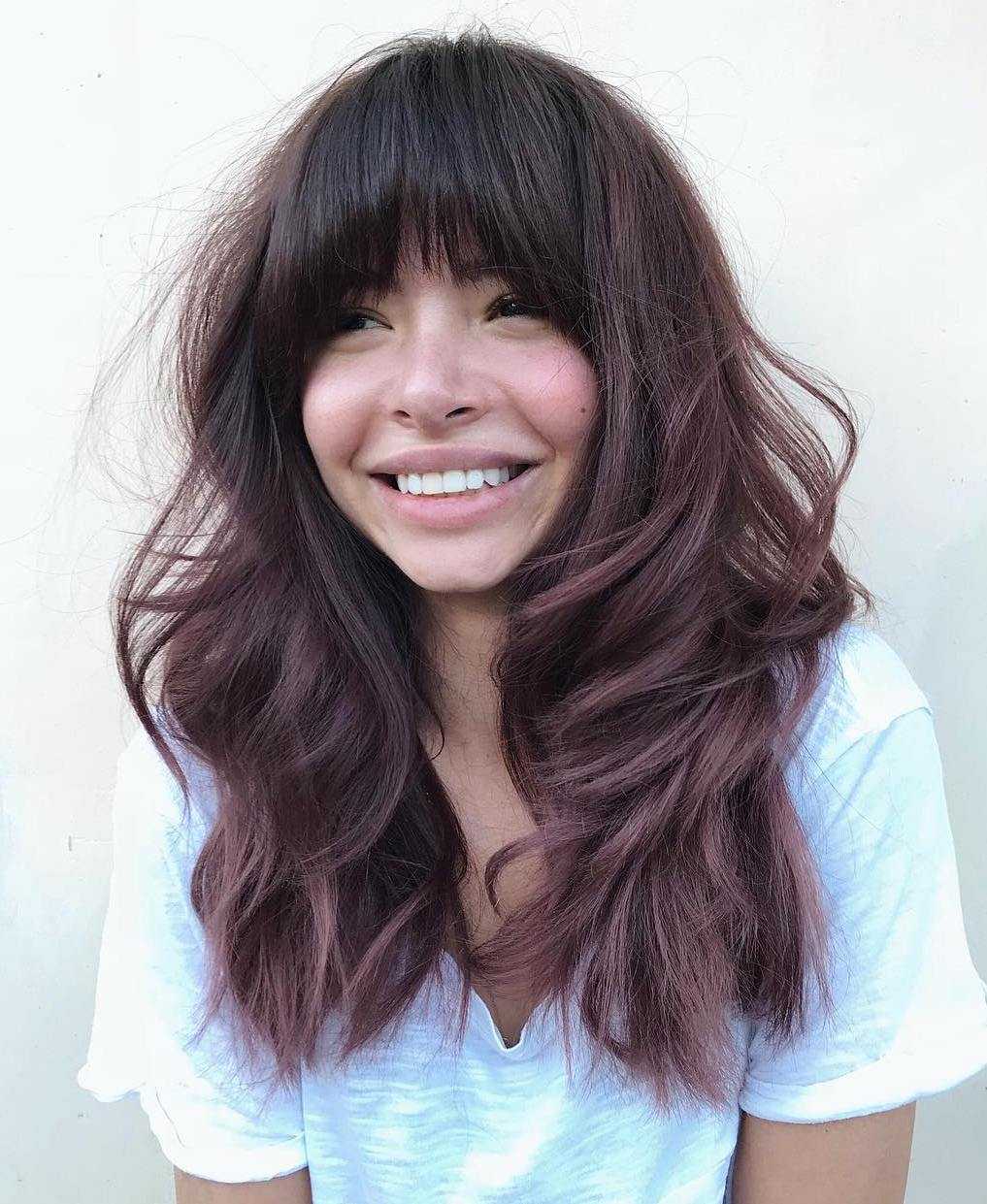 This awesomely textured thick hair just screams for a full fringe to balance the volume. However, the bangs are arched to create the soft framing rather than sharp lines and a heavy feel.
Micro bangs are not for faint-hearted, but this option is a real delight. Its short layers are carefully carved to open the face and give an anchor to the shag hairstyle.
Cut It to Medium with Bangs
A medium length is a win-win option for those who want it all – easy maintenance, multiple styling options, a feminine look and the freedom to go shorter or longer with little hassle. Certainly, mid-length hair needs to be healthy, since damaged strands won't add any allure, but will require a shorter cut to put your hairstyle right. On the plus side of the medium length, you have a wide range of cuts for any texture and a plethora of fringe styles, including those hot and happening micro bangs. "They're for an edgy girl looking for an unexpected look," said hairstylist Mark Townsend to Women's Health, and recommended pulling them off with short to medium hairstyles to retain the right proportion (which is a bit tricky with long hair). While baby bangs may seem too extreme, get some inspo from longer options.
Long brow-length bangs are iconic for naturally curly hair, but you should keep your spirals well defined for the crisp look you can see below.
And these full bangs are handsomely chopped to blend in smoothly with side layers and the overall shaggy hairstyle.
This shoulder length cut sparks with a subtle color transition, and the fringe touched with highlights does its part of the job, also matching the razor-cut texture.
Here is how you can turn your sterile, icy lob into something more effortless and textured – through side swept wispy bangs and point-cut ends.
Technically, we are not quite sure whether these are swoop bangs or side layers. But who cares when they are truly stunning?
Go Short with Bangs
"Short hair is all about learning different textures!" Kristin Ess, celeb hairstylist and Kristin Ess Hair founder, wrote in her post. Yes, girls with cropped hairstyles are somewhat limited in their styling options, when it comes to braids, buns and other updo versions. Instead, they are welcome to play with multiple styling products and create new textures for ringing the changes on their hairstyles. From a romantic soft texture through a sleek glam styling to a trendy bedhead look, they can give a stunning twist to their cuts, and a fringe is an essential part of the game. Get inspired by our ideas and find your own ways to revamp your chop.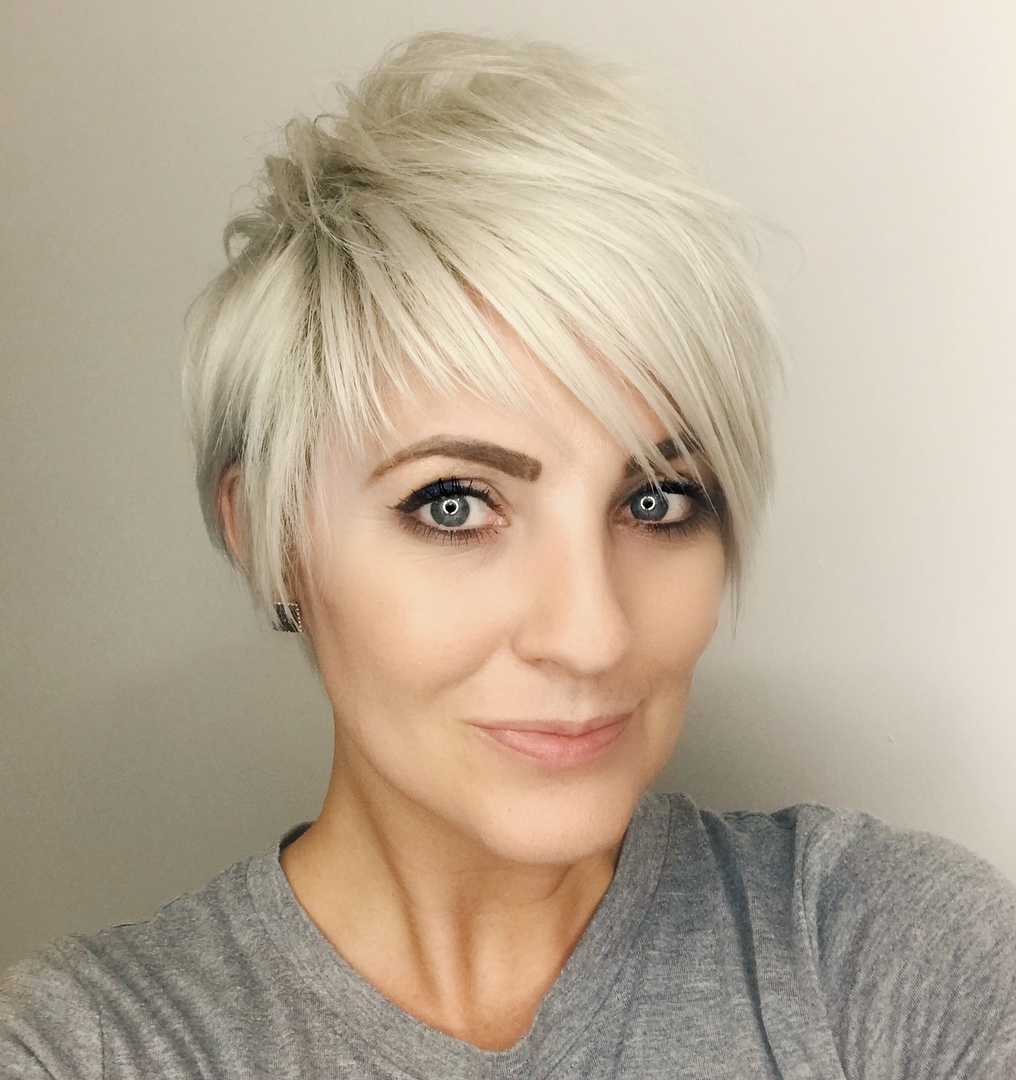 Layers are always good for fine hair, but this pixie is mind-boggling due to its asymmetrical fringe styled so dramatically.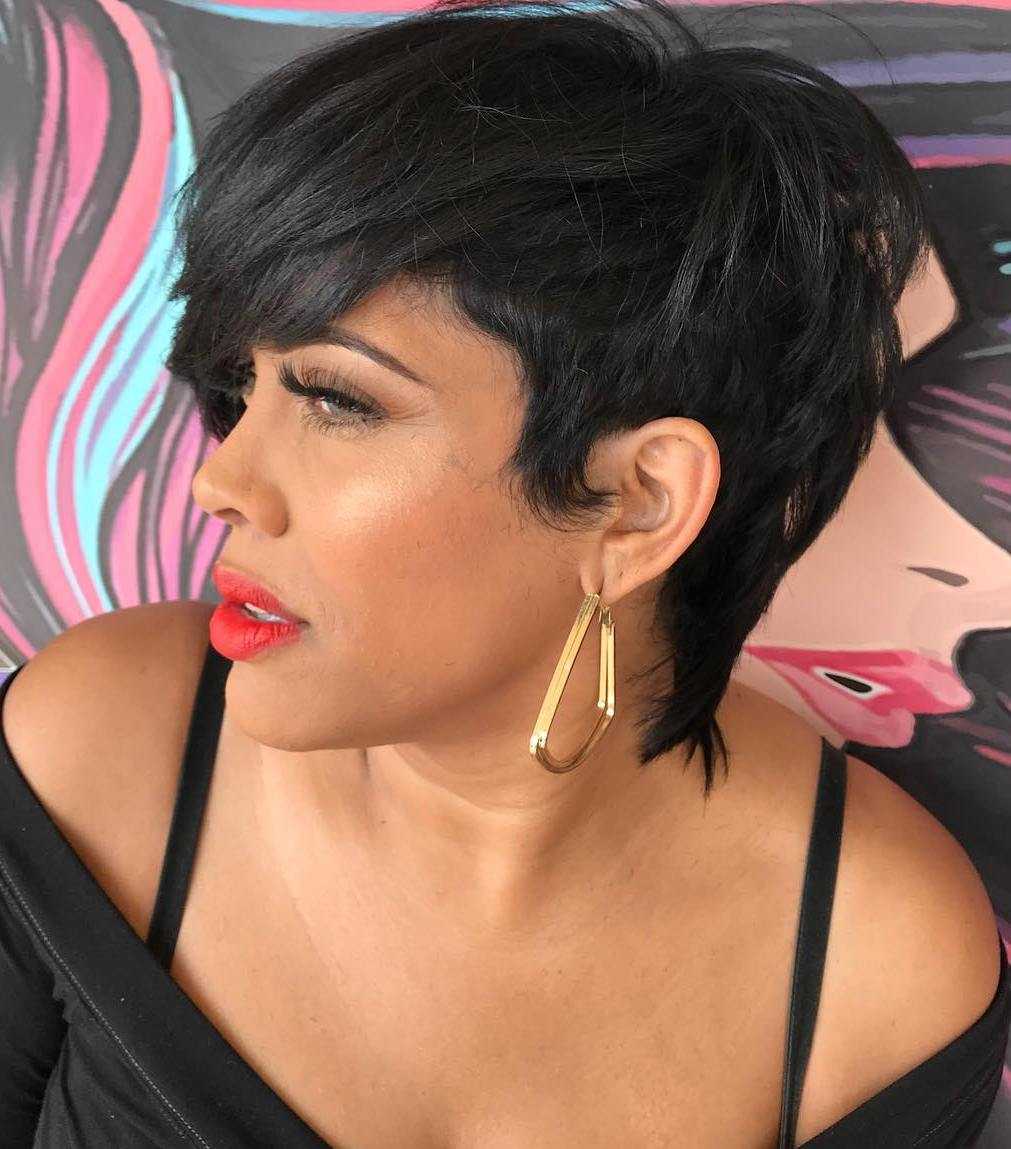 And this black pixie features top strands long enough to pull them frontward on the forehead for thick textured bangs.
If it weren't for the clear geometry of straight bangs, this short choppy bob would look a bit too simple. But it doesn't. And the color transition…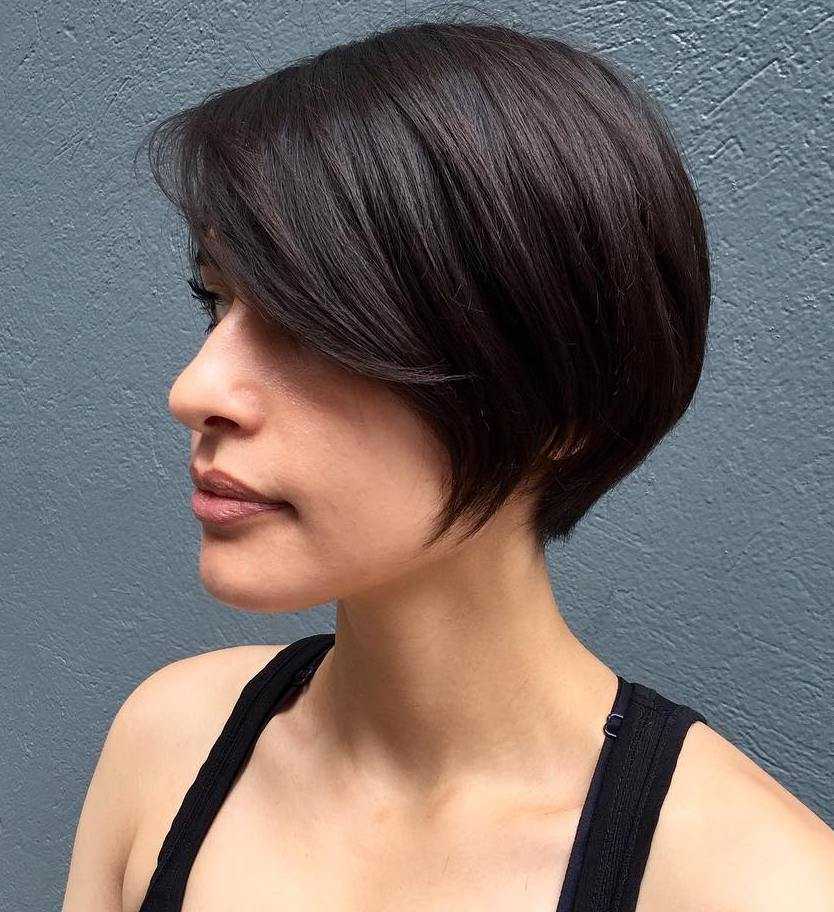 The clean shape of this stacked bob is kind of interrupted with layered side-swept bangs – don't you think it's eye-catching?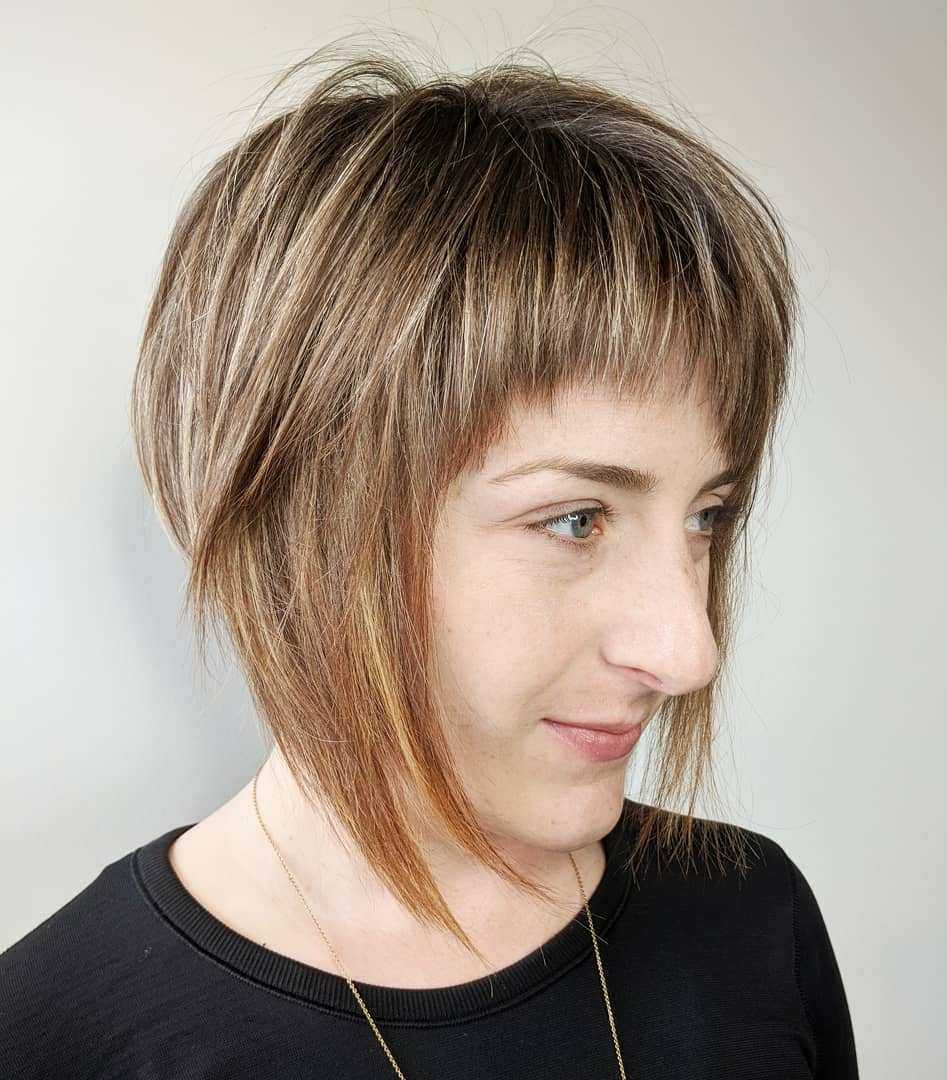 An arched choppy fringe crowns this angled bob and opens the upper part of the face to balance the features and long front tresses.
Trending Bangs for Your Face Shape
There is no particular bangs style you must stick to depending on your face shape, but there are certain types that can work for you better than others. For example, a curtain fringe and below-the-cheekbone side bangs help lengthen round faces. But an angled down fringe a la Bardot is also suited for heart-shaped faces. Oval faces can pull off heavy, blunt and full bangs, and these styles work great for someone who needs to hide their big forehead. Angular faces require soft layered framing, yet they can look nice with piece-y straight bangs. The bottom line is that you can rock various bangs when they are tailored to your facial features by a master touch.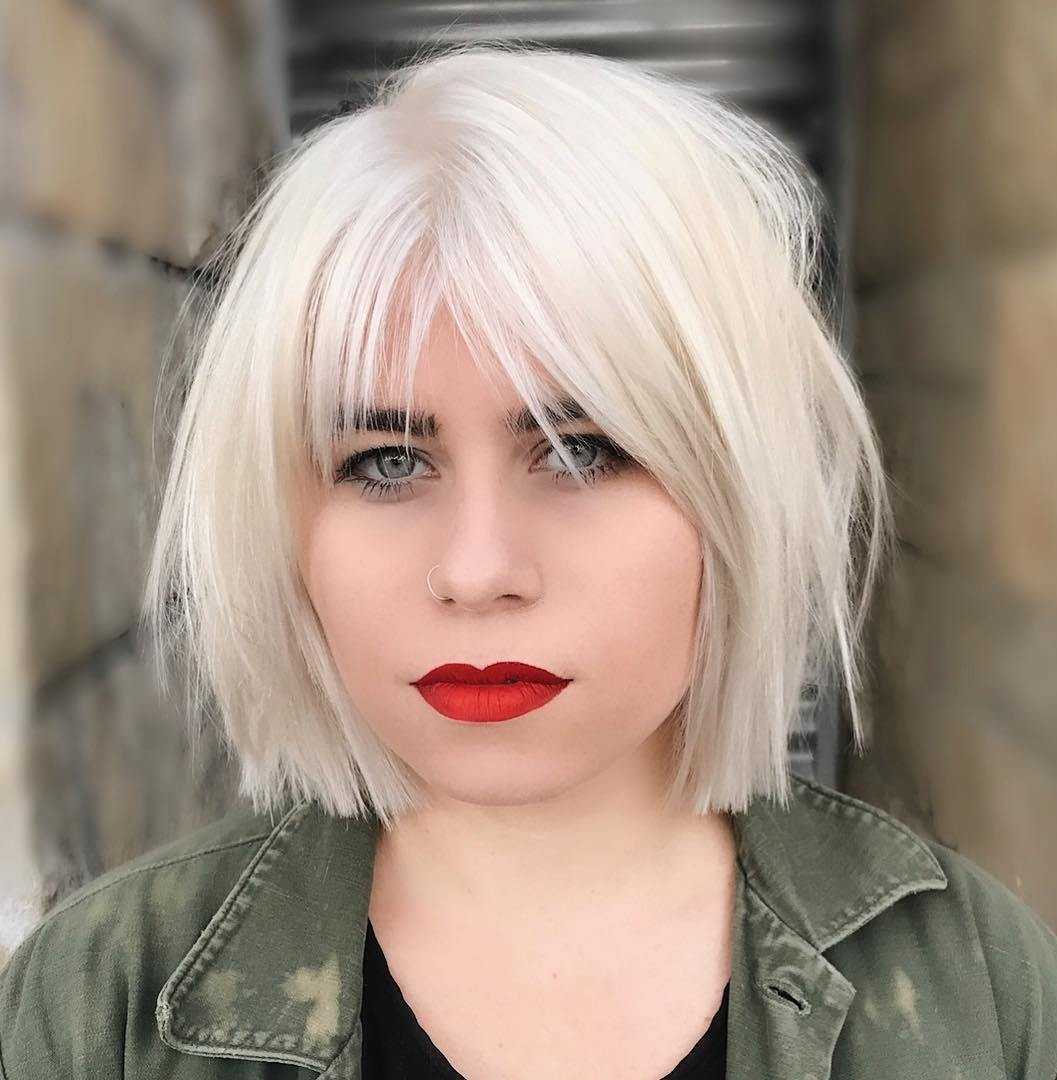 Just illustrating the above-said, curtain bangs give a bit of angles to this round face, while the side part adds both volume and height on the top for an elongating effect.
An oval face won't appear long, when the length of your haircut is balanced with an added width of full bangs.
Long faces require more body on the sides, which can be gained through a textured lob. And the statement micro bangs (that are currently having a moment) give an eye something to follow.
Want to hide your wide forehead and draw attention away from the pointed chin? A layered bob can be a good fit for heart shaped girls, when paired with long bangs, dragging the focus to the eyes.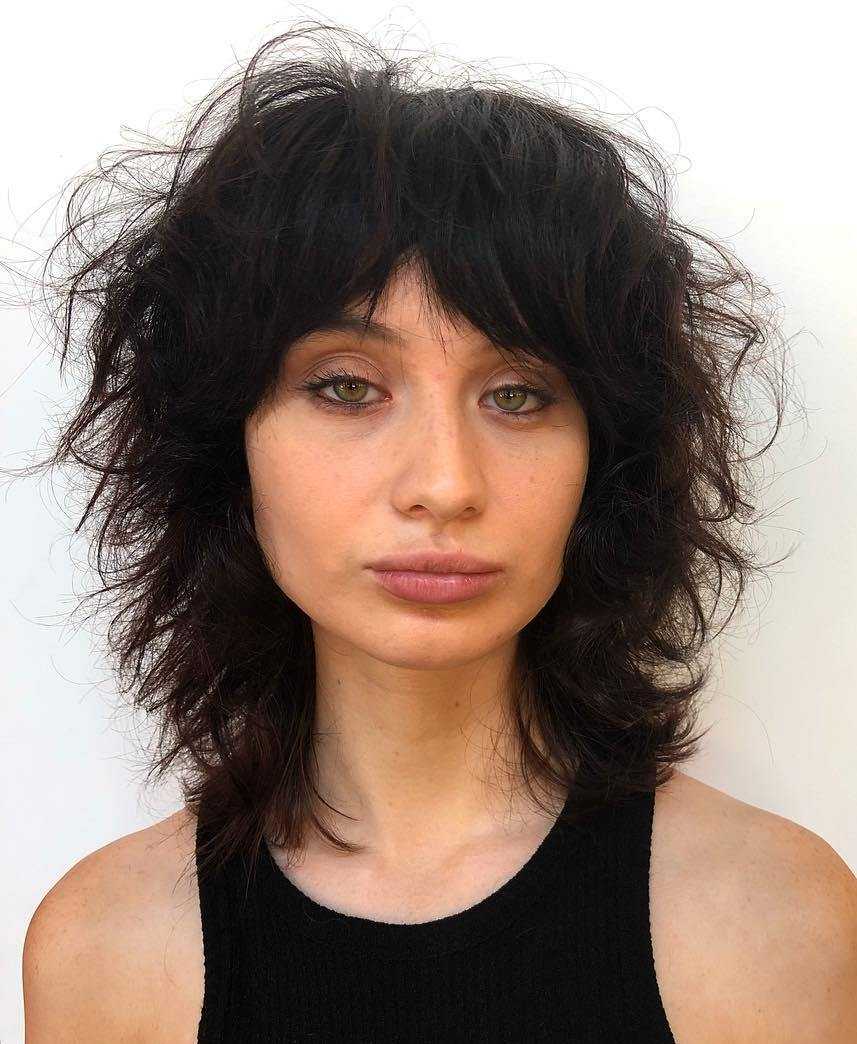 Square faces need soft lines to remove the boxy feel they have, and this messy hairstyle with curtain bangs and thoroughly layered waves delivers a rounded look.
Gorgeous Bangs Ranged By Hair Type
Sure, you need to factor in your hair texture and density, since some types of bangs can turn out unflattering or maintenance heavy for your hair type. Alexa Chung-esque fringe is a rainbow hunt for ladies with very fine hair, while those having cowlicks should forget about blunt bangs. On the other hand, don't be misled by common misconceptions. If you have curly hair, you are not out of the fringe league! All you need to do is to find a curl specialist and proceed slowly. "If you have curly hair and are getting a fringe for the first time, start gently with a subtle, shallow fringe. Once your stylist knows how the curl sits, you can be braver with the cut," recommends Paul Edmonds, UK-based hair expert, to Elle.
This natural curly hair comes with beautifully shaped and structured spirals, some of them are also forming center-parted bangs.
Rock your long straight hair teamed up with a wispy fringe to command attention to the face and add some texture to your smooth hairstyle.
This thin hair is anything but flat due to the texture and dimension of the messy bob complimented with long side bangs.
Layered pixie cuts give body and movement to fine hair, but you can take it a step further with these bold choppy bangs framing the face.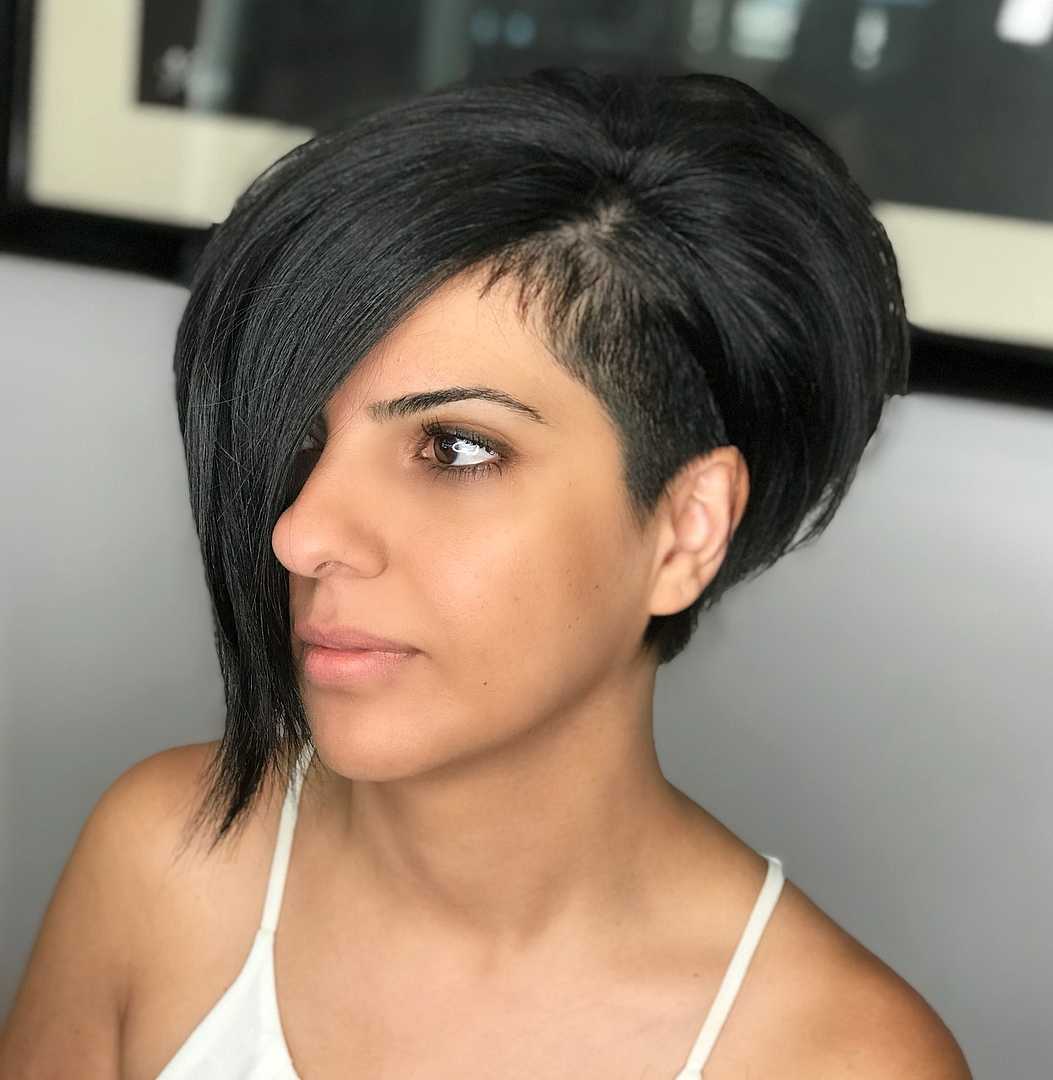 This shiny thick hair got it all – an A-line bob, an undercut, long side bangs to wear them loose or to tuck behind the ear, and those striking baby bangs to make the hairstyle pop.
Best Hairstyles with Side Bangs to Slay
In his comments to Elle, hairstylist Matt Fugate said that side-swept styles are the easiest to wear, because you can push them off your face. And rightly so, since some hairstyles are cool to wear on red carpets, yet hard to manage in the daily routine. But we also praise side bangs for this anything goes approach they allow. They work on various textures and lengths while balancing a variety of face shapes and adding up with multiple women's haircuts. From piece-y to dense, from shaggy to sleek, they can be worn as you please to give you the most flattering look. And here are some to choose from.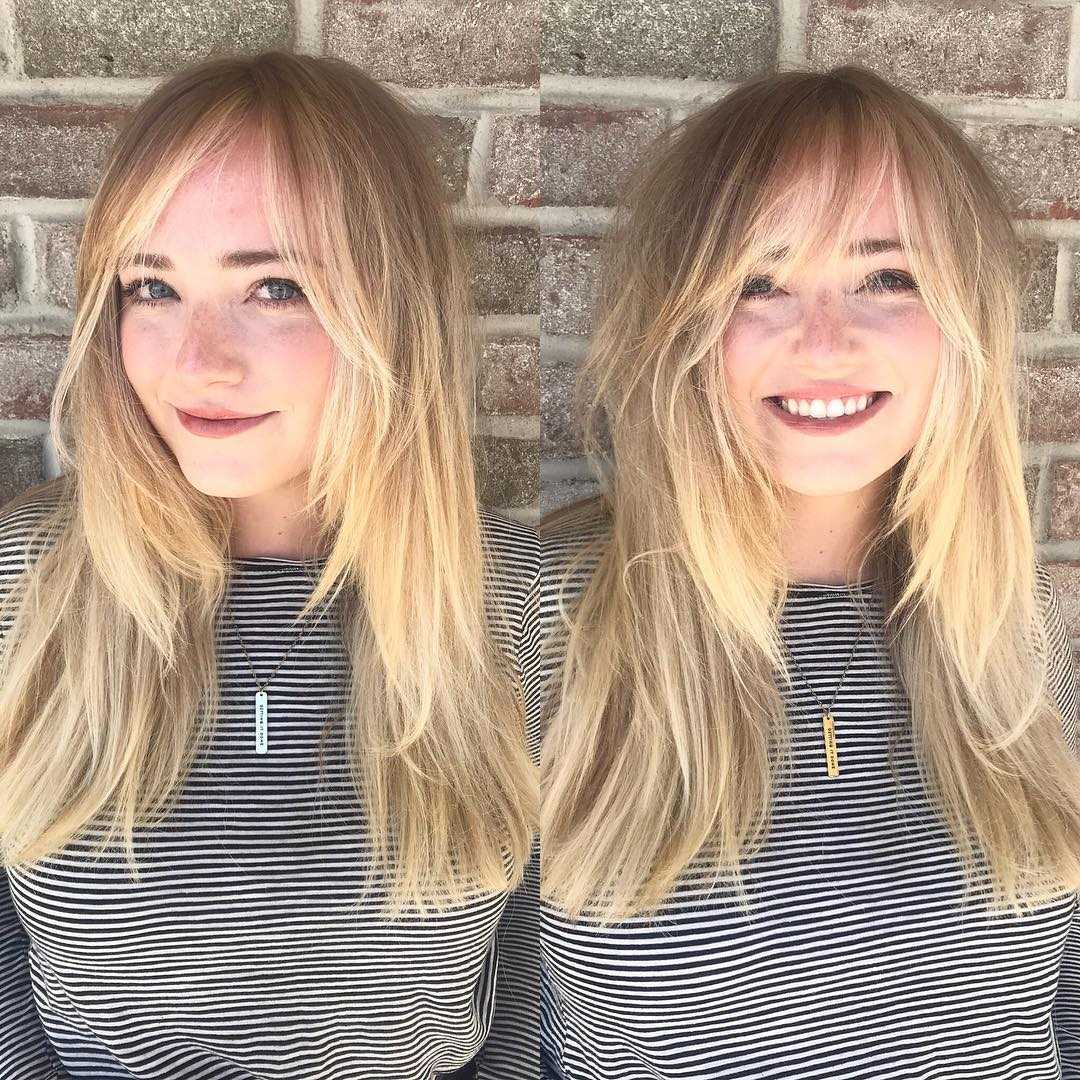 This long hair is nicely layered around the face and complimented with long shaggy bangs that can be styled in different ways like illustrated below.
And this is a great example of a short fashion-forward pixie. Bookmark these layered side bangs, which are attuned to the hairstyle perfectly.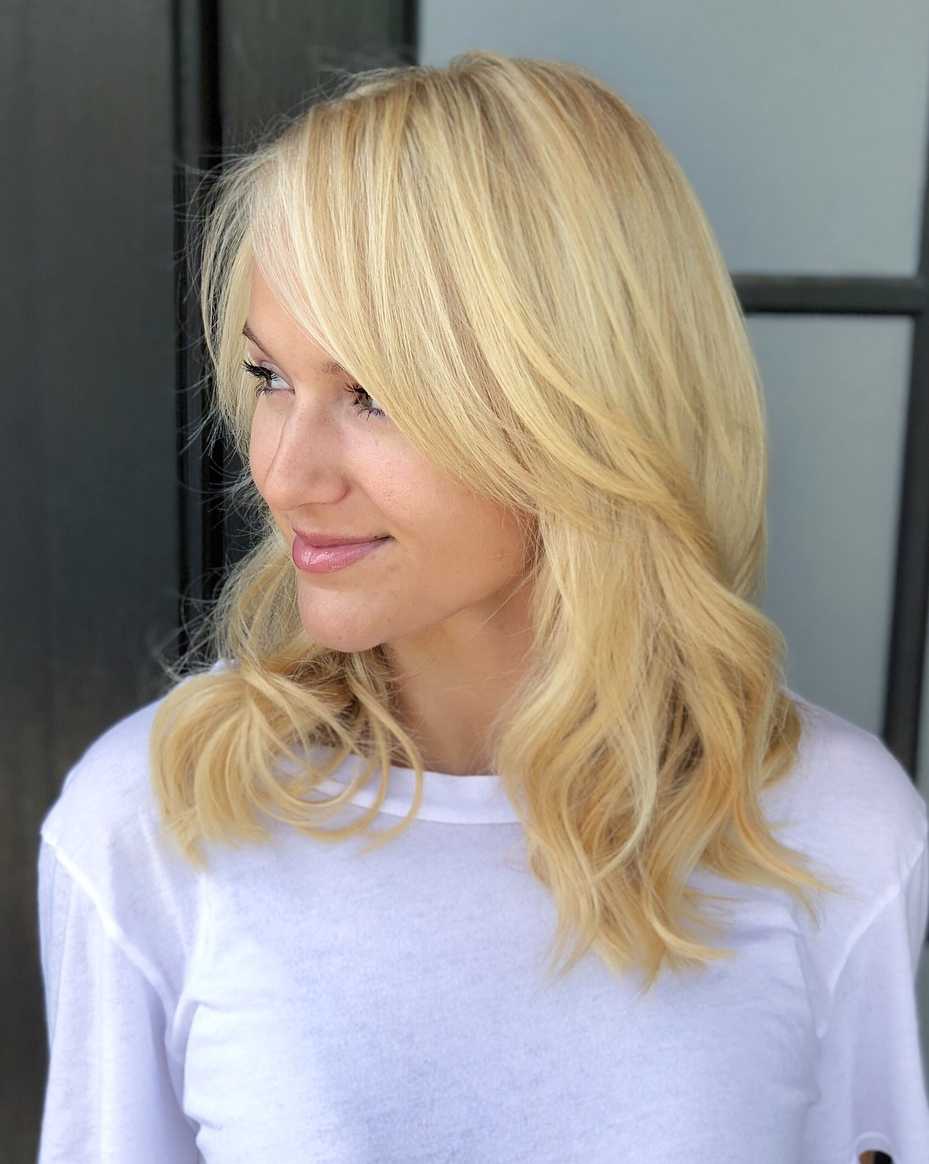 Side bangs work fine for medium length hairstyles, especially when you need to add face framing layers.
This peachy blonde bob draws stares and accentuates the soft texture of fine hair. Yet, the long side bangs help make the hairstyle more voluminous and crisp.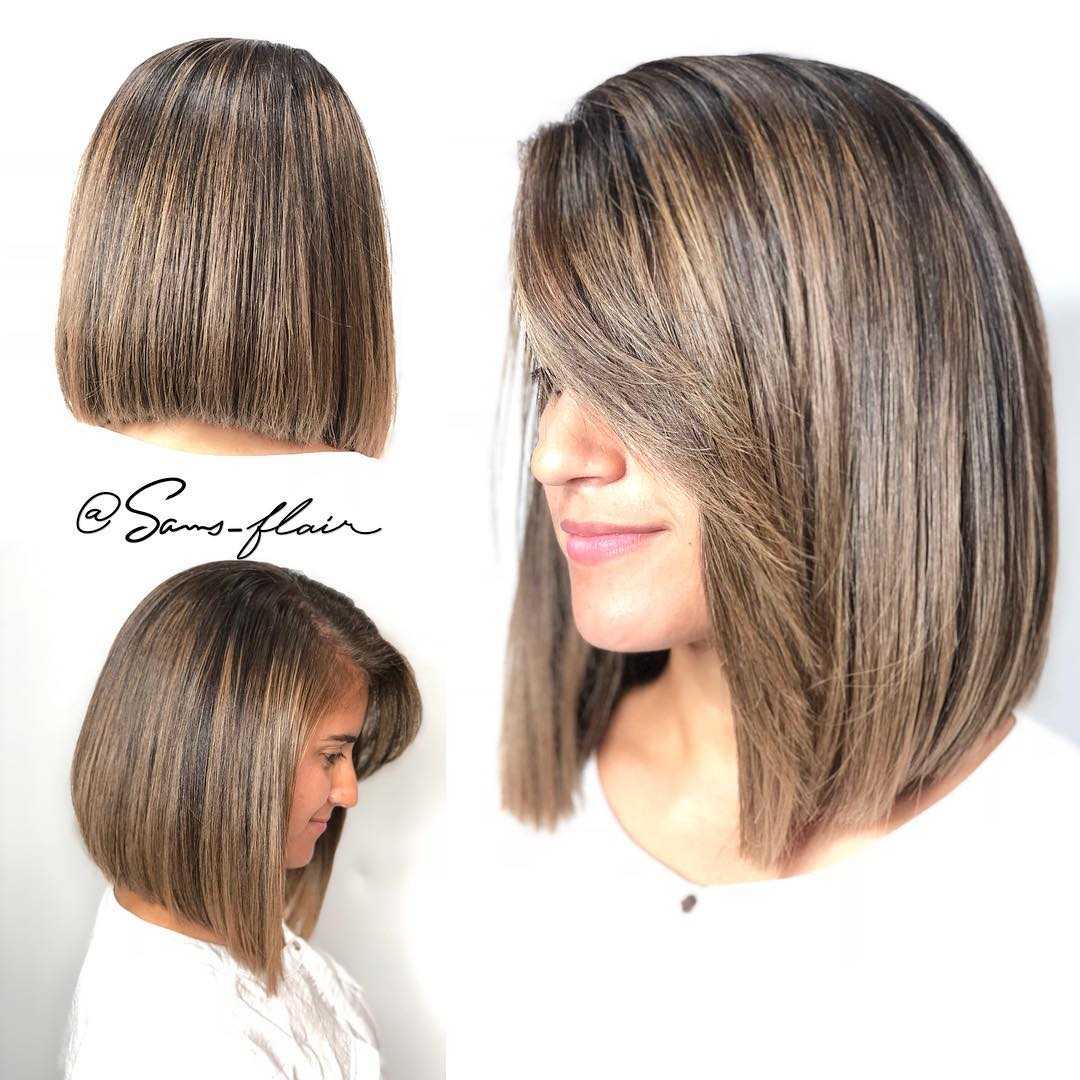 We like the highlights that make this brown hair shine, but we absolutely adore the subtly feathered bangs. Without them, the hairstyle might be too sleek and run-of-the-mine.
A gorgeous messy ponytail and a deep choppy fringe? This swoopy combo is one of the best a la J.Lo's pony looks!
Feathered and side-swept, these bangs serve to open the face, while balancing heavy layers on the bottom of the long hairstyle.
Short and clearly shaped on the sides, this haircut features long and wavy top tresses, combed frontward to melt into soft right side bangs.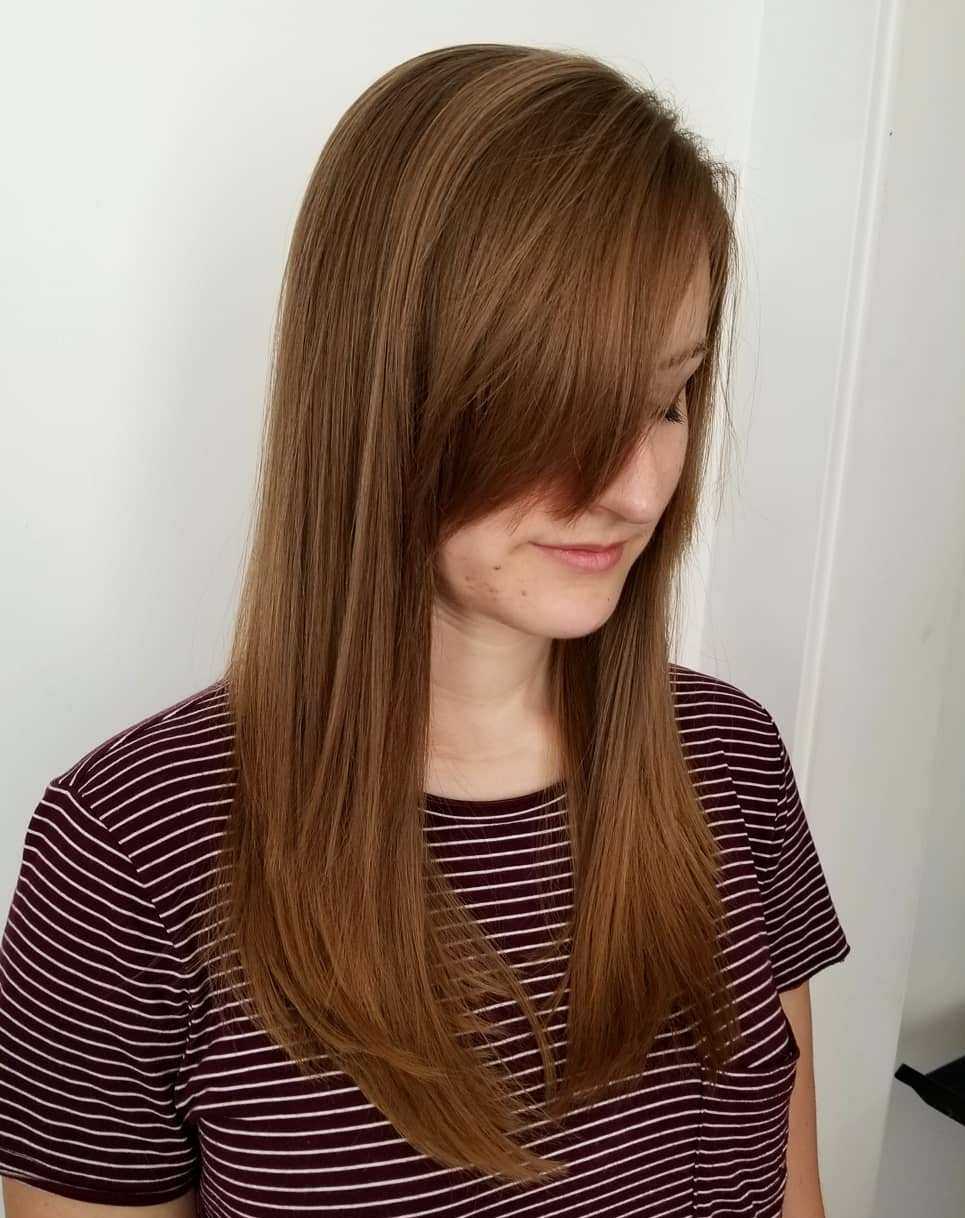 Straight layered hair may still look flat when all its texture is pulled to the ends. Side bangs redistribute the focus, adding an eye-catching curve to the face.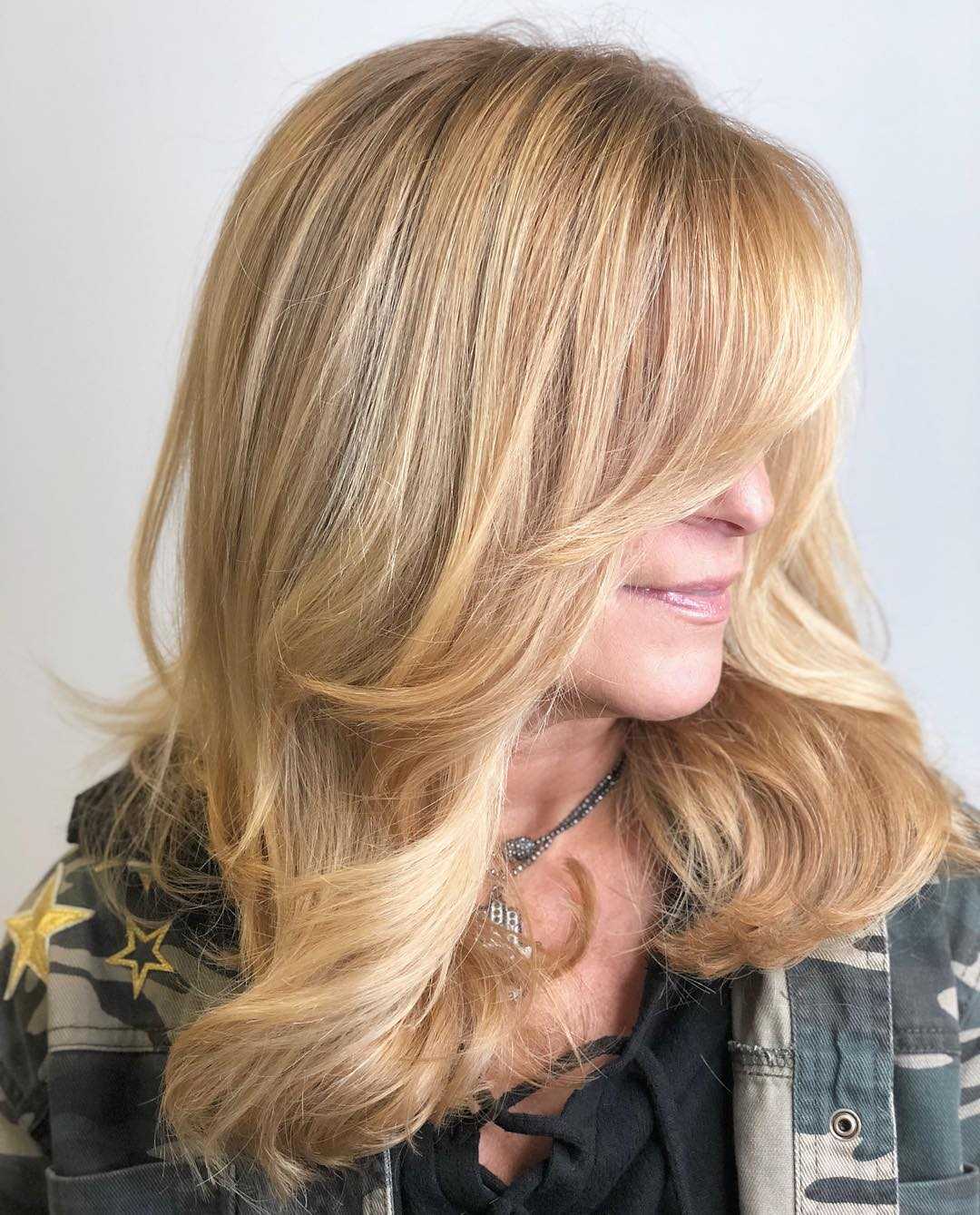 This strawberry blonde hair pops with soft waves and sophisticated layers. Flip them out and combine with side bangs to get an elegant look!
Classy Bob Haircuts to Wear with Fringe
Bobs and bangs are the hottest trends in 2021, and we have seen an array of A-list celebs sporting both. They teamed up textured bangs with shaggy bobs, wore blunt cuts with layered fringes, added stick-straight tresses to wavy 'dos and even fooled us with faux bangs. "This is a great way to add fringe without the commitment of actually cutting your hair," celebrity hairstylist and co-founder of R+Co. Garren says to Allure. While a faux fringe is for the half-hearted, we cast a vote for flesh and blood bangs, which can be either textured in tune with your bob hairstyle or cut to deliver a dramatic contrast.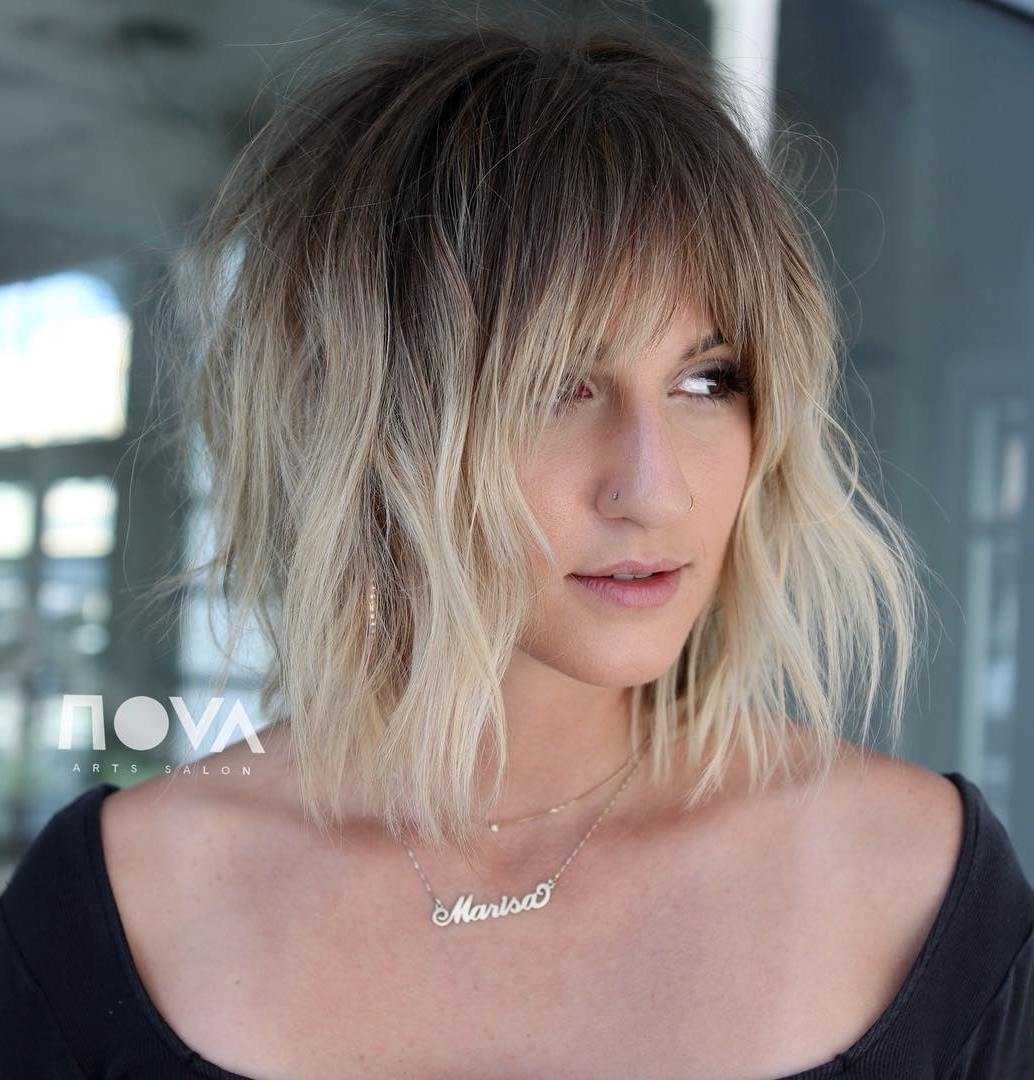 It's really hard to say why exactly this thin hair rings the bell – due to the depth from the color transition or the texture gained from choppy cutting and tousled styling, or the airy bangs that have both of them.
The blunt bob isn't doomed to come with blunt bangs. Here is its customized version with razored front bangs, which are arched for a softer, framing effect.
This A line bob was transformed into something more versatile thanks to the long wispy bangs. You can wear them side-swept, tucked, flipped out or other ways you like.
Very short bangs can add drama to even the plainest haircut. Proved by this micro fringe attached to the classic one-length bob.
And yes, older ladies can embrace bangs, too. This bob is age-defying for its refreshing peach blonde shade and trendy texture seen through the ends and bangs.
The Chicest Layered Hairstyles with Bangs
Layers keep starring on red carpets, and we can't resist their charm and versatility. They work great with thick, fine and curly hair, giving each texture exactly what it lacks, whether it is dimension, structure or lightness. But layered cuts are also among the best hairstyles for growing out bangs, since you can ask a hairdresser to blend your fringe with face-framing layers. This helps open up your face, while hiding awkward tresses without any extra efforts like braiding, pinning or slicking them back. Meanwhile, layered hairstyles look amazing with many types of bangs, from straight to side-swept, from dense to piece-y ones.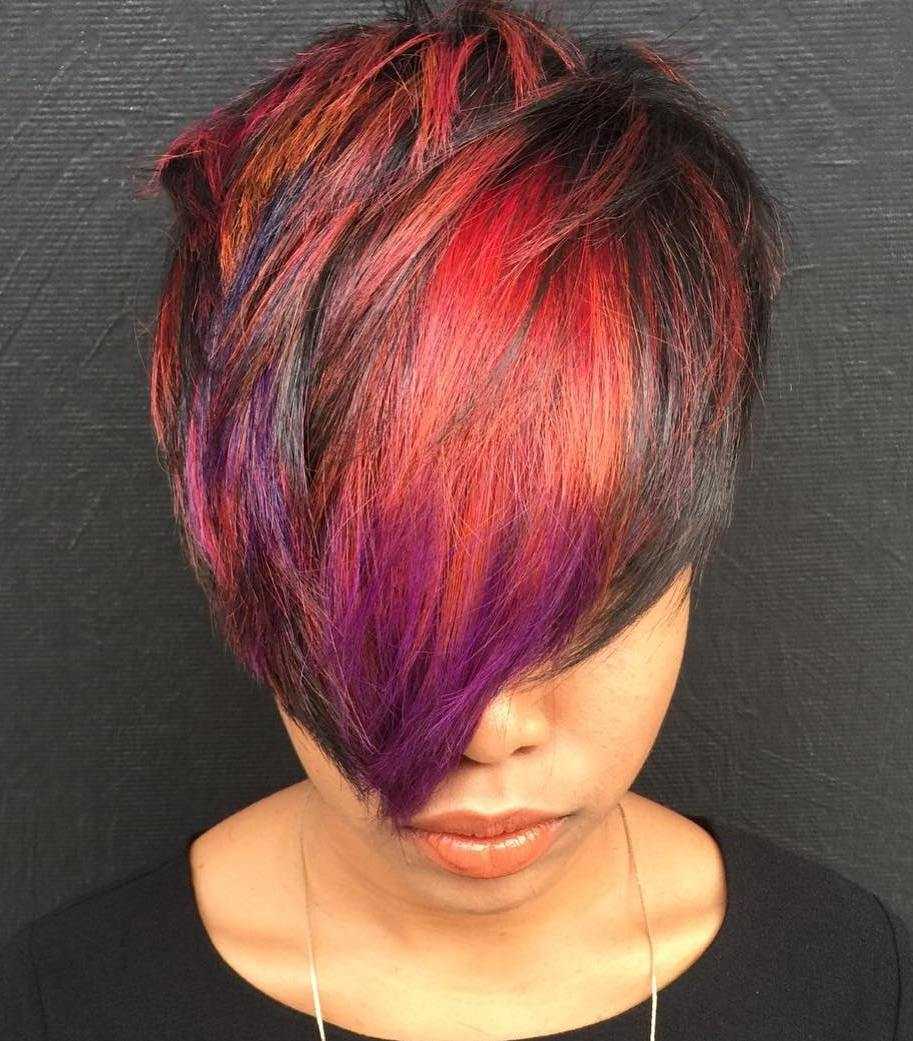 This photo proves that short hair with layers can be the real fun. Not sure about the color, but the tapered bangs are to take on board.
Having a choppy pixie cut, it is easy to incorporate side bangs into the textured hairstyle. Just make sure the length is right to flatter your face shape.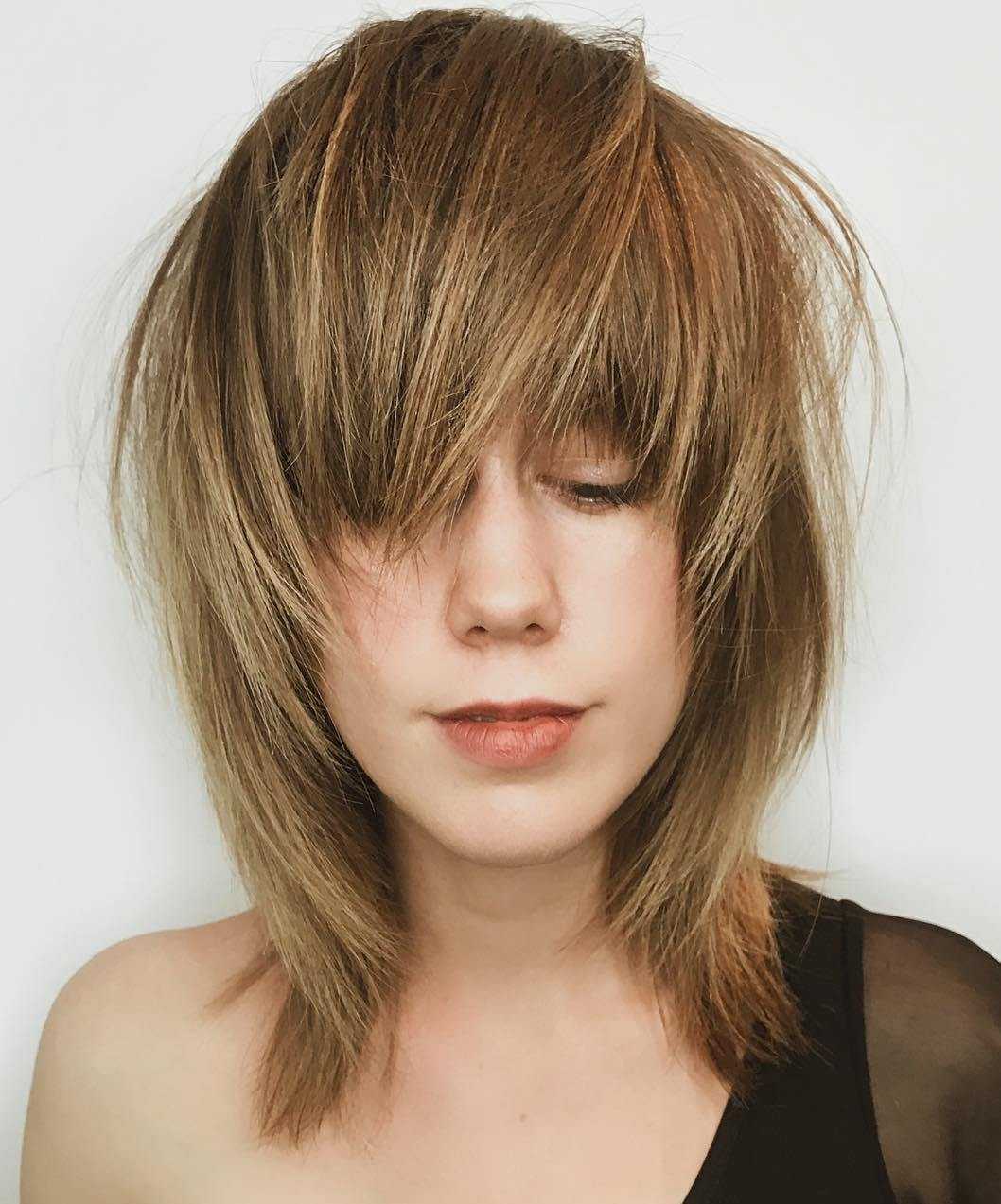 Razor cut ends all around the face make this shaggy shoulder length cut hot and edgy. And the bold eye-grazing bangs can be pulled to the side when you need something more casual.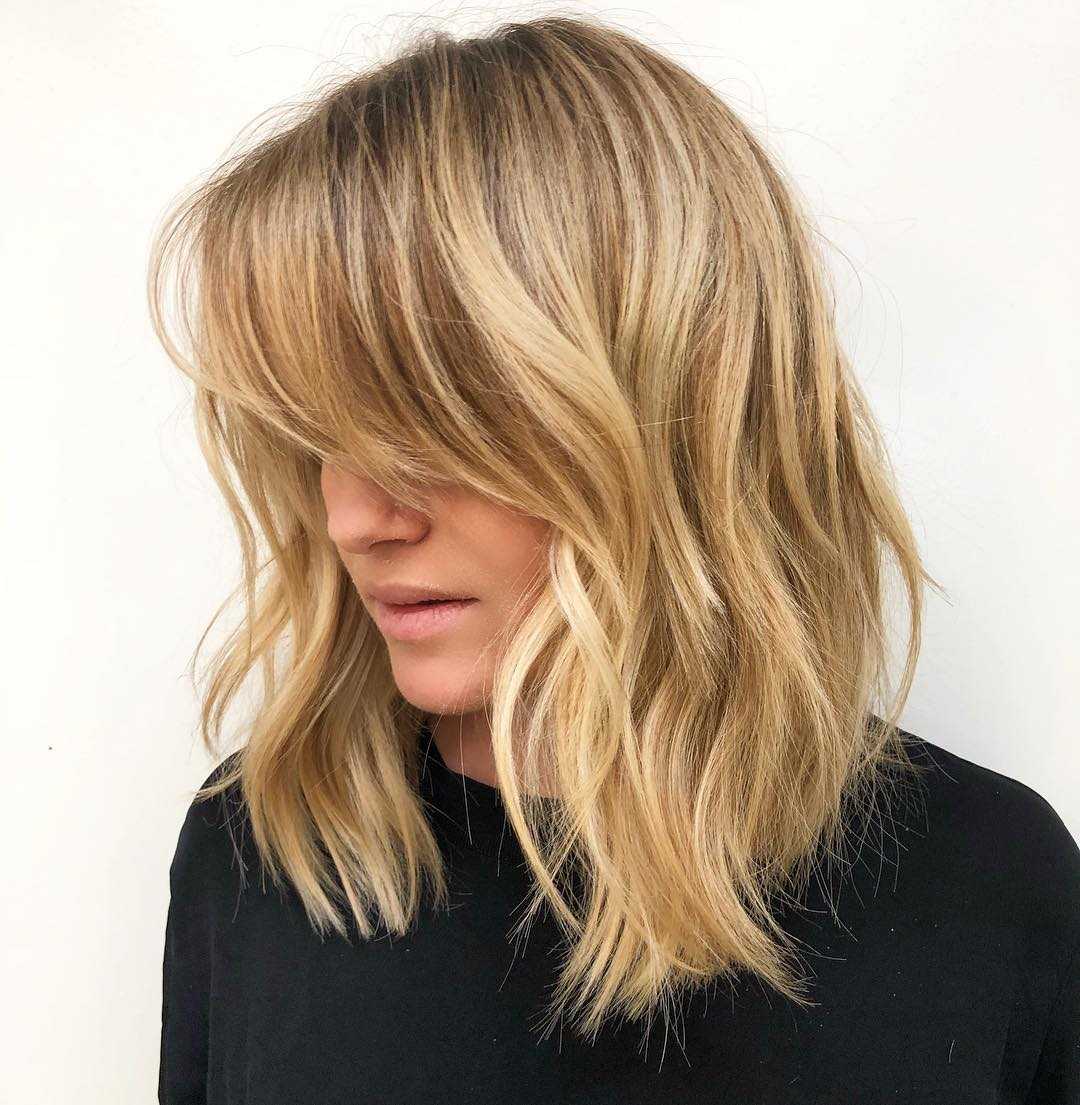 Here we have side bangs blended beautifully into a chopped wavy lob. They are cut gradually to form subtle layers and give a delicate touch to the messy hairstyle.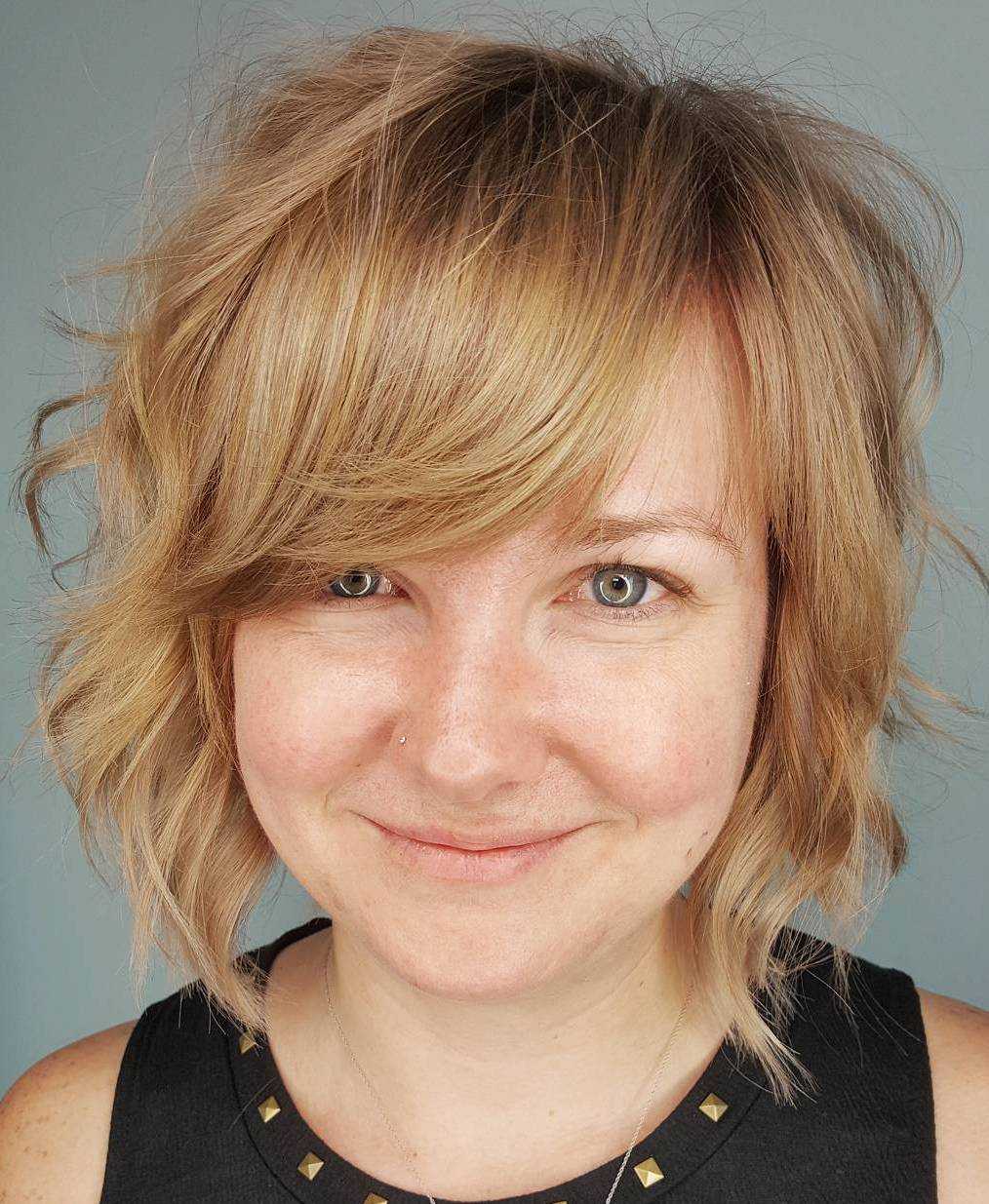 When going from a short to medium length, multiple layers and messy styling are exactly the things to hide the transition. But don't miss your chance to add some attention-getting details like these feathered bangs – they are so cute.
The Boldest Black Hairstyles with Bangs
Having naturally curly and frizzy hair, black women get problems with taming it, and, thus, often opt for braided and twisted hairstyles without any fringe to do away with daily styling. But if you are adamant enough to wear your big hair with bangs, keep them on the longer side. "I find people with naturally curly hair have more options with a longer length, like wearing it to the side or a center part. I would recommend brow length in the middle and gradually get longer toward the temples," celebrity hairstylist Ryan Trygstad tells Allure. However, you also have other alternatives like relaxed or sew in hairstyles, and we are going to show some of them.
We know that bangs mix well with buns, but this top knot hairstyle is dope. The seriously wide, long and chopped fringe makes it unique, and those side strands serve to balance the height.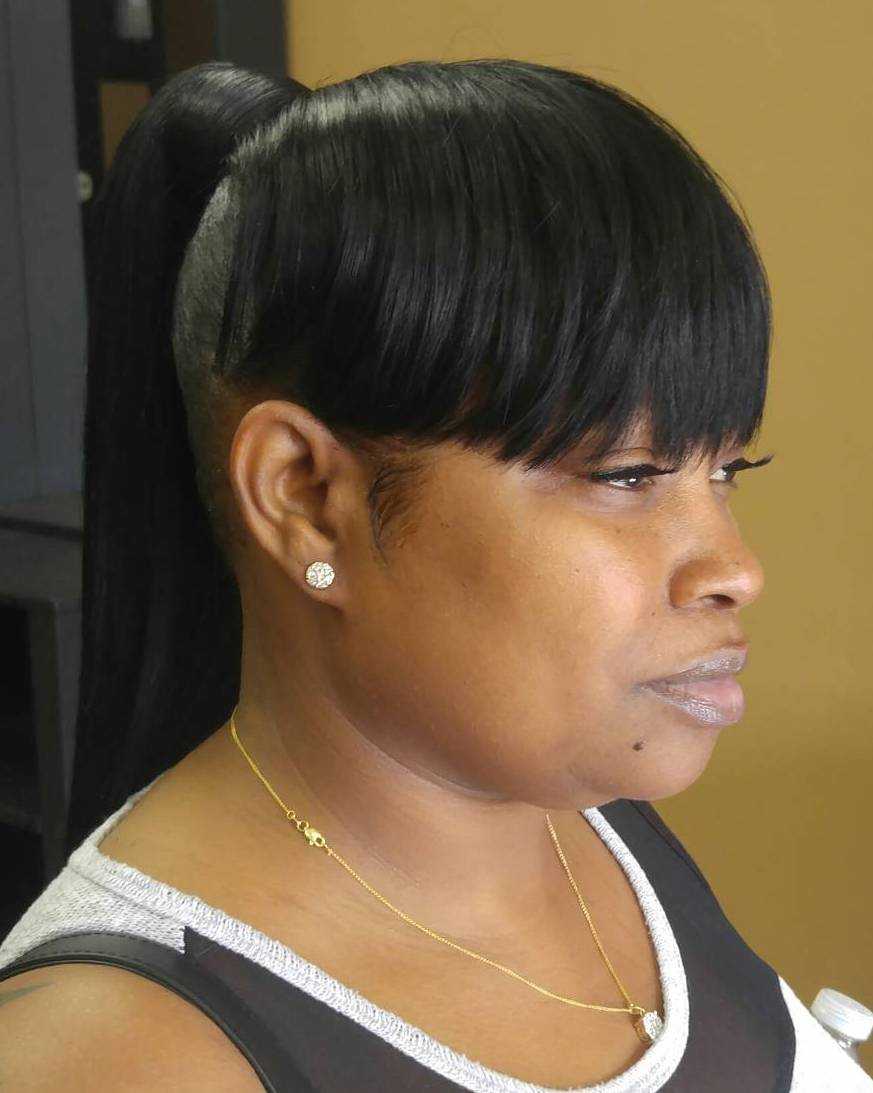 This bombastic fringe comes with a sleek ponytail, thus, creating a stunning contrast between the smooth and textured, while adding volume to the upper part.
This braided updo is another exciting example of mixed textures. The sleek ponytail and polished side bangs work together so that the braid could pop.
Weave hairstyles are so versatile! Play with cascading layers and soft waves. Bring in dimension and movement with a deep side part and feathered bangs.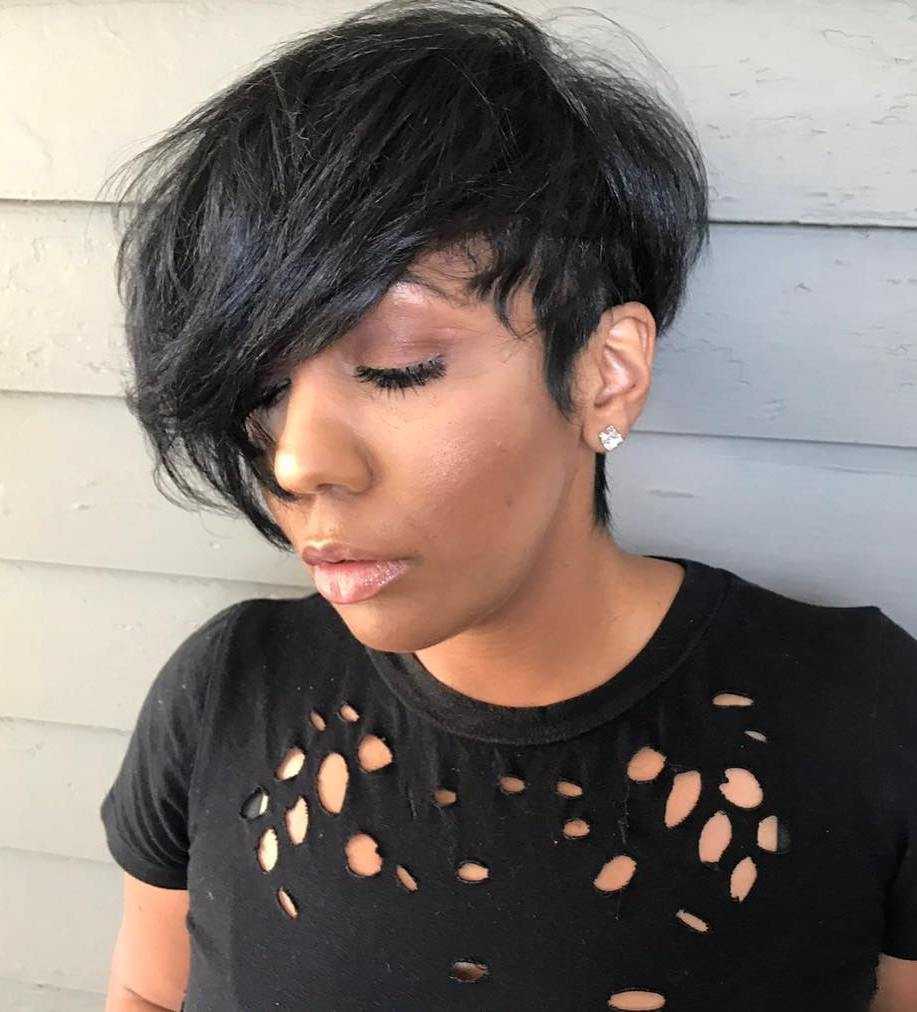 Pixie cuts with long top layers are destined to have some kind of fringe. Particularly, these extra long side swept bangs turn the all-too-familiar cut into a funky hairstyle.
Top Hairstyles That Work Best with Bangs
With no claims on having an all-encompassing checklist, we have collected a choice of spectacular looks, which, in our not so humble opinion, wouldn't normally cause a stir, but they do for those hip bangs they boast. Certainly, you are encouraged to take it a step further and create your own banging combos, however extraordinary they may seem. "Remember that what you like is not for everybody — it's not supposed to be. It's meant for you. Brush off the haters and practice self-love in starting with the 'weird' haircut of your dreams," Presley Poe, BTC winner and Hairtalk extensions ambassador, told Allure and we strongly agree.
The secret of this chic ponytail hairstyle is simple – a bouffant for added dimension and some gorgeous curtain bangs for thrusting the face into the spotlight.
Bangs chime up with buns, giving them any feel you want. For example, this blunt fringe is carefully parted to avoid a sharp look within a romantic hairstyle.
When searching for an airy feel, don't miss the flipped out styling. These side swept bangs are long, yet light, blending perfectly into the bohemian style.
Wispy bangs make this messy braided updo even more delicate and touchable. Don't forget to steal this amazing Dutch braid/low bun combo!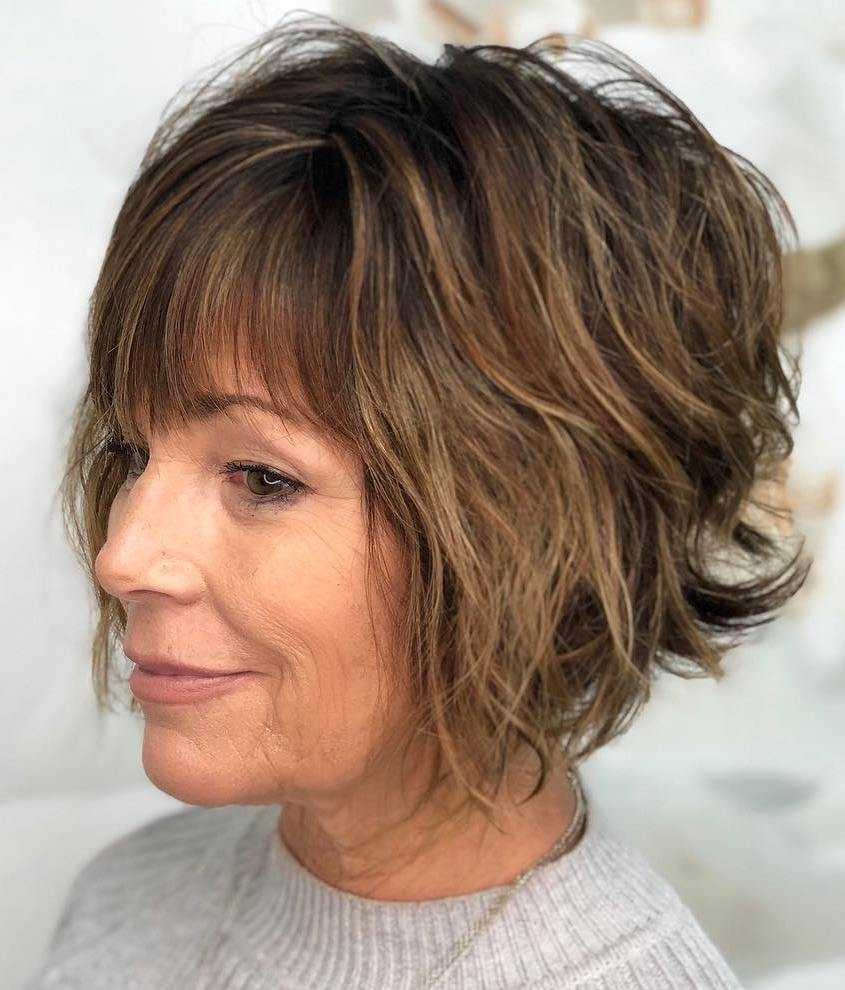 Looking for youthful hairstyles over 50, but don't want to show too much? Frame your face with tousled waves and add contrasting straight bangs over your forehead to get such a vibrant and stylish look.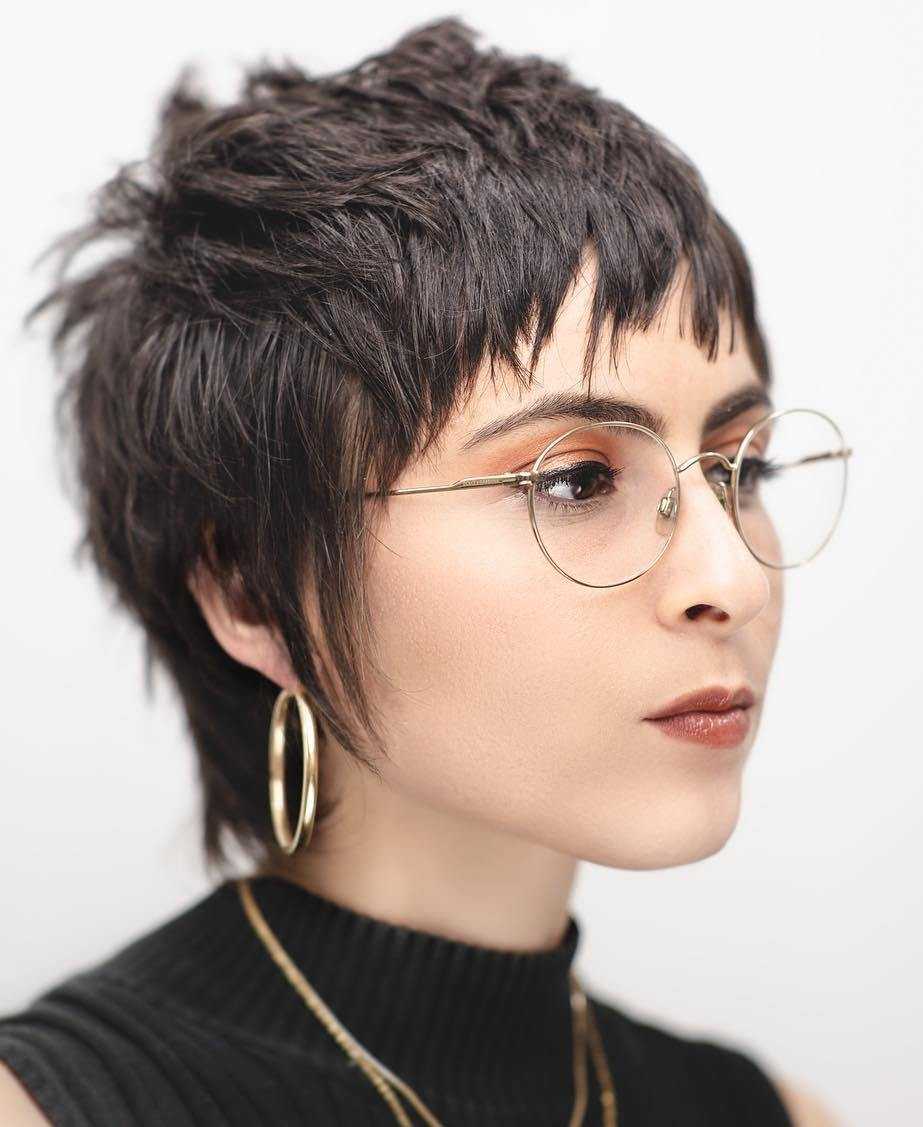 Micro bangs go together with glasses without overwhelming the upper part, while leaving much space to show the eyes. Obviously, a piece-y fringe is a nice add-on to a choppy pixie.
And what about this new incarnation of iconic Brigitte Bardot blonde? A bit edgier and more textured, but still sexy and classy.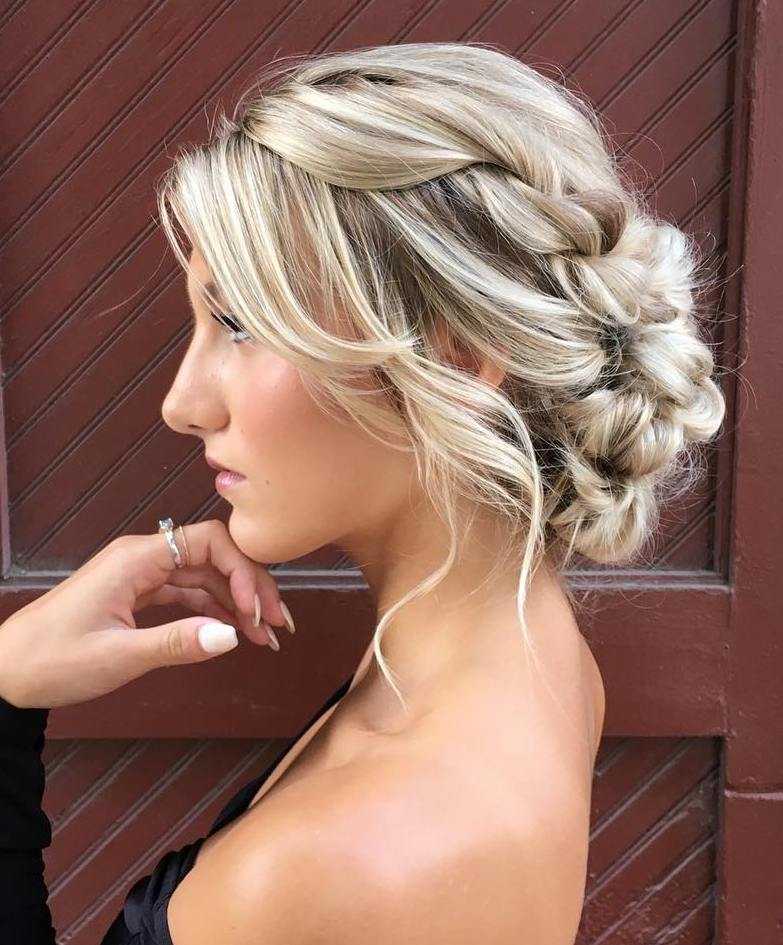 Would this twisted updo be more charmingly effortless, if not for the side-swept bangs mingled naturally with long wavy side locks? We doubt it.
A blunt cut plus a blunt fringe equals… a hot textured look with pretty highlights. The key is to steer clear of too dense bangs, opting for messy styling.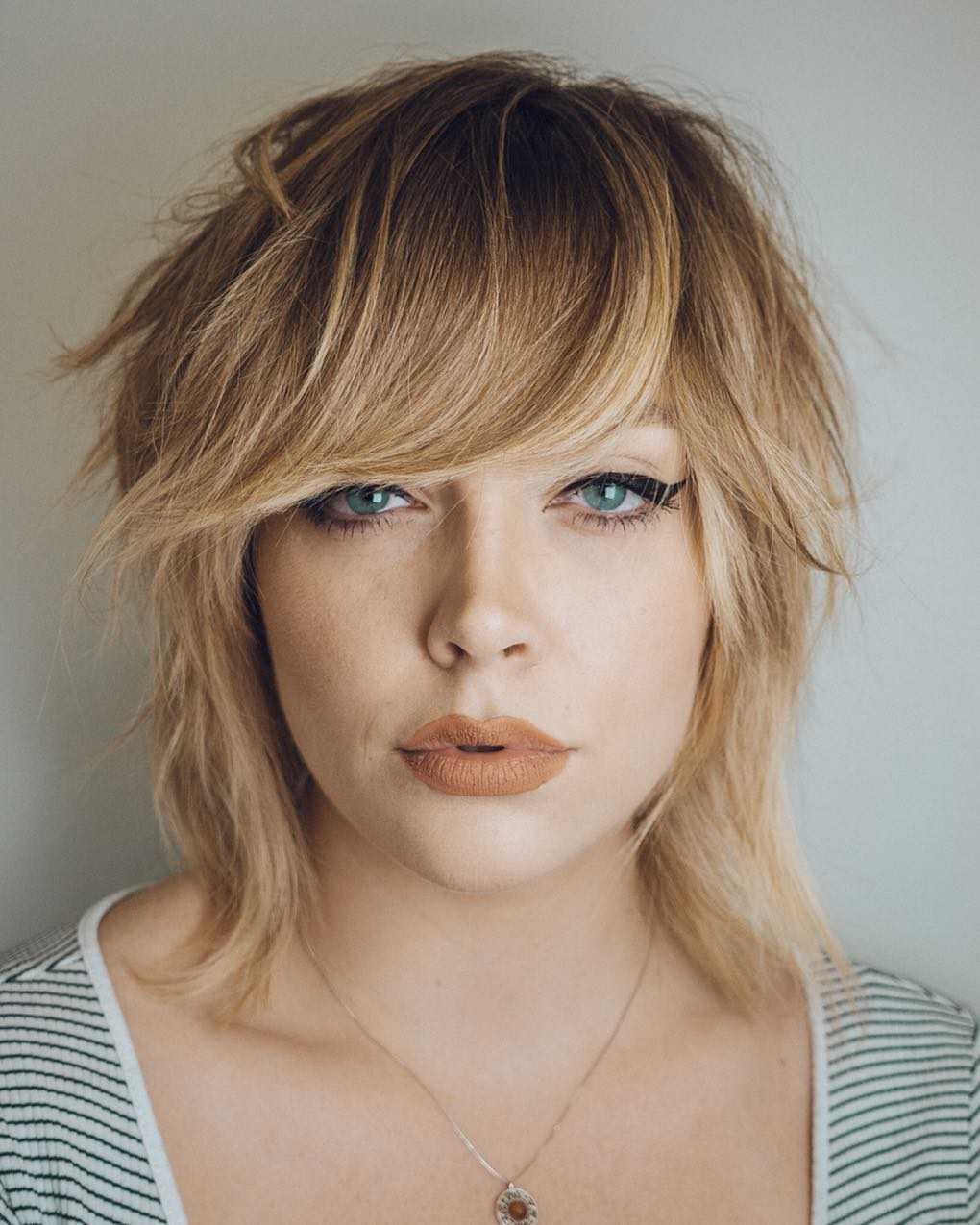 However, shaggy cuts don't command messy bangs. This full fringe is carefully styled to give an elegant curve to the tousled layers.
Since these hairstyles with bangs are all worn by real women, you have a nice chance to be the next Instagram trendsetter. Go for your new stunning look, and we'll be happy to find it getting likes and shared by your followers, who are as obsessed with the beauty of hair as we are!