Often, after a woman has celebrated her fiftieth birthday, she has a hang-up about hiding her age rather than embracing it proudly. Well, a bit of camouflage won't hurt, when it comes to thinning hair, wrinkles or flabby facial contours (yes, we'll all be there one day). Nevertheless, modern hairstyles for women over 50 can give much more than just a security blanket. We're speaking about self-confidence, style and oomph. Let's find them together with our ultimate compilation of hairstyles for women over 50.
Hot Hairstyles by Hair Length
It's common wisdom that mature ladies should wear shorter cuts as more age appropriate. However, this doesn't explain why many gracefully aging celebrities like Sandra Bullock or Michelle Pfeiffer opt for long hair. As it usually is, the truth is somewhere in between – gorgeous hairstyles for women over 50 include crops, mid-length cuts and long 'dos, adapting them to your personal standards. And we are going to tell you how!
When to Choose Short Hairstyles for Women Over 50
When you see your hair getting noticeably thin and weak (which is common and natural for women over fifty), it makes sense to consider going for a crop. By removing damaged ends, you'll make your hair look healthier and by taking out some unnecessary weight it'll be easier to give your roots the required lift. And you know those irritating strands broken at the very roots and sticking out chaotically, giving your hair the charmless fuzziness? You can gloss over them if you get a short textured hairdo.
It is not necessary to go to extremes with bold fades or very short pixies. "An easier transition would be to start with a bob. Work your way from there into something shorter, because bob is much easier to grow out if you end up not liking it," Anh Co Tran, celeb hairstylist told to Allure. And we have both pixie and bob cuts for you to choose from.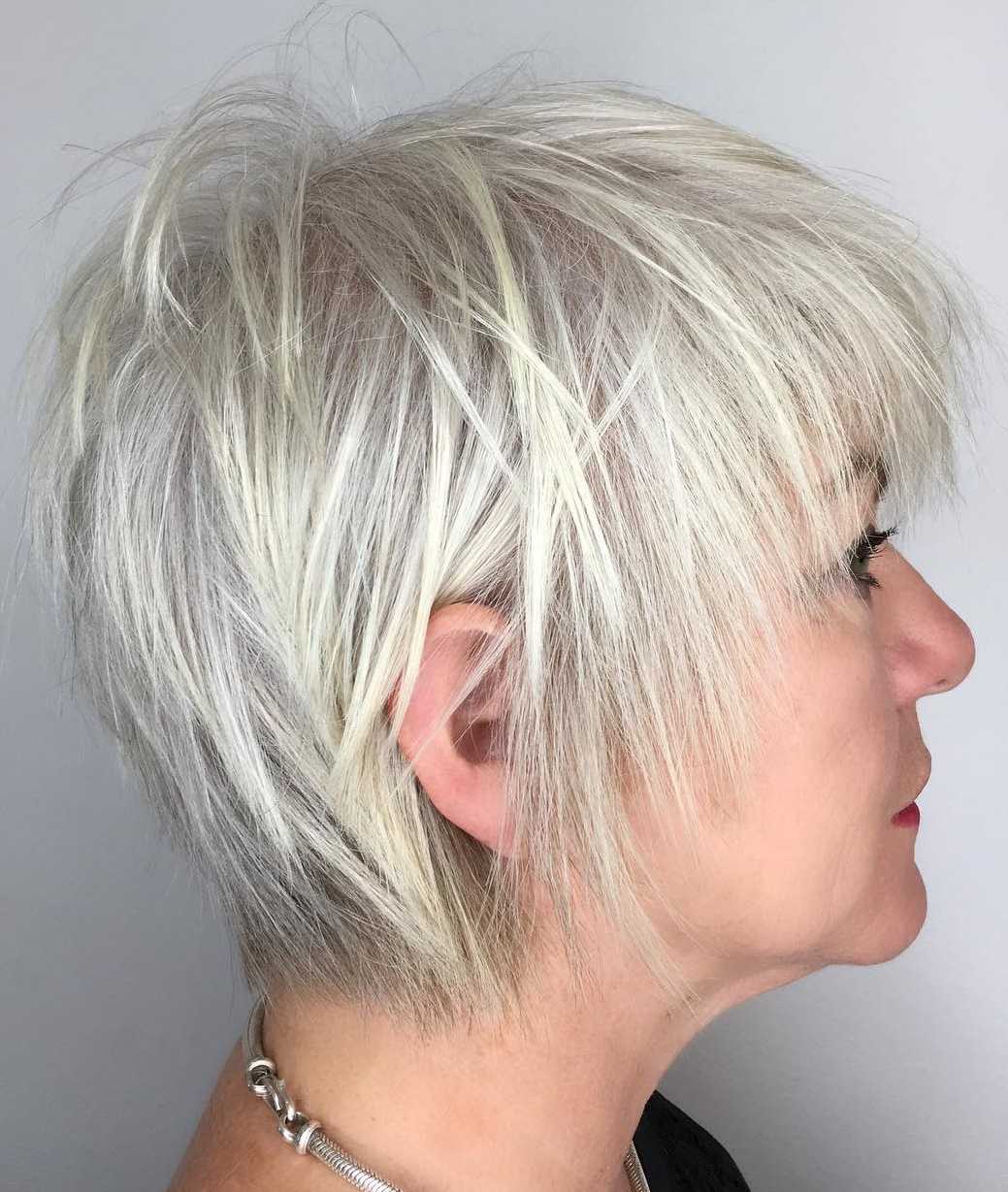 This crisp sliced hairstyle has tons of texture to make fine hair look voluminous and perky. Definitely, one of the hairstyles for women over 50 to turn heads.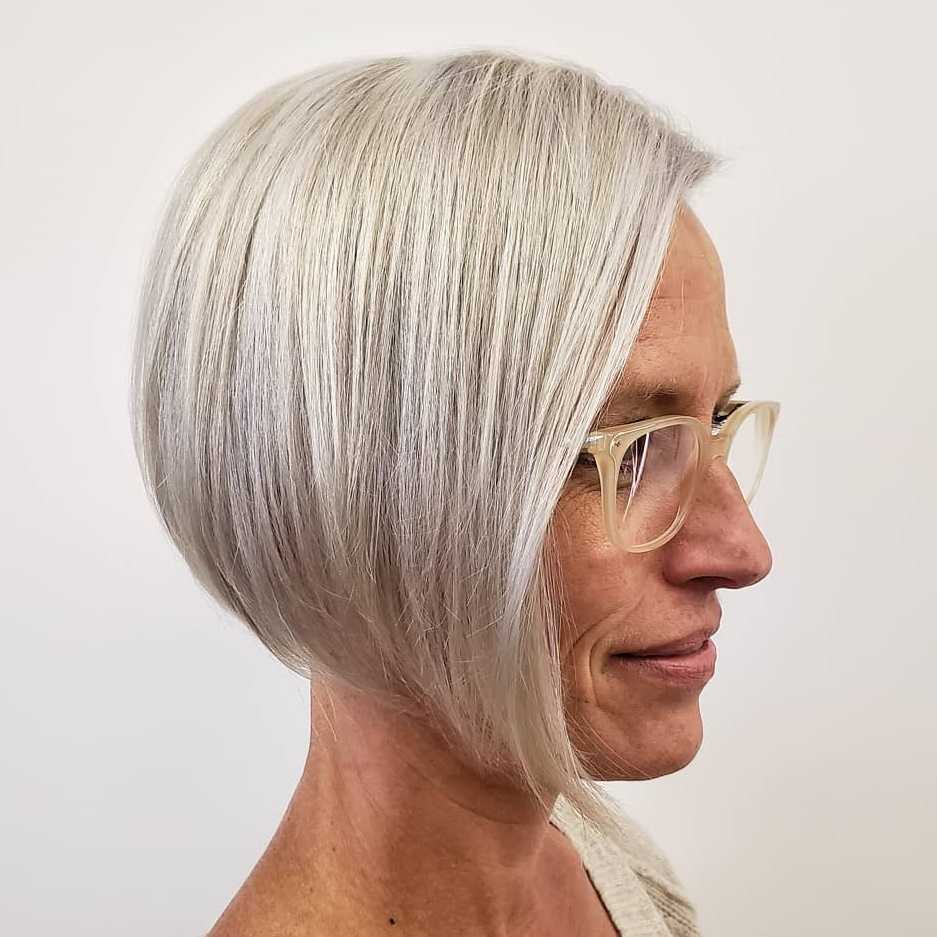 When wearing glasses, it's smart to open your face, rocking a sleek chin-length bob with a deep side part.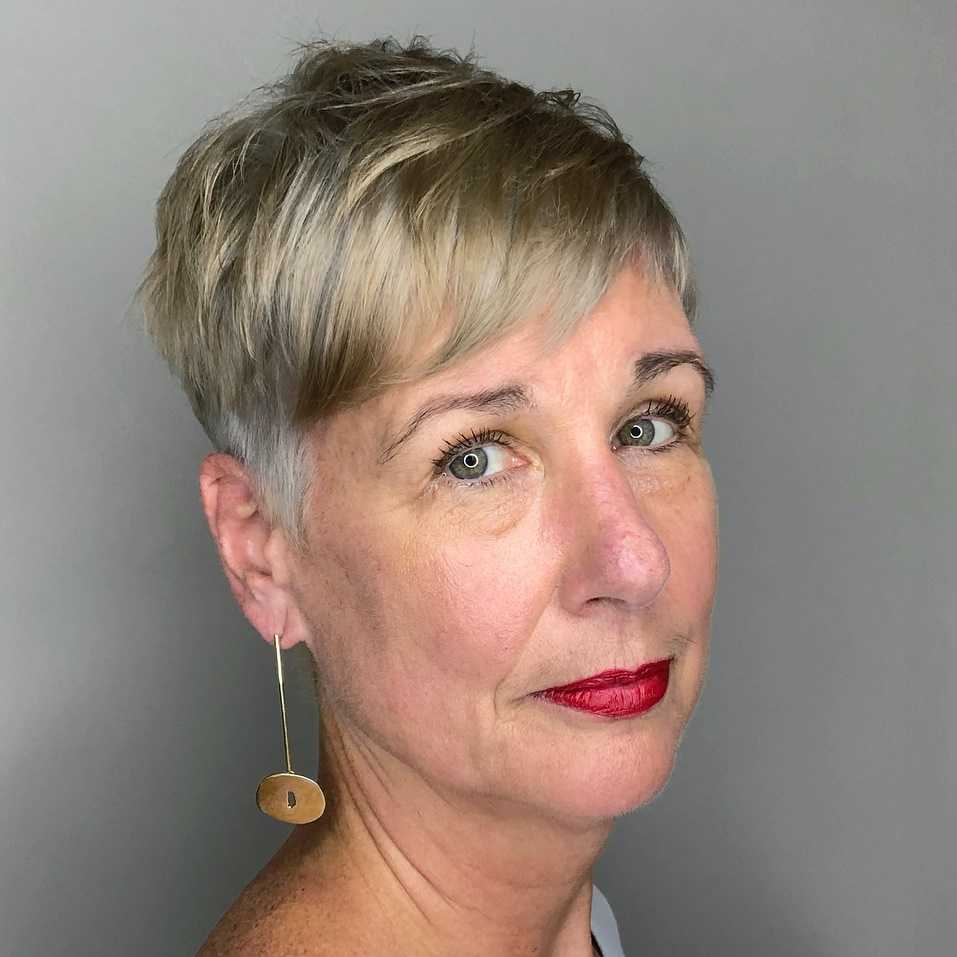 When adapting the pixie cut to long faces, you should avoid the excess height on top. This hairstyle does the job, placing a great emphasis on the cool blonde.
Women over 50 with round faces can pull off an A-line bob if it features a side parting and an angled front for an elongating effect.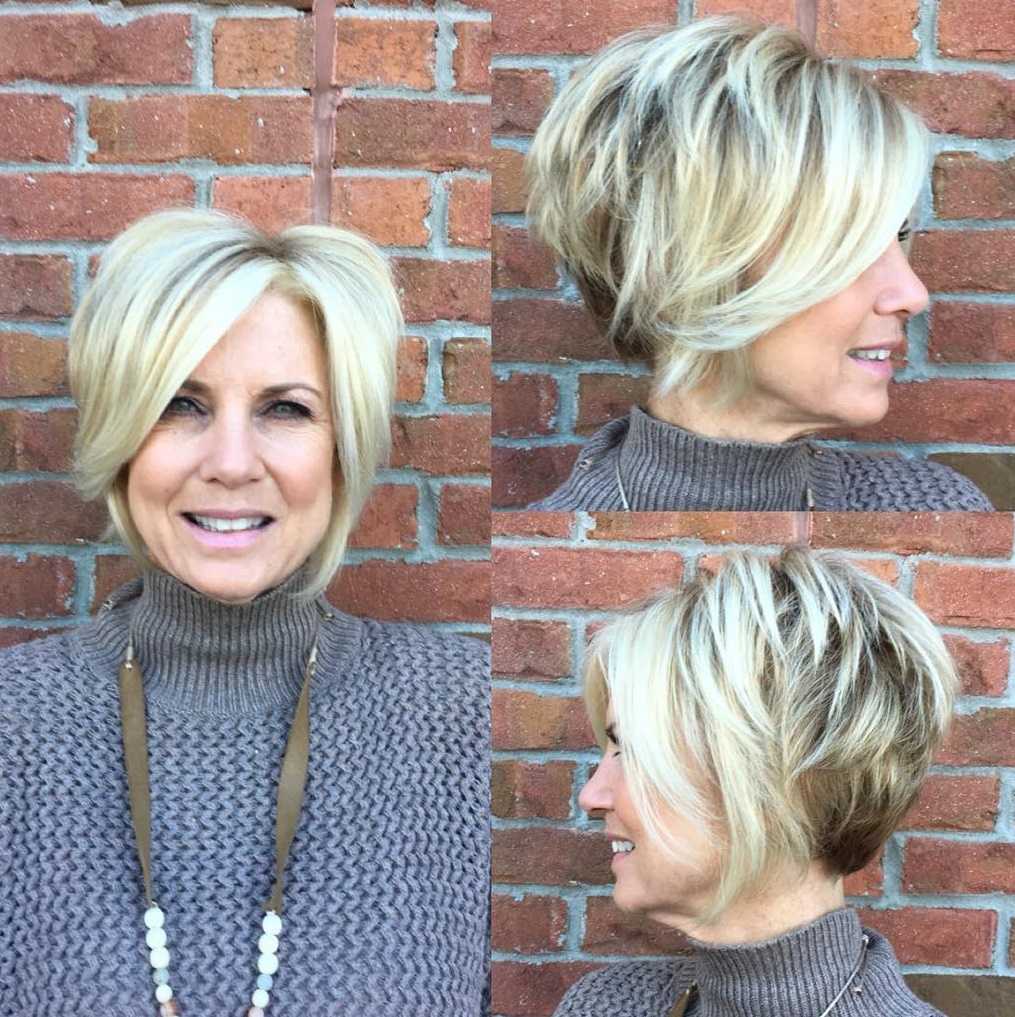 This cool bob with bangs perfectly flatters square faces. Long side bangs are great for complementing broad cheekbones and strong jawlines, while the rounded side locks soften its angular shape.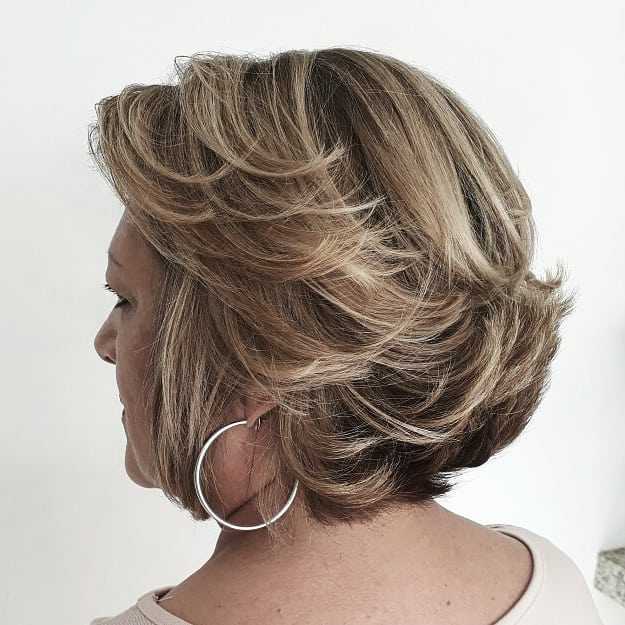 When looking for a cut in a short to medium length, consider the lovely flipped out bob with an airy feathered finish.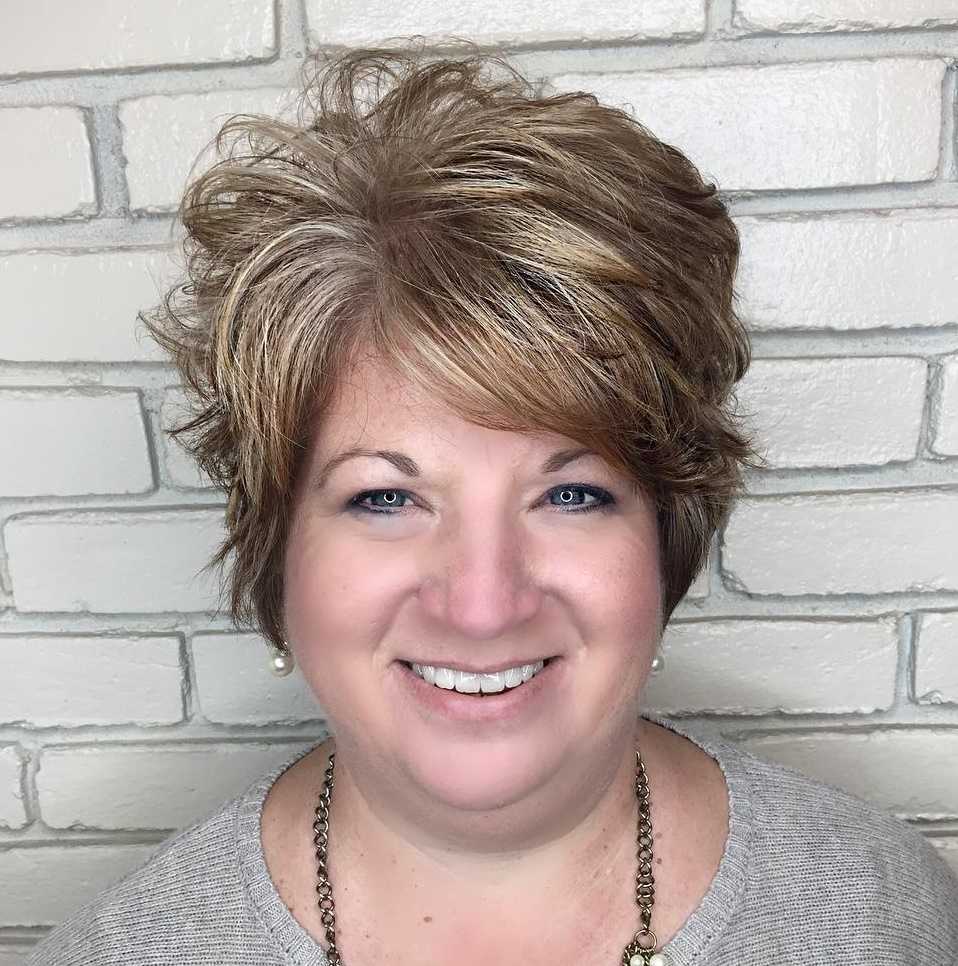 Voluminous cuts suit overweight women, since they balance the middle-age spread. Opt for something this edgy to avoid a matronly look.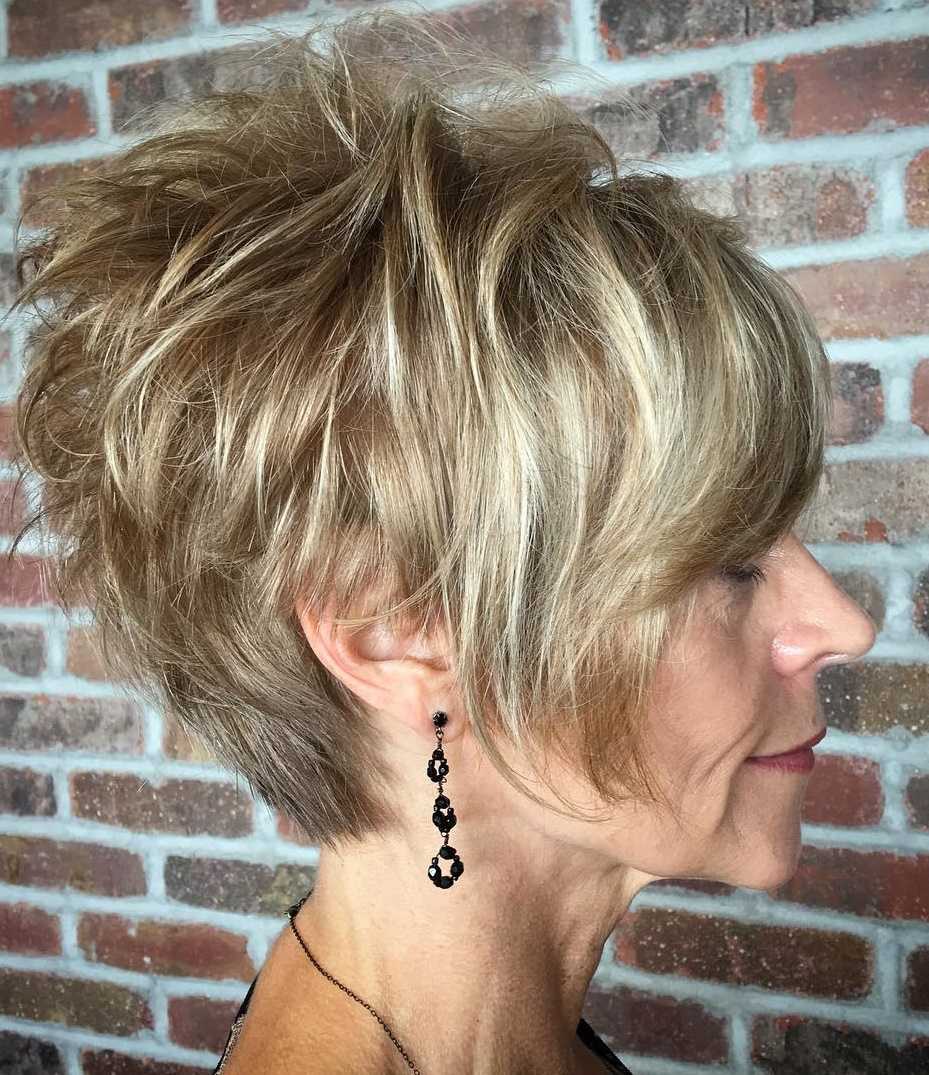 Who said haircuts for women over 50 are dull? This sassy long pixie has it all – texture, movement, and depth, not to mention the sparkling highlights for a greater rejuvenating effect.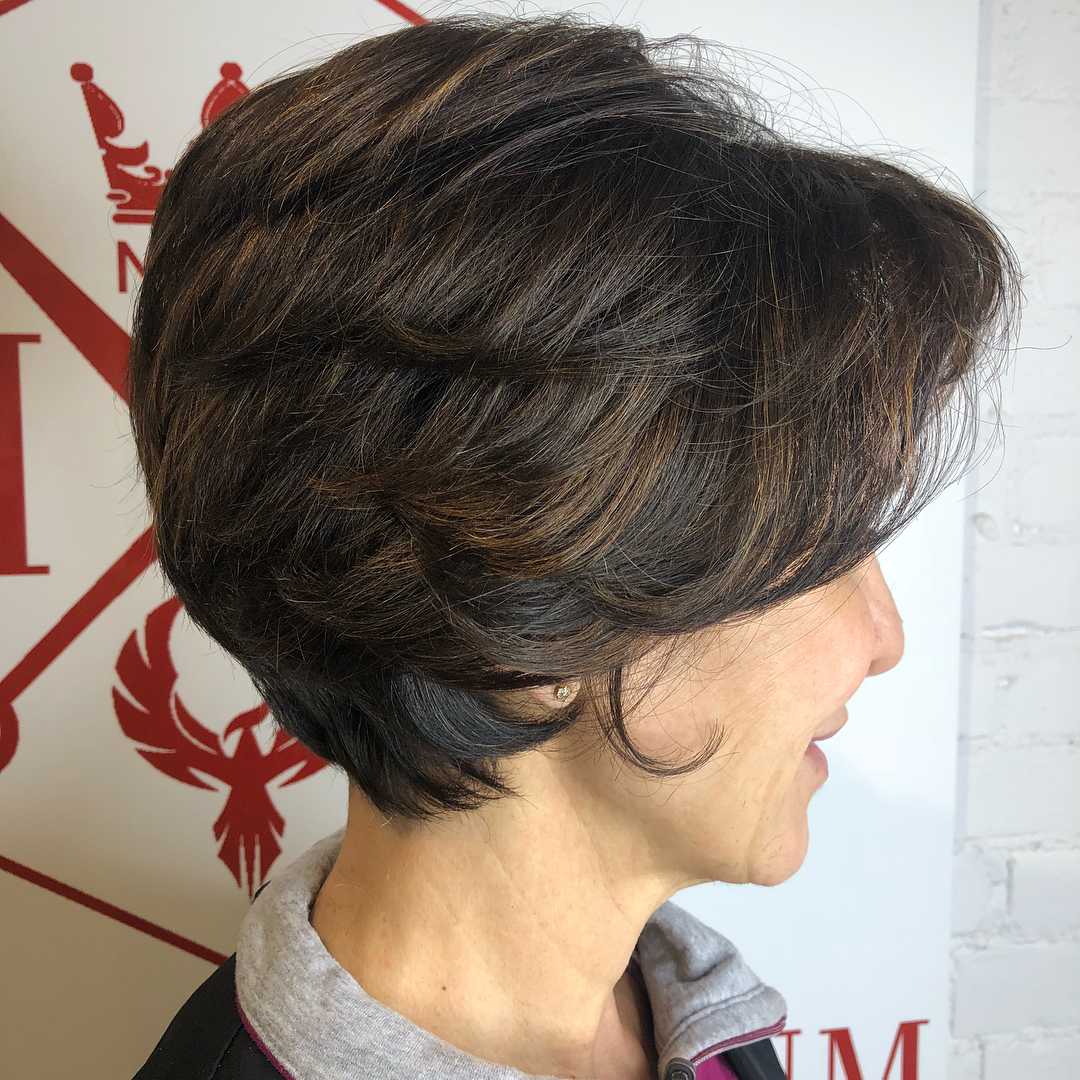 Looking for classy haircuts for women over 50? Consider this choppy cut: it's hot yet elegant, when it is styled feathered rather than messy. Don't miss to juice up your hairstyle with sun kissed highlights.
This lush bob illustrates the "grey hair don't care" motto beautifully. It accentuates the natural beauty of thick mane and gives it an exciting color update. What is more, it's a very low maintenance option: everything you need is a round brush and a blowdryer.
Who Can Rock Medium Length?
If age-related changes are not so bad to rush for a crop, but you feel tired of taking care of your long mane, then something below the chin and up to the shoulders can grant you the best of both worlds. A 50-year-old woman can wear her medium hair loose, showing its natural beauty, but still, she is free to opt for elegant updos like buns or French twists. It doesn't take much time to grow out the length, and it's low maintenance compared to many longer and even shorter versions.
To avoid aging hairstyles, give preference to layered 'dos as opposed to blunt ones. "When you age, you lose the youthful plumpness in your face, so you don't want a look that highlights any harsh angles," explains Loretta Wollner (who does XiXi Yang's and Tinsley Mortimer's hair) to Elle. She also suggests top heavy cuts and natural waves to keep clear of a droopy effect. Let's take a look at some great medium-length hairstyles for women over 50.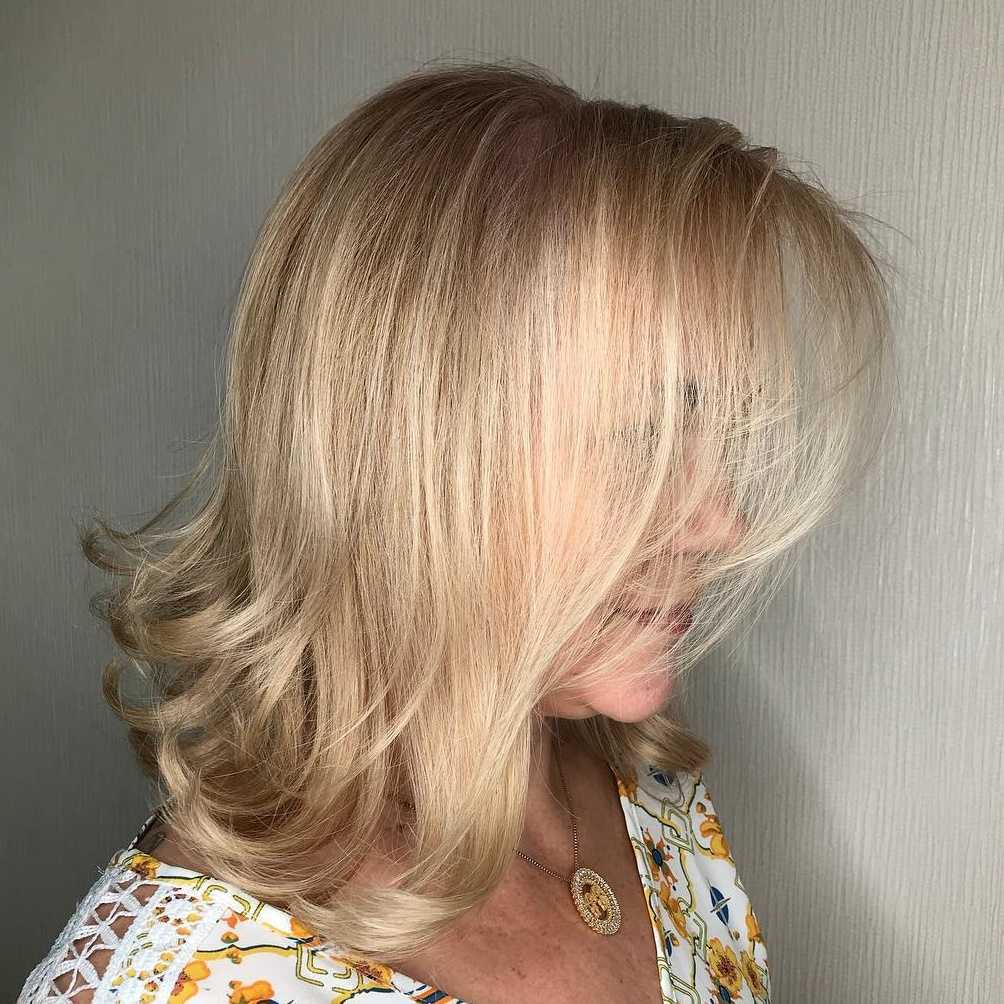 This delicate honey blonde color job with darker roots adds depth to thin hair, while the flipped out locks bring in a youthful feel.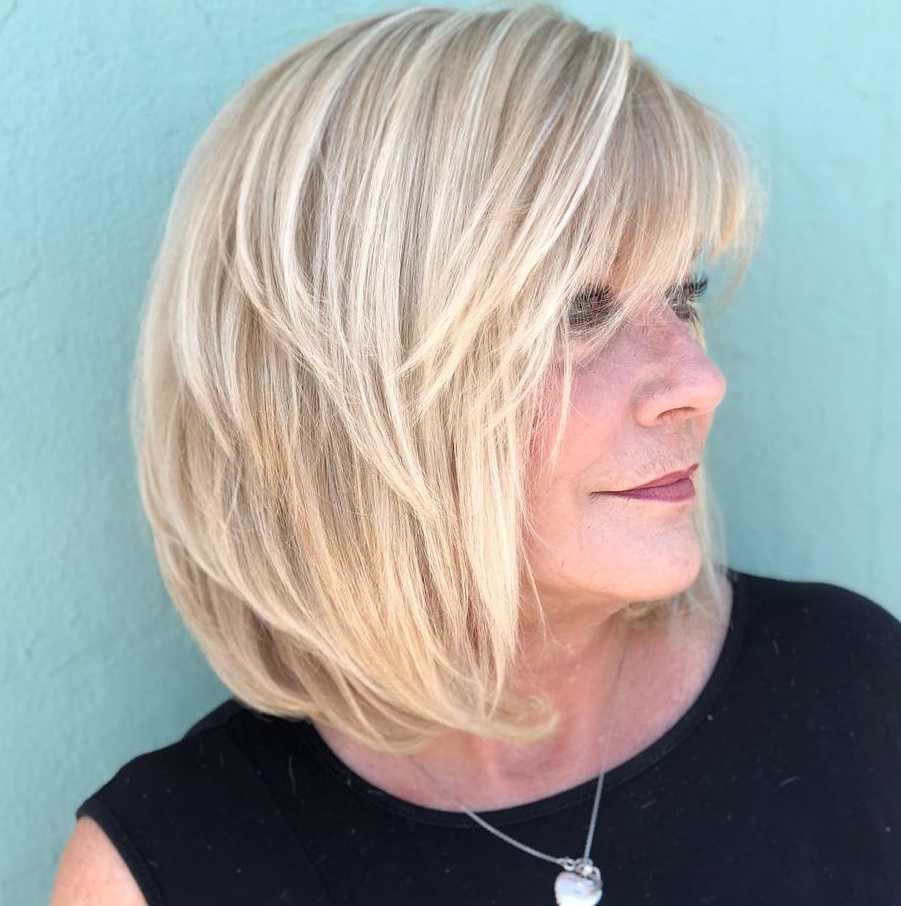 Debulked and dramatically layered, this shaggy lob with side swept bangs radiates vividness and boosts the delicate balayage effect.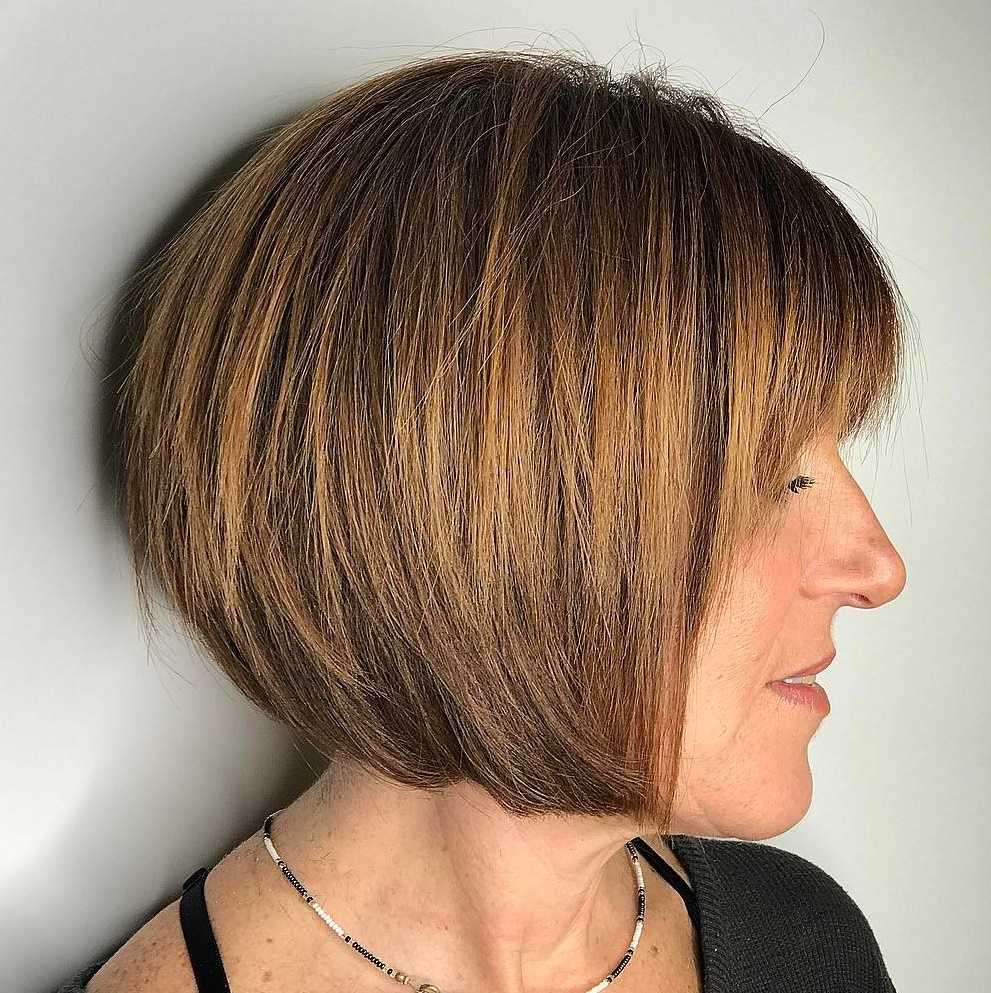 A chin length bob won't look dull, when carefully razored for a subtle texture and brightened up with color.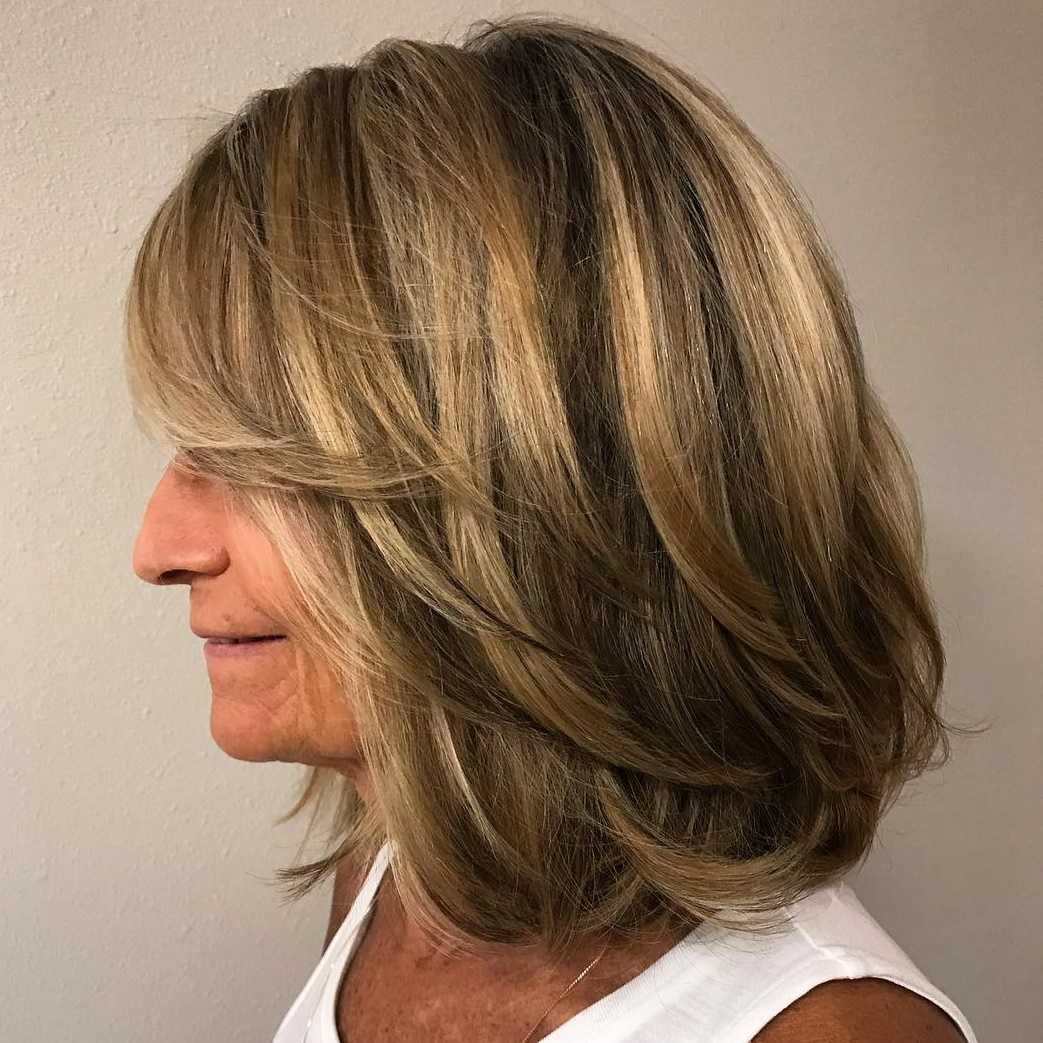 The crisp color streaks and movement delivered through artistically tapered layers make this shoulder length hairstyle outstanding and fresh.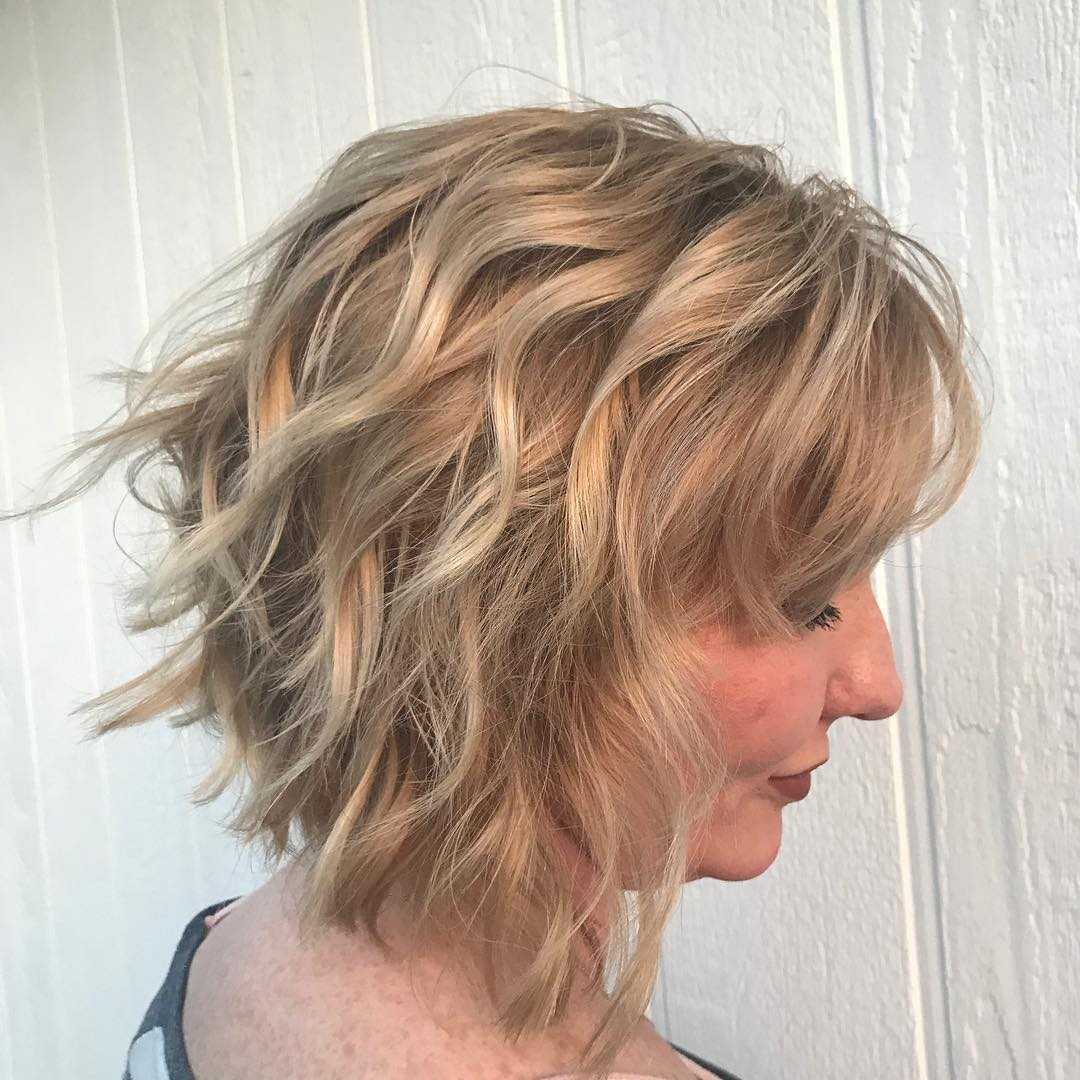 We love the way this woman does her shoulder length hair. It is easy to turn a mundane lob into a stylish and juvenile look by creating some well-defined wavy texture throughout its choppy tresses.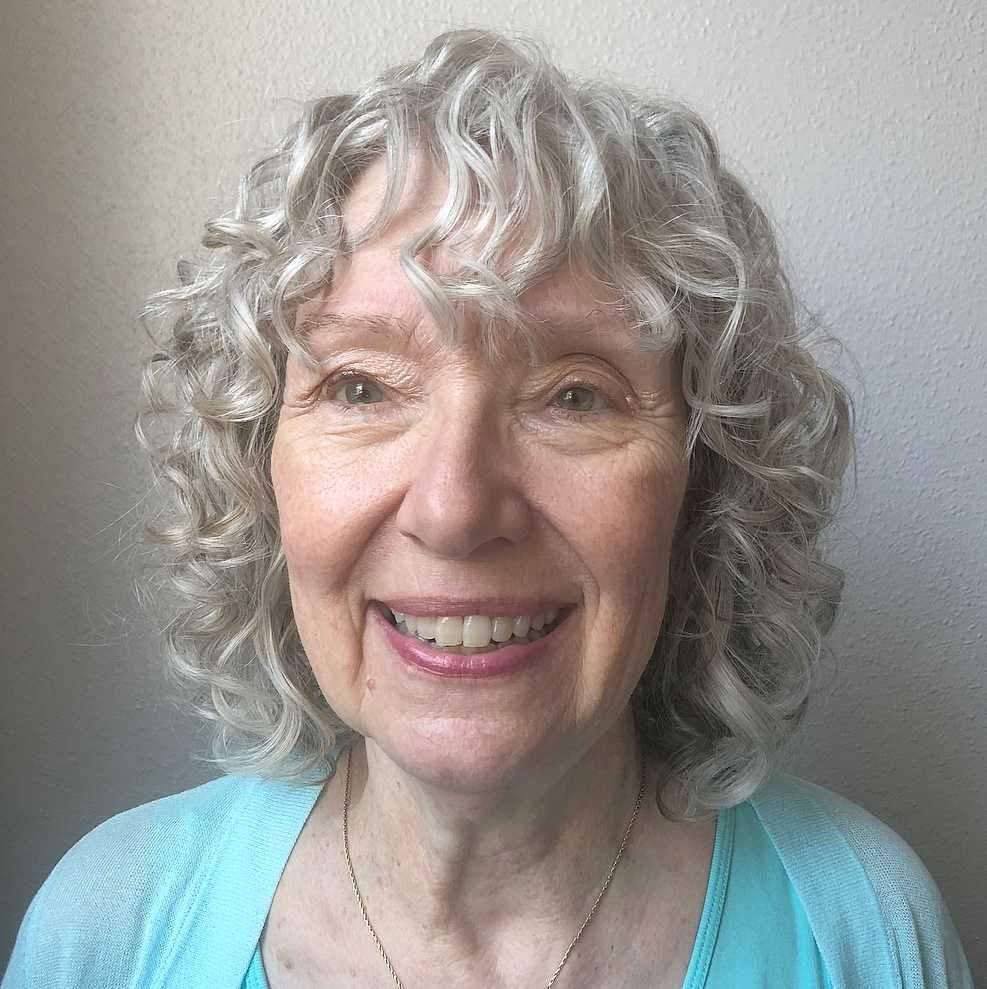 The grayish hair reveals its natural beauty, when shaped into a cheerful curly hairstyle, also adorned with cute wavy bangs.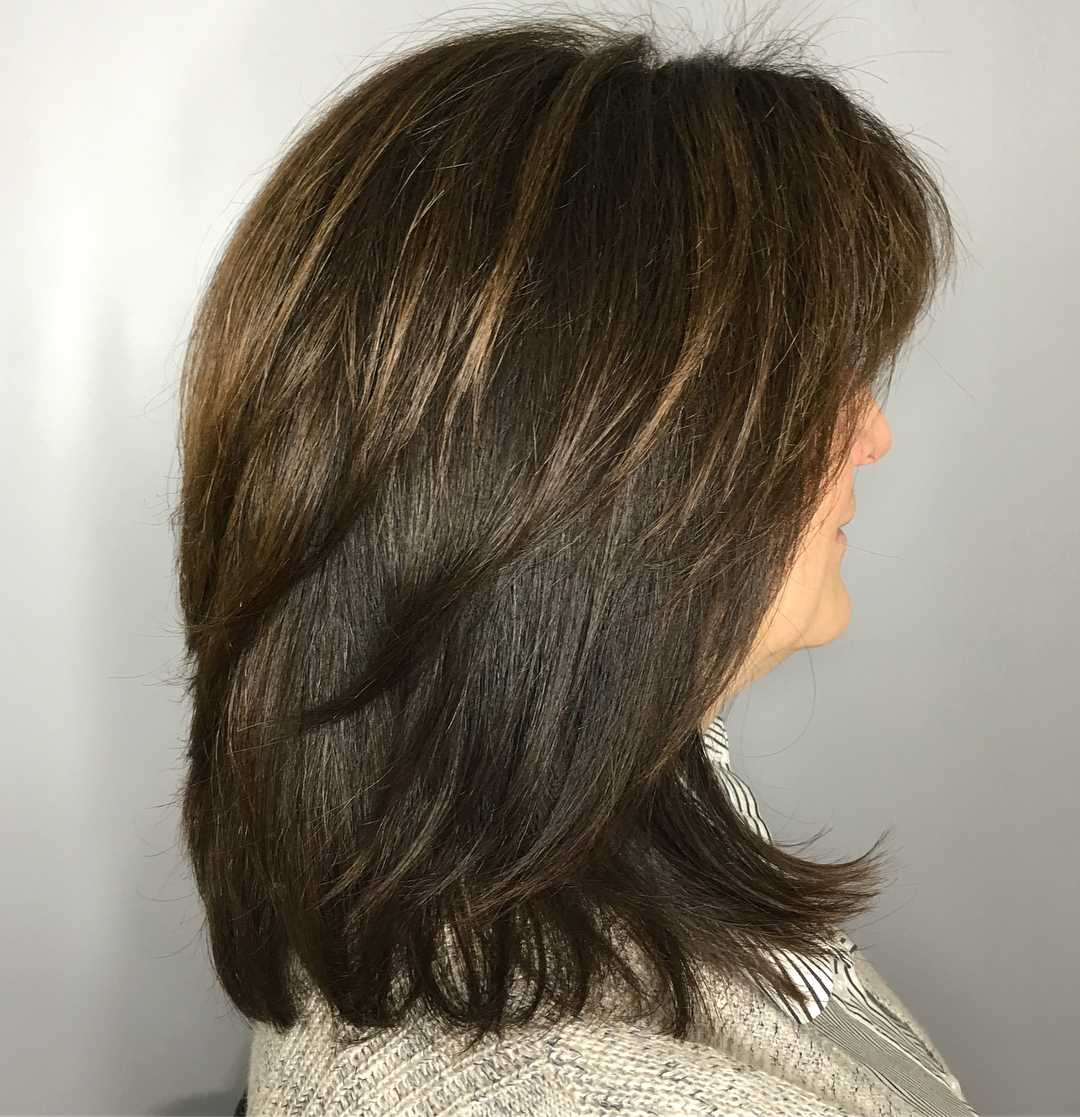 Mid length cuts are great for spotting color transitions, and this one is fabulous for its shiny highlights and piece-y layers.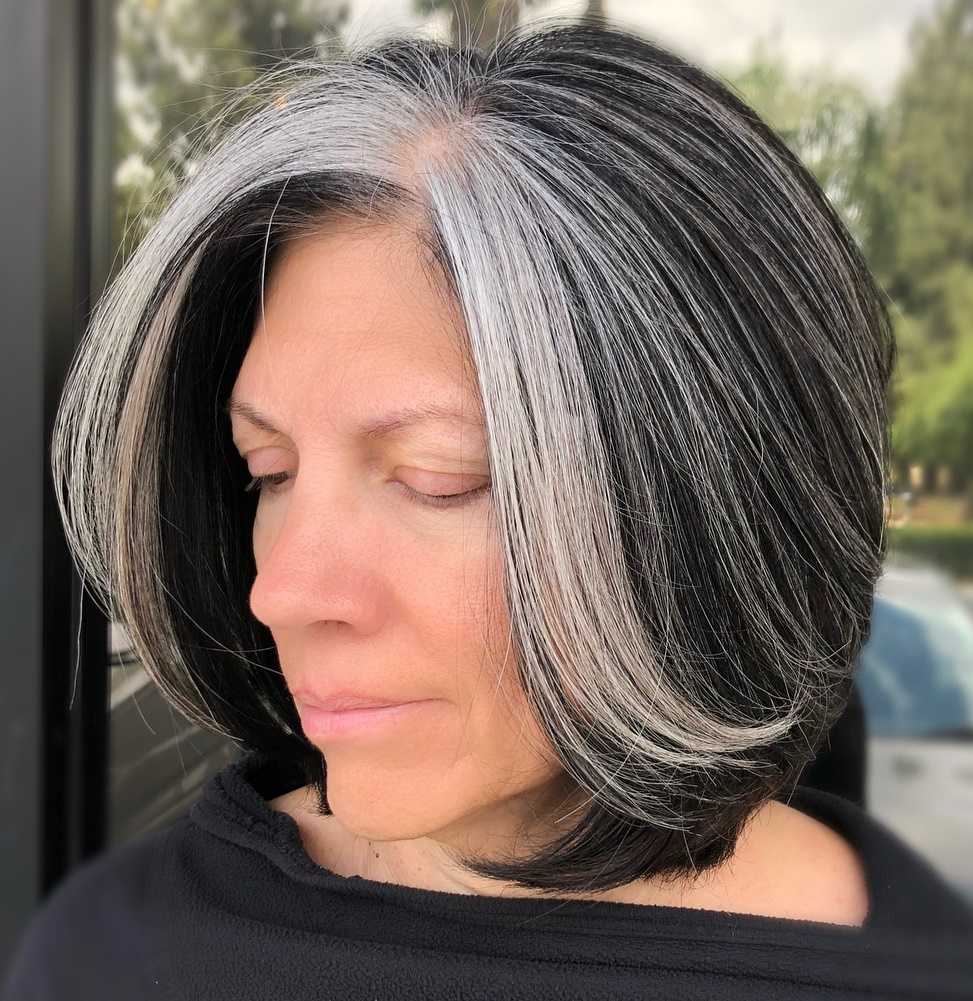 In search of a trendy hairstyle for older women? Follow the lead of this beautiful middle aged woman, embracing your gray hair in a fashionable way and wearing it packed into a gorgeous contrasting bob.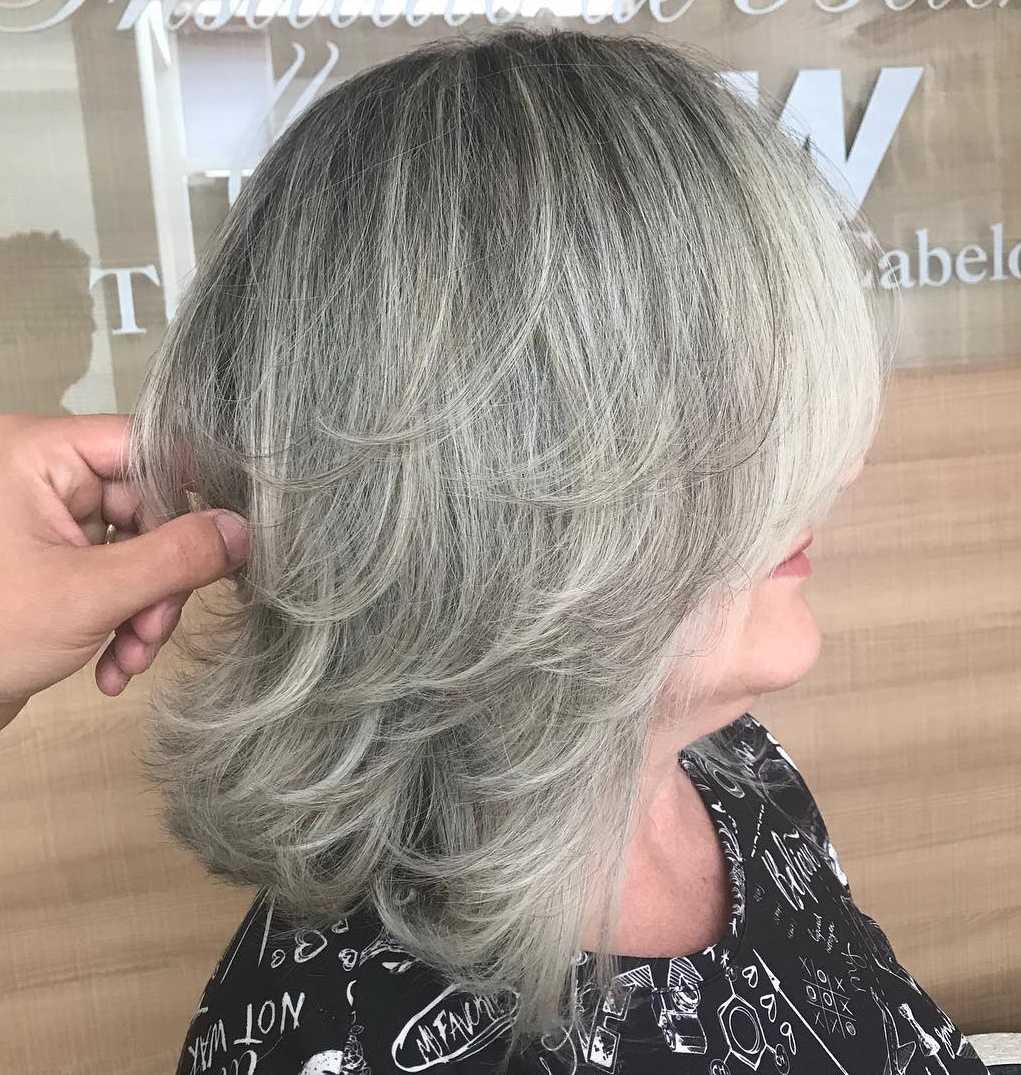 You can also get a softer, yet springy look with a layered cut that features greater disconnection towards the bottom and lightened, feathered ends.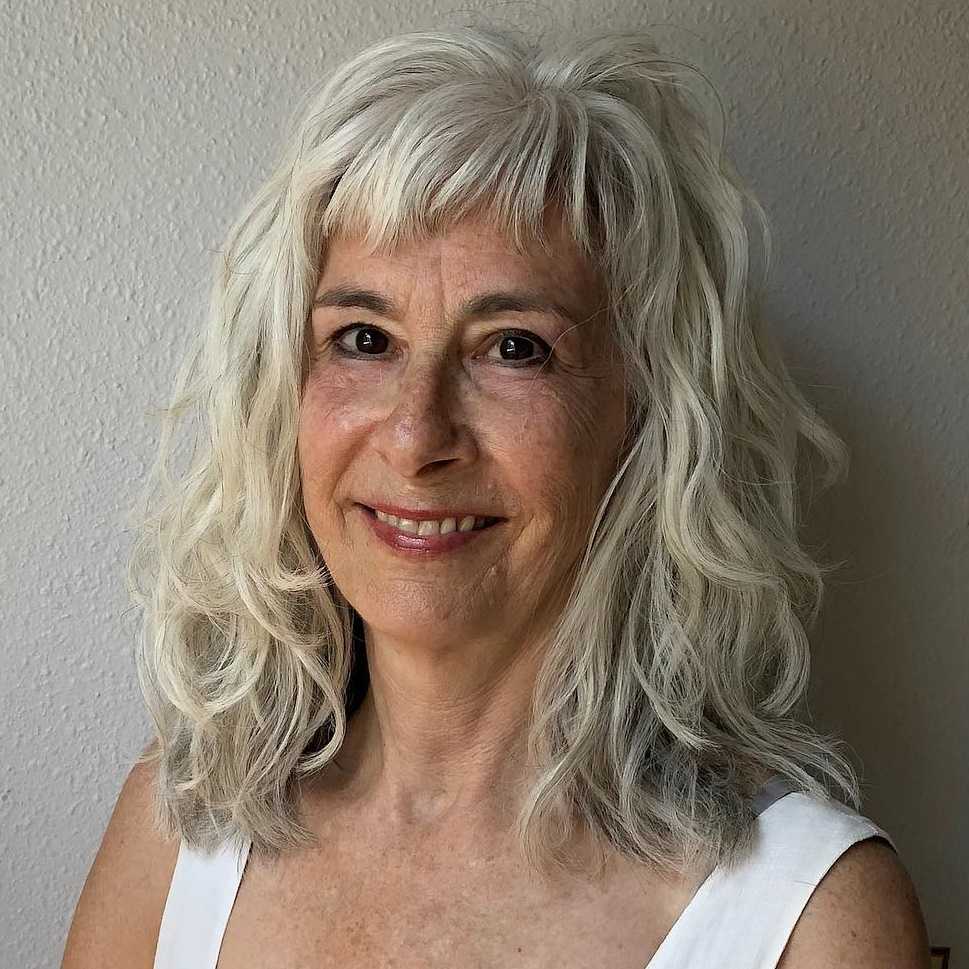 This silver hairstyle with bangs arrests the eye with its amazingly crisp texture, achieved through heavily layered waves. And the baby bangs make it a bombshell! One of the cutest hairstyles for women over 50, without any doubt.
How to Sport Long Hairstyles
Although long hair is associated with a tender age, if women over 50 have hair that looks healthy and well-groomed, they can be bold to wear it with pride. As we have said before, the key to wearing long hairstyles is to avoid dragging down and hardening effect by choosing flattering, bouncy, and layered 'dos.
When you feel that your hair lacks length or volume, but you're still committed to wearing it long, don't hesitate to opt for extensions. Matt Fugate, celebrity hairstylist, says that as a woman ages, it's hard for her to grow her hair longer and recommends embracing extensions to radiate youth. He is also supportive of disheveled and deconstructed styling, including updos. Well, we have proofs that polished styling hits the mark as well.
This adorable multi-layered hairstyle with bangs balances the big face and works fine with glasses. Piece-y tips and a mix of blondes nail down the look.
Flipped out and tapered ends give this thick hair lightness and movement, while blonde balayage saves it from monotony.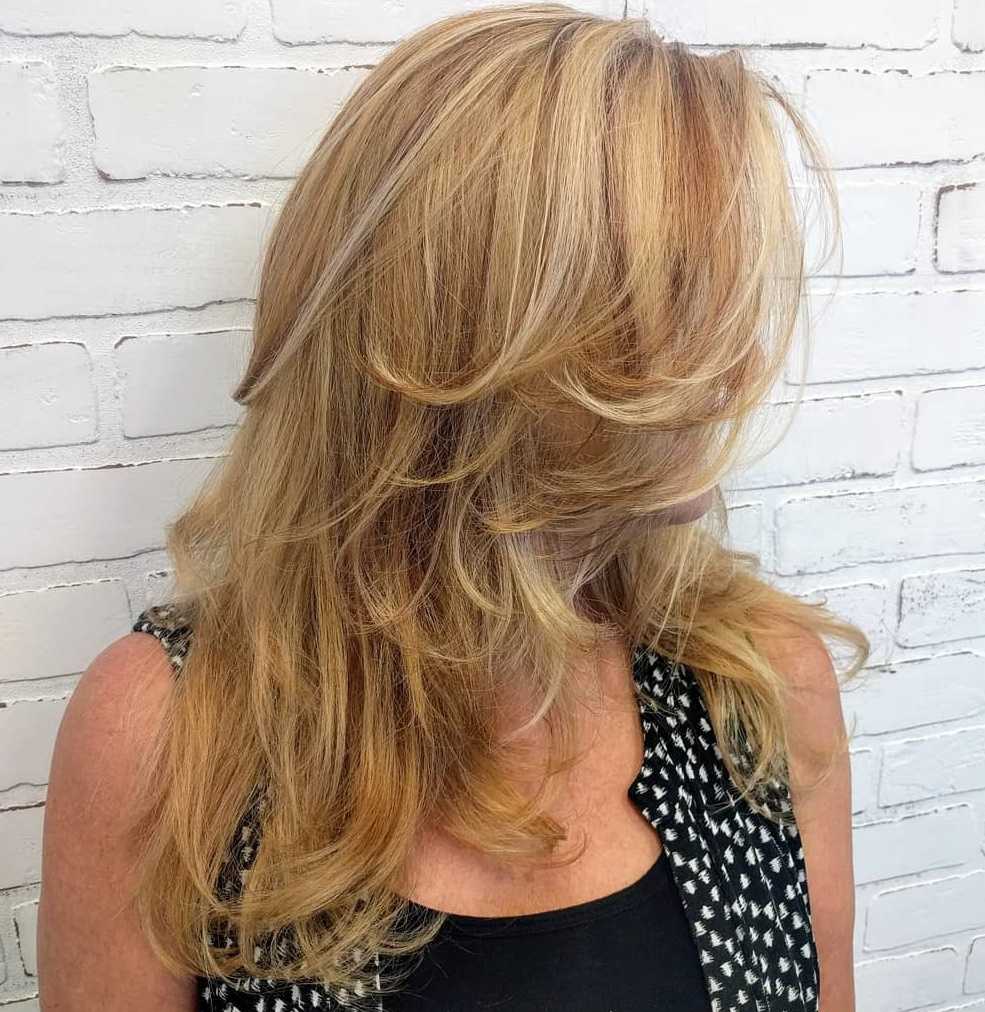 Layering is also a good thing for thin locks, since it serves to create volume. Don't hesitate to add hues for some fun!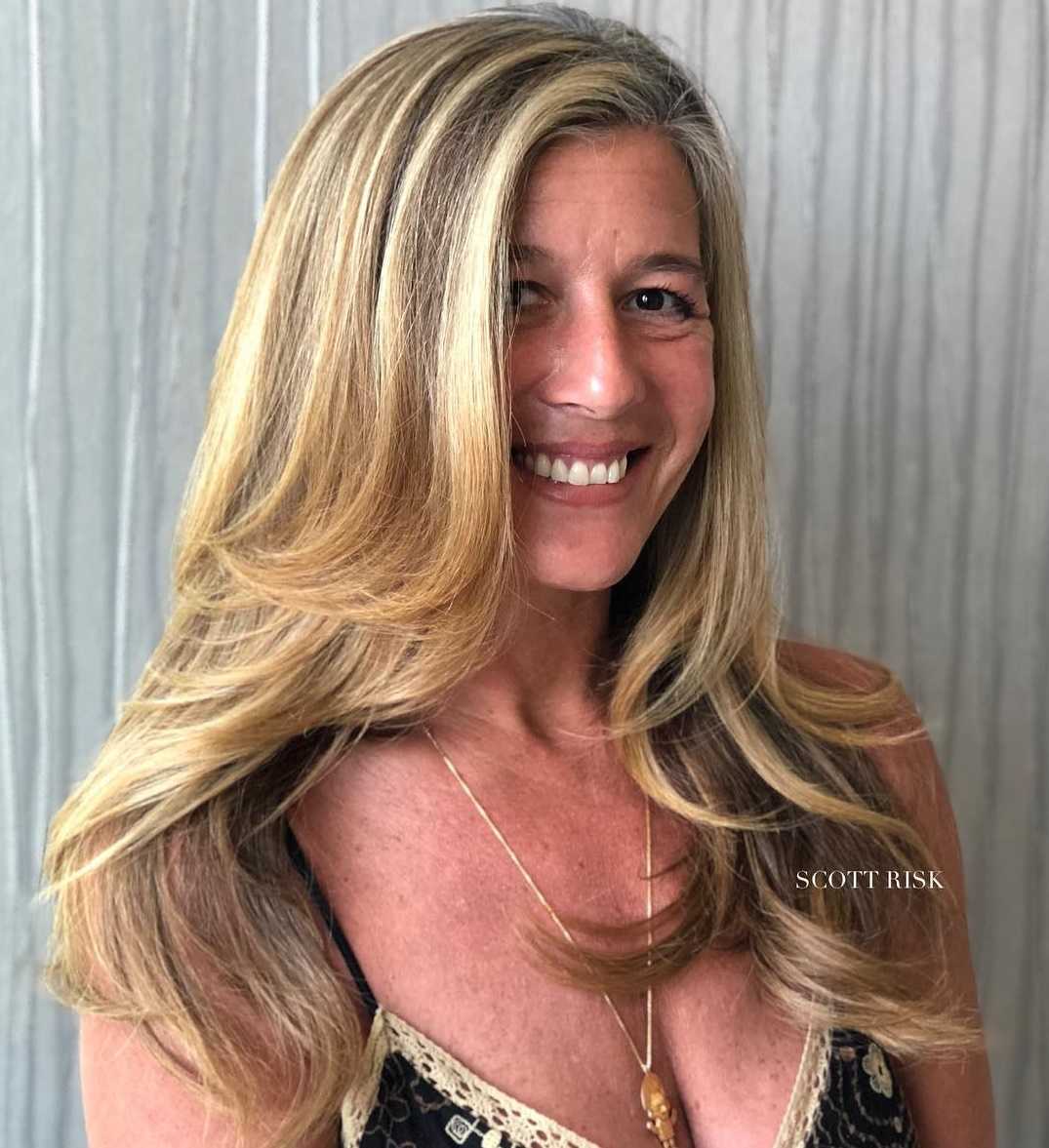 Choose layered haircuts with face framing tresses and style the locks in different directions to have them touchable and jazzy.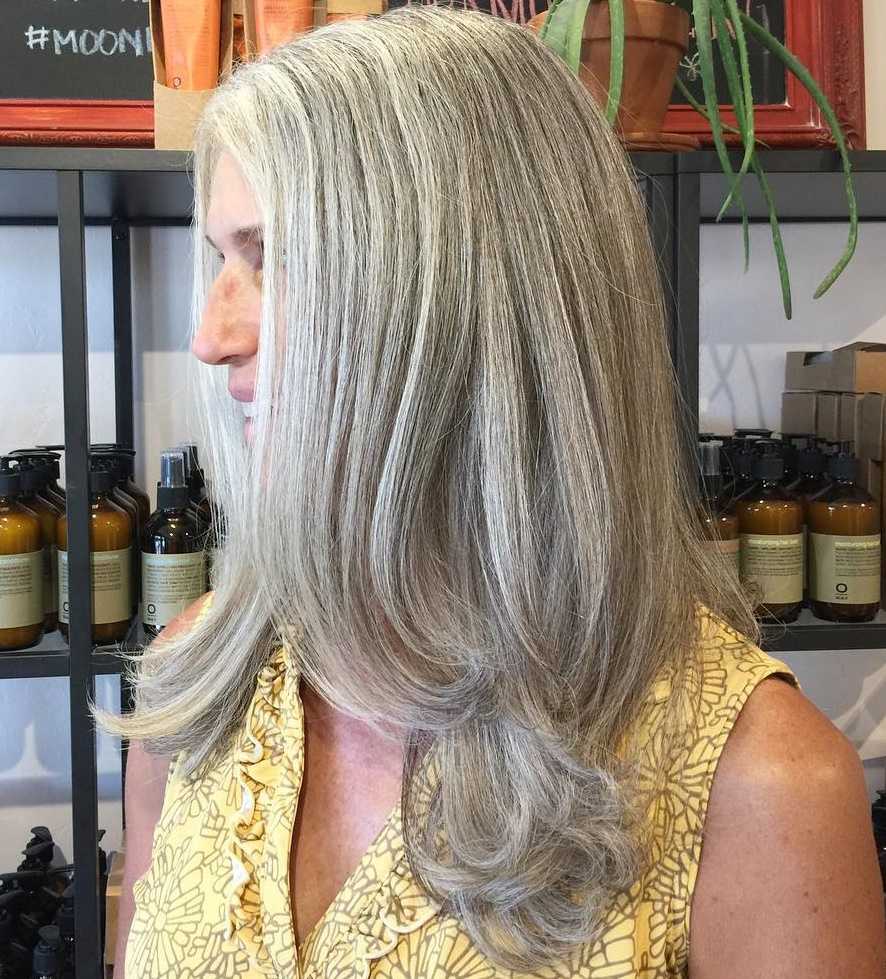 Women over 50 may opt for silver gray locks, since the shade helps hide the grown-out roots. A bit of texture and curls on the bottom will make the hairstyle dance.
The Coolest Hairstyles by Hair Type
Modern haircuts for women over 50 are versatile enough to go together with different textures, either emphasizing the airy feel of fine hair or accentuating the fullness of thick manes. This can be seen clearly through the example of shorter hairstyles, and we've hammered out an illustrated roadmap to follow.
Awesome Haircuts for Women with Fine Hair
"As we age, most hair is reduced either in the form of balding, receding, or thinning. Genetics, as well as life changes, contribute to the overall interference of hair growth," Manhattan-based dermatologist Dr. Dendy Engelman told to Vogue. So, whether your hair is naturally delicate or it became thinner due to age-related changes, don't panic, but make sure to have both adequate treatment and cut. As for the latter, you can choose from many current trends like the dense pixie, the angled bob, the layered lob or various hairdos with side-swept bangs (they "look thick without taking too much hair away from the rest of your style," says hairstylist Nunzio Saviano to Allure).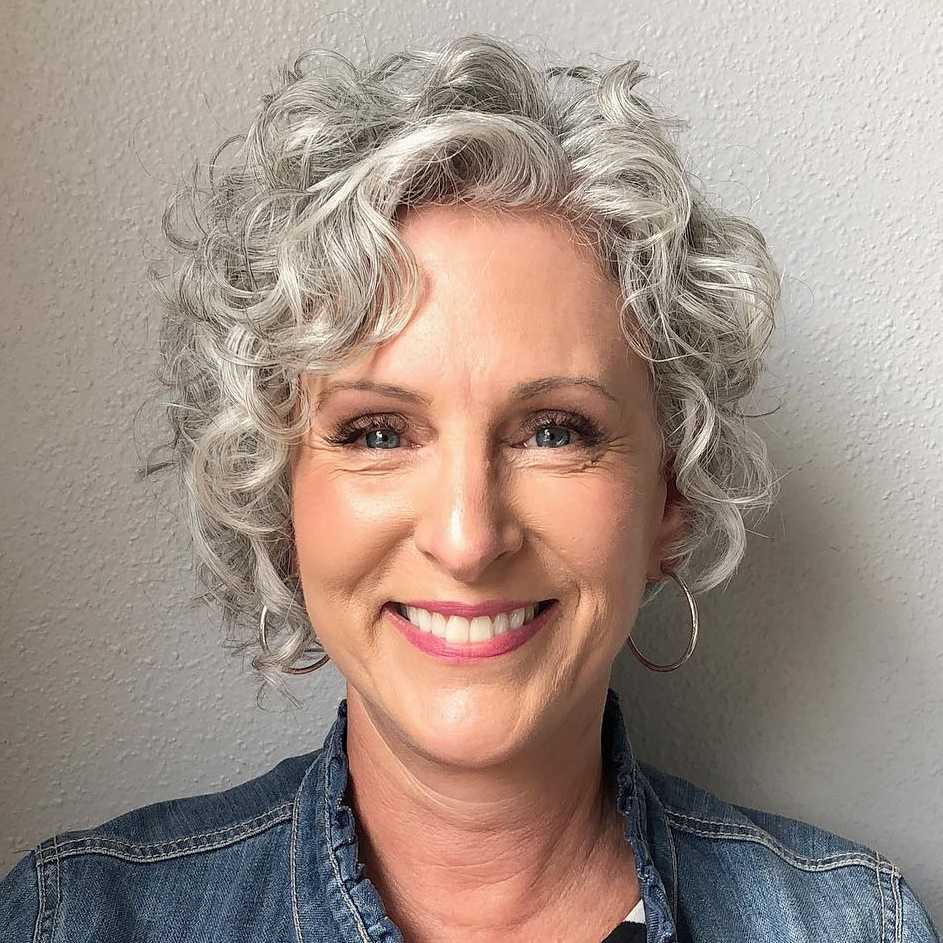 Flirty and airy, this curly hairstyle features a side parting and a curve of bouncy bangs to gain an edgy asymmetrical feel.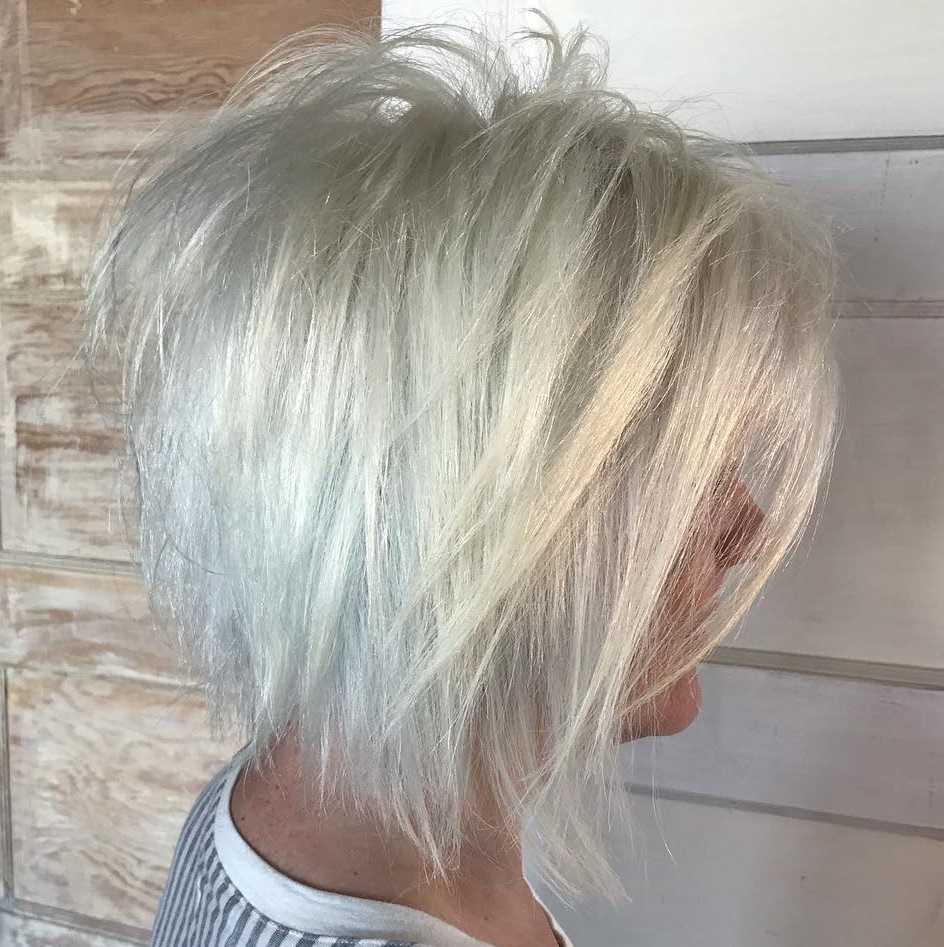 This silver blonde bob doesn't look flat, since the thin hair is lifted on top and styled tousled.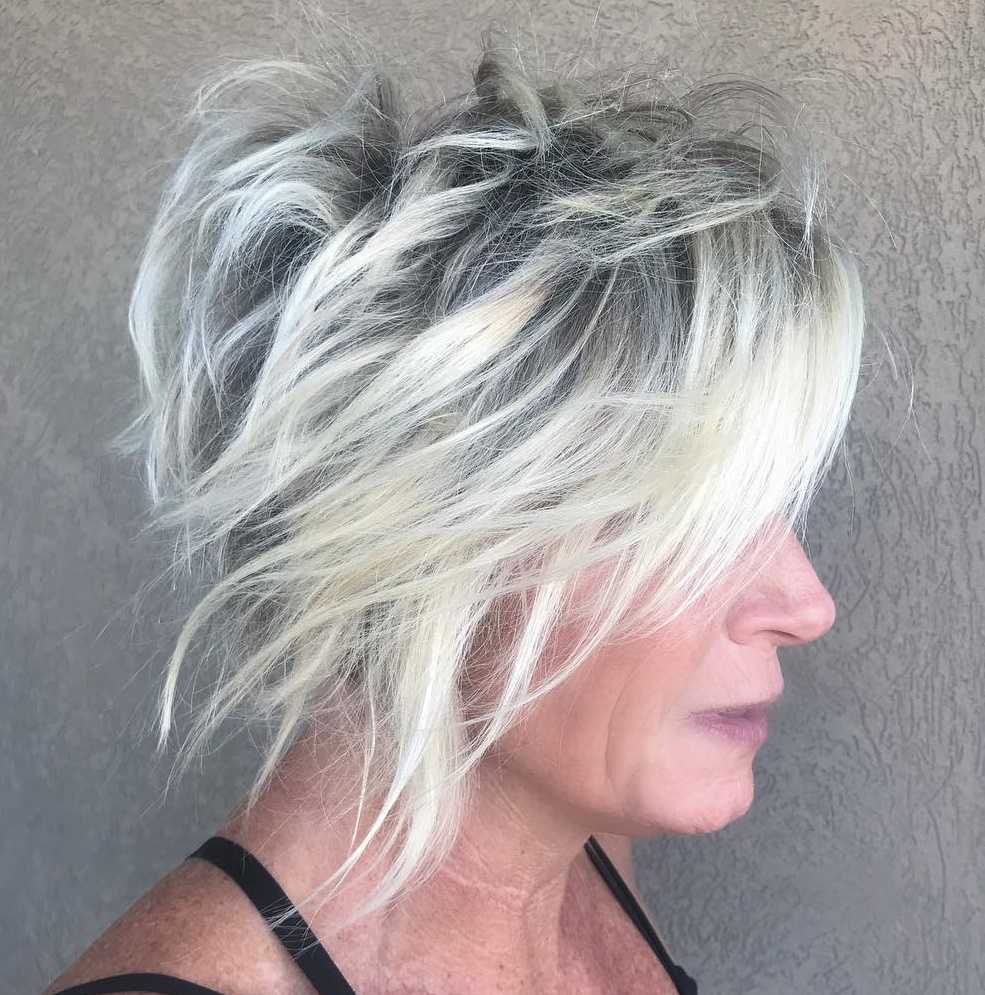 Angled short bobs with a shag finish deliver a voluminous effect, but you can get even more depth through incorporating shadow roots.
Opt for a sleeker layered bob, yet have it feathered and side swept for added texture and movement.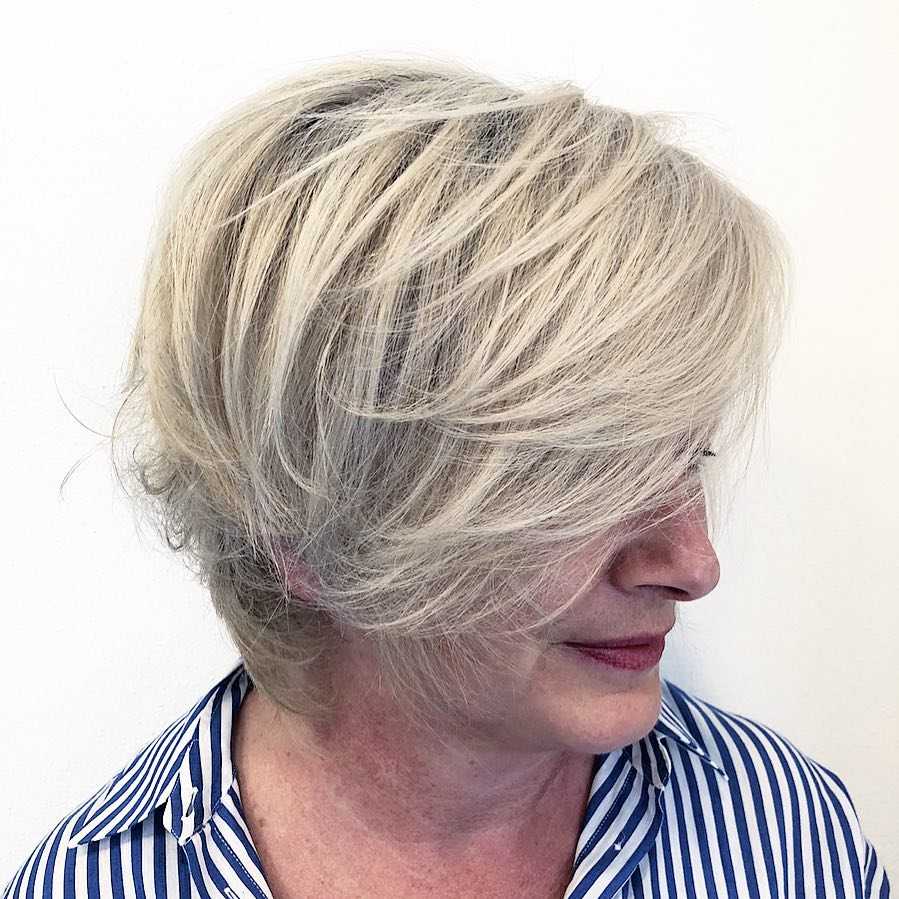 Even if your hair is very fine, layering and texturizing will help get the required dimension and do away with a lackluster feel.
Rejuvenating Effect for Thick Hair
While thick hair doesn't need much help to radiate volume, it can look heavy and shapeless, which is especially unflattering when it comes to older women. Layering is a sure-fire way to remove some bulk, leaving plenty of length, texture, movement and vibe. Correctly placed and cut layers allow for a wash and wear lifestyle, but if you don't mind tinkering around with curling wands, blow dryers and flat irons, go ahead and get a style to kill. "To style thick hair, I swear by is flat iron waves. Run them over hair to smooth it out and also add a pretty texture," says Jen Atkin, hair guru behind Kim, Khloe and Kourtney Kardashian, to Glamour. Now, have a look at the results you can get.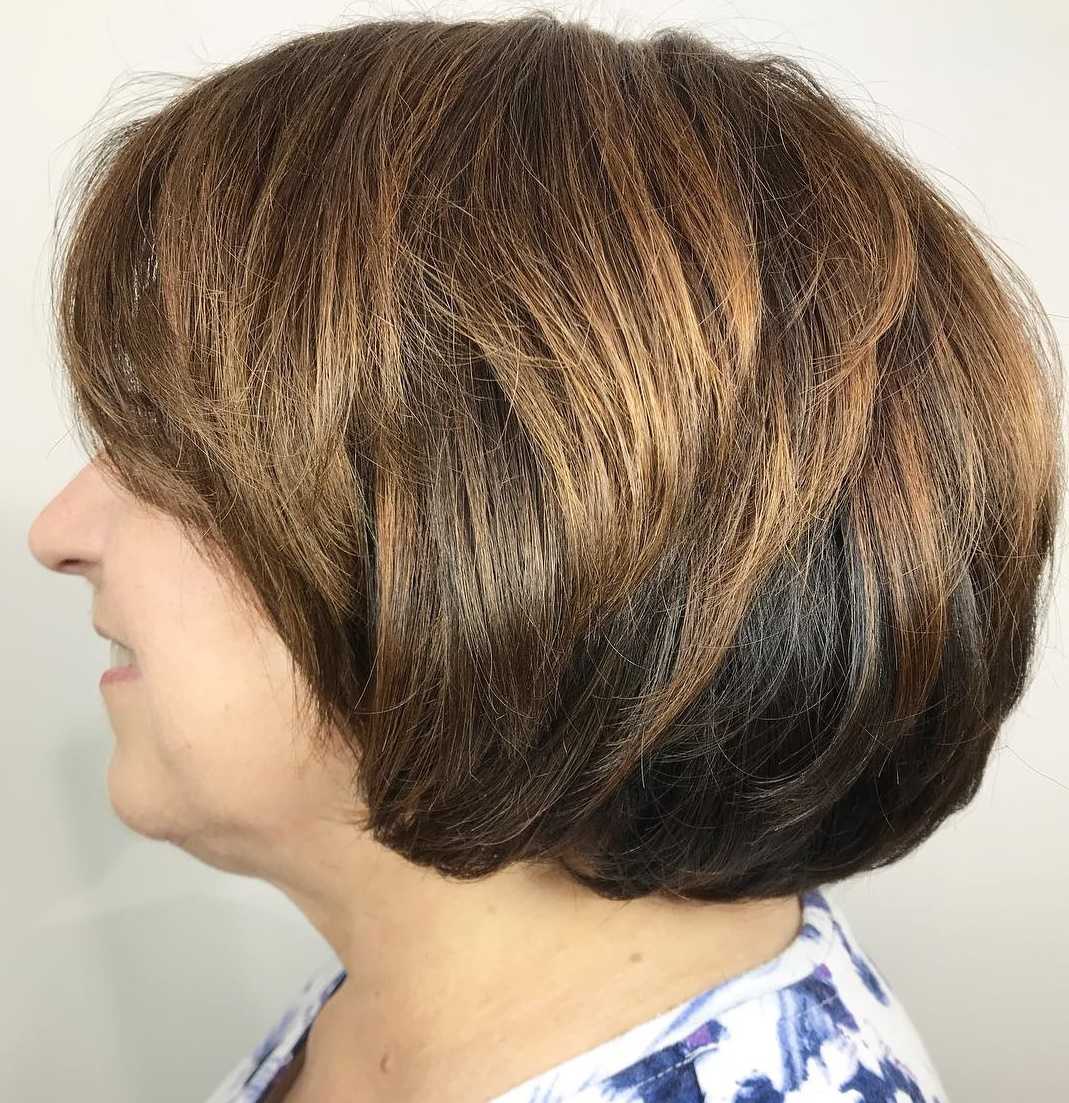 This chestnut bob is among our favorite short hairstyles for women over 50 due to its touchable texture and natural flare.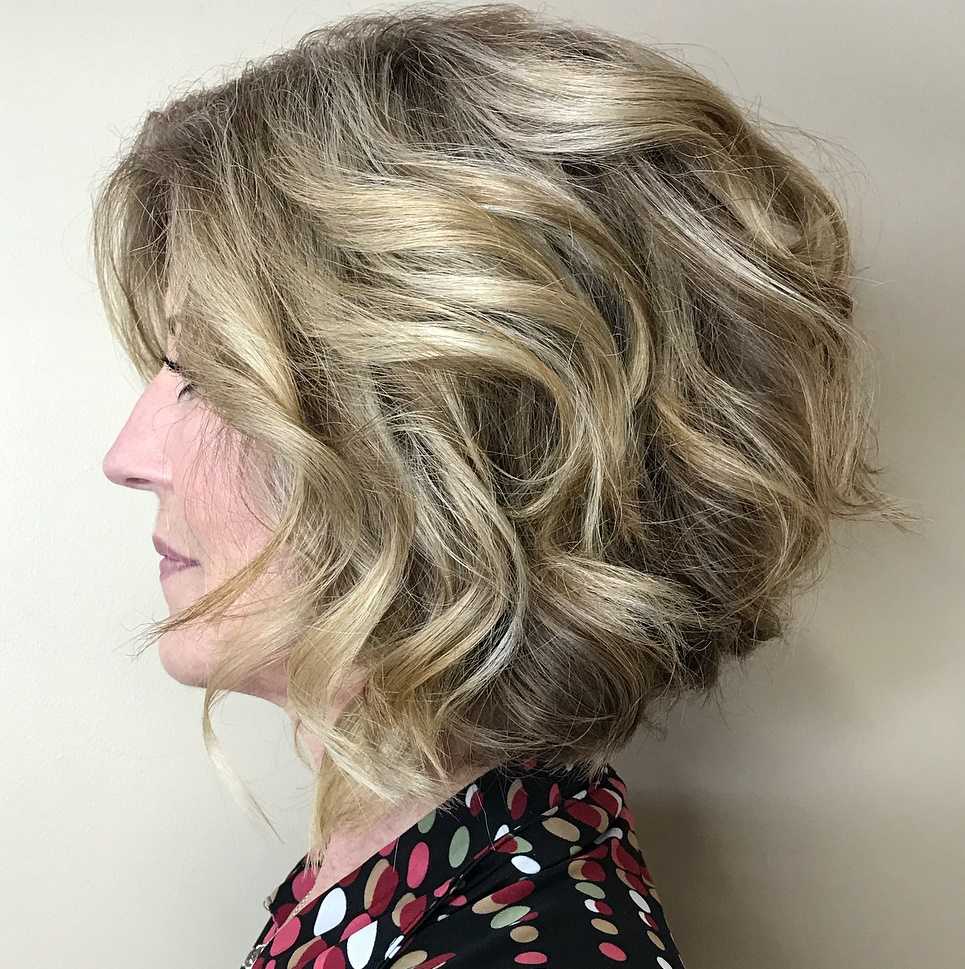 Give a new twist to your hair by shifting it to a wavy hairstyle. Use a curling wand and a strong styling product to get loose locks like those.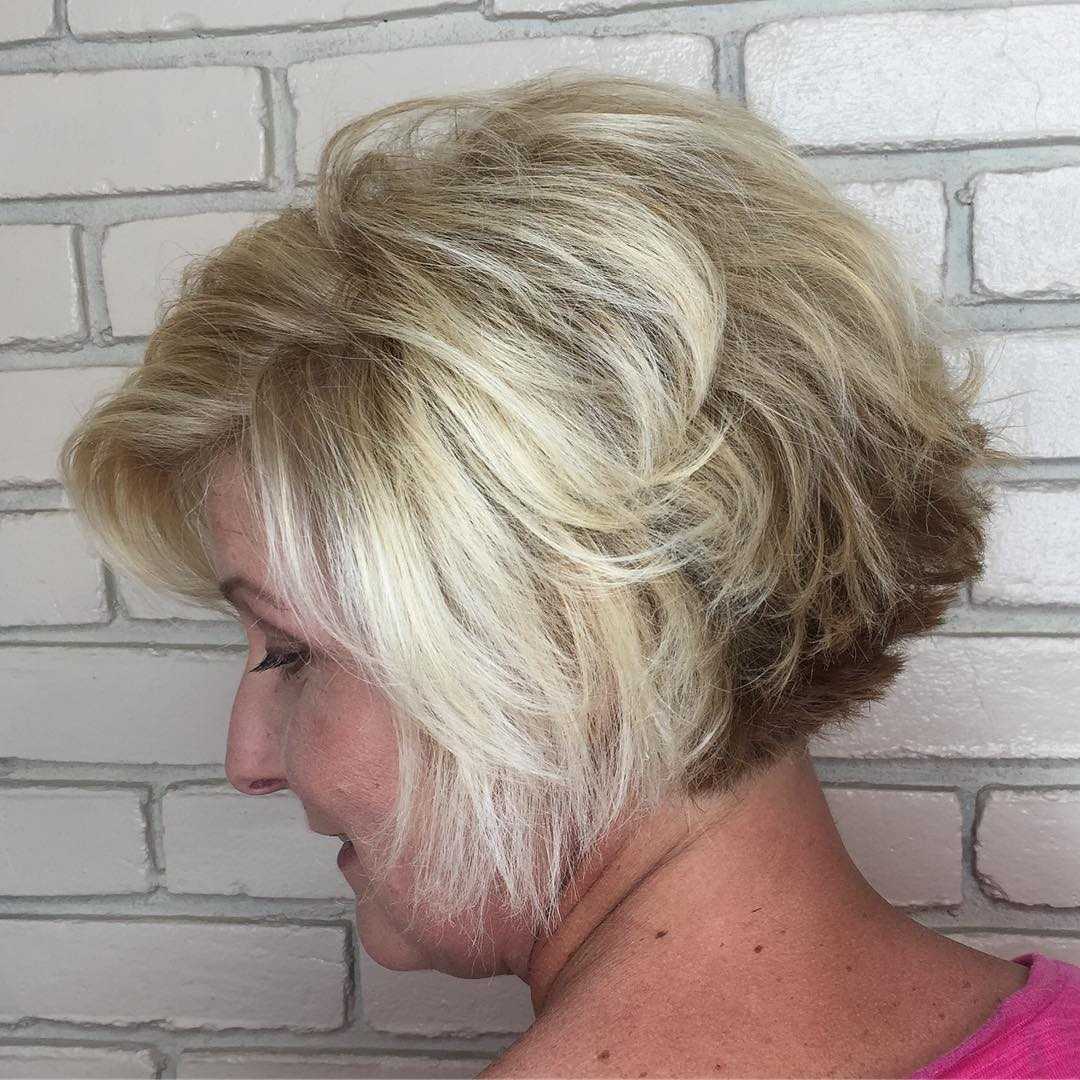 The short flippy bob is anything but boring, especially when accentuated with beautiful highlights.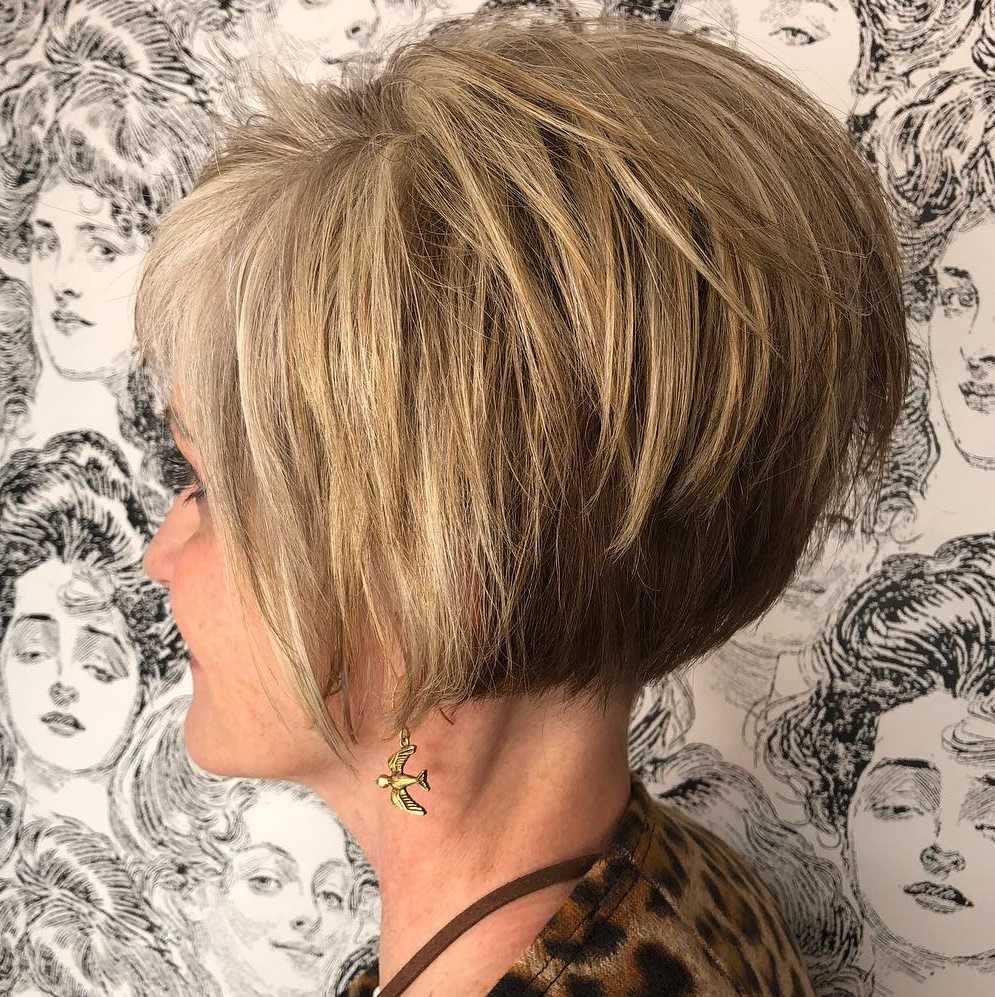 Revamp your look with a short layered bob boldly stacked at the nape and textured through piece-y strands.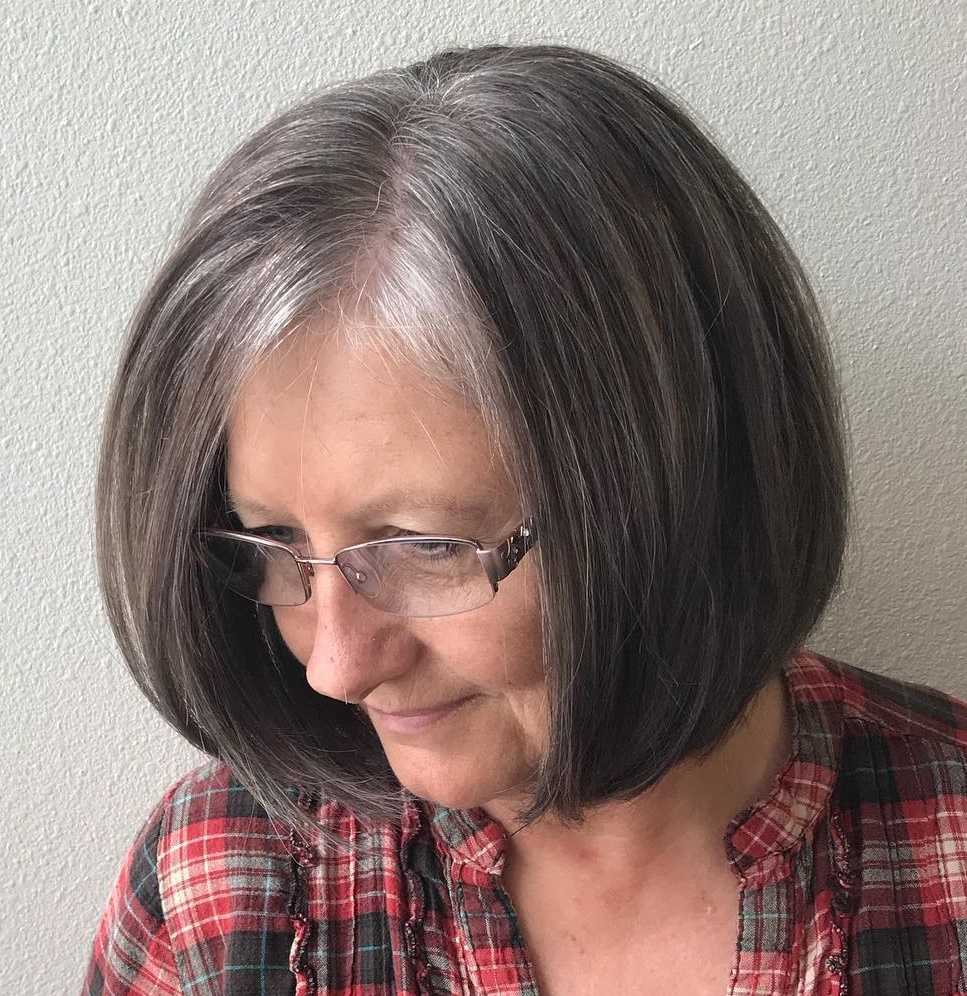 This natural silver looks like cool highlights on the background of the graphite gray bob, while the side parting saves the round face from excess plumpness.
Wavy Hairstyles Hairstyles for Women Over 50 to Age Gracefully
Wavy hairstyles are in vogue, so if you are a proud owner of natural waves or curls, find joy and youthfulness in their bouncy feel. But first, you need to find a cut that adds up with your type of wavy hair. Make sure your new hairstyle is shaped properly, since wavy manes tend to look messy, frizzy and even unkempt, which is not age appropriate for a lady who is worth her salt. Give a special focus to ringlets that require precise layering to fit into each other like puzzle pieces. Here is our pick of both wavy and curly hairdos from crops to shoulder-length styles you can take a cue from.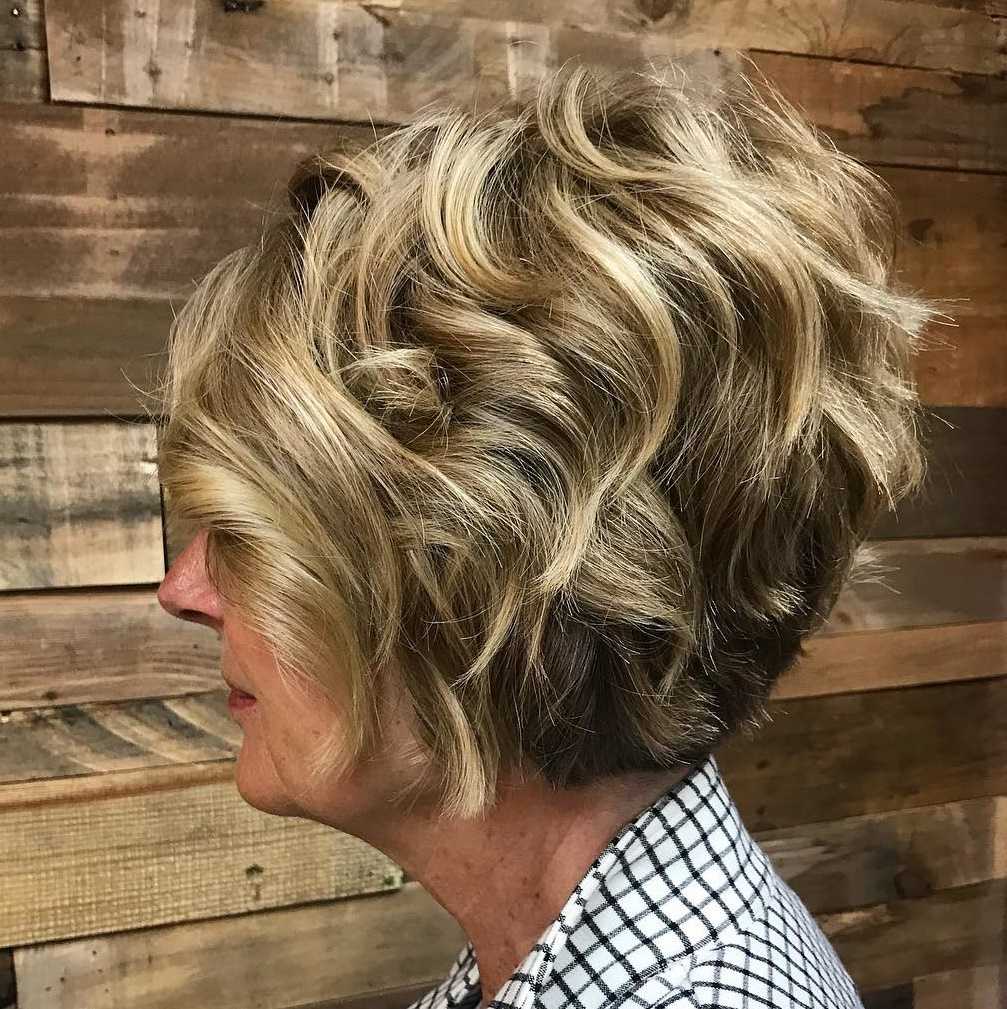 Give preference to short haircuts with some length to showcase your natural texture. This lavish stacked bob is a lead to follow.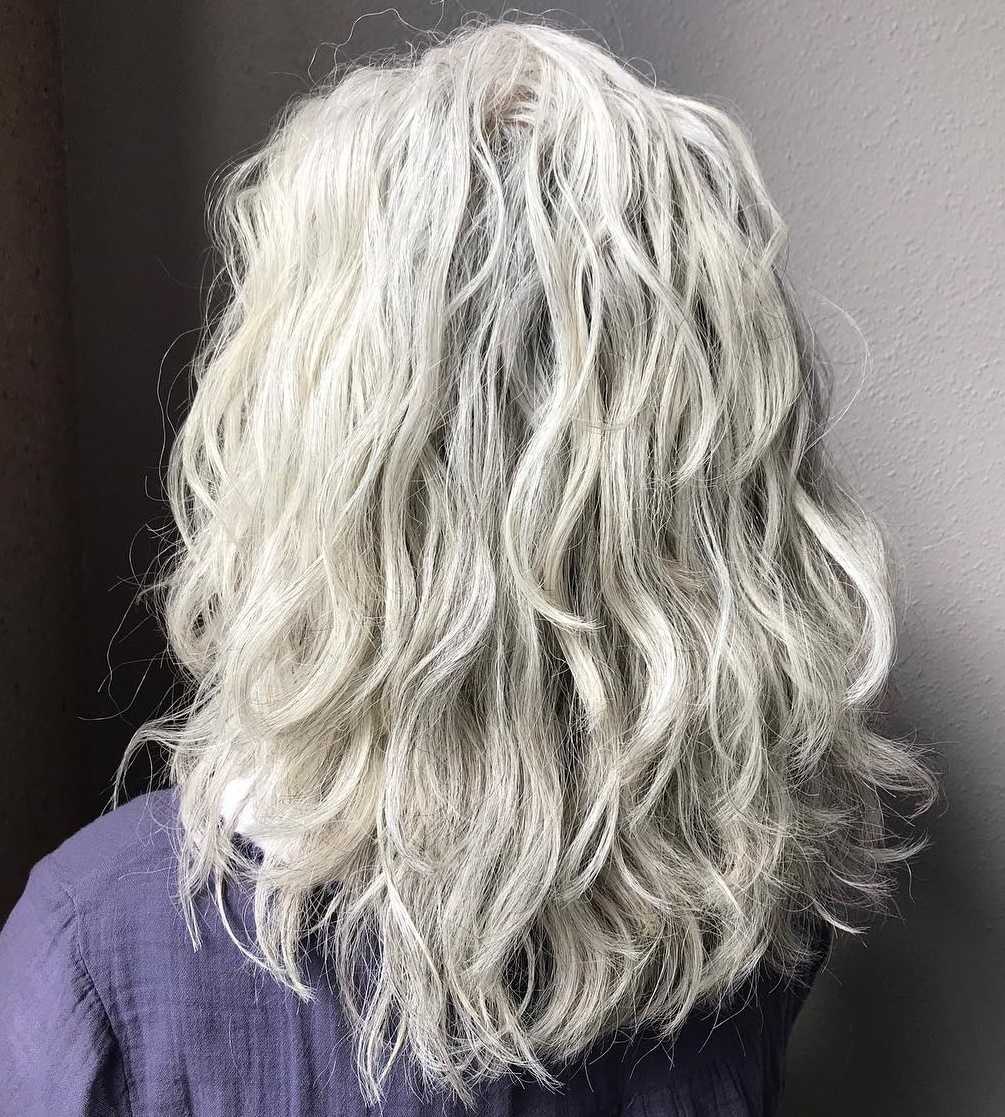 Remove excess bulk from naturally wavy hair by fine-tuned layers and wear it loose and defined.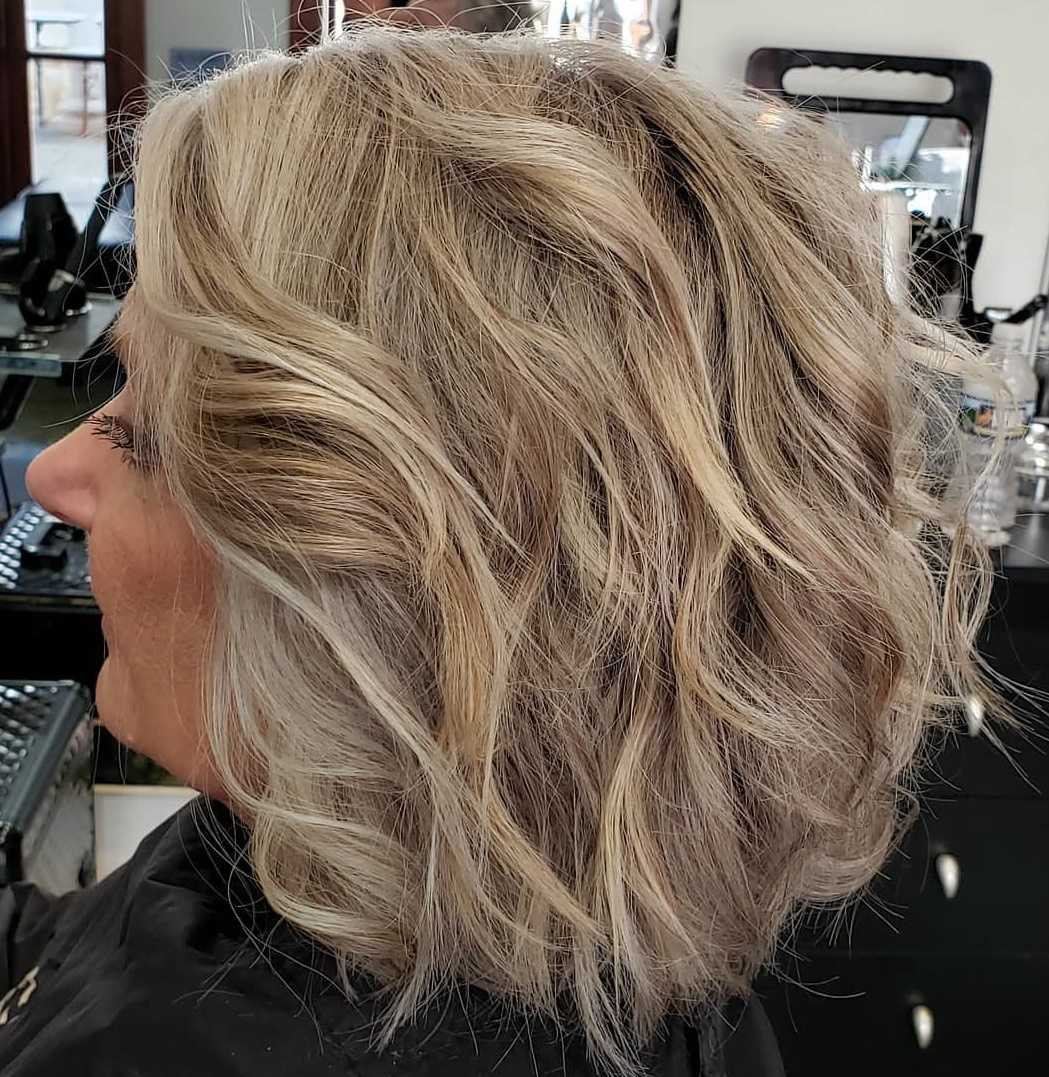 Light up your gray with warmer bronde tones and ask for a long layered bob to structurize your waves handsomely.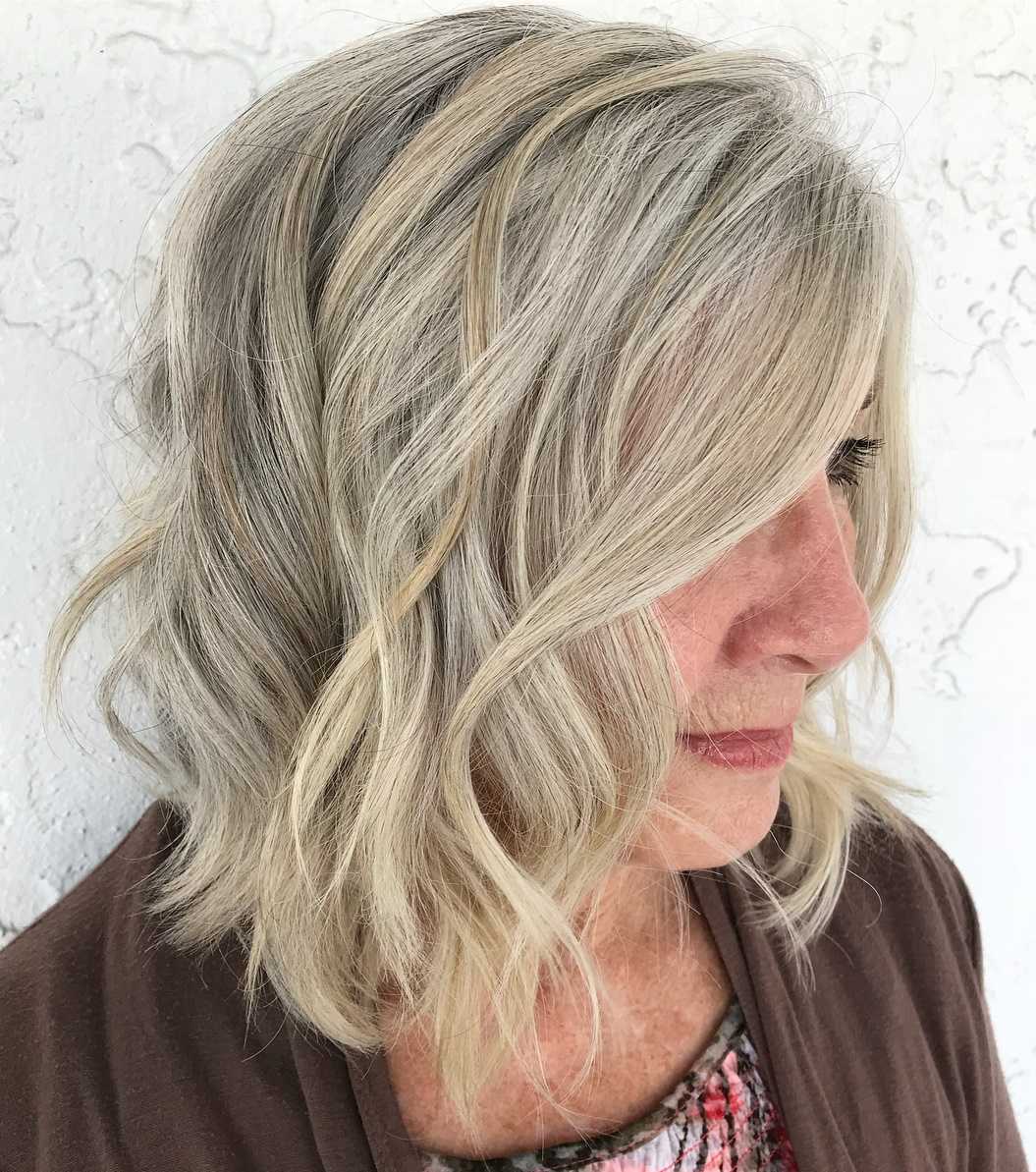 When searching for spicy hair color ideas, steal this awesome mix of hues coupled with fancy beachy waves.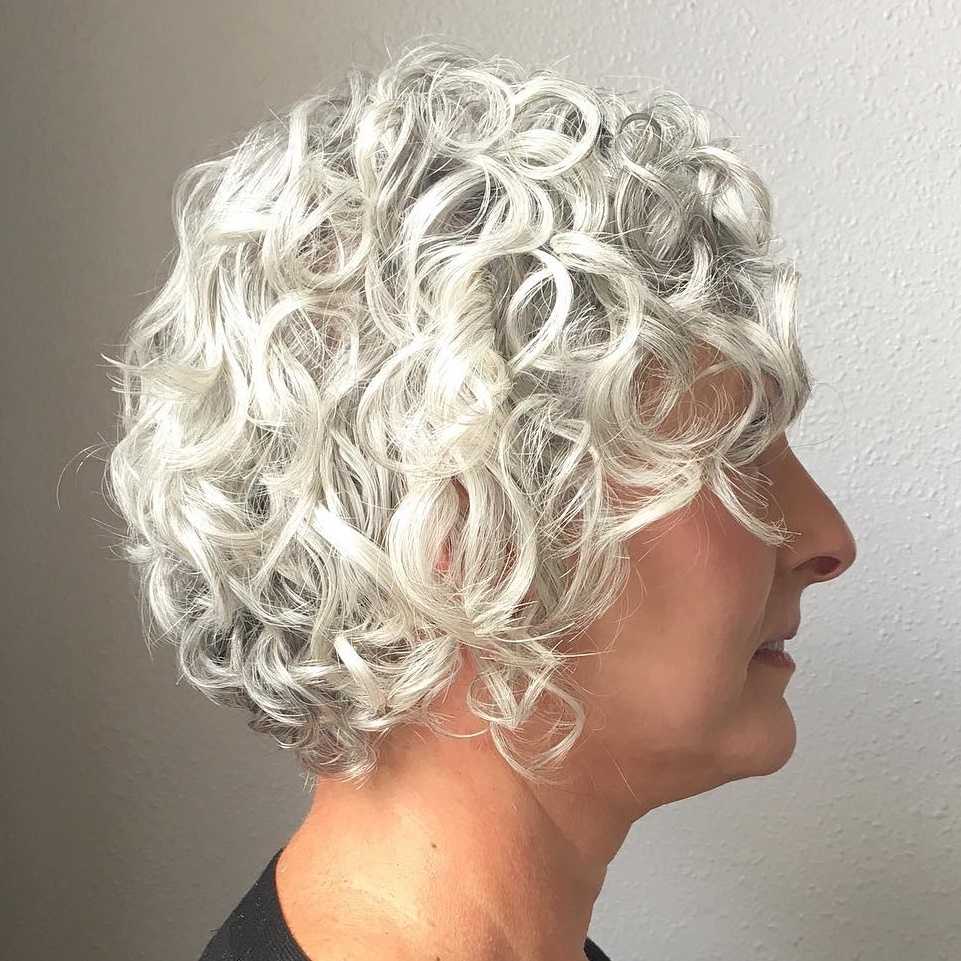 Get your curly hair carved to enhance its natural curves and have it shaped to flatter your bone structure.
Refreshing Hairstyles by Face Shape
When having long hair, you are not so tied to the face shape balance, as there are many updo options for you to find the most flattering ones. In terms of short cuts, you have almost no room for mistakes, but we have good news for you – with an experienced hairdresser at hand, you will be able to pull off a short hairstyle whichever face type you fall into. "Face shape isn't key for this style but by creating layering, you ultimately affect the shape. For example, round faces should opt for square layers and vice versa for square face shapes," says Sam Burnett, hairstylist and founder of Hare & Bone, to Marie Claire. Look how it works.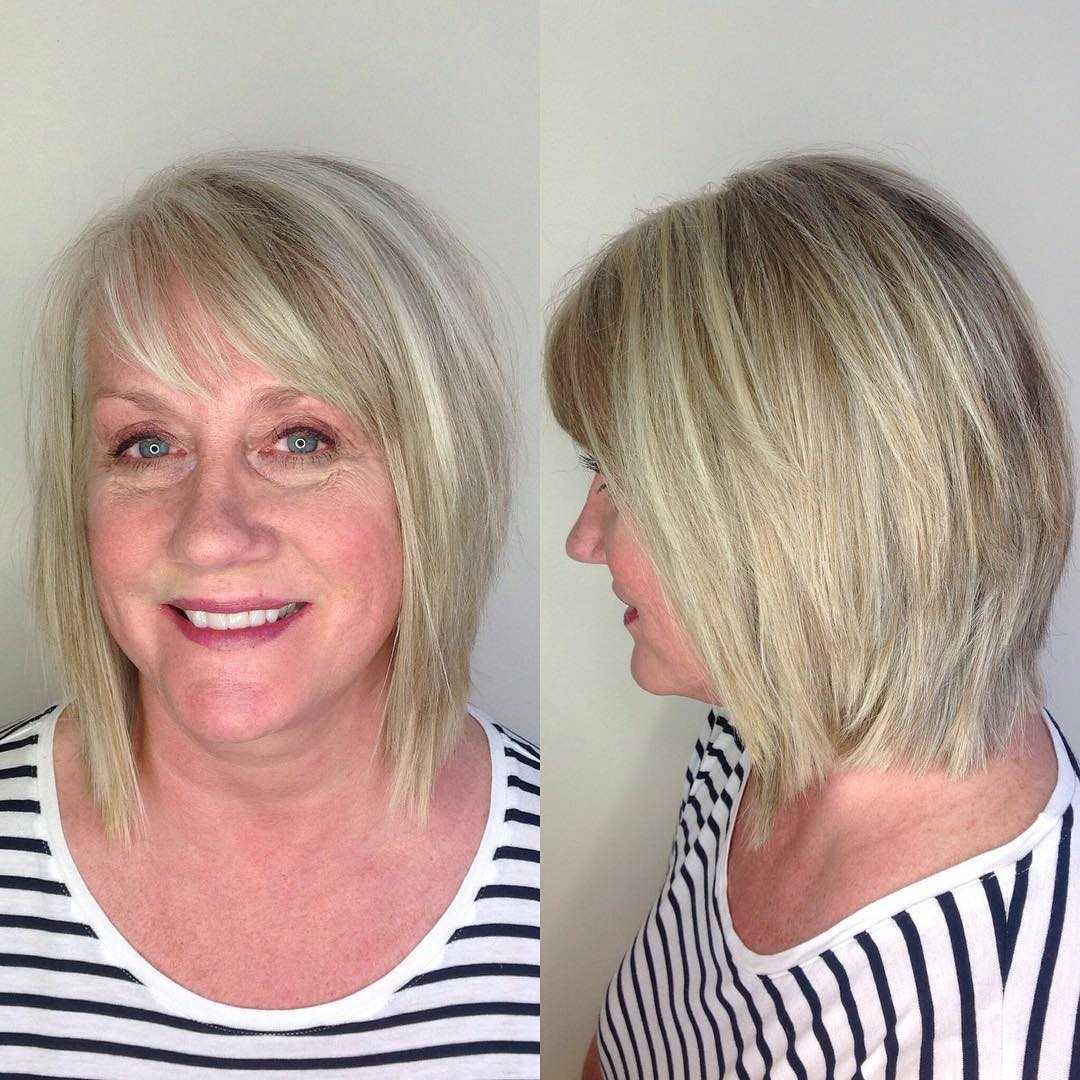 While piece-y side bangs give the eye some vertical lines to follow, the below-chin length drags the round face down for better proportions.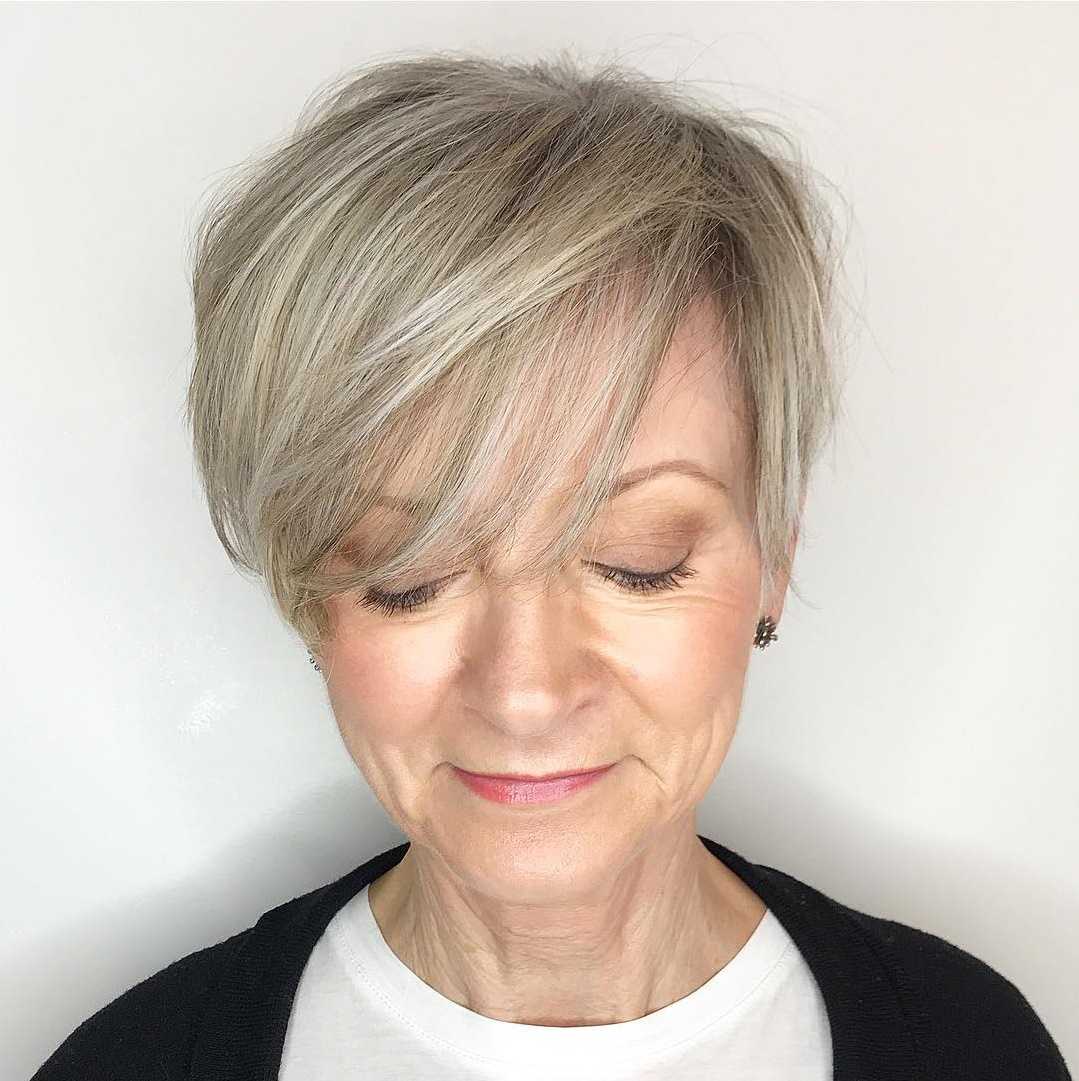 The eye-grazing wispy bangs of this pixie bob work fine for hiding the large forehead of an oval face without overwhelming it.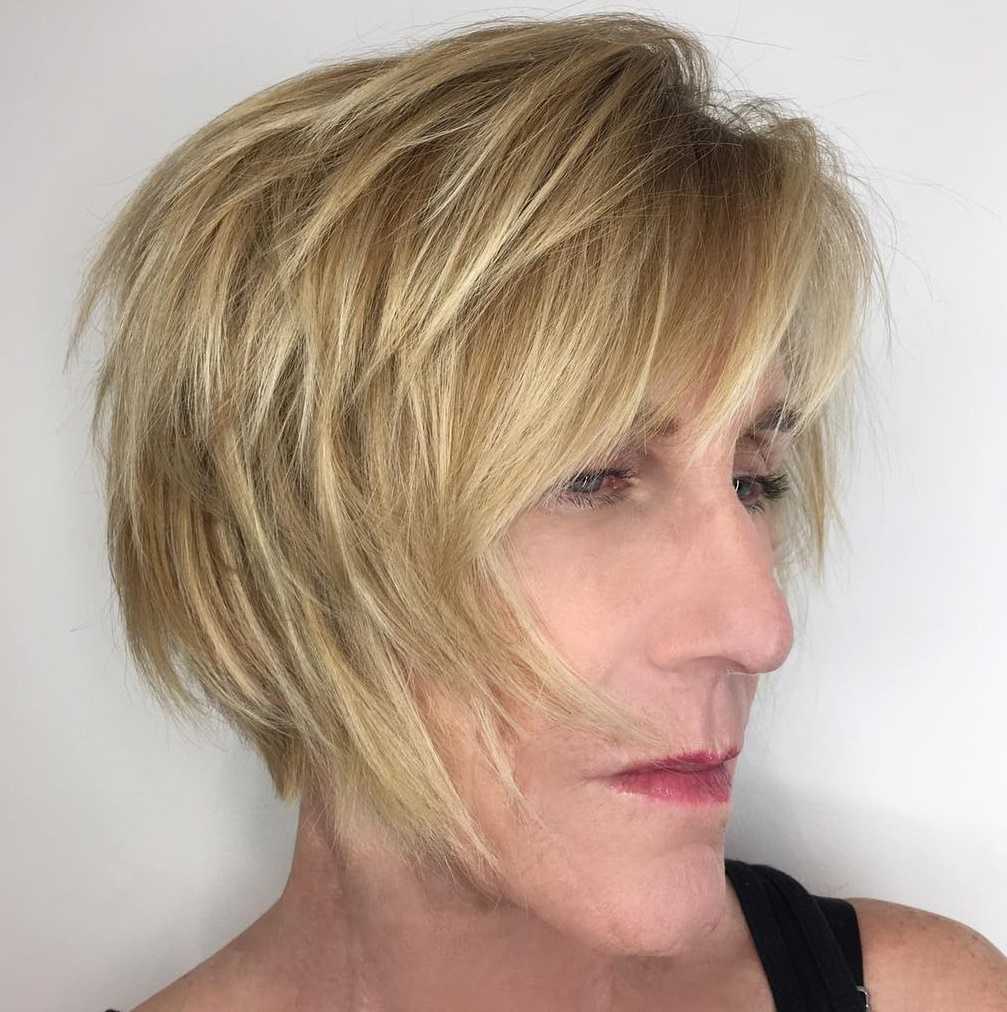 It's a good idea to add width to a long face, framing it with a distinctively layered and disheveled bob with bangs like this one.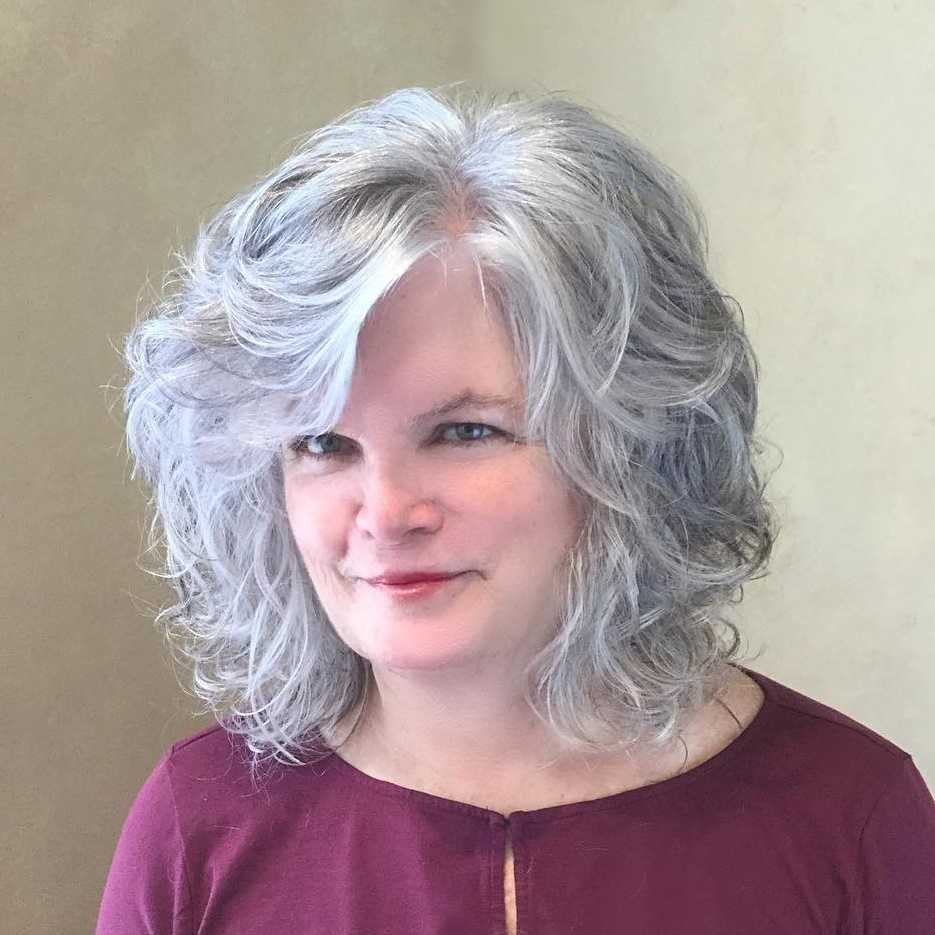 Wavy hairstyles flatter square faces, softening their angular lines. This cut also brings feathered side swept bangs and a stunning pearl glaze to natural gray.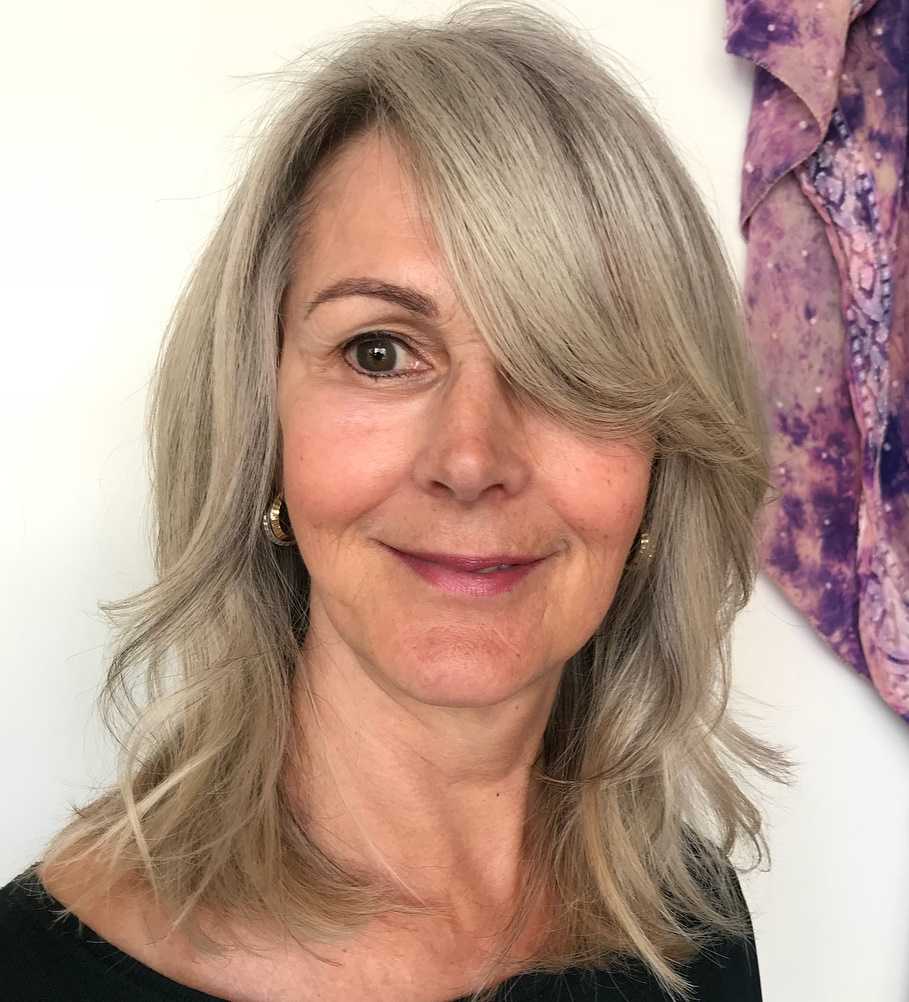 A well-balanced hairstyle is sure to make you look younger, like this longer 'do that is interrupted with layered side bangs and textured waves.
Awesome Hairstyles for Grey Hair Over 50
"Gray hairs pop up when your body stops producing pigment cells aka the melanin in your strands that gives them their color. But the hair isn't actually gray, it's just un-pigmented or colorless," says Anabel Kingsley, consultant trichologist at Philip Kingsley Trichological Clinic, to Cosmopolitan. When and how you go grey is determined genetically, and there is almost nothing you can do about this. But the thing you can actually give a try to is wearing your grey hair naturally (or nearly naturally) and chic. The more so that silver is a current trend, and, as we all now know, there are at least fifty shades of grey to choose from. Scroll through silver hairstyles for women to get inspired for your next trip to your stylist.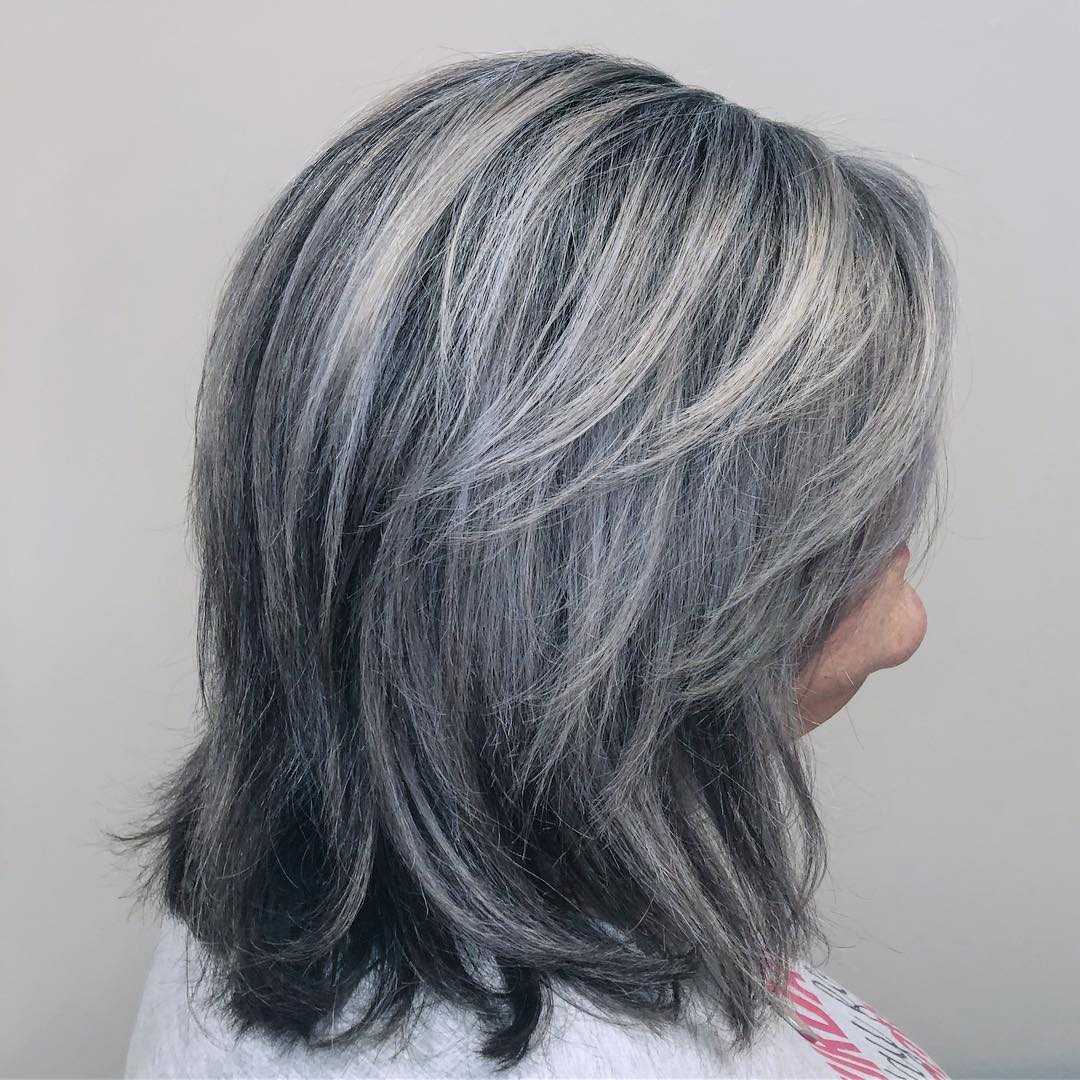 Dark grey and silver make a fabulous contrasting mix here. But it will look even cooler when trendy layering is added.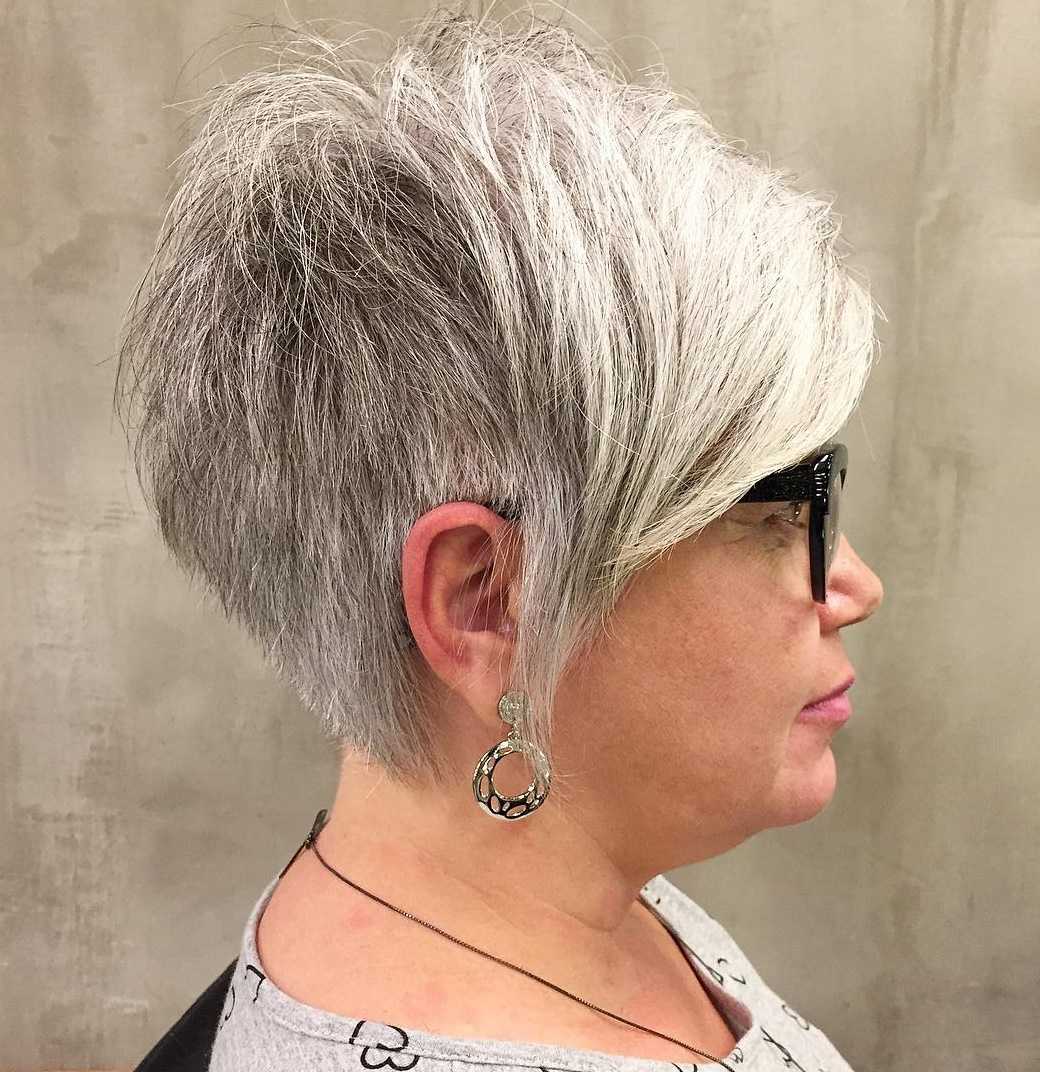 This stylish cut boasts crisp texture with many styling options due to longer front tresses. However, its frosty shade of gray is our fav part beyond all doubt.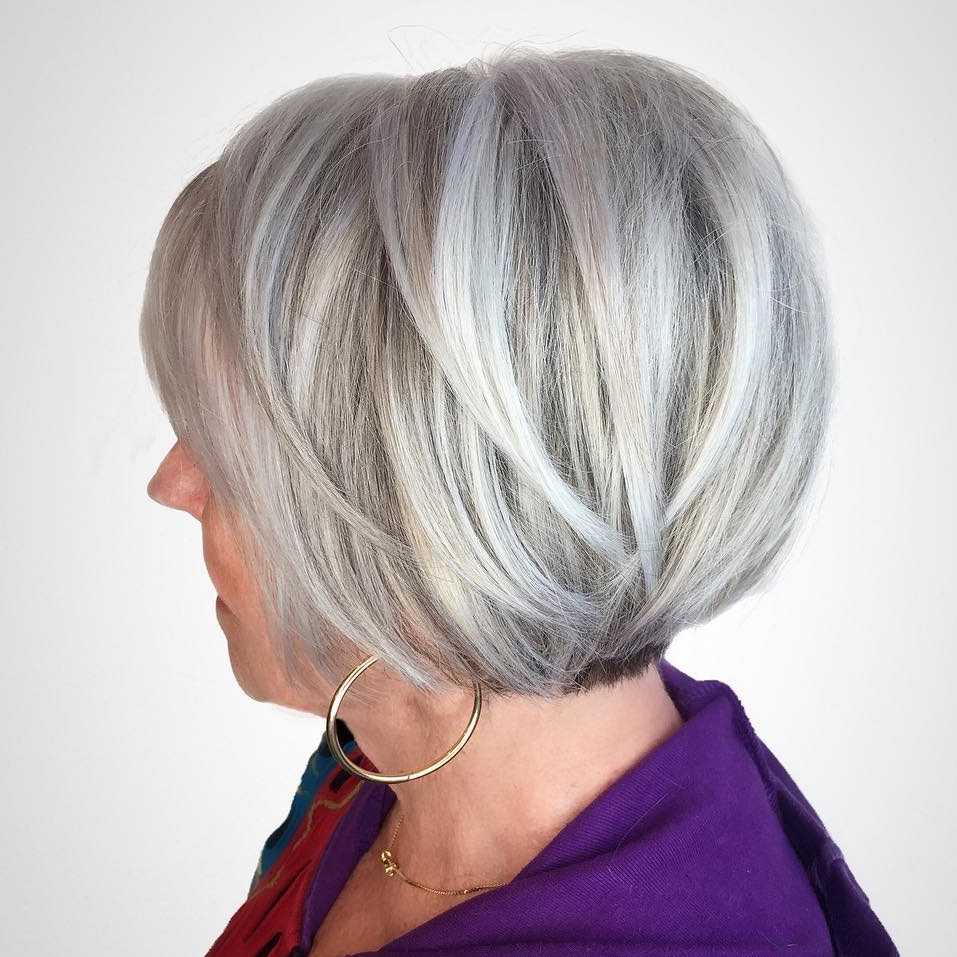 This bob shines with all the most beautiful shades of gray, from pinkish blinks to snow-white streaks. Both the color scheme and tapered layers amp up the volume of thin straight hair.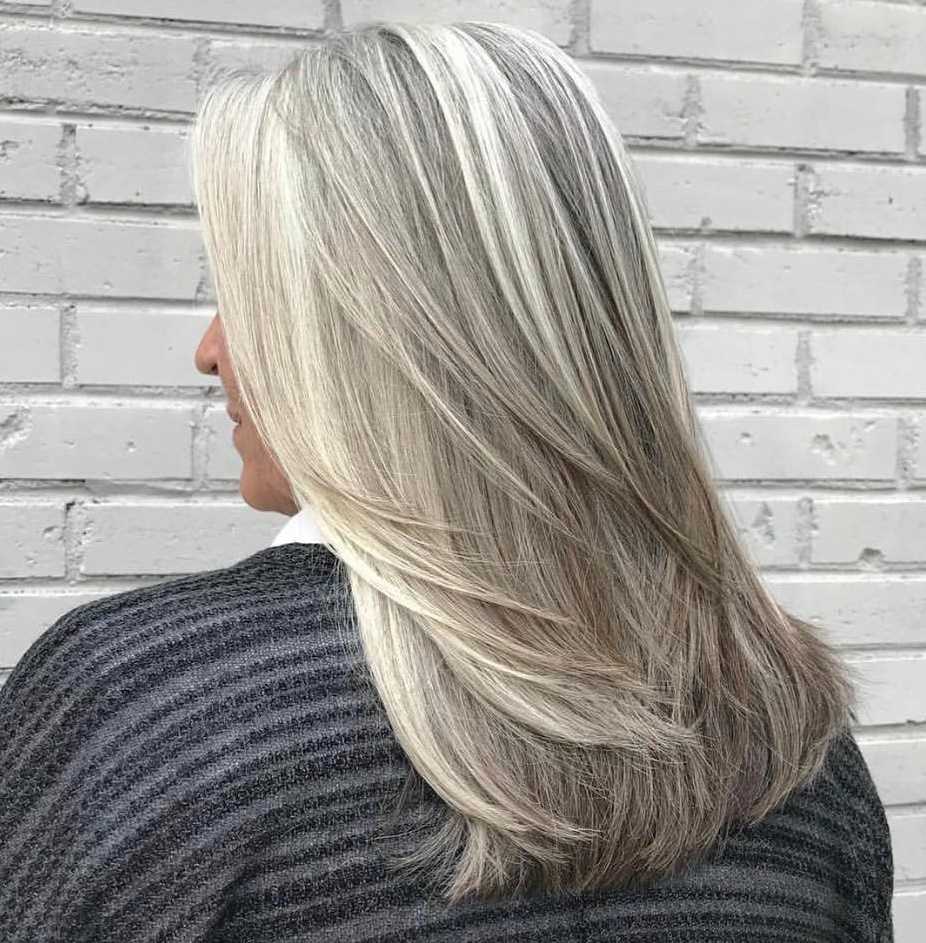 Salt-and-pepper in all its beauty is displayed through this long hairdo, dramatically highlighted and feathered.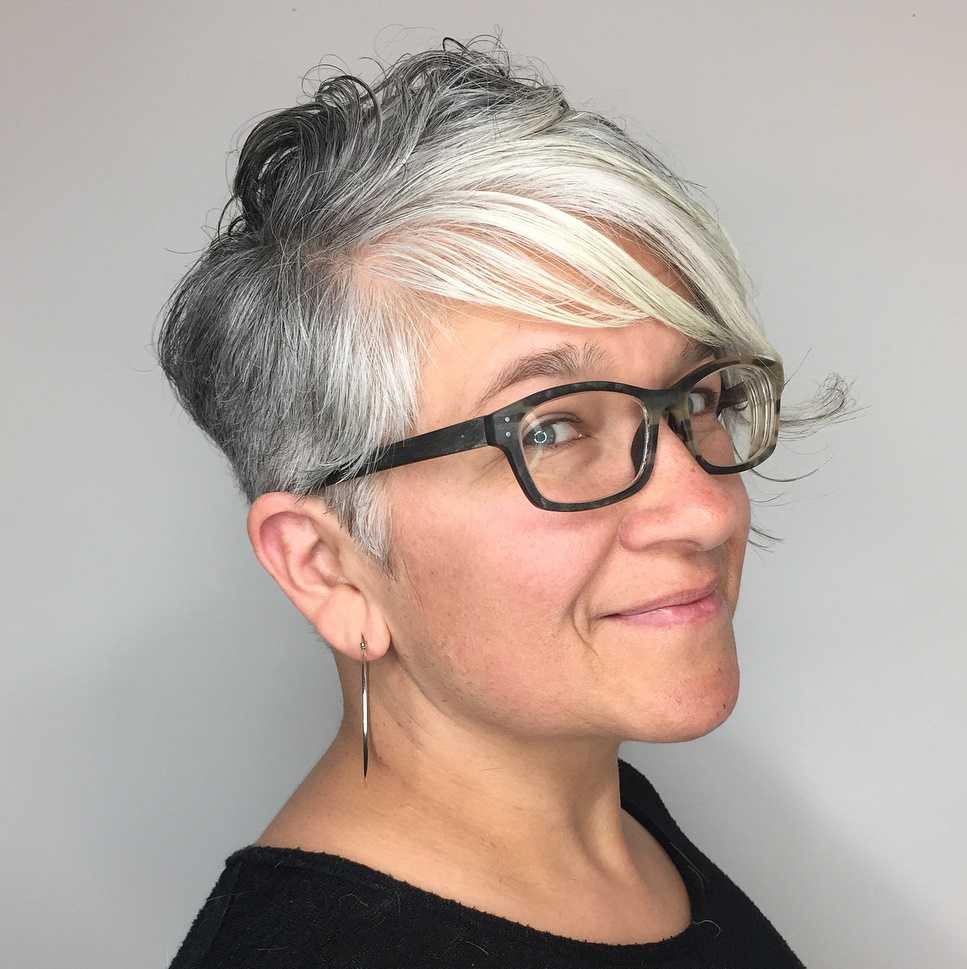 This short asymmetrical pixie cut is easy to manage and fun to style thanks to its long piece-y bangs, colored white to offset the gray.
Best Youthful Hairstyles for Women Over 50 to Get Inspired
When looking for hairstyles for women over 50, forget about any prejudice against short, long, curly or whichever other 'dos. In fact, you can nail many cuts provided they meet your bone structure, hair texture and styling abilities. And entering a new era of your life doesn't mean you need to go for a game-changing style. Sometimes, you can only update your preferred 'do to get a more youthful look. For example, juice up your hair with a vibrant color or play with your bangs to frame the face flatteringly. "Brow-skimming bangs work great on more mature faces," says Tippi Shorter, celebrity hairstylist and co-founder of MANE Society, to Allure. Take this advice and look for more hairstyles and haircuts in our collection.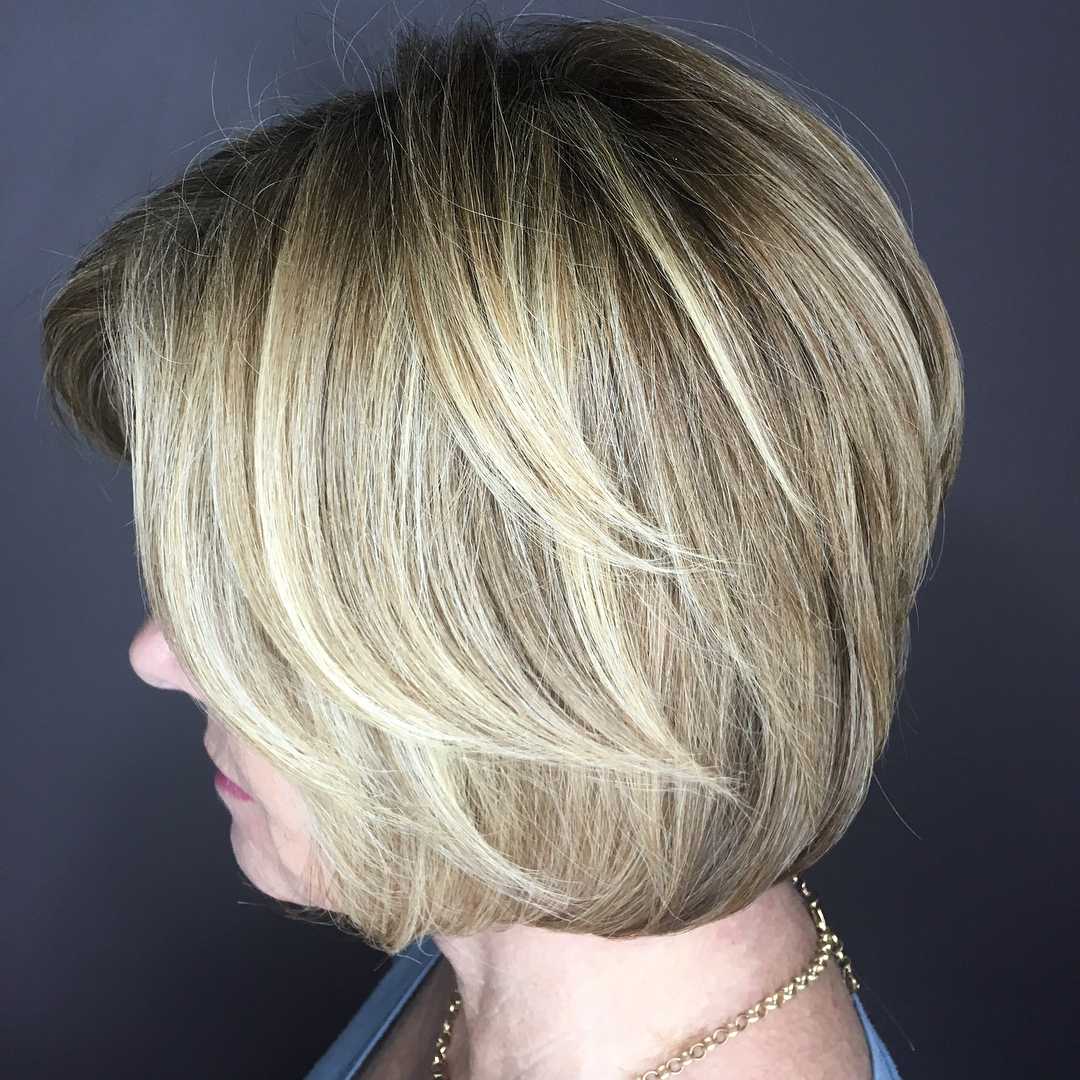 Try on a chin-length bob with layers to get more volume on the top. These feathered pieces are hot and keep locks off the face to open it.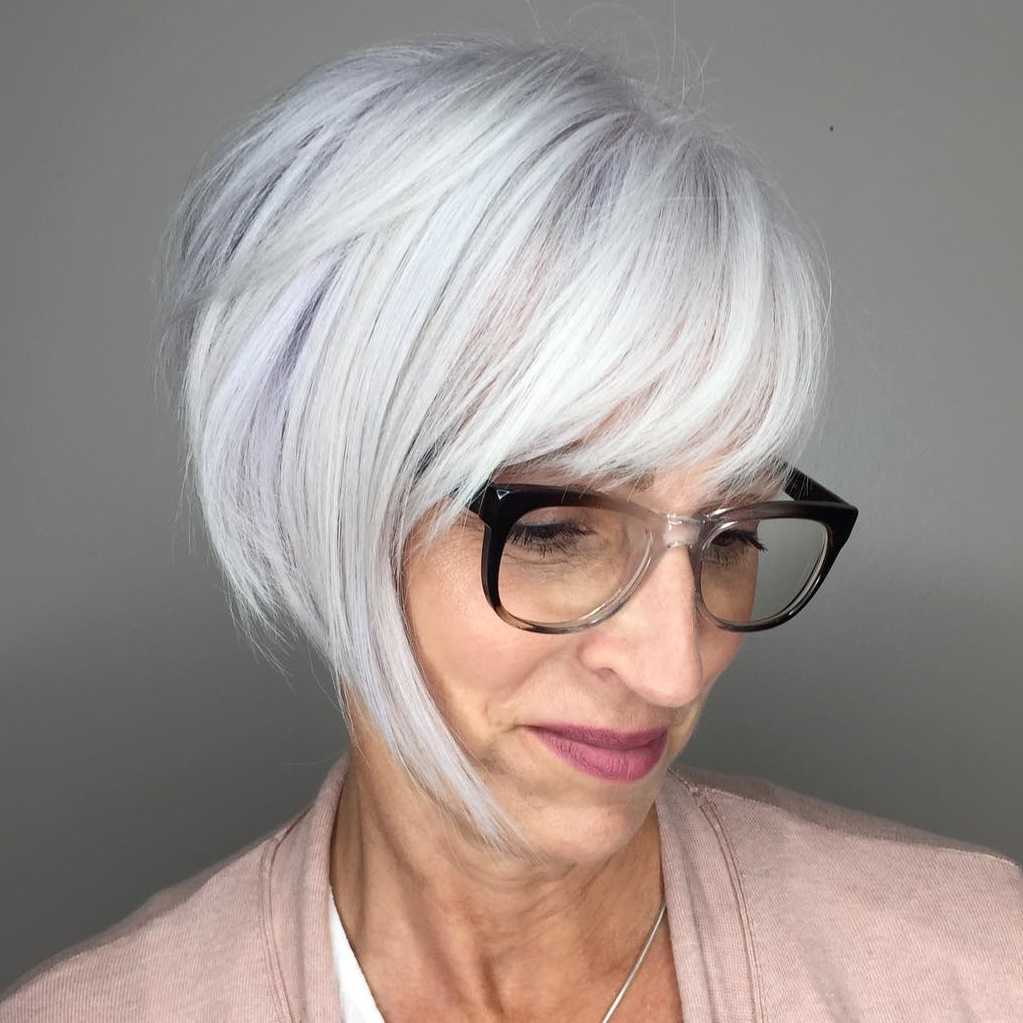 Don't ignore haircuts with fringes when you need to balance the face or add vibe to your routine style. Look how edgy this white pixie bob is with its full, volume-adding bangs.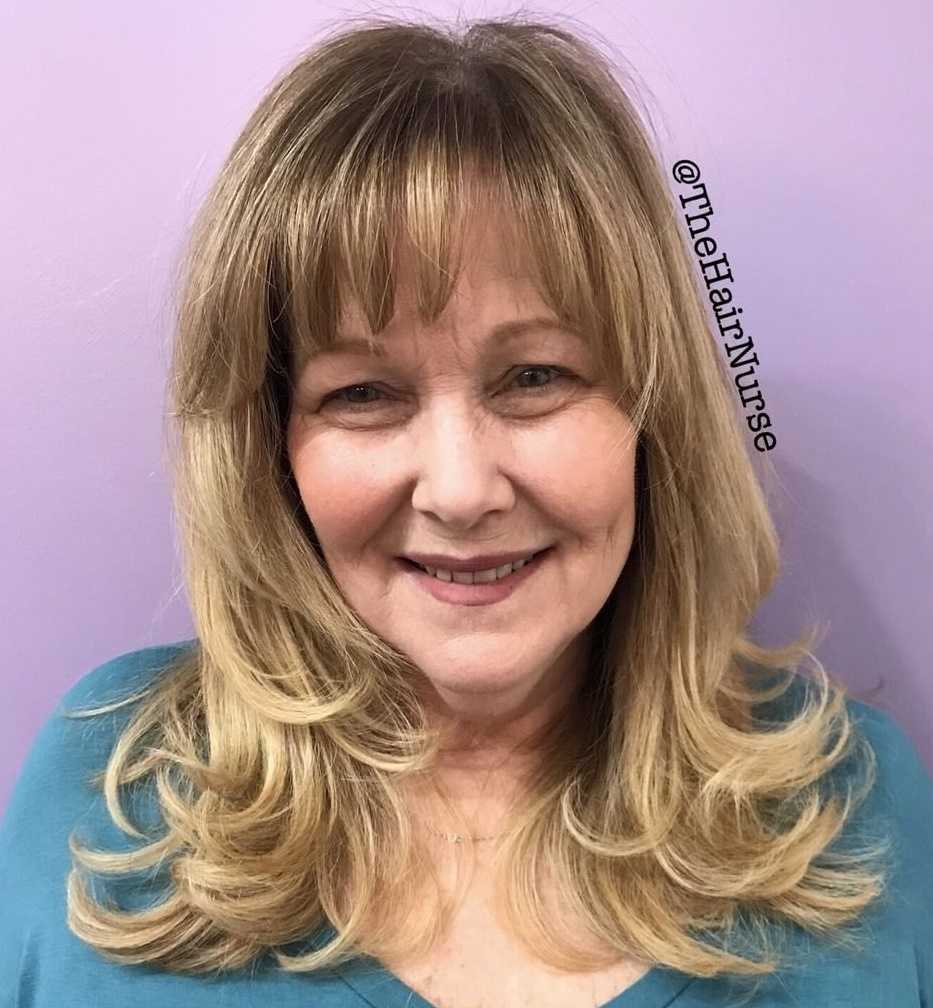 Rock long layered hair with bangs that are jagged for a lighter look. This mixes well with playfully feathered locks, also brightened up by a subtle balayage.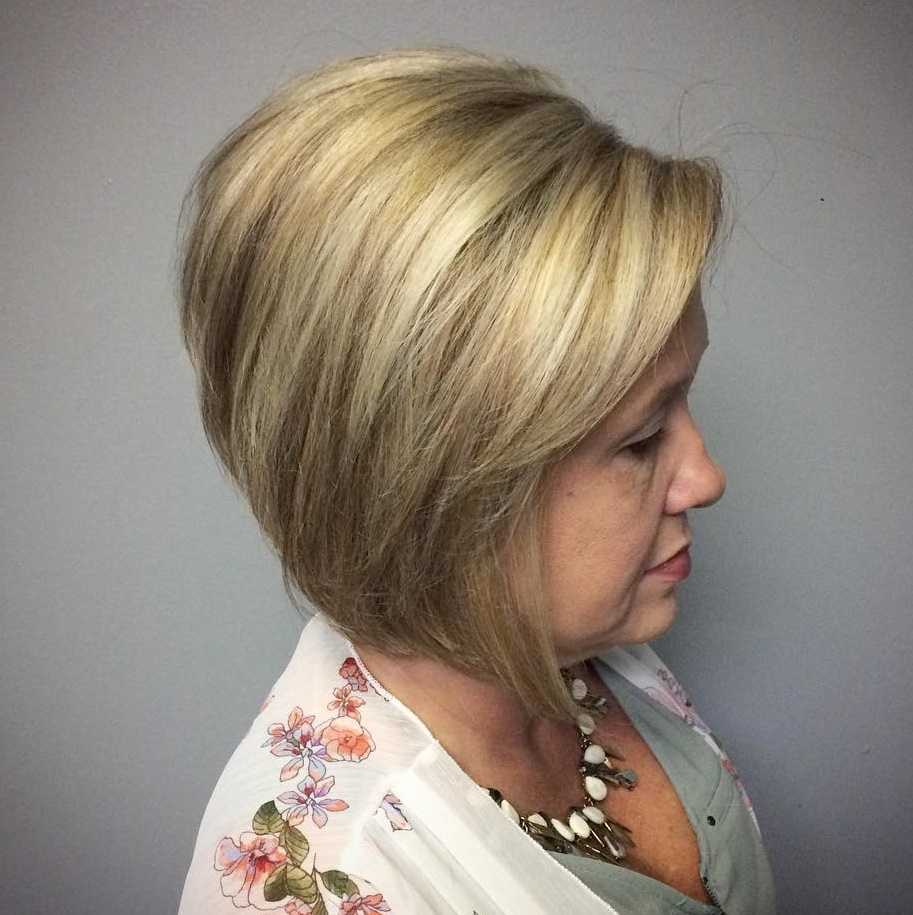 Opt for a modern wedge cut with the tapered front and side bangs, wearing it polished for an elegant feel.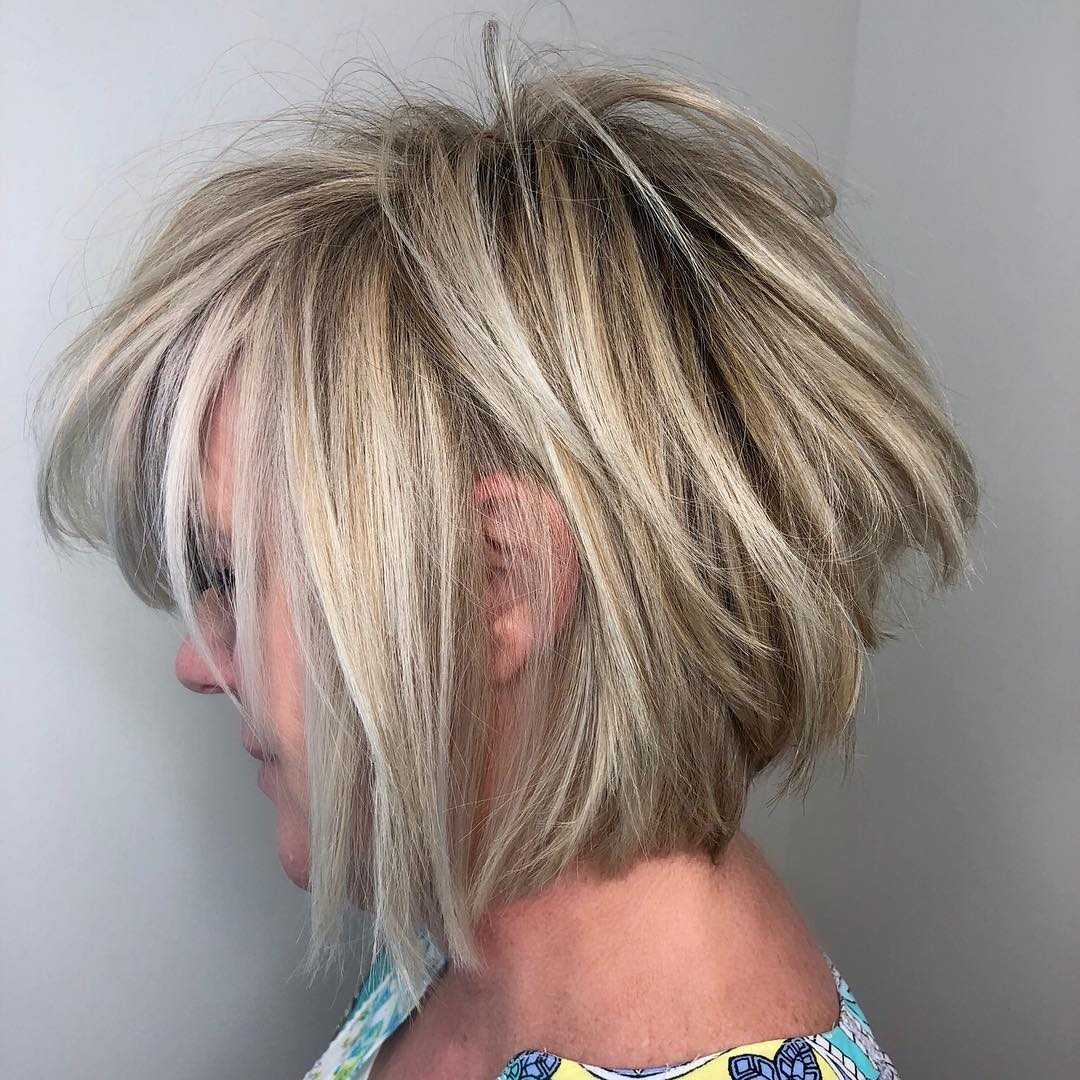 When you want something sassy rather than refined, get a choppier graduated bob with piece-y strands throughout the cut. This blonde strikes home!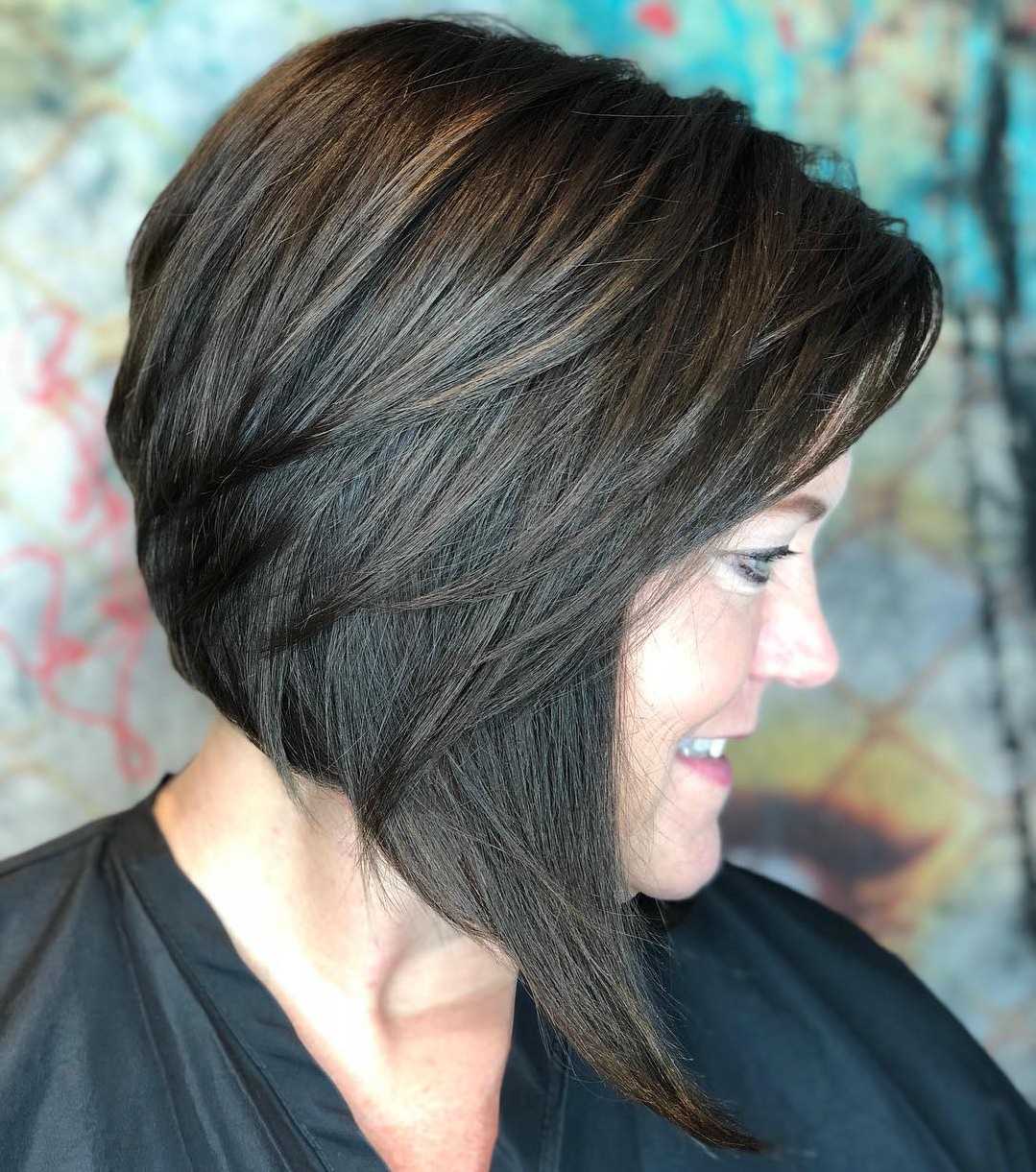 Brunettes can get inspired by this layered bob. Its extremely angled front and swept backward tresses are all movement.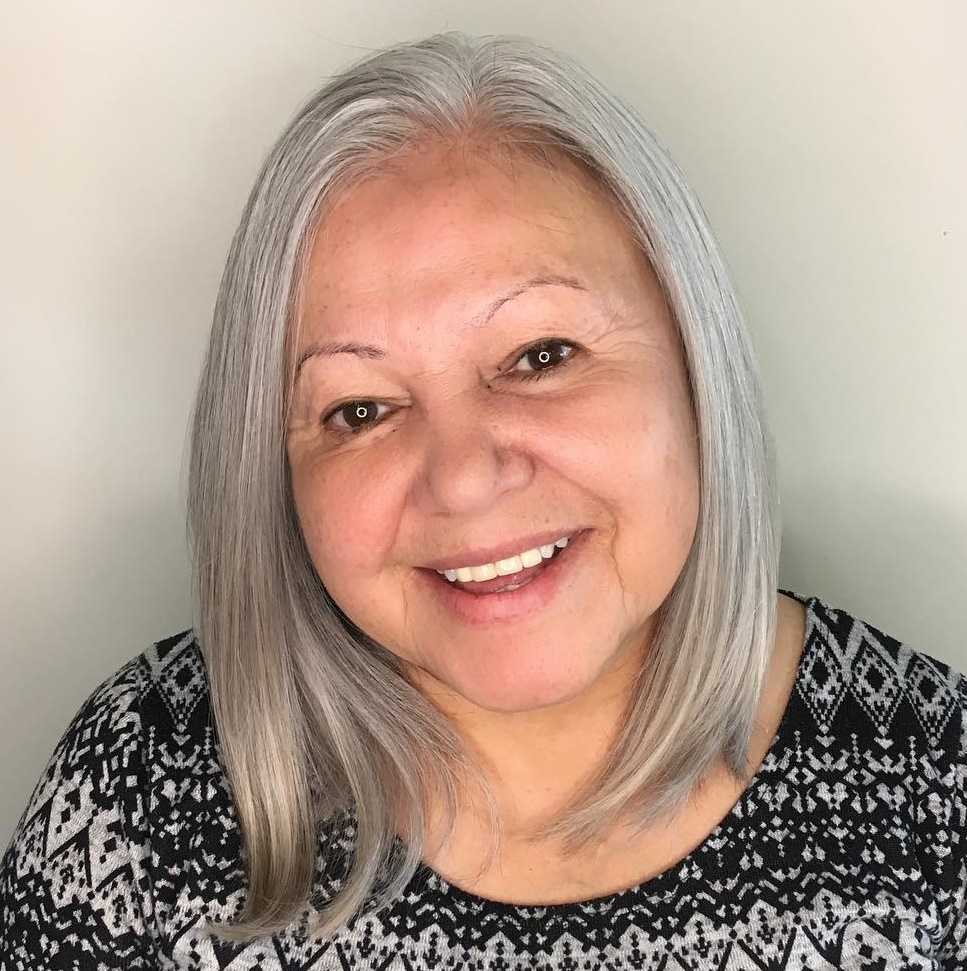 The time-honored round brushed bob will feel more sophisticated, if it comes in a longer version and with delicately sliced tips.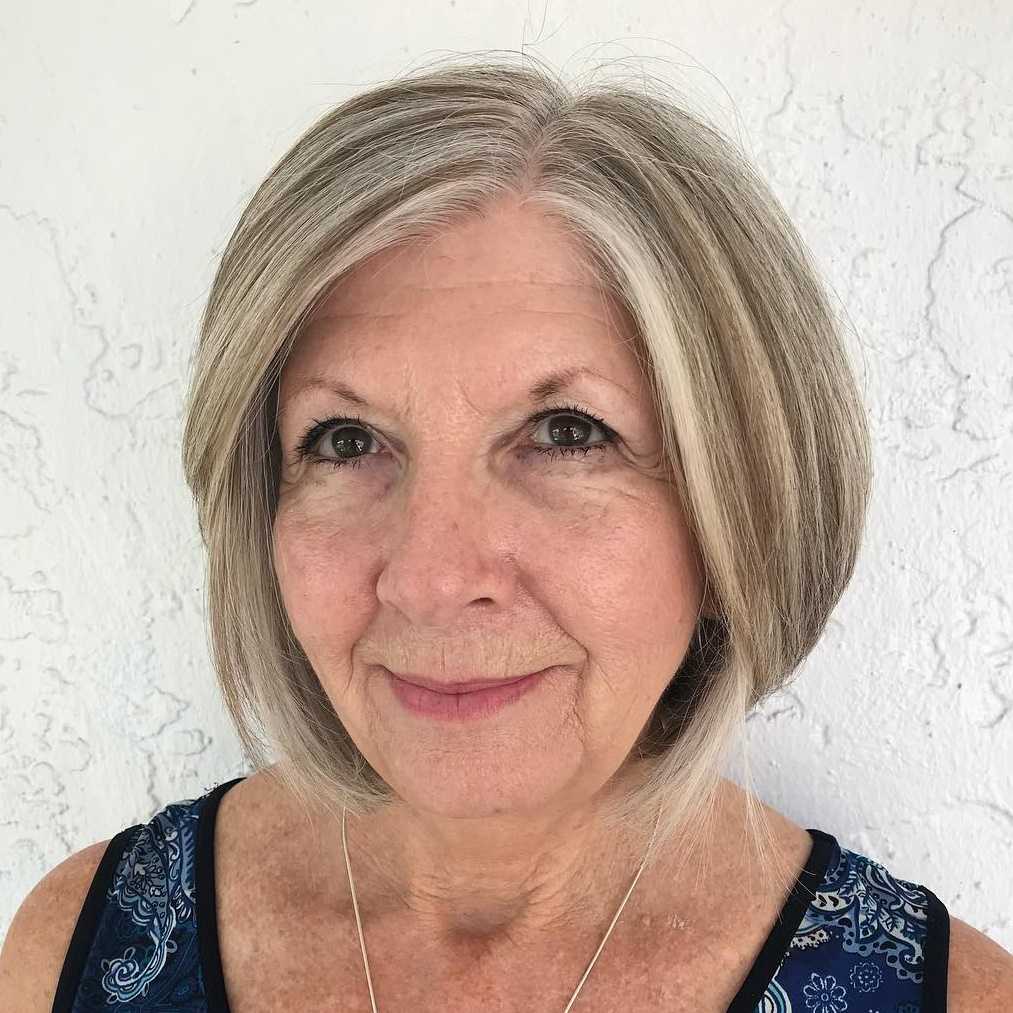 One of the most loved haircuts for women, the classic chin-length bob is timeless and can be easily updated by styling front locks off the face, while the bottom strands frame the facial contour.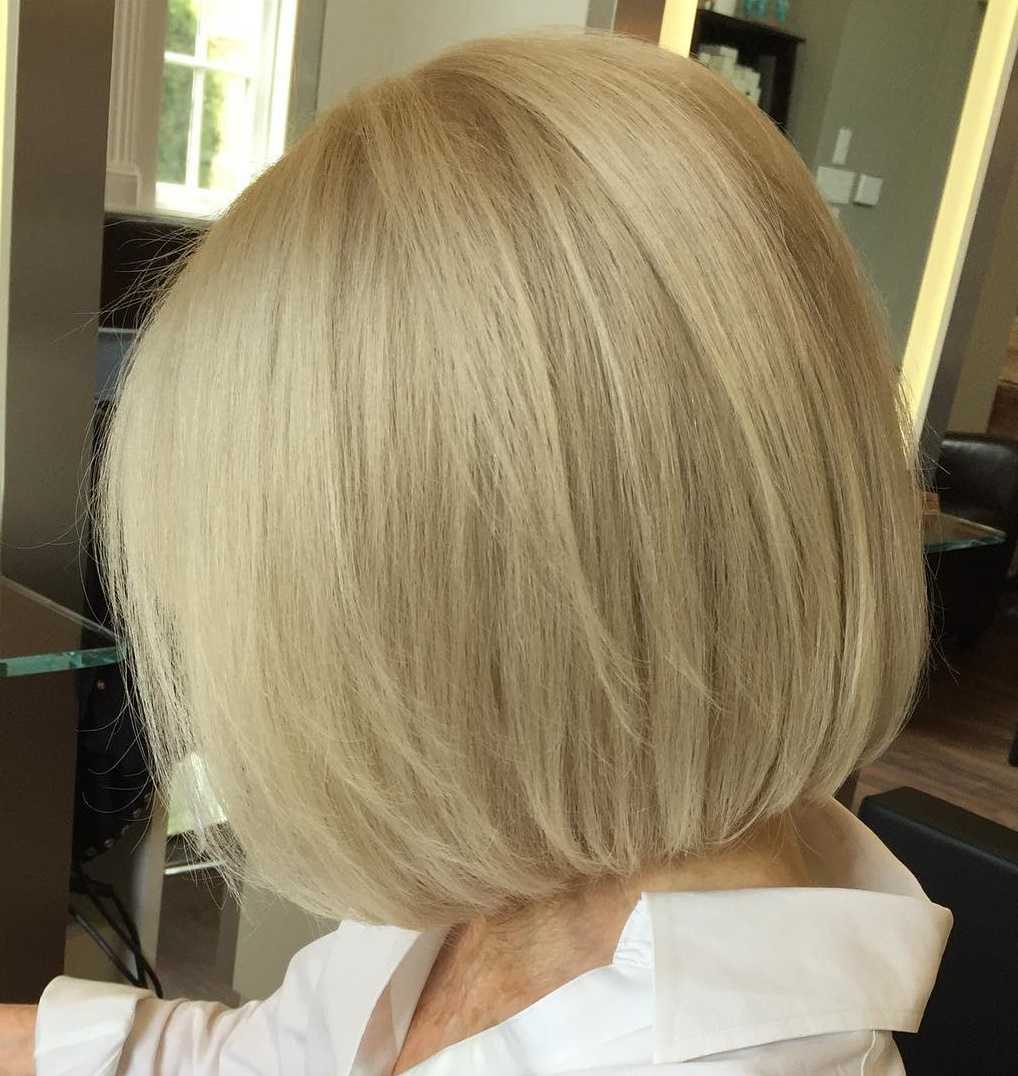 Subtle layering, a flawless blonde and a sleek finish make this look professional, yet chic.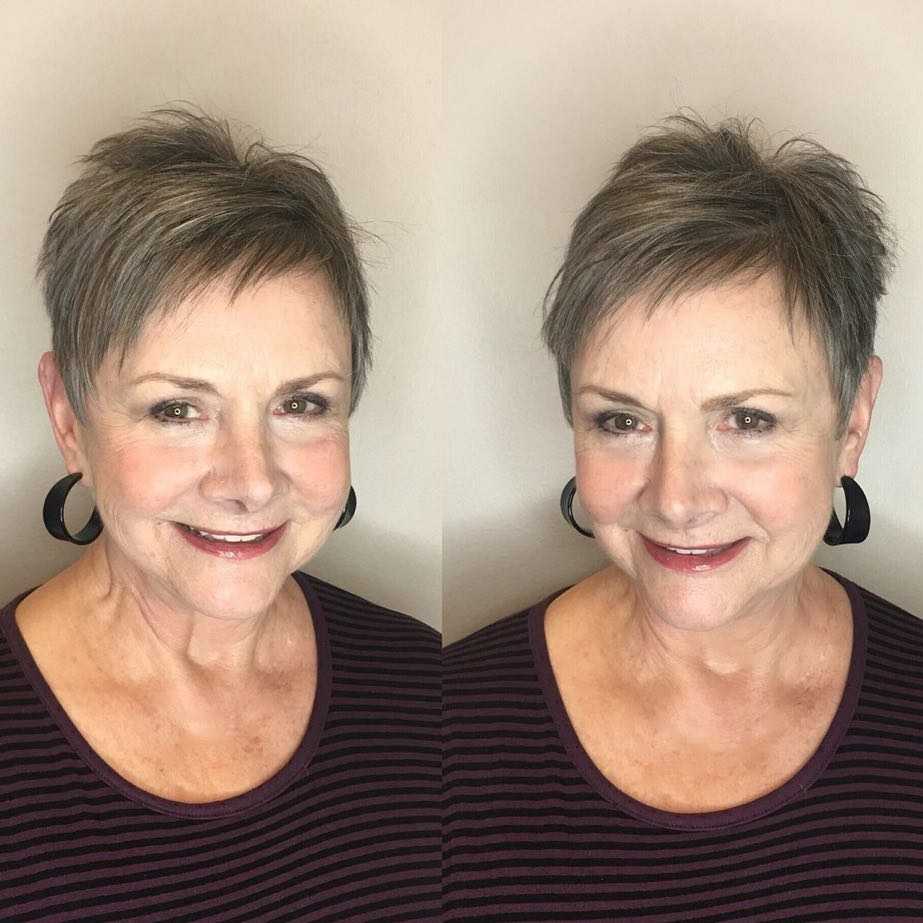 Go for the no fuss pixie with an elevated top and razored micro bangs that can be styled with a bit of product in a minute.
We're glad to be useful in your search for new looks that will help you gain self-confidence and allure. Hot and happening, these haircuts for women over 50 encourage revealing your personality and experimenting with new looks. Are you ready? Have the time of life!