Yes, we know that a head of hair can be a nightmare with detangling fights, scary bedhead looks and frustrating styling that literally chews up your time. But we also believe that thick manes are beautiful, sexy and doable, if the right cut is applied depending on your face shape, hair texture and styling abilities. So, we've collected hot and happening hairstyles for thick hair that will help control your bushy hair, while creating stylish looks.
Trending Hairstyles for Different Hair Lengths
It's often recommended to keep thick tresses on the longer side, since this allows taming the hair by weighing it down. But short and shoulder length hairstyles are taken as less demanding in care and styling, also being flattering to many women. The truth is somewhere in between, as you can opt for the length that is more to your liking and have your hair manageable.
Short Bobs and Pixies for Abundant Hair
When it comes to short wash and go hairstyles, an edgy pixie is off the top of our head. "Pixies are actually great for thick hair, because you can really manipulate it into any texture you want. You can create a smooth, flat look, or a textured, roughed-up look without your hair looking overly thick," Michael Dueñas, founder of Hair Room Service who works with A-list celebs, tells Redbook. While falling into line with the professional, we also cannot turn our back on trendy bob versions, which are also chic and very much adaptable for heads of hair. Let's have a look at both!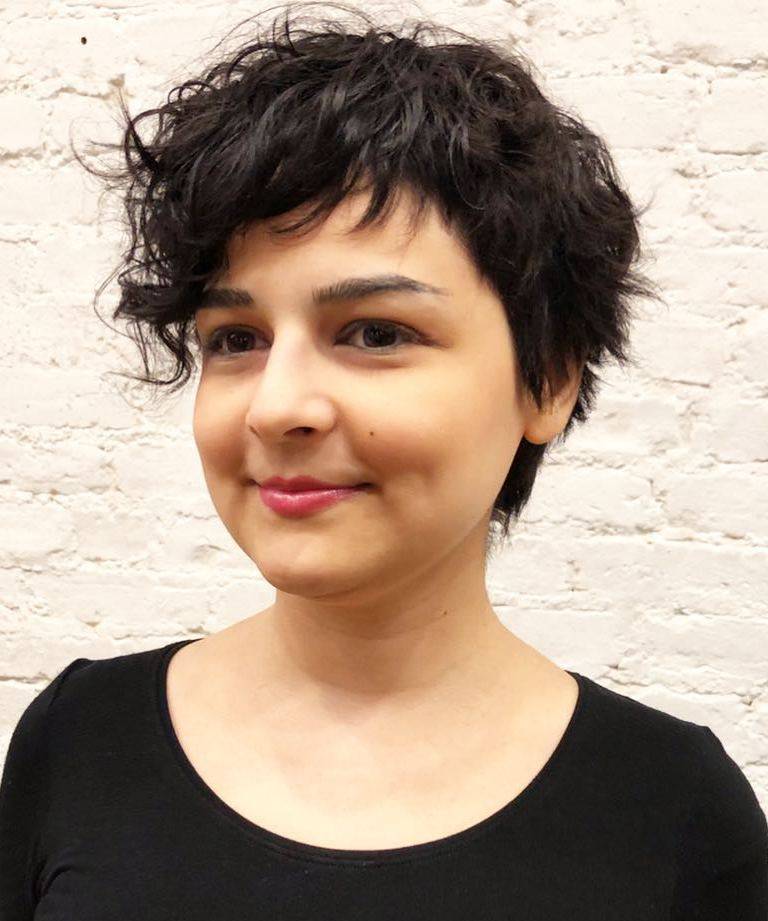 A lot of women with thick hair go for pixies, and they're absolutely right with their choice. A shaggy pixie is the best bet for thick wavy hair. This one features top tresses swept frontwards to blend into flirty bangs.
It's a nice example of a daring lady over 50 who rocks a sassy short cut with spiky pieces on the crown. Without any doubt, one of the most awesome haircuts for thick hair to suit all ages!
You'll love how an angled bob can tame your thick mane. This cute bob is layered and angled to showcase both shape and texture. The thick side swept fringe adds movement and frames the face.
Look at one of our most favorite haircuts for thick hair. A hidden undercut at the nape and multiple layers throughout this cut help tame even a coarse thick mane.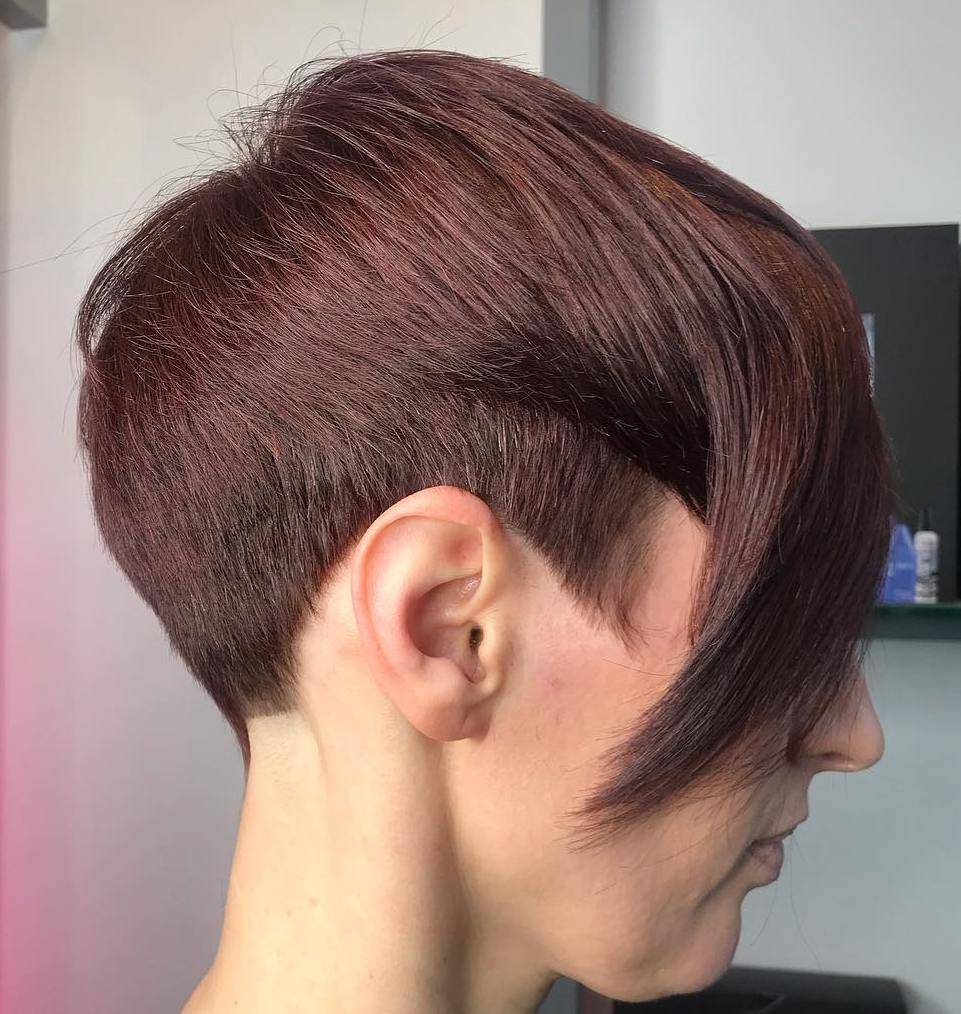 If you're in search of a haircut for thick hair that will turn heads, consider something like this eye-catching red pixie. It has very short sides and back, showing off the clean shape of the cut and grabbing attention with dramatically long angled bangs.
Medium Length to Showcase Full Hair
"Thick hair that's shoulder-length can very easily get big," hairstylist Mia Santiago who does the hair of celebrities like Mariska Hargitay and Linda Evangelista says to Allure and recommends choosing layers for turning unwanted fluffiness into dimension. Also, don't ignore styling products that work to manage the pouf without removing the required movement – choose a silky wax or balm, weighing the hair down a bit, while not overwhelming it. To have a blunter touch with no razor cutting (which often ends up with a mullet-y look) ask for a parallel undercut, popularized by celeb hairstylist Anh Co Tran on his YouTube channel. "It's a great way to add movement to any cut," he told Refinery29. Here's a collection of the medium length haircuts for thick hair to give you some inspiration.
It goes without saying that a layered haircut can reduce thickness and give your mane a more airy look. Get inspired by this layered shoulder-length cut that makes the curly locks fall seamlessly right into place. And the texture is bombastic!
Choppy layers are damn good when coupled with haircuts for thick hair. This charming and touchable shoulder length lob with bangs boasts a choppy texture all around the cut – up to the full dense fringe.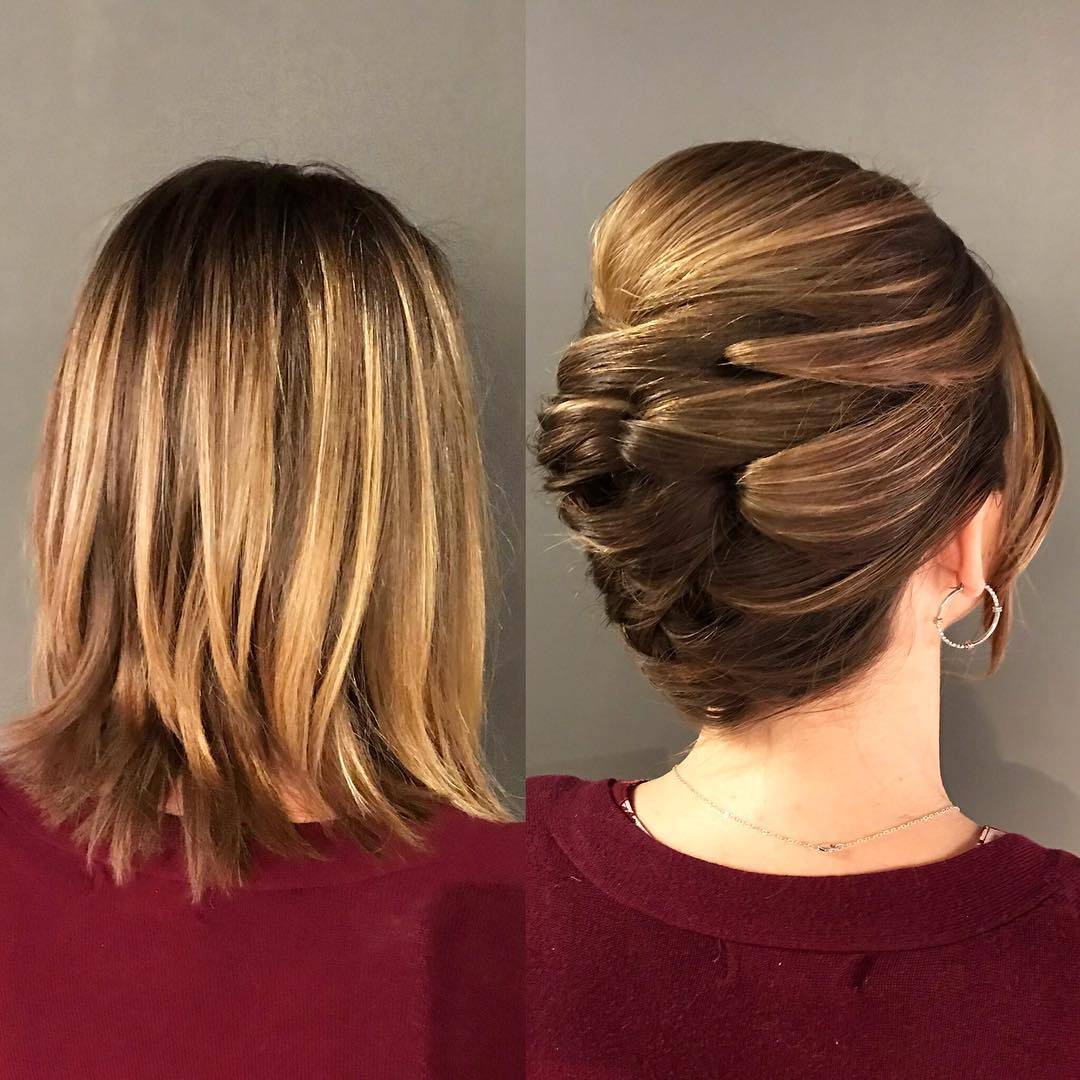 Great news is that many haircuts for thick hair allow you to totally change your look from casual to chic. For instance, look how a choppy cut like this can be transformed into an elegant updo with a bouffant, romantic tendrils and haphazardly pinned tresses.
Thick straight hair can look soft and airy when properly layered and beautifully highlighted. And we adore the sexy feel this shoulder length lob oozes.
Why not get a bob for thick hair? A long bob can be subtle, smooth and appropriate even for school, like this deep dark brown version with a side part.
Long 'Dos for Lush Manes
While long hair can be a bomb, it's also a challenge due to its weight and wildness. Luckily, there are tried and true strategies for various hair types, helping to fix the problem. For long straight or wavy tresses choose layering with disconnection to lighten your hair mass, while giving it movement and bounce. But if your locks are curly, quite another strategy comes into play. "For this curly texture, you need beautifully blended, round layers all over your head to lend weight without looking heavy," Matt Fugate, celeb hairstylist who worked with Claire Danes and Brooke Shields among other stars, tells Allure. If you are blessed with long thick mane, you'll probably find your fav among the following compilation of hairstyles for thick hair.
Wavy hair is in! Look how this chic shaggy mane radiates texture due to a plethora of layers and a choppy finish. And these stunning highlights just cannot be overlooked!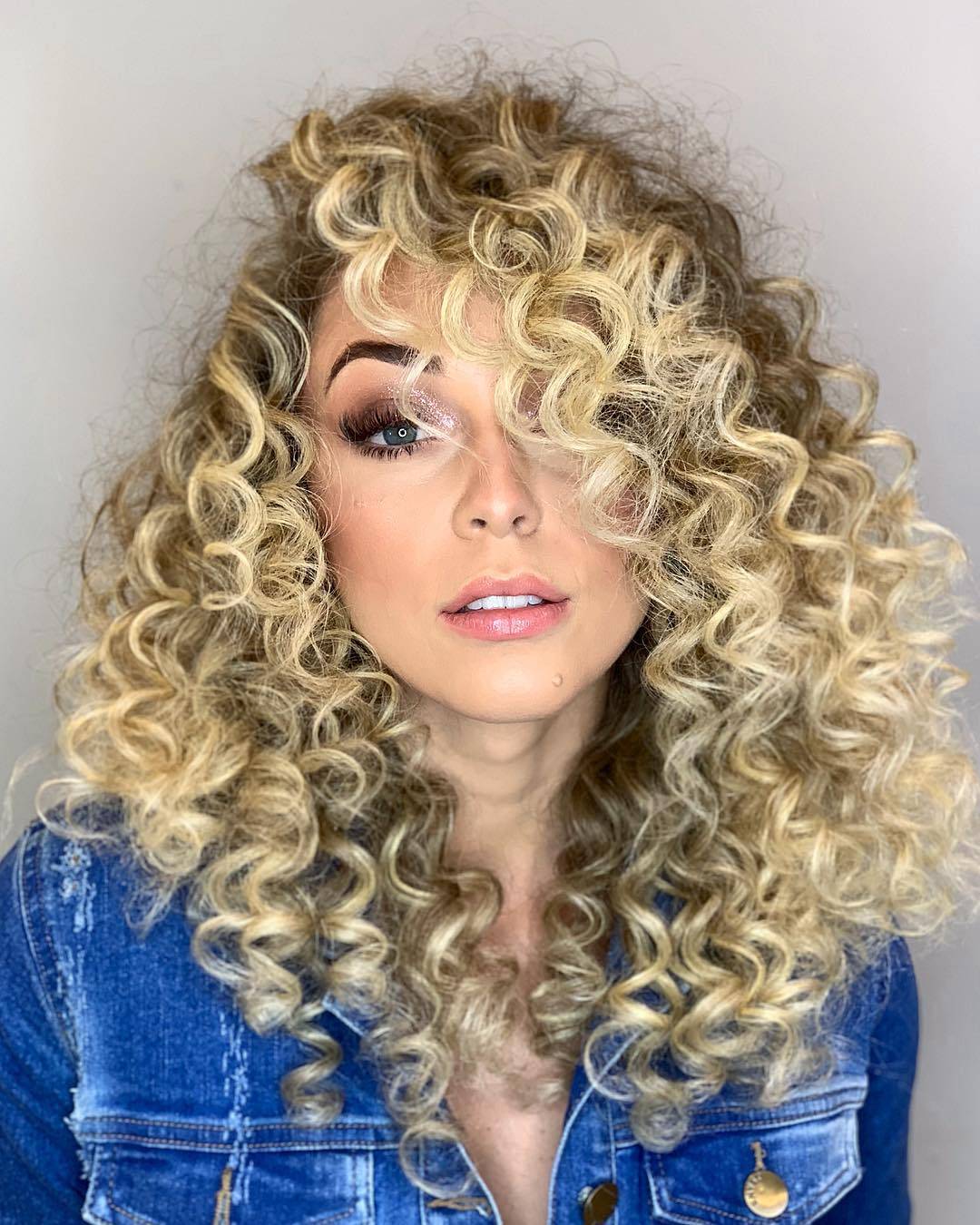 And here is how a curly head of hair can be structurized by masterfully cut layers. Look how defined spirals and lovely babylights make medium length hairstyles ultimately awesome.
The best haircuts for thick hair will look even more stunning with the right coloring. Coloring done by a professional adds flare to the long hair that arrests the eye with flipped out face framing tresses and a feathered finish.
You can easily tame your shoulder length or long thick hair with casual updos, such as a messy twisted ponytail – just make a low pony and then pull it through a gap between parts of the hair above your elastic.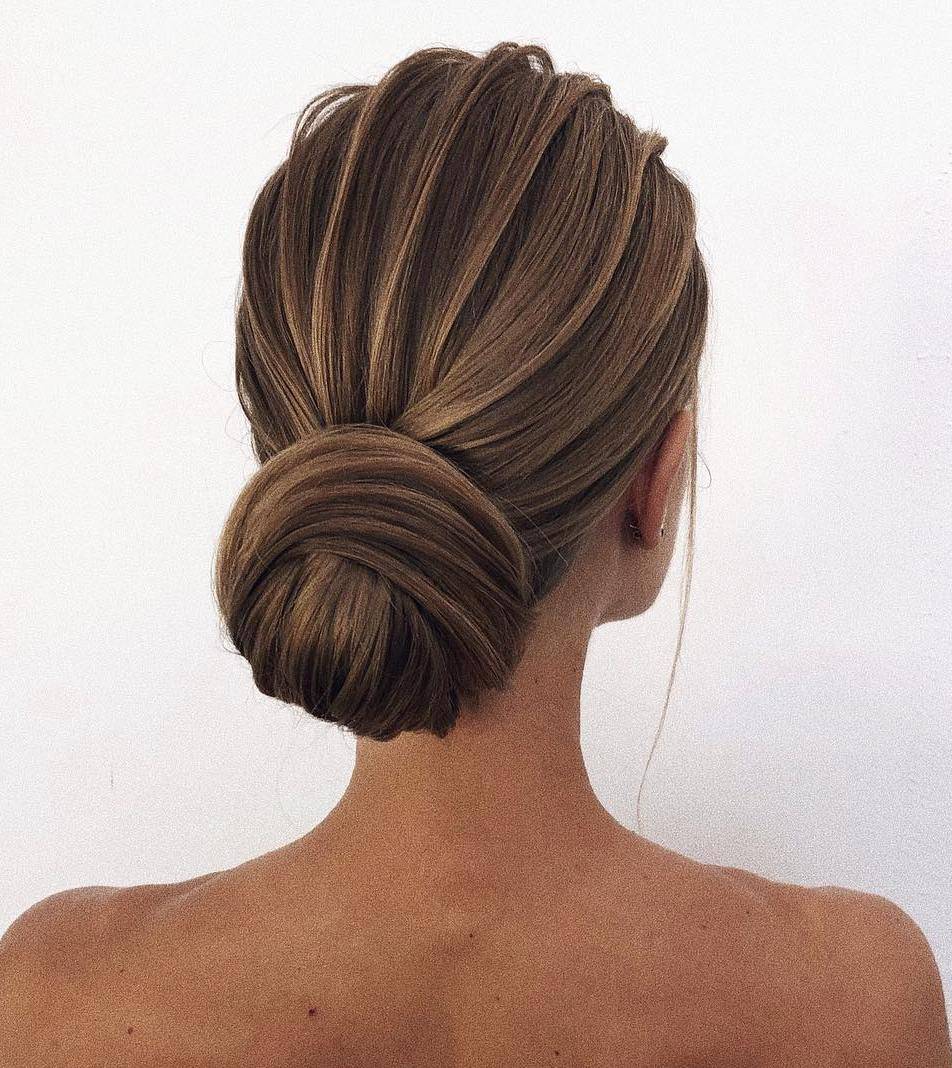 Wonder how to style your long thick hair for special occasions? Easy! Just go for an exquisite low bun with textured tresses emphasized by highlights. Goddess!
Cool Cuts for Different Face Shapes
When choosing a low maintenance cut from an array of hairstyles for thick hair, make sure to take into account your facial features in order to get the best possible look. Take advantage of little tricks that help create visual illusions and draw attention away from your weak points. For example, add big waves to a diamond face to balance its narrowness or try rounded curtain bangs for a rectangular shape. "Layering around the face is going to slim and break up a round face shape. This will draw the eye horizontal and bring the focus to the eyes, cheeks, and lips," says Chad Wood, hair artisan behind Bella Hadid and J Lo, to In Style. Here are more tips on hairstyles for thick hair and different face shapes.
Long locks and a center part is a go-to option for women with thick hair and round faces, but this combo will look even more flattering, if texture and highlights are shifted to the bottom.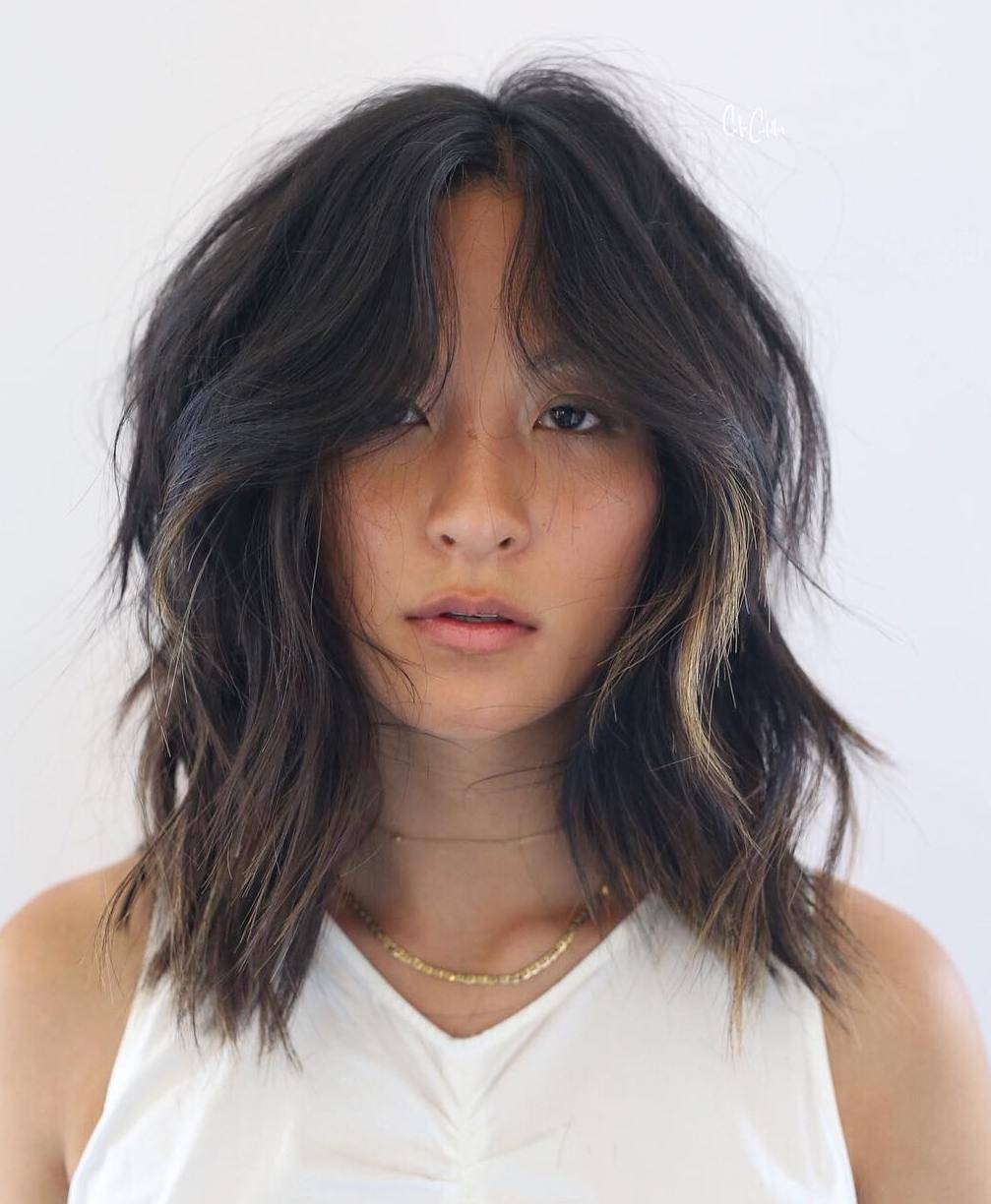 This oval face is handsomely framed with a shaggy razor-cut lob, juiced up with splashes of blonde. Choppy layers help to make the cut airy and feminine. One of our faves among shoulder length haircuts for thick hair.
Long faces can pull off lengthy hairstyles, when volume is added around the face with correctly placed layers and a feathered finish.
This edgy long pixie with layered and tapered side bangs is a beautiful compliment to the pointed chin of the heart shaped face.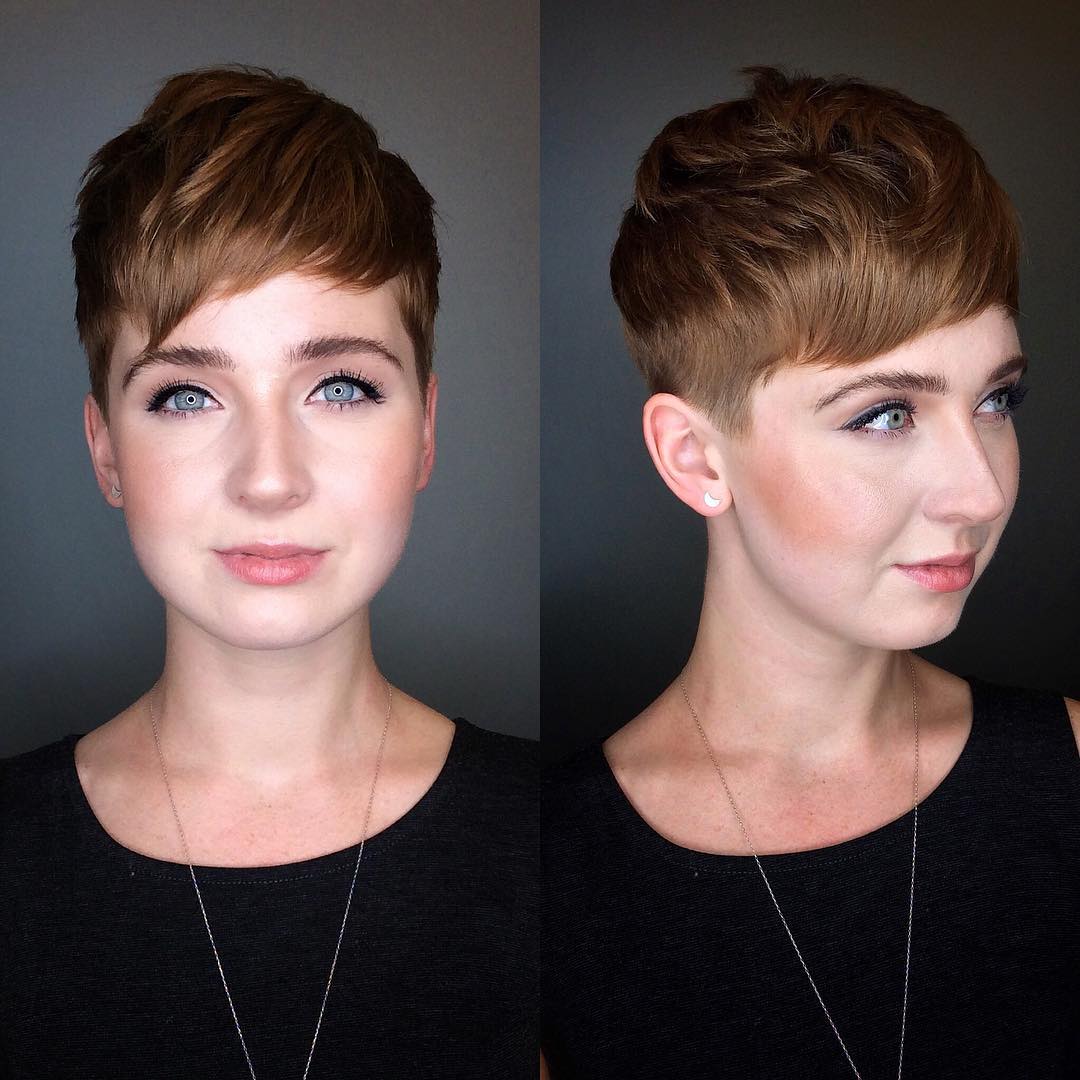 Soft details like curved lines on the temples and rounded bangs flatter this square face, while the color, shape and texture create a stunning look.
Fashionable Layered Coif
As you may know, layering should be done strategically for thick hair to bring in dynamics and remove bulk, while giving freedom to rejoice in wash and go styles. However, if you're not impressed with layered cuts, you can ask for layering just around the face, starting from the cheekbone and down to the tips, with no cascade on the back. This method works for many lengths, from a collar bone level to long 'dos. "The important part of all these looks and cuts is that there is a beautiful curve in the hair, which can also become a shag look," Renya Xydis, Australian-based salon founder and hairstylist of Cate Blanchett and Nicole Kidman, says to Refinery29. Meanwhile, let's enjoy a variety of layers in our selection.
If you want an elegant look, consider getting a bob for thick hair. This classic bob with blunt ends is fashionably upgraded with feathered pieces, giving the cut an airy feel.
Thick long hair can come with bangs that are layered and textured in style with the hairdo. This gorgeous thick wavy hair also boasts an awesome color transition.
And this is the proof that choppy layers can add a pure romantic vibe to your look. Laid back waves add movement to this choppy medium hairstyle, while lived-in highlights make it vibrant.
Feathered hairstyles are back, and we absolutely like this layered haircut. Look how these fab layers around the face and through the tips are lightened and beautifully curled.
Hairstyles for thick coarse hair can be tricky to manage, however, a layered haircut can totally change the game. Even coarse hair gets a bouncy feel thanks to layering. And this is a great example of short layers and coloring that transforms the long thick hair ultimately.
On-Trend Black Hairstyles
To reveal the beauty of naturally thick coils, we vote for tapered cuts that are strikingly voluminous, masterfully defined and individually shaped to flatter a particular face type. Sure, you shouldn't refuse other options like blunt bob cuts for relaxed hair and gorgeous updos covering all kinds of braids, knots and twists. "Visit a natural-hair professional to have your texture assessed by a trained eye for density, thickness, and strength," Shereen Doucette, award-winning hairstylist and national educator for Eufora, says to Redbook magazine. Until then, you can take inspiration from our hot pick. Below there are some nice ideas for overnight hairstyles for thick coarse wavy hair.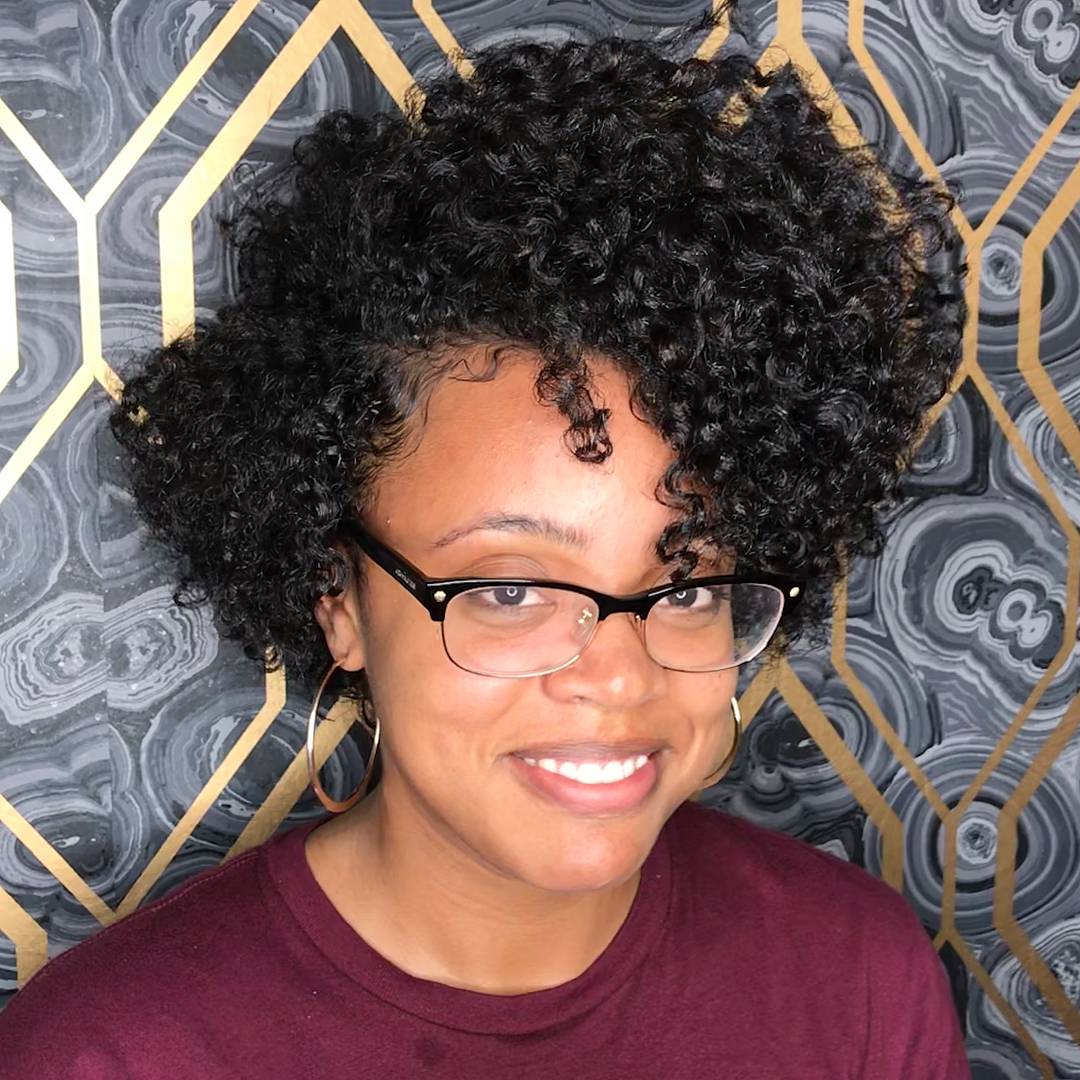 Short haircuts for thick hair rock! Look how this cute girl nails natural curls with a deep side part and fun spirals falling on the forehead.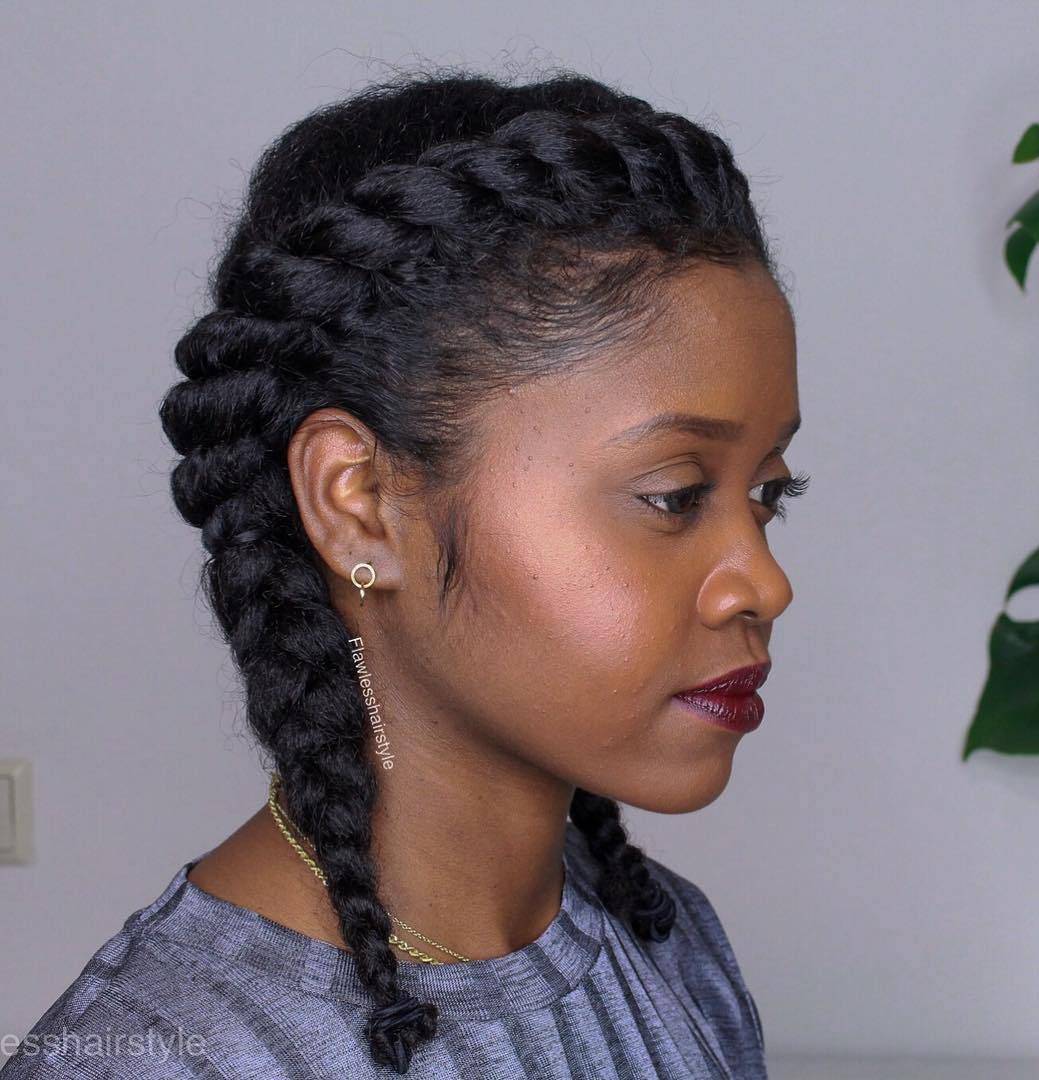 Thick hair looks gorgeous in braided and twisted hairstyles, and this 'do combines both a twisted crown and two braids with creatively knotted ends. A neat solution for thick wavy hair, isn't it?
A chunky pixie with an eye-grazing fringe is an eye-popping hairstyle for straight black tresses, while it's also quick and easy to style with a texturizing product at hand.
This African American female rocks her head of beautifully defined spirals with pretty loops scattered across the forehead.
Sport your natural ringlets long, but have them properly layered to get a flattering shoulder length shape and to avoid bulk.
10 Best Hairstyles for Thick Hair to Arrest All Eyes in 2021
"There are many modern ways to work around thick hair including under-cutting, splicing, removing the interiors, or even keratin treatments to give hair the smooth, natural look," says celebrity hairstylist, salon owner and brand founder David Mallett to InStyle. But he warns against over-layering, triangle-shaped cuts with super blunt ends and square thick fringes, as it can make you look old-fashioned. Opt for curtain bangs or a fringe with soft ends, thinned out tips for medium-to-long hairstyles, undercut lobs and face-framing layers for lengthy hair. With these tips in mind, find even more cuts, which feature both low maintenance and a voguish touch, in those Instagramable pictures below.
This thick frizzy hair is tamed and shaped into a long wavy bob, featuring a straight Frenchy fringe.
Layers and sliced ends make this straight mane dynamic and light, while the coloring lets it shine with soft, warm hues. A good example of an arresting medium length hairstyle, isn't it?
A choppy pixie is great when you need to add texture to your head of hair. Team it up with copper red and adorn with a dense fringe.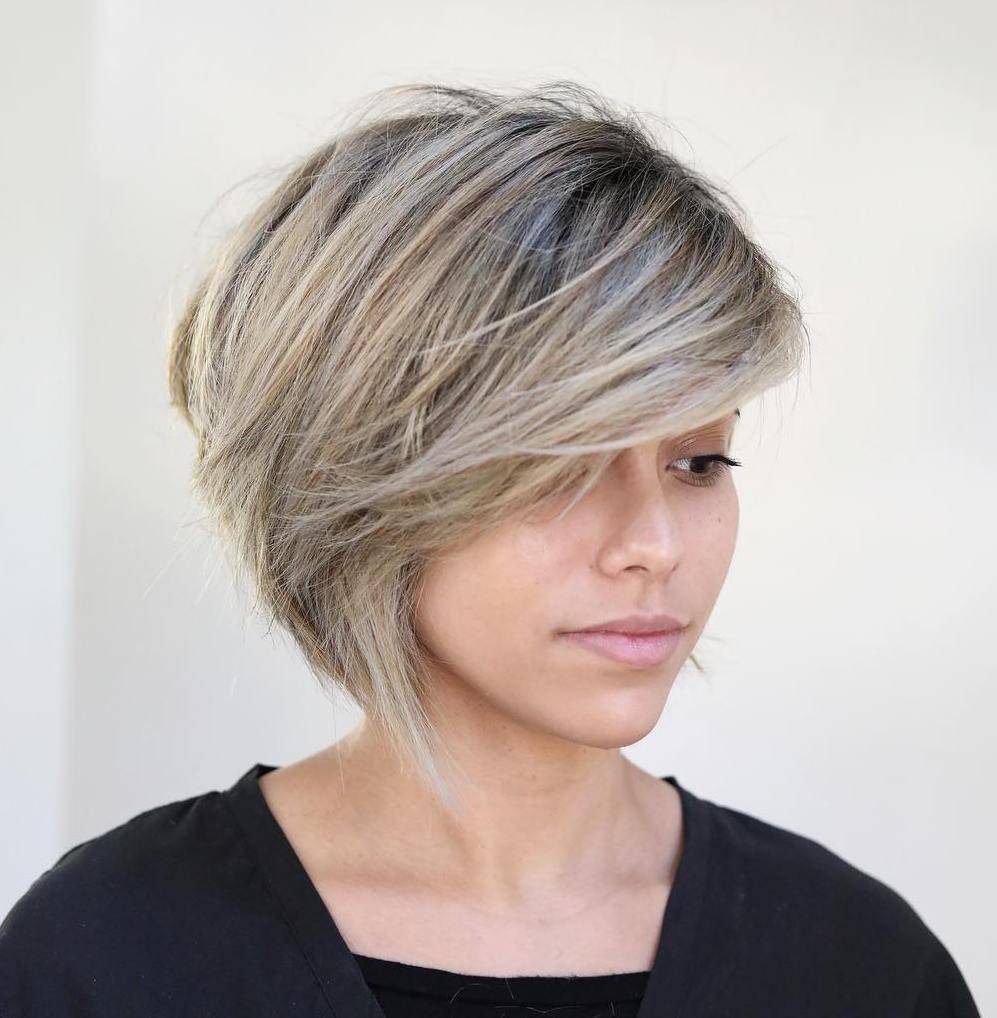 When you want something longer than a pixie, yet that edgy, go for a messy angled bob.
This girl knows how to tame her long thick hair! She works her heavily layered locks pulled back into a high and voluminous ponytail. Style it handsomely disheveled and don't forget about wisps along the hairline.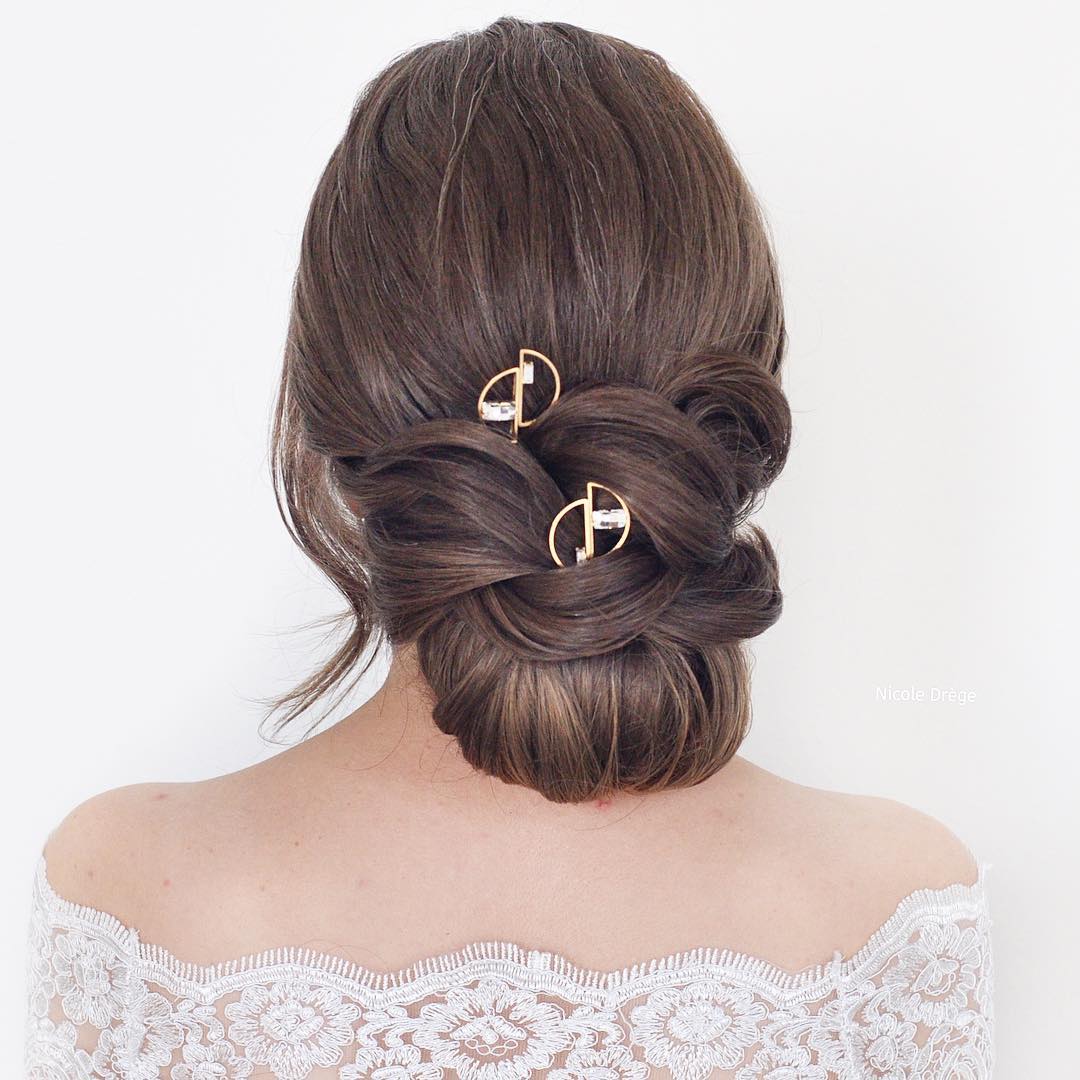 Straight or wavy, your lush tresses can be packed into this graceful wedding updo that combines large loops and a classy chignon. One of the most elegant hairstyles for thick hair, really.
The wedge shape and fiercely sliced tips of this angled bob make it pretty eye-catching, but it's even more stunning due to dramatic dark roots and a subtle balayage.
And this sharp cut arrests our attention with its tapered sideburns, where the bangs and side pieces melt into each other.
For a very special occasion, look no further than this chic prom hairstyle with tons of woven locks, boasting a tri-dimensional effect due to both texture and color. We fell in love with this totally amazing thick wavy hair!
We believe that bobs are the best options when we're talking about short layered hairstyles for thick hair. This undercut bob with razored layers looks cool on black hair, giving it movement and depth.
Now you are armed with tips and ideas for your next visit to a salon. From overnight hairstyles to blowouts, our selection of hairstyles for thick hair gives a wide array of options for girls with thick manes. And while we keep on surfing the Web in search of fresh trends and inspo, you stand a good chance of getting into our next pick!