We all know box braids, right? Many women have relied on this hairstyle to protect and care for their natural hair. But lately, there has been an up-and-coming beauty trend gaining popularity on social media feeds.
Bust your Instagram browsing history for "knotless box braids" because now is the time when we need them most – it seems like these days every party girl out there wouldn't mind rocking this hairstyle at least for once.
You can have all the style and versatility of traditional box braids without having to deal with their uncomfortable tension. Knotless braid uses a different feed-in technique that requires less force, making it softer on your scalp than its predecessor. Not only will you love how this gentle hairstyle looks but also how lightweight it feels!
We've gathered some of the most popular knotless braid styles at the moment so keep reading if you are looking for ideas for your new hair this season!
1. Medium Knotless Braids
A perfect medium-knotless braid is a great option for women with both thick and thin hair. This is a very comfortable length so it takes less time to put it in than long fine knots. As an added bonus, you won't feel as heavy on your head when wearing them down. And it can be fun to wear this hair in various styles, such as a regular updo and even a half up – half down look!
2. Jumbo Knotless Braids
While the classic knotless braid look involves fine, thin braids, you can also get a jumbo version of it. This technique is great if your patience runs short and you don't have hours to spend in the stylist's chair! Jumbo braids are a perfect fit for free-spirited women who want their look to be both casual and playful. With jumbos, there's no need to fuss with extra styling or accessories because this hairdo is stunning as it is.
3. Large Knotless Braids
Large knotless braids are a great option for those women who want their hair to look fuller and thicker. They can provide more bulk than medium or small-size box braids, yet don't have the same amount of weight as thicker braids with accessories sometimes do. You'll love the way they reduce tension on your head because of the even distribution. It's a super comfortable and cute hairdo!
4. Small Notless Braids
Smaller braids can be a great option if you want to keep your hair out of the way and still look natural. However, a small braid requires more thorough work. This means you will spend more time at the hairdresser's but it also implies that this style is much easier to fix into half-ups, buns, ponytails, or any other updo option for you!
5. Knotless Braids in a Bun
A braided bun is a fun and feminine way to create your dream hairstyle. The best part? This style can be done in less than five minutes – very easy to do! It's perfect for any formal occasion, but it also looks great on dates or even during your normal day when you want something simple yet chic that still stands out from everyone else.
6. Knotless Braids with Beads
Beads are a beautiful and traditional way to accessorize your braids. They look especially fabulous when stacked at the end of an elegant knotless box braid, giving it that extra feminine touch. Try gold beads for a more luxurious look, or colorful beads for a lively and fun effect. We're convinced that when you try it, you're going to love it!
7. Long Knotless Braids
Knotless braids are a great option if you love the super long, polished braids look. Installing these braids takes a bit longer, but it's well worth the effort. Since there are no knots, and locks are braided in small sections, there is less tension on your scalp. Your stylist will be able to braid an additional inch of hair without any discomfort on your part. This look is both feminine and edgy, depending on how you style it.
8. Knotless Braids with Color
Rocking a protective style doesn't mean you have to wear it all the time. With hair extensions, experiments are easy. Just pick the color you like and enjoy your new temporary look. And there's no need for bleaching your locks and worrying about what color your final appearance will be! You're going to know that for sure. How cool is that?
9. Knotless Braids with Curls on Ends
We love how this looks different from the standard box braids. Even more so, it's very easy to maintain it at home. All you need is simple curlers. Knotless box braids look unique and eye-catching when the ends are curled. You can choose to leave your curls smooth and defined, or fluff them for an even more exciting effect.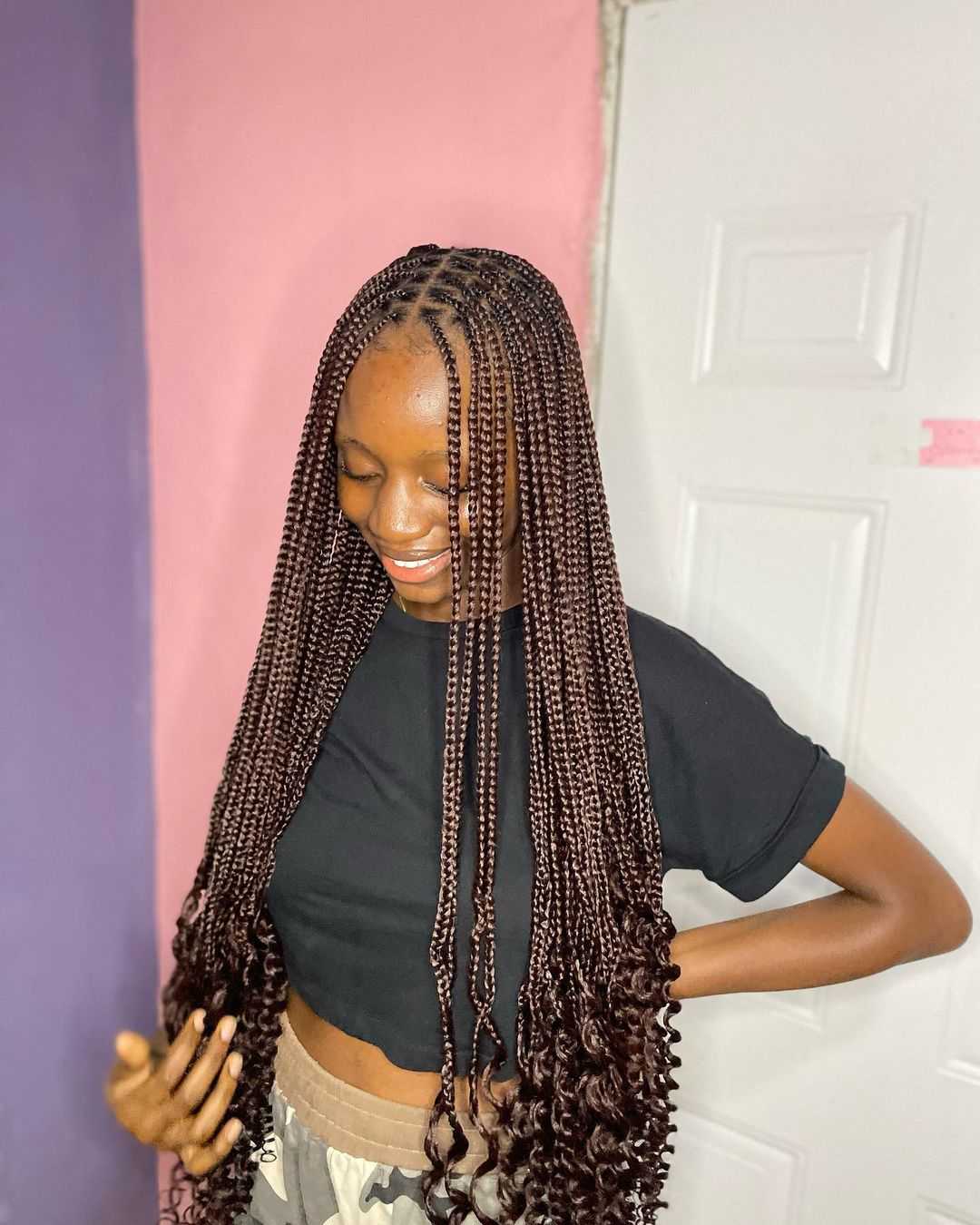 10. Triangle Knotless Braids
Using triangle sections can be a great alternative to traditional squares. If you enjoy being the center of attention, this is a good choice. And if you want an extra twist, add a classic box pattern to your triangle knotless braids. For best results, use medium to large braids. You can also ask your stylist to create a 'statement braid,' just have them plait a yarn or ribbon element through some sections.
11. Jhene Aiko Knotless Braids
We've all seen Jhene Aiko's Instagram and we love the way she rocks those knotless goddess braids. She's a major inspiration, don't you agree? Whereas a traditional goddess braid features medium to large cornrows braided back into long ribbons of hair, knotless box braids have a more bohemian mermaid-like vibe. This is a fun, creative way to try on this seductive trend.
12. Beyonce Knotless Braids
Here's another dose of major fashion inspiration from Queen B. Her waist-length knotless braids look absolutely stunning! Such braids are also versatile because they can be styled into many different looks, from wearing them loose or adding ribbons, for example. Or try half up – half down hairdo for a change. You'll definitely turn heads wherever you go with this beautiful and feminine hairstyle.
13. Blonde Knotless Braids
Blonde hair is a huge trend that always looks stunning, especially when paired with deeper skin tones. If you don't want to bleach your natural hair, blonde knotless braids are a great option for you. Whether you want to go with a dusty diamond white or desire something more subtle like honey blonde, knotless box braids will make any girl look awesome.
14. Black and Blonde Knotless Braids
It's safe to say that black and blonde braids are the new black. They're perfect for those who want to create their own style, but need something that won't damage their hair. Combining these two shades will give off an even more beautiful and uniform look – and we all know how much variety appeals right now!
15. Red Knotless Braids
If you're looking to take your knotless braids up a notch, go wild. Red hair is an excellent choice for ladies who love attention! From copper to scarlet hues, this color will instantly bring you into the limelight. But be careful not to overdo it. If your skin has cool undertones, choose something light or neutral to balance out any warmth.
16. Ombre Knotless Braids
In the beauty world, ombre refers to a colorist's technique of dyeing your hair and highlighting it in different tones. Your stylist can achieve the same effect by braiding differently colored locks together instead! You can also adapt ombre knotless braids to flatter your face shape with the right positioning of the lighter pieces to take advantage of your best features.
17. Platinum Blonde Knotless Braids
This is a really cool option if you want to experiment with color and length without damaging your hair. These platinum blonde knotless braids look absolutely gorgeous. Yes, it is risky in a way if you never did anything similar, but at least you know those braids aren't permanent! Why not try something different for a change?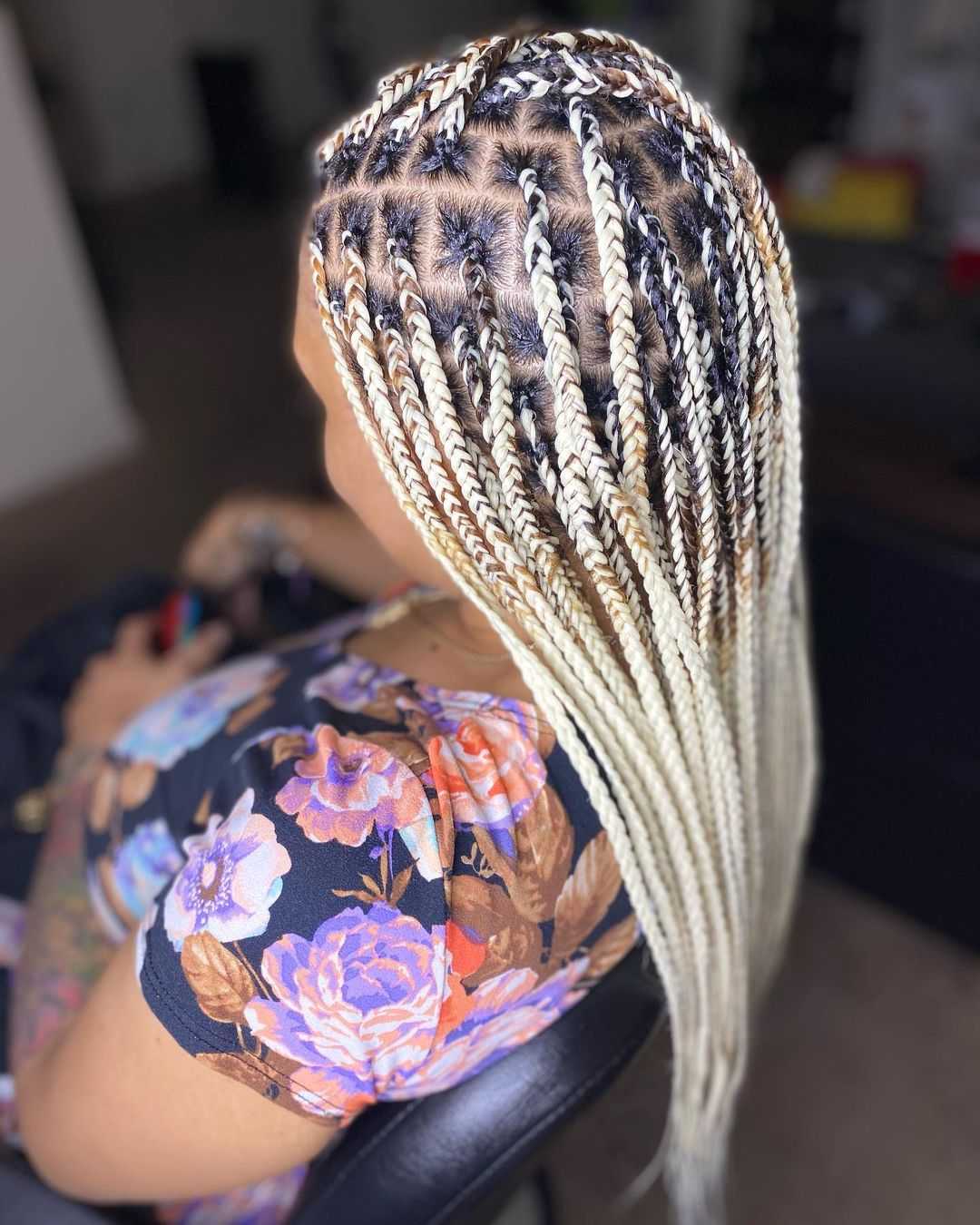 18. Orange Knotless Braids
We believe that knotless braids are always a great option to spice up your everyday look because they can be worn in so many different ways and so many different colors! If you're looking to try something new and out-of-the-box this season, then consider this toned-down orange hairdo. It's not too bright but still very unusual.
19. Purple Knotless Braids
When you want to make a statement without compromising your look, purple is a perfect choice. It's one of the best colors out there if you want something versatile enough that won't get boring quickly. You can pair it with both lighter and darker hues in your makeup and outfits without feeling like everything revolves around one specific shade again (which usually isn't what we strive towards).
20. Knotless Braids with Highlights
Not ready for a dramatic change yet? Well, this style right here is an awesome idea. What's your favorite way to color your braids? If you haven't really thought about it, we suggest that you experiment with highlights. Black knotless braids look great with highlights, particularly when the colors are blended in an ombre technique. Give it a try!
21. Honey Blonde Knotless Braids
The best thing about knotless box braids is how versatile they can be, so let your creativity thrive. For the perfect bold appearance, we recommend this color and style! It has blonde highlights with some black in it for an effect that will leave everyone speechless. And you really can't go wrong with honey blonde, trust us.
22. Green Knotless Braids
It's time to be a little more green! With these green knotless box braids, you will radiate positive energy. You can have safety in a neutral tone at the top and then a pop of some bold greenery for that extra element. Thanks to an ombre technique, you'll have the safety and beauty of your natural hair color with bold vibrant accents!
23. Burgundy Knotless Braids
The burgundy color is a deep purplish shade of dark red that flatters cool skin tones. It's a great choice for coloring your knotless box braids – the style which allows you to show off your beauty in all its vibrant glory. To add even more personality and subtlety to your look without going over the top, try blending some natural brown strands. This provides the right amount of contrast without overwhelming the look.
24. Boho Knotless Braids
The beauty of bohemian hair is that it can be worn in so many different ways. Bohos are all about being unique, which means there aren't any rules when experimenting on how they should look. One way to give your knotless box braids a boho feel without actually trying too much is to simply leave the ends loose and use your own creativity as inspiration for what you might wear with them!
25. Knotless Braids for Kids
There are several ways to add some fun and artistic twist to the kids' hairstyle. One of them is knotless box braids. First off, start with beads of different colors, sizes, or shapes – be creative! Next, you can never go wrong with a couple of cute little space buns or something similar to what this little girl is wearing in the photo. You have plenty of leeways because there aren't any constraints as long as your child's hair isn't too short.
26. Crochet Knotless Braids
It's always a good idea to try out new hairstyles. Knotless crochet braids may seem complicated at first, but this gorgeous and sexy look can be worn in many, many ways. In addition to being easy to install, sewn-in hairstyles like this one allow you to change up your look super quickly by trying on different accessories to spice things up a bit.
27. Extra Small Knotless Braids
Rally small knotless box braids are a neat way to style your hair. That is if you have the time because pulling this look together can take up to 14 hours! But they are much easier to style than any other braids – that's a huge benefit. So if you are patient enough, just know that extra small knotless braids are quite feminine and worth the wait.
28. Brown and Blonde Knotless Braids
The golden-brown shade can be a basic color, but it's often wrongly given the status of being simple. In fact, when paired with dark skin, this hairstyle adds some drama that will catch people's eyes for sure! Playing up with blond makes these braids stand out even more strikingly, which is perfect if you're looking for something charming and effortlessly beautiful.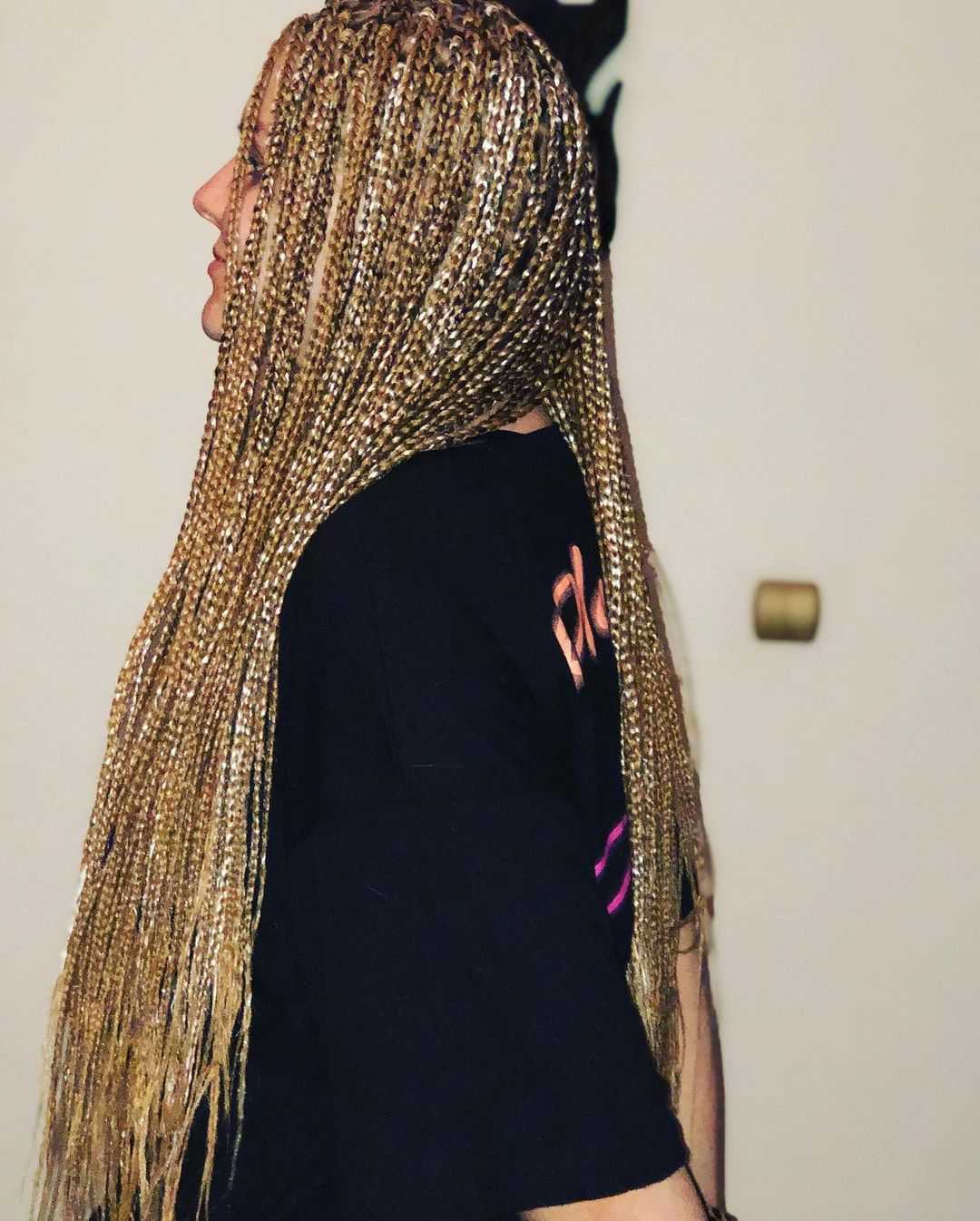 29. Knotless Bob Braids
We absolutely love long, flowy braids. They look fabulous, no doubt about that. But sometimes they can be overly heavy on the hair. As a simpler and easier to maintain alternative, consider knotless bob braids. You can seamlessly style these and they won't weigh down your hair while also giving you a 90s babe vibe. No pressure, just something to think about.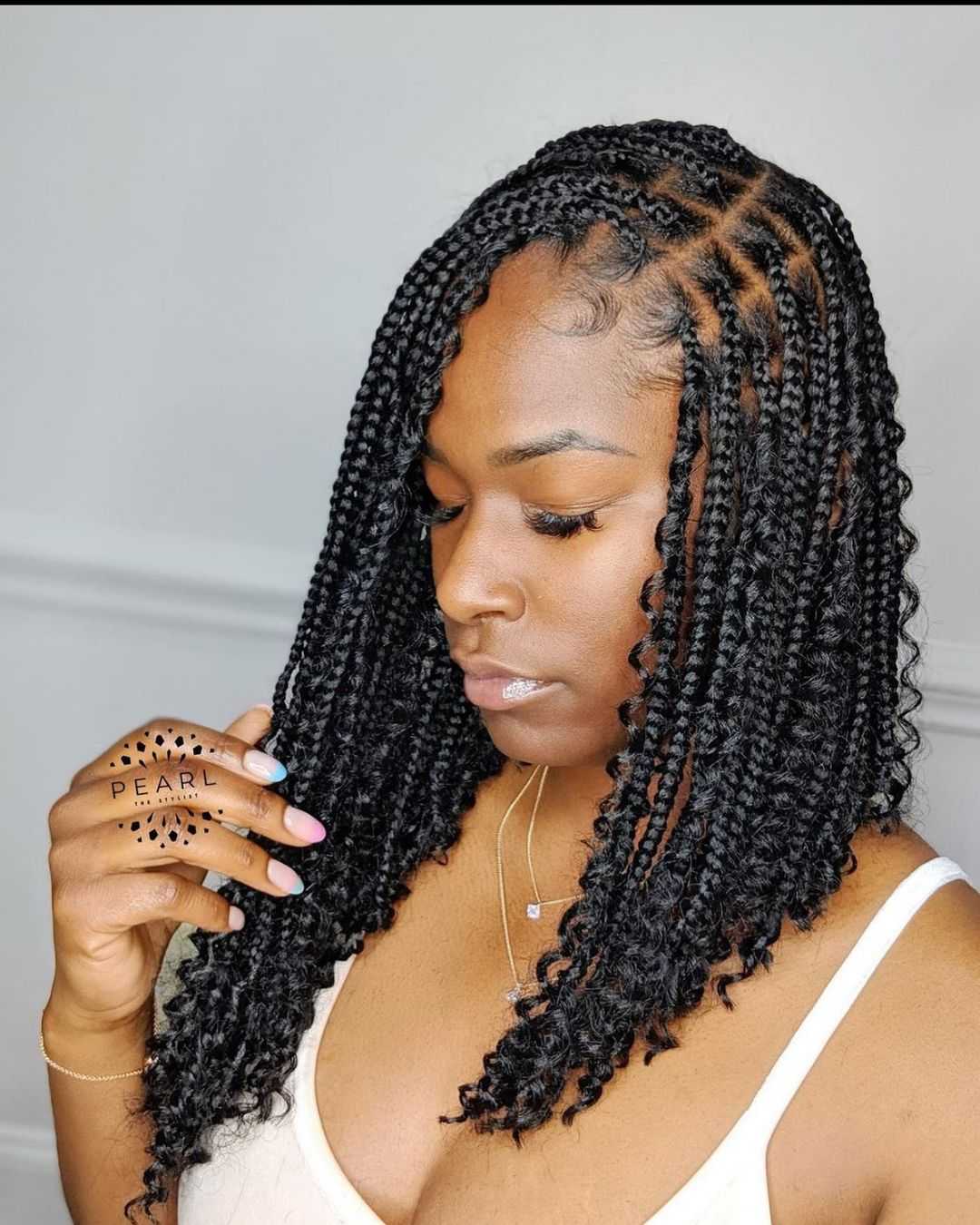 30. Knotless Braids on Thin Hair
The beauty and appeal of a hairstyle should not be determined by the shape or length of your hair, so if you have thin locks, don't be discouraged. With knotless braids, there's no need for worry because this style creates less tension on the roots and won't pull your scalp. The chance of traction alopecia or follicle damage is pretty close to zero.
31. African Knotless Braids
The African braids rose in popularity a long time ago and now they are having a comeback. This hair defined an era of iconic black television and movie stars. Can you recall Jada Pinkett (pre-Smith) or Brandy as Moesha Mitchell for her 1990s TV show period? This style is perfect if you want protection but also some extra length over your shoulders – just because we all know how important it can be these days not to look like everyone else!
32. Honey Brown Knotless Braids
Brown hair never goes out of style because it's so classic and understated. The best part about brown knotless braids? They keep the mystique (and coolness) from black braids but with a softer finish that looks more natural – especially when you're going for an office look rather than something nightlife-y. You can also ask your stylist to create a subtle ombre effect using brown braiding hair to frame your face.
33. Shoulder-length Knotless Braids
There are many ways to get a chic, low-maintenance hairstyle. One of the best ones is short braids that have an especially beautiful "lob" effect and can be worn for different face shapes depending on their length! The braids are not only light against the scalp, keeping you comfortable all day long, but they also weigh less than longer ones, so washing them down the road won't be a hassle at all – making this one of the easiest yet most stylish fashion updates ever!
34. Knotless Twist Braids
Twist braids are the way to go if you want that memorable image! Pair them with cool hair accessories and bright makeup for an unforgettable appearance. It's an excellent choice for ladies who want a classy, low-maintenance look that is both beautiful and stylish. The best part about twist braids is that they can be styled in different ways for any occasion.
35. Knotless Braids in a Ponytail
The ponytail is one of the most popular hairstyles for its versatility and ease of creation. It is suitable for most occasions from work to wedding receptions. Knotless box braids are no exception. They arguably look their best when styled into high ponytails. This hairstyle will also put less stress on your scalp as weight distribution spreads evenly across the crown of the head. Bonus points for extra comfort!
Knotless Box Braids FAQs
What are knotless box braids?
Box braids are a beautiful way to wear your hair, but they can be difficult and even painful in some cases. Knotless braid is the perfect alternative! It's pain-free because there isn't any kind of knot at the base. It also doesn't cause as much tension. For those of you with sensitive scalps, knotless braid styles will be better because they don't put any tension on the head and are generally more comfortable to wear.
How much do knotless box braids cost?
Knotless braids are the next big thing in hair extensions! With this new method, you can get medium-length or longer synthetic braids that will stay put for a long time. You'll need about $250 worth of materials (depending upon size and intricacy) plus the cost of an appointment at your stylist's salon.
How do you care for knotless box braids?
Taking care of knotless box braids is similar to maintaining other protective styles. You should use a leave-in spray and oils on the scalp, as well as tie up your hair at night so that it remains tangle-free for longer. You can also protect your hair by sleeping with silk pillowcases or wearing silk scarves at night.
How long do knotless box braids last?
Knotless braids are a quick and easy way to get your hair done, but they do not last as long as traditional box braids. You should expect the typical six weeks of wear time with proper care and maintenance routine in order for them to work best on you!