If your face has greater length than width, while featuring no sharp angles, then its type is definitely oblong. And since we know where the disproportion is, appropriate hairstyles for long faces need to balance it by adding the required volume on the sides. Don't worry, if you don't know how to achieve this effect – we are going to reveal all the secrets from professional stylists!
Sorting Out Hair Lengths
Cheer up, long-faced girls, we have great news for you – pros officially allow you to rock hairstyles of any length. "Honestly, you're not that limited on haircuts with an oblong face shape. The only thing you should really steer clear of is hard bobs that make you appear longer and really long sleek straight hair with no layers or movement.
Everything else can be styled accordingly to create the illusion of a wider face," Kristin Ess, haircare brand founder and Lucy Hale's favorite coiffeur, writes in her blog. And that being the case, you can explore our collection of lengths to find your next haircut for long face.
The right bob can flatter any face shape. This effortless short bob is handsomely textured and adorned with wispy bangs to make the long face visually shorter.
Here is a nice example of trendy curtain bangs, going longer to the temples and blending with side tresses of this medium length hairstyle. Without any doubt, curtain bangs are perfect for an oblong face shape.
With so many layers and a feathered finish, this lovely long hair looks bouncy and doesn't feel like dragging the face down.
While chin-length cuts are flattering for long faces, only few of them can boast the cool razor-cut pieceyness that comes with this side-parted bob.
Looking for short haircuts for long faces? Consider this very short and seriously bold crop with a bit of asymmetry and zigzag micro bangs, which is a great way to make a statement and spotlight your beautiful facial features.
Sorting Out Hair Types
If you were born with an oblong face and curly/wavy hair, you are blessed, no kidding. "Let those curls be if you have them! Allow them to be loose + wild + off your face to widen the overall silhouette. You of course need a great haircut to manage major curls, but once you have that, you're all set. Curly hair for an oblong face is ideal because of the horizontal volume it gets naturally," writes Kristin Ess in her post. But if you are not so lucky to have inborn ringlets, style them. And even when a curly hairstyle is not your cup of tea, you can add volume to the sides of your face in many ways. Let's have a look at cute wavy and straight hairstyles for long faces you can steal.
Getting a rooty blonde is a nice idea for thin locks, since this gives them more depth, while framing the face with layers is width-adding. We can't take our eyes off this beautiful straight hair.
This cool straight lob works fine for the oblong face shape, because it's thick and parted a bit off center.
Slightly wavy and heavily textured, this awesome shag has face framing layers with just the right disconnection to make the long face shape look fuller.
And here is a less shaggy version of laid back waves for thick hair, coupled with highlights and side parting.
Curly hairstyles with tons of volume and bounce have the power to balance oblong faces – this shoulder-length cut with large ringlets proves the fact.
Picking Bangs for Long Faces
Obviously, a fringe is something you need to consider if you have a long face. Not only can bangs visually shorten your face, but also balance some disproportionate features like a long nose or a big forehead. "You're covering the area between your hairline and brow, removing several inches from your face," Garren, R+Co co-founder and hair guru behind many celebrities like Lady Gaga and Madonna, says to InStyle and suggests side-swept bangs coupled with Old Hollywood locks for a retro chic look.
If you give preference to full bangs, try and keep them around your eyebrows to avoid further elongation. Layered bangs that go longer to the sides to hug your cheekbones are your go-to, if your face has a strong jaw line. Keep scrolling for more fringe options that perfectly complement different haircuts for long faces.
This curly hair shines with rich texture and dimension, but it's the shaggy fringe that makes the cut edgy and outstanding and helps balance a long face shape.
Micro bangs are perfect in short haircuts for long faces as they visually decrease the length and highlight the cheekbones. Pastels, a bold undercut and a very short straight-across fringe are a perfect combo to flatter a long face shape.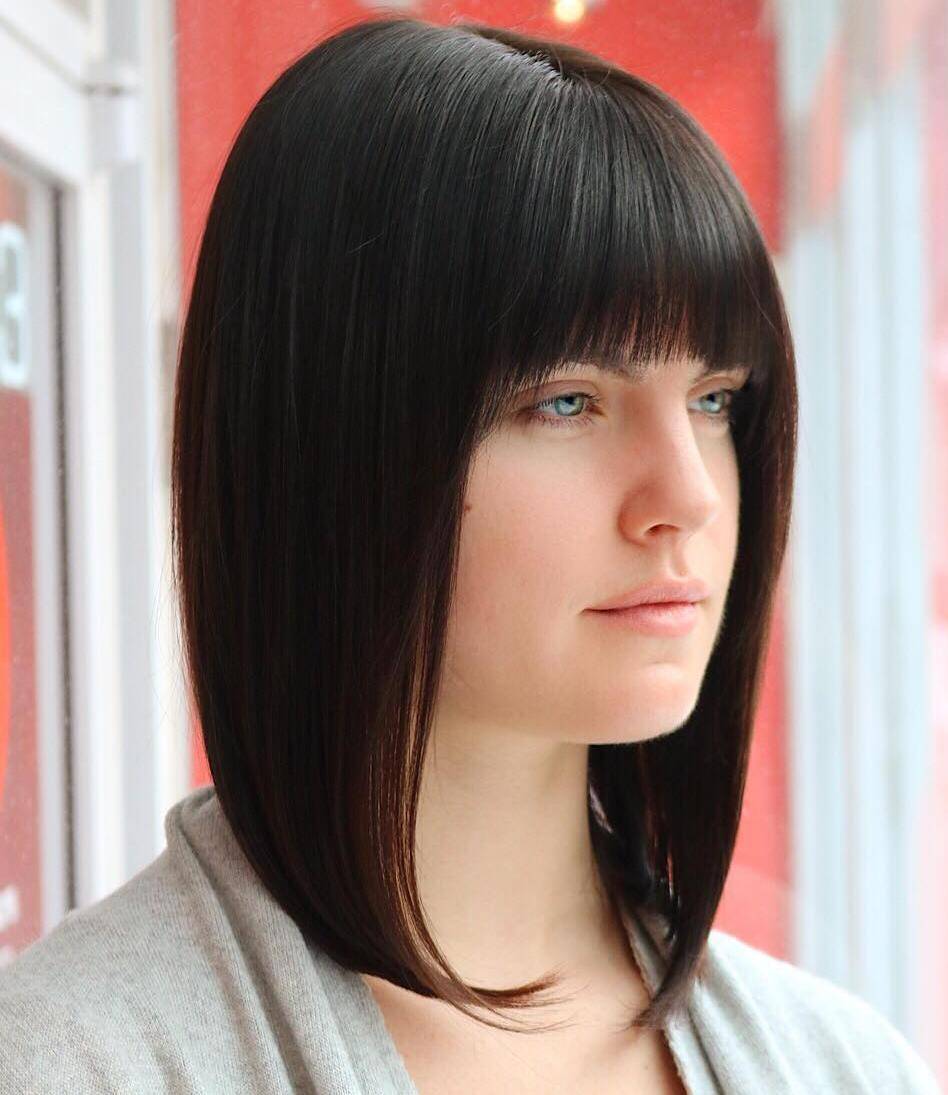 Polished and rounded at the tips, this stunning A line bob feels Frenchy with its full bangs, perfectly straight, but a bit point-cut for some lightness.
Haircuts for long faces look simply amazing with textured styling. If you have a long face with a small forehead, it makes sense to add textured waves to the sides, while keeping your fringe deep and piece-y.
This flirty lob is slightly flipped out at the ends to offset the narrow chin and teamed up with dense side swept bangs to visually give something to follow in a horizontal direction.
Customizing Bob Hairstyles
Frankly speaking, it's not so much the bob as the lob you should be seeking. Its longer length can give more versatility in styling for someone who would like to balance a long face and neck. "A shoulder-length haircut is the most flattering – somewhere between the chin and shoulders. You want to create width, which you can easily do with waves," Enzo Angileri, who styles Charlize Theron and Renee Russo among other A-listers, tells Byrdie. If you face has a pointed chin and pretty prominent cheekbones, you can bridge the gap between them by getting an angled bob that is longer in the front. Let's find out how this works for real girls with bobs.
The blonde lob with dark roots and somewhat textured tips is a trendy and flattering option for a long face shape and fine hair.
This wavy shoulder-length bob comes with a lived-in color transition, as well as with fringe that is dense, yet layered to blend in with the style.
Glowing with sun-kissed tresses, this sliced and messy cut oozes a summery feel and allows for a sharp bedhead look. This beautiful haircut is great for a long face shape, definitely.
And this blonde eyecandy is a little choppier and more layered to create volume. It beautifully complements a long face shape hitting the right place for a widening effect.
Opt for choppy bob with deep side part if you want to get extra lift at the roots in addition to great texture. The asymmetry of this cut is really flattering on a longer face shape.
10 Best Hairstyles for Long Faces to Give You Fresh Look in 2022
It makes no sense to fret over your face shape, all the more so, as long faces have some strengths. Sally Hershberger, iconic celebrity hairstylist and salon owner, told Cosmopolitan that a long face has the ability to pull off blunt or rounded bangs, which is a deadlift for other face shapes. She also recommends textured cuts with short, swingy layers and updos with loose pieces in the front for a more balanced appearance. Complete your array of choices with piece-y pixies, low ponies, side-swept hairstyles, blow-outs and those cute haircuts for long faces from our ample collection, of course.
The roundish shape of this pixie along with its dramatic micro bangs and chunky highlights creates a strong focal point to shift attention away from the length of the oblong face.
This wavy tousled cut is airy and laid back, delivering a rejuvenating effect any lady over 50 wants to achieve.
While looking for flattering hairstyles for long faces, keep in mind that coloring means a lot. Who cares about a big forehead, when all eyes are attracted to those soft waves sparkling with an awesome balayage?
Shifting from blondes to brunettes, we cannot resist the charm of this polished weave bob, plum-colored and center-parted to hug the face perfectly.
When you are not ready to open your face that much, think of face framing bangs, gradually getting longer to the sides to balance the long face shape.
This long bob is sliced to gain a trendy choppy texture and steeply angled towards the front to accumulate density around the longer face shape.
Here, a lift at the roots and disconnected layers create the proper volume to balance the narrow face shape.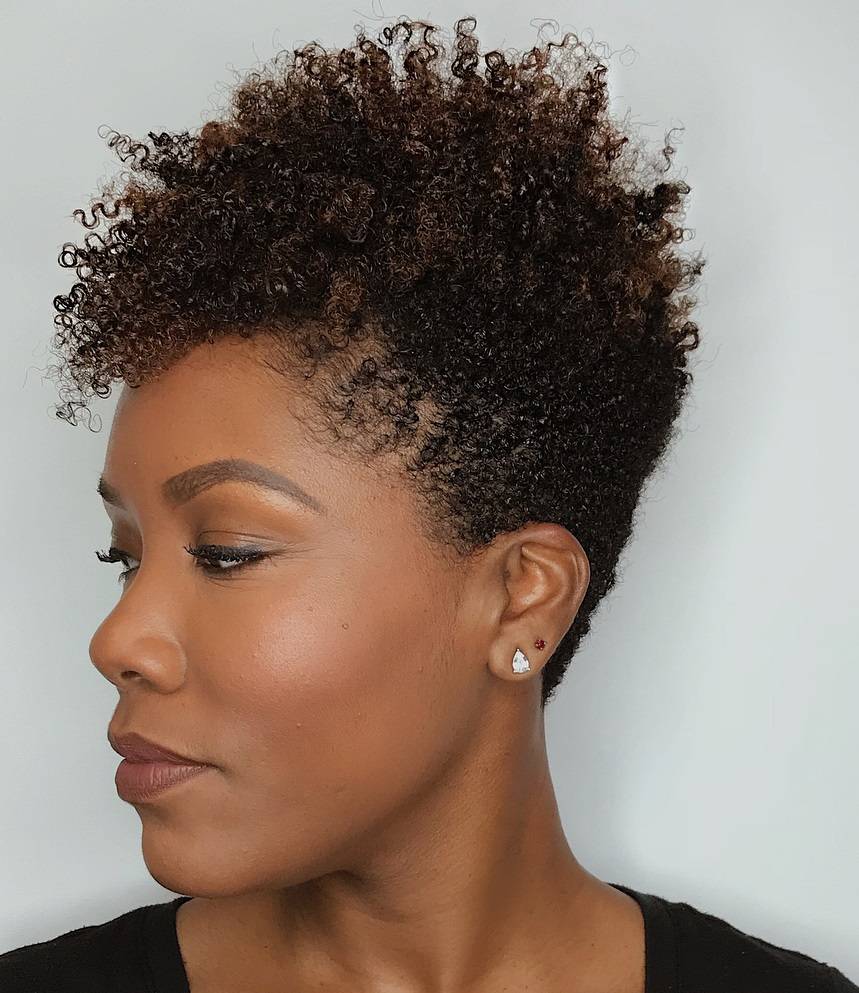 The tapered cut with bangs and plenty of volume on top is a stylish and flattering option for a narrow face shape.
This slightly textured bob ensures easy styling, while diverts attention away from the chubby cheeks by strategically placed highlights.
When searching for wedding inspo, look no further than this romantic accessorized updo with soft tendrils and a messy chignon.
Well, as you can see, it's not so hard to find a haircut for long face whichever length or style you prefer. You just need to avoid extra height, while putting some styling efforts into balancing the narrow face shape. Since you've got plenty of tips from A-list hair experts, we are sure you won't have any problems with your next stunning looks