The long bob haircut is having a moment with a bunch of celebrities sticking to the style and rocking it in all kinds of ways. Polished, messy, straightened, wavy, blunt or layered – the diversity and flexibility make this cut one of our favorite. And since it's not as short as the classic bob cut, it leaves a possibility to bother with updos, when you wish to. But today, we are going to focus on how to wear it loose and chic depending on your individuality.
Modern Lob Haircuts by Hair Type
"The lob makes all hair look thick and healthy. Also, the strong lines draw attention to bone structure and help frame the face," said celebrity hairstylist Matt Fugate to InStyle. We can only add that you need to identify which lob haircut will be suited for your hair texture since there are so many options to choose from. Razored tips are great for lavish manes, taming them and making look lighter. The swing bob will show fine strands to the best advantage since its multi-layered back creates dimension. Wavy locks scream for a messy hairdo with some layering to enhance their texture. Further, you'll see more examples for various hair types.
Red is just the color to make curly hair sparkle, while the lob with shaggy bangs leaves enough space for ringlets to bounce.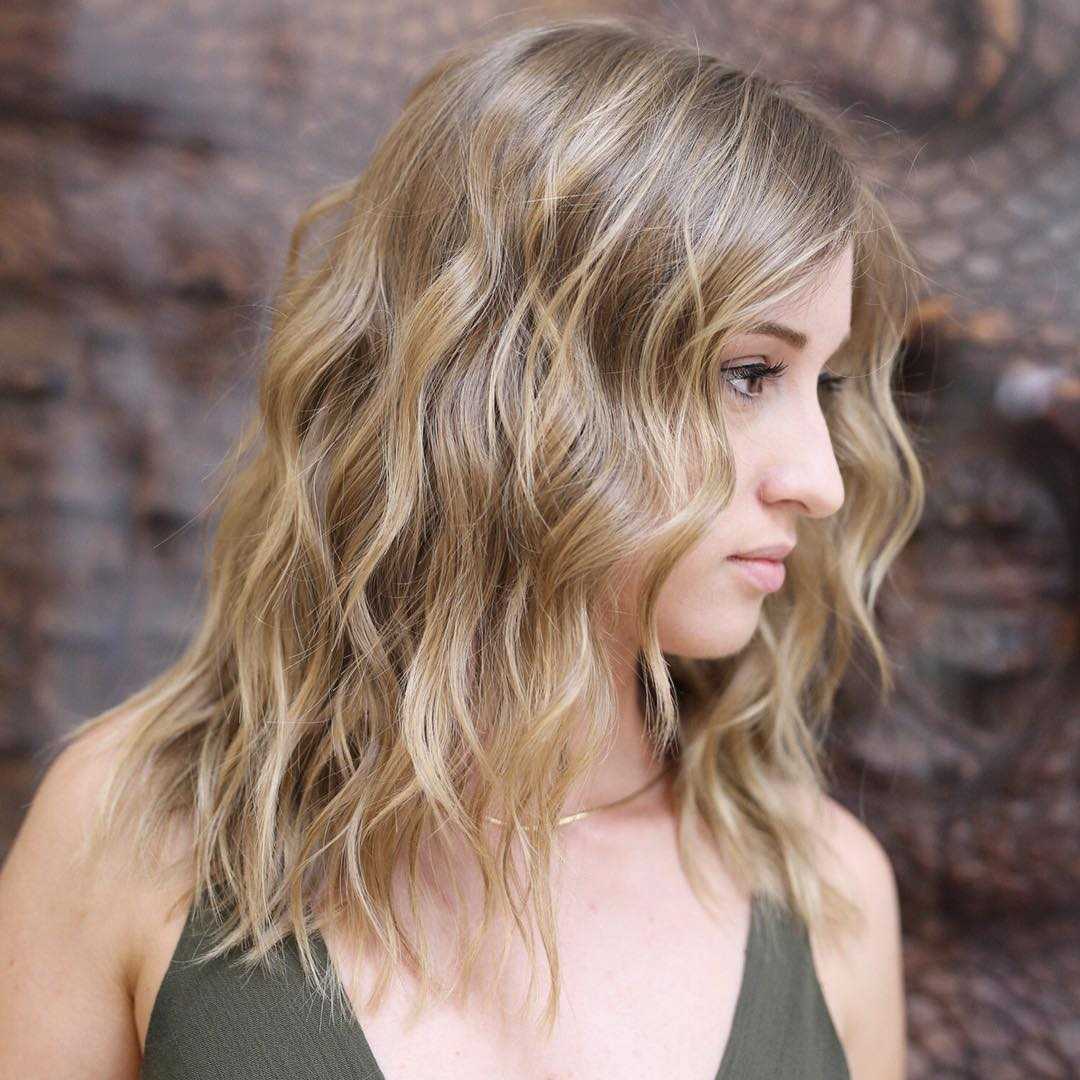 This girl rocks awavy long bob softened with a natural balayage. It's subtly layered to give the fine hair some extra density coupled with a seamless look.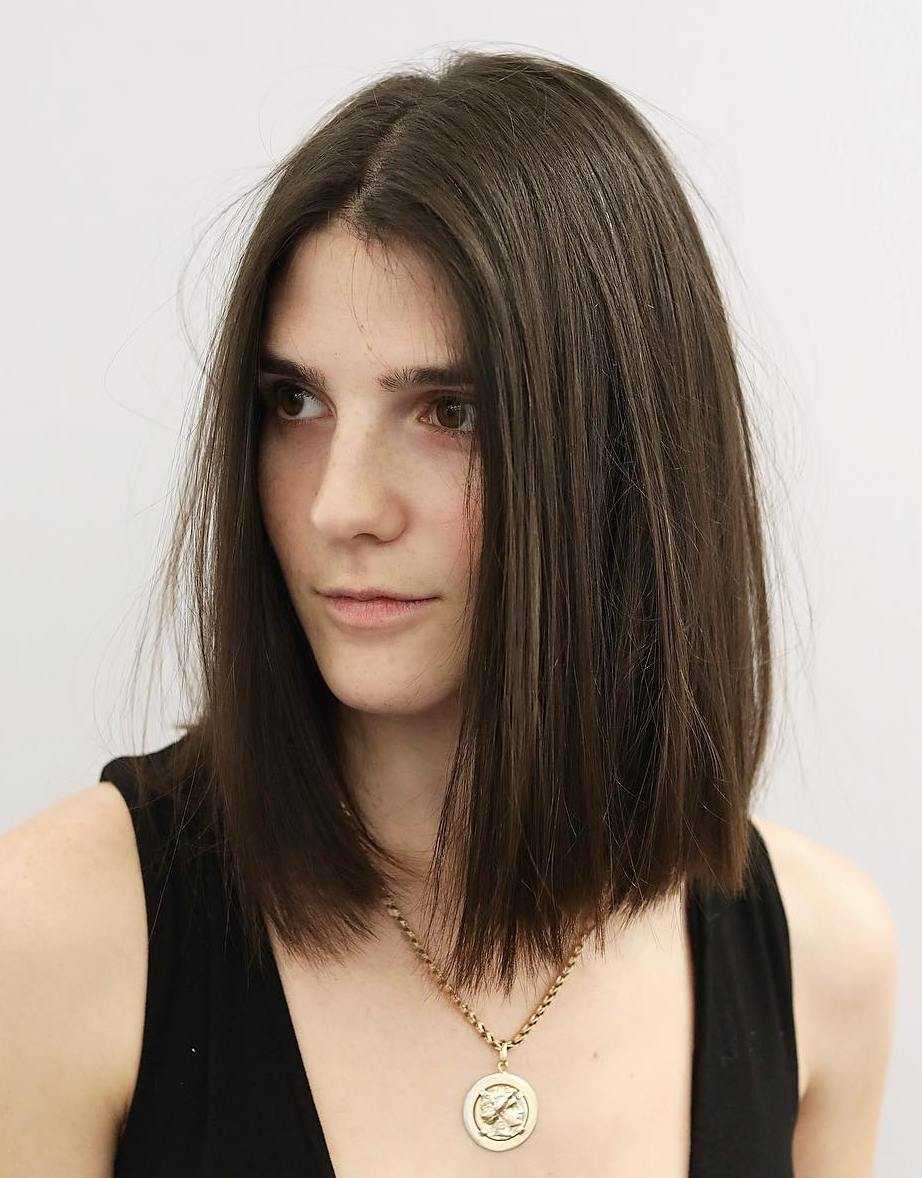 Straight medium-to-thick hair will benefit from a one-length hairdo that is slightly textured through point-cut tips.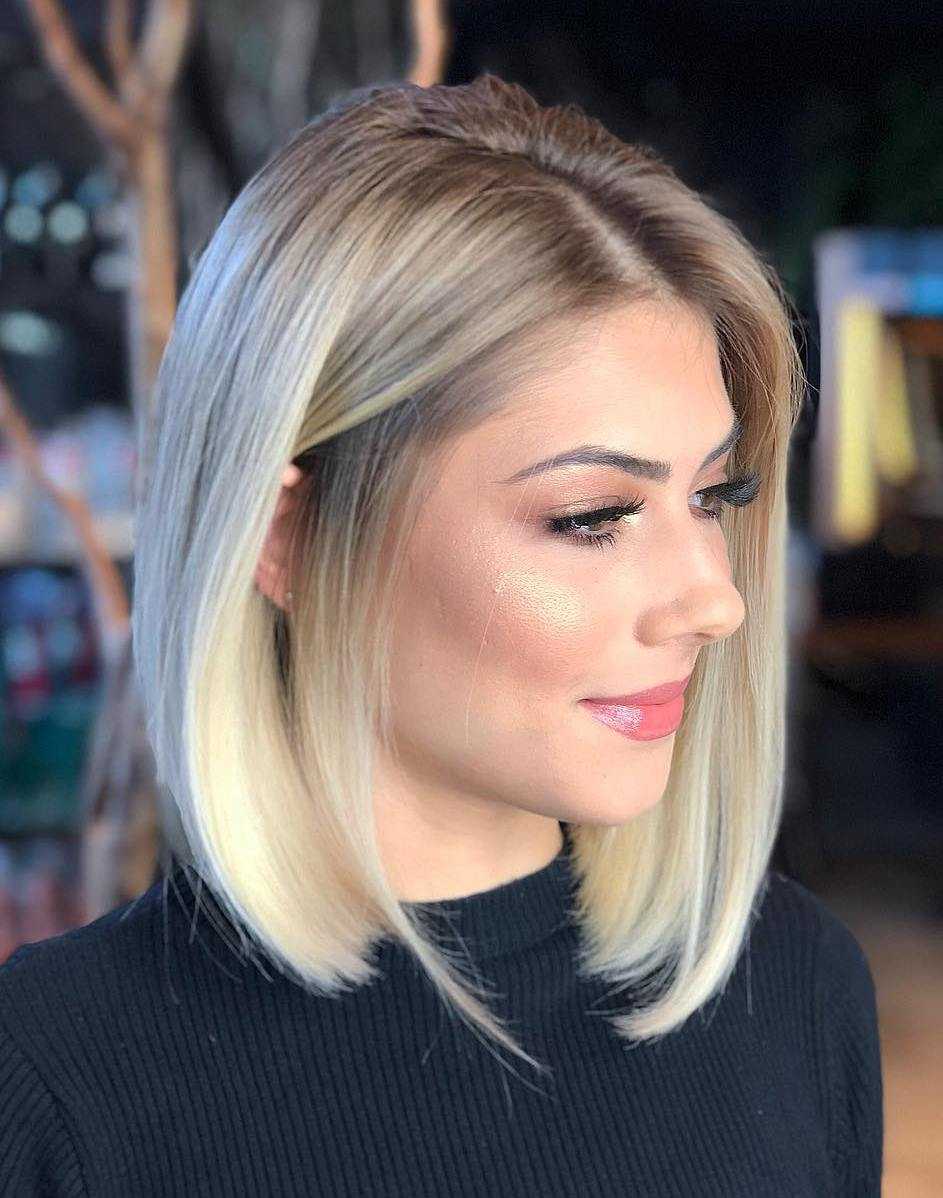 A blunt lob is a go-to option for thin locks, creating a strong contour on the bottom. Don't forget to add some lift at the roots and steal this behind-the-ear styling to switch up your look.
Though lush and voluminous, this thick hair might lack vibe, if not for the delicate highlights, emphasizing its round-brushed bottom.
Flattering Lobs by Face Shape
Probably, adaptability is the best attribute of lobs. The length that varies from under the chin to collar bone flatters almost any face shape, giving them a slimmer look. If you have angular facial contours, soften them with curves; if your face is round, get a lob haircut with added angles – it's really that simple.
The only rule is to avoid extra long options when having an oblong face. "Lobs are lengthening to begin with and can elongate a long face even more. So, by adding width with slight layers and incorporating texturizing products into your regimen, you can balance out the length slightly, reducing how much it elongates your face," says Bryce Scarlett, hairstylist behind Gigi Hadid, Rosie Huntington-Whiteley and Margot Robbie, to Cosmopolitan.
A shoulder-length bob and angled bangs styling deliver enough elongation to balance anyround face.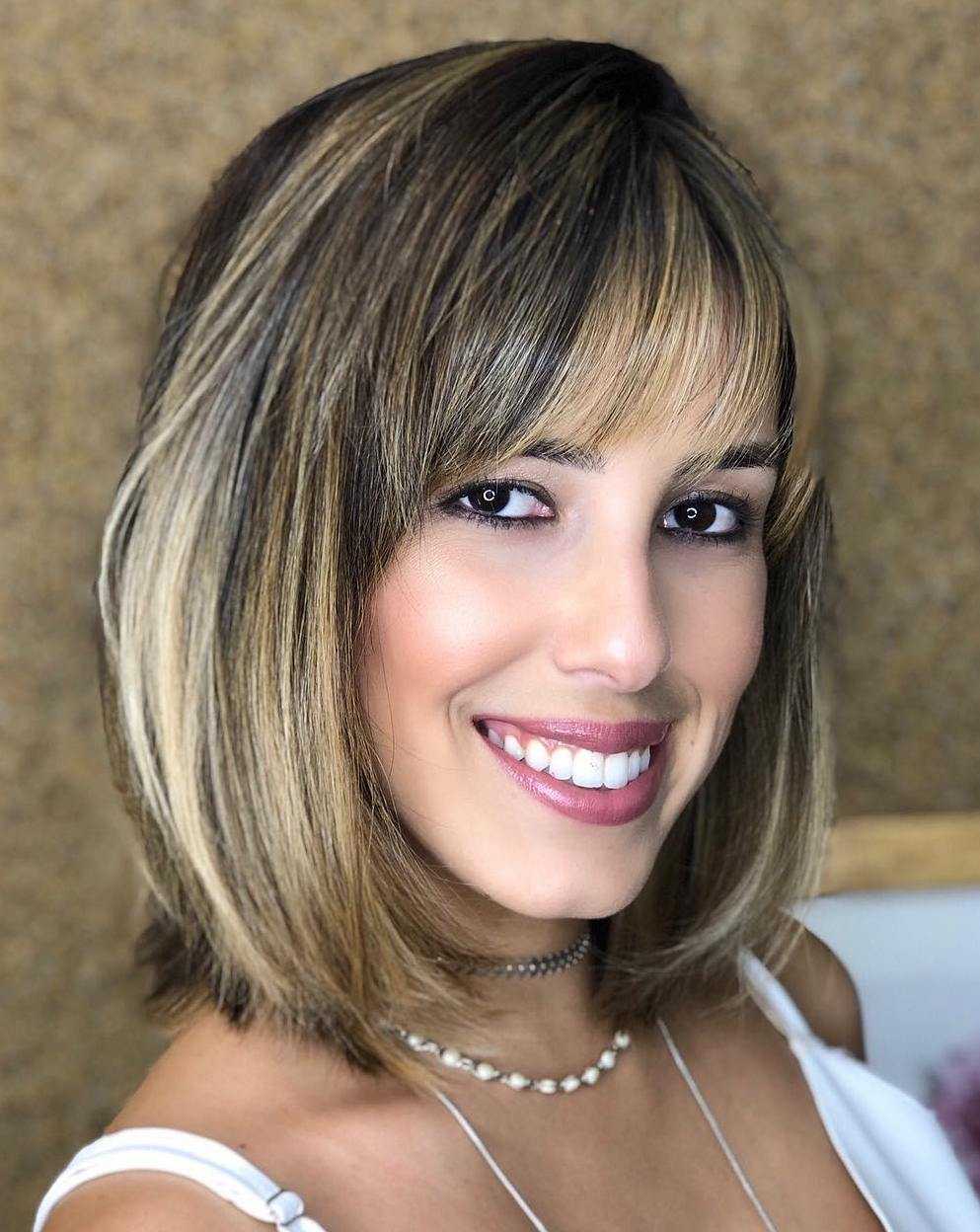 For girls with long faces and fine hair, it makes sense to choose a shorter lob version with added volume and density through highlights, a side parting and full feathery bangs.
Though oval faces pull off any lobs, you can opt for a side parting to mitigate a dragging down effect that comes with the length.
A wavy lob with soft face-framing tresses is good for square faces, since it shifts the focus away from the strong jaw line and adds curves for improved proportions.
If you have a heart-shaped face, try to avoid highlightingof the pointed chin by redirecting attention to the eyes and cheekbones.
Long Length Layered Bob To Be a Smash Hit
Why go layered when there are signature Kim Kardashian's blunt lob and stunning J.Lo's Met Gala look? Well, at the very least this will help your hairstyle last longer with minimal in between trims. "The good thing about a lob is that they're usually cut in a choppy, layered way, so you know it will look good for the next three months as it grows out," Frankie Foye, who gave Alessandra Ambrosio her brand new lob, told Cosmopolitan.
Sure, it's not the only reason to tilt toward layering. Go reverse with shorter layers at the back to have an elevated top or get cascading in the front for a flattering face-framing effect. Explore further how you can make it.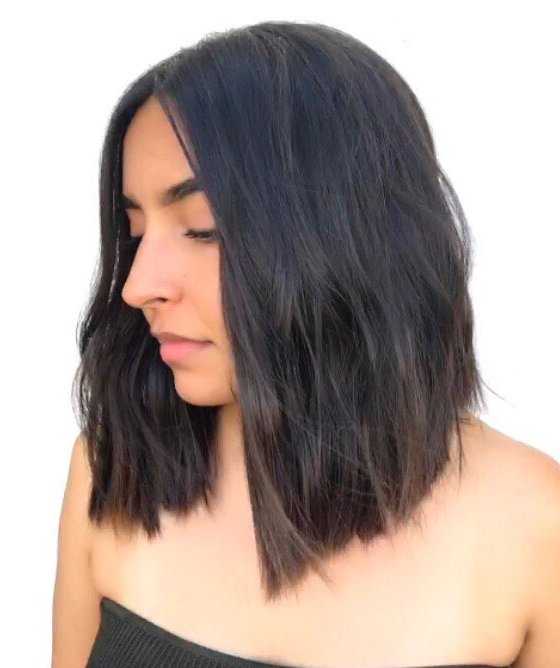 This angled lob is slightly layered to give some texture and volume to the very subtly highlighted dark hair, while removing the extra sharpness of the color.
If your hair is thick, opt for an inverted bob with razor-cut layers to take off the excess bulk and wear the cut sleek or messy on different days.
This girl nails a trendy lob with beachy waves and a tousled finish. It's juiced up with layers that frame the face without dimming it thanks to the flipped out and highlighted tips.
Here is a good lead to follow for ladies with round faces – this cascade of side tresses hits just right to produce an elongating effect.
And look how black hair shines with this long bob tapered to the front! Find even more dimension with a deep side part and an elevated back.
Long Bob with Bangs to Make a Splash
"Adding a bang is a great way to create a 'new' style without the commitment of a drastic haircut or length change. You can keep the lob you already love and just enhance it with this mini snip. Depending on the fringe style, you can always camouflage the bang easily if you decide the look is not for you,"says celebrity hairstylist Laurie Heaps to InStyle. To avoid such a challenge, expend some effort to find out what fringe type will work best for your long bob haircut. Don't forget to factor in your face shape, hair texture, and even styling habits, since you may not like the idea of blow-drying your bangs after every hairwash.
Straight hair can come with long side swept bangs, which are easy to tuck behind the ear for a fresh look.
This stacked lob has everything you need for a fuller feel of your hair – subtle layers throughout the head, smoky roots and a sophisticated brondebalayage, as well asbangs blending into side locks.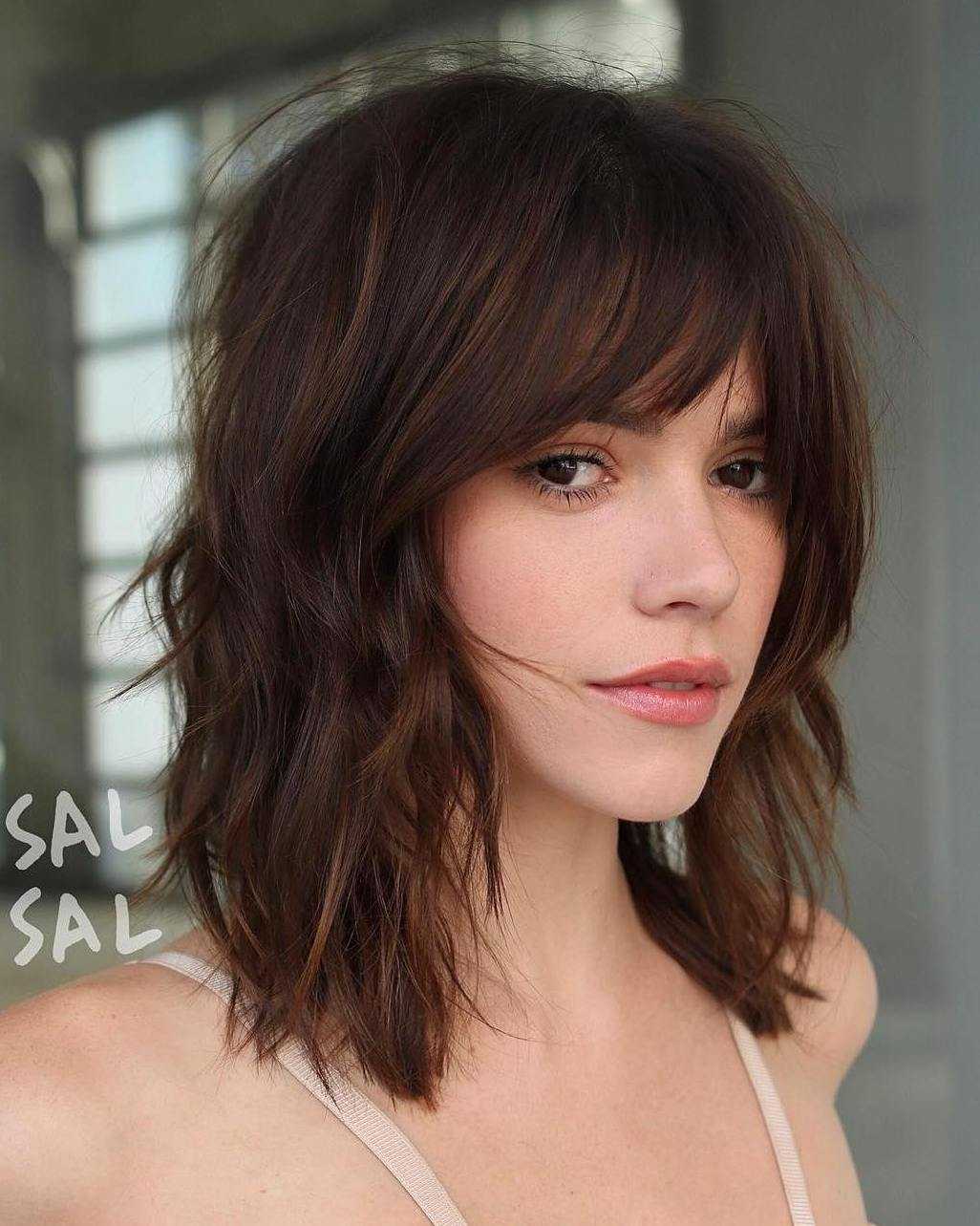 Thin hair gains dimension with layered waves and a disheveled finish. Double it by incorporating a piece-y fringe that also brings a sexy touch to the style.
Thick hair can be razoredmercilesslyfor the benefit ofan edgy look, but it's easy to make it even more outstanding through a long wave of fringe with a feathered finish.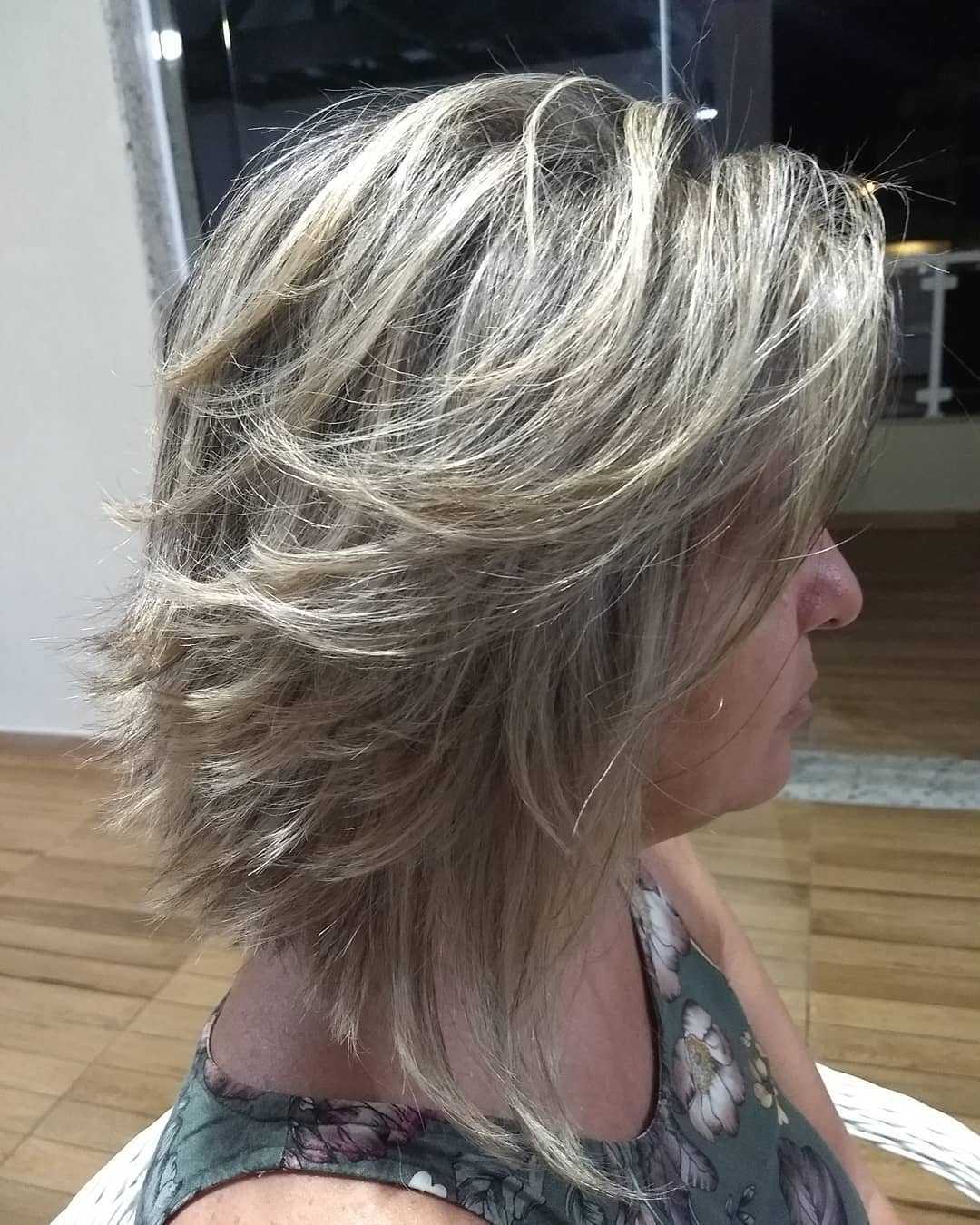 Choppy, yet airy? Why not? Heavy layers can be transformed into light feathers with flipped out styling and side-swept bangs incorporated.
Black Lob Hairstyles to Get Inspired
Though bushy African American hair may seem too whimsical for a lob haircut, there is a plethora of ways to pack it into this trendy style. In fact, you can use sew-ins or opt for relaxed hair, but also you're free to wear it all natural. "If you've got super tight curls, ask for a dry cut so your stylist can see the shape they're cutting in. If you've got loose waves, a wet cut works fine," recommends Jen Atkin, acclaimed lob queen among celeb stylists, in her comments to Elle. Here is how you can rock a lob, having straight, frizzy or wavy hair.
This girl sports the classic blunt lob, which arrests the eye with its clean shape and a polished finish.
A long bob can be embodied in weave hairstyles like this hot wavy option that feelstotally lived-in.
Those African American girls who choose to go natural will be inspired bythese gorgeous spirals, swept to one side for a playful look.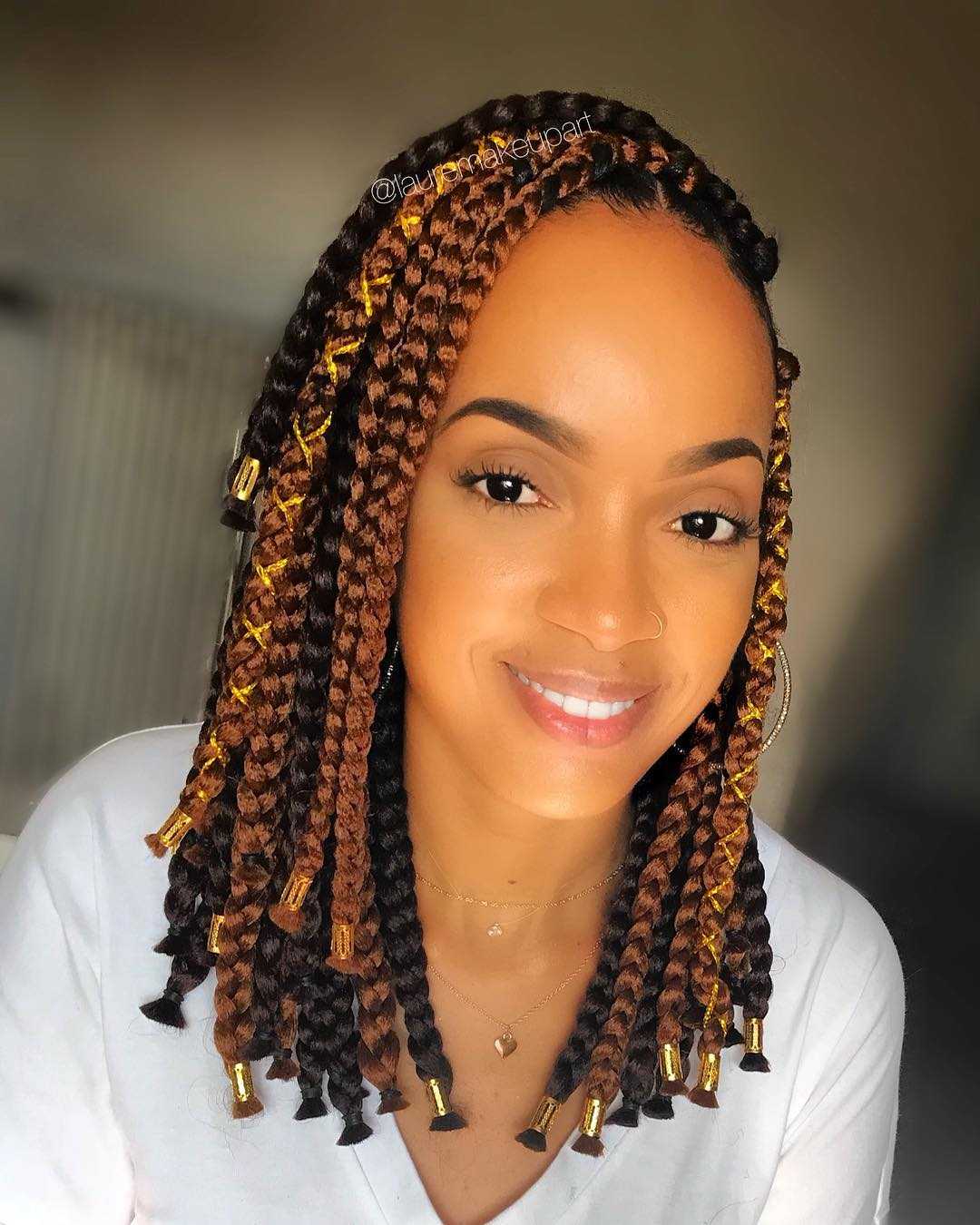 Want even bolder ideas? Here is a stunning bob, done with box braids and playing with both colors and decorations.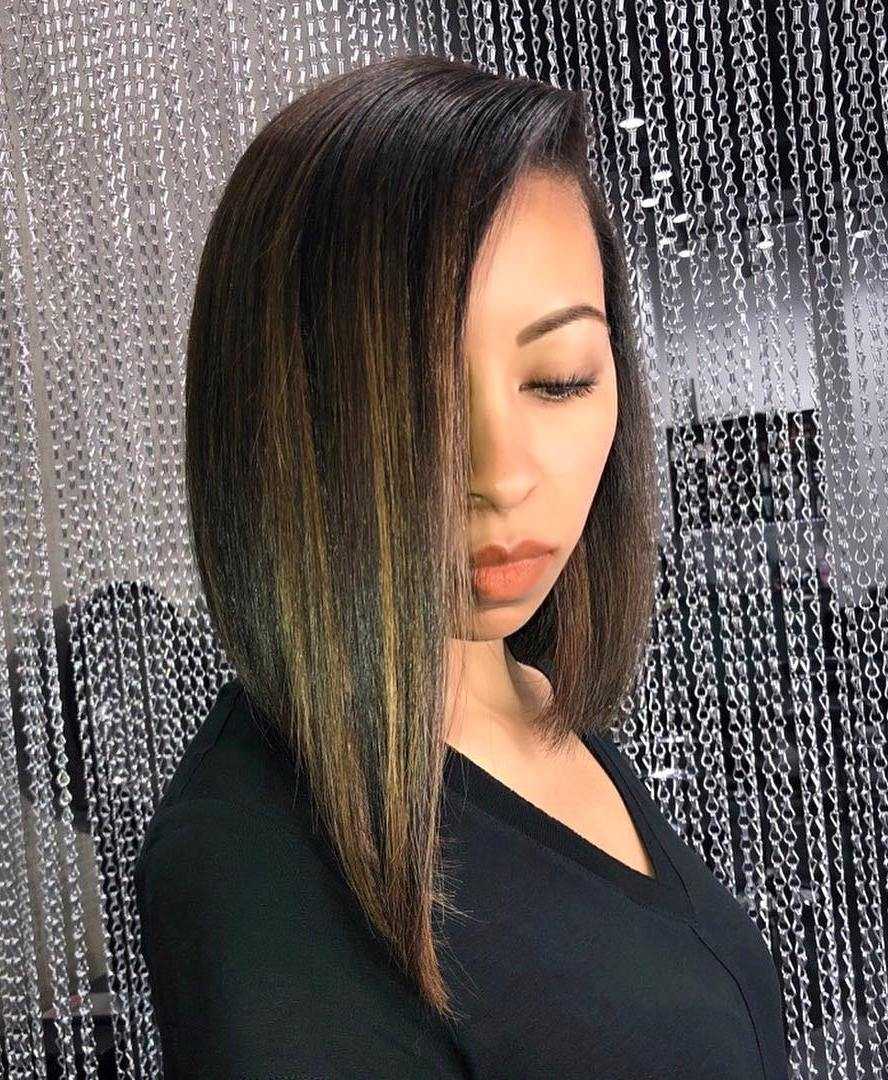 A bit of straightening to make your natural hair shine – and ta da! You've got a graphic angled lob and an ultimately elegant style.
10 Best Long Bob Styling Ideas to Perk Up
Still in doubt? "If you've been thinking about getting a lob, I would say go for it. The lob isn't one of those drastic cuts that's going to leave you in tears a week after your salon appointment," wrote celebrity hair guru Mark Townsend in his article for Byrdie. We can't but agree with the pro, yet have a few words to add.
The longer version of the time-honored bob offers an abundance of space for experimenting with styling. On this medium length, both laid-back beach waves and chic Hollywood curls look equally stunning, though so dramatically different – and you can have the best of two worlds! Besides, it's hardly possible to find another hairstyle, which is so advantageous for displaying ombre, highlights and all kinds of trendy color solutions. Let's see how to put it all together.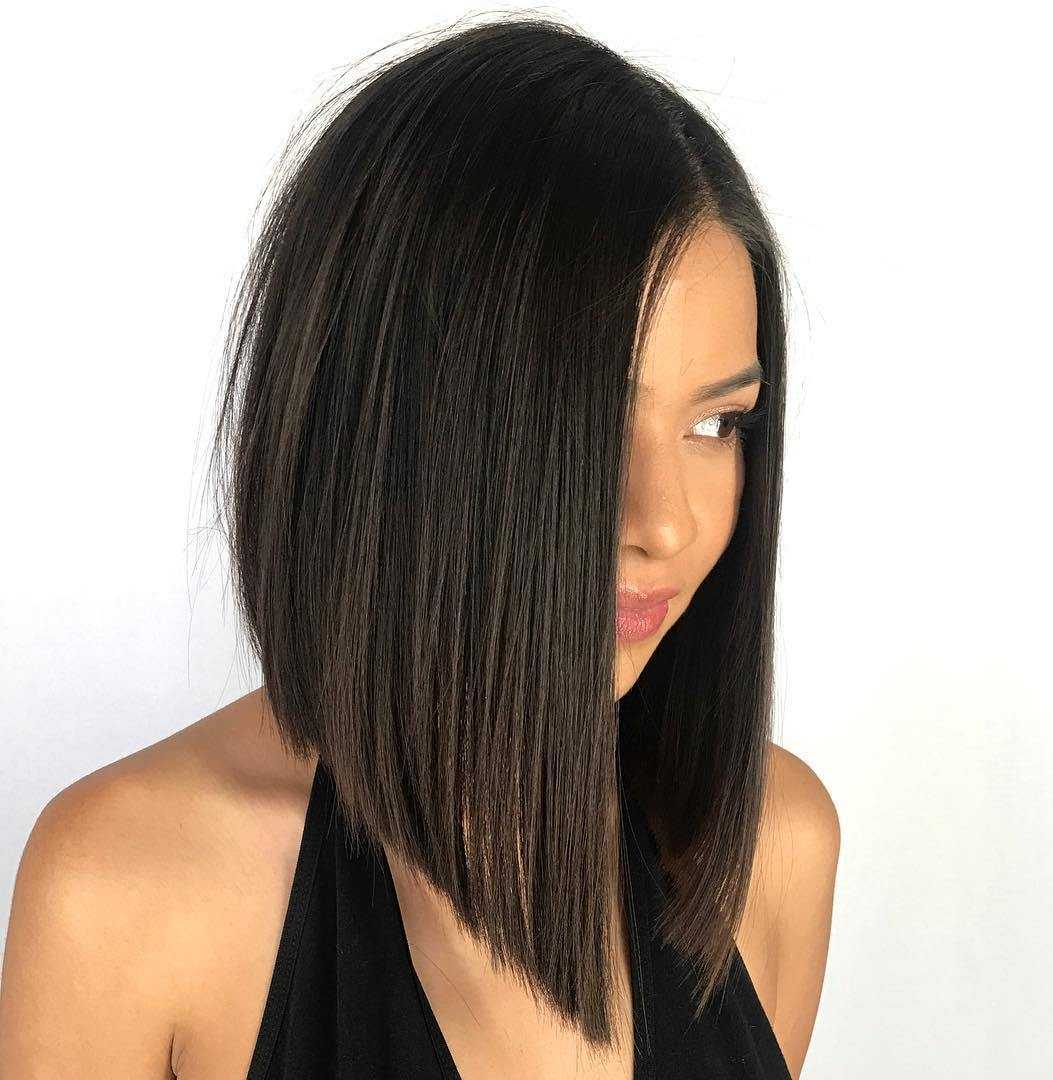 The clean shape of this A-line bob looks dramatic on the straight hair. Steal the style and don't forget about a side parting for edgy asymmetry.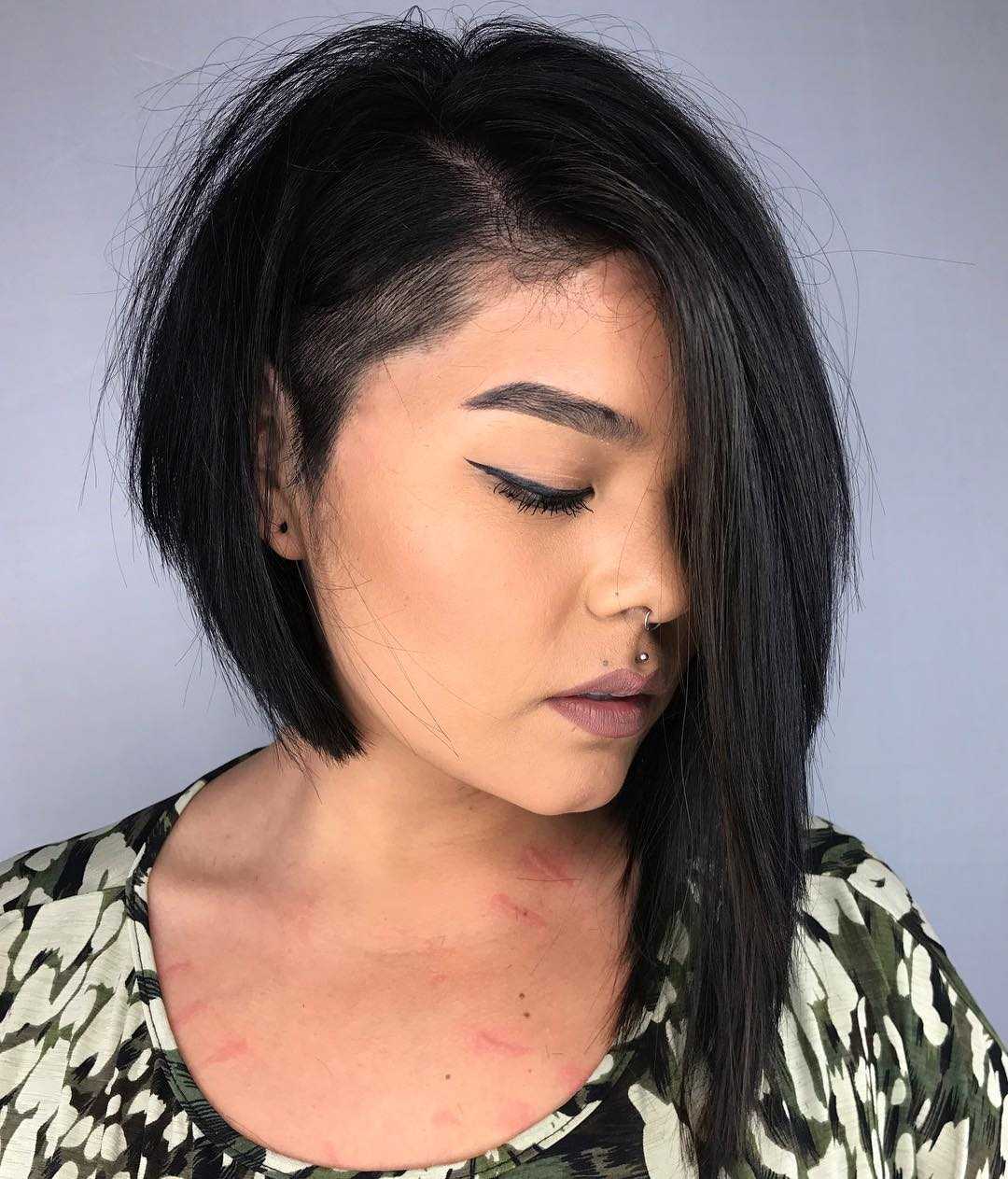 If you want to go even more asymmetrical, take the cue from this daring bob with an undercut on one side and a shoulder-length cascade on the other.
Sleek and exquisite, this blonde lob strikes the eye with its delicate color transition which adds depth to the hair along with a bit of layering.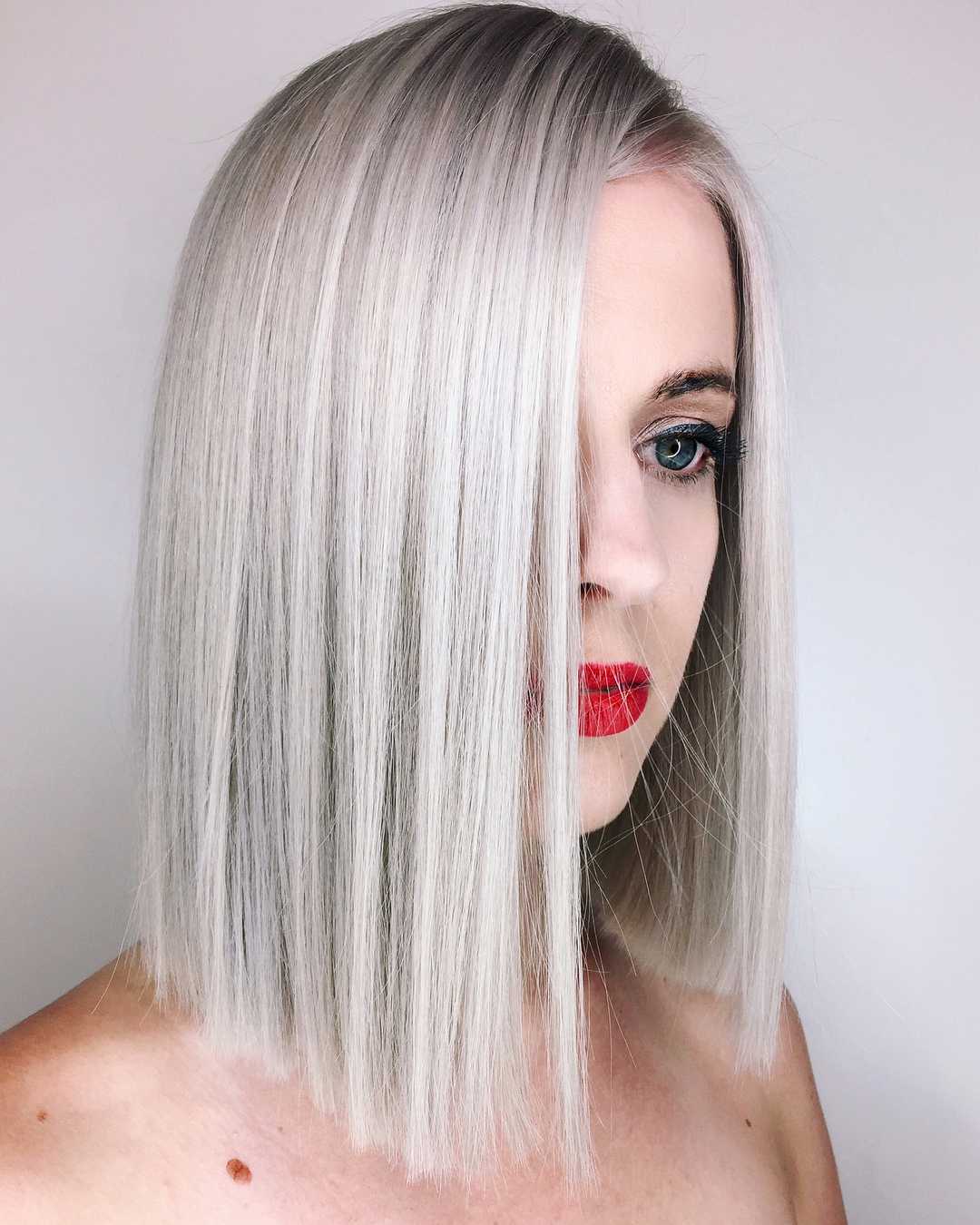 But when you need to enhance fine tresses, go for a blunt lob with shadow roots to heave extra body both on the top and the bottom.
Think of a side part to give a twist to your casual hairstyle and brighten up your natural dark color with warm chestnut streaks.
It's fun to couple a messy haircut with long side-swept bangs boasting an airy feathered finish. And this lived-in blonde is a bomb!
Pull most of your hair to one side for this vibrant shaggy look, intensified through sliced tips and touch-and-go waves.
A centre parted lob with tons of angles is just the case for wide faces, slenderizing them and making more sophisticated.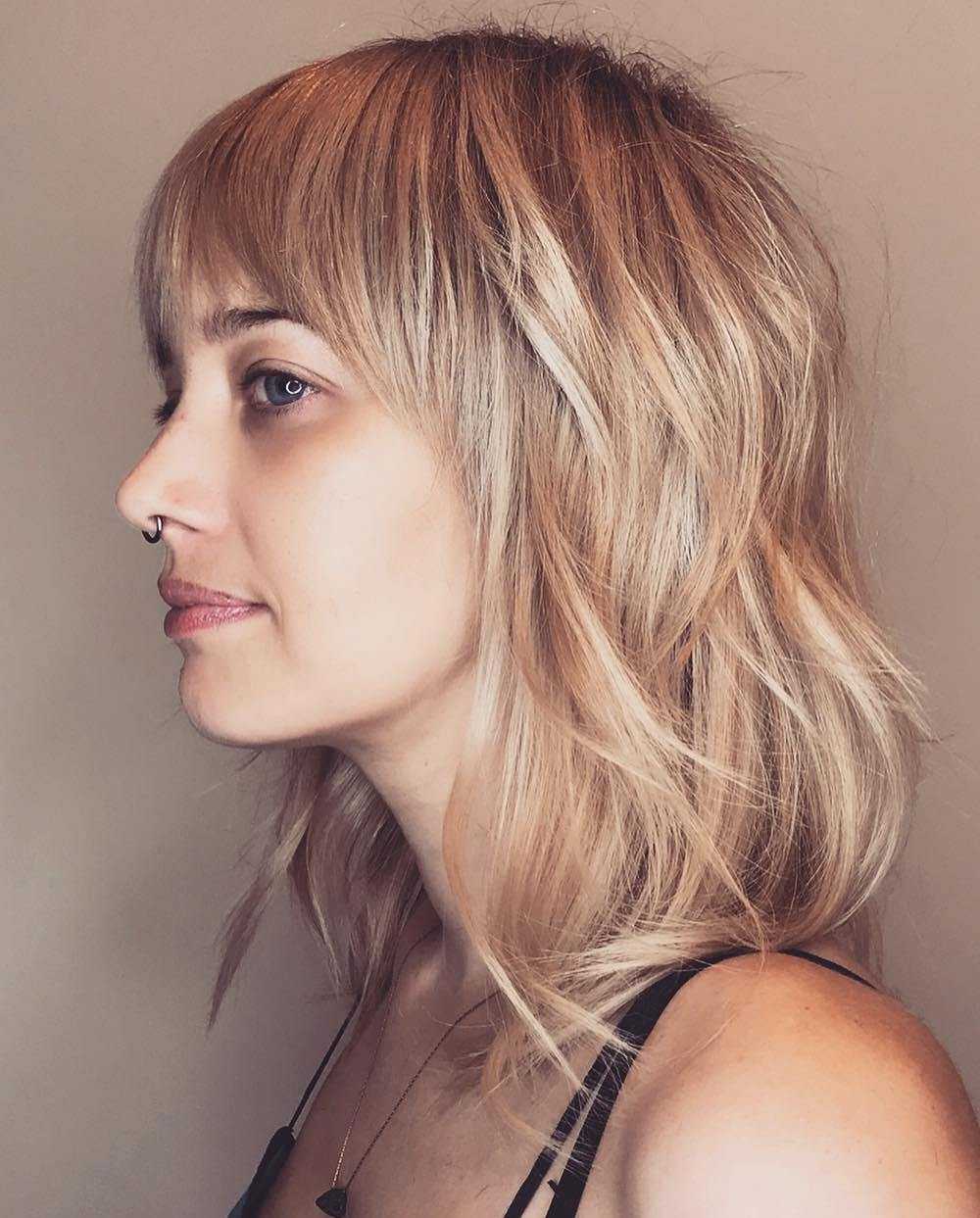 Thin hair can be transformed drastically, when layered and textured to gain vibe and movement. Team it up with a flat arched fringe for this awesome contrast.
You'll love a graduated lob for the volume it brings due to shorter tresses stacked at the back. Still, you'll have plenty of length in the front to play with styling and to show a brilliant dye job.
Choppy or straight-across, centre-parted or swept to the side, the lob is the golden mean that gives you a nice chance to show off both your bone structure and hair texture. Take the chance and find a trendy option from our pick of the most Instagrammable lobs – and you'll be the next to collect likes on- and offline.