Often, round-faced women grow out their hair to get the desired elongating and slimming effect. This makes some sense, but the truth is that they shouldn't hide behind the length. Short hairstyles for round faces are no less flattering, when chosen and done correctly. Today, we're going to share all the secrets of getting the right cut for a circular face.
Focus on Haircuts for Your Hair Type
When choosing a way to adapt short hair for round face, ladies shouldn't forget to take into account their hair texture. The same haircut looks different on various hair types – and the look can turn out to be frustrating. For example, round faces go well with sliced tresses, since this adds them some sharpness, but thin locks will look even scarcer, if thinned out. On the contrary, a weighty head of hair needs a lot of thinning out to get debulked.
"Ask your stylist to soften all of the lines that he or she cuts. This can be done many different ways one of which may be a dry cut, which you are guaranteed a softer look," says DJ Quintero, celeb hairstylist working with Katie Holmes and Lily Collins, in Today's article. Let's have a look at some examples of good cuts for all basic hair types.
This curly chin-length bob features a side part for stylish asymmetry and an elongating effect, enhanced by side bangs.
You can get the same irregularity with a long pixie cut that looks great on thick hair. It also boasts much volume on top for a better balance.
Thin fine hair can be styled sleek to bring in some sharpness. This slightly asymmetrical bob with an angled front does the job.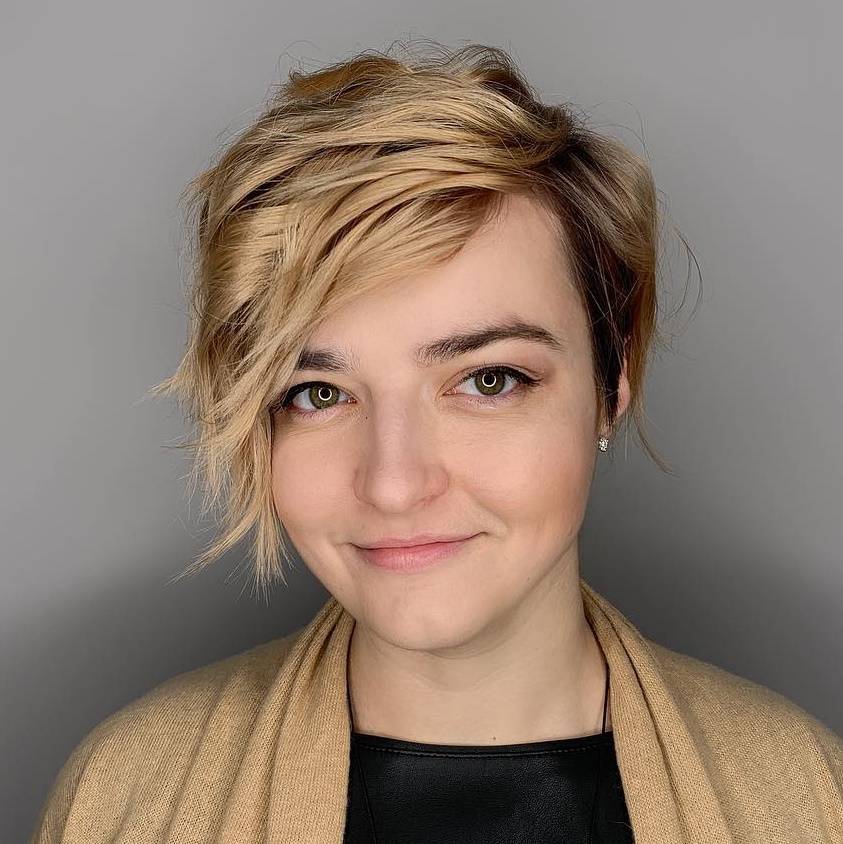 You can style this cute pixie wavy or straight, and it will be flattering for your round face anyway – due to contrasting lengths, swooping side bangs and tons of angles.
This straight hair is packed into a short bob with multiple angled pieces to frame the face and a long fringe across it.
Consider Layered Hairstyles
Whether you have straight or curly hair, a fine or thick mane, layering can do a great job for you. It serves to bring in volume on the top, to add texture to the sides, to structurize bangs or to create face-framing angles. However, make sure to get layers placed correctly. "It's about angling layers out the right way — not boxing the face in. That'll make a round face look shorter," says Andy Lecompte, hair guru who styles Jennifer Lopez, Nicole Richie and Madonna, to Allure. Look at the photos in a slider to learn how this works.
A shaggy bob with bangs and a plethora of textured pieces is the best way to offset the roundness of the face. Note this dramatic short fringe!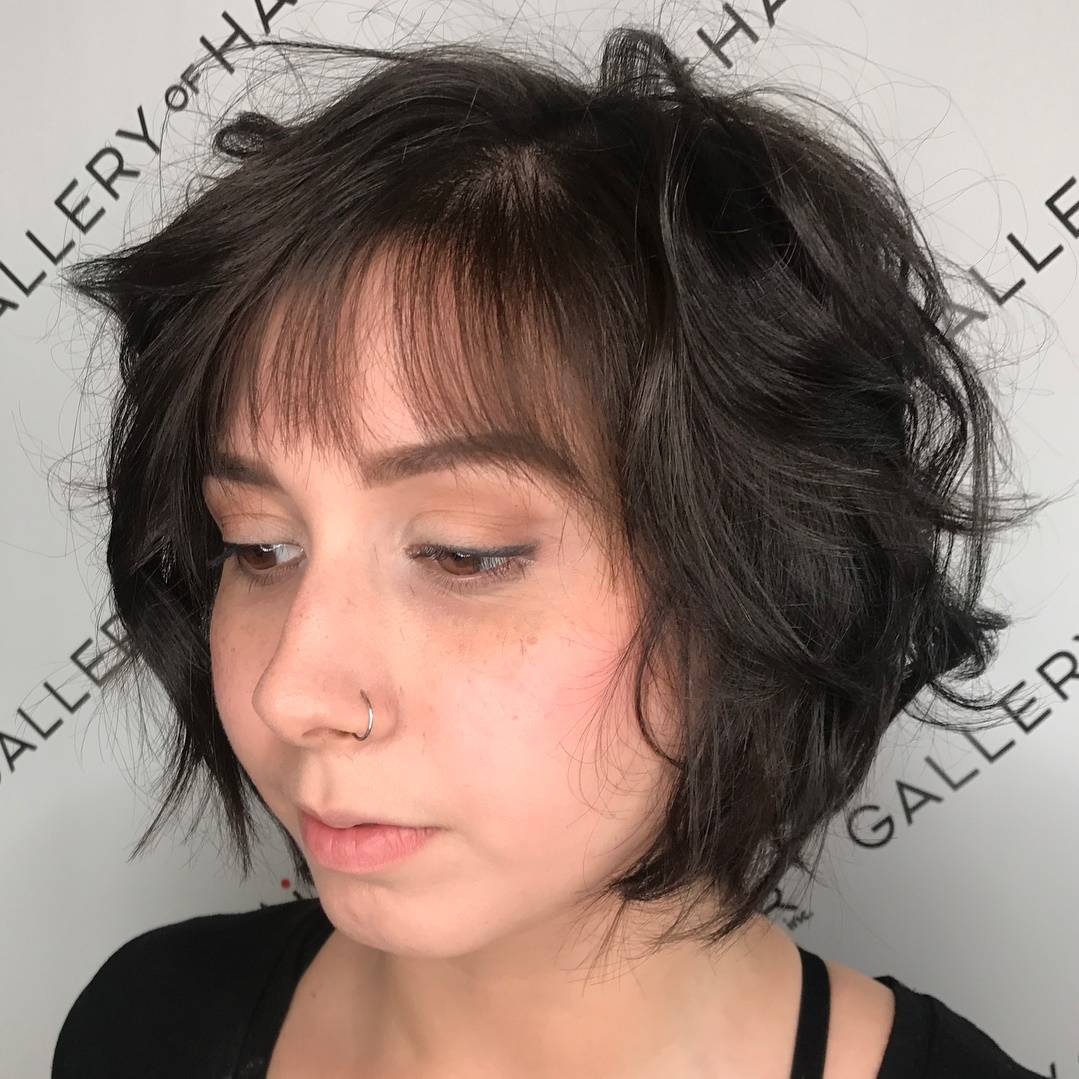 The airy barely-there bangs that come with this messy bob are also great for shifting the focus from the cheeks.
This thin hair is styled close to the scalp to create body, while the piece-y layers serve to add volume, texture and angles.
Here, thick tresses are masterfully sliced to remove weight, though retaining the fullness on the crown. The asymmetry and long bangs help to showcase the face flatteringly.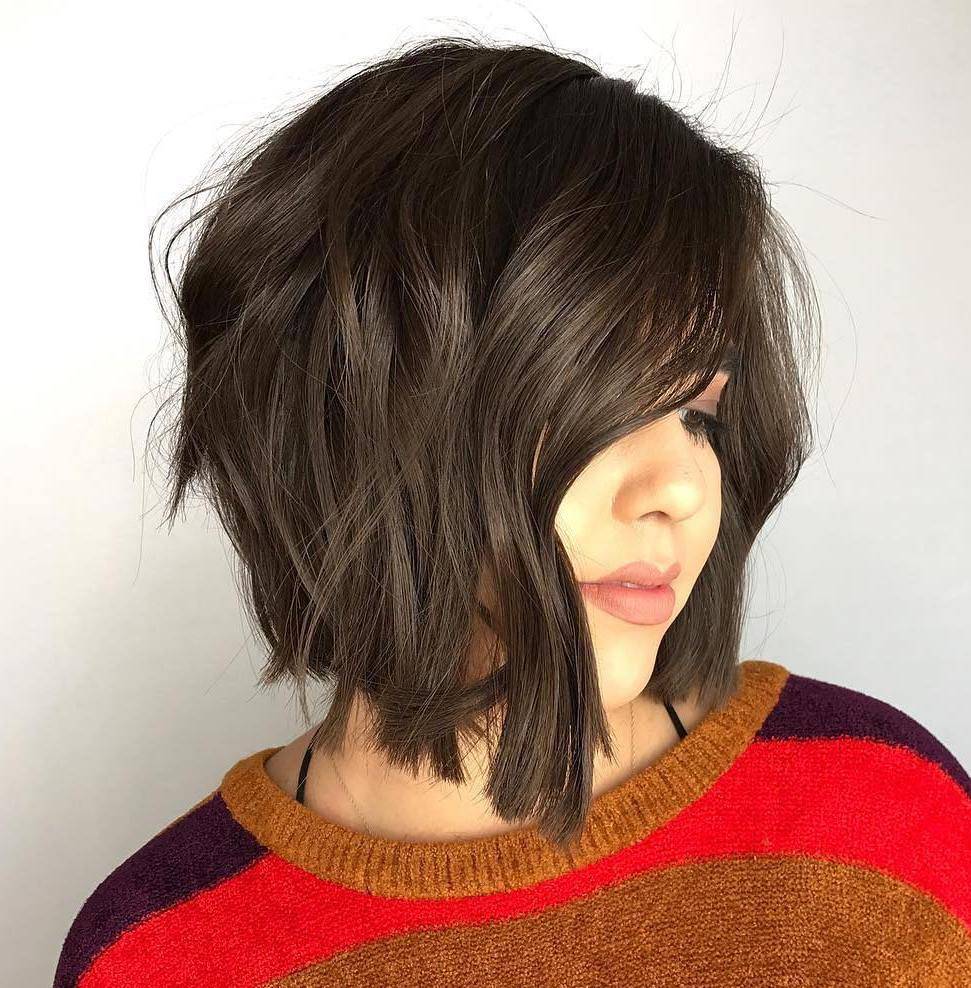 The choppy textured strands that fall below the chin work fine for dragging the focus down, away from the cheeks.
Choosing Cuts for Women Over 50
Obviously, mature ladies need to factor in age-related changes occurring to their hair and face features. They are recommended to give preference to softer looks, but this doesn't mean they should camouflage the face and neck with longer hair. Actually, short cuts have some age-slaying power, when they deliver movement, texture and lift. The required youthful touch can be gained in many ways, such as a longer length around the face, a bit of waves on the sides or trendy bangs, covering the forehead. "Bangs are great for any age and for all hair types," Tippi Shorter, celebrity hairstylist who counts Dakota Johnson and Jennifer Hudson among her clients, tells Allure. "Brow-skimming bangs work great on more mature faces." Well, here are just a few of your options.
While fine hair is prone to flatness, this bob gains dimension due to a nice balayage. And it's a good idea to tuck side tresses behind one ear for getting a flirty look and accentuating the asymmetry.
This curly cut oozes volume and texture. And its shape is eye-catching, yet soft with those loose face framing locks.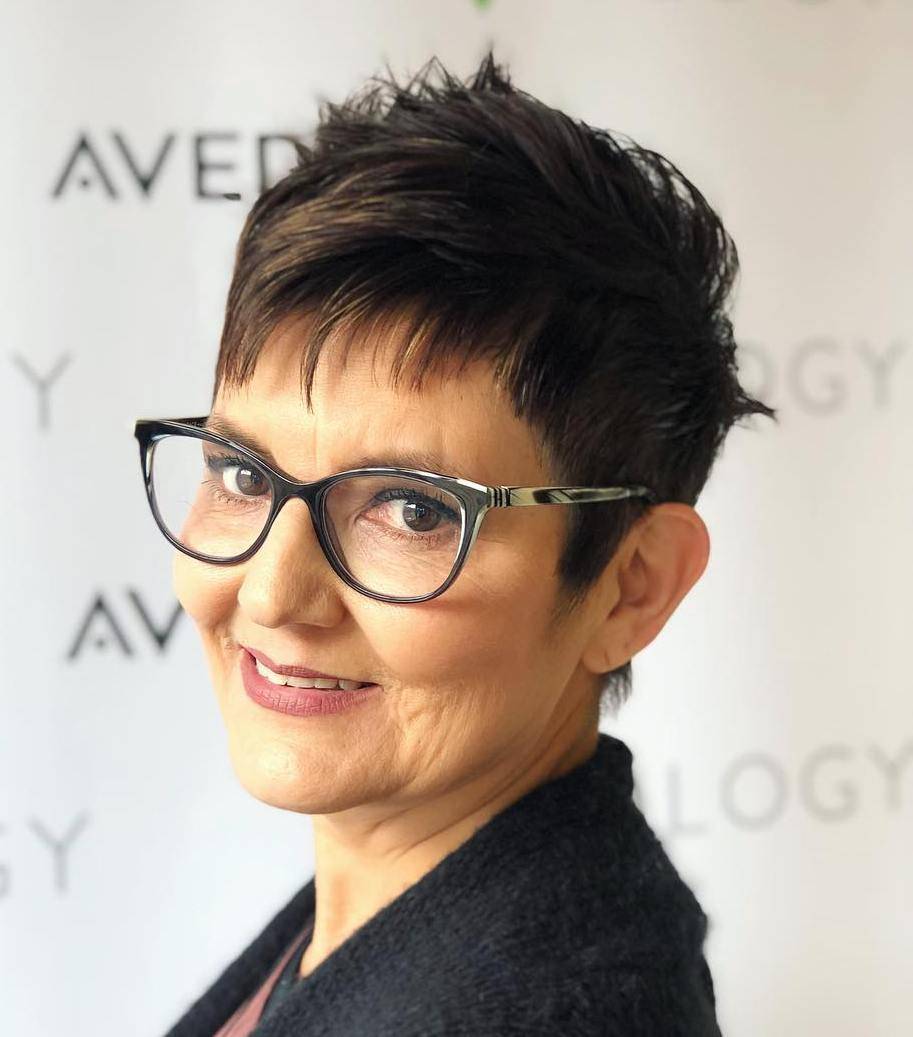 A heavily layered crop with closely cut sides is a good bet for thick hair. This spiky top is sassy and height-gaining, and the short piece-y bangs flatter the face amazingly.
This edgy pixie tune up with glasses, giving slimming lines to balance the chubby cheeks. And we cannot miss those lovely highlights which emphasize the piece-y texture even more.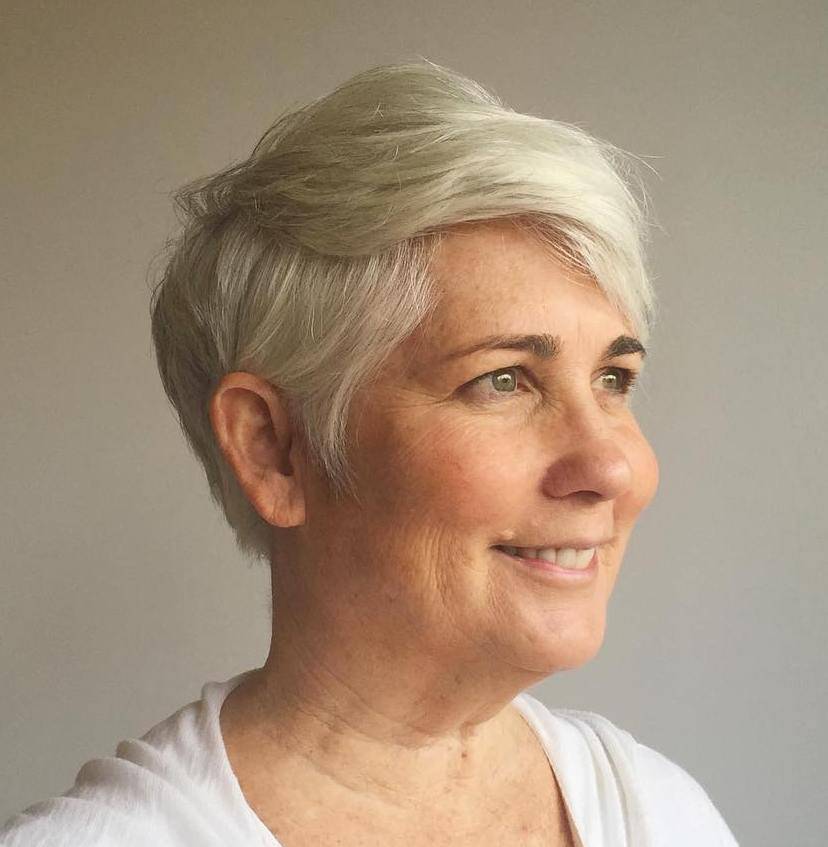 This cut shows how to add a softer feel to straight locks – it has a deep part and top tresses swept to the side to build dimension and a bit of asymmetry.
The Chops Black Women Should Try
Do you prefer sporting your curls with their natural flare? "The tapered, natural hair is perfect for women who want a short style with options," says Charlotte Mensah, award-winning hairstylist and Natural Afro hair expert, to Marie Claire and warns against one-length cuts, while recommending layers for definition and visual structure. Together with weaves and chemically relaxed hairstyles, Afro American women with round faces and full cheeks have a wide choice of short 'dos to balance the bone structure. We've tried to cover all the alternatives from Teeny Weeny Afro's to chin-length cuts for you to get inspired.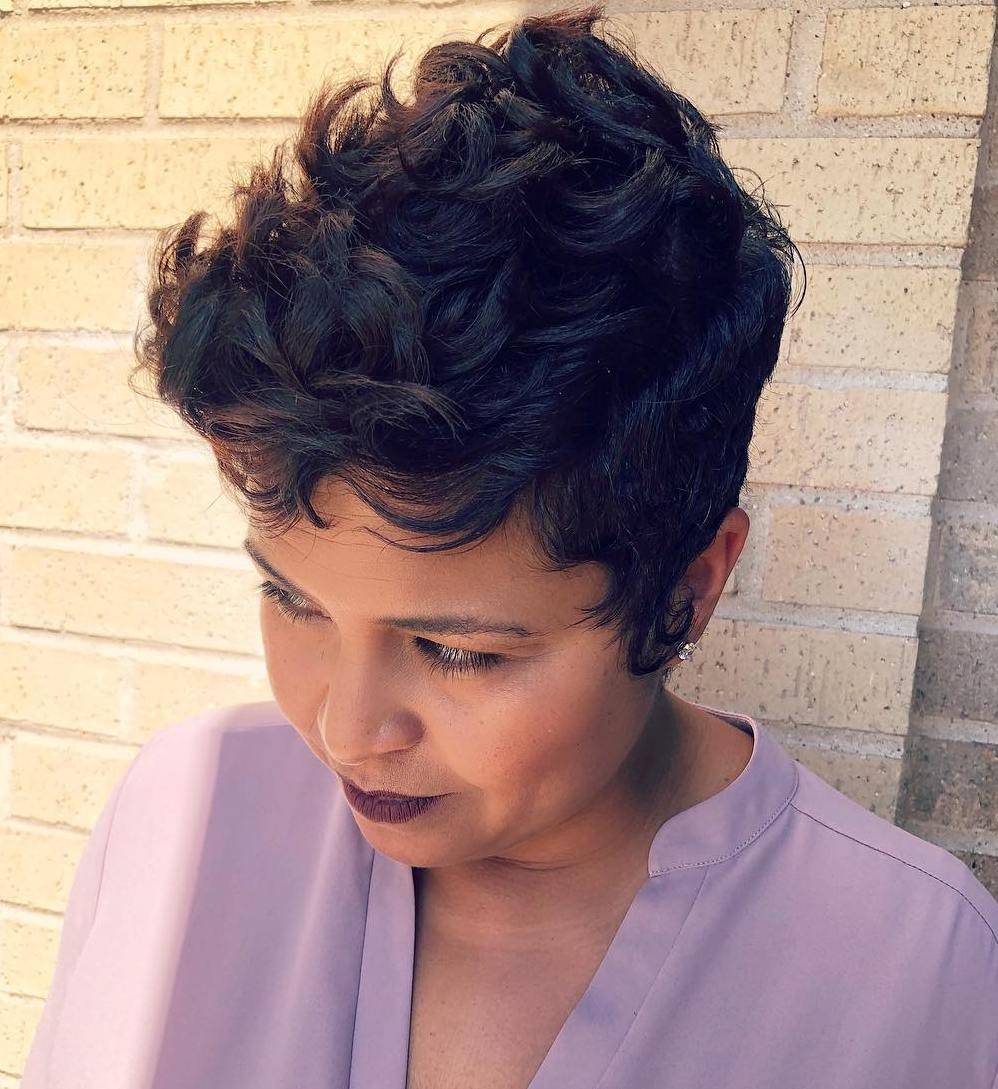 Don't hesitate to do a weave when you need to mimic this voluminous and heavily textured fauxhawk. Also, take notice of these scenic locks on the temples.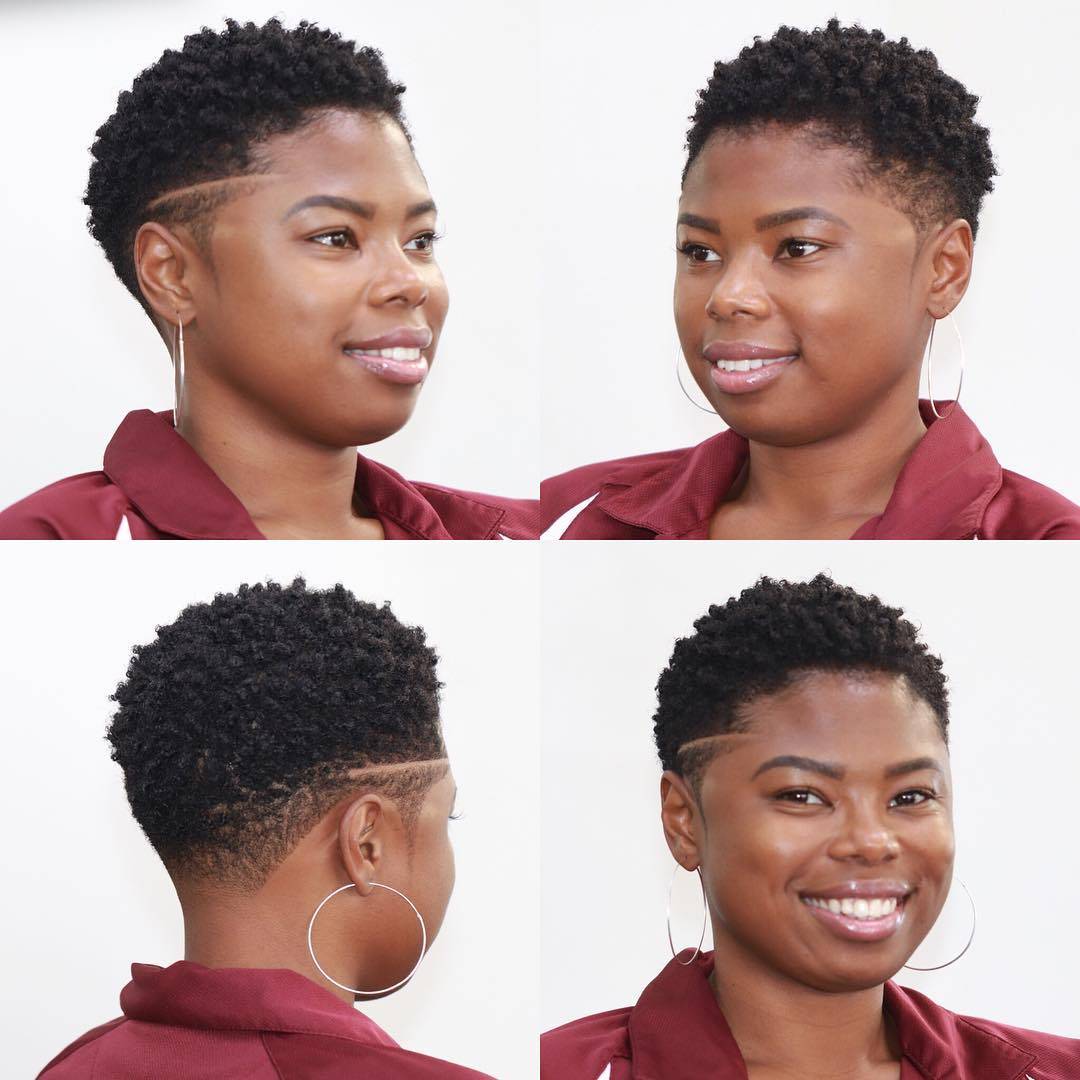 A bold crop with shaved designs or minimalistic lines is a real thing for natural hair. It embraces the inherent texture and slims the face by leaving the volume just on the top.
This African American look arrests with its effortless asymmetry and handsomely defined spirals, also styled in side bangs. Well, can you dream of more elongation?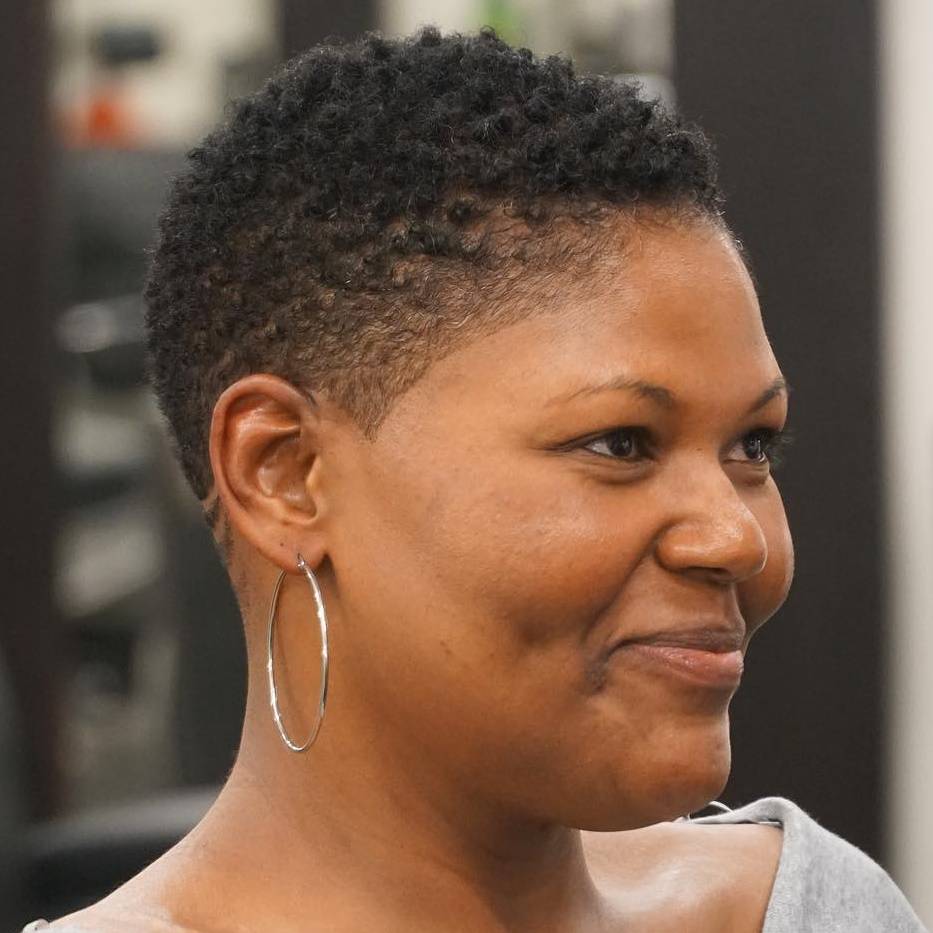 When thinking of TWA for your curly hair, make sure to get a sharp lineup that balances the roundness of your cheeks and reveals your personality.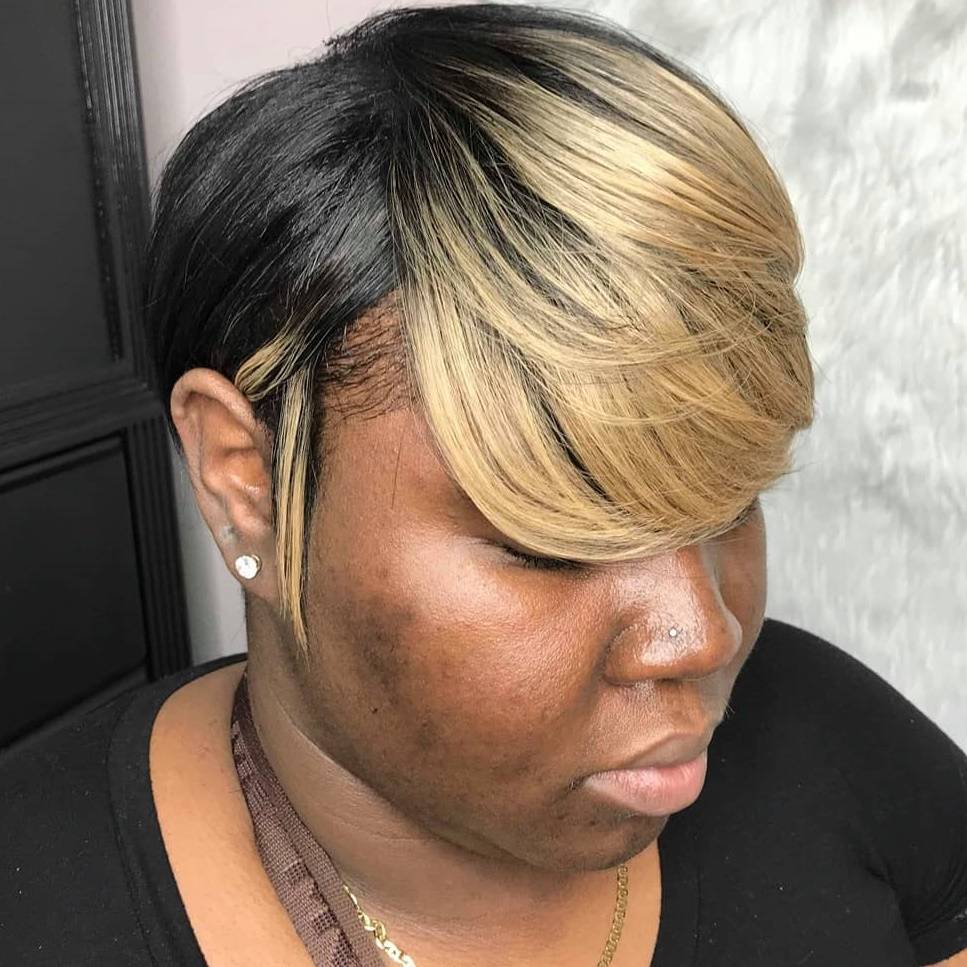 For full cheeks, opt for a vibrant two-tone cut with a strand in the front of the ear to stop the roundness.
10 Best Short Hairstyles for Round Faces to Fuel Imagination
Still not sure about going short? "(…) if you're comfortable in your own skin and not insecure about the way you look, don't be afraid to just chop that hair right OFF! Round + oval faces are the absolute best face shapes for going super short and no one works a better pixie than Ginnifer Goodwin," writes hair expert Kristin Ess, who styles Lucy Hale and Lauren Conrad, in her blog. Yes, you just need to remember that short hair for round face needs to be styled so that something could shift the focus away from the width of your face. And we have more on-trend hairstyles to illustrate this method.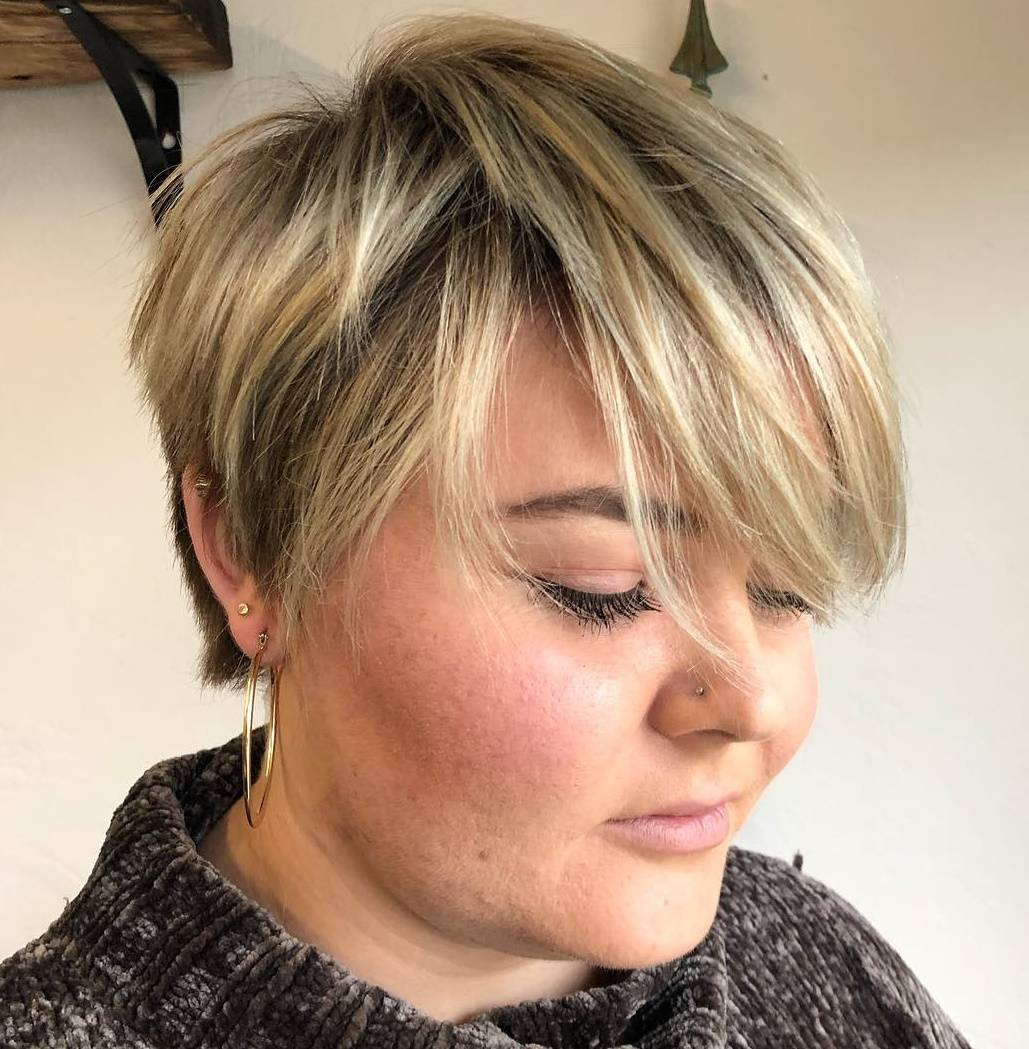 Ladies with double chins tend to benefit from shaggy pixie cuts with choppy top tresses that are pulled forward to create elongation.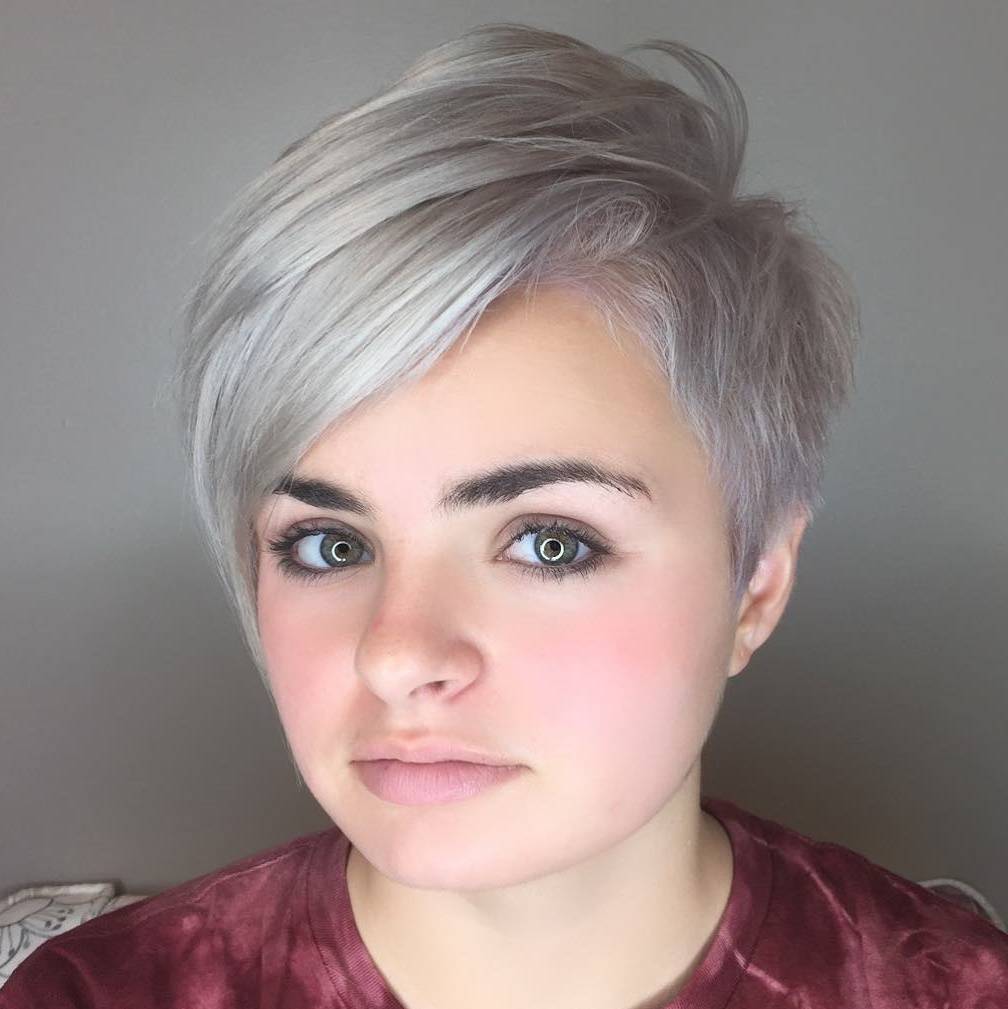 This gray pixie delivers the required height and adds angles to highlight the face without accentuating its roundness.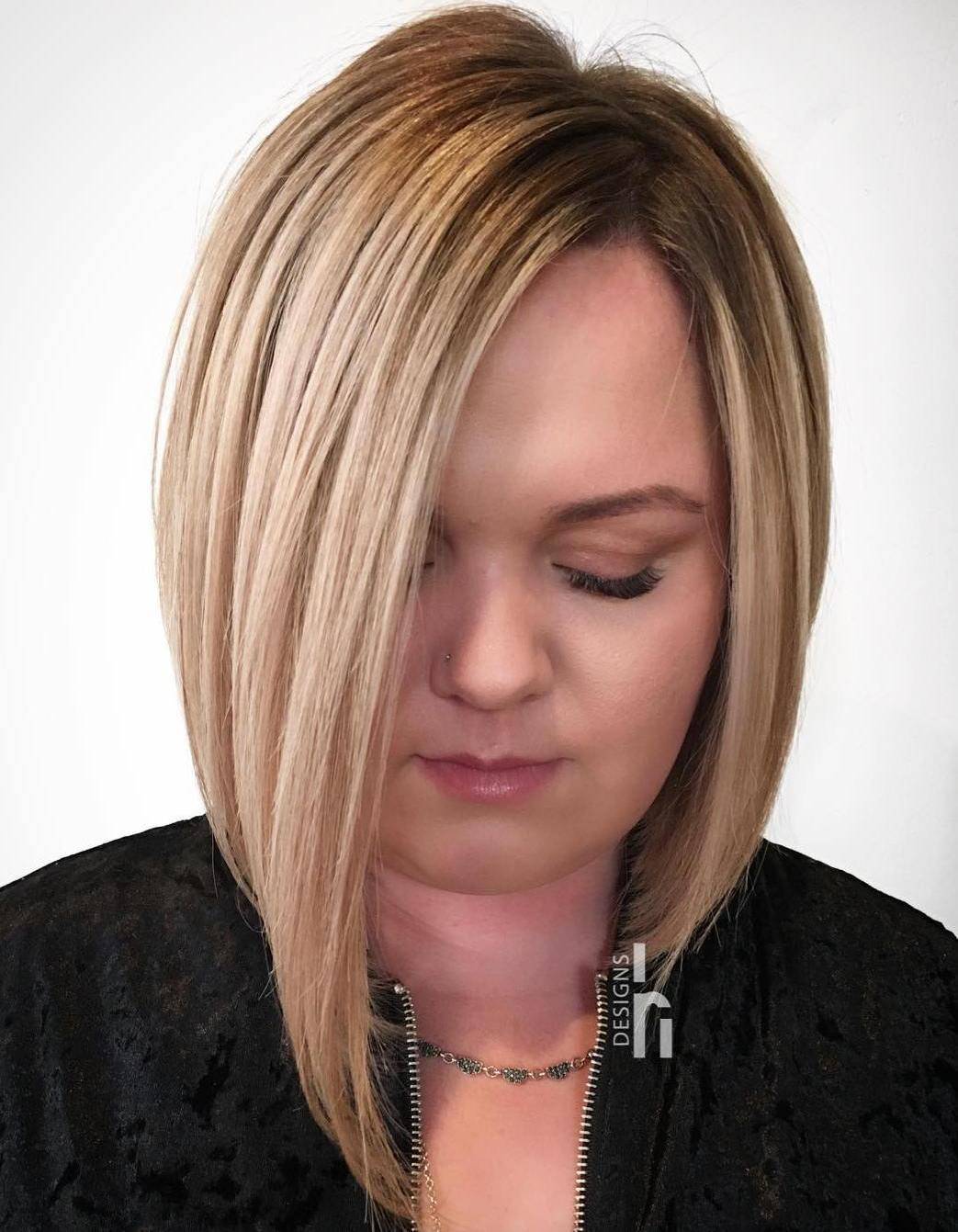 If you are looking for a medium short hairstyle, go for a straight lob with blunt ends and longer front to get an edgier and sharper feel.
Go bold with this mind-blowing crop that combines very short sides and spiky hair on the crown that can be also styled to the side.
When thinking of a short polished bob, get it customized to your face shape by adding tapered pieces in the front and keep it at the chin level like this Korean girl does.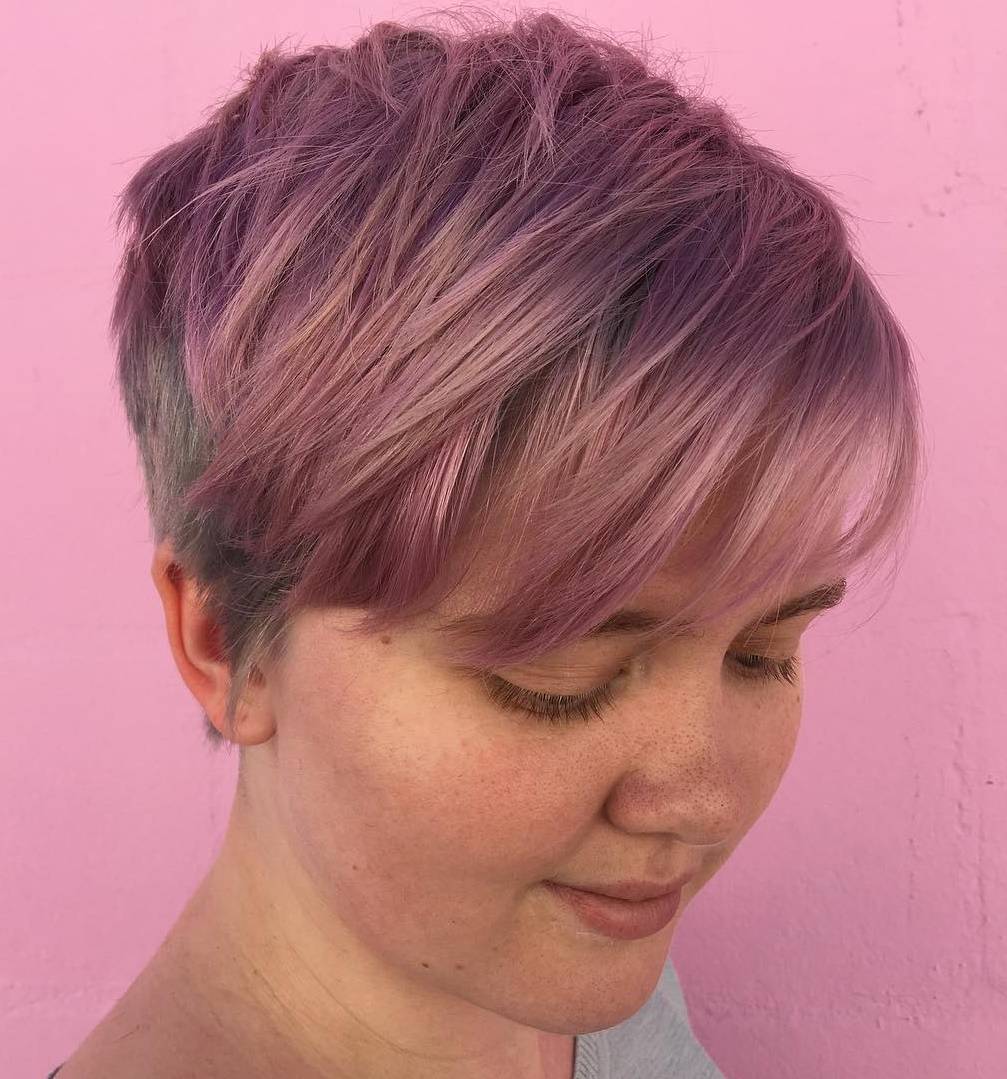 We love this cool, yet soft mix of silver and pink, complimented with brow-skimming wispy bangs.
And this messy pixie has a bit stronger feel due to a jet black hue and rather short bangs.
What a nice idea to incorporate both lengthy waves and graphic baby bangs into an amazingly flattering crop!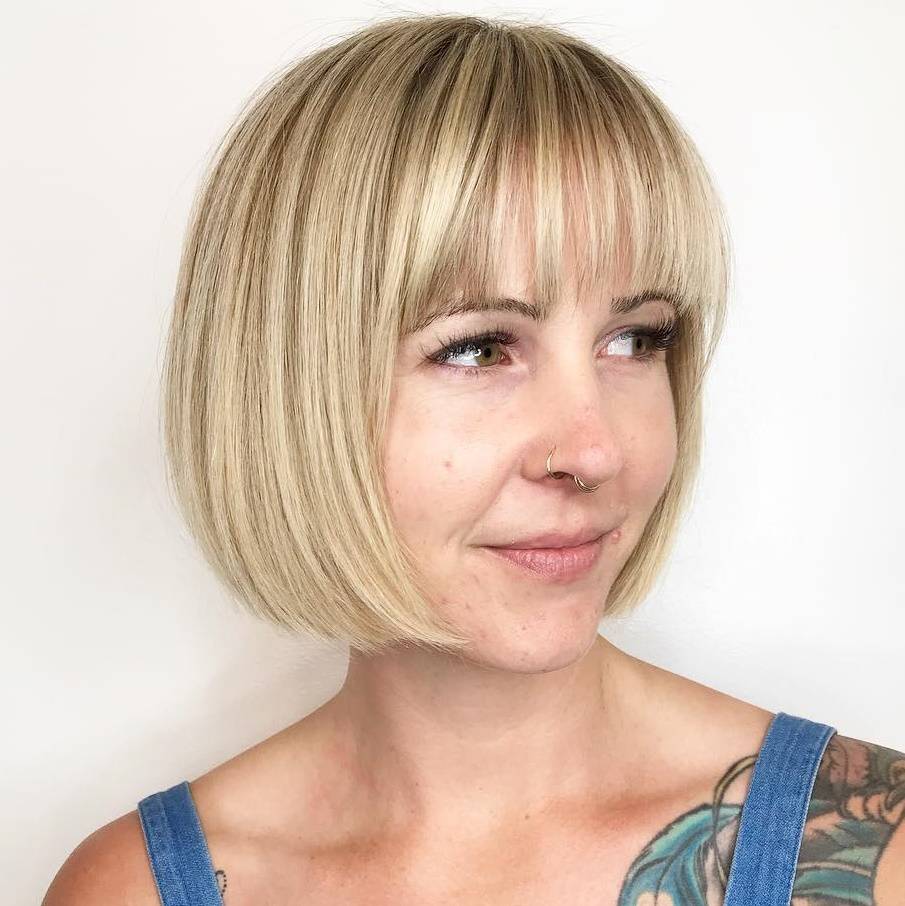 This very Frenchy bob with bangs frames the face perfectly with no rounding effect thanks to its chin length, piece-y fringe and angled front tips.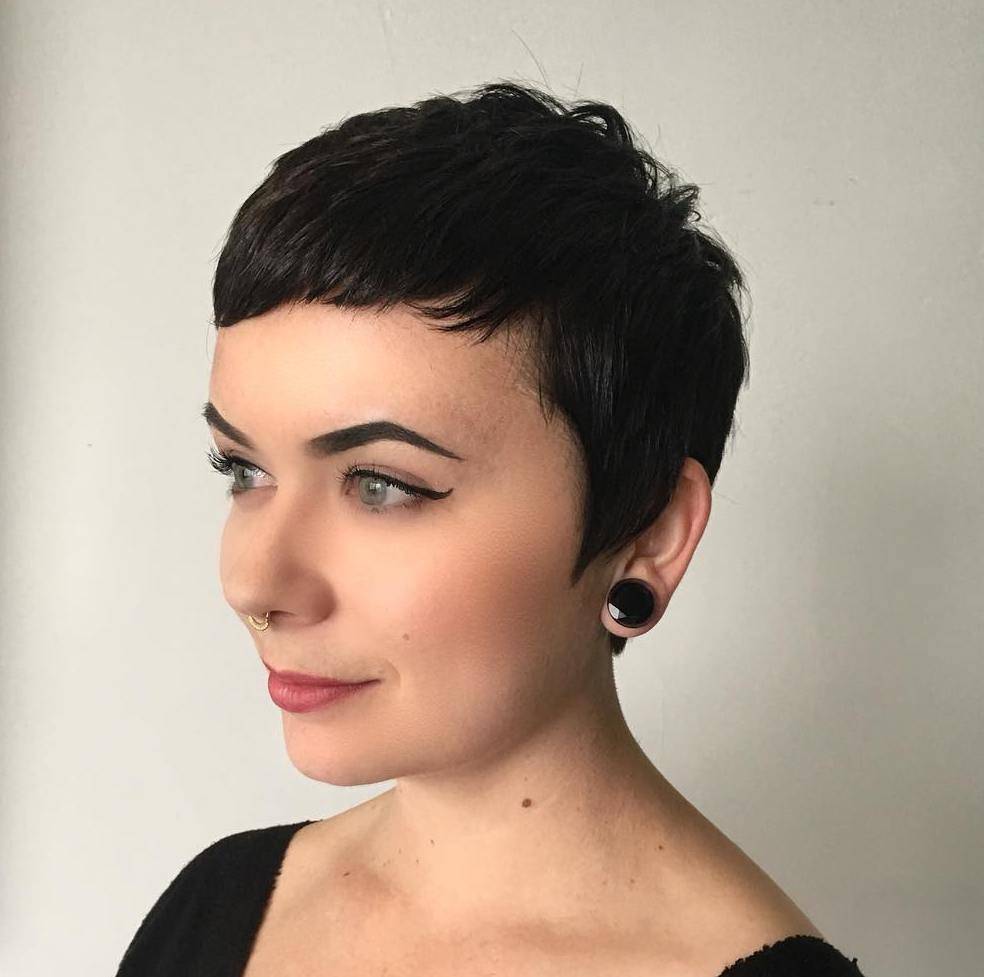 Go very short with Jennifer Goodwin-esque pixie, but keep it well-textured and interrupted with dramatic pieces in front of the ears.
We hope that thanks to our tips and those inspiring pictures you won't hesitate to open up your face and neck with a cool short cut. No matter how old you are and what kind of hair you have, these hairstyles are doable and will flatter your facial features. So, take the plunge and share your new looks with us!