We do believe that brunettes can have even more fun with their locks than blondes do. With so many techniques and color combinations available for dark-haired gals, brown hair with highlights is a go-to option when the time comes to give a new twist to brunette hair. And we aim at assisting you in your hair goals by providing both hair experts' tips and photo inspiration.
Highlights Inspo for Different Hair Lengths
"Highlights aren't a one-size-fits-all, and neither is the way they are administered. Moreover, the type of highlight depends on a number of things: the look you want, the kind of hair you have, how blonde you wish to go," writes Kyle White, Oscar Blandi's celebrity colorist who works with Robin Wright and Ivanka Trump, in his post for Refinery29.
Obviously, your haircut matters, and application of highlights should be determined by its length, shape, texture and density to achieve a natural flow of highlights coupled with the most flattering overall look. Particularly, those with layered, wispy cuts should go easy on highlighting to avoid an over-lightened effect. "Otherwise, their ends will appear thin or see-through," says Marie Robinson, top colorist with Natalie Portman and Anne Hathaway in her clients list, to Allure. And here are some great examples of brown hair with highlights to make a note of.
This short straight bob might look flat with its lack of layers, if not for these random pops of color bringing in dimension to brunette hair.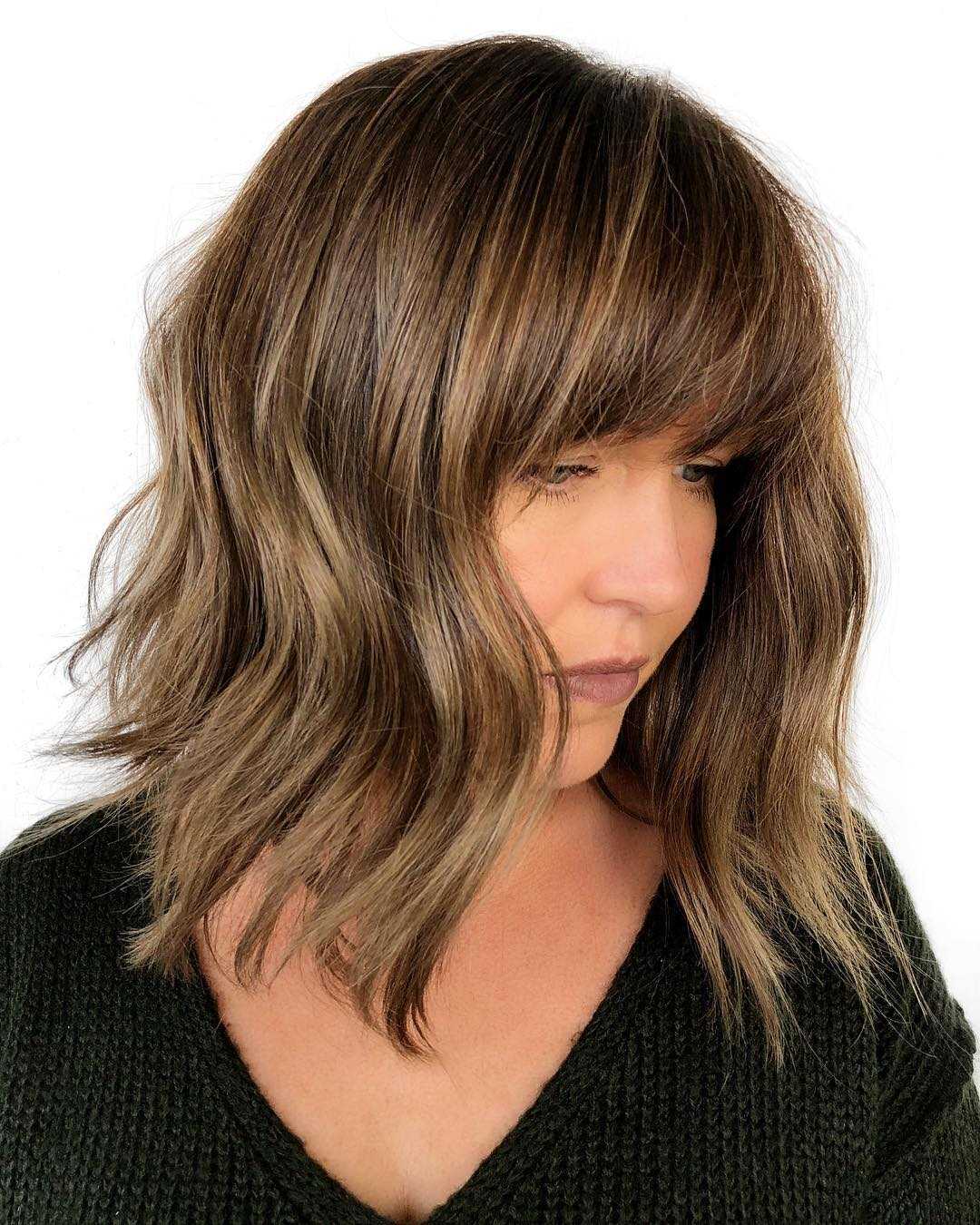 Is this medium bob really golden brown or rather blonde? The hair sparks with multiple hues, making the style sophisticated and unique.
We love this adorable dark brown hair with vibrant caramel highlights. Without any doubt, long hairstyles are the best to showcase the cold brew trend everybody is crazy about for its customizable mix of highlighted ribbons.
Brown hair with highlights is a gorgeous color option if you wear a bob. Look how beautifully this shoulder length bob is razor-cut to induce texture and brightened up with a seamless balayage to add vibe.
Lastly, here is a wonderful idea on how to make very short dark brown hair even more dramatic – just spice it up with stunning flashes of white.
Hottest Trends for Dark Brown Hair
When having a dark brown base color, you might want to opt for the current caramel ombre trend, which implies a bit lighter color at the ends, while standing for effortlessness and low maintenance. "This is still very dark but will have fine and very subtle (so you don't see them) baby lights to an ombré. You want the highlights to be subtle because you don't want them to end up looking red or brassy—you want them on the neutral side," says Stephanie Brown, celeb colorist catering to Melissa Villaseñor and Kate McKinnon, to Elle.
As an alternative, Cherin Choi, celeb colorist and co-owner of LA-based Nova Arts Salon, offers honey bronde and tells to Refinery29 that pale brunette tones (those falling somewhere between blonde and brown) resonate with dark browns and give the illusion of a restful week on the beach without feeling too summery.
Let's have a look at some awesome examples of dark brown hair with highlights illustrated through Instagram.
The base of these gorgeous locks — natural dark brown hair — feels much richer and denser, when contrasted with blonde highlights shifted to the bottom.
For a softer effect, ask for light brown highlights blended seamlessly into your deep chocolate brown hair, including the face framing area. This brown balayage is absolutely gorgeous!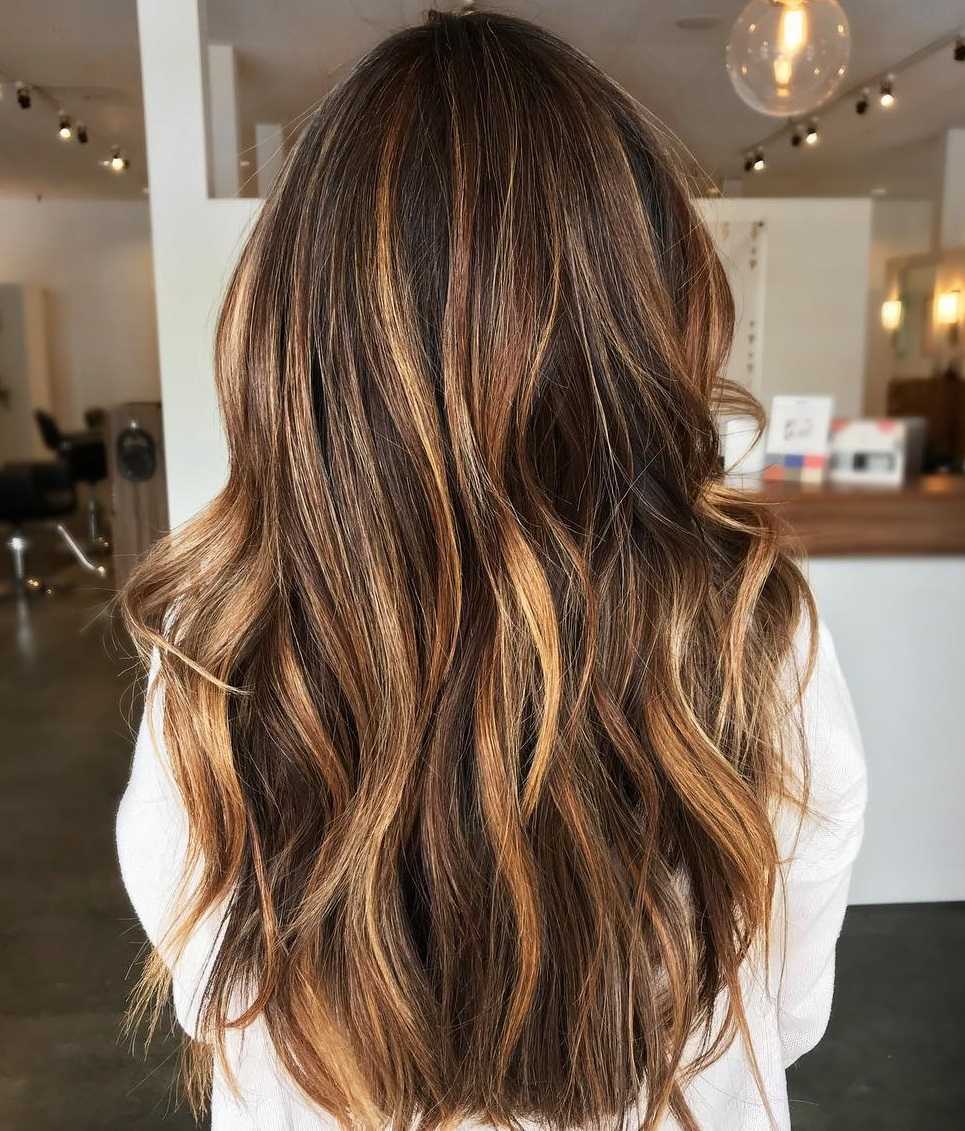 We just adore this fabulous dark brown hair with highlights. It's really amazing how the lush mane gains brightness through golden highlights placed strategically to outbalance the neutral tones and accentuate the sliced texture.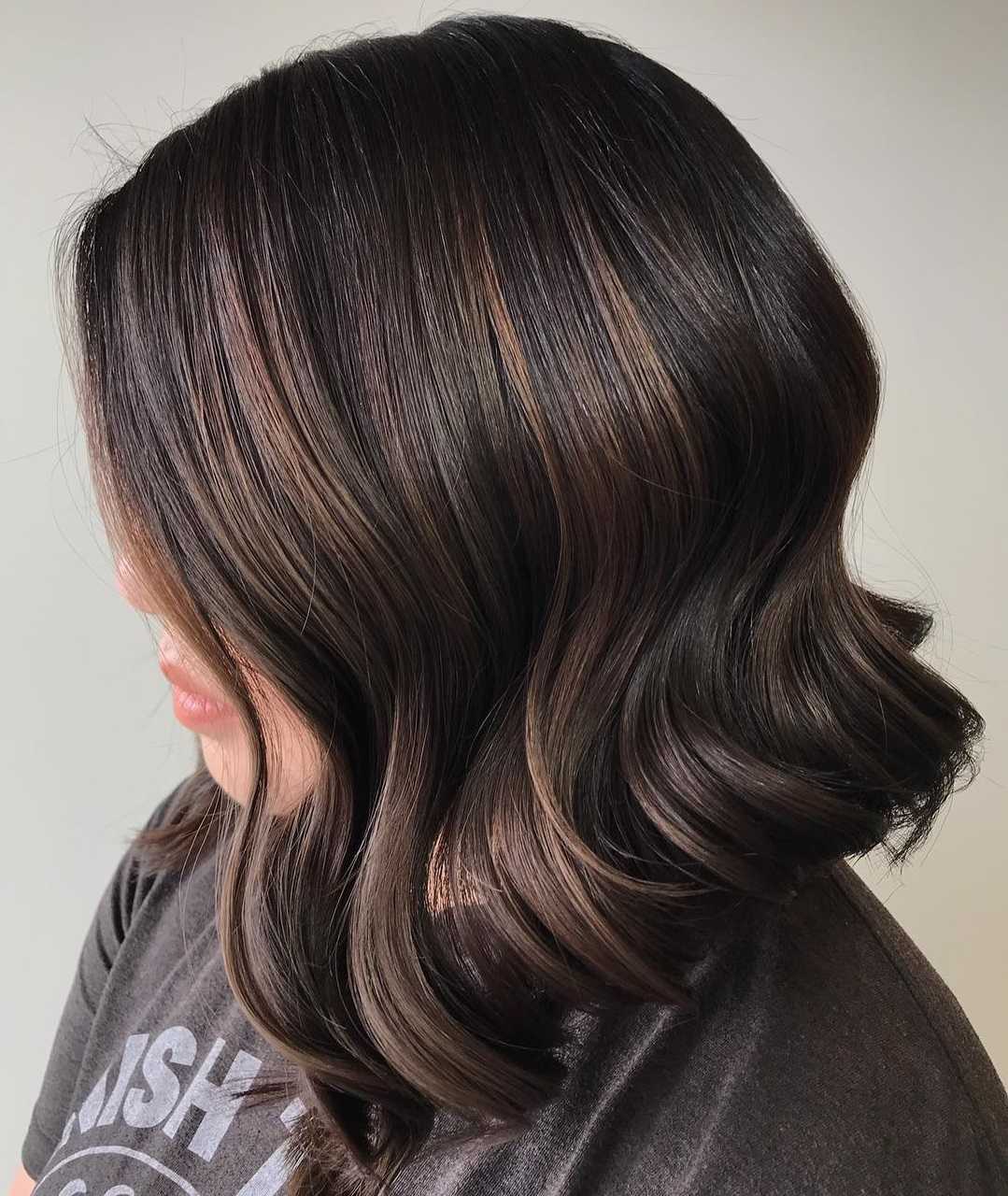 Dark brown hair with subtle highlights looks really classy. This vibrant and exquisite dark color palette is created with subtle streaks of medium brown to add some radiance to the natural feel.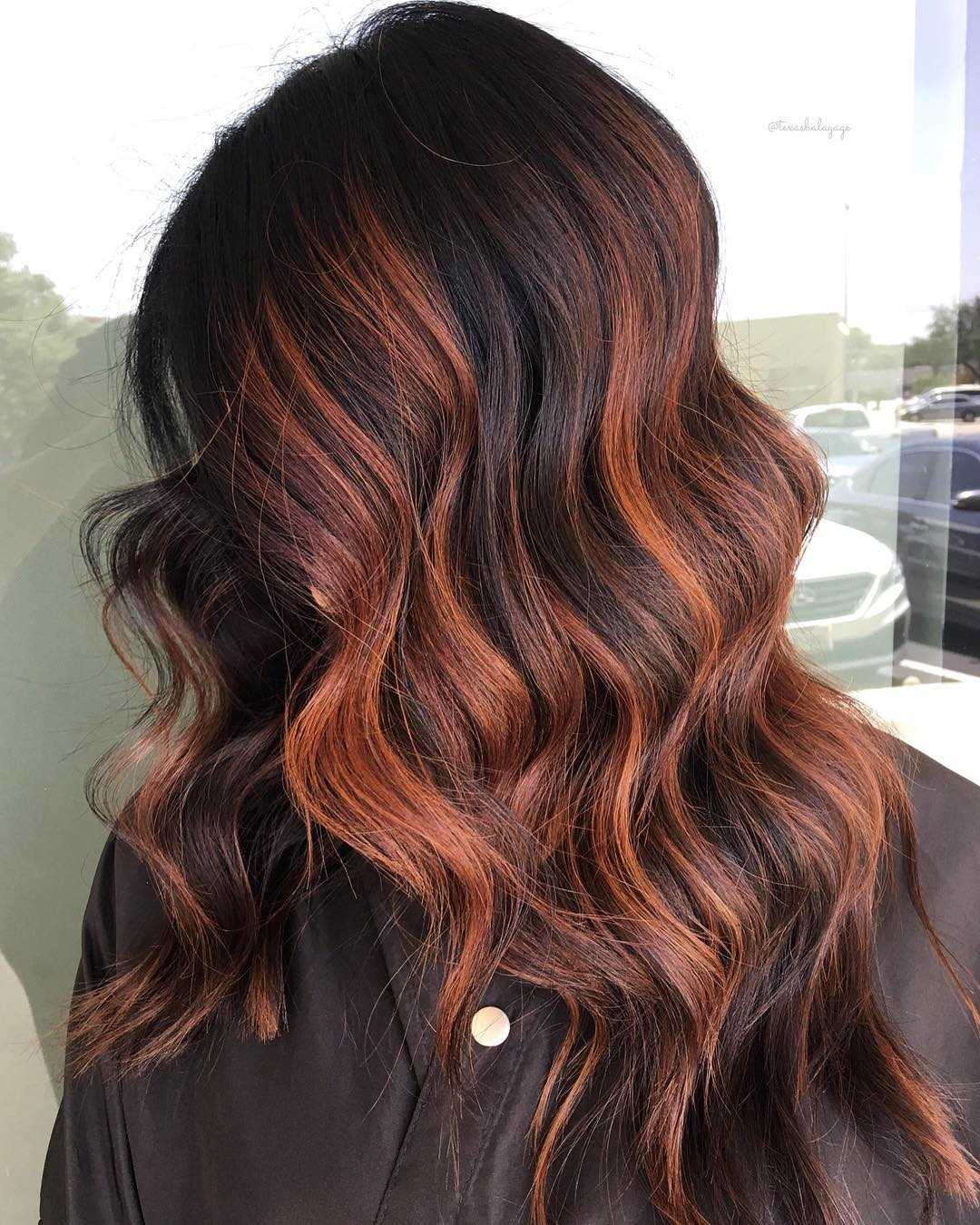 A blonde hue is not your only option for brunette hair. If you consider brighter color combinations, make a note of this auburn-streaked look and save it for fall days.
Though this angled bob lost some body because of slicing, a honey balayage made ample amends for the loss and provided depth and gloss to the dark brown hair.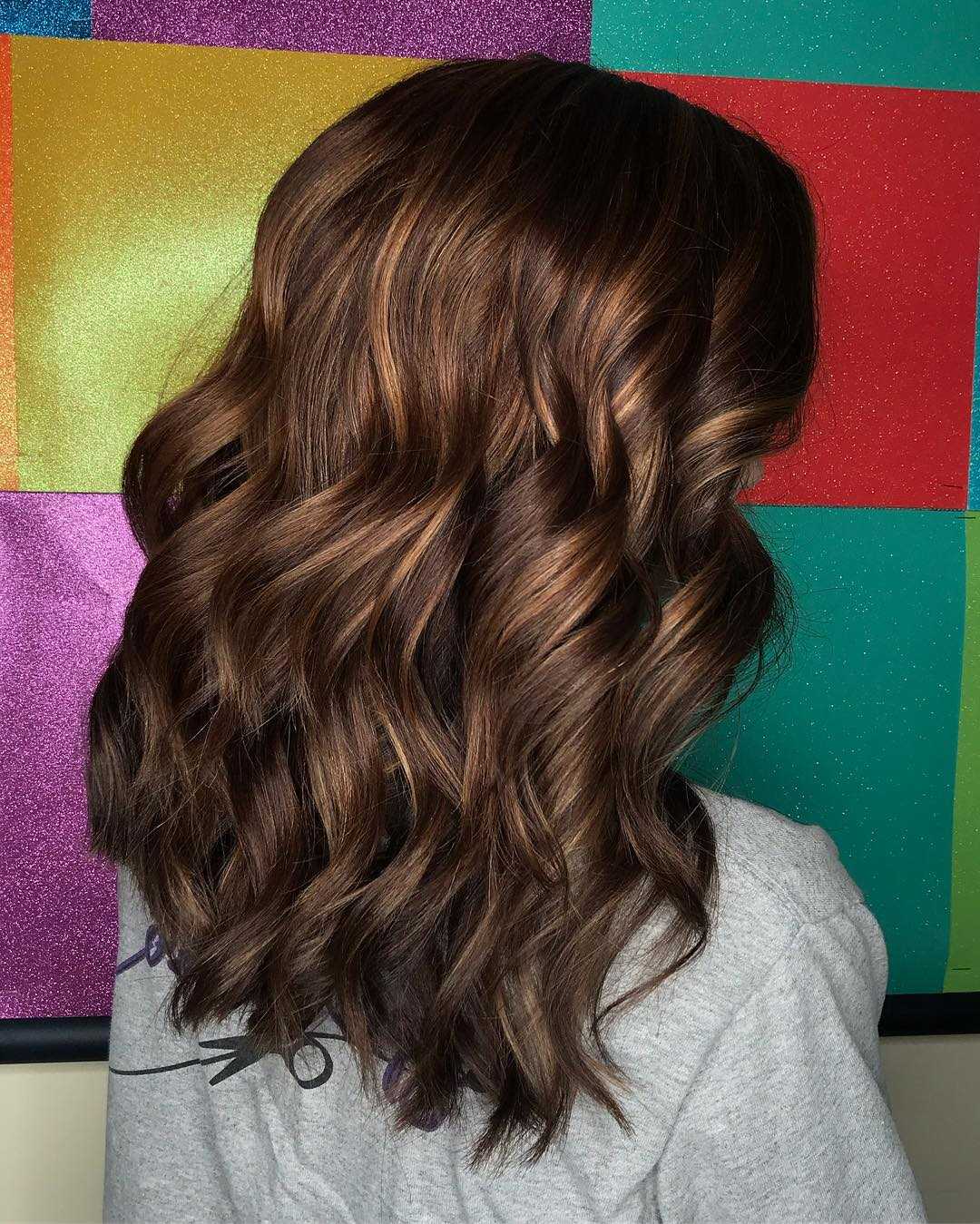 We adore this delicate brown balayage with lowlights, incorporated to enhance dimension and create a naturally-looking blend.
Are you ready to make a strong statement by pairing a jet-black hair with subtle highlights of purple? What a passionate combo, which is certainly hard to miss!
Dark brown hair with subtle highlights is your best option if you want to look natural. Subtle highlights towards the bottom catch the light and enhance the bounce of long locks.
Here's another good alternative to blonde highlights: lend a great deal of color to your routine with those cooper splashes, which mix perfectly with a deep brown base.
Trendy Hues for Light Brown Hair
For girls with light brown hair, Stephanie Brown offers a hot beach brown look, featuring an overall neutral or ashy base with subtle finer highlights towards the ends. "Like beige blonde, it will be very beachy and for those with cooler undertones. But for warmer undertones, you can always make those highlights slightly warmer without affecting the overall look," the colorist tells Elle.
If you set sights on blondes, think rather soft babylights than chunky strips of color, following the trending lived-in approach. "I think a big trend for 2021 will be natural-looking, soft highlights. Bleached hair and single process platinum was a huge trend, I think people will be softening their blonde this year," Oliva Virden, another color artist of Nova Arts Salon who styles Machine Gun Kelly among other Hollywood elite, says to Refinery29.
Keeping these tips in mind, scroll further for more trendy options.
This amazing piece of balayage combines a reddish base with blonde tips, delivering a striking contrast with a flawless transition. A stunning example of dark brown hair with highlights, isn't it?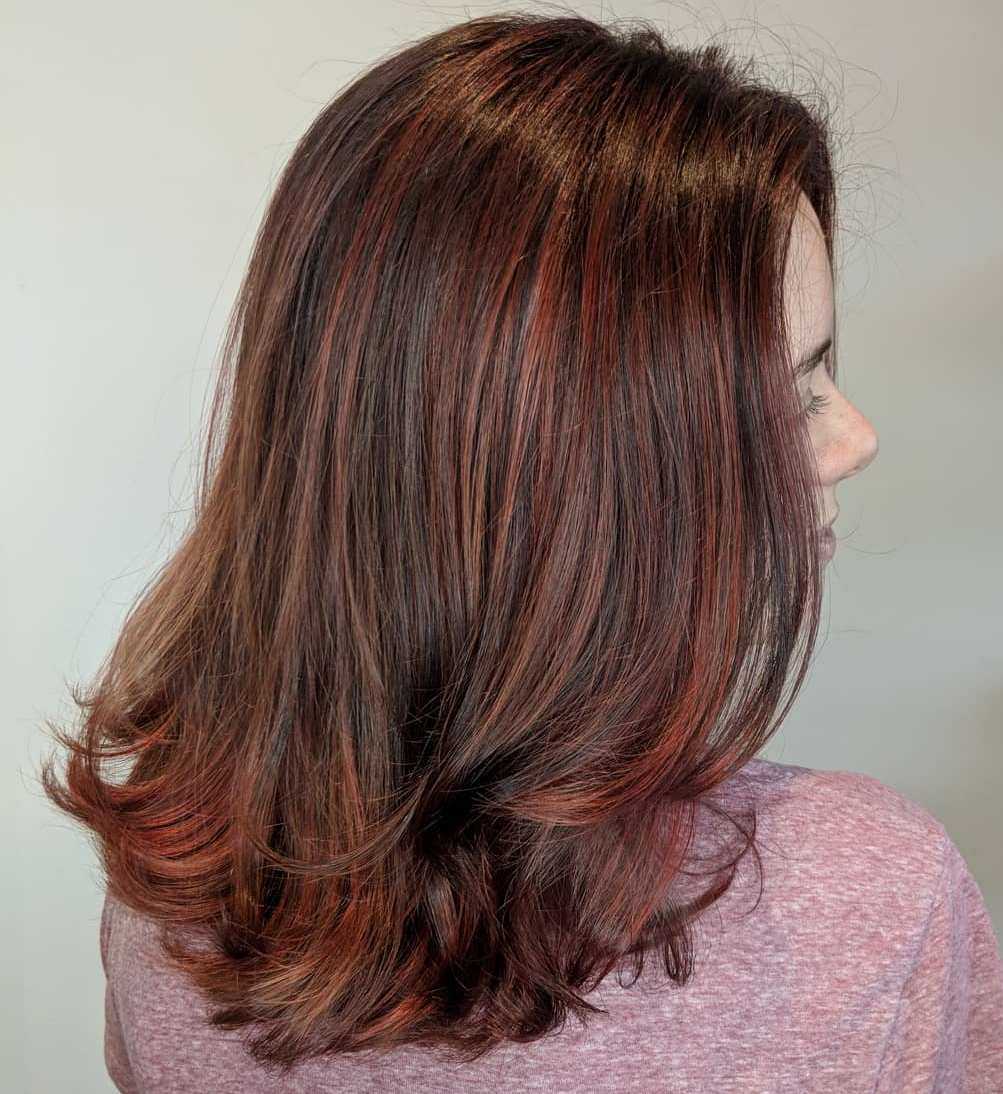 On the contrary, the next color blend incorporates red highlights, shining with copper, ginger and auburn hues to brighten up the neutral base.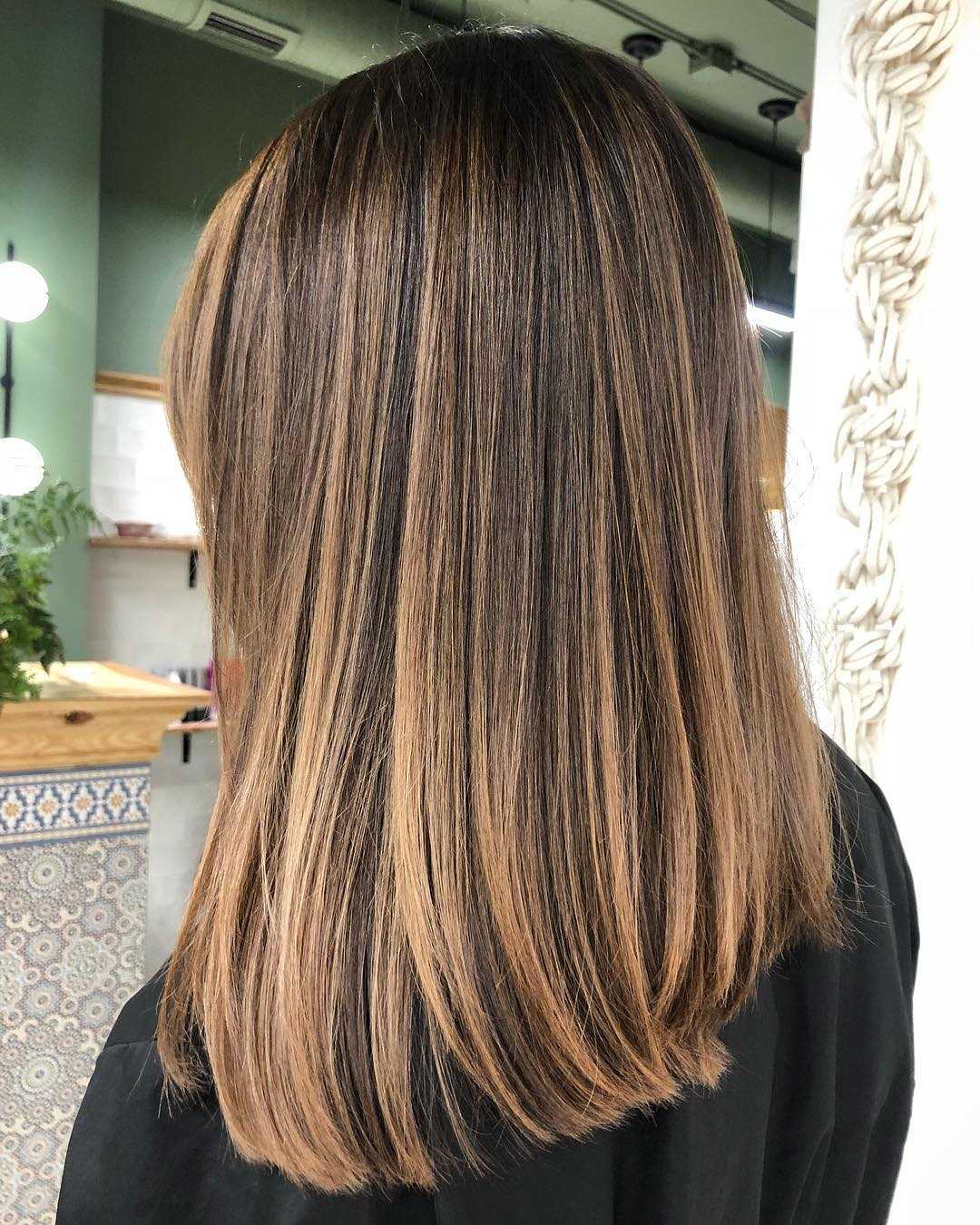 A shade of caramel is nearly the most popular highlights choice for a brown base, since it adds warmth, brightness and dimension, yet feels lived-in. Without any doubt, this medium brown hair with highlights is totally awesome.
When you want to bring a vibe to your hair color with no signs of blonde involved, team up your base shade with brunette highlights, for example blend light brown and deep chocolate hues.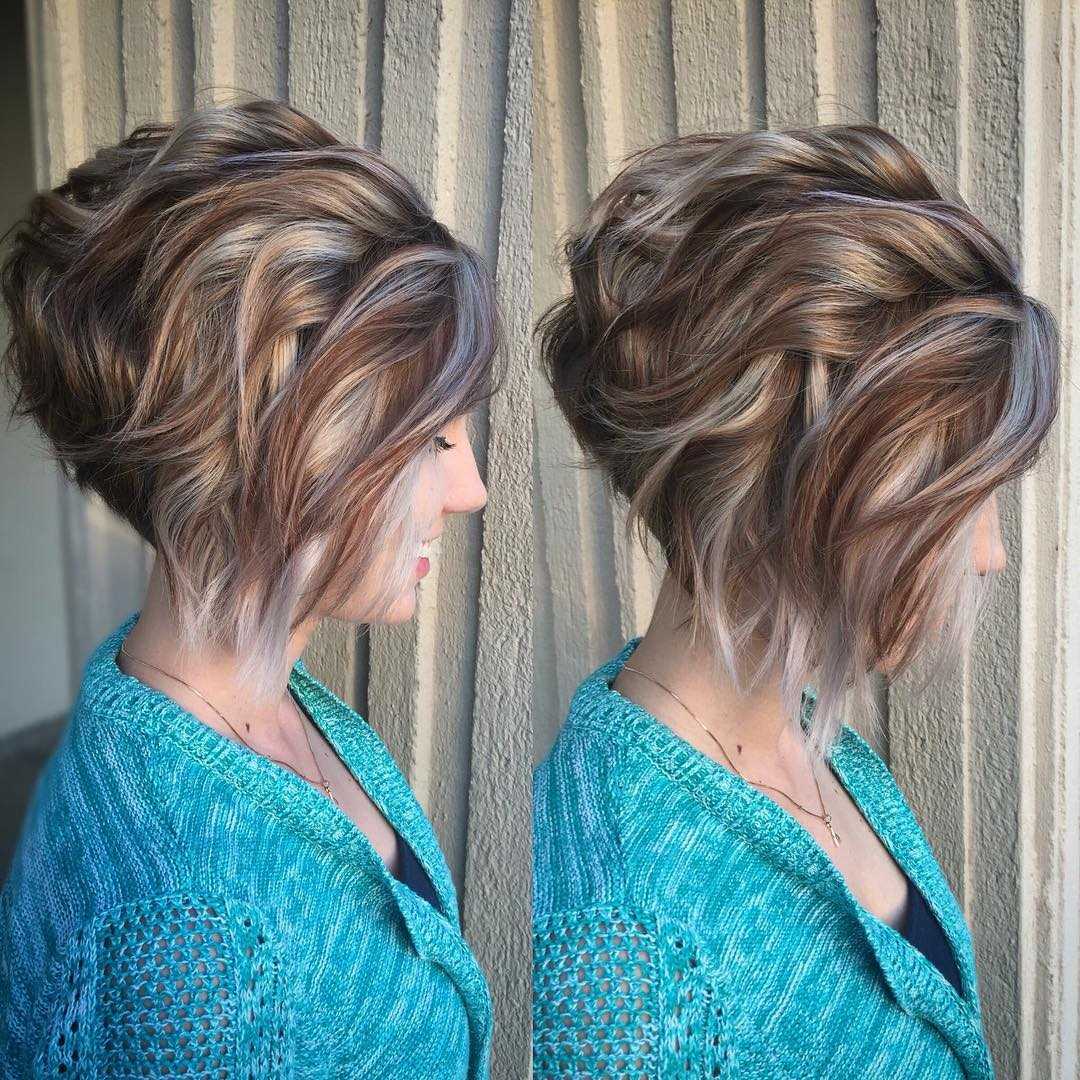 If blonde highlights seem too boring to you, give a stir to platinum, golden, gray and even reddish shades to get an eye-popping effect like this one.
10 Best Brown Hair Highlights Ideas You Won't Resist
With so many hues available for blending into your brown hair, you shouldn't miss your skin tone aspect, since even a super-duper color can wash you out instead of enhancing your complexion. "Medium brown hair that has strategically placed golden highlights throughout is almost always flattering on fair skin," says celebrity colorist at Sally Hershberger Nikki Ferrara to Allure, explaining that these highlights make the skin look porcelain, not 'too pale'. For those with darker pink-y tones she recommends warm chestnut or auburn accents, while medium-toned faces will look stunning when set off by a mix of deep chocolate and warm copper hues. Black cuties with a deep tan complexion can get a dark chocolate base and compliment their curly locks with golden undertones or opt for amber brown highlights. Keep exploring our Best combos to find an idea for your skin tone.
This brunette rocks her long shiny waves freshened up with streaky splashes of warm light brown highlights.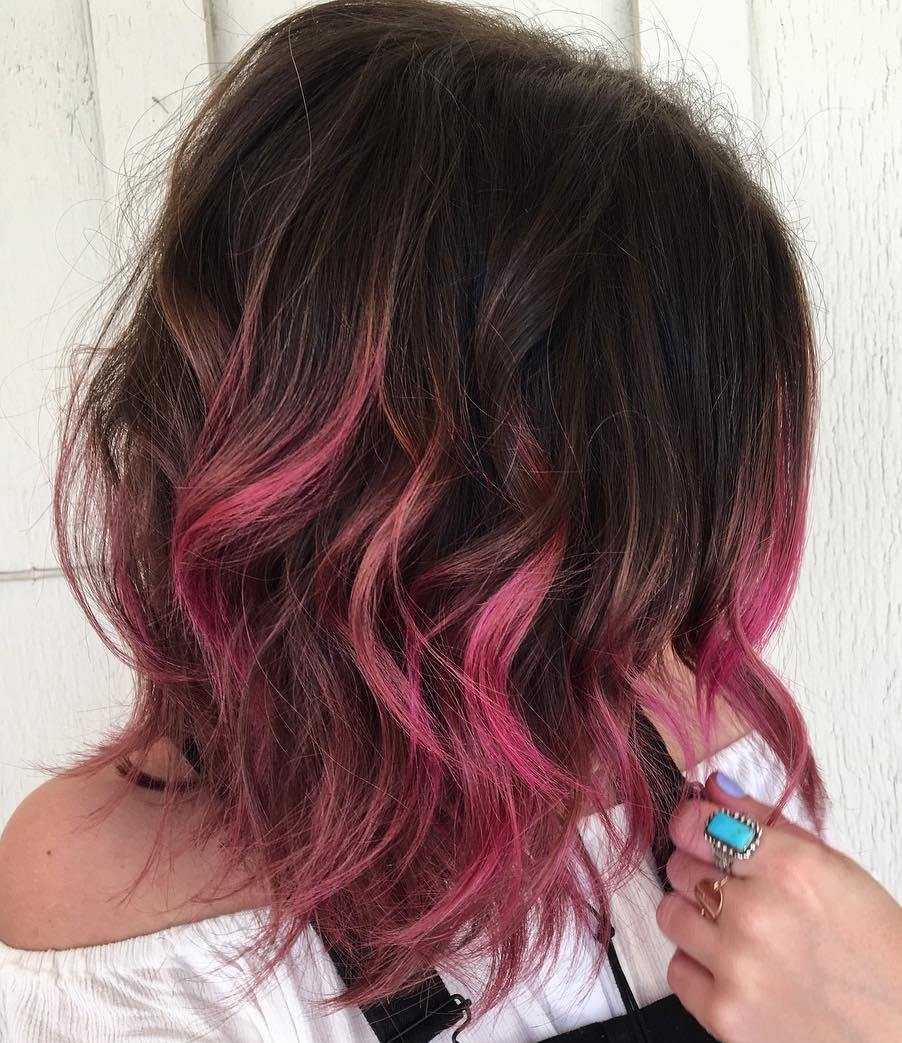 This ombre work, graduating from a neutral brown base to bright pink tips, is quite unexpected, yet fun.
When exploring this stunning mix of hues, pay particular attention to the lovely blonde highlights placed around the face to brighten it.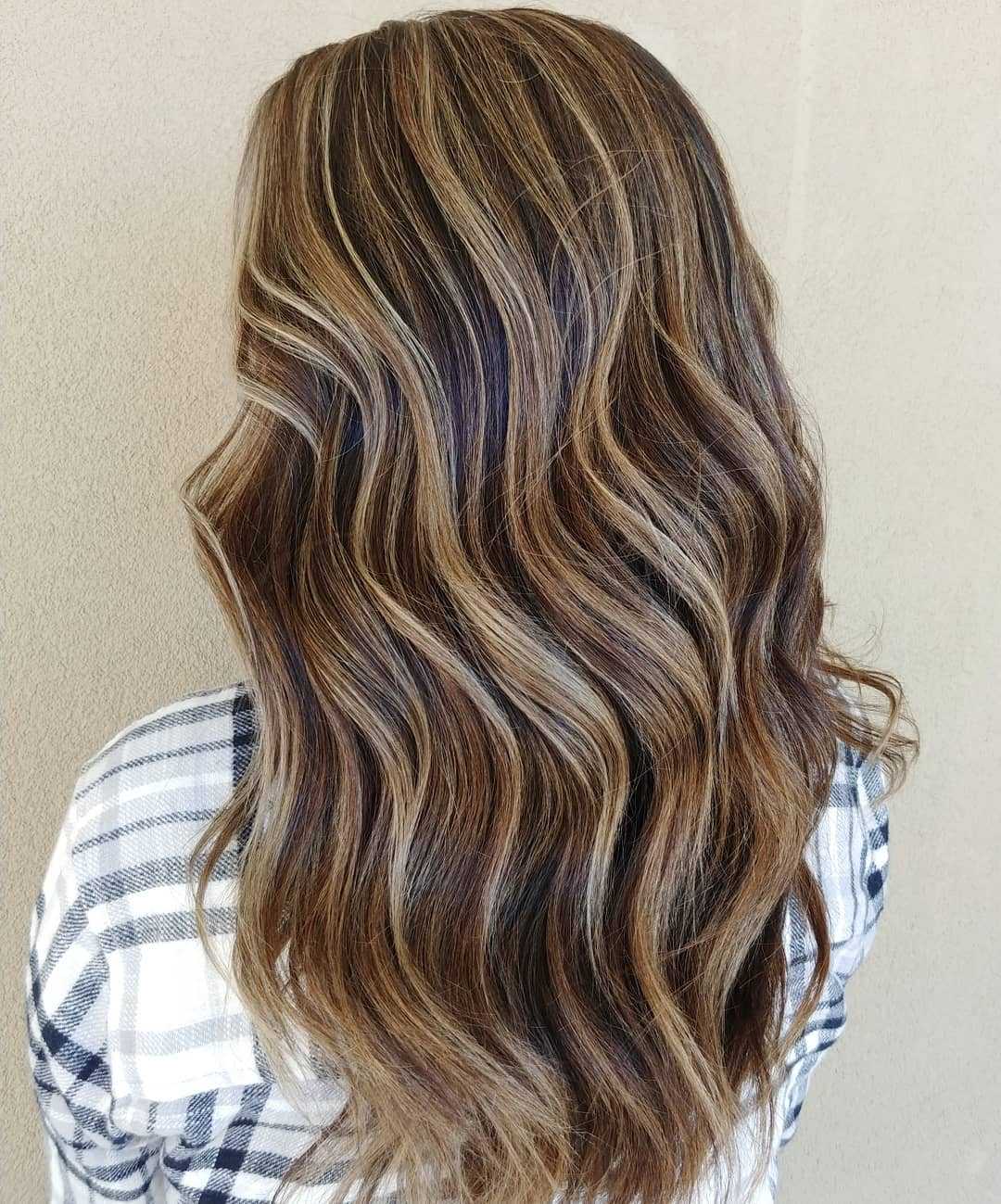 This long dark brown hair is absolutely amazing. Full highlights comprise an array of honey blonde and caramel hues to build dimension and accentuate the wave.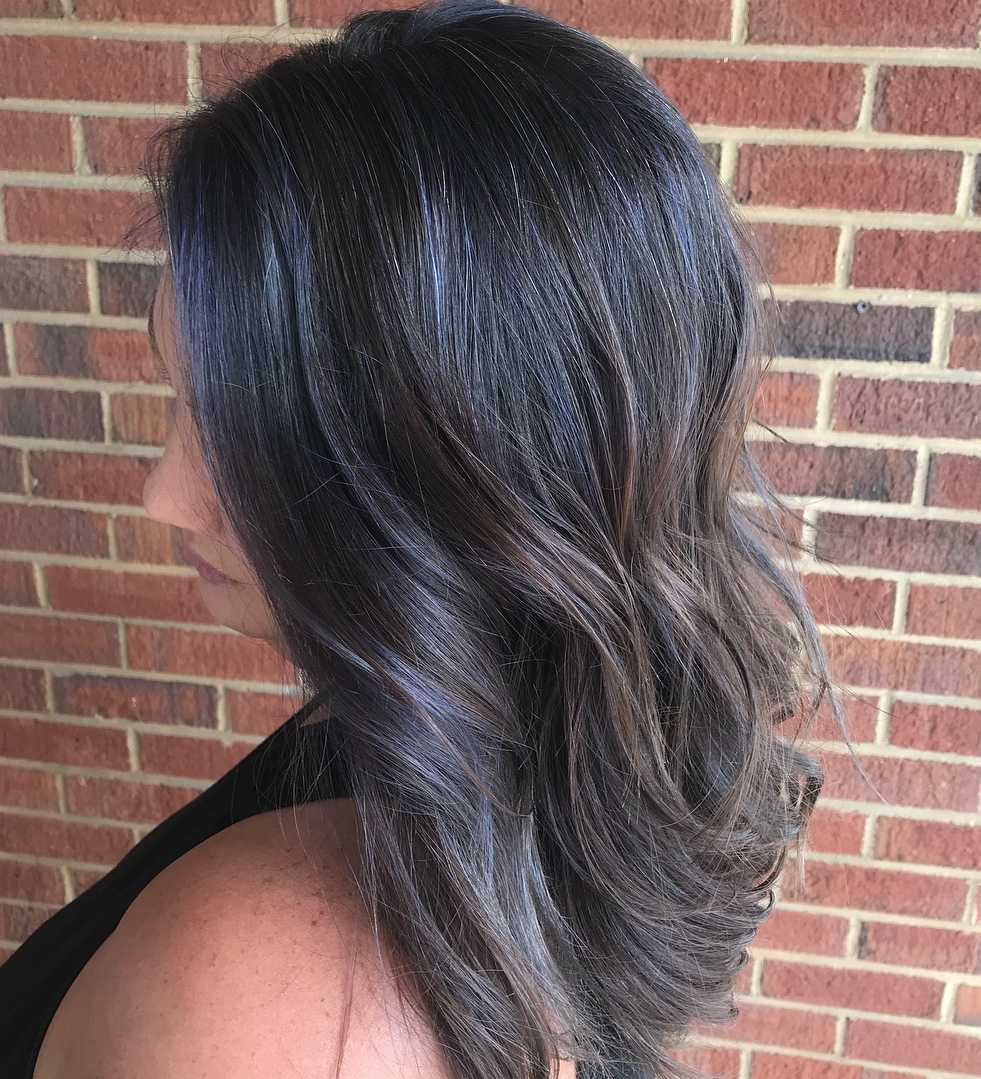 If you are looking for something creatively different, opt for blue hues playing nicely on ash brown hair.
But when a muted color scheme is not your cup of tea, go for a crisp rave of burgundy, glaring against the background brown hair color.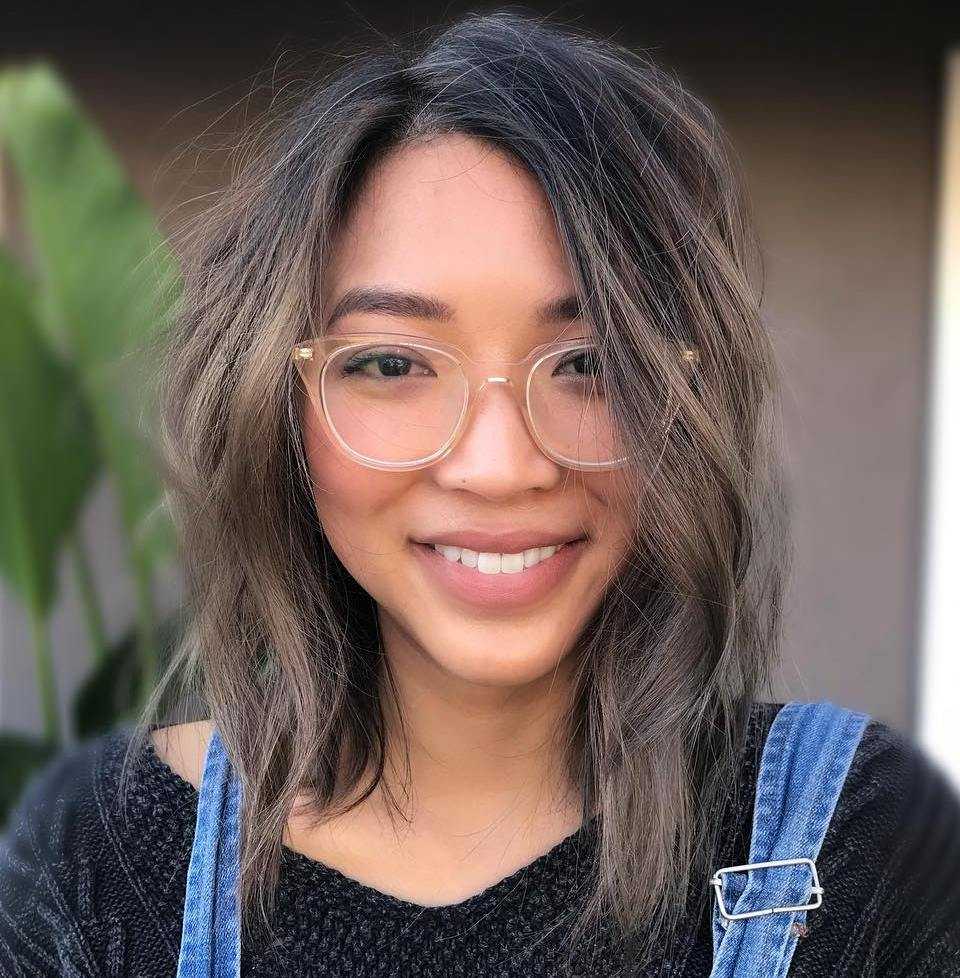 Here's a quite unusual example of dark hair with highlights. We love how natural brown melts gradually into dusty gray highlights, adding to the effortless and cute bob hairstyle.
Who could have thought that silver and brown ribbons would make such a fantastic combo – discreet, yet outstanding!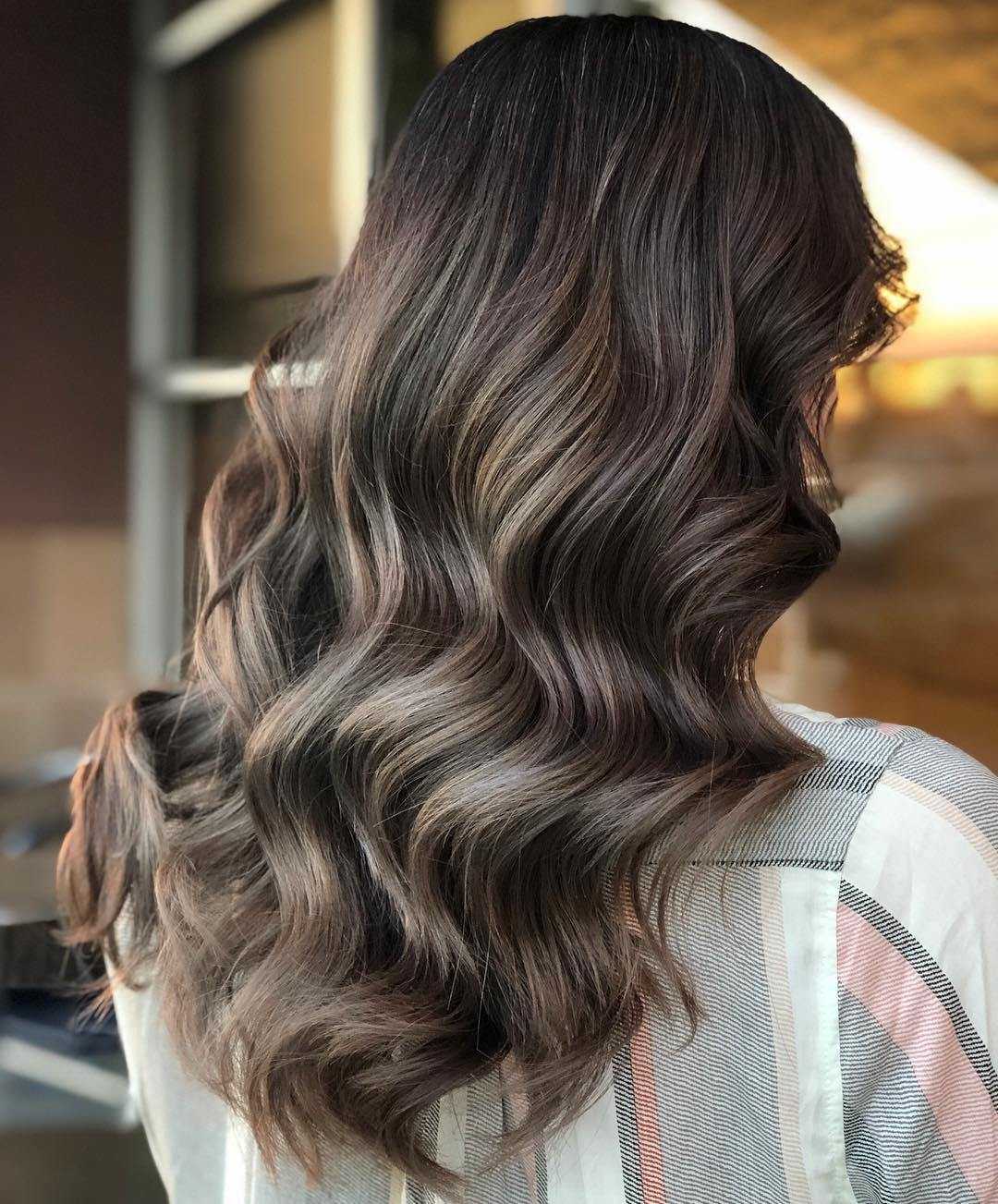 Those brunettes who don't like any warm hues in the hair should follow this cool-toned beauty with glimmering ash highlights. Cold blonde highlights on dark hair look quite outstanding, indeed.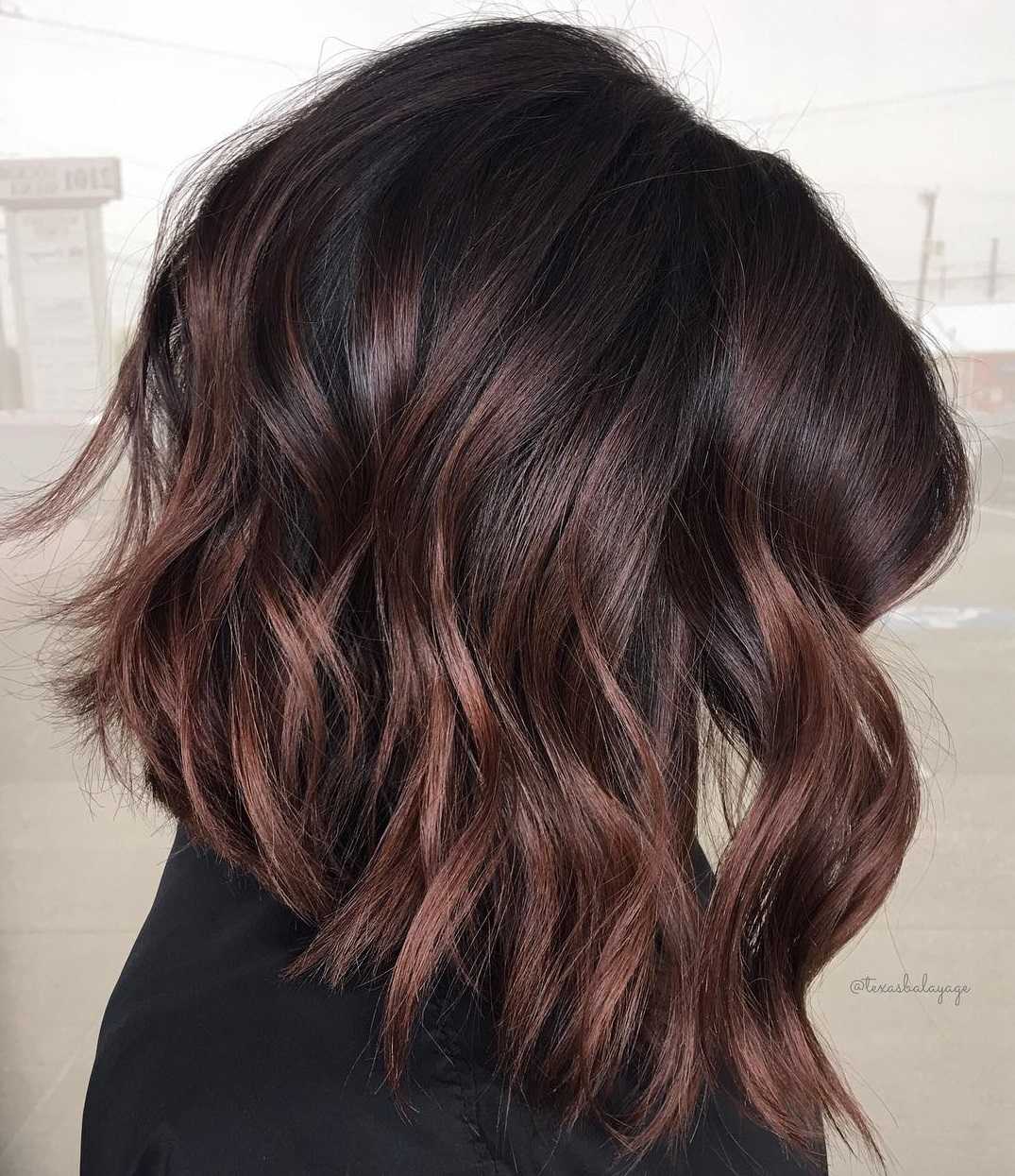 This wavy lob features the smoothest color transition that starts out as intense brown and lands in rich milk chocolate tips.
Well, have you already chosen whether you need a partial balayage or full highlights? Have you decided on the base color and selected undertones? If you haven't made your mind yet, take the pictures you like from our collection and visit your hair dresser to discuss how to adapt the trendy looks to your personal features. Meanwhile, we'll be waiting for the best Insta moments of our users to share them with you for more inspo.