Short shag haircuts are created with the help of the razor cutting technique aimed at producing more texture on short hair. Short shag haircuts, be it a bold shaggy pixie or an eye-catching shaggy bob, all feature multiple choppy layers that result in a trendy messy hairstyle.
If you are lucky and your stylist is incredible in chic haircuts, feel free to sit down in a chair, give yourself into professional hands, and count on the best result. But, if the result feels a bit iffy, before choosing something from short shag haircuts (especially if it's your first one), it makes sense to google a little. And we're here to help you. Meet our compilation of short shag haircuts to get you inspired for your next trip to a hair stylist.
Choose the Style According to Your Hair Type
When you're considering short shag hairstyles, it's a good idea to get some advice from a professional. Ryan Kazmarek, a hairstylist at IGK Salon in New York City, gives some simple tips about how to explain to a stylist what result you're expecting to see in the end and why it is so important to talk it over:
The first step in the to-do list is to find out your hair type: curly or straight, thick or thin. Tell the stylist about all the advantages and disadvantages of your hair – both the chosen cutting technique and future results depend on this too much.
Bring a picture of a short shag hairstyle you are dreaming of and a photo of what you do not want to see in the end.
Stay away from "angles", "layers", and other technical terms. Just say in simple words if you don't want your hair to be too short in the back.
"The most important thing is finding a stylist you're comfortable with who does what you like," says Kazmarek to Marie Claire and reminds that all the process should go in your way. Otherwise, enthusiastic expectations of a new look can turn into months of waiting until the hair grows back.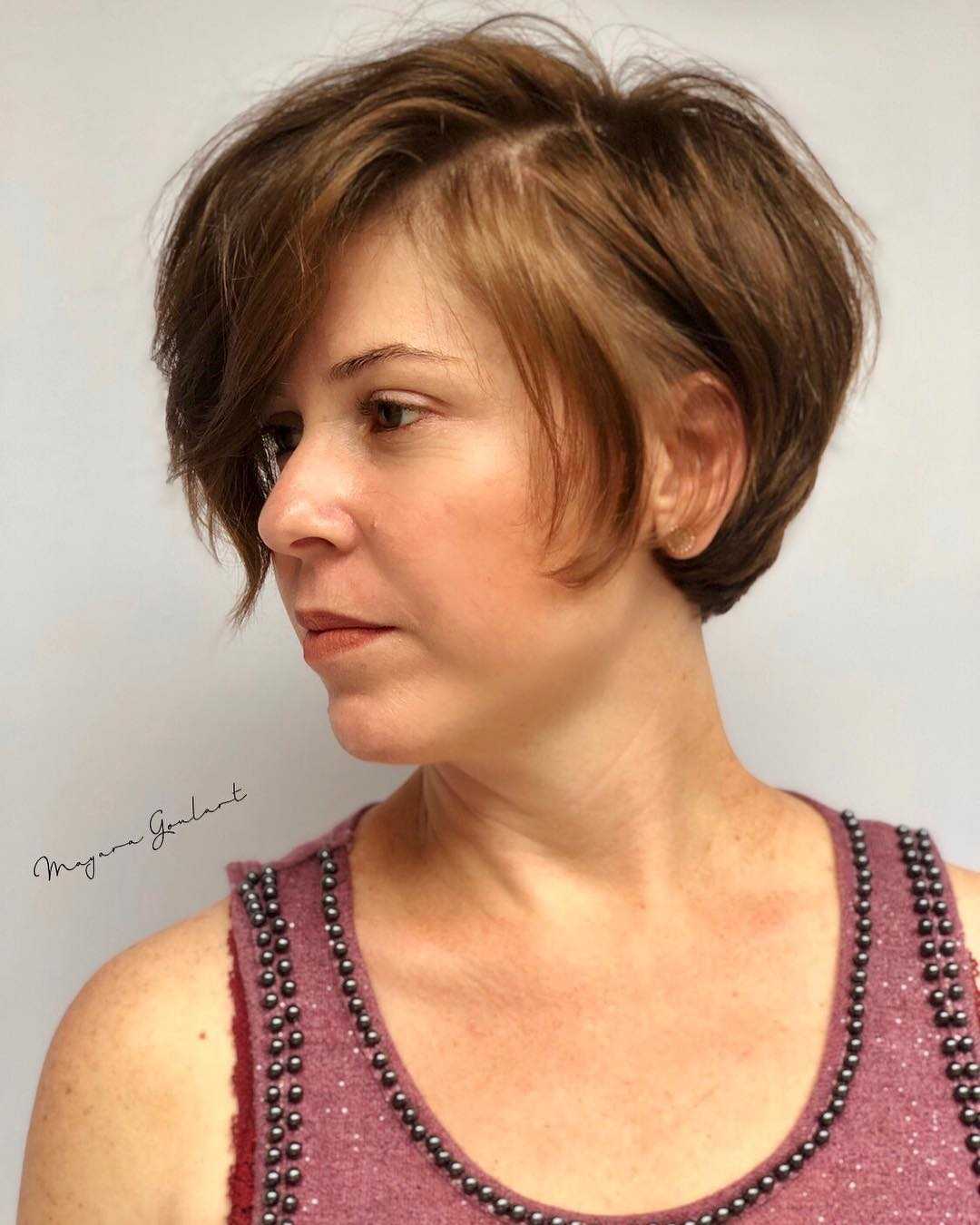 Short shaggy hairstyles for fine hair look gorgeous with moderate shortening on the top and without much thinning to the ends. It makes thin hair feel thicker.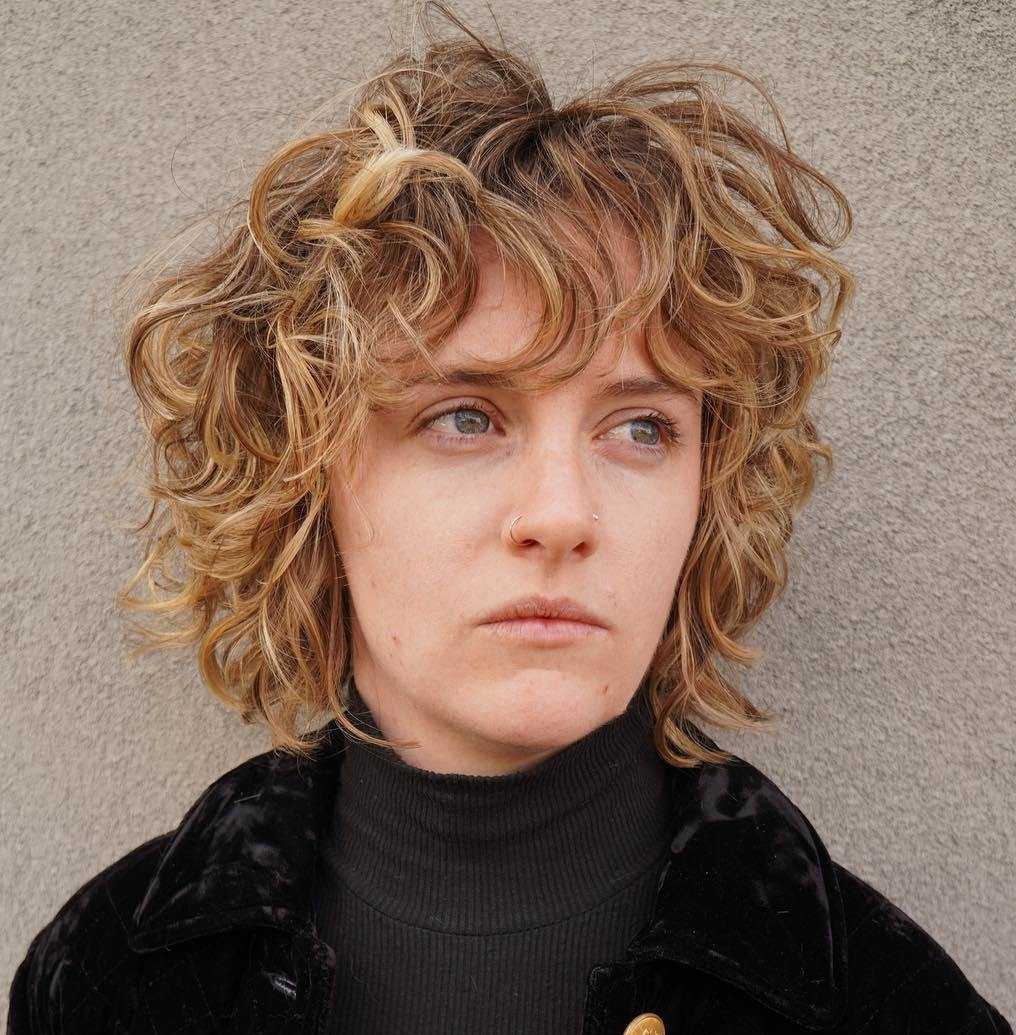 Speaking of short shag hairstyles for curly hair, the main thing is not to overdo it. Better to make the haircut a little longer.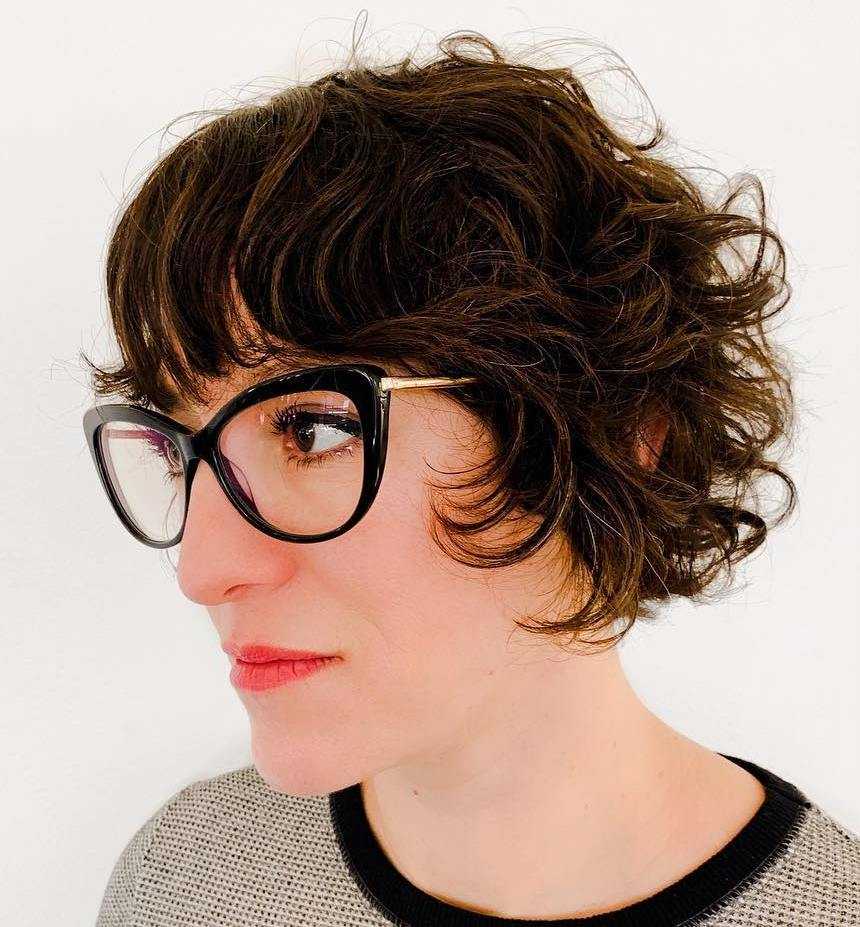 Just have a look at how hot short shag hairstyles can be. Thick wavy hair can hold the shape of any haircut. A couple of touches with a curling iron – and a lovely look is ready.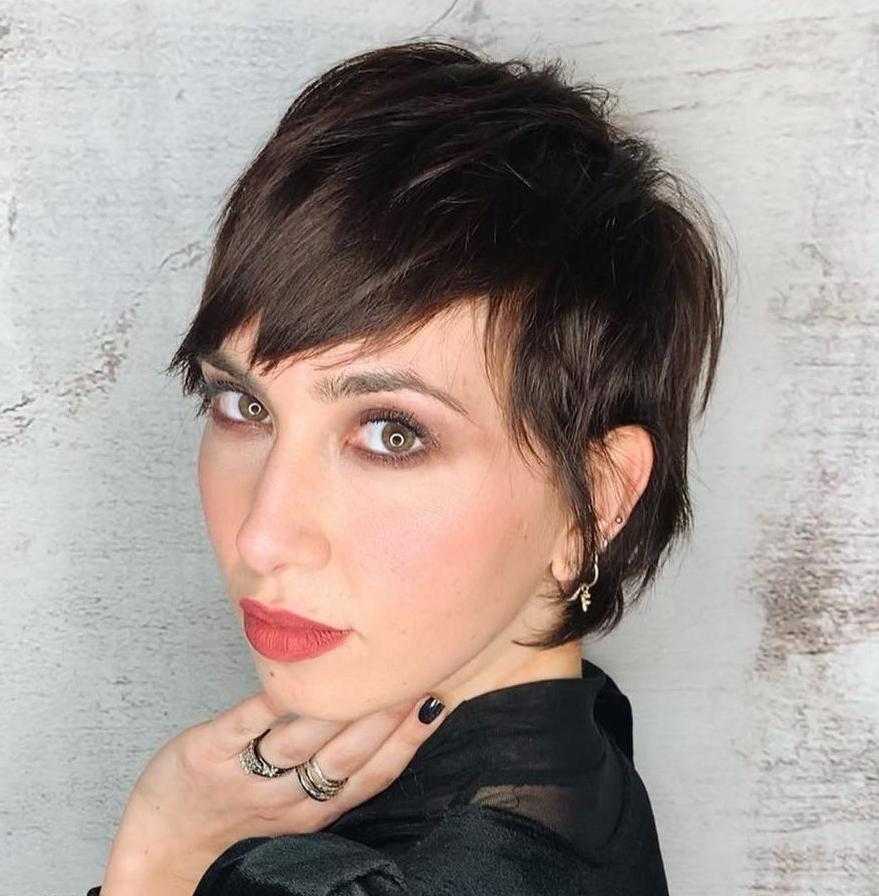 Considering short shaggy haircuts for fine hair? You're absolutely right! Shaggy haircuts can add volume to thin hair and create that nice bedhead style we are all crazy about.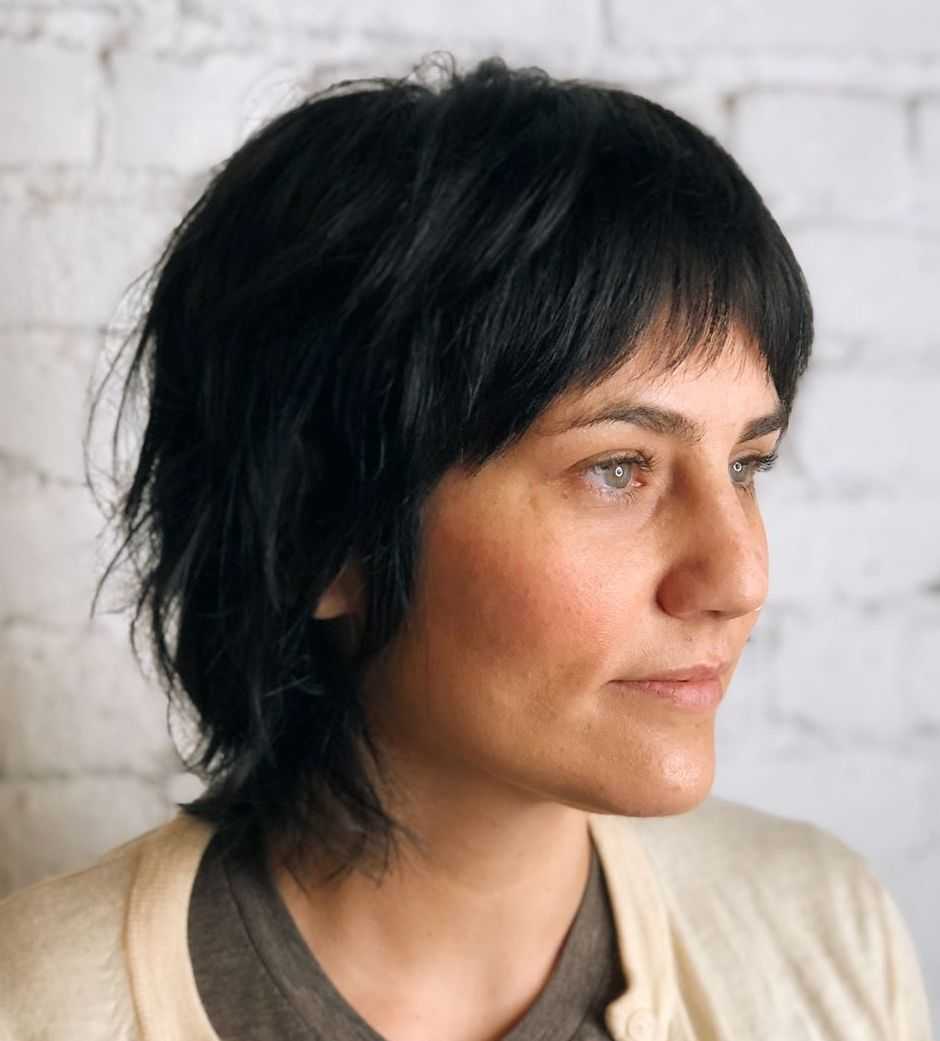 Short shag hairstyles are an option if you want to radiate a bit of French vibe. Look how aptly this straight hair texture is emphasized by the shaggy haircut that oozes lightness and Parisian charm.
Try the Messy Bob
HHailey Bieber, Charlize Theron, and Cara Delevingne rocked bobs many times and the cut has never let them down. A shaggy bob is simply timeless. This type of haircut flew off the hands of Antoine de Paris, Polish hairdresser, in 1909. It made a revolution back then and still has not gone out of style. The bob gives airiness and volume to the hair, refreshes, and makes it look vibrant. It's the endless source of inspo.
"Shorter hair is all about how it frames your face – that's why sometimes we incorporate layers to break up facial features or enhance others," Paul Norton, Robin Wright's hairstylist, says to BE. Therefore, it is essential to choose a bob cut according to the shape of your face and your hair type to get a beautiful, super functional, and low-maintenance hairstyle.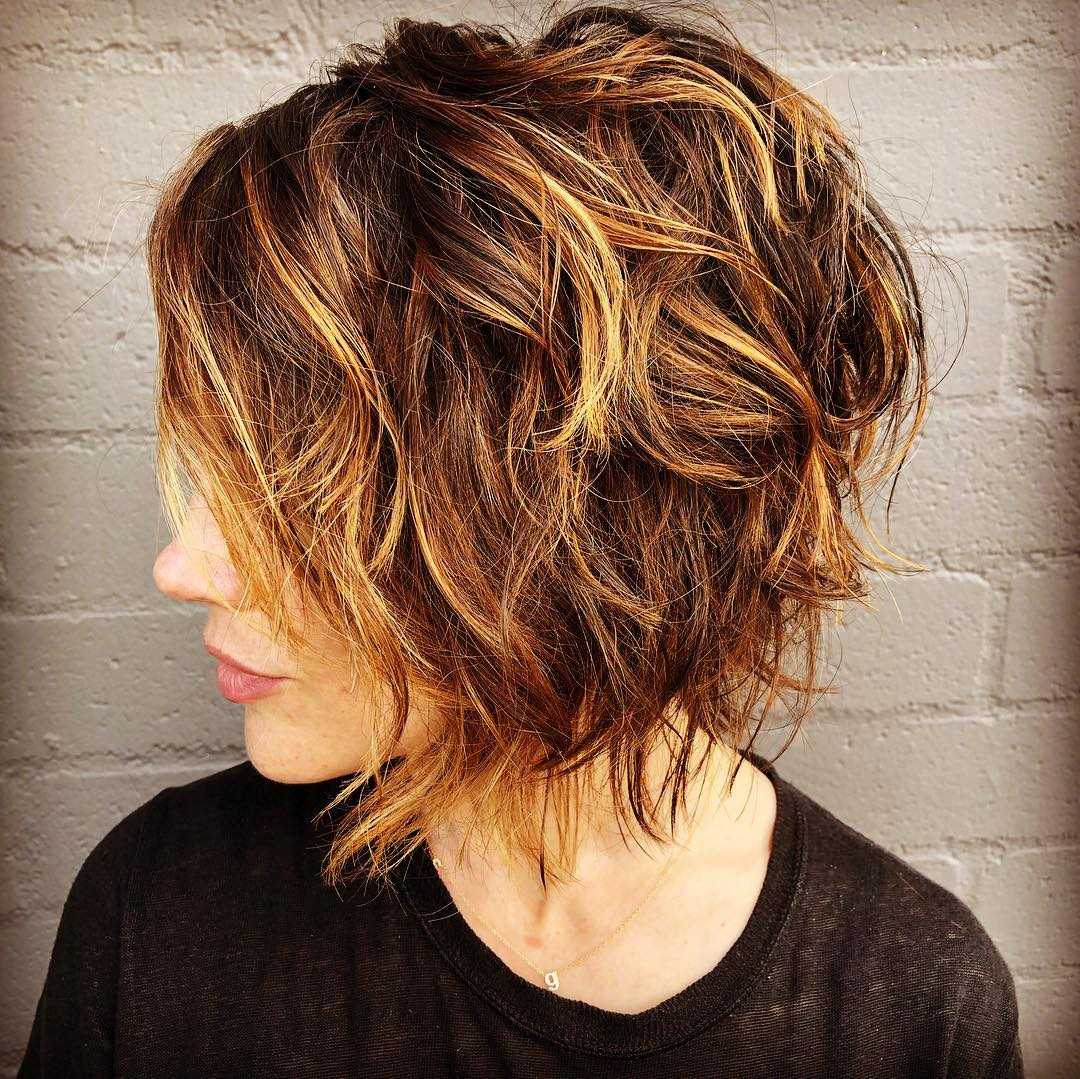 We're in love with this amazing shaggy bob. Look how beautifully the layered loсks frame the face. No surprise that it's the most popular messy bob haircut.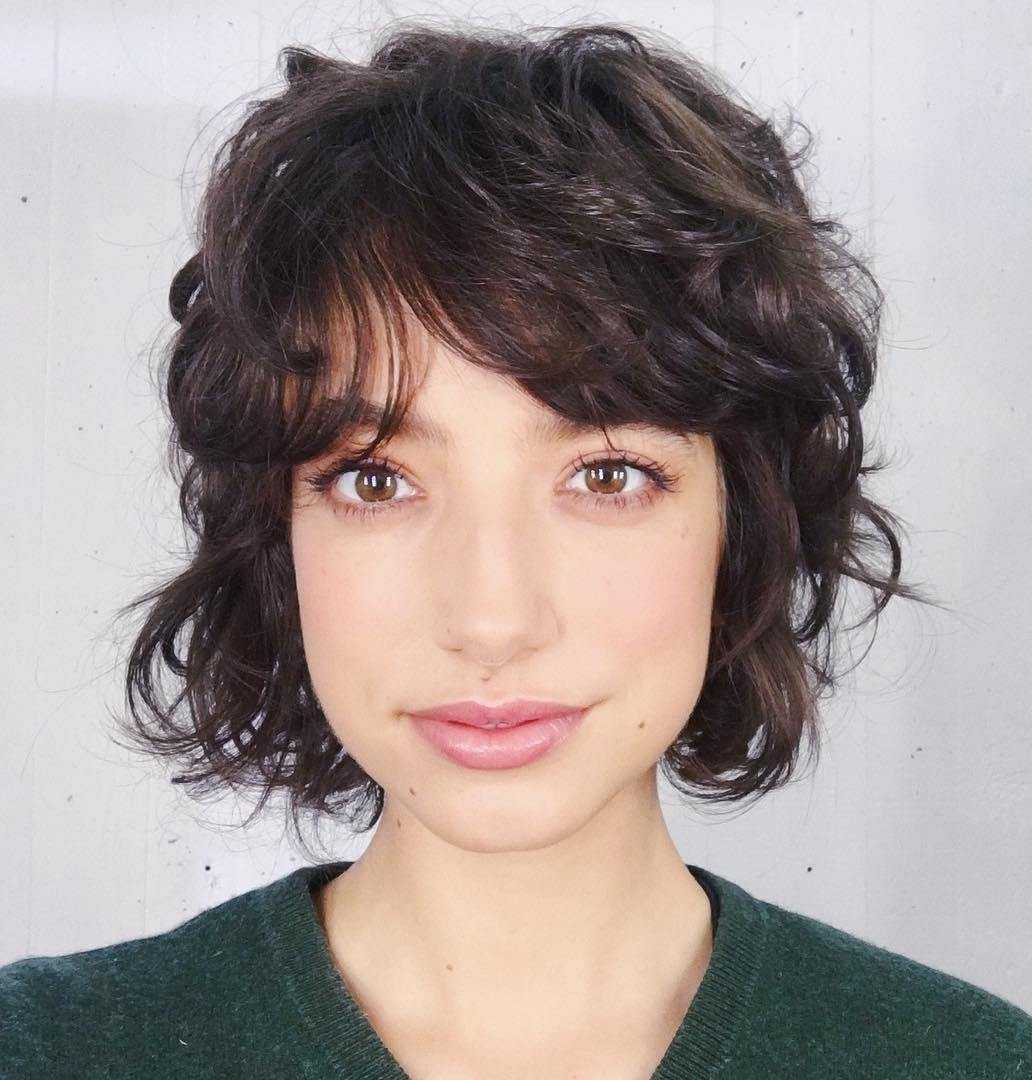 One of the most wanted short shag hairstyles – bobs with bangs – are officially back again. And no, it's not forbidden for curly hair.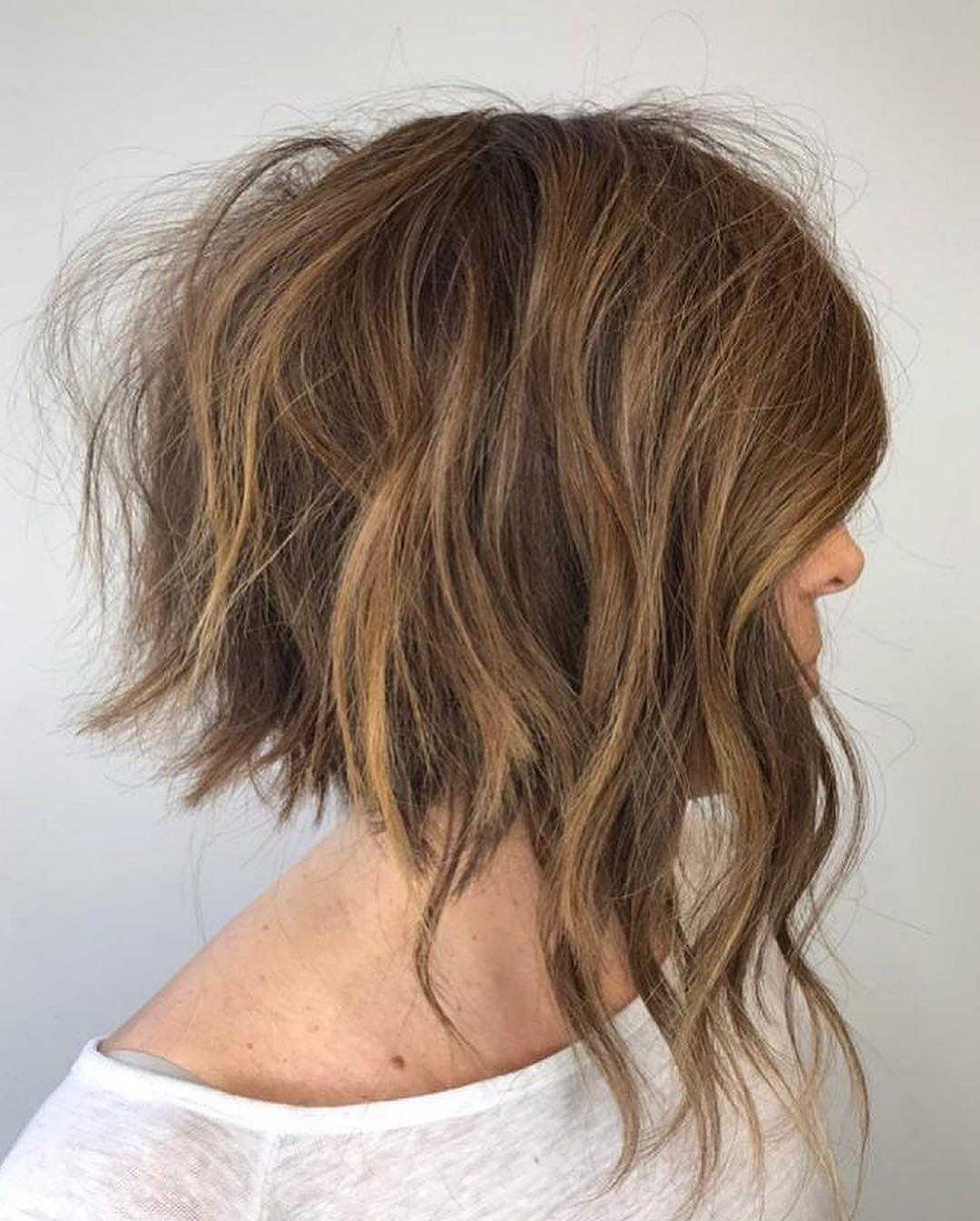 The angled bob with loose waves will narrow down a round face and make its owner unforgettable. This cool shaggy bob is really flattering, isn't it?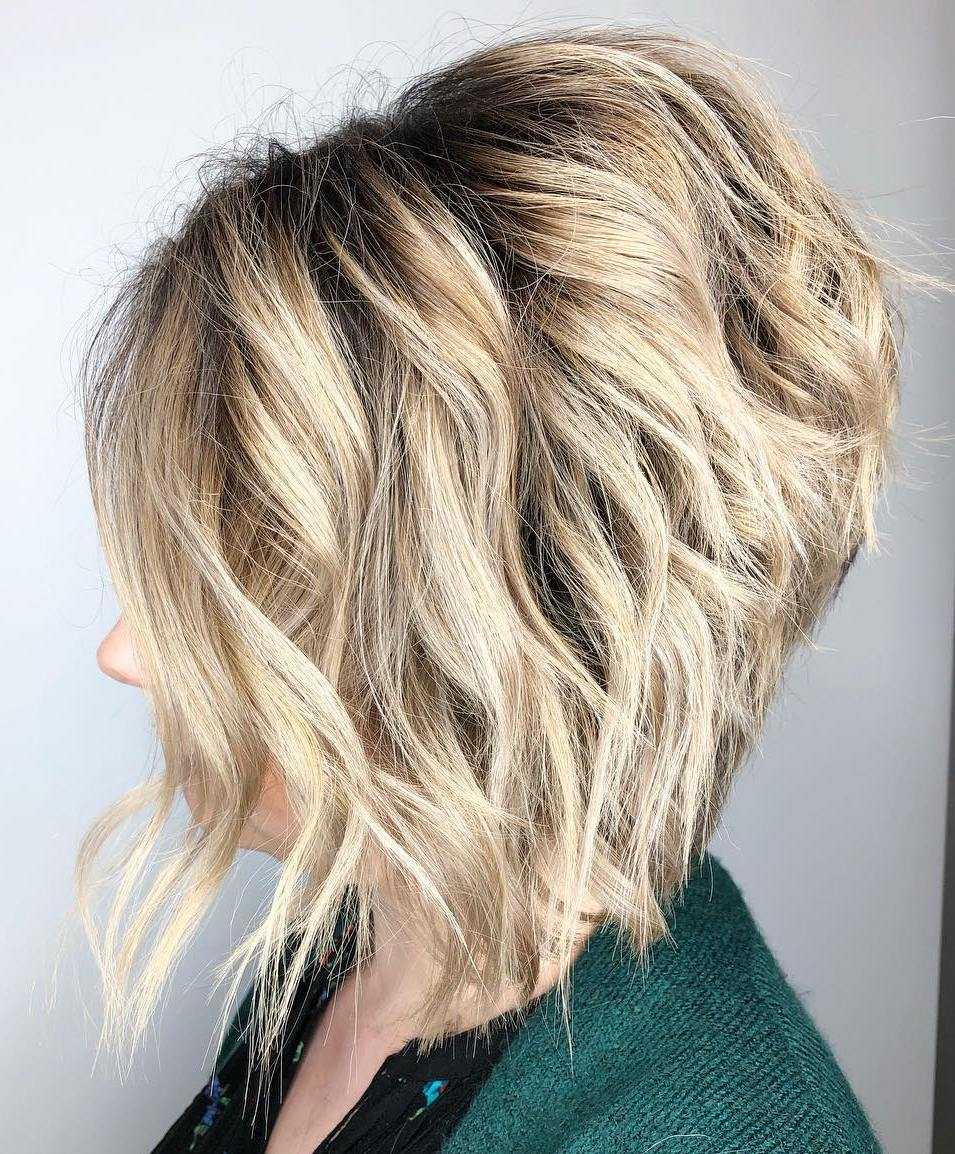 Here comes one of our favs among short shag haircuts for women. Styled with soft bents, dressed up with large curls, or just smooth and shiny like glass – the stacked bob looks fantastic in any version.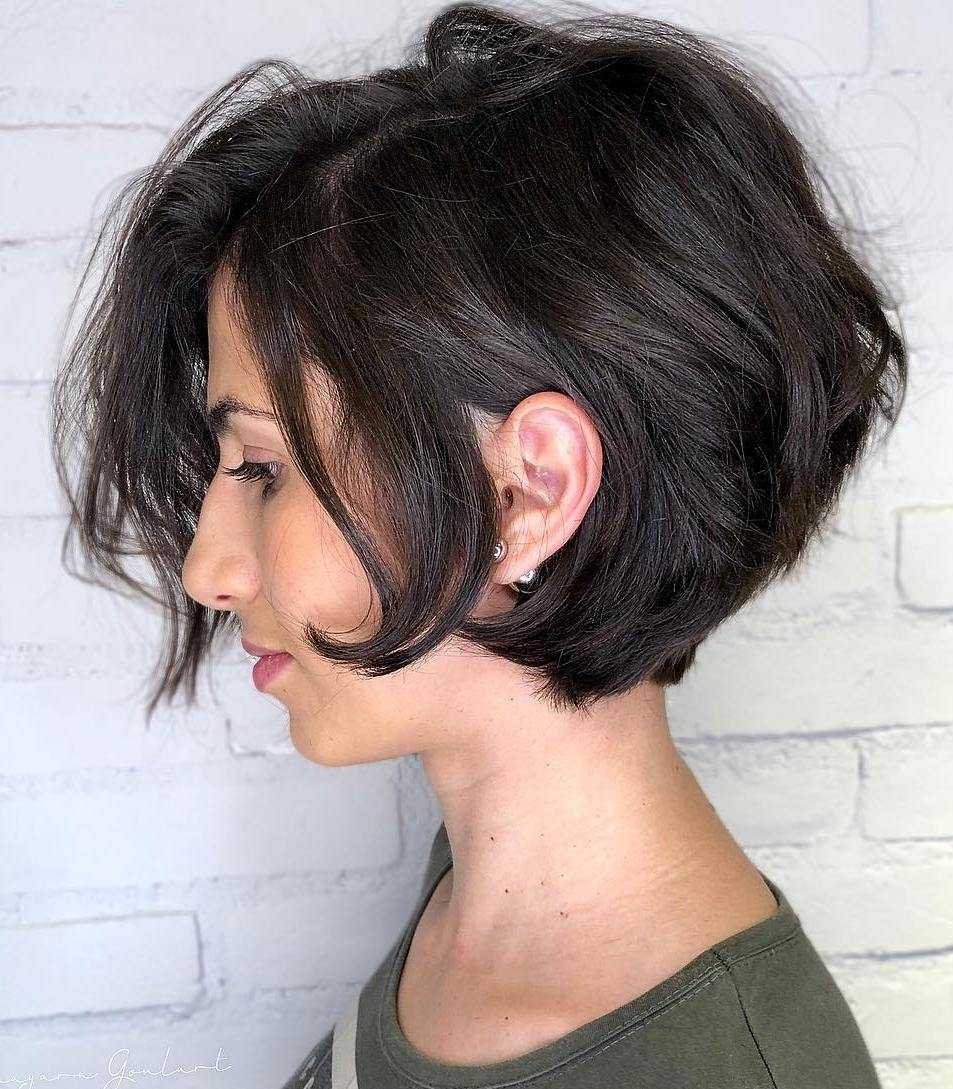 Looking for short shaggy hairstyles for thick hair? Consider getting this one. The stacked layers in the back and slightly curled front strands create a very cute inverted bob. And it's terrific on thick wavy hair.
Easy Maintenance with Layered Hairstyles
Layered shaggy haircuts never go out of style. "The best thing about a layered haircut is that it becomes a style," says John Reiman, a well-known stylist and owner of Spoke & Weal salons.
Layered haircuts add texture and dimension; they look trendy while being very functional and easy to style. Paired with dark roots and highlights, it becomes a real go-to for thin-haired girls.
Layered haircuts can also emphasize the benefits of other hair types: a layered hairstyle gives liveliness and dynamics to thick hair and brings an incredible volume to curly locks. This kind of hairstyle is fit for women who want to look trendy but have no time to sweat over that.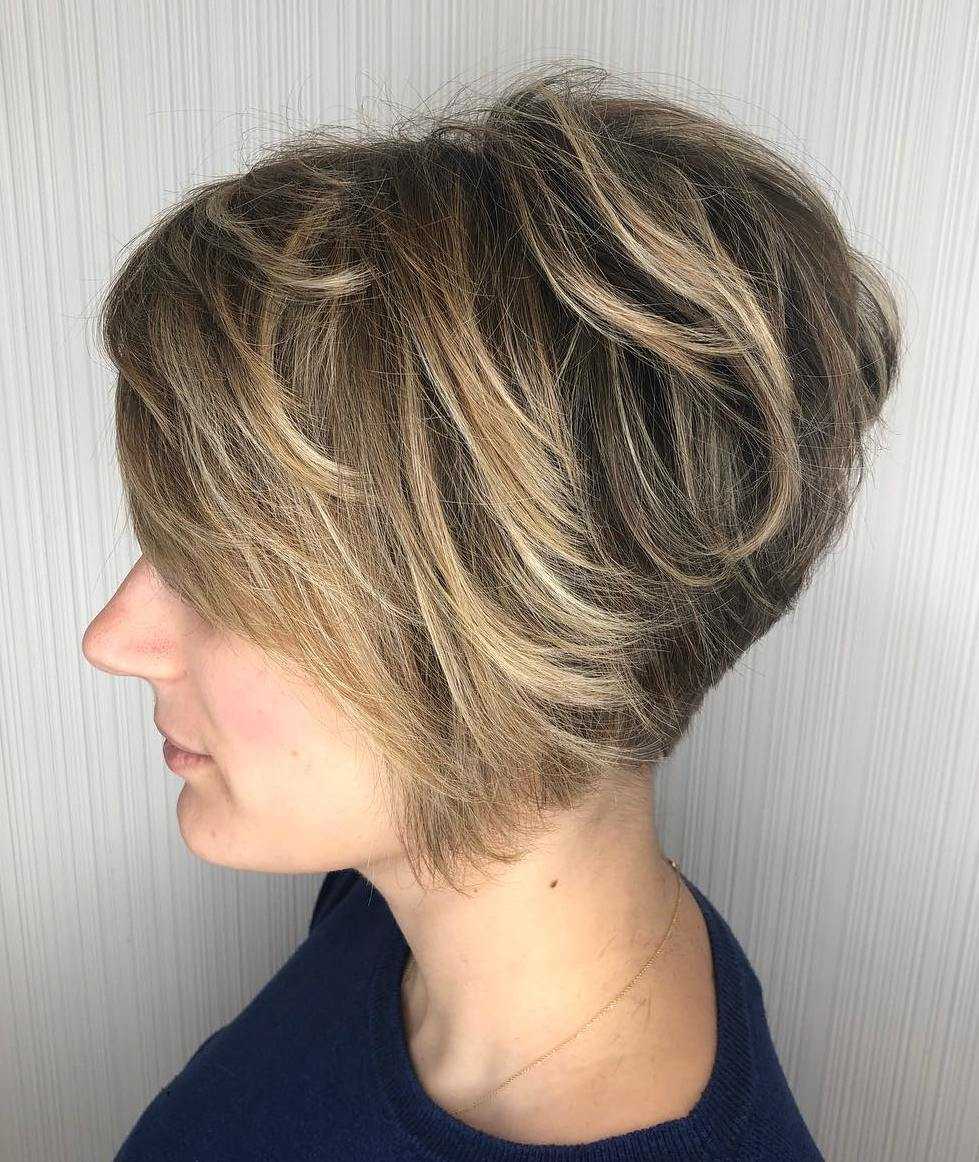 What about getting a cool pixie bob? This layered pixie-bob with an elevated crown looks very fresh and stylish, especially when coupled with sun-kissed strands.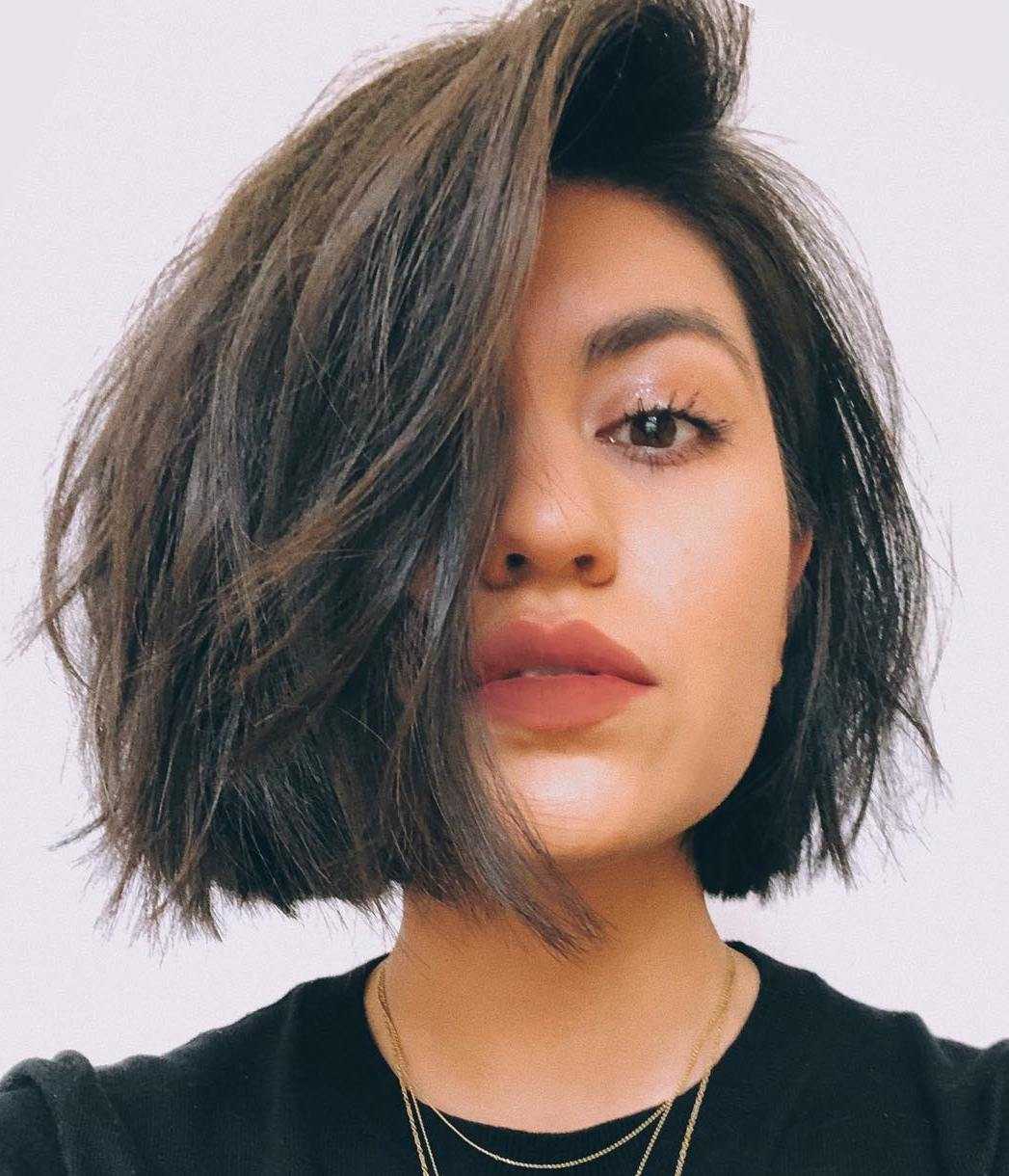 If you like the way classic blunt bobs emphasize your bone structure but want to try something slightly different, add some shaggy layers to your favorite cut and go for tousled styling.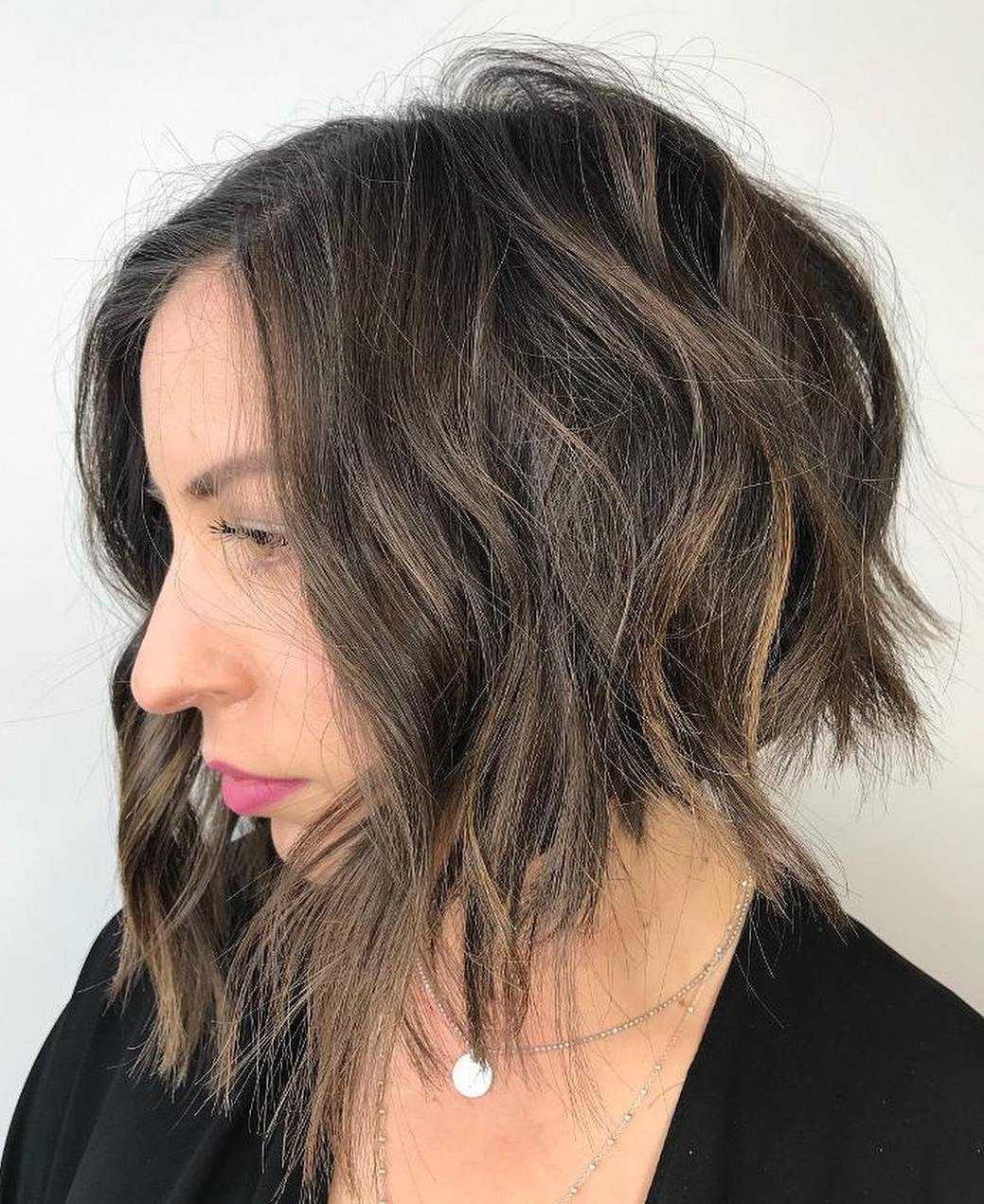 Looking for short shag haircuts for wavy hair? Here's an idea! Ooze playful vibes with a choppy layered bob: its ragged ends and laid-back styling will help with that.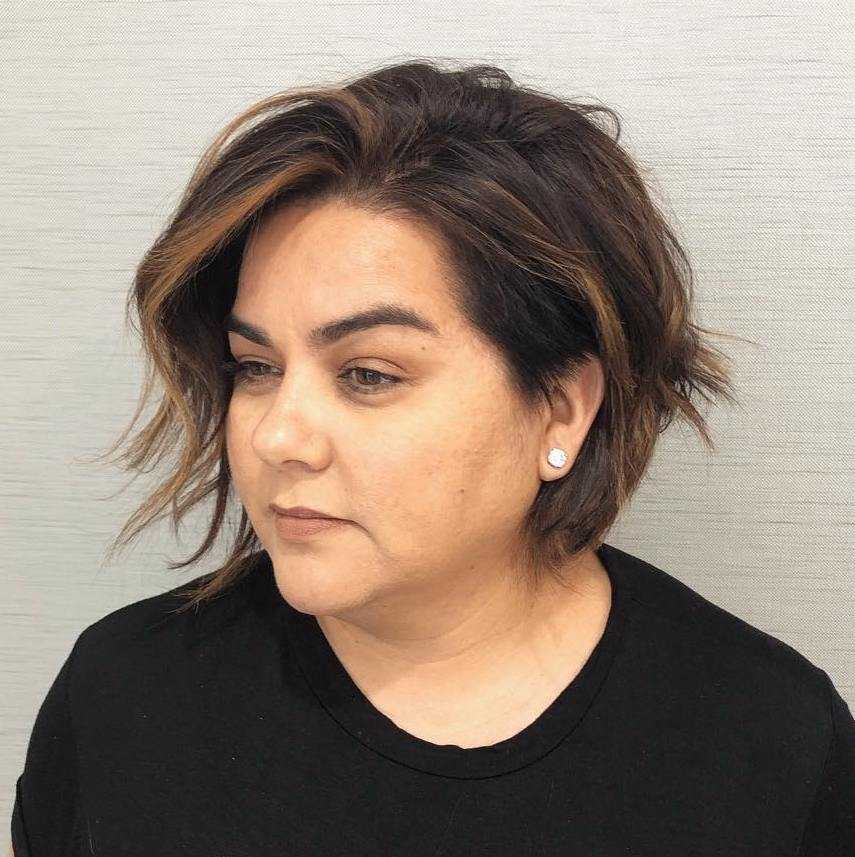 If you look for short shag haircuts to flatter a round face, consider this edgy layered bob. Lifted at the back, it shifts the volume upwards slimming down the face and making your facial features more delicate and romantic.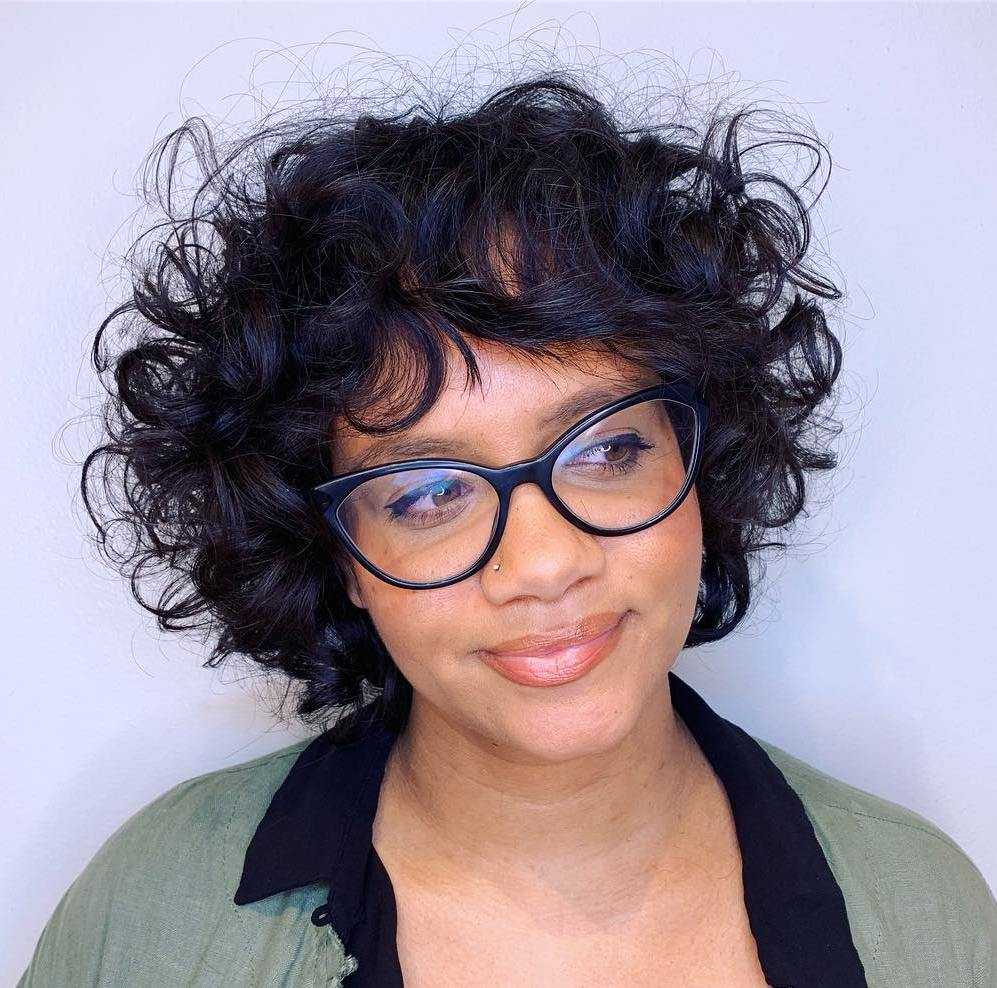 Short curly shaggy hairstyles are totally cute, and a shaggy bob is always a good idea! This black bob with layering and bangs running from the very crown looks relaxed and playful. Such a haircut perfectly frames the face, refreshes you, and takes away a couple of years.
Get Inspired with the 10 Best Short Shag Haircut Ideas
Forever modern, the short shag haircut suits anyone if you choose the right technique and take into account the type of your hair. "Your stylist should mind your natural texture when cutting your hair in a shag," says Sal Salcedo, a stylist at L.A.'s Nova Arts Salon, to Refinery29. He believes that these haircuts go for a new round of popularity, though since the late 70s, shaggy hairstyles were mainly attributed to rockers with their defiant attitude and leather pants.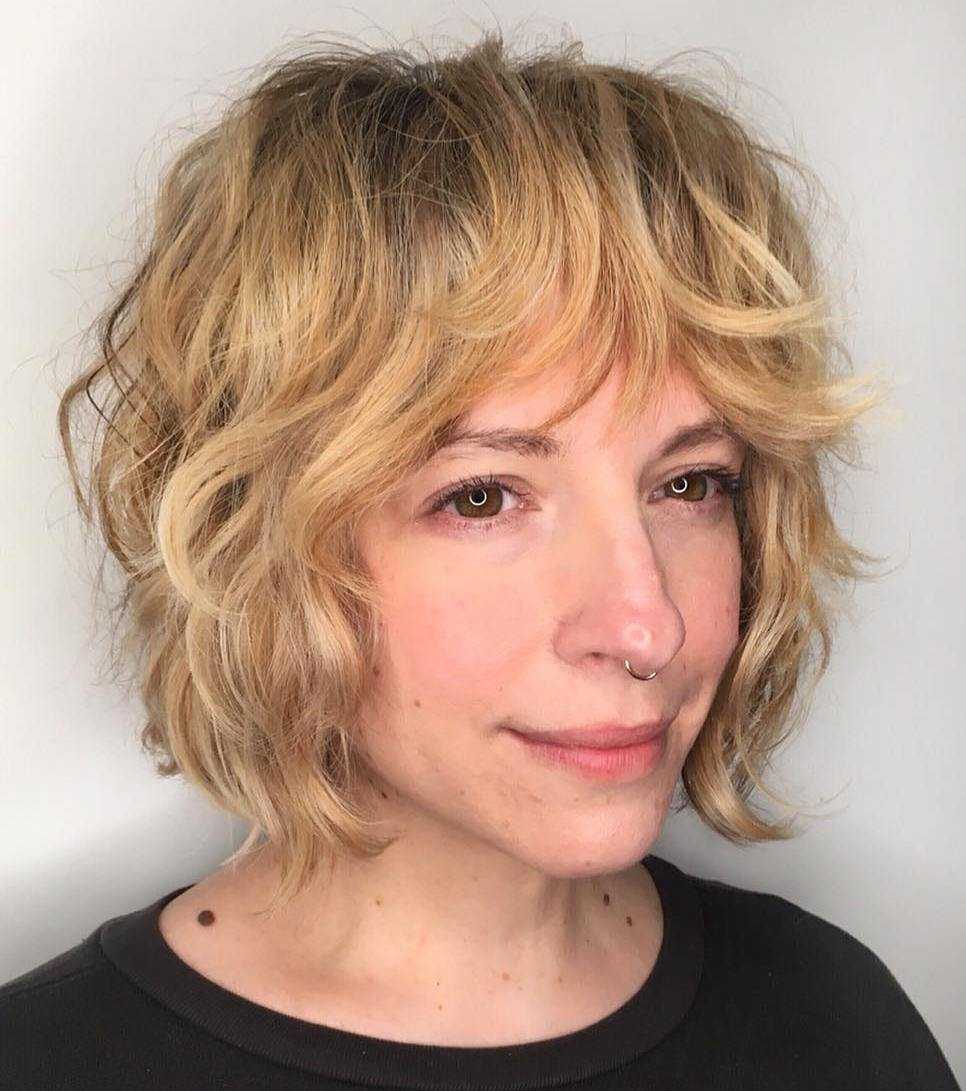 Nowadays, short shag hairstyles have become a secret beauty weapon for courageous and gentle women. So, we have prepared some exciting ideas that can serve you as inspiration. Choose your style and cut away your uncertainty and fear of changes with a new stylish shaggy short haircut.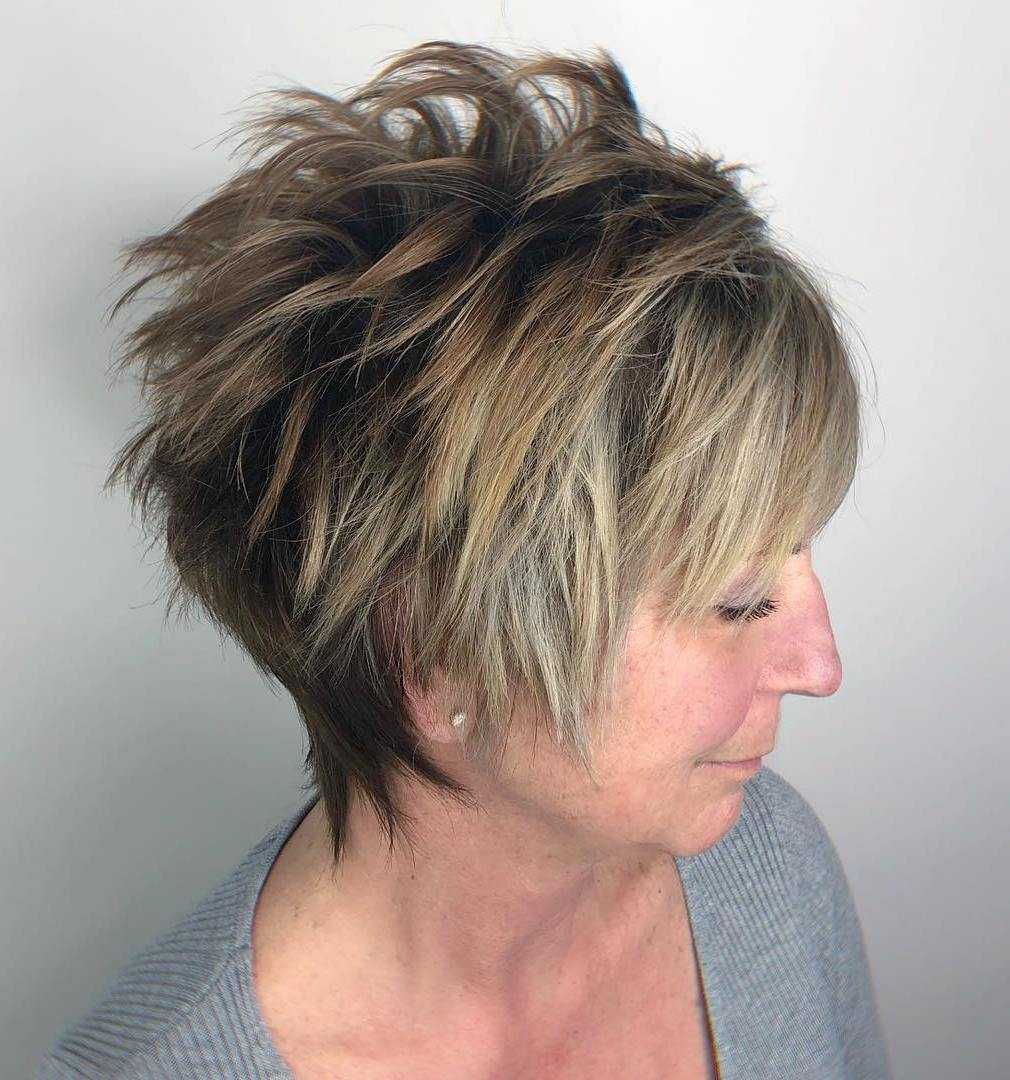 Messy short hairstyles look very sexy and natural, generating a fantastic feeling that you've just returned from a sunny beach. This awesome shaggy pixie bob is really a thing!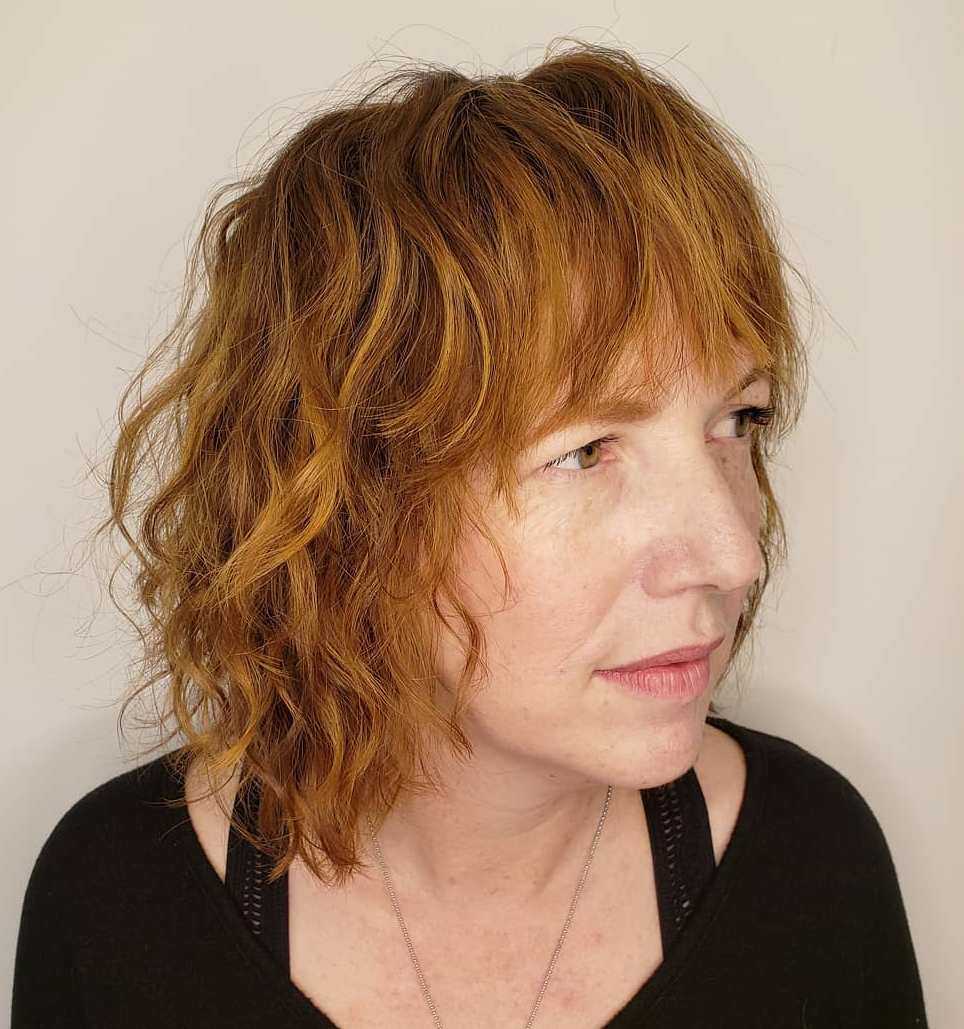 Being over 50 is not a reason to deny yourself a stylish and vibrant haircut such as this short shag with bangs. Open your neck, lift the crown and you will feel like your 25 comes back.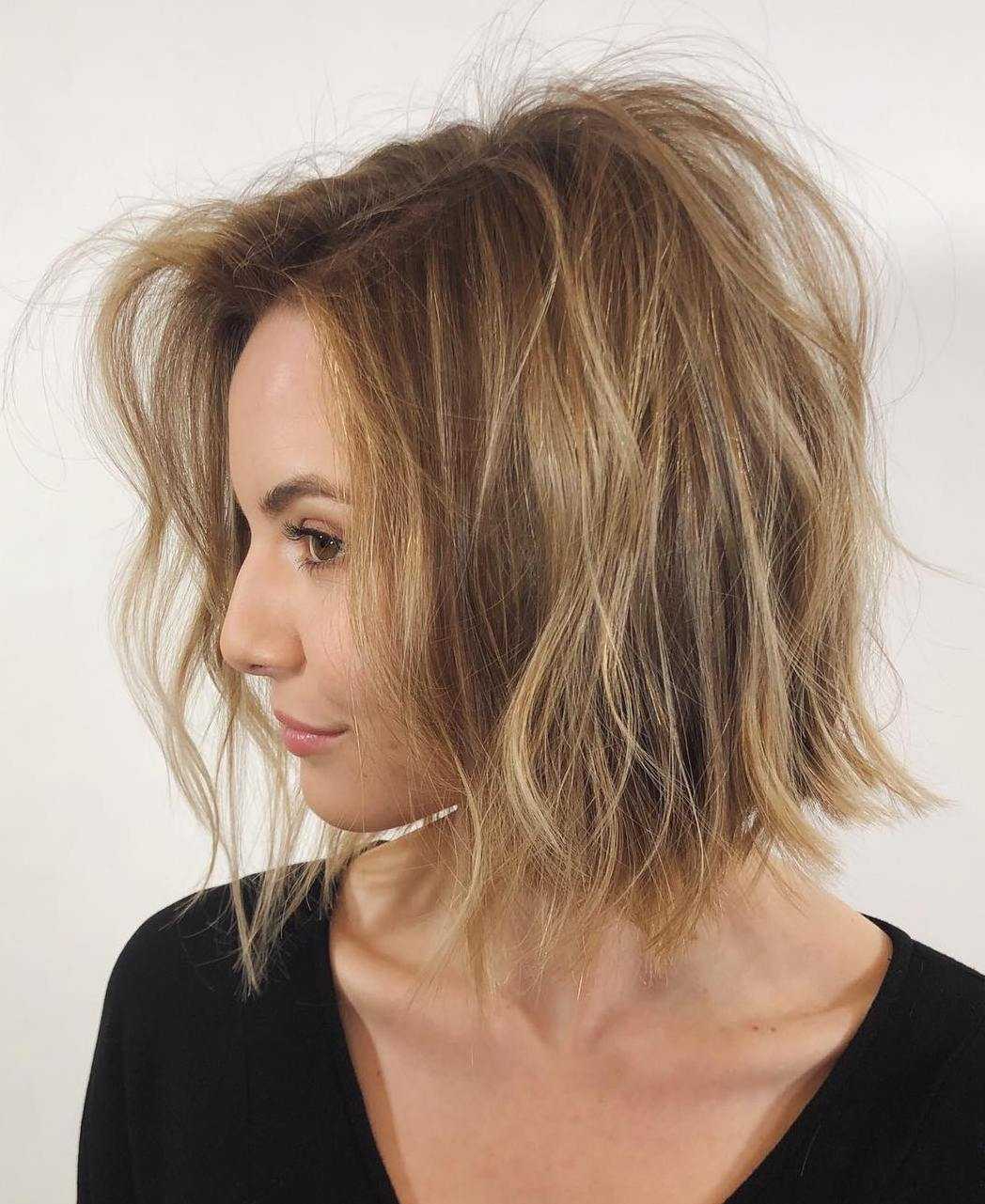 Not that much into short shag haircuts to get a shaggy pixie bob? Then consider the classics that never go out of style: a fashionable medium length shag haircut with bangs and delicate waves is charming and easy-care.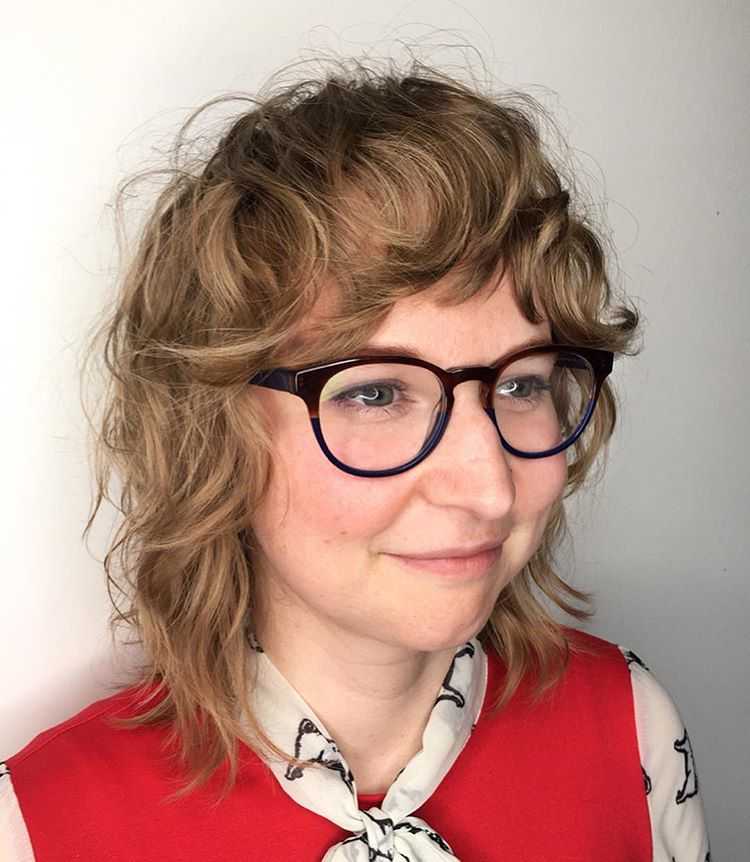 The elongated bob cut in combination with a soft wheat blonde shade perfectly complements the light skin and suits any face shape.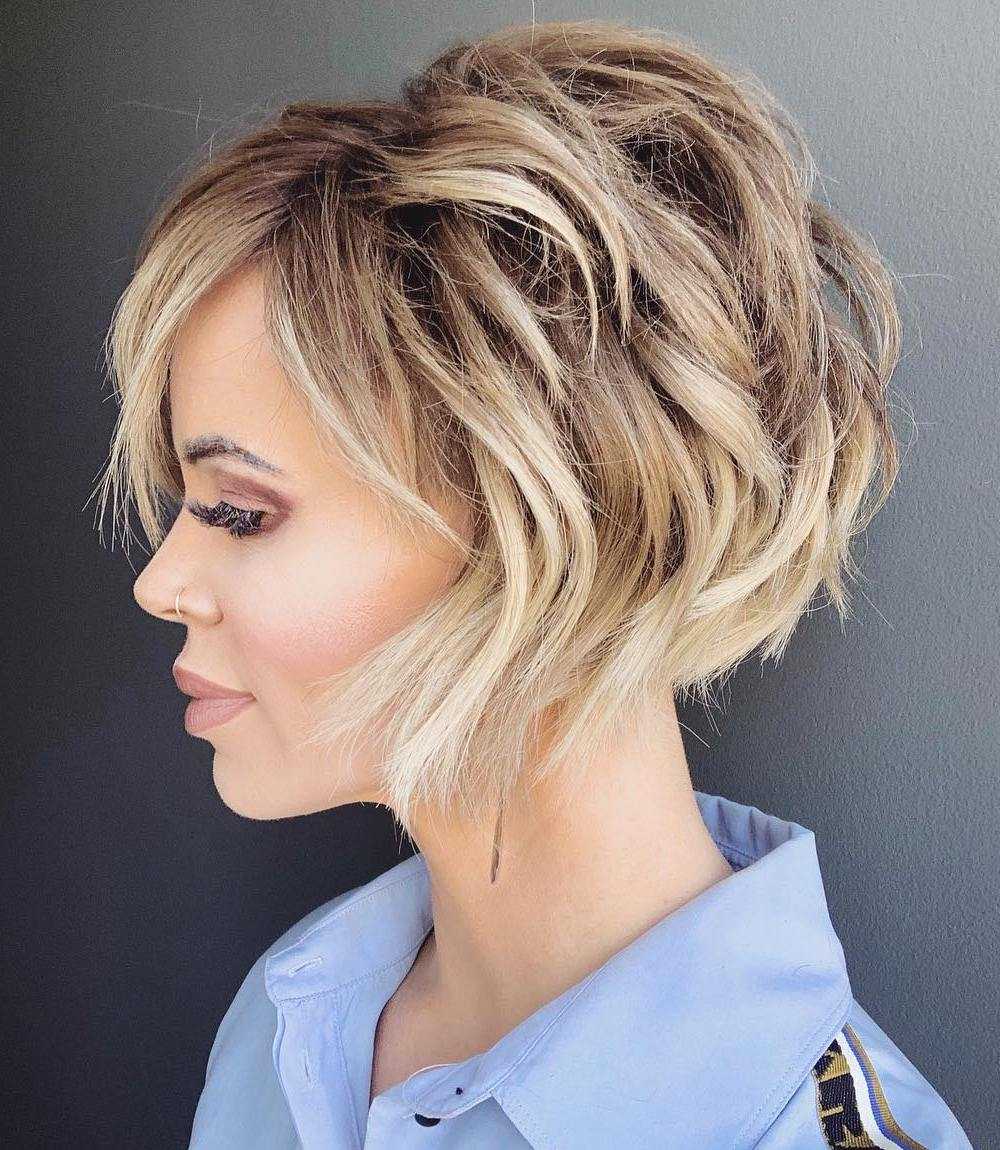 We love this awesome shag haircut for fine hair. Without any doubt, wispy strands with a lot of layers and half-moon bangs are just the thing for those with thin, wavy hair.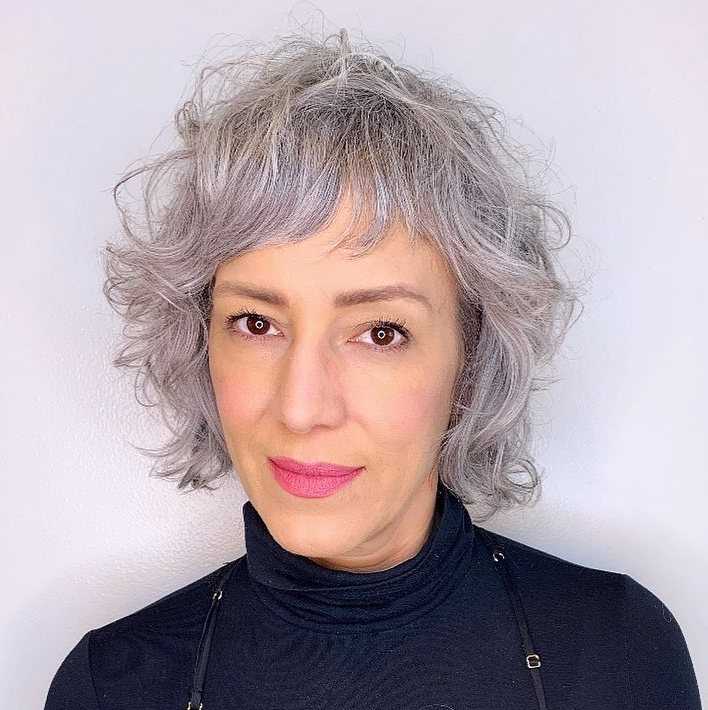 The chin-length bob favorably opens the neck, creating a very feminine and tender look. It goes well with side bangs and tousled layers.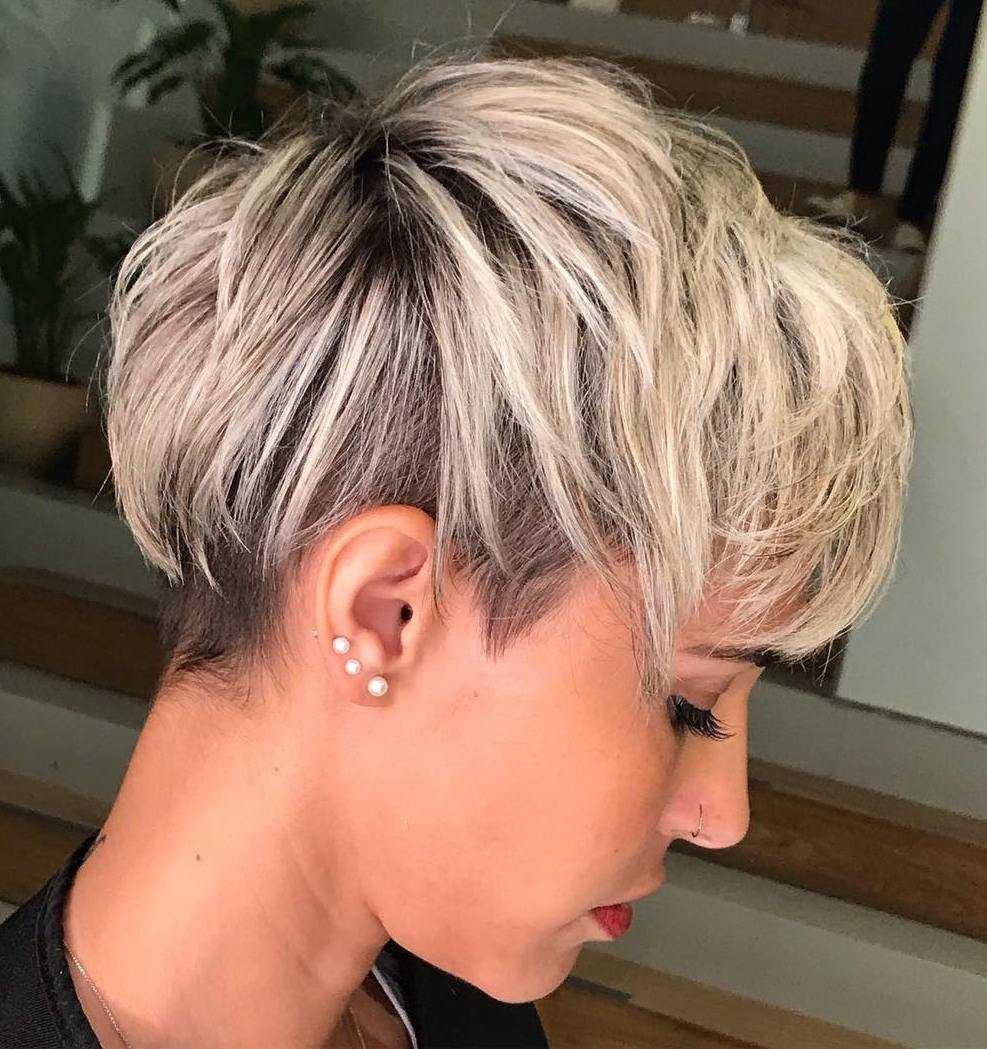 Gray hair is no longer a sign of age – it has become a trend. Those glorious shades can be safely used in combination with short shaggy haircuts, and yes, at any age.
Looking for short shag haircuts that are sure to turn heads? Take a look at this cheeky trendy pixie with an undercut and long strands on the crown that will suit the most daring girls. It's hard to come up with something more refreshing and spicy.
The laid-back aesthetics and soft lines of the French layered shag are perfect for brunettes with slightly wavy hair.
A very short cut like this shaggy pixie bob with long bangs will help young girls under 20 to show their individuality and audacity. But be careful with it – a shaggy pixie is suitable only for delicate girls with gentle facial features.
Whether you are a brunette or a blonde, over 50 or 20 something – a short shaggy haircut is a tool that will give a new twist to your style. Just don't forget to follow a few simple rules:
Do research and find an experienced hairstylist in your neighborhood.
Consider your hair type and face shape and discuss your future hairstyle with your stylist.
Find a photo of a short shaggy haircut you would like to get in the end.
Allow yourself to be who you want to be and do not forget that your smile is the best adornment to your new short shag haircut.