As contrasted to close-cut crops, the long pixie cut implies an extra length either all throughout the perimeter or just in certain sections, usually in the front and on top. Retaining a dramatic effect of a short cut, these styles bring in more femininity, building a flattering and softening frame around the face. And today we are going to explore the long pixie phenomenon through the examples of the hottest Insta moments.
Choose a Style for Your Hair Type
In the right hands, long pixie styles have the power to make every hair texture shine, revealing their natural beauty and correcting whatever points of concern you may have. Thick manes have to be released from extra weight and vibrantly texturized, while thin tresses need to be infused with dimension and texture without sacrificing any density. Even natural hair enthusiasts can pull off the style. "Wearing a cropped shape with natural texture always brings out a woman's features," says celebrity hairstylist, salon owner and brand founder Ted Gibson to Cosmopolitan. Whether your locks are wavy or straight, you'll find an idea for your long pixie in our gallery.
The side parting of this pixie boosts a lift at the roots, making the thick tresses even more voluminous, while keeping them bouncy.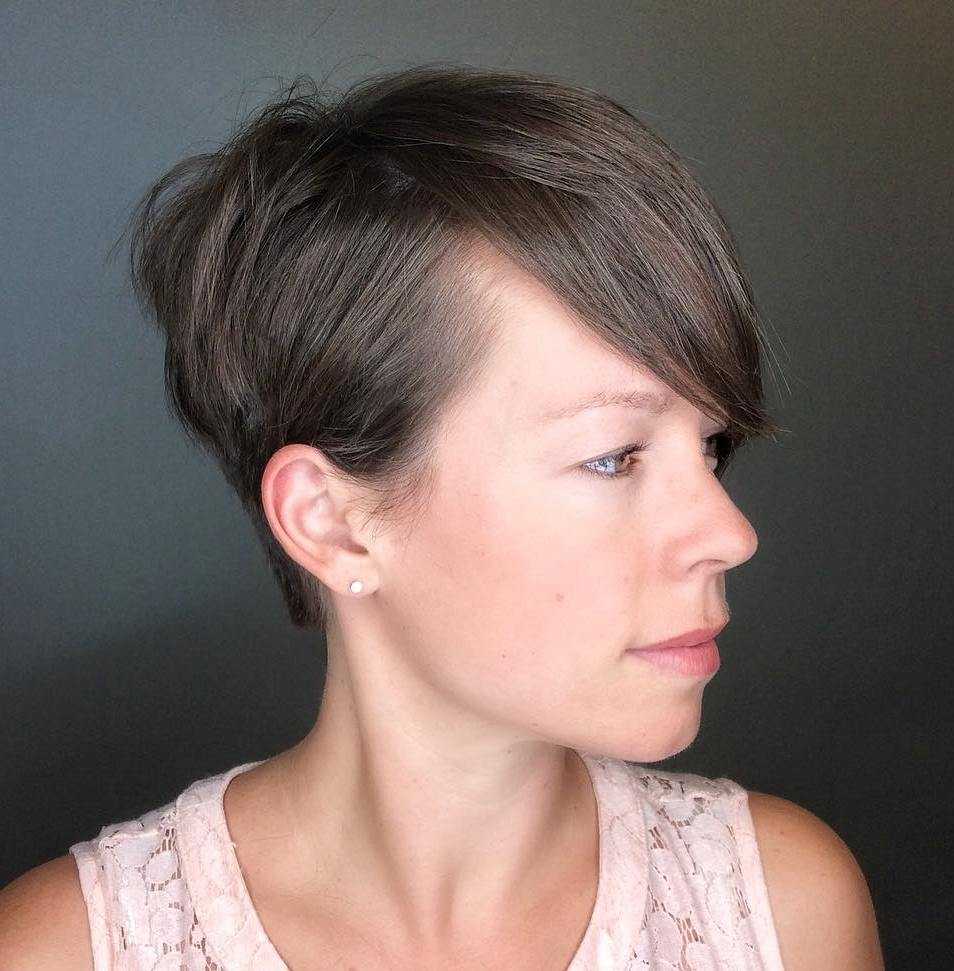 The fine locks gain enhanced density in the front due to the long fringe that is also layered for better texture and volume.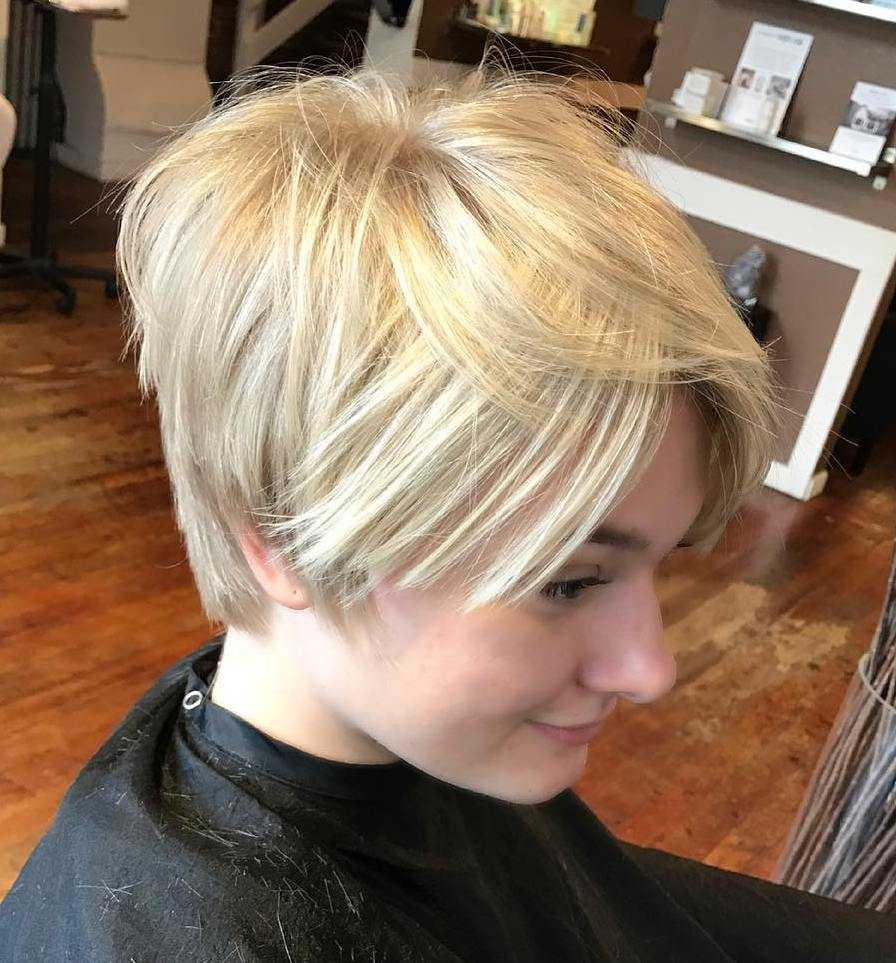 Thin hair won't look flat with this fancy movement-adding styling, and its wispy finish delivers both airiness and a modern vibe.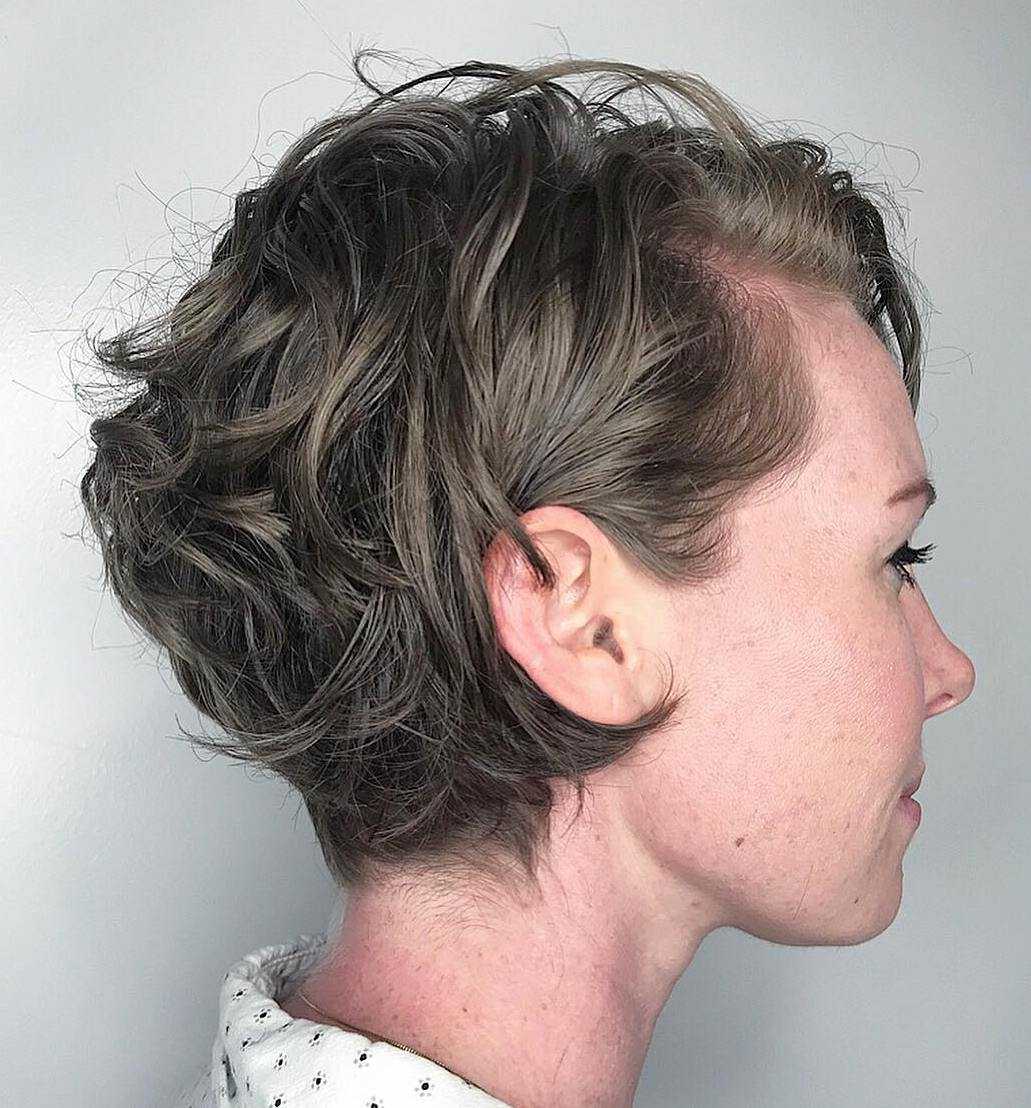 The long pixie cut leaves lots of space for curly texture to spring and allows you tucking unruly locks behind the ear when required.
This cute streaked crop shows a stunning contrast between long straight tresses on top and edgy close-cut temple areas.
Select the Best Cut for Your Face Type
While shorter crops are great for spotlighting facial features, the long pixie haircut adds the length to your array of tools for balancing your bone structure. You get more chances to play with shapes and textures, parting and styling, bangs and color schemes in order to achieve the most flattering look based on your face type. Do you have a round face? "Avoid harsh angular styles, tight curls, and a thick fringe – that all shorten the appearance of the face," says celebrity hairstylist Kristan Serafino to Byrdie and recommends opting for a short cut with a full top. She also thinks that crops with fuller and wider tops will work fine for diamond-shaped faces. Keep scrolling for our tips on other face types.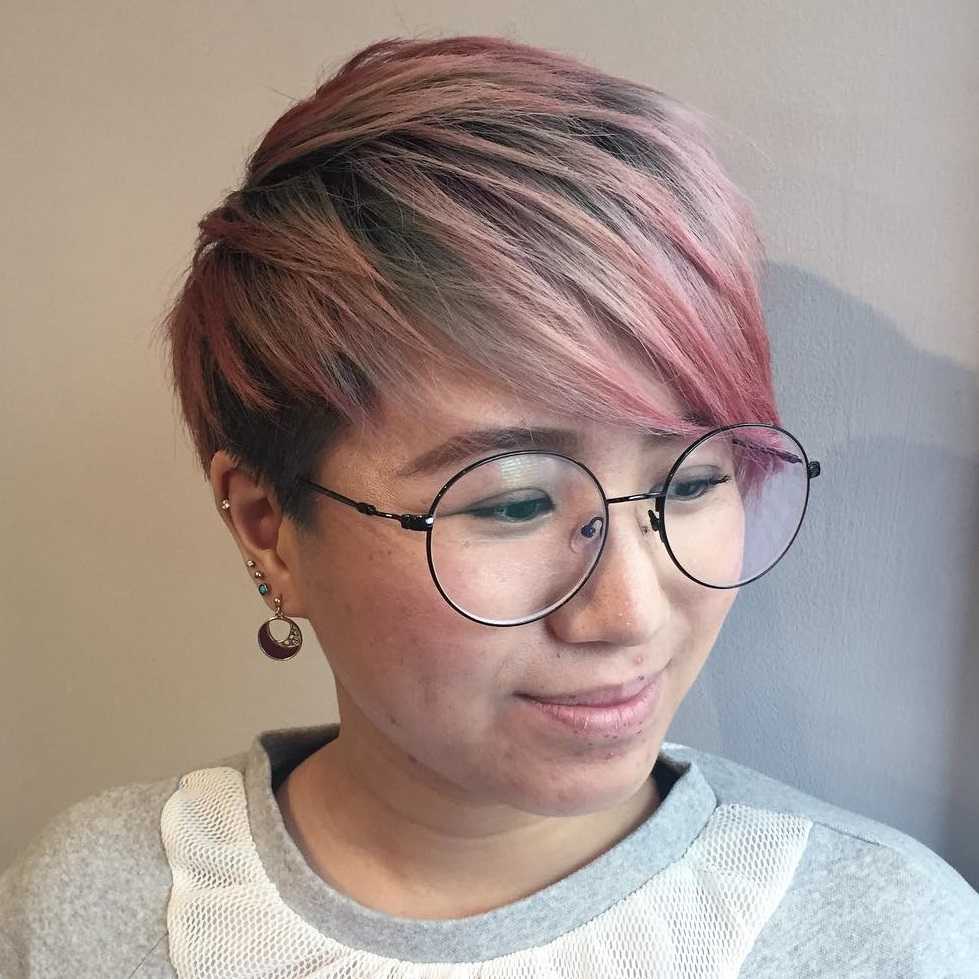 Round faces look crisper when enveloped with a plethora of angled pieces, while layering creates more volume on top.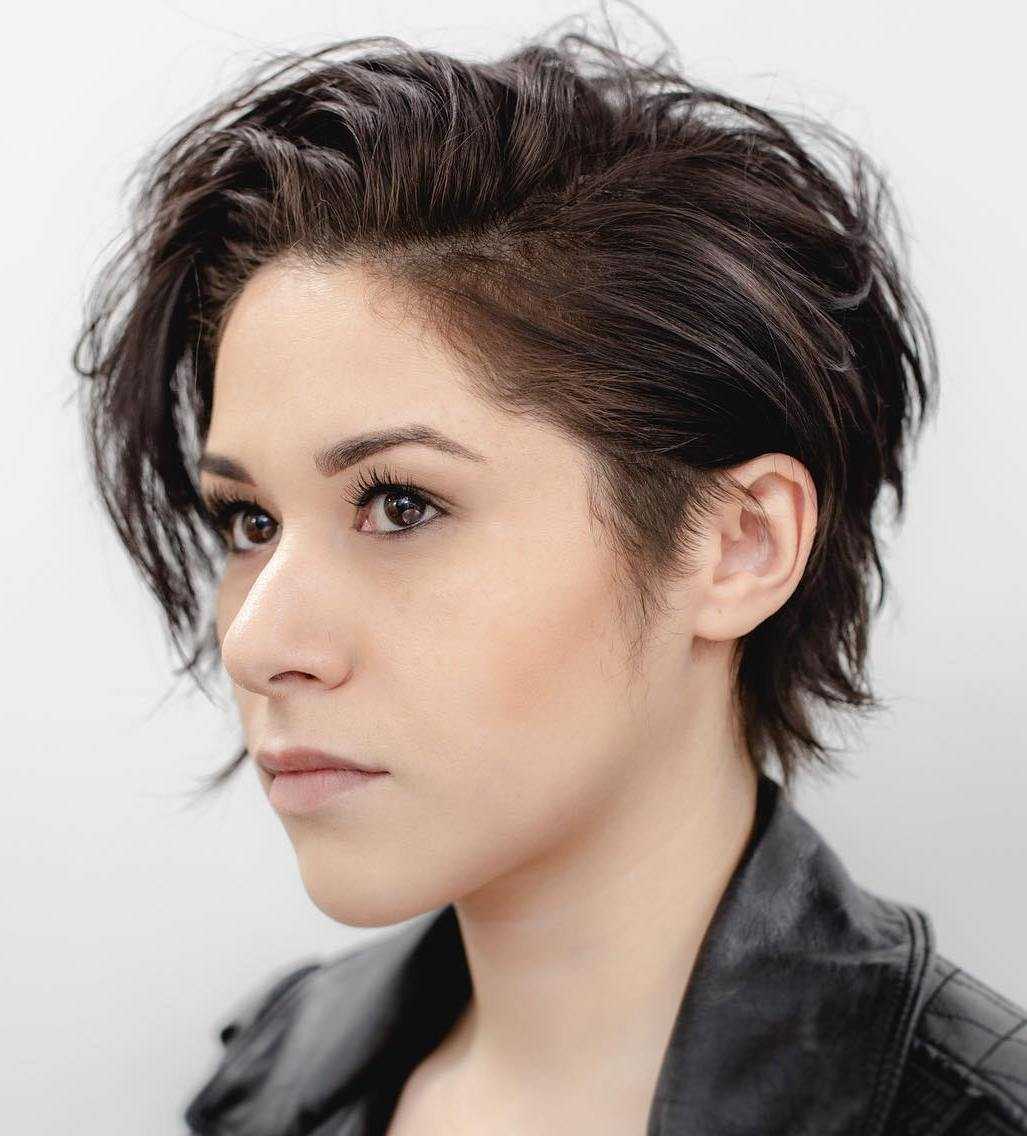 Long faces require some extra width on the sides, and this cool pixie cut gains just enough of it through side-swept locks and elevated roots.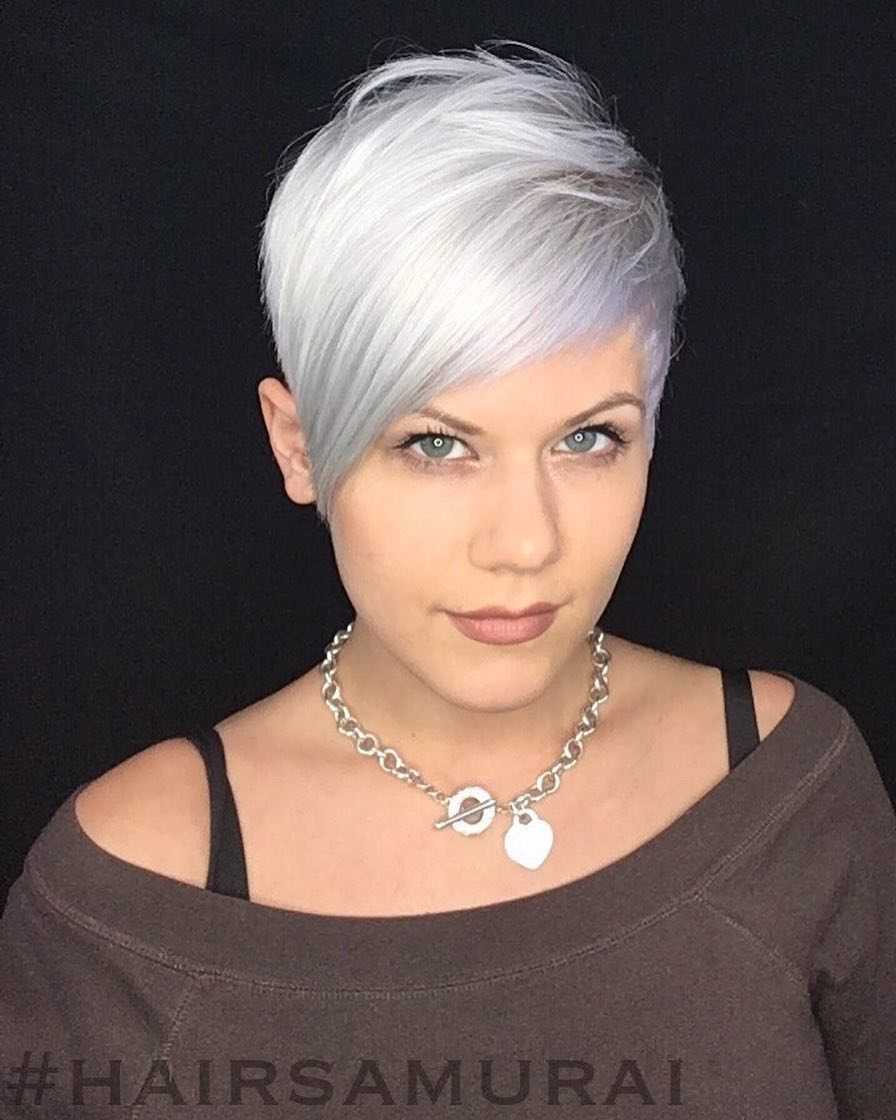 This icy blonde crop with short top pieces and layered bangs getting longer to the side is a perfect frame for an oval face.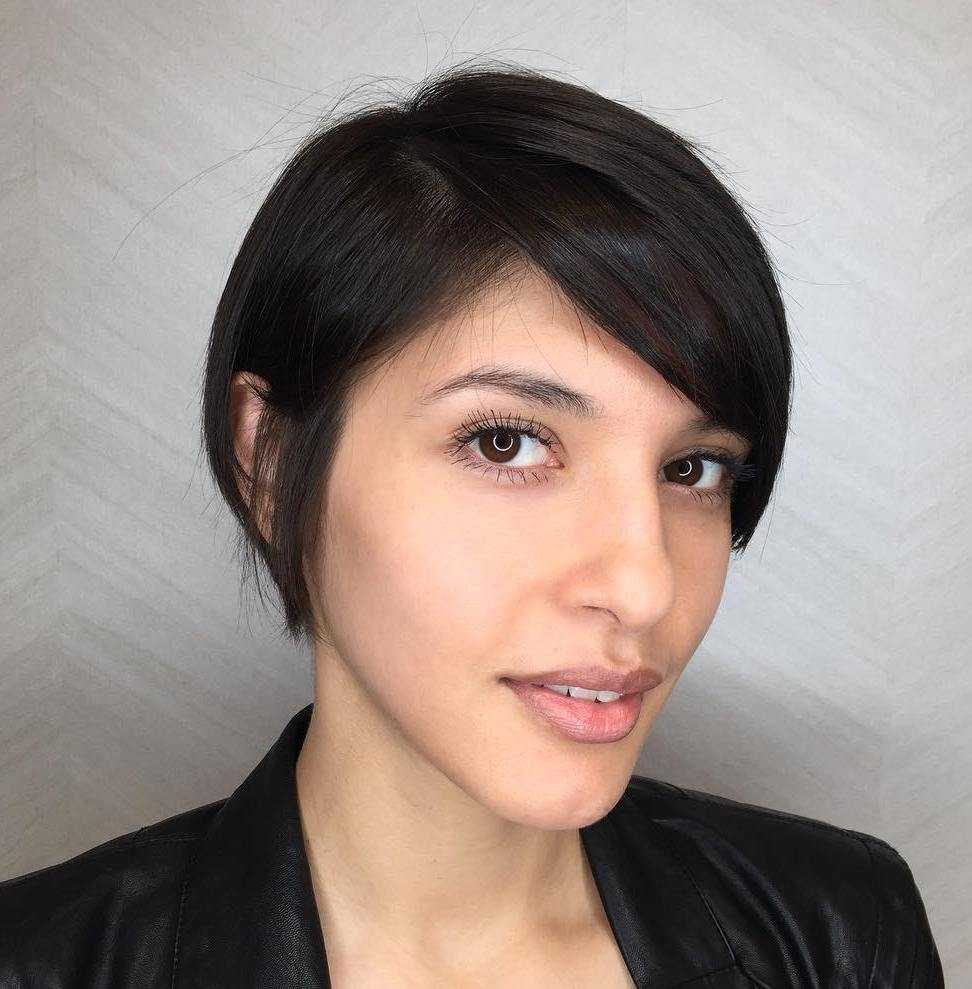 Side-swept bangs and elongated side pieces work fine to draw attention to the enviable cheek bones of heart shaped faces, while creating a diversion from the chin.
This square face is softened with wispy bangs and layers. The mix of short and long strands does a great job of avoiding a boxy look.
Rock Your Long Pixie with Bangs
Sure, if you totally hate bangs, you can skip this section and go for a cut that allows keeping these sometimes rather demanding front pieces out of your face. However, we'd recommend you to think more positively, since a fringe is an excellent beauty tool to balance your facial features and make your haircut even edgier. "Wearing the bangs soft and side-swept can help minimize a square jaw and make a short cut look less severe," says Tim Rogers, NYC-based hairstylist and a man behind Adele and Kate Hudson's 'dos, to Allure. And no, you don't need a very long fringe for the effect, though you might like it for creating a striking contrast or trendy asymmetry. Here are just a few examples of incorporating bangs into long pixie cuts.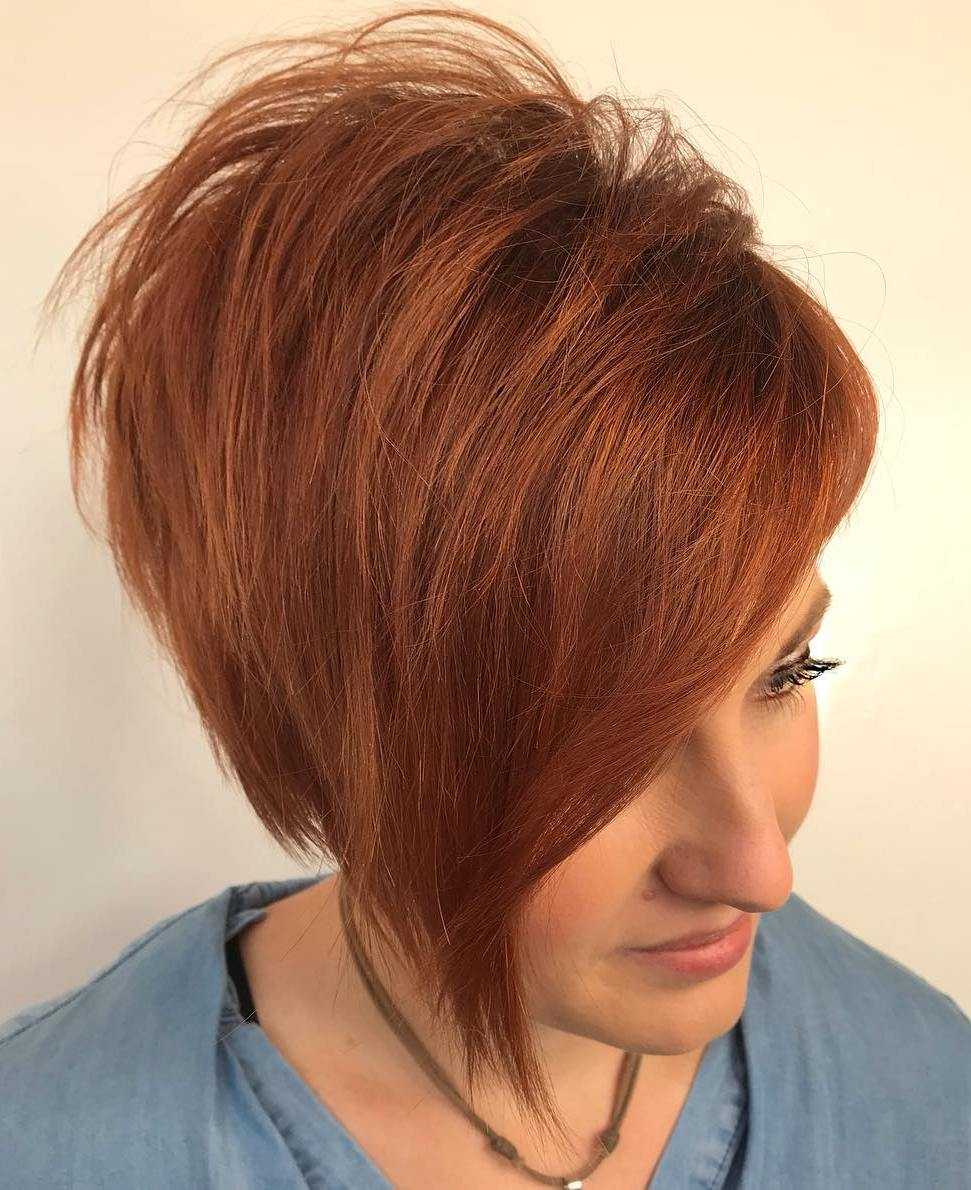 This awesome cut features layered side swept bangs, going longer to the side to enhance its edgy asymmetry.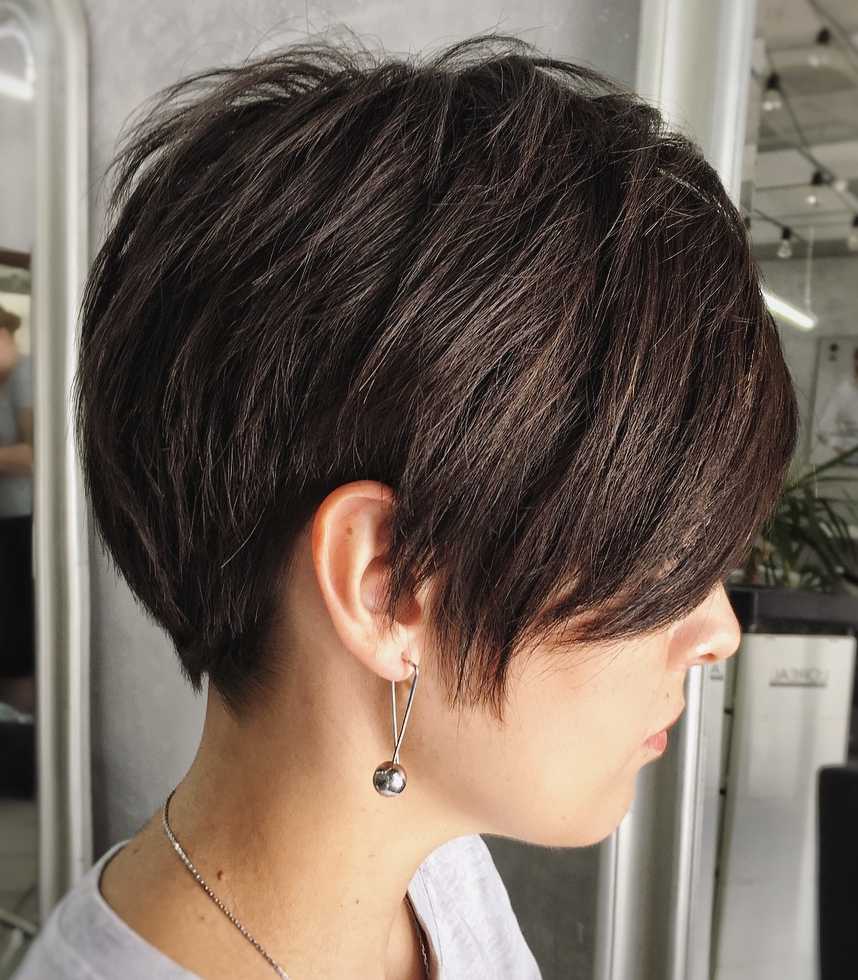 Here is a nice example of straight hair transformed into a hot shaggy crop with a side fringe, boasting texture galore.
This silver blonde 'do is handsomely layered on the back and top to have a good deal of dimension along with fun and trendy sliced tips.
Just look at this killer undercut we couldn't miss! It spices up the crop and helps build volume in the back, while highlights serve to add depth.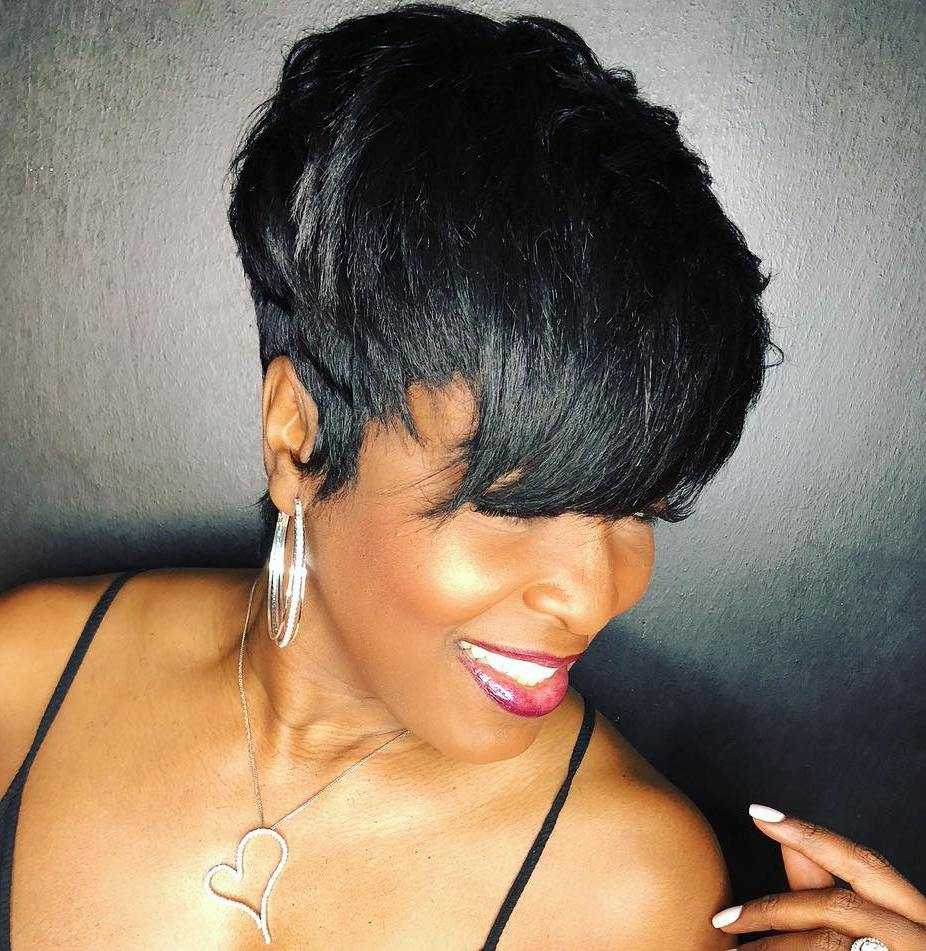 This tapered black hair is dense, but not dull thanks to smart layering and a sharp fringe, elongated to create a modern look.
10 Best Long Pixie Ideas to Take on Board in 2021
"People have a misconception that just because you have short hair, you always have to wear it the same way. If you have long hair on top […], you can sweep your hair to the side, part it in the middle, or even pull it back," says modern hair guru Anh Co Tran, who styles Emrata and Coco Rocha among other celebs, to Allure. In addition to changing your hair flow, long pixie styles give you more freedom to experiment with hair textures. Curl your tresses to nail trendy beach waves or straighten them to have a perfectly sleek 'do – just be sure to get a narrower flat iron size for your styling versatility. Let's have a look at some of the best styles to get inspired.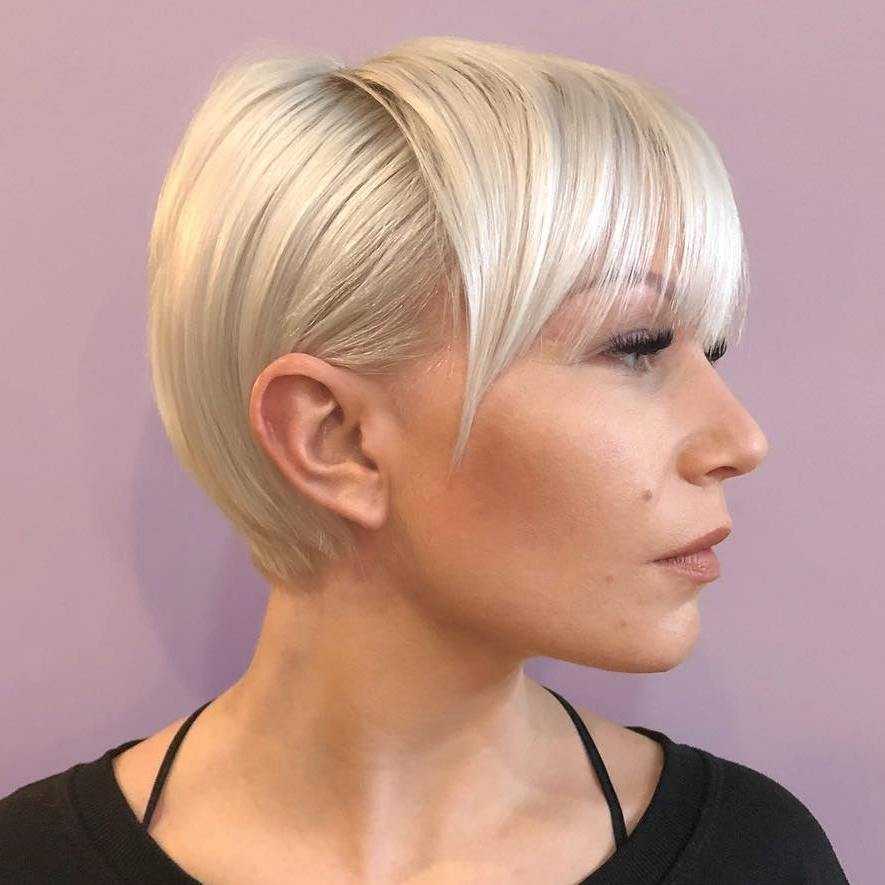 This seriously blond pixie is polished, yet crisp due to the scenic separation in the front and length difference in the bangs.
Gaining a raft of depth through dark roots, this blonde layered shag is touchable, vibrant and low maintenance.
Long on top, short on bottom? We like this combo that builds volume and texture, while leaving plenty of length for a cool layered fringe.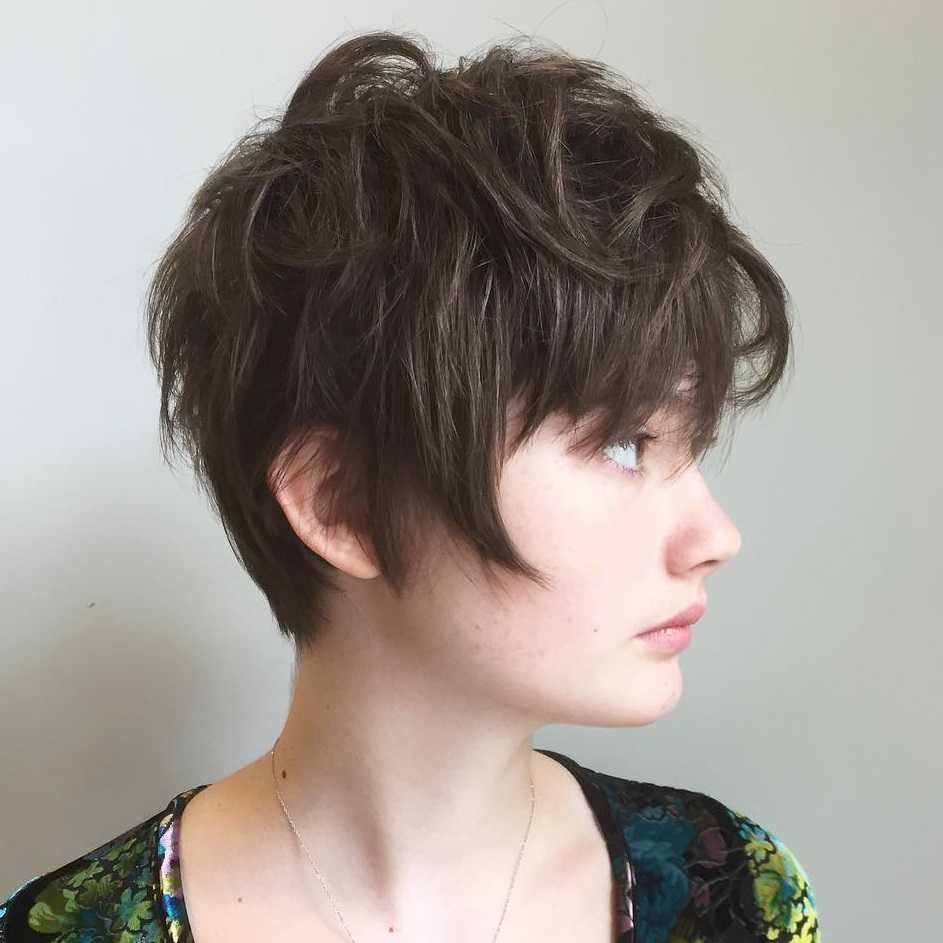 This tremendously disconnected and charmingly messy hairstyle is an epitome of the bedhead trend we all have been enjoying lately.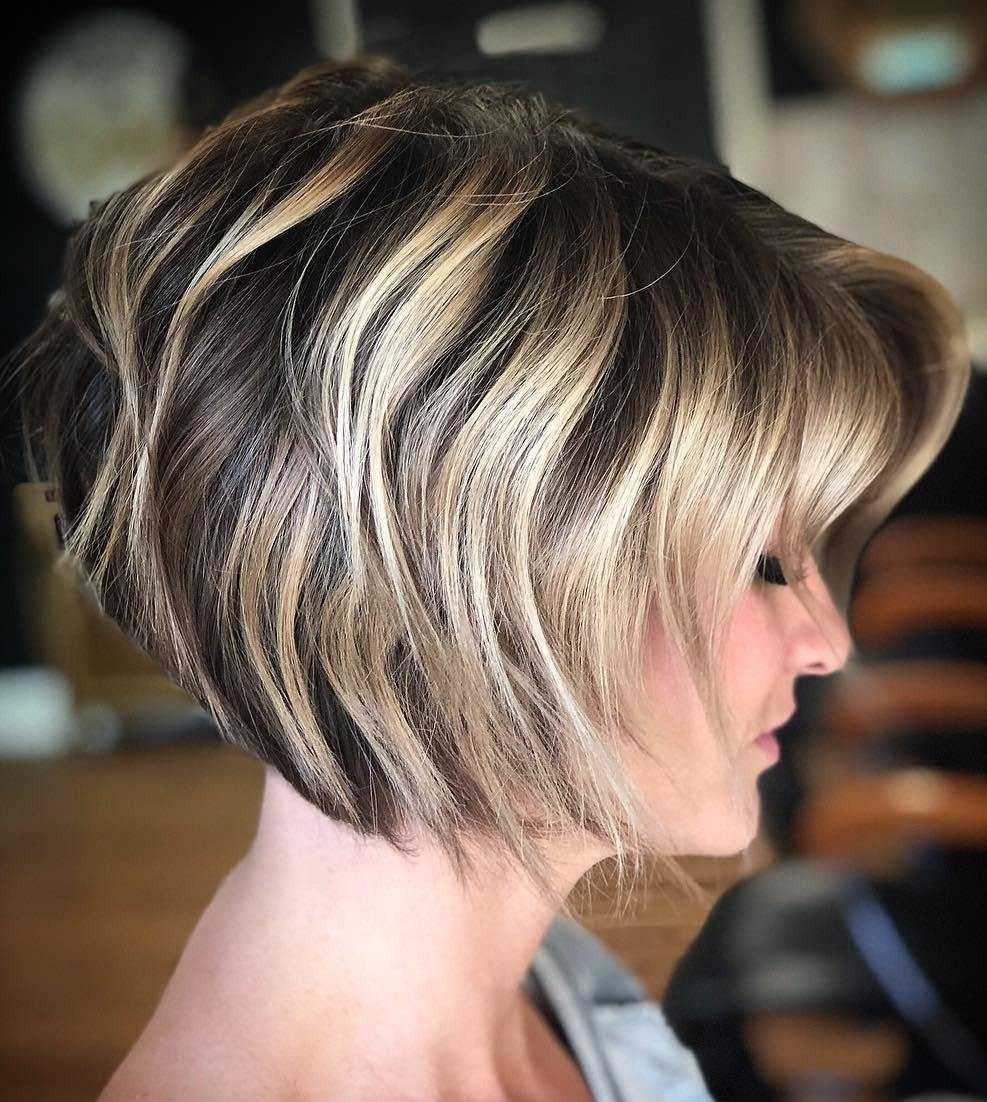 Here is a nice illustration of a pixie cut turning into a choppy bob beautifully brightened up with pops of blonde.
Choppy doesn't always mean chunky – this wispy crop with sweet babylights and textured pieces is the best proof.
This spiky 'do is really hard to miss, since it arrests the eye with every detail, starting from its vibrant color and ending with those super-long bangs.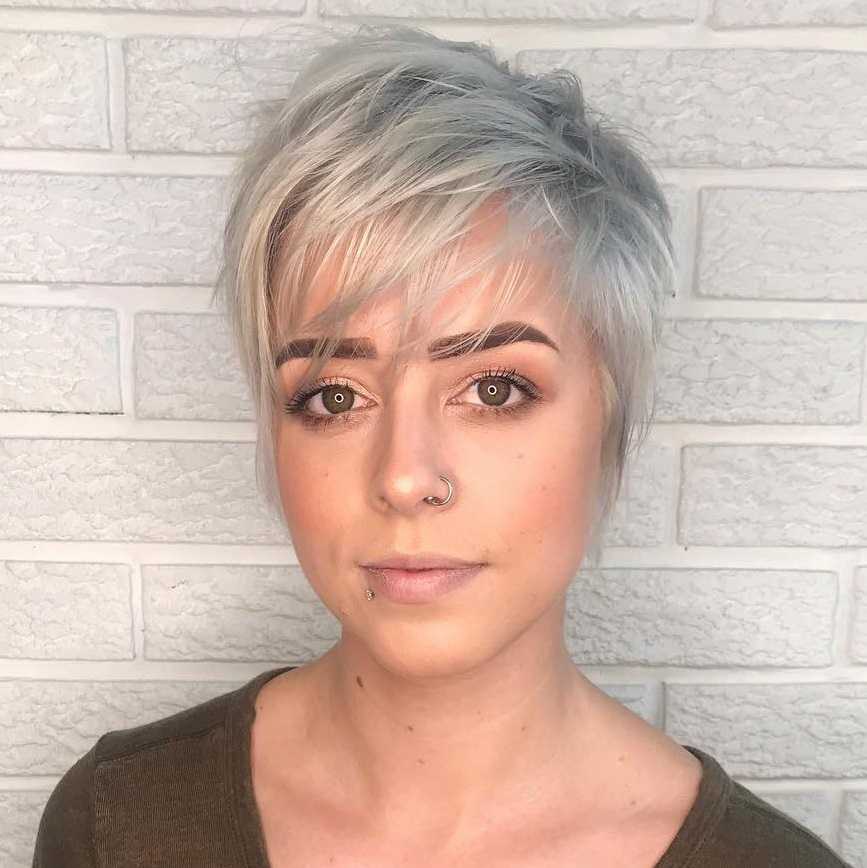 We are simply frozen by this frosty blonde cut with a wispy layered fringe and fashionably textured strands.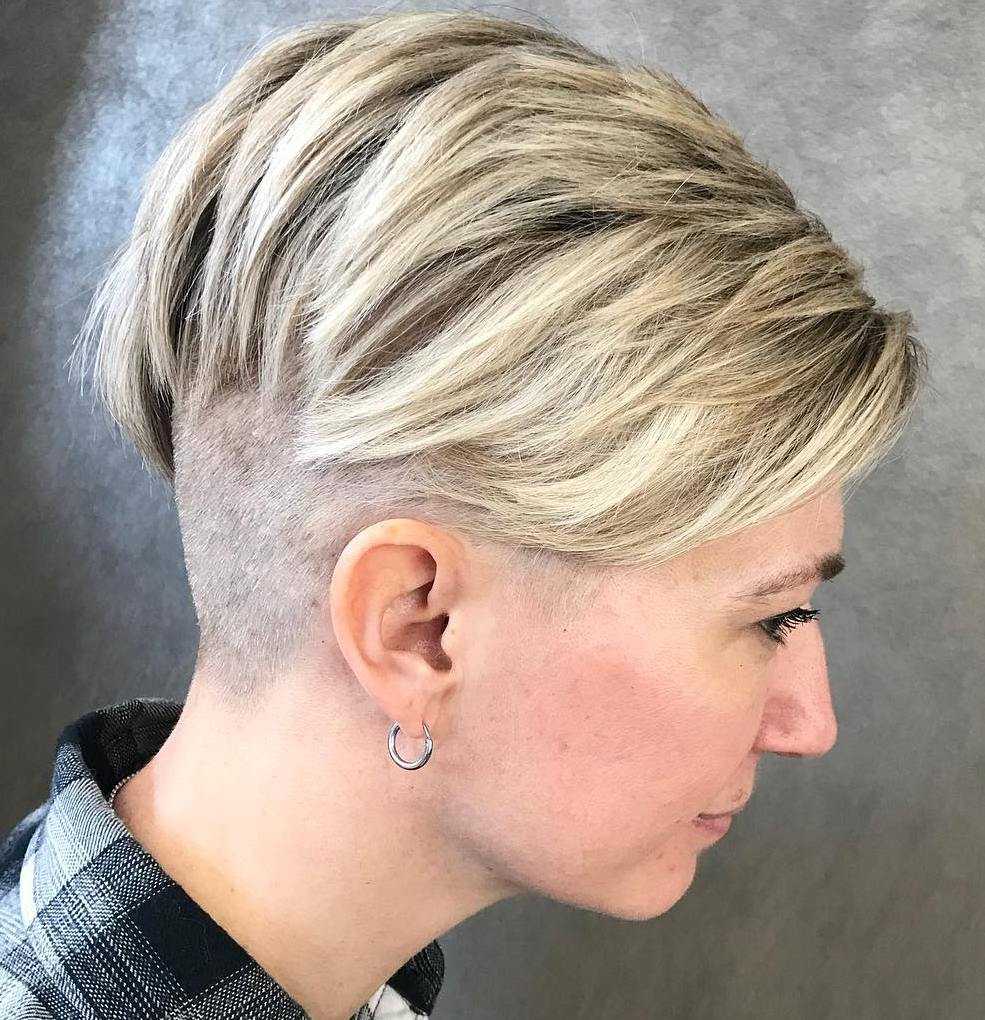 Are you bold enough to pull off this badass look with a striking undercut set against thick chunky tresses?
With this dramatic asymmetrical hairstyle, combining an undercut, layering, and extra long bangs you will always be in focus.
Summarizing the talk, long pixie hairstyles are a happy middle ground between short pixies and bobbed 'dos, offering versatility in styling and low maintenance, while allowing you to make a strong statement. Find your own inspo for a game-changer cut in our fresh collection and go for your new signature look without any hesitation – we'll keep our fingers crossed.