While beauty experts keep telling us that women of any age can wear almost any hairstyle and still look attractive, older ladies have their own experience, proving that it's not all that simple. Wrinkles, sagging skin, pigmentation, puffiness – there are many age-related changes we would like to hide or at least balance somehow with the help of appropriate hairstyles. Fortunately, it's quite doable if hairstyles for women over 70 are chosen based on individual characteristics.
Picking Hairstyle by Hair Length
We all have once heard that haircuts for an old lady should be short to hide thinning hair and split ends that come with aging. Well, there is some truth to it, the more so because, as a rule, older women are not much excited about tinkering with hair care and styling.
So, they think that pixie styles, short bobs, and mushroom cuts are their go-to options since they allow for both stylish looks and low maintenance. However, we would recommend considering longer lengths as well, especially if your hair is thick and well-groomed.
"The mid-length allows the hair to still feel like long hair, but short enough to give the hair fullness," says Jeanie Syfu, who styles Padma Lakshmi, to Allure. Let's have a look at both options.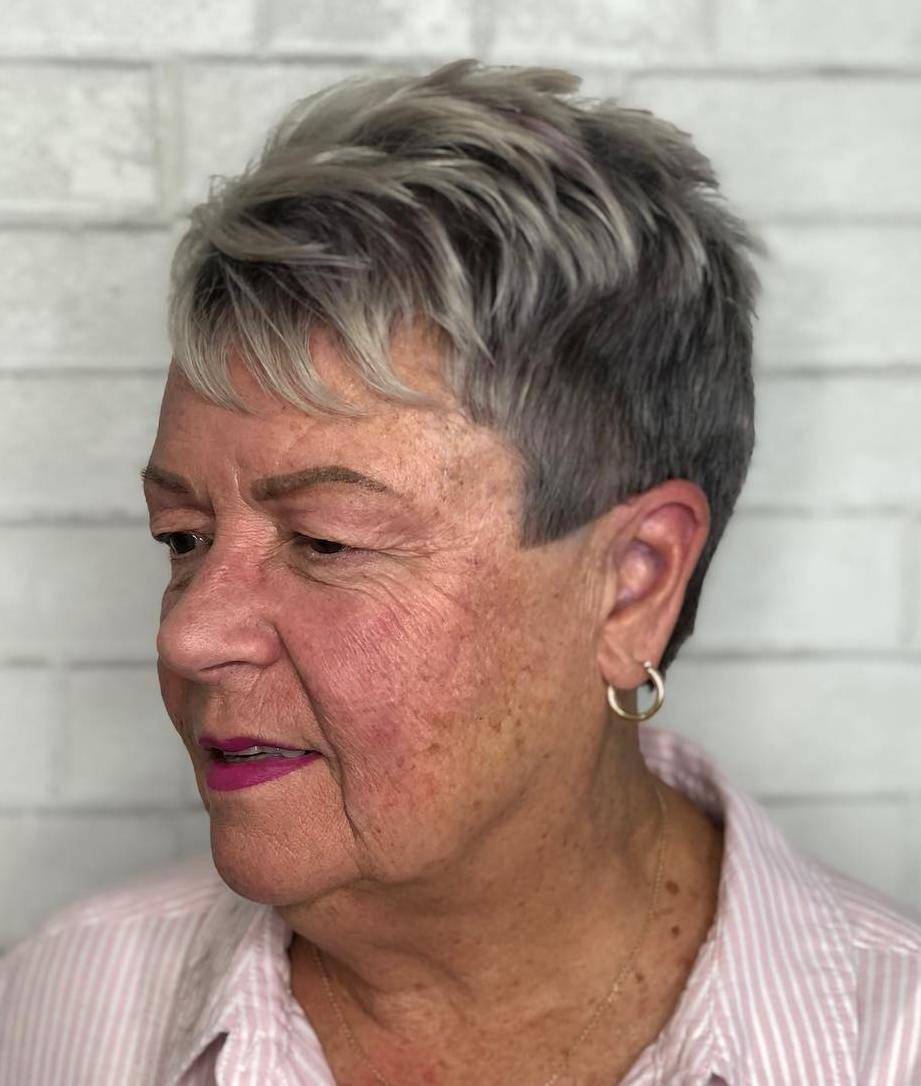 It is a great idea to combine clean lines on the sides with lifted tapered strands on the top for a vibrantly short pixie.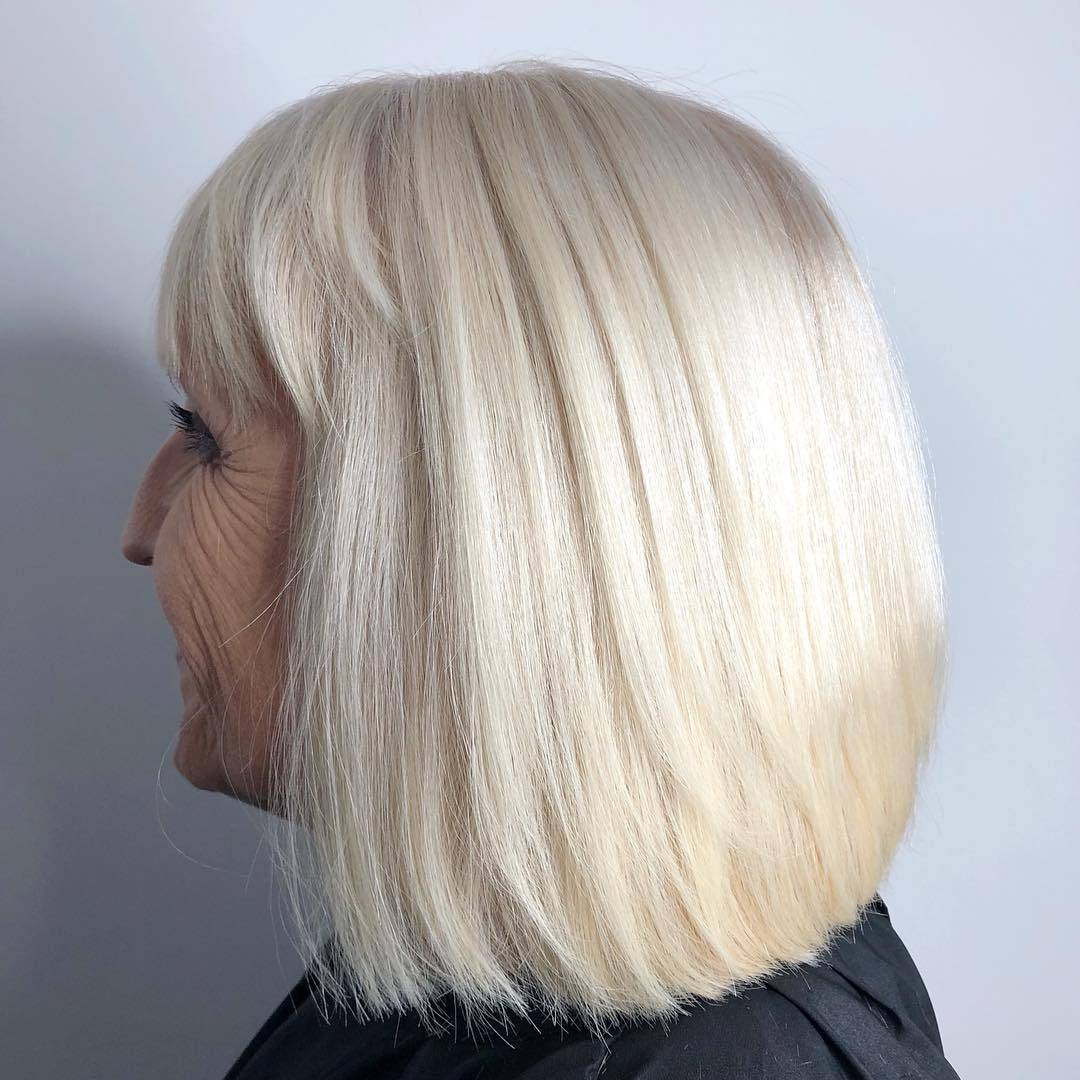 A smooth medium bob with a bit of layering to the bottom will show up the thickness of hair without looking outdated, especially when spiced up with such a creamy color.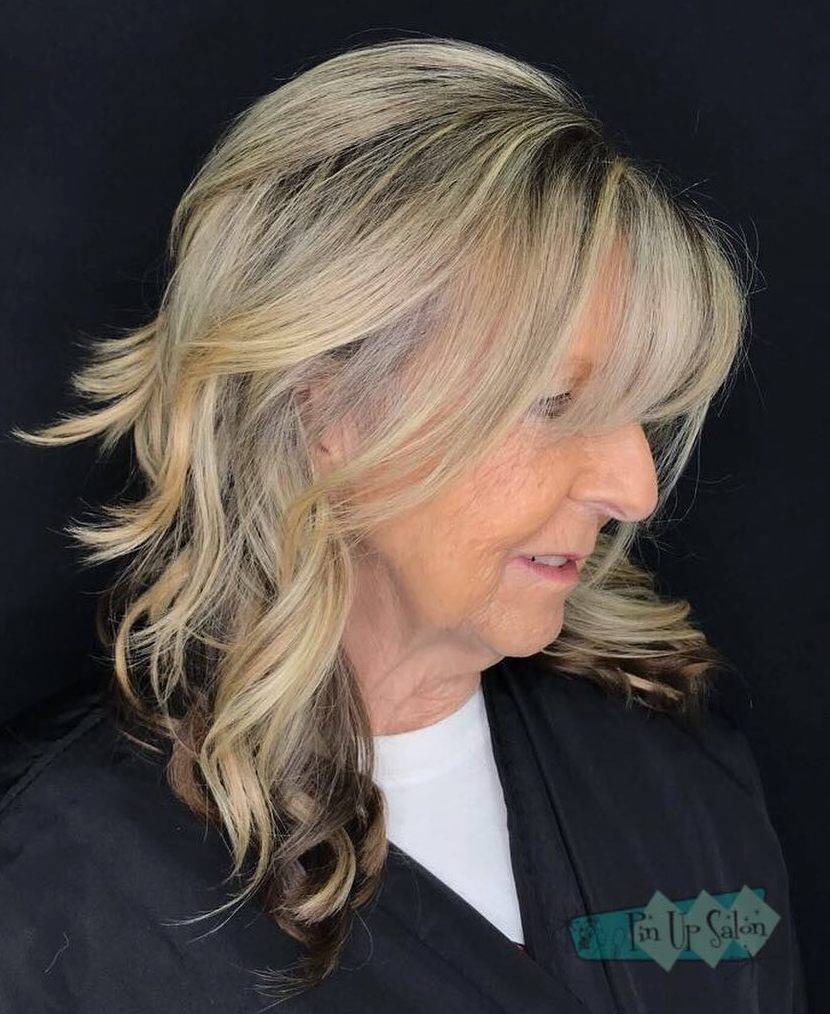 When choosing a long hairstyle, have it really bouncy with lots of layering, sliced tips, and flirty waves. A blend of warm and cool shades will make the style even crisper.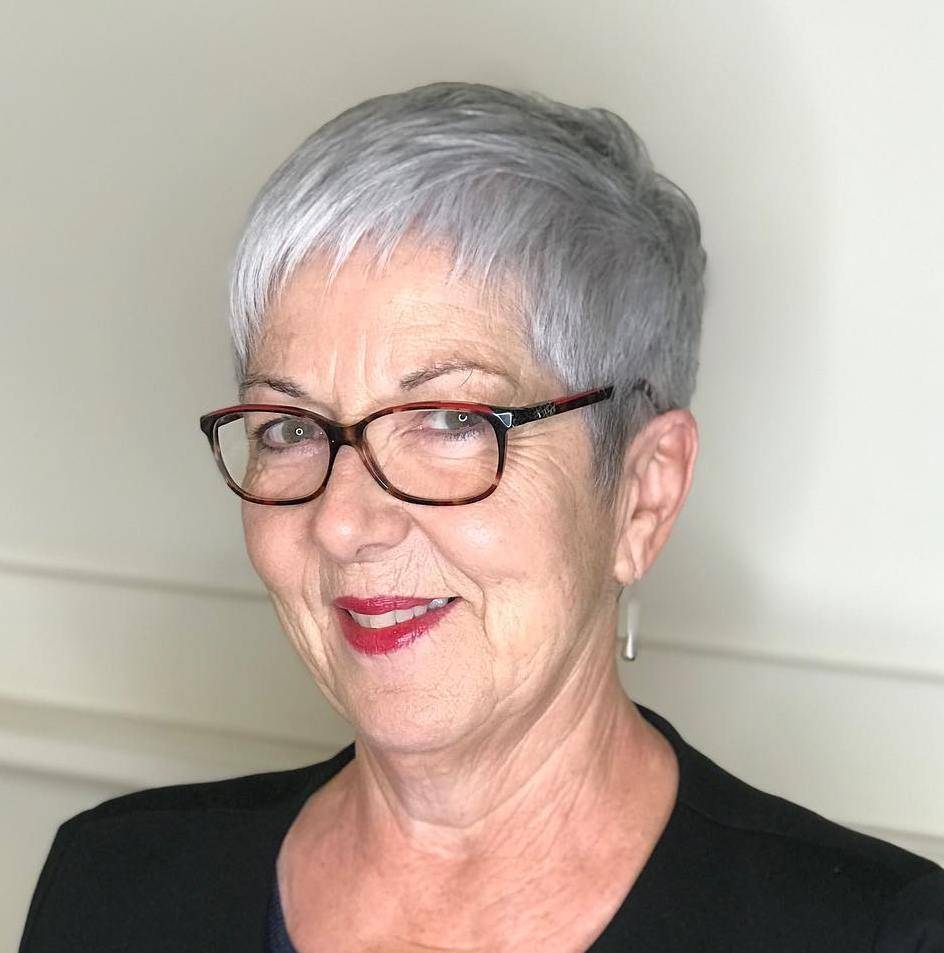 Rocking very short cut can be a challenge for older ladies but not with those built-in tapered pieces, which can be styled differently each day.
For those who prefer classics, this voluminous shoulder length bob with feathered ends can be an inspiration – it's definitely age-appropriate, yet contemporarily lightweight and undone.
Choosing Cuts by Hair Type
Though hair tends to get finer and thinner with age, there is still a wide range of textures older ladies have. Just-above-the-shoulders bobs with long shaggy layers are a modern answer to any questions. "This is a perfect haircut for somebody with stubborn, thick, or curly hair who doesn't want to wrestle with it. It's really good for wash-and-go.
It's also a great cut for fine or thinning hair because of the layering's movement," says Chris Lospalluto, a celebrity stylist at Sally Hershberger, to Allure. However, this hairstyle is not suitable for very fine hair since it's too weak to hold the volume. Scroll down to find other options for thick, thin, permed, and wavy hair types.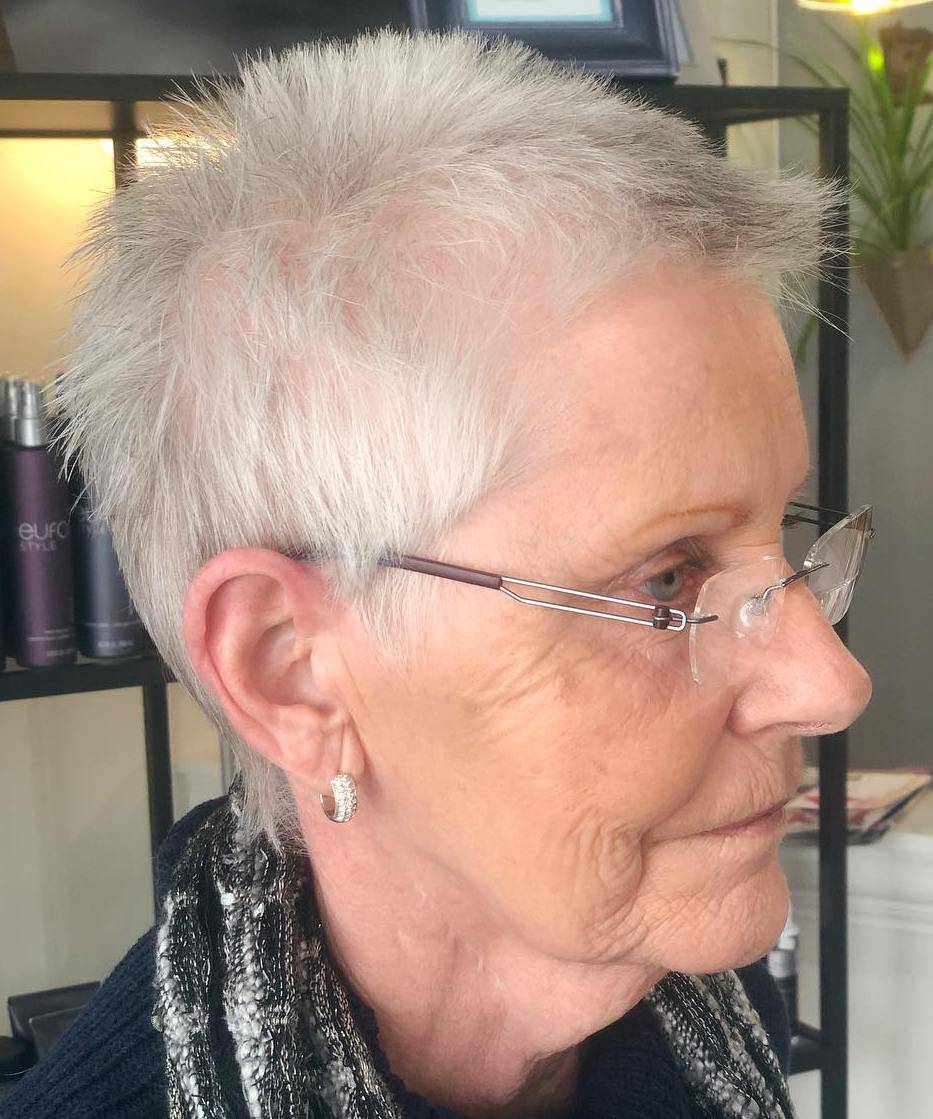 Thin and fine hair requires drastic measures like a cool boyish cut. This one features the natural gray hair color to hide the sparseness and a kind of buzz cut on the top to make it look fuller.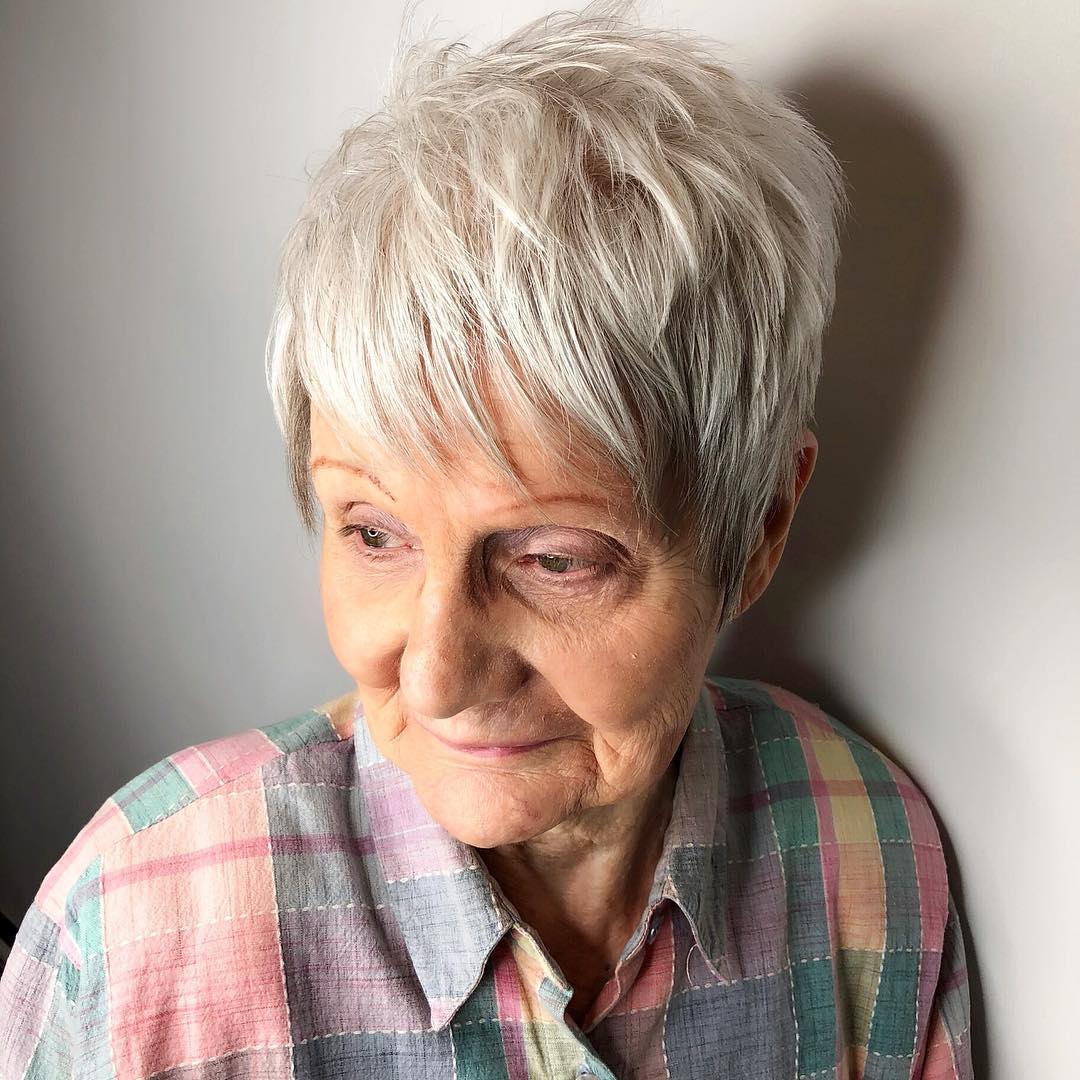 Having thick tresses, you can opt for a longer pixie with multiple layers all across the perimeter while complementing it with long tapered bangs.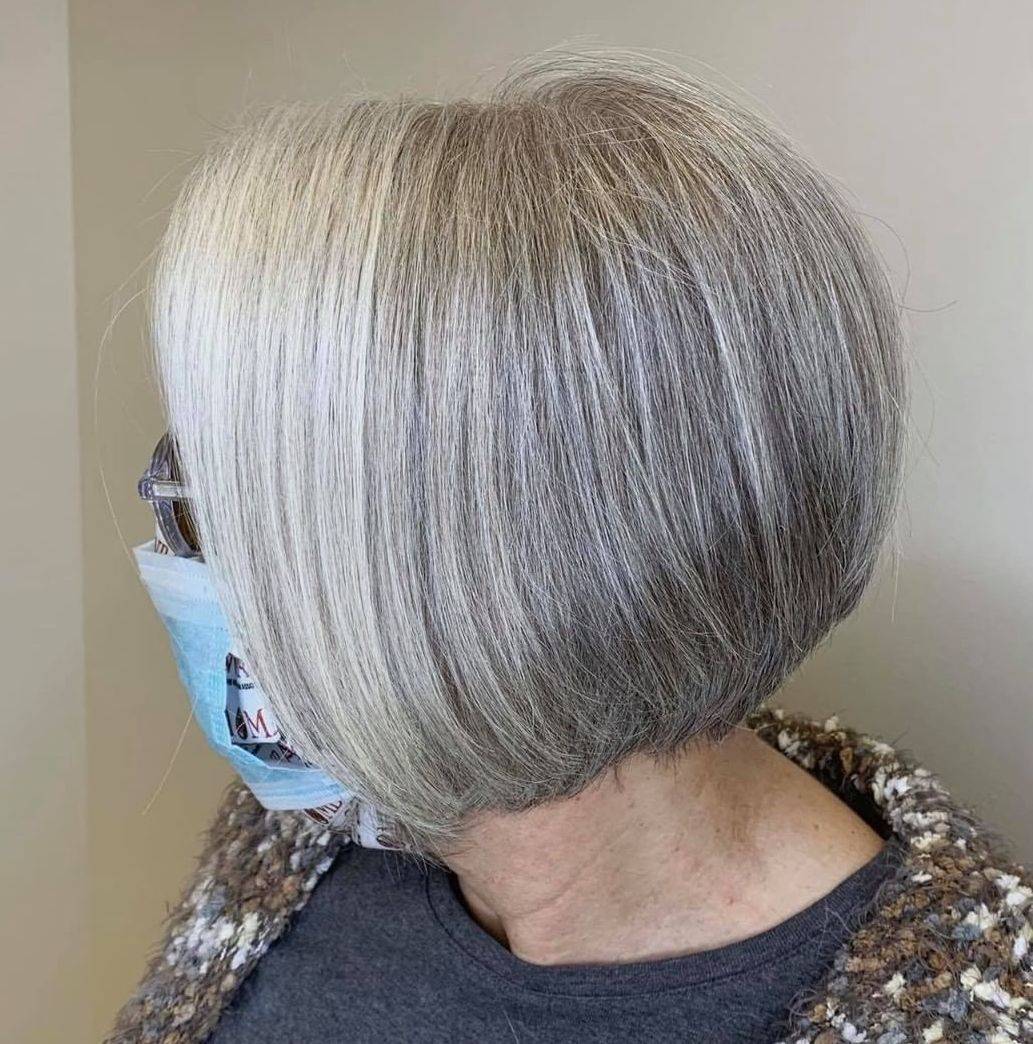 A lot of dimension might be added to thin locks through stacking in the back coupled with a bit of feathering and natural-looking highlights.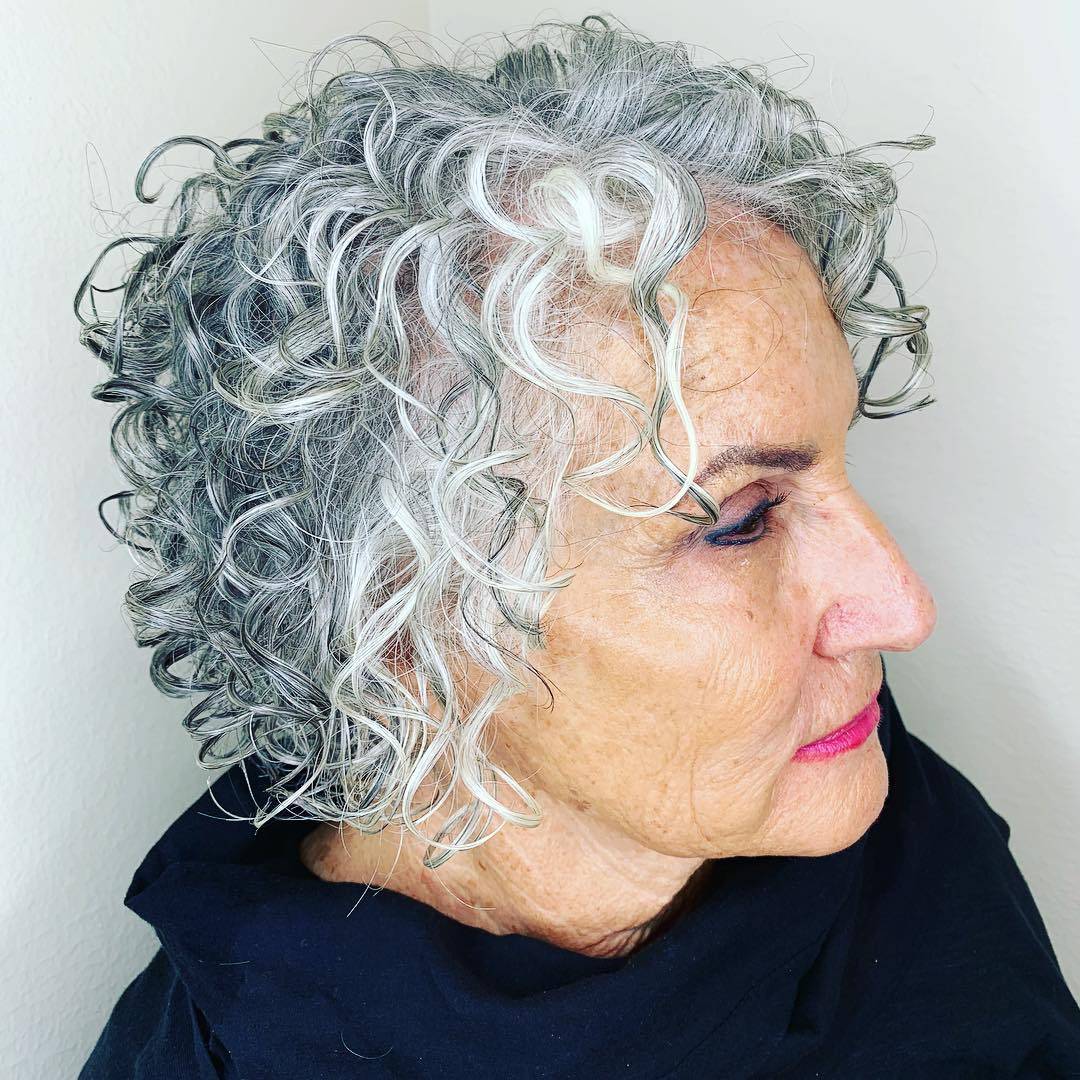 This curly hairstyle combines quite a youthful bounce and authentic grayness, turning it into an eye-catching blend of white and steel gray shades.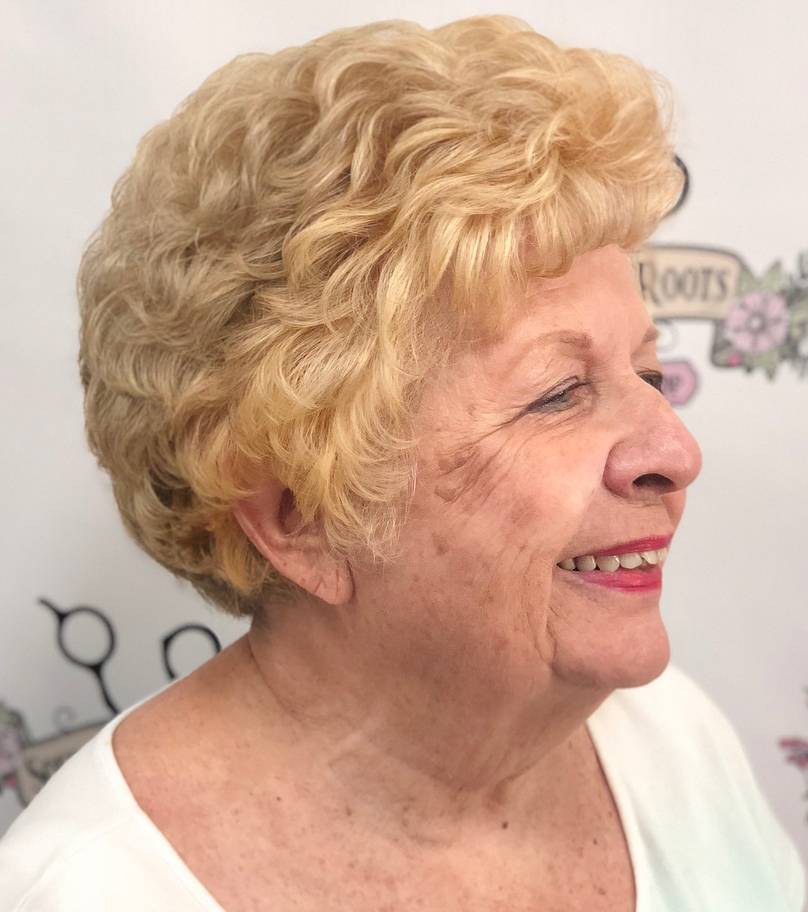 While wavy hair might be rather unruly, this is not the case with this elegant cut that tames the locks, leaving most of the texture to shine.
Explore 10 Best Hairstyles for Women Over 70
You have probably noticed that blond hairstyles prevail in our pick, and there is a good reason for this – graying is not so noticeable when the hair is blond. But gray hair is beautiful, and even on-trend! Think of celebrities like Glenn Close, Diane Keaton, Helen Mirren or Jamie Lee Curtis who rock their gray proudly. Over the last years, our society has changed its attitude to gray hair on older ladies, and it is no longer unacceptable.
Also, think of the upkeep and the cost it comes at. "On average, women spend an average of over $50,000 over the course of 40 years to color their hair — that's a down payment on a house or an apartment," says Lorraine Massey, celeb hairstylist, founder of Devachan Salons and co-founder of DevaCurl products, to Bustle. If you are still not convinced, look through our photos to get inspired.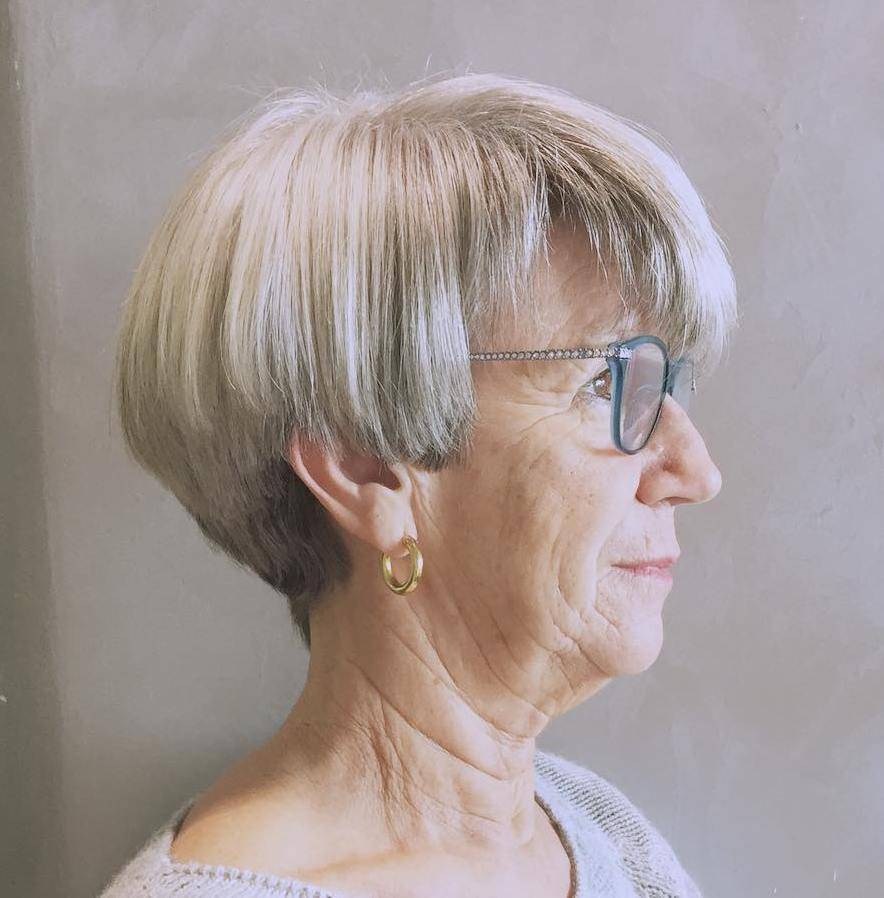 While many ladies refuse wearing longer bangs with glasses, this graceful crop proves that a fringe can be rather balancing than overwhelming.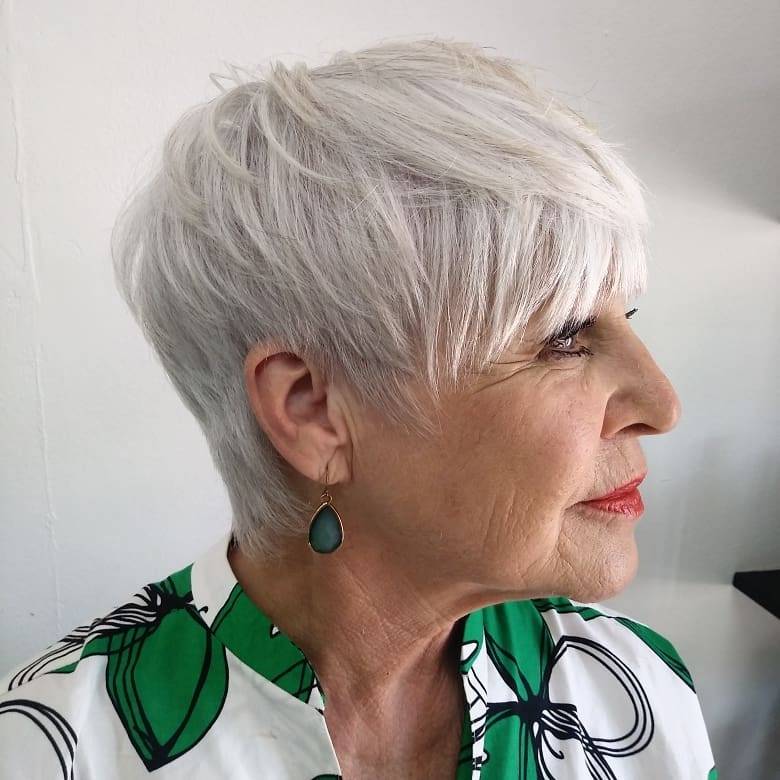 Is it the time-honored pixie cut or something much trendier? Its piece-y texture makes the gray hair spark and delivers a truly rejuvenating effect.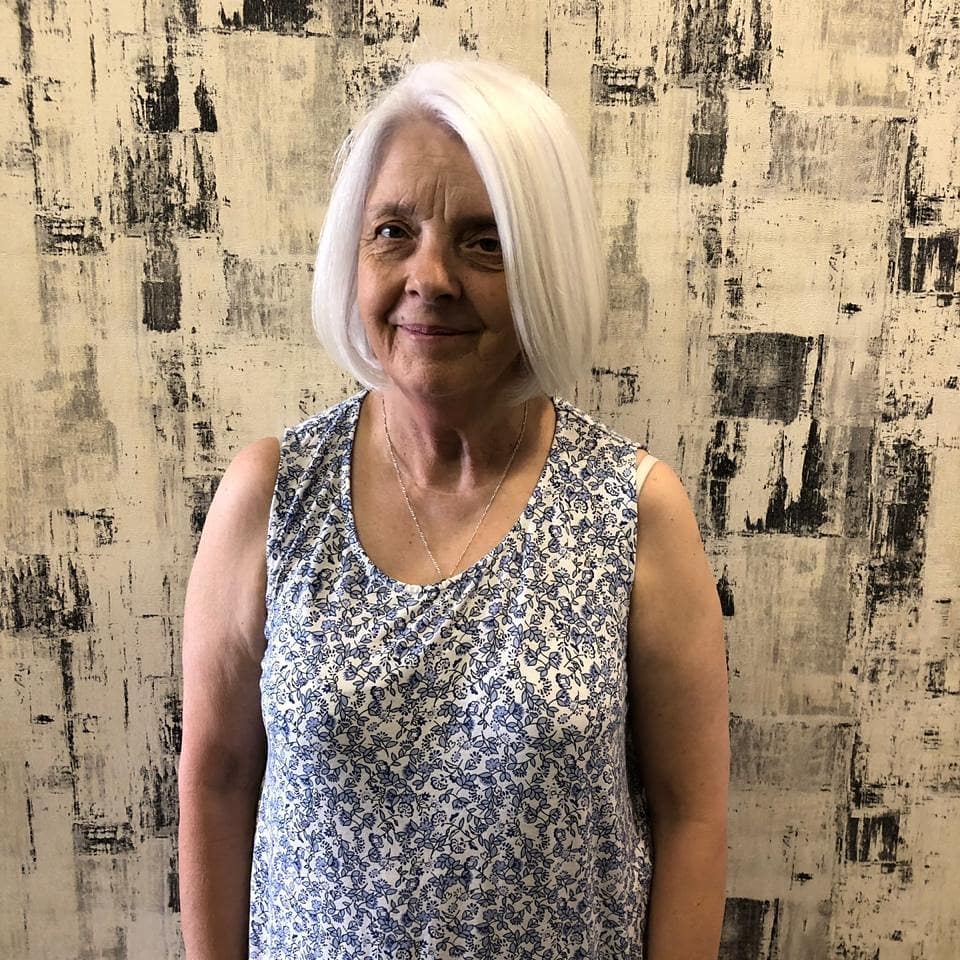 Well-groomed white hair doesn't require a lot of hairdressing – just pack it in a smooth and rounded one-length bob, adding some intensity to the color.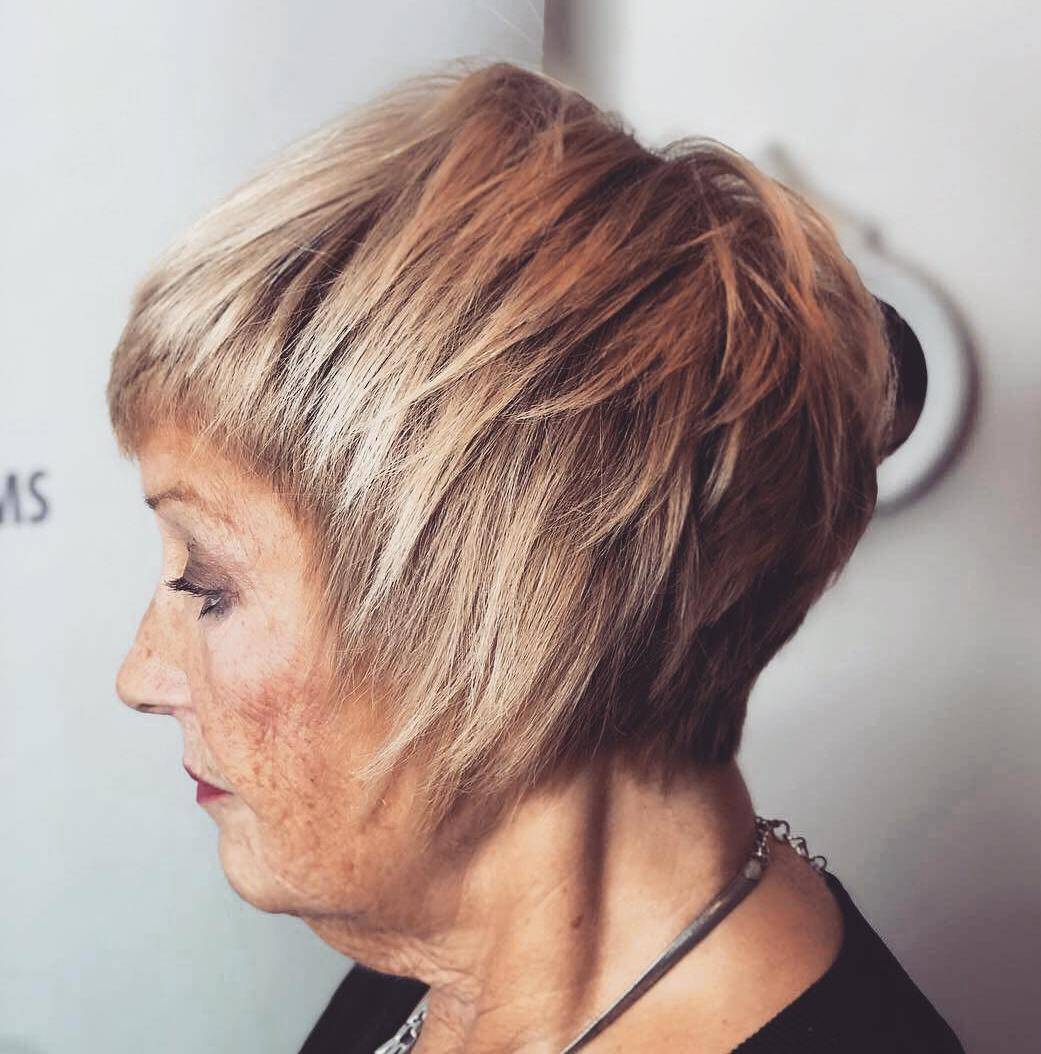 If you are looking for something more modern, a short layered cut with plenty of sliced tips can be the right choice. We'd recommend stealing this vibrant color scheme as well.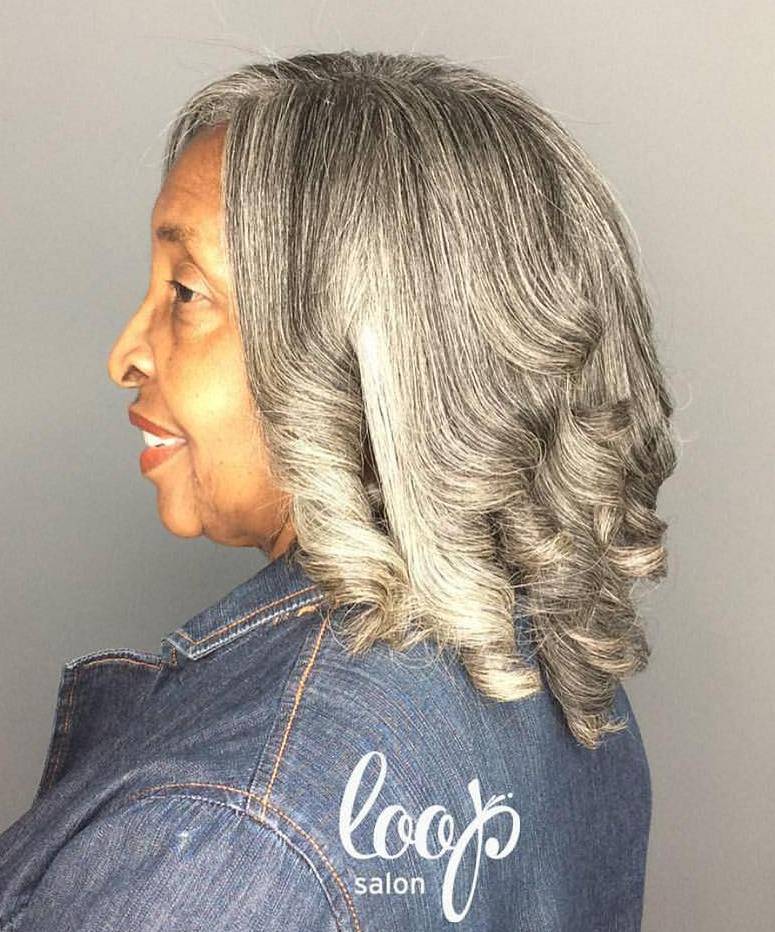 African women can adopt one of those elegant shoulder-length hairstyles that put a focus on the beauty of natural gray shades.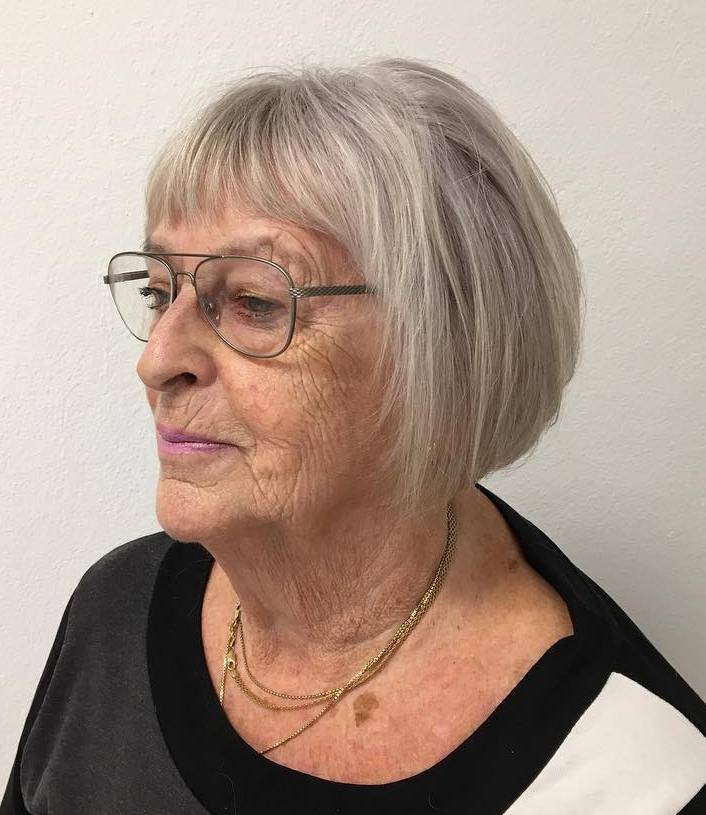 Sassy short bangs?! Why not? Just keep them a bit piece-y and disheveled for a trendy touch, and your average bob will feel fresh.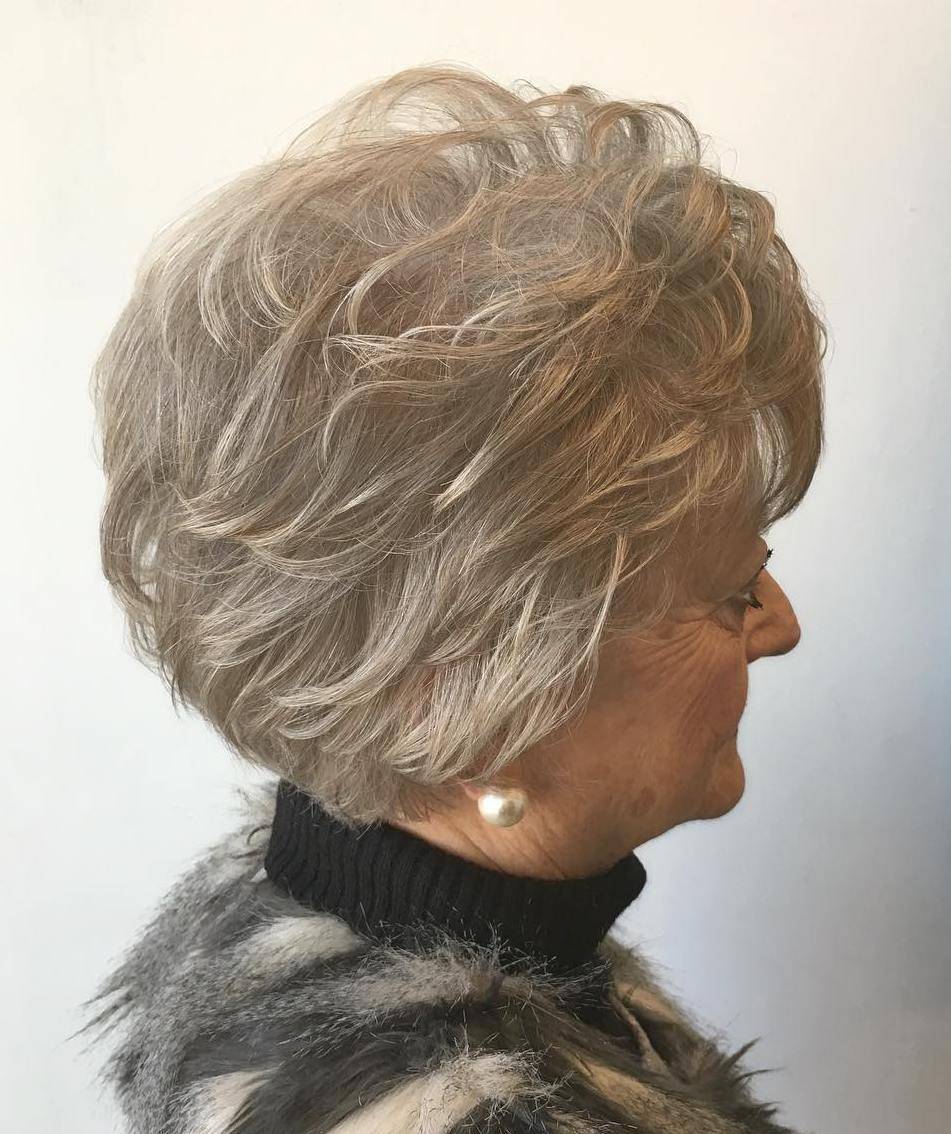 Classic hairstyles won't look old-fashioned if you add some movement and textured pieces, not to mention the volume at the roots.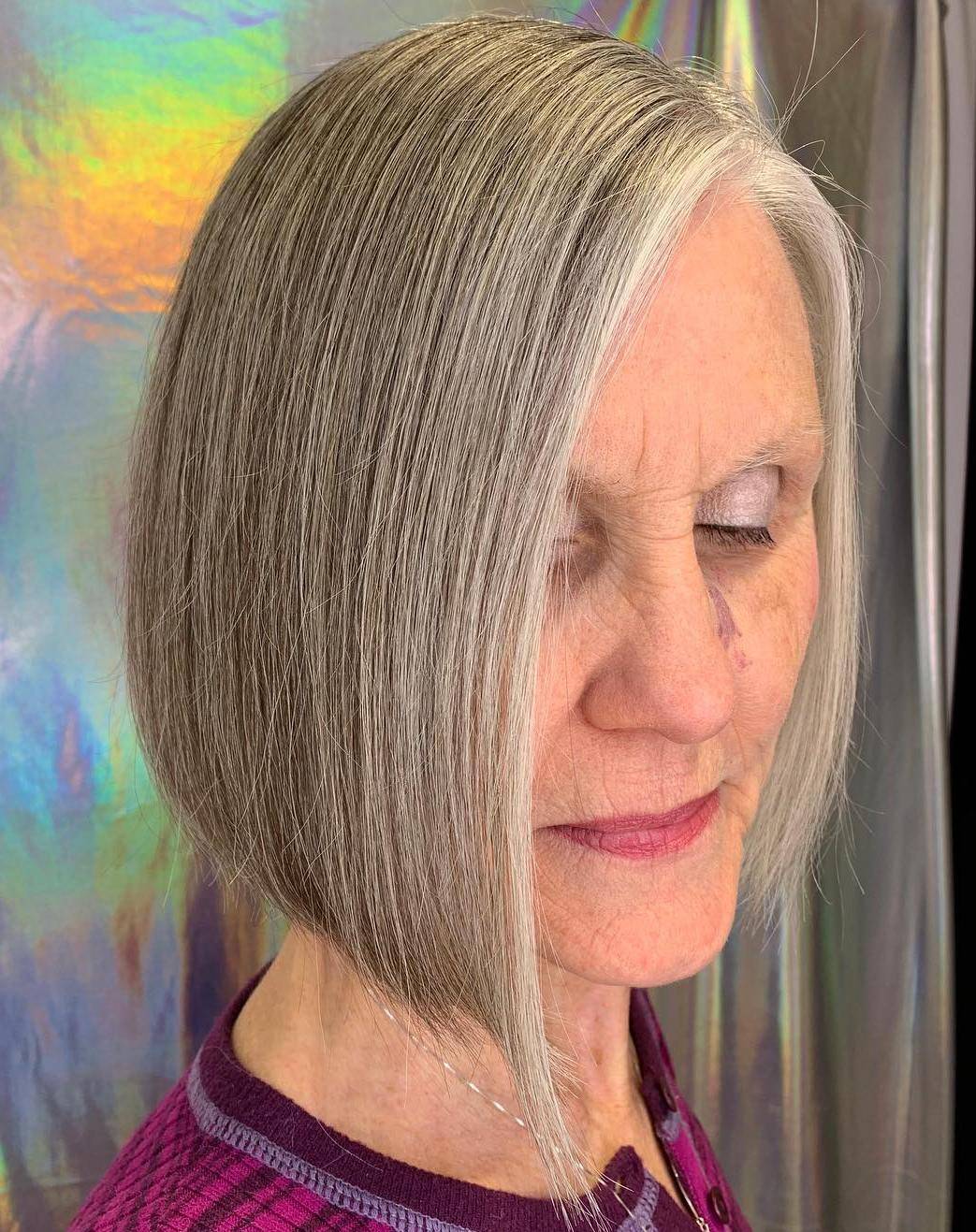 A sleek A-line bob cut coupled with naturally gray hair is a win-win combo for those who prefer to keep it simple and low maintenance. However, well-groomed hair is a must.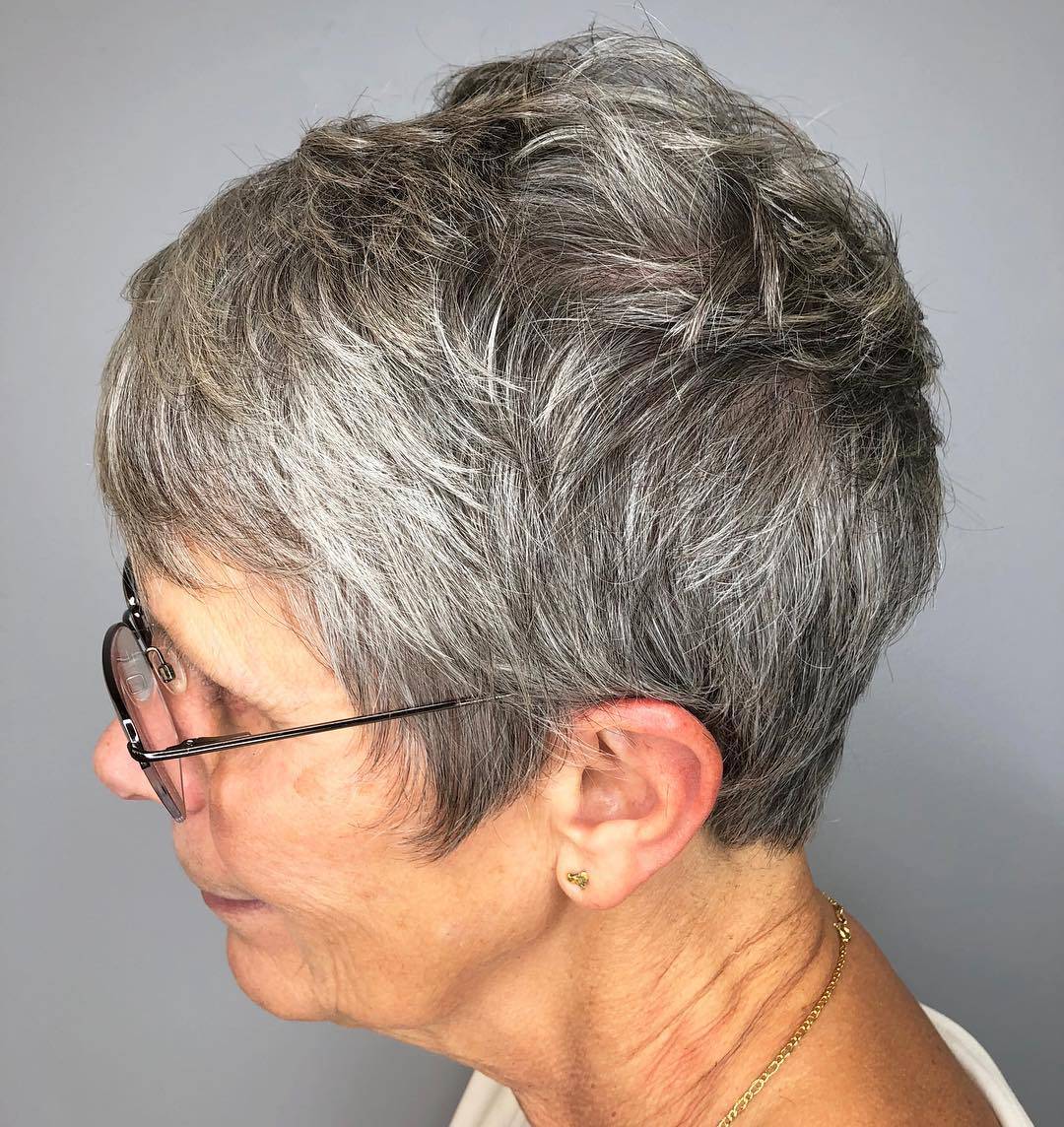 We love the thicker locks refreshed in a choppy pixie cut for its laid back feel and easy care, also allowing much versatility in styling.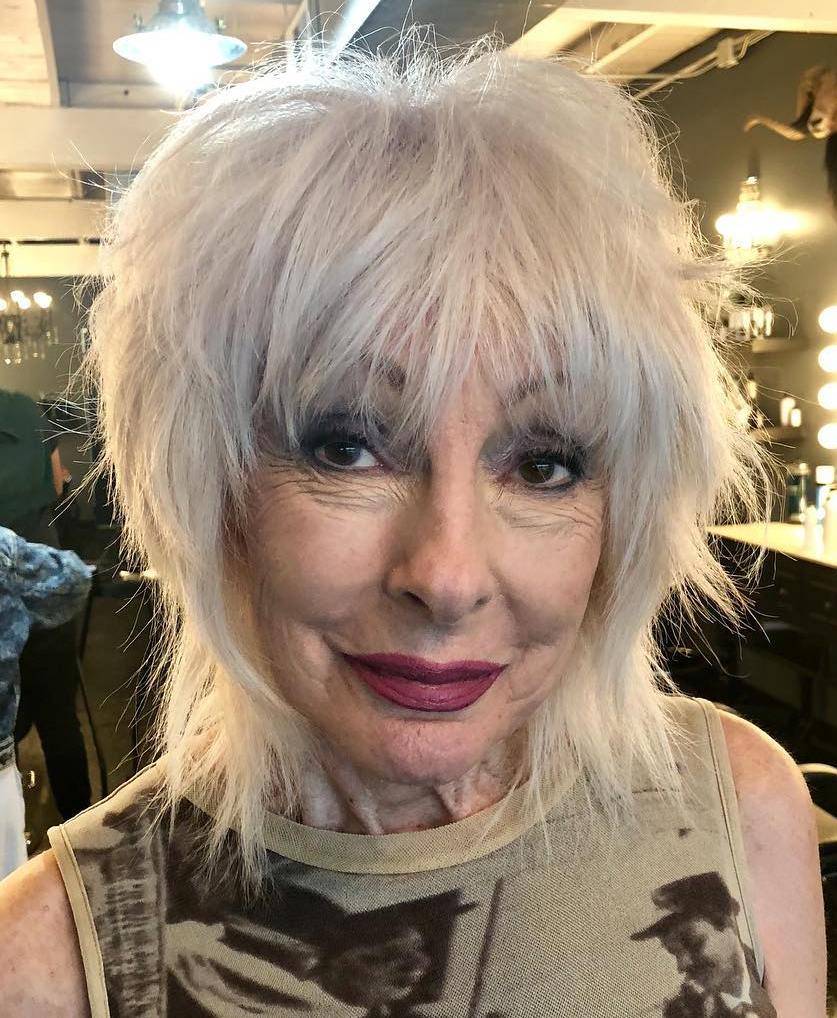 This shag looks vibrant and hot while taking years off the shoulders. You'll get your hair debulked and packed with plenty of layers to style in different ways.
It is obvious that older ladies can pull off quite a choice of hairstyles, both cropped and longer ones. A natural color scheme is preferable, yet you are free to choose from many options, including authentic gray and fashionable highlights. We hope you will find something to your liking in our selection while we continue surfing the web for more inspo.