The power of long haircuts lies in their ability to soften sharp features, balance face proportions, and make you look feminine, fresh, and young. So, if you've grown your hair out and look for new cool long haircuts, check our inspo images for long-haired girls.
Low-Maintenance Haircuts for Each Hair Type
Sure, you can make your hair look fantastic regardless of the length. But long hair gives you the greatest space for having fun with color, style, and texture. So, if you are inspired to go long, get on with it, the more so it's not that challenging. "If you use a great shampoo and conditioner, do less heat styling, and have regular haircuts that are sympathetic to your hair texture/type/density, you'll basically have the hair of your dreams," says Matthew Tharp, the Art Director of The Lounge Soho based in London. And we agree entirely.
The other side of the story is that not all the haircuts you like can be the wash-and-go style because of the wrong cutting technique that doesn't work for your hair texture. So, let's sort out the best-looking styles for each hair type and define the most low-maintenance ones.
Choose to slice the ends of your wavy hair. In this case, you will have a softer and more contemporary appearance.
Escape flatness by adding highlights to brighten your straight strands. Choose the U-shape or V-shape cut and layer the ends.
Thick hair doesn't like going short. Keep it below your shoulders, use quality hair care products, and enjoy easy styling.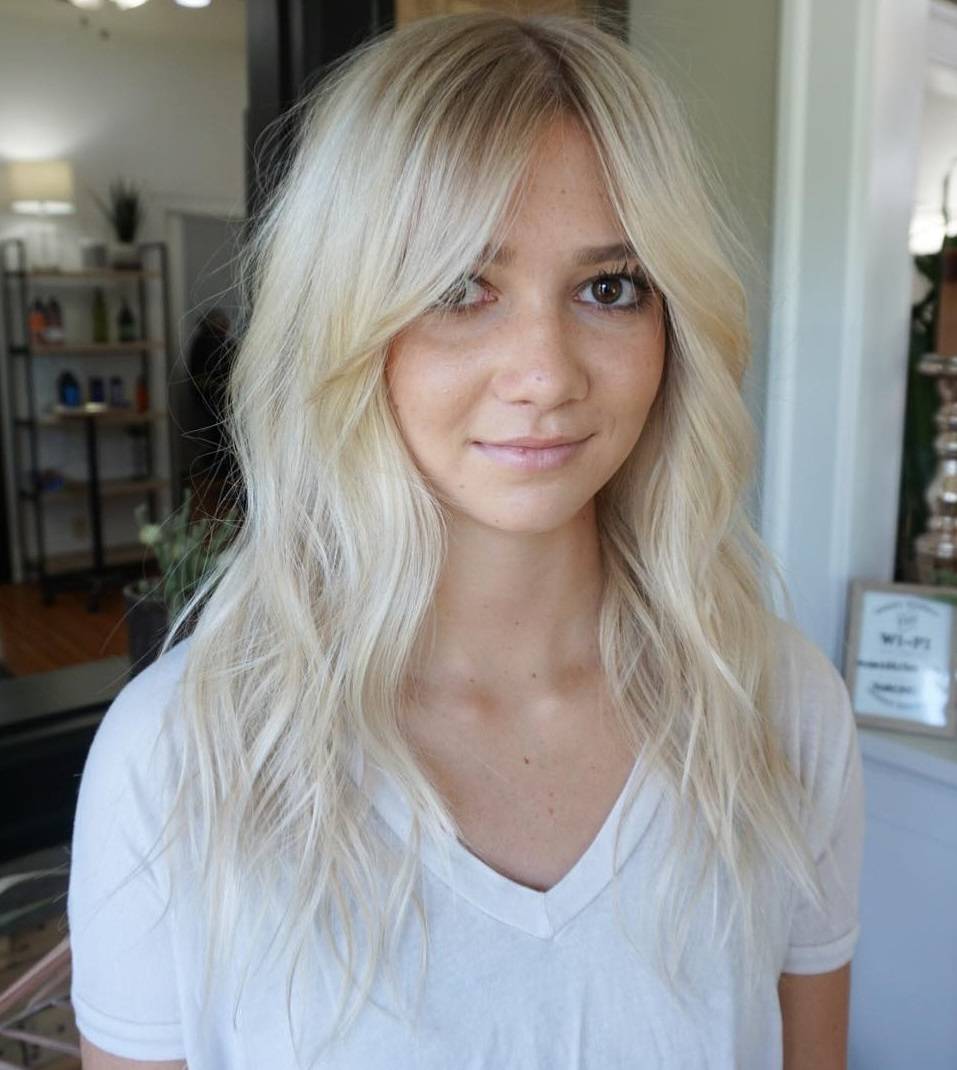 To win the fight against your thin hair, embrace a carefree piece-y cut instead of layers galore.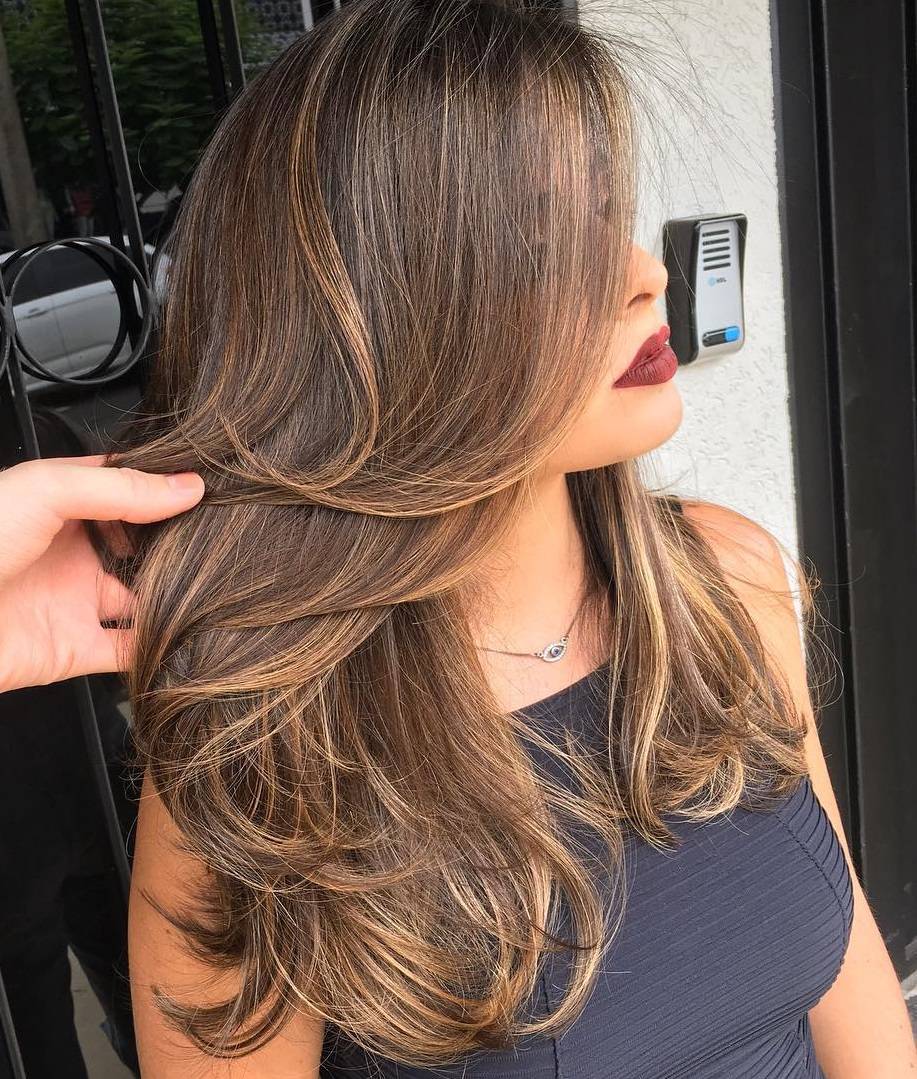 In contrast, fine hair pairs well with layers. So, if you're ready for an astonishing style, ask your stylist for a layered haircut with a long side bang.
Chasing the Shape: Pick Your Best Long Hairstyle by Face Type
The second thing you have to keep in mind when looking into long haircuts for women is your face shape. You can spot the prettiest new cut, but if it doesn't work with your face, it can ruin your expectations. So, don't chase the latest trend – try to select a style that will suit your face shape instead.
Don't know how to determine the shape of your face? "Try taking a photo of yourself facing the camera with your hair tied back. Then, trace around the outside of your face and see which shape it most closely resembles," suggests beauty and fashion e-commerce coordinator Taylah Brewer in her post for The Trend Spotter. "Alternatively, you can try measuring your face, focusing on the widths of your brow, cheekbones and jawline, and the length of your face from forehead to chin, to find its proportions. By doing so, you should be able to see which shape your best match is," she adds.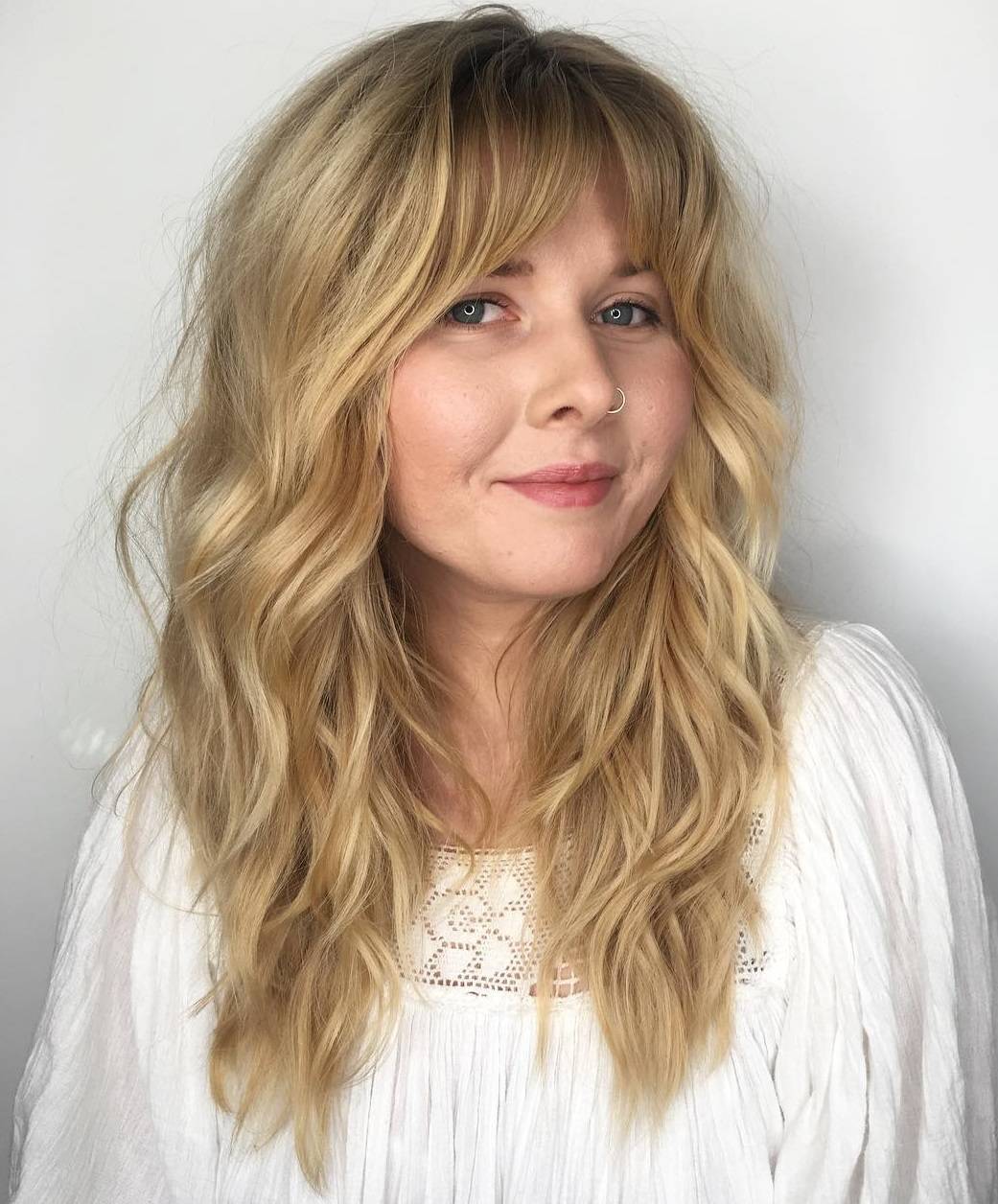 The most flattering hairstyles for ladies with round faces are those that add definition and frame the face. And, if you are crazy about layers, go for long ones, starting from the jawline.
Girls with an oval face can consider themselves lucky. And the best long hairstyle for them should be waved or curled.
To balance your heart-shaped face, opt for haircuts that add some weight to the lower half of your face, like flipped out hairstyles with layers at your jawline and lower.
A long face makes a great combo with a clear feathered cut. Bangs will also be your best friend in this set.
Ladies with a square face should opt for a haircut that will soften their jawline. Try side-parted haircuts with flowy waves directing attention to your eyes and the upper half of the face, away from the heavy jawline.
Go Shorter and Sexier with a Bob
Now you know how to pair your hair type and face shape with different types of haircuts for long hair. But if your hair is not quite long yet, what about getting a longer style compared to your last cut, like a long pixie if you normally get a short pixie, or a long bob if you basically prefer shorter bobs? This would be a good start if you've made up your mind to grow out your hair. So, how to choose your new pixie / bob length? "If you have a long neck, it opens you up to a lot of choice on bob length. However, the shorter your neck, the more classic the bob needs to be. To avoid making your neck look any shorter, keep your cut jaw-length and above," says Jonathan Soon, creative ambassador for Headmasters salons, to Glamour. So, take the plunge and let yourself rock a bob. And we'll help you to choose the best one.
A bed-head bob with layers can become the best friend of thin-haired girls. It will help make a beautifully shaped 'do without much effort.
A lob with bangs is universally flattering, especially if you go for a longer length with a "grown-out" fringe.
Beachy waves look amazingly hot with fine, straight hair and an inverted bob cut. Ask your stylist to do some light layering to make your cut more voluminous.
An angled bob will get bonus points for an extra-long, dramatic length. Try to pair it with subtle highlights, and you'll see how gorgeous it will be.
If you are ready for a real makeover, don a pixie style with a long side fringe to frame your face and make you feel sexy.
Little Secrets of Layered Haircuts
If you are not ready to cut your length off, go for cool layers. It will save your centimeters, create movement, break up the monotonous length, and make your hair look bouncier simultaneously. Choose gradual layers in the front for better face-framing while you can keep your back layers long. Cut your front layers so that it could highlight your cheekbones or the chin – the most flattering facial feature you have. You can easily blend them with bangs and balayage highlights.
We can go on talking about all the hair goals you achieve with a cute layered haircut, yet the main trick is to discover its limits. Super-thick hair becomes a blessing if you give it some piece-y layers. But in other cases, your hair may seem too thin after generous layering. That's why you need an experienced stylist to do a layered cut. "It's all about having the thickness at the ends because that looks healthy," says Ashley Javier, a magician behind Chloë Sevigny and Angelina Jolie, in his interview to Vogue.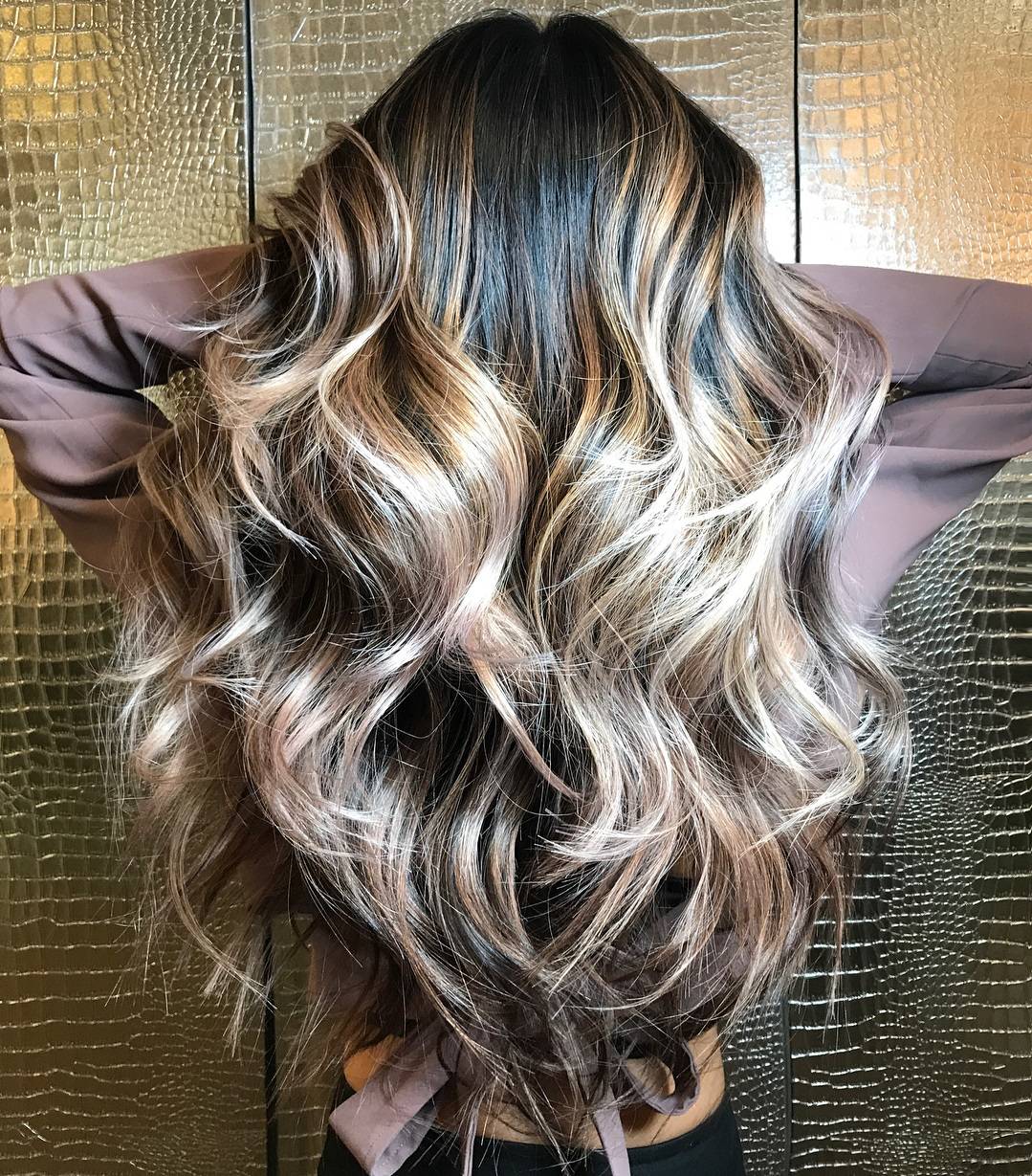 We can't imagine something more compatible and customizable than layered cuts for thick hair.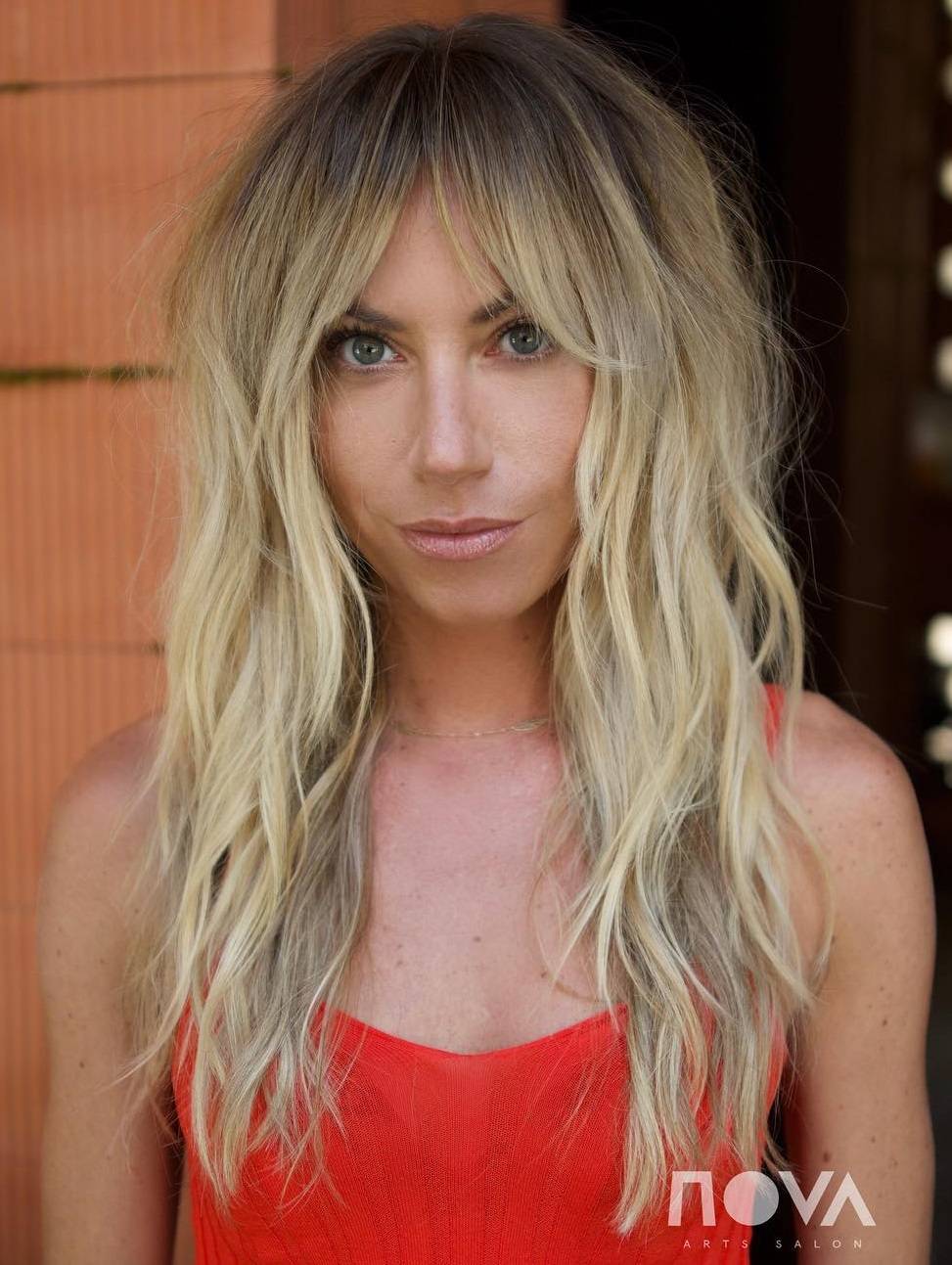 Generate a perfect summer vibe with a shaggy layered haircut featuring curtain bangs and blond balayage highlights.
Cutting your lower layers blunt will make your hair look fuller and smoother.
A v-shaped layered haircut is highly recommended for long thick hair. And it's not only about volume but low-maintenance as well.
For the best face-framing effect, choose a layered haircut with long side bangs – this will help to make the accents you need.
5 Haircuts for Long Hair with Bangs to Sweep Men Off Their Feet
Long hair with a fringe is trendy, effortless-looking, and convenient. But "not all hair types can manage a fringe, and they don't suit everyone," says A-list hairstylist Vernon Francois to Byrdie. And he's so right – for example, curly hair is beautiful and easy to deal with if you have the right haircut. But all this can be ruined with a blunt or short fringe that will take all your morning to make it hold. "It's always best to have a consultation with an experienced hairstylist beforehand. Also, fringes for long hair often change your look and give you more options for wearing your hair up. If you're still not sure, opt for a side fringe that way you can have the best of both," advises Vernon Francois.
Side bangs are widely popular and great for starting your transformation. Opt for a long side fringe and create a perfect mermaid style.
A short blunt fringe can be your next step in wearing long hair with bangs. Try it for fine and straight or slightly wavy hair for the best face-framing ever.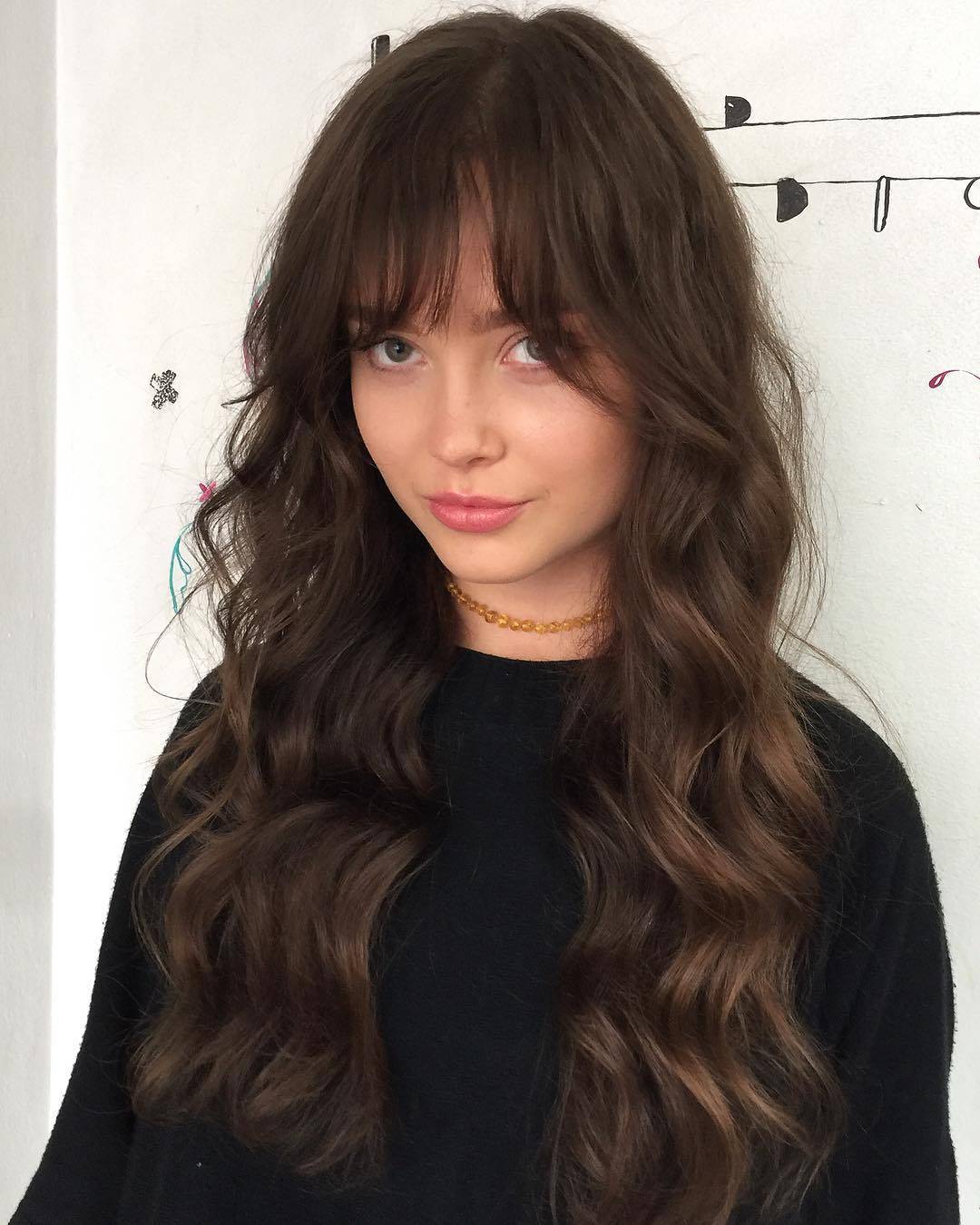 Pick a brow-grazing long bang if you don't want to deal with extra short or long bangs. It will soften your face while saving styling time.
Massive long side bangs are always classy and perfectly compatible with a feathery layered cut.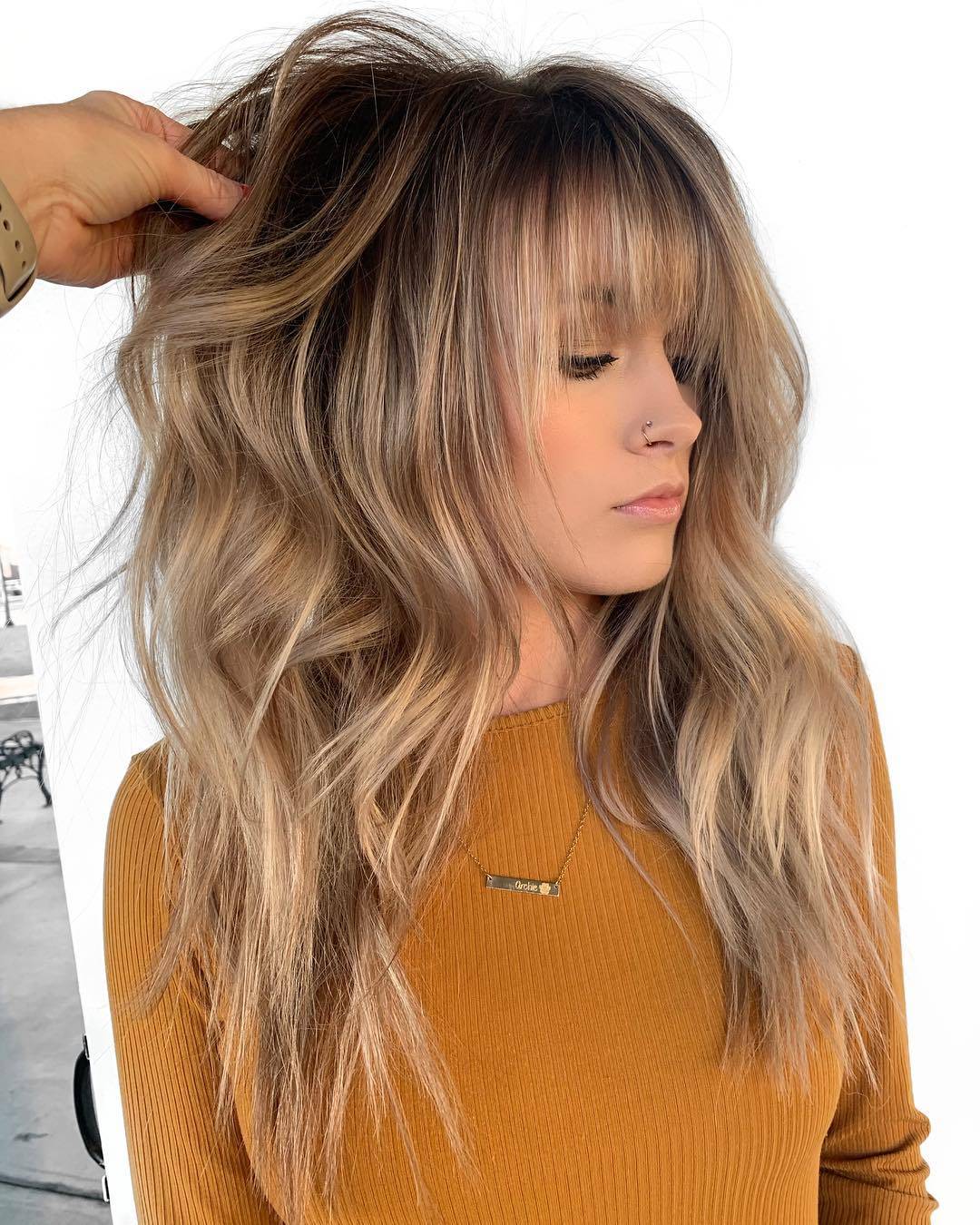 The choppy shag with a straight fringe is an awesome variant for fine hair. Pick it and be ready for oozing flirty vibes.
10 Best Long Haircut Ideas to Top It Off
Impressed with the long hairstyle deals we've shared so far? We bet you do! But the good news is that there is something more to it. You have no limits to trendy looks you can create when your hair is long. And even aging can't prevent you from wearing long hairdos. "I have spent so many hours over the years telling women not cut off their hair just because they have reached a certain age. As long as the hair is in good condition and the color looks vibrant, there is no reason why it should be cut off. There used to be this perception that everyone had to have the same short hairstyle once you hit a certain age, but that is not the case now. It is no longer one size fits all," says London-based hairdresser James Galvin in his interview for Kerastase.
A bit of layering for blonde hair with dark roots will help you save some of your precious time in the morning.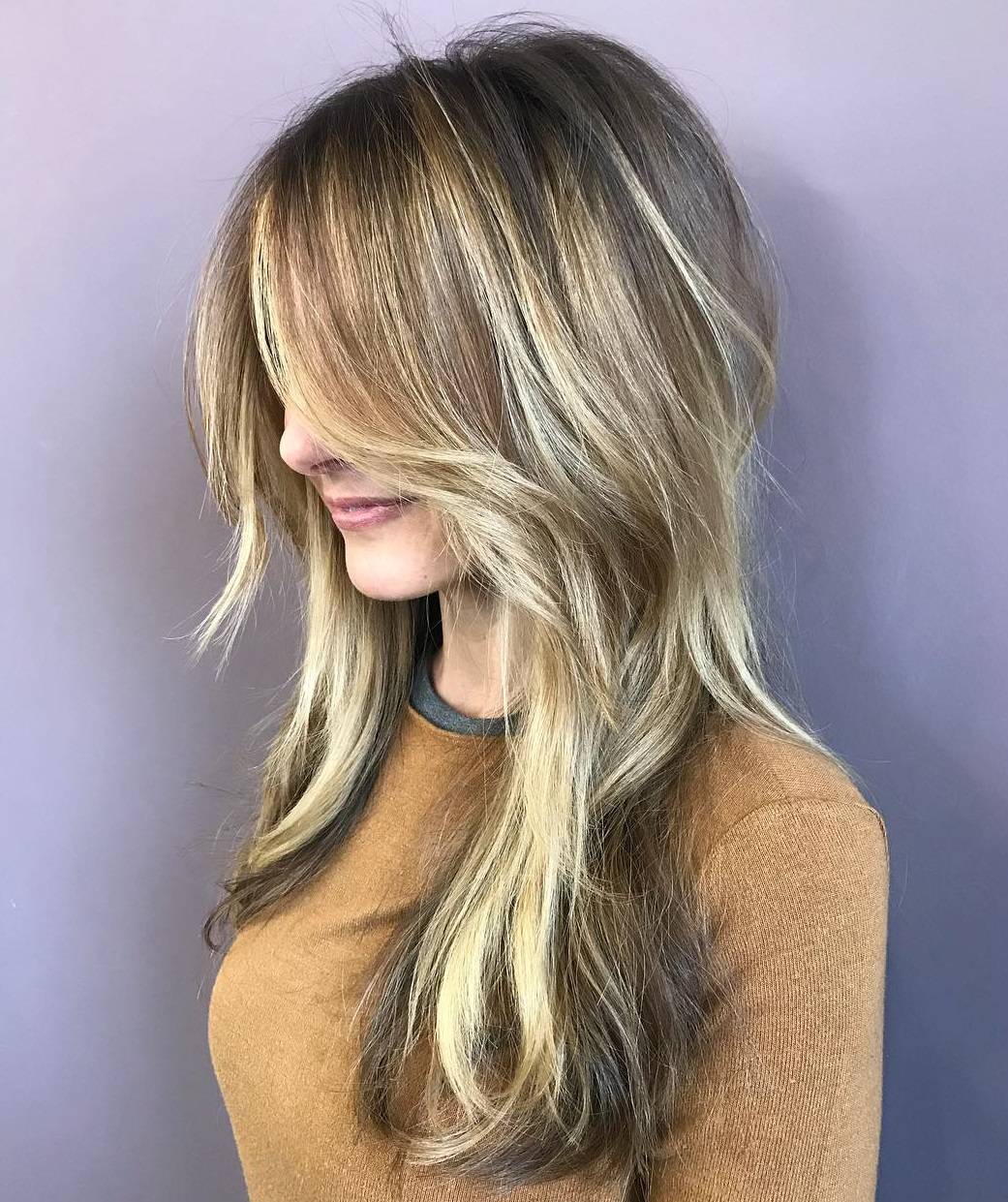 A shag haircut will add instant dimension to tired hair. And there is no need to make curls – the shaggy chop will create bends and texture by itself.
Who says you can't pair a long A-line haircut with short blunt bangs? We think you can and should because it looks extra feminine and striking.
Our story is all about long hair. But we can't get along without something shorter, so we've chosen this pixie as an example of a sexy chop that aptly mixes short and long lengths.
An asymmetrical cut is just the thing for long faces giving them an off-center shift and thus, balancing the length of the face.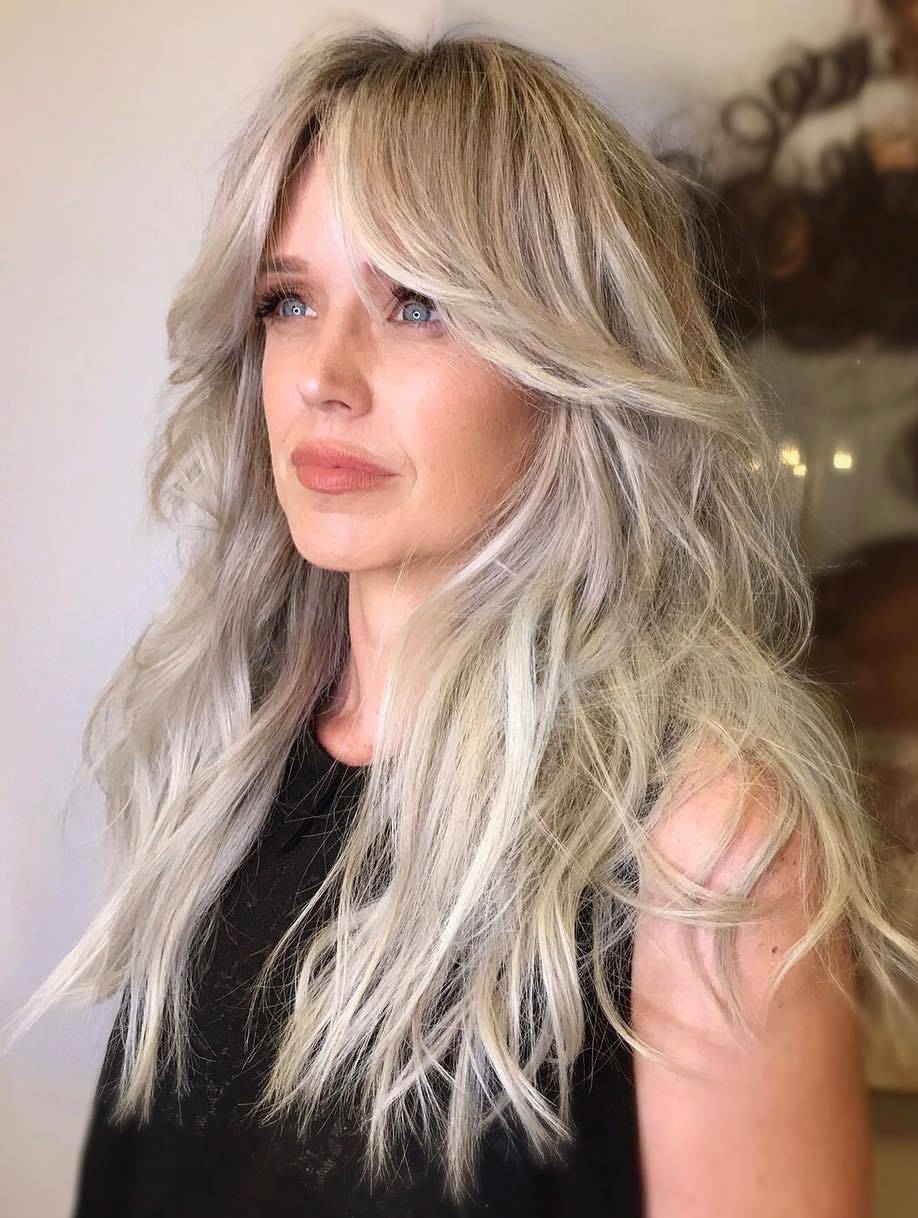 Long edgy cuts and curtain bangs go together like the two sides of the same coin. Make a natural make-up for a casual look or smokey eyes for a night out to shine in any case.
A stacked bob can visually elongate a round face and soften a square face shape. The front pieces should hit below the jaw-line.
The hotshot of the 70s' – the wedge haircut – is officially back. Steal it for your straight or even curly hair, for a fresh look.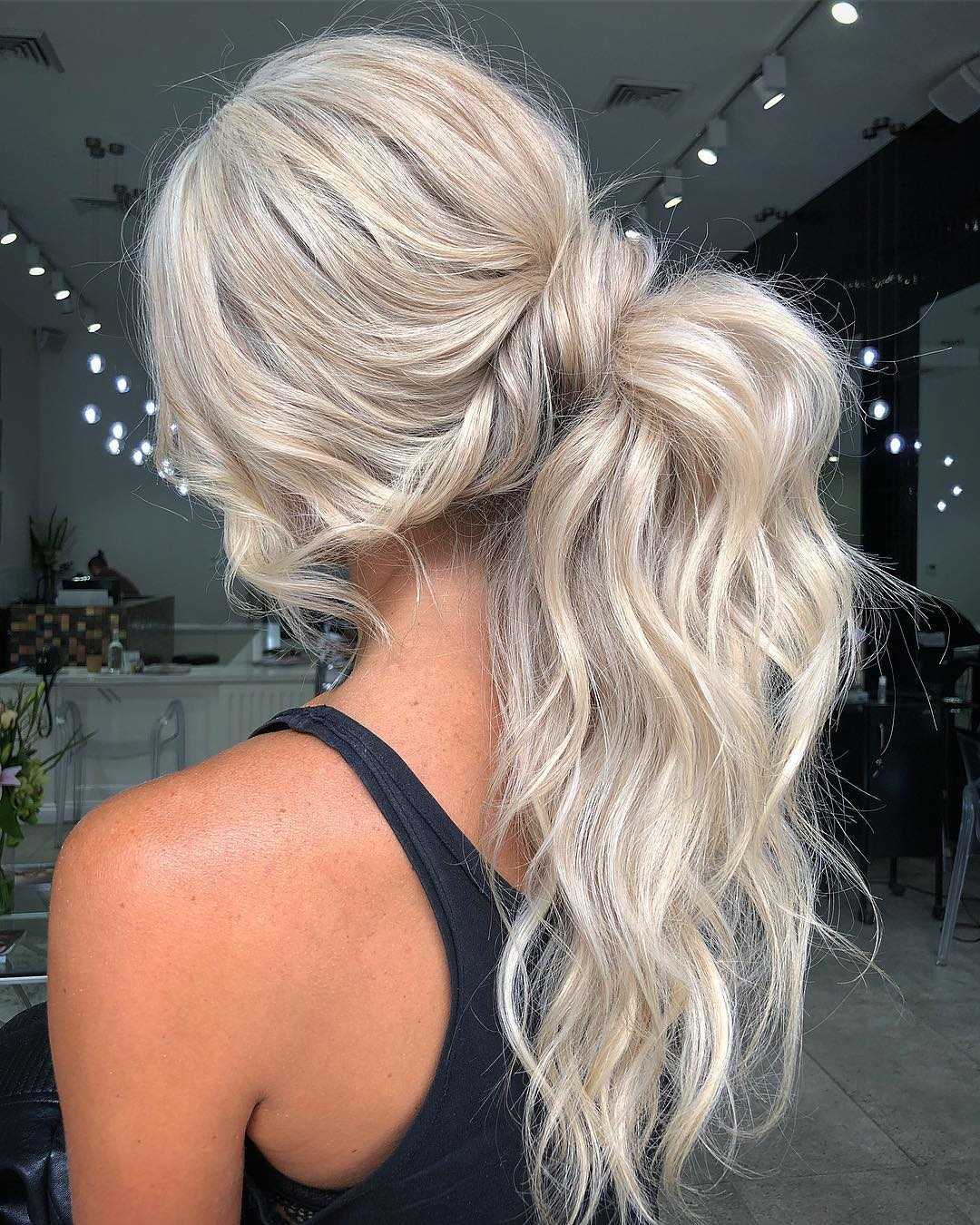 And don't forget about a ponytail that fits all the types of long hair. Just twist your side locks and wrap them around your low pony for an easy, yet astonishing hairdo.
Incorporate highlights into your choppy locks – it will show off your layers in the best light.
You are free to go for something new and cut off your long hair. But it will take ages, tones of patience, and really lots of TLC to bring it back. So, before you make the decision, try tricks with bangs, layers, asymmetrical, feathered, face-framing cuts, etc. to transform your everyday hairstyle. Who knows? Maybe you'll find your perfect look in one of these smart ideas.