Originally rocked by iconic Audrey Hepburn and further popularized by Twiggy and Mia Farrow, 65 years later the pixie haircut has been still starring on both red carpets and streets. Featuring shorter tresses on the sides and nape, this 'do opens the facial contours and neckline, bringing into sharp focus the beautiful bone structure of female faces. Gamine and feminine, fun and elegant, pixie cut styles are versatile and low-maintenance, with the potential to flatter any woman.
Short, Medium and Long Haircut Variations
From bold fades to pixie-bobs, there are different types of this exciting hairstyle to fit every taste. Longer versions come with more styling options, while tight crops offer our favorite wash-and-go style, not to mention a bunch of in-between hairdos. However, your lifestyle and styling abilities are not the only things to consider prior to taking the plunge.
Long Pixie Cuts for Versatility
The long pixie leaves more length either throughout the cut or only on the top, thus granting plenty of space to play with styling, as well as a kind of security blanket to balance some downsides. "Keeping it longer on top gives you that versatility to sweep it to the side, part it in the middle, pull it back, or create waves. It's also flattering for almost everyone. You can play down a square jaw or round face," says Anh Co Tran, hair wizard behind Coco Rocha's cut, to Allure. Besides, it's a go-to option for those who grow out their crops and fringes with the next stop at the pixie bob haircut.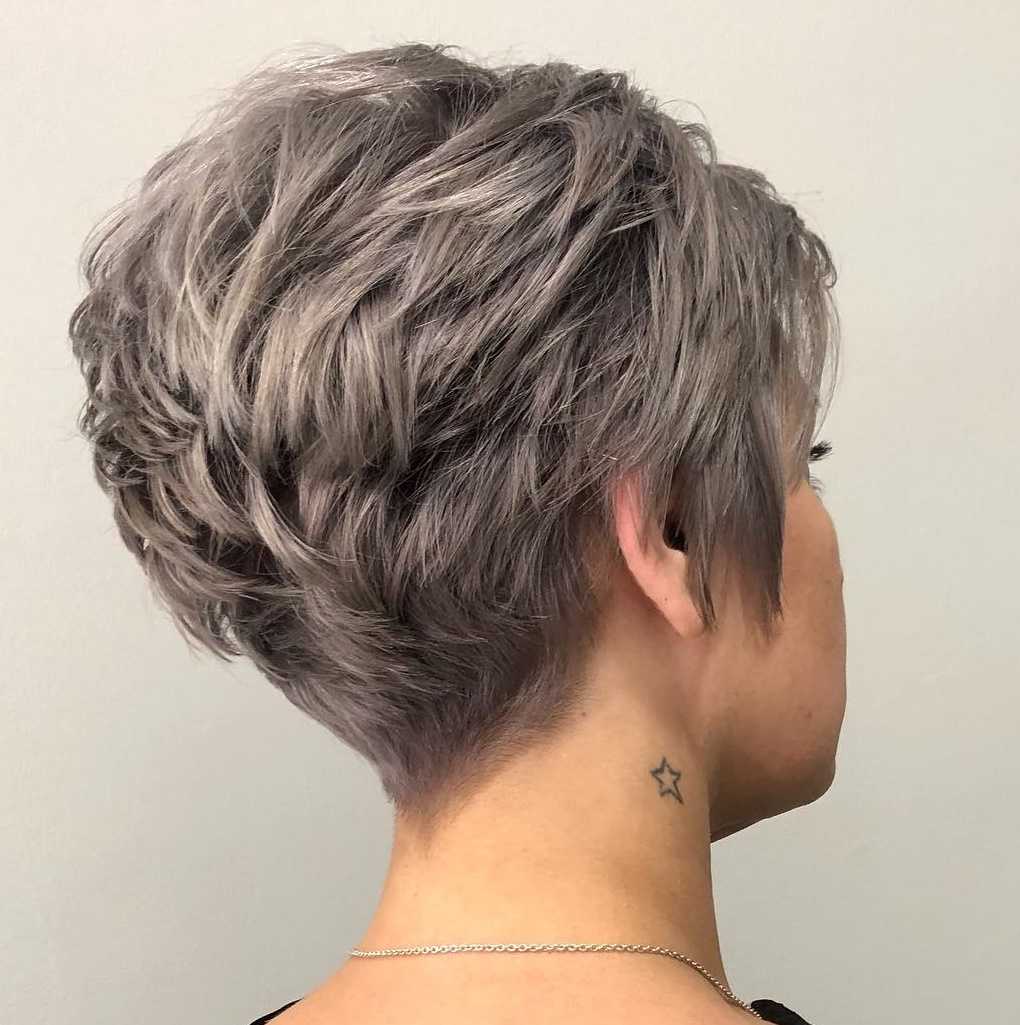 This pixie arrests the eye with its strongly wedge-shaped back, leaving much space for thick hair to show its lush body.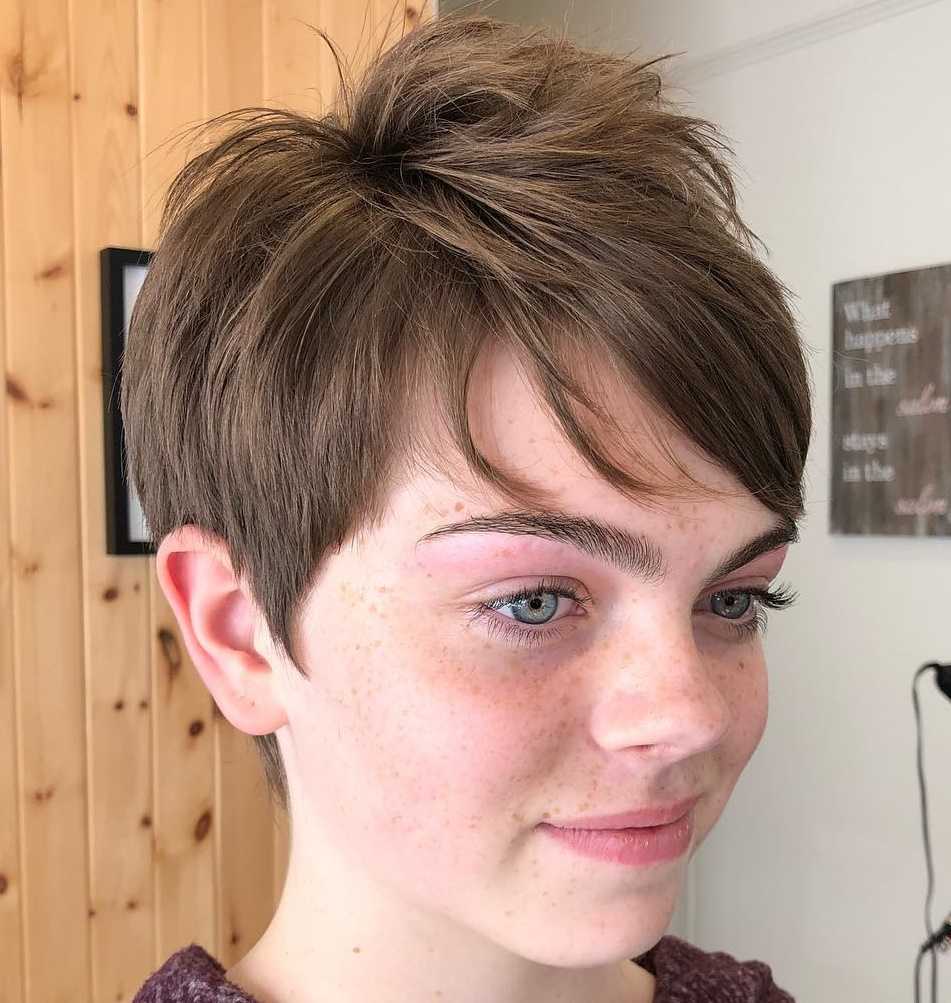 Added volume at the crown is always great for a round face, since this gives it the required height. Here, shorter choppy layers on top truly succeed.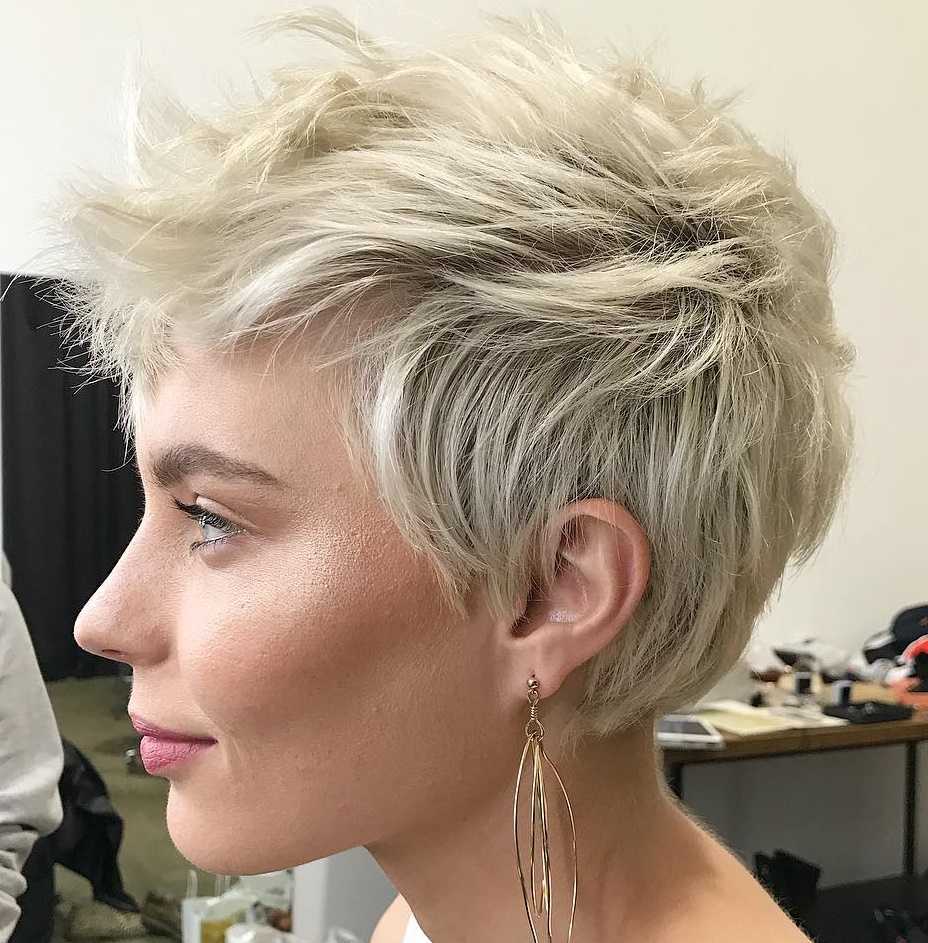 While fine hair tends to fall flat, this pixie sparks with texture and movement due to choppy tresses styled in different directions.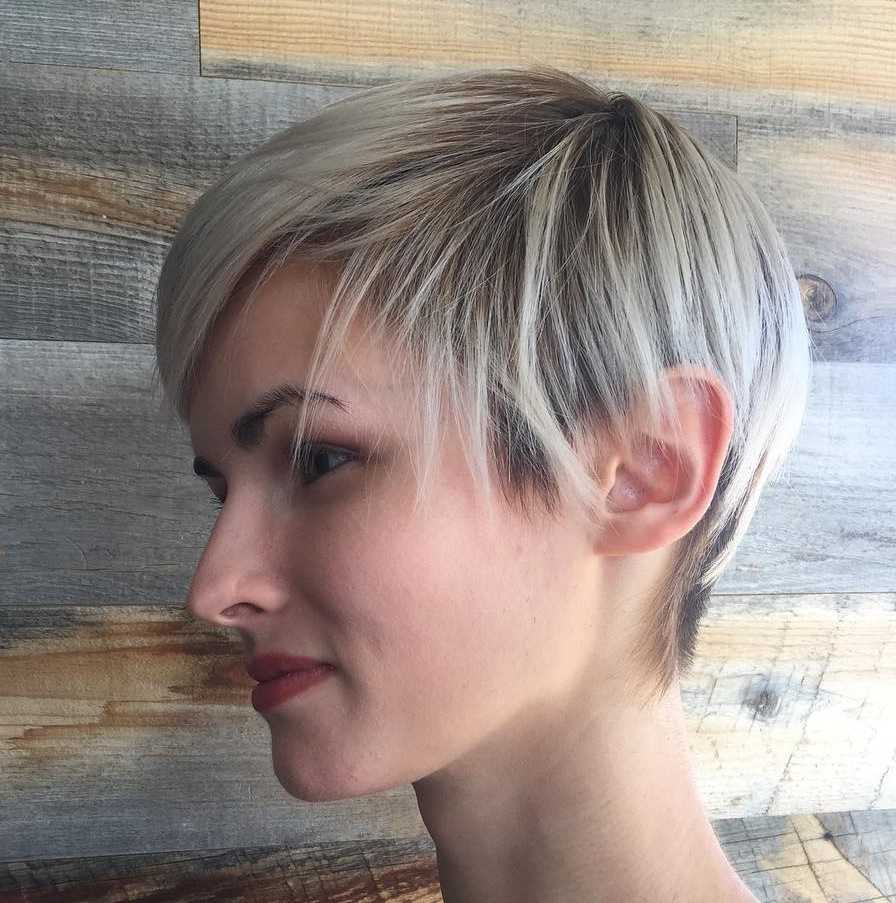 However, you can also go sleek with your thin hair, letting the color transition bring some depth into your hairstyle.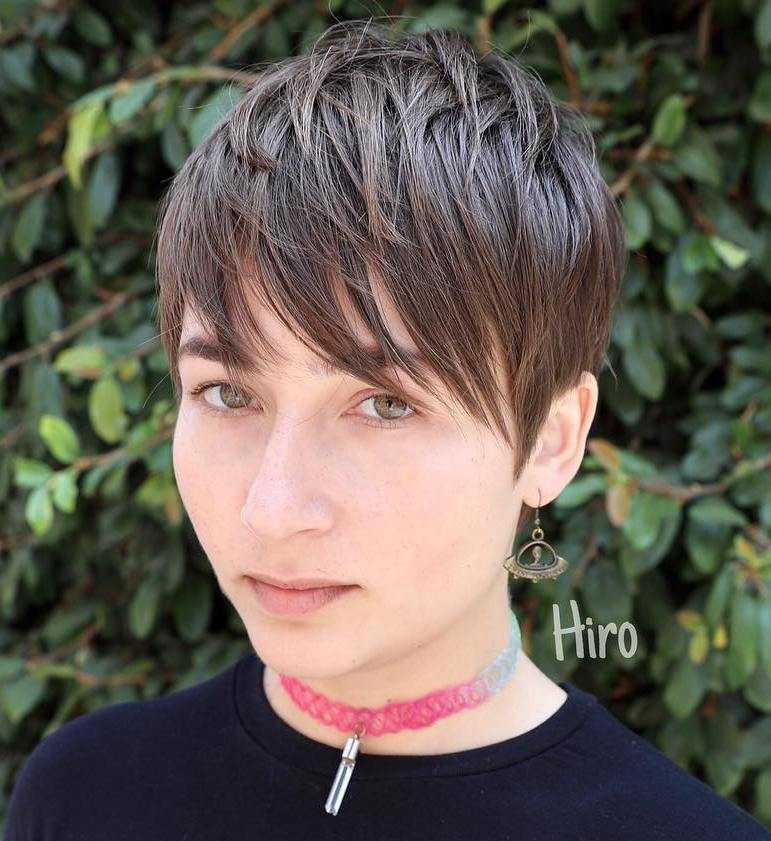 Piece-y bangs in the front coupled with tapered strands at the crown – drum-roll, and your super-duper pixie is all ready!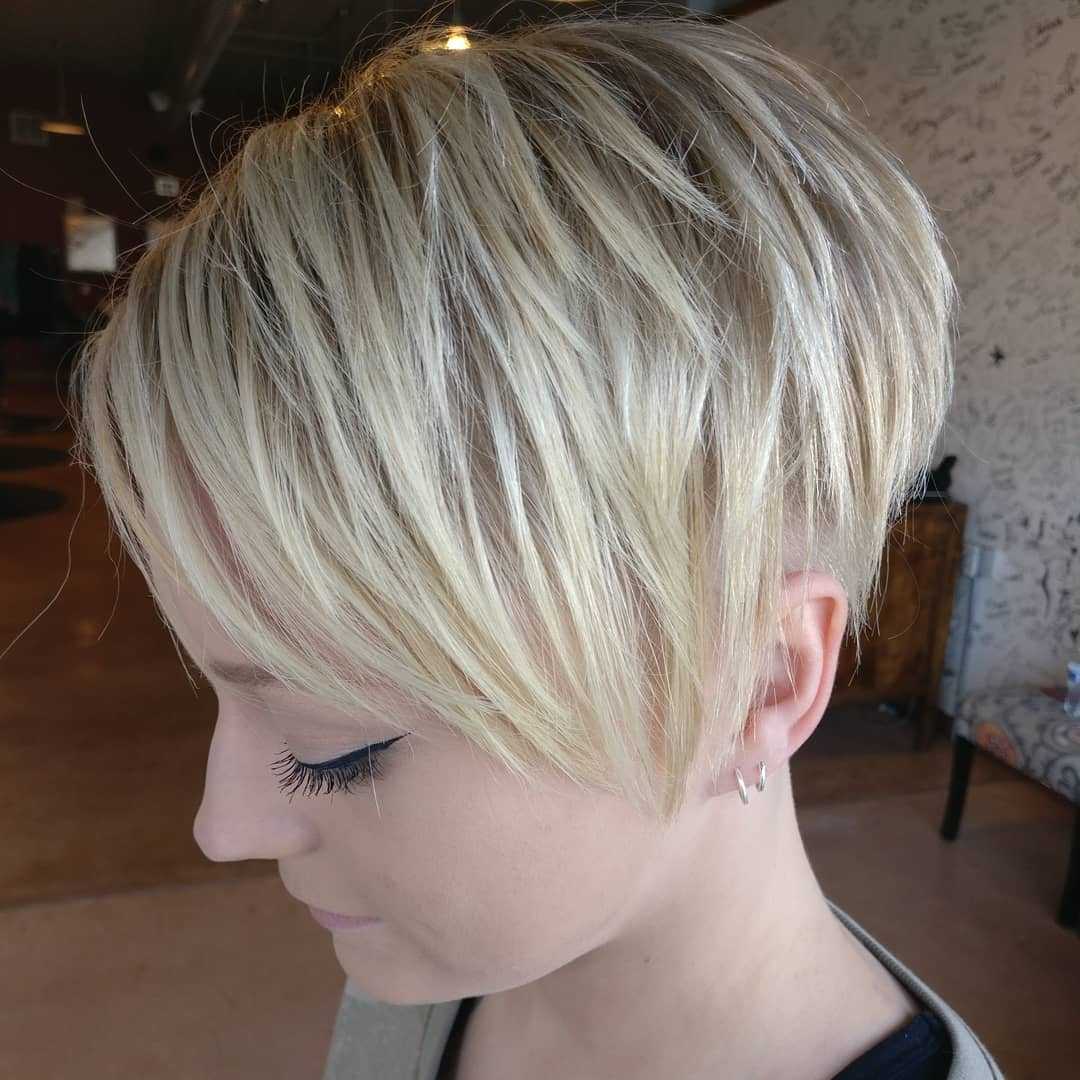 This hair is heavily sliced and layered to radiate a shaggy texture, with an undercut serving to elevate the longer tresses.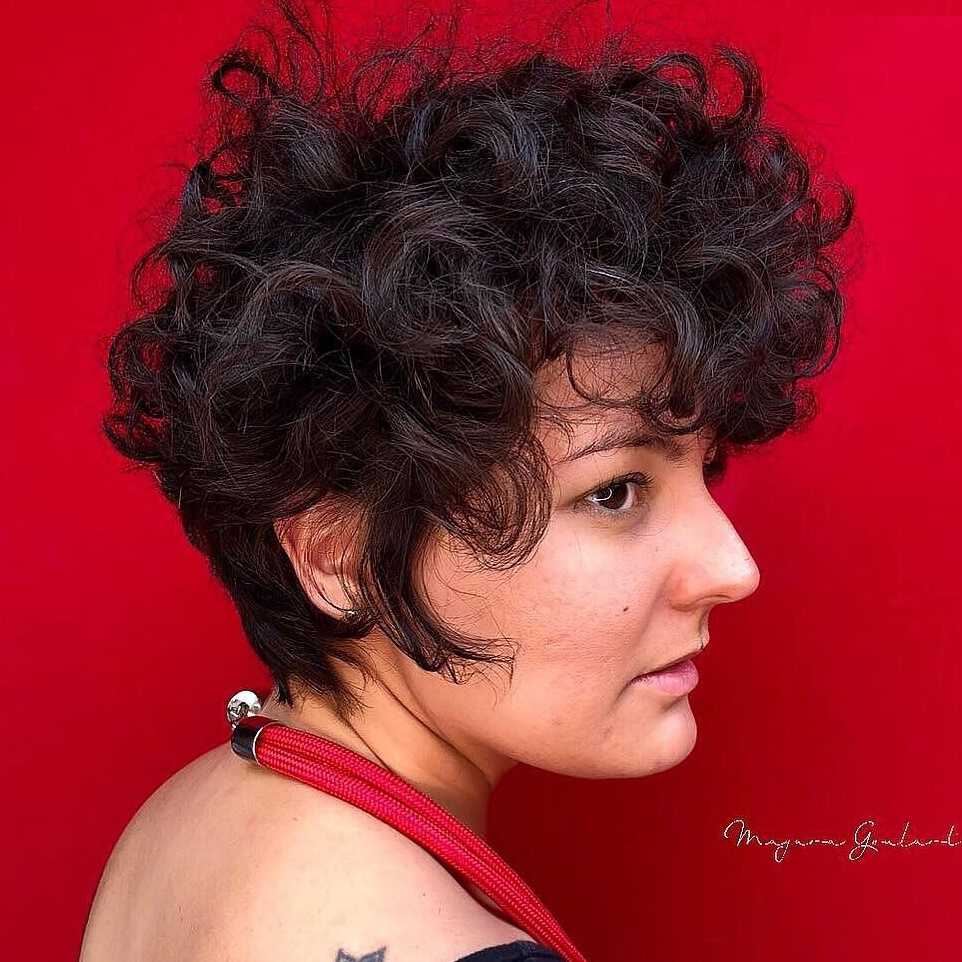 The short cut at the back works to set off this amazing bush of curly hair, carved for a more defined feel. And look at that flirty ear lock!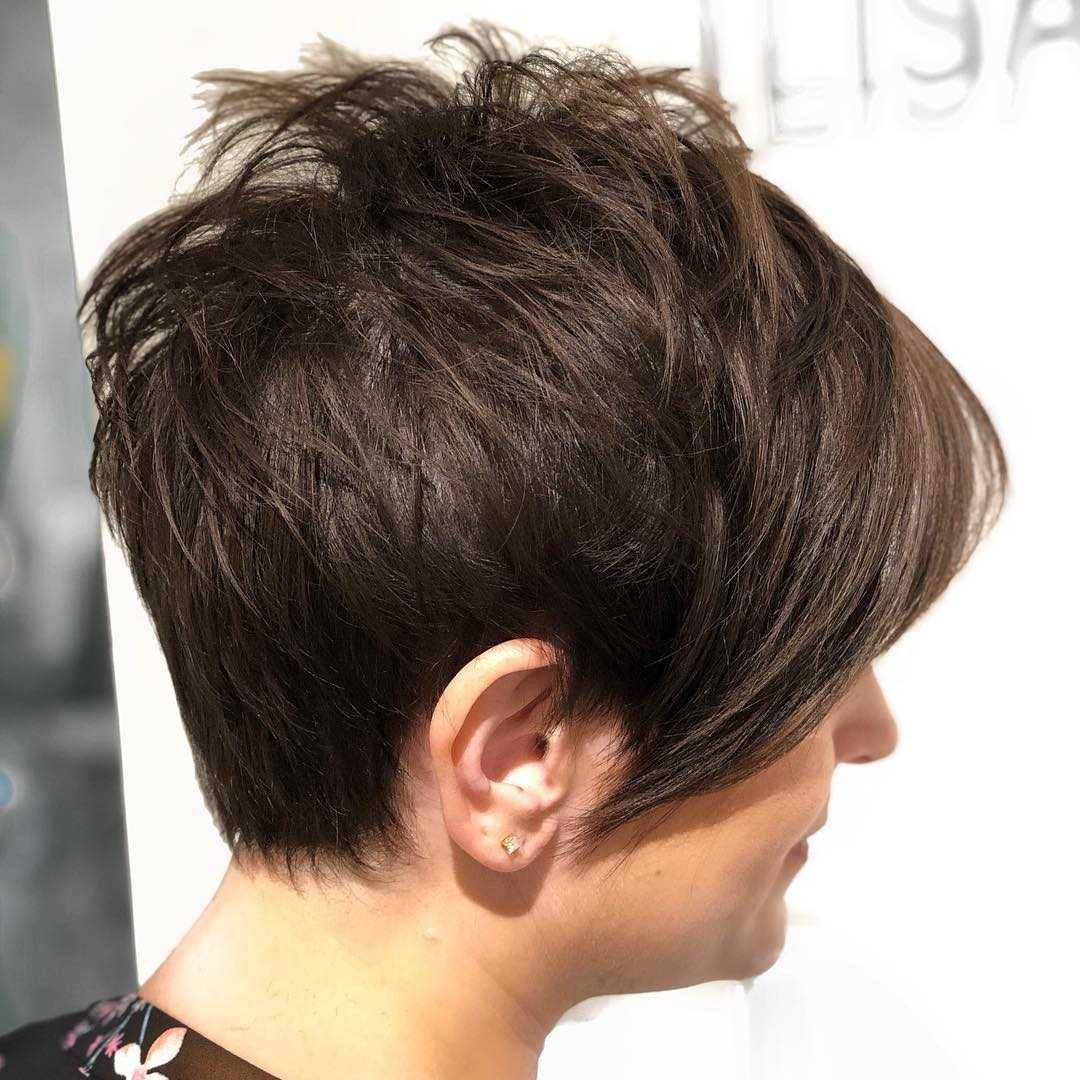 Don't hesitate to blend shaggy and polished styling within one look. The contrasting textures are eye-catching, and you'll get a more airy feel.
This thick hair shines through a very long pixie cut. It allows for displaying soft and natural highlights, brightening the tapered pieces.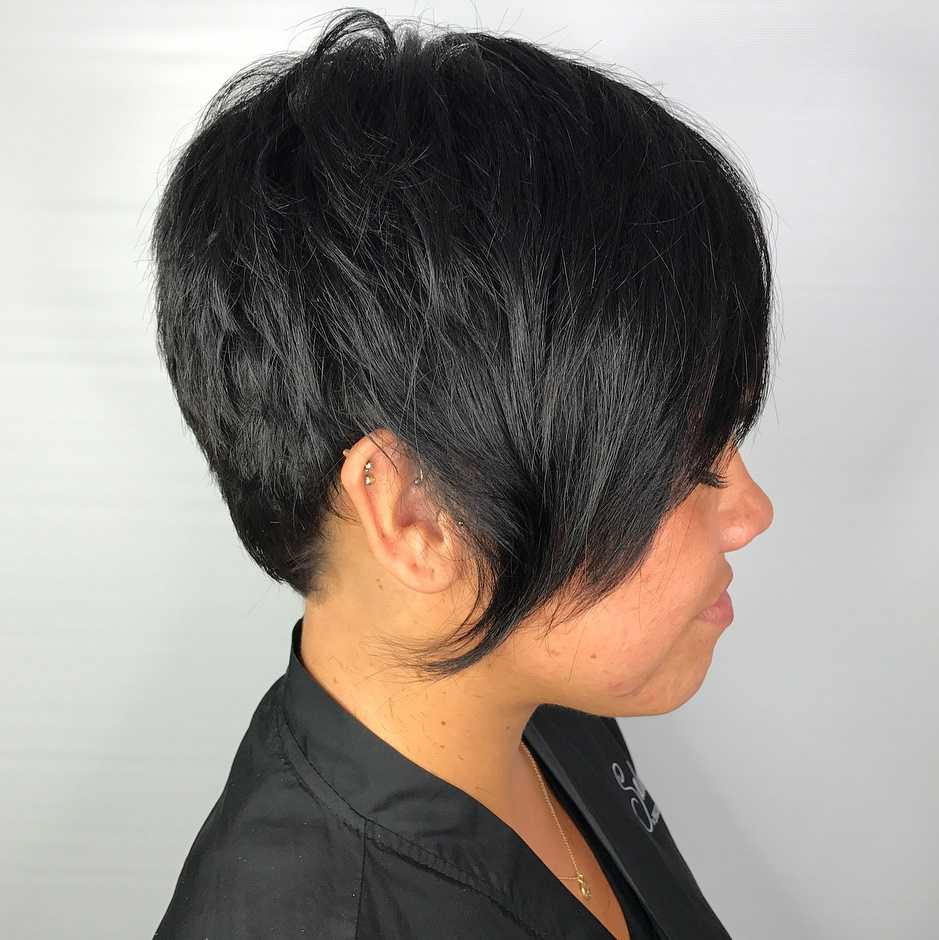 Here, the jet-black color and clean shape are combined together to please us with a sassy asymmetrical pixie adorned by a fun little detail just below the ear.
Medium Pixie to Flatter Hair Texture
Straight, thick hair, which is dense or coarse, can look too poofy when packed into a long pixie cut. If that's your case, it makes sense to keep your style on the shorter side by choosing a medium length and adding texturizing products to tame your mane. On the other side, girls having natural curls should also consider this option, since a mid-length is better suited for showing the beauty of ringlets than short hairdos. And we bet medium pixie hairstyles are on a par with longer versions in their diversity, featuring stacked, shaved, polished, tousled, wavy and other alternatives.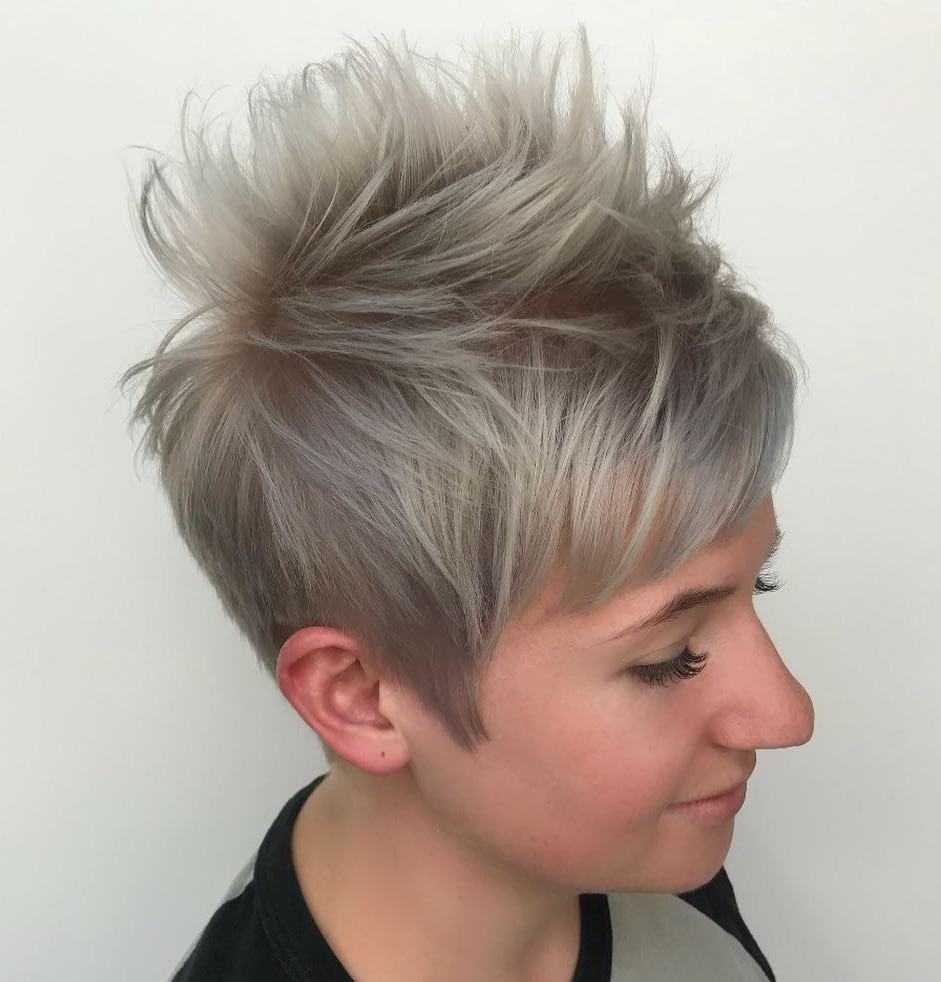 A medium length is just the thing for nailing a faux Mohawk, softened with rounded bangs and delicate shades of gray.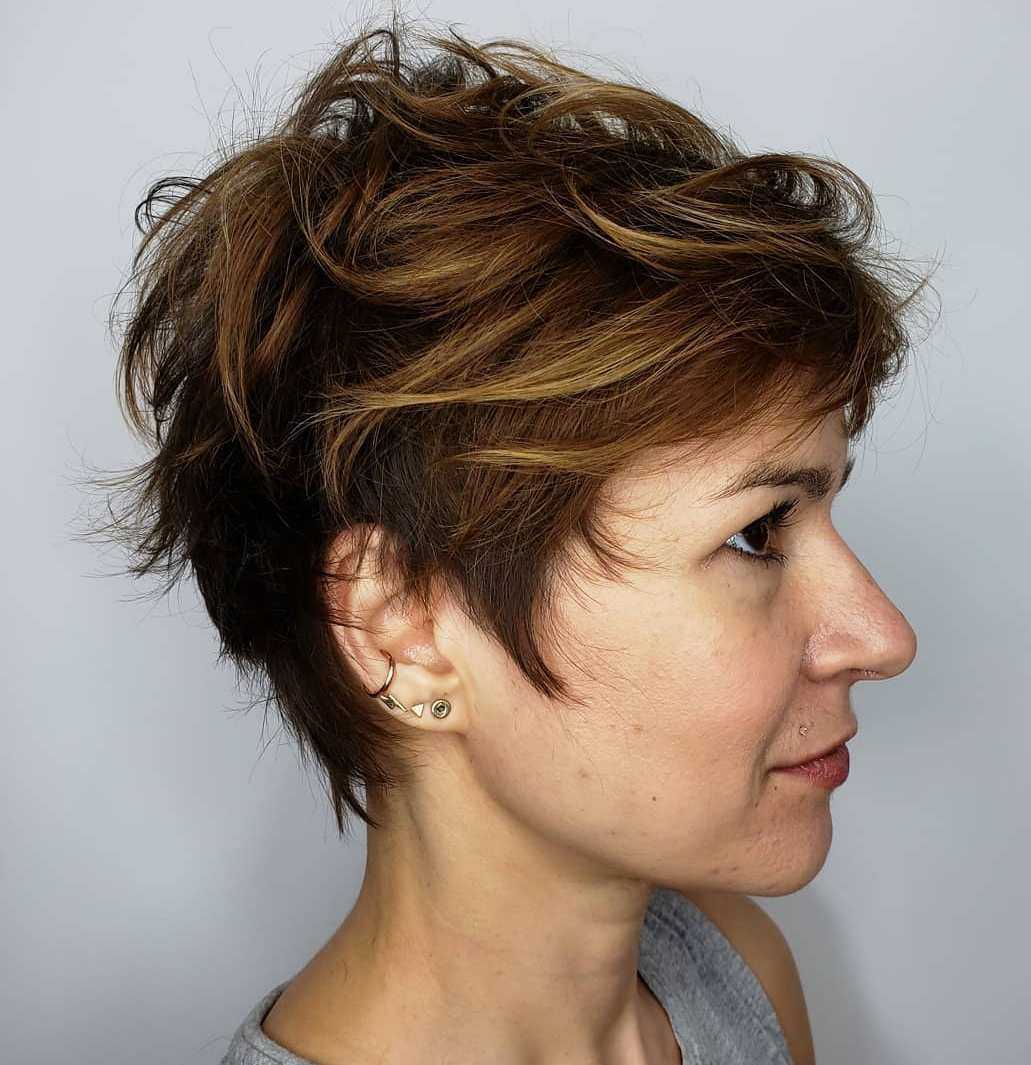 This pixie stands out for its vibrant feathered styling, creating a constant hair flow from the bangs and up to the back. Bookmark the highlights!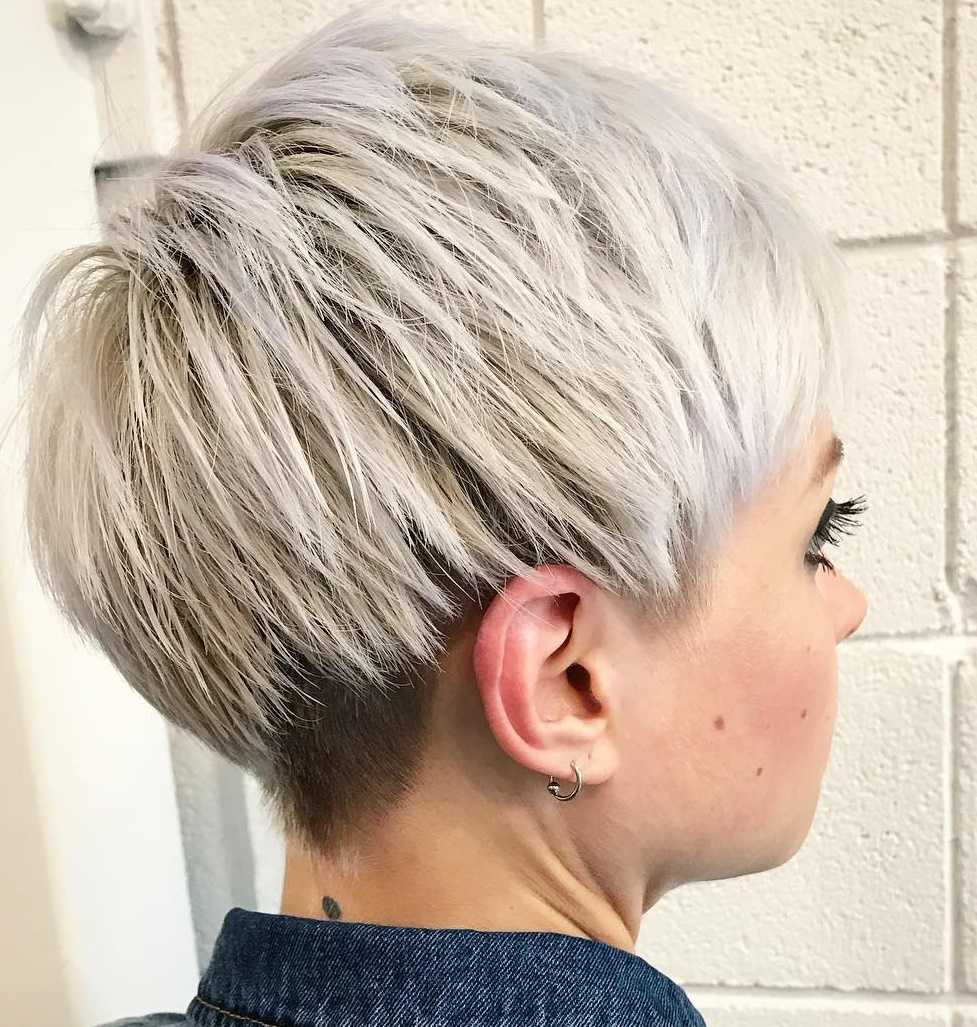 This back view shows a cute undercut of a contrasting color that works to give a lift to back tresses and to emphasize the ice blonde.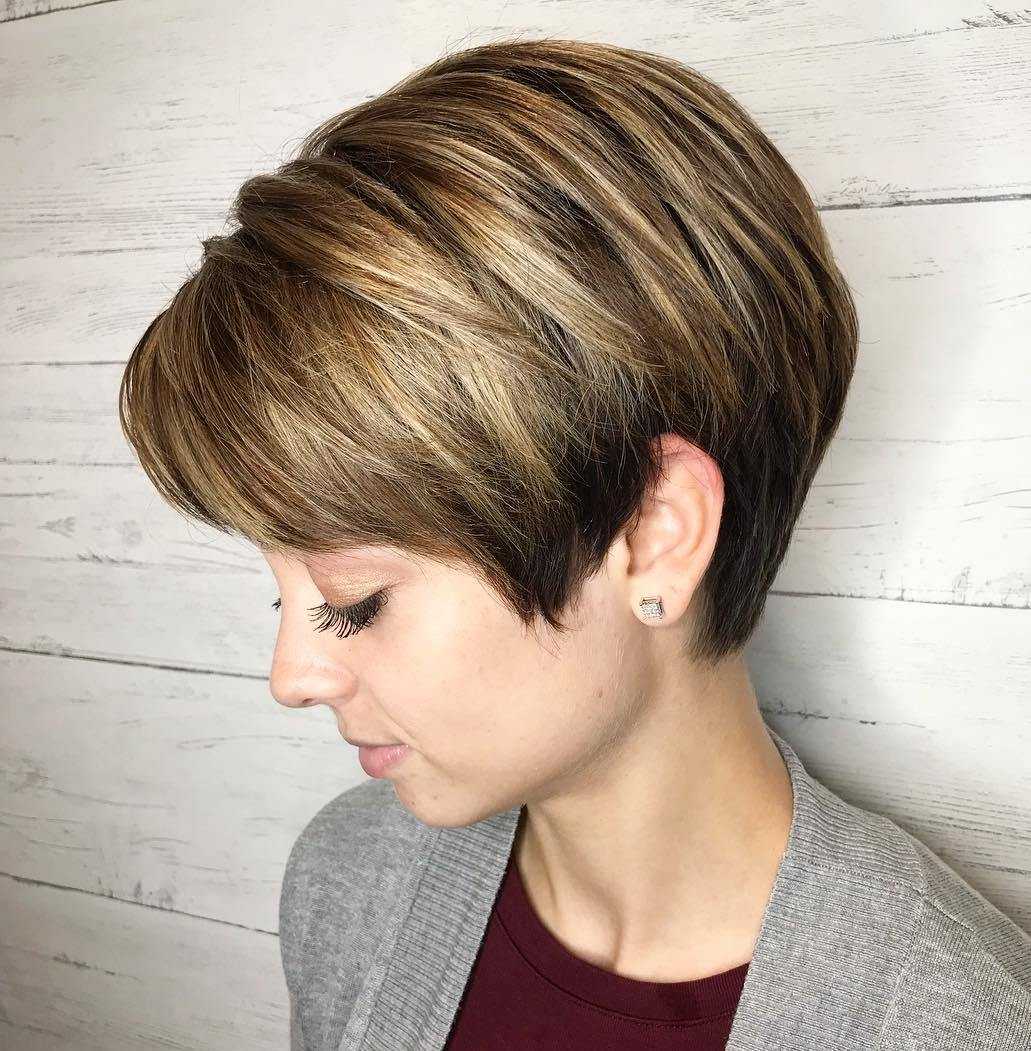 Sport your dark hair with this clearly shaped straight pixie. It's just amazing for showcasing your cool highlights.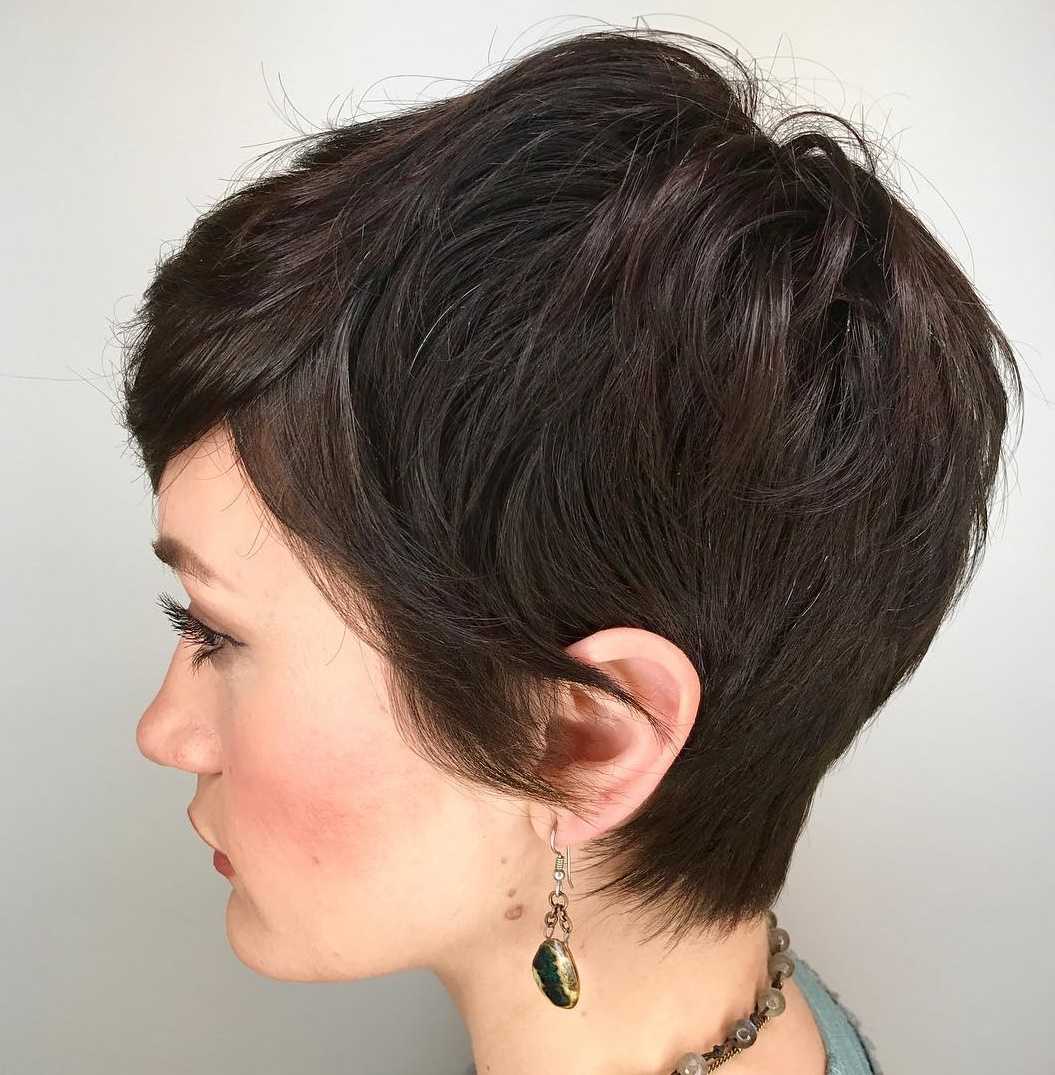 This haircut boasts movement with its feathered side tresses, wavy back and razored crown, pulled frontward.
Short Pixie to Open the Face
Short pixie cuts can be really jaw-dropping for their expressiveness and rejuvenation. It's not only about a bold length, but about a strong personality, since with your locks, you are also loosing the comforting camouflage long hair offers. But if you don't mind to reveal the shape of your head and every sculptured angle of your face, then you'll get a hot, cute and low-maintenance hairstyle to kill. Do you need to have flawless features to rock a short pixie? No whit! "It's less about the shape of your face and more about your attitude and confidence — anyone can pull it off if they own it," Chase Kusero, celeb hairstylist and co-founder of IGK hair care line, told Allure.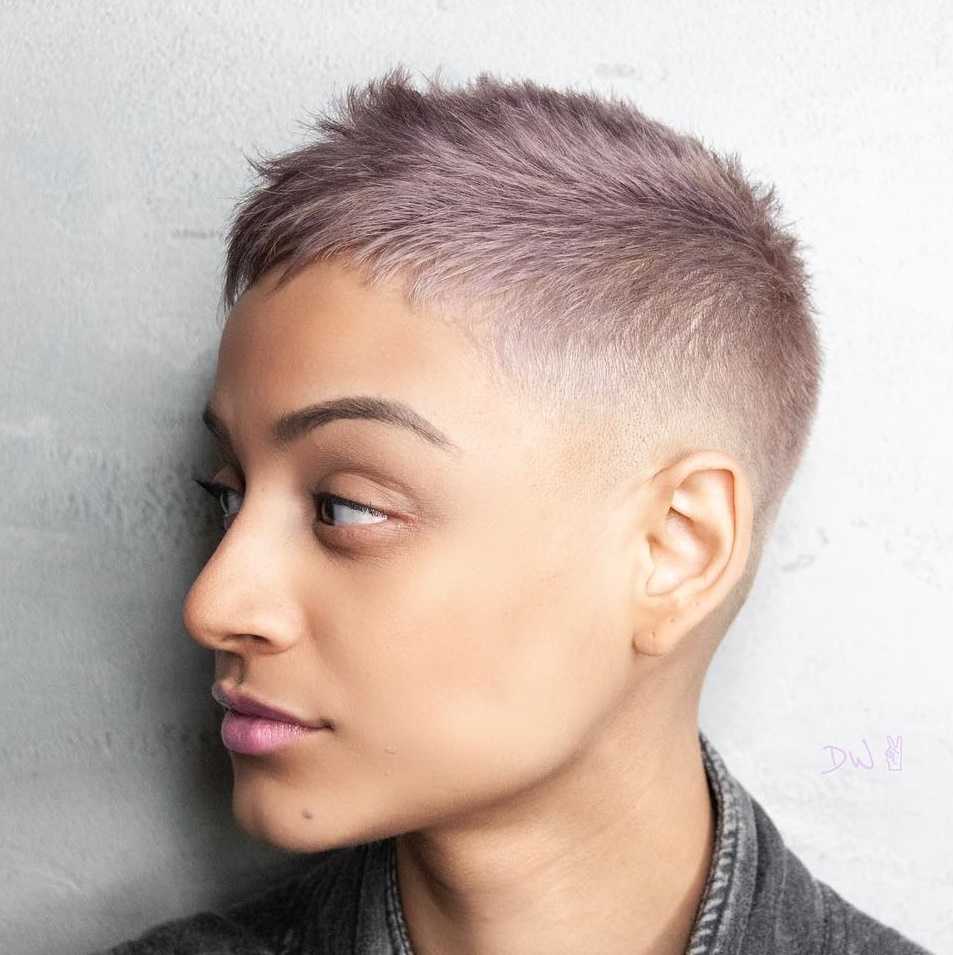 For girls daring enough to show their scalp, a super short pixie with an undercut is a nice chance to play with unique colors. This bold lavender fade is really wowie.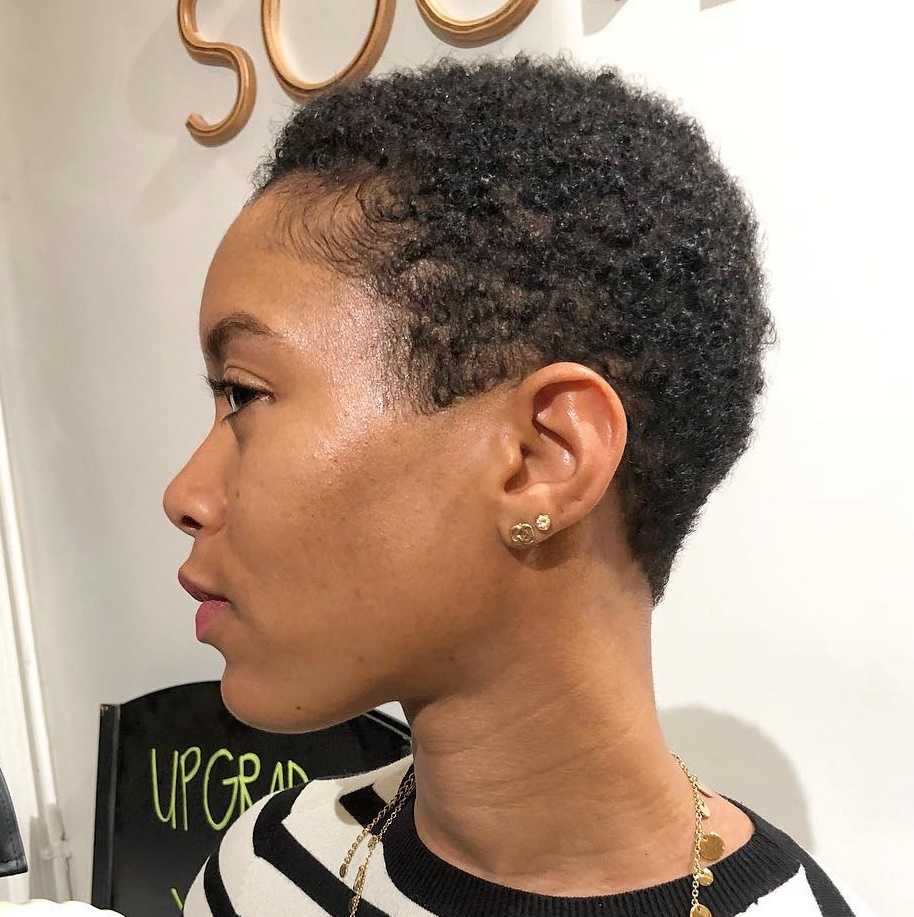 Having rebellious curly hair may be pain in the ass, but not with this perfectly outlined and skillfully carved hairstyle. Don't miss to style baby hair!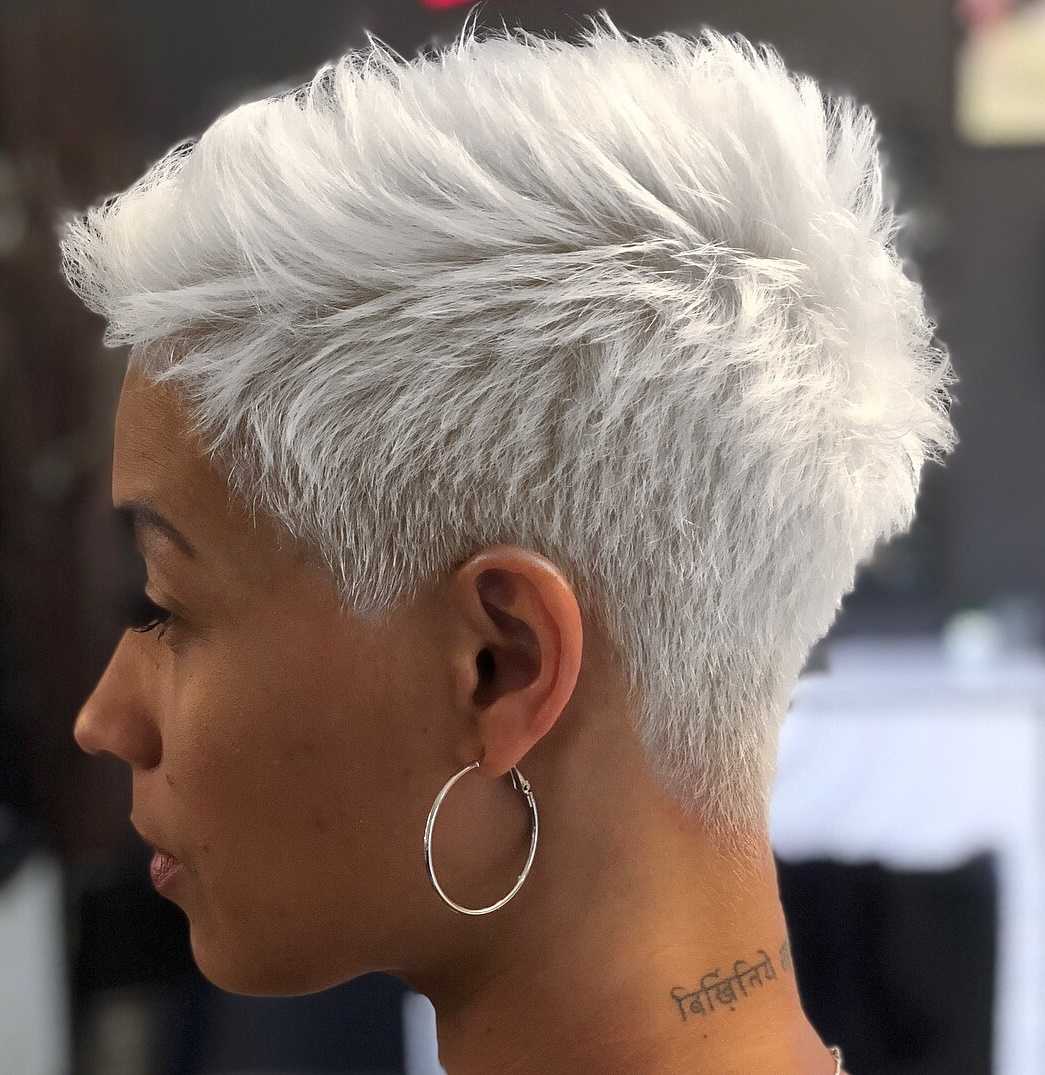 An undercut teamed up with dense textured tresses at the crown add drama to this white blonde hairstyle.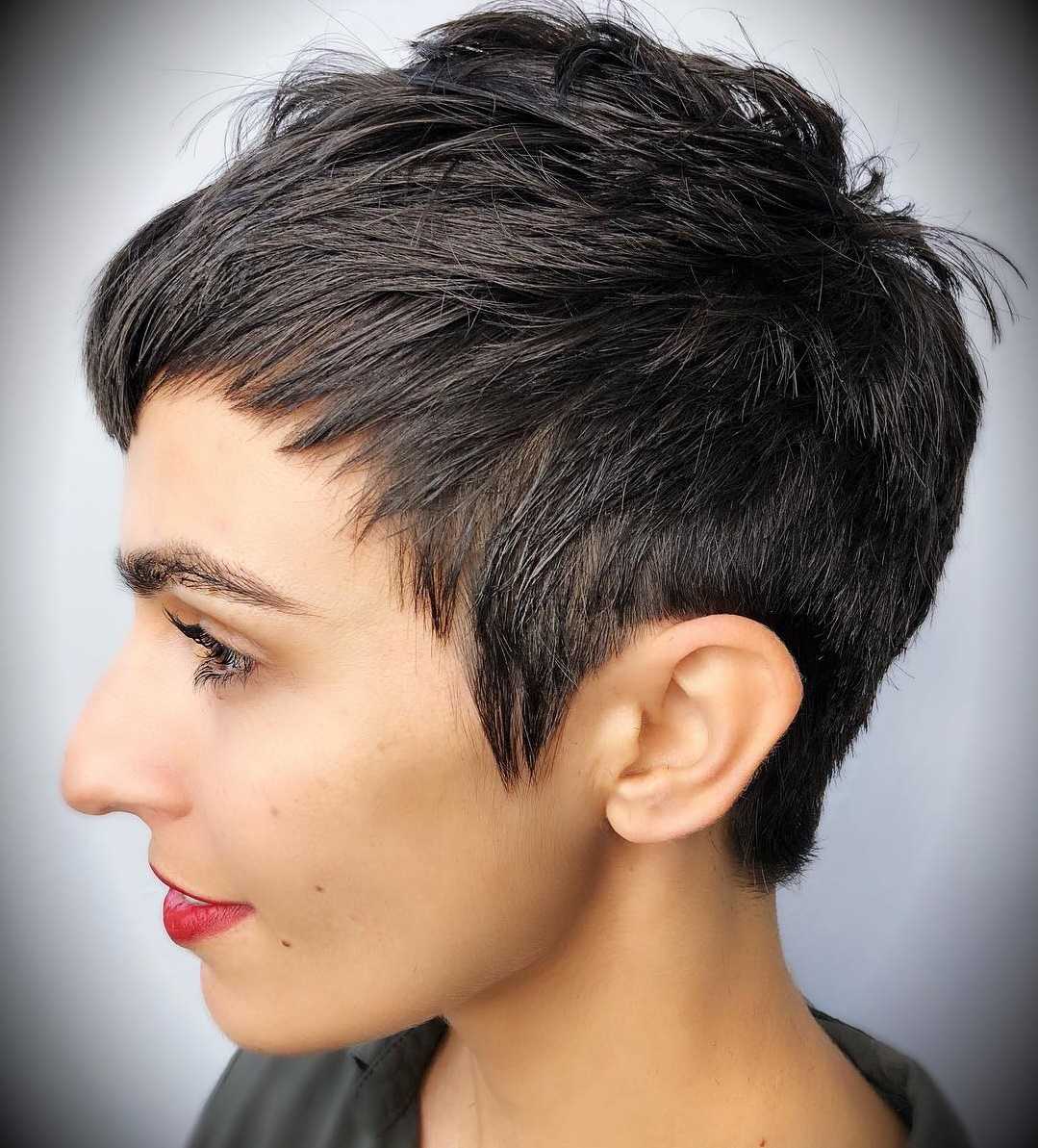 We can't but fall in love with this edgy pixie for its sculptured bangs that accentuate the texture of black hair beautifully.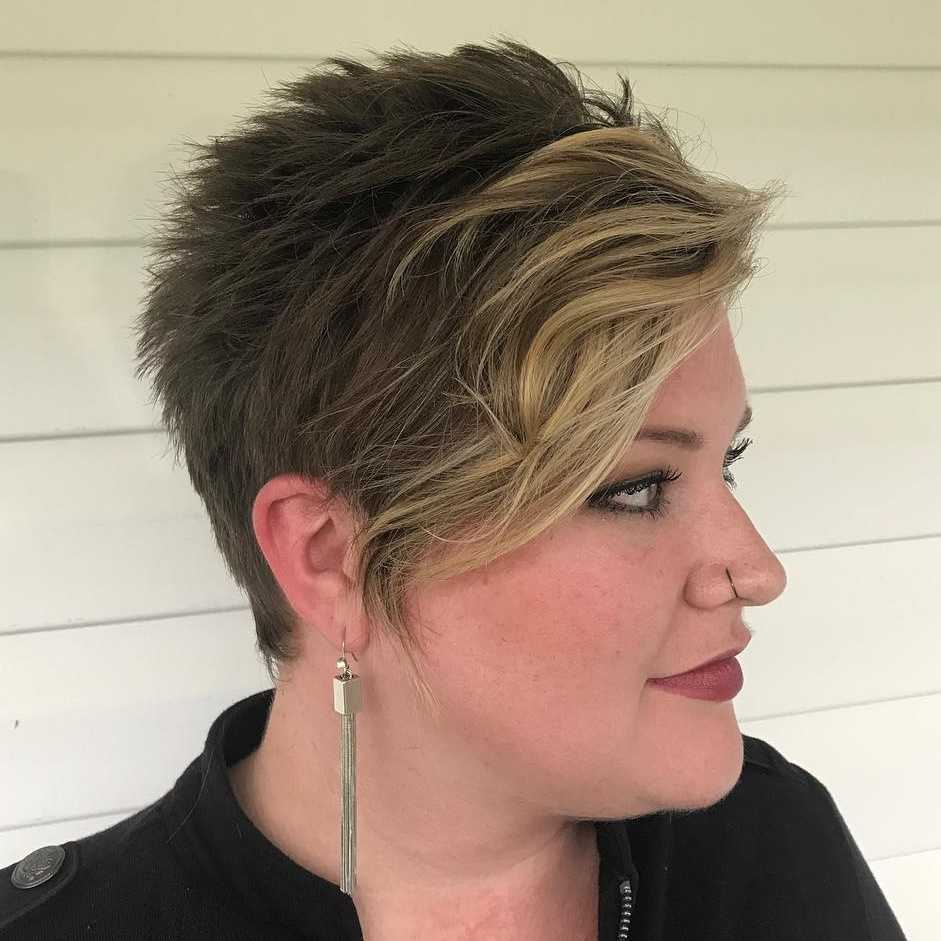 When you want to have something to play with, opt for long bangs like this stylish pixie girl did. Wear them straight or wavy, side-swept or slicked back, while giving a new twist to your routine cut.
Find Pixie Hairstyles by Hair Type
While different types of texture require customized approaches in pixie haircuts, the cut is doable for any hair texture, when shears are in the right hands. "It's all in the cutting technique. The right cut will give structure and volume to fine hair and looseness and movement to thick hair, while the point cutting technique offers enough space to see the texture of coilier strands," Nick Arrojo, renowned celebrity stylist, told to Allure. However, you need to factor in your natural texture when deciding on the length, bangs, layers, styling and even color of your future cut, since this is where the line between success and failure goes.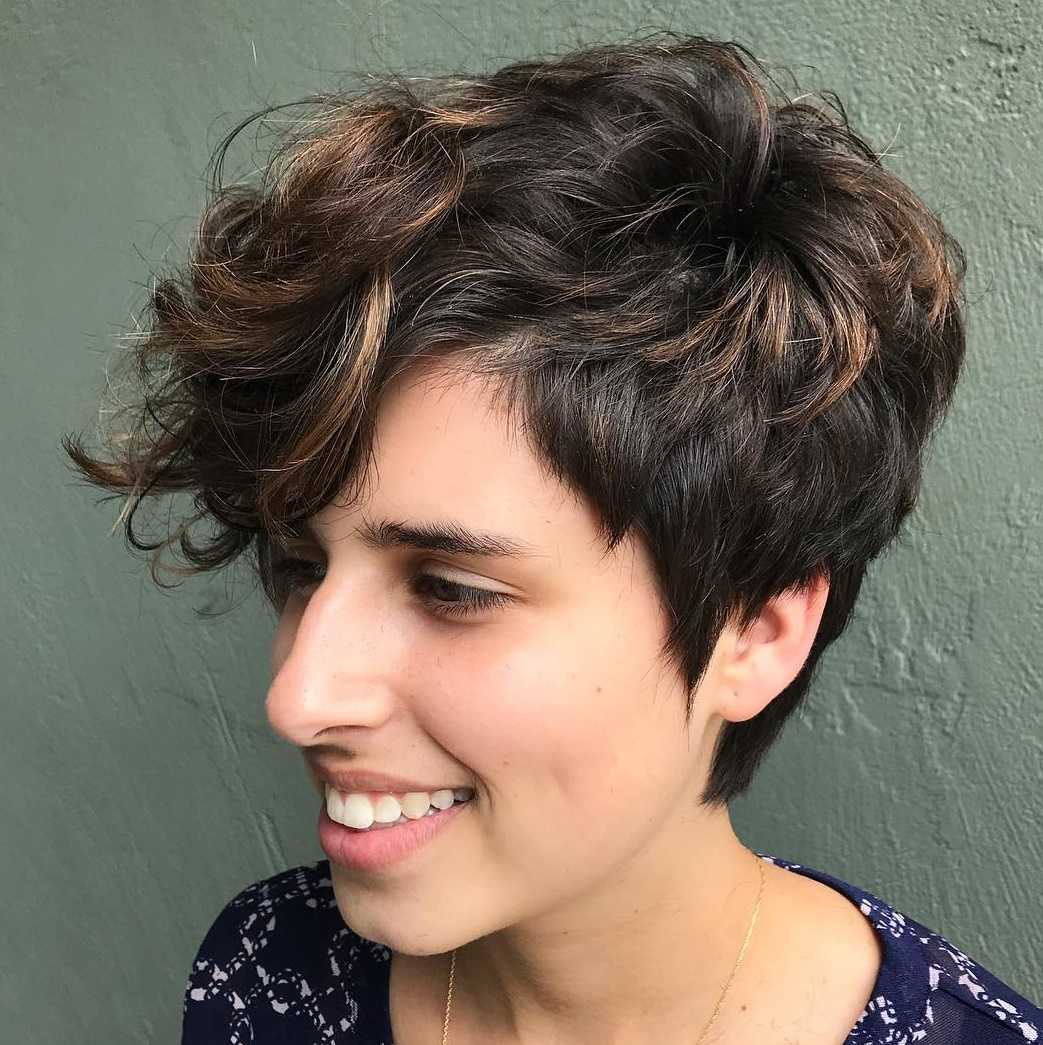 It would be a shame to clap this wild curly hair into a shorter cut! The perky pixie leaves enough texture on the sides and back, letting the longer locks flow freely on the top.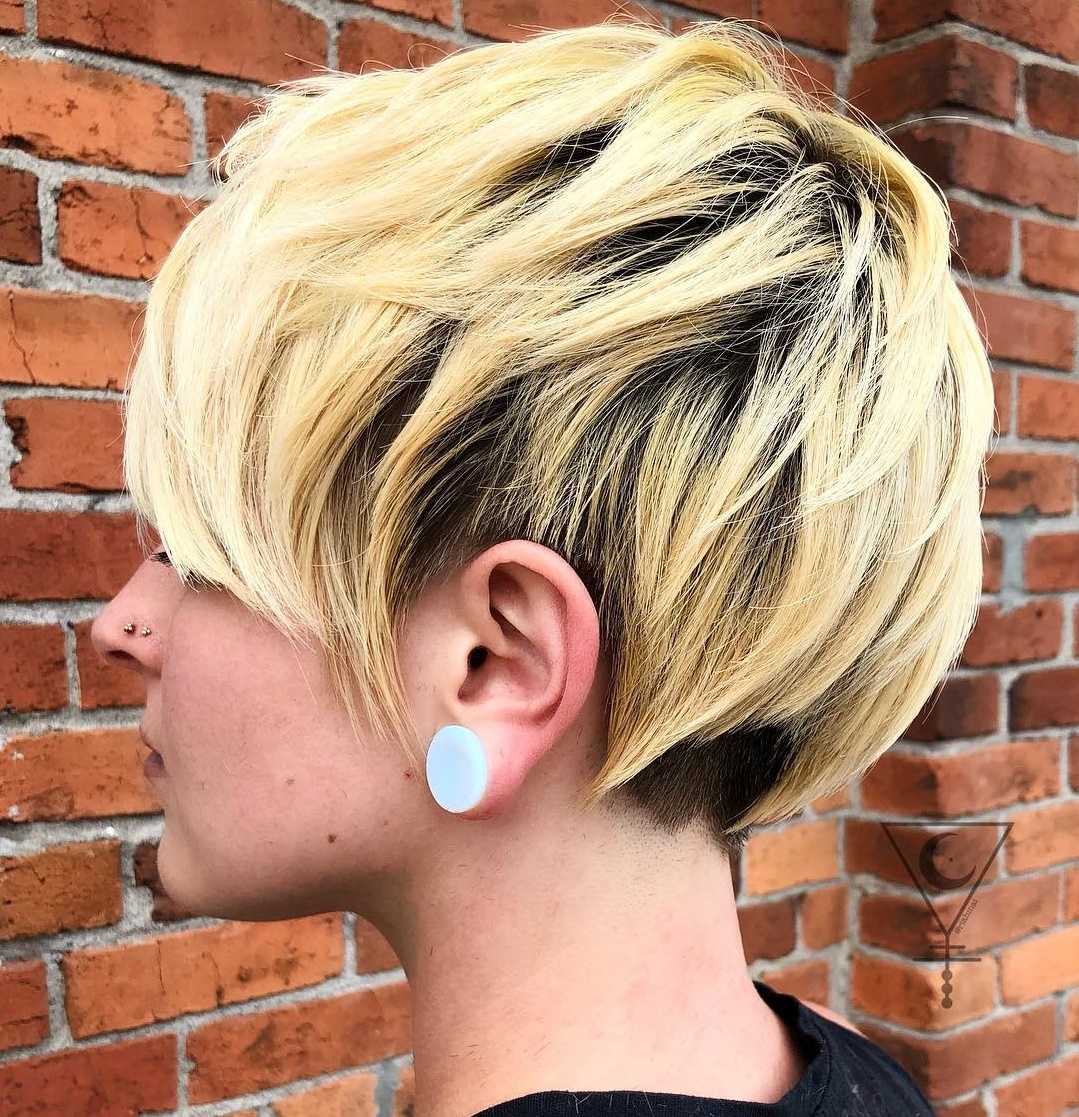 Look at these awesome chunky pieces radiating their brassy blonde on the background of dark roots! This is definitely a cut for thick hair to show its mighty texture.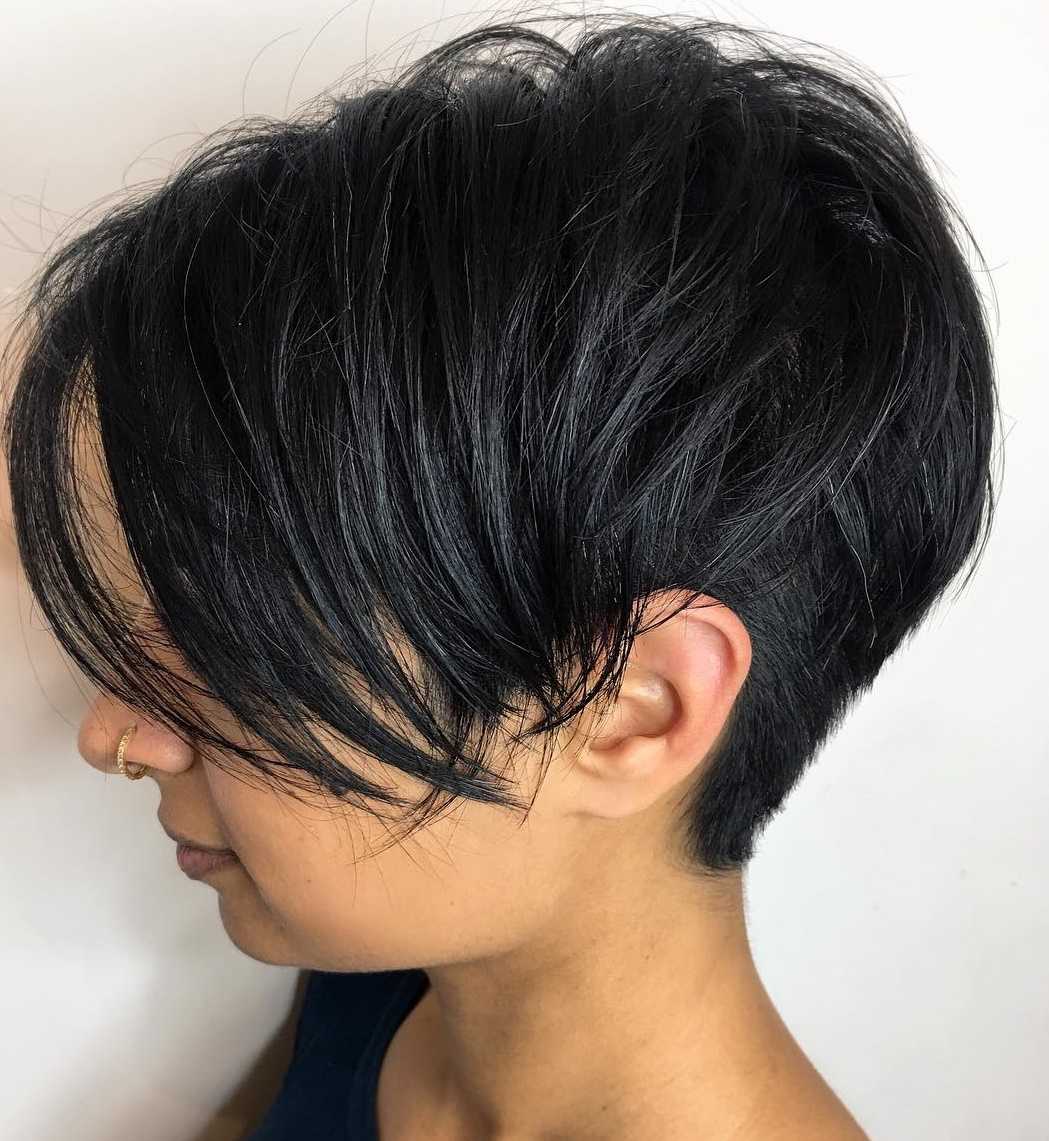 This thin hair gains volume at the expense of the undercut, hidden under the longer top pieces. To get even more vibe and dimension, they are styled tousled and side parted.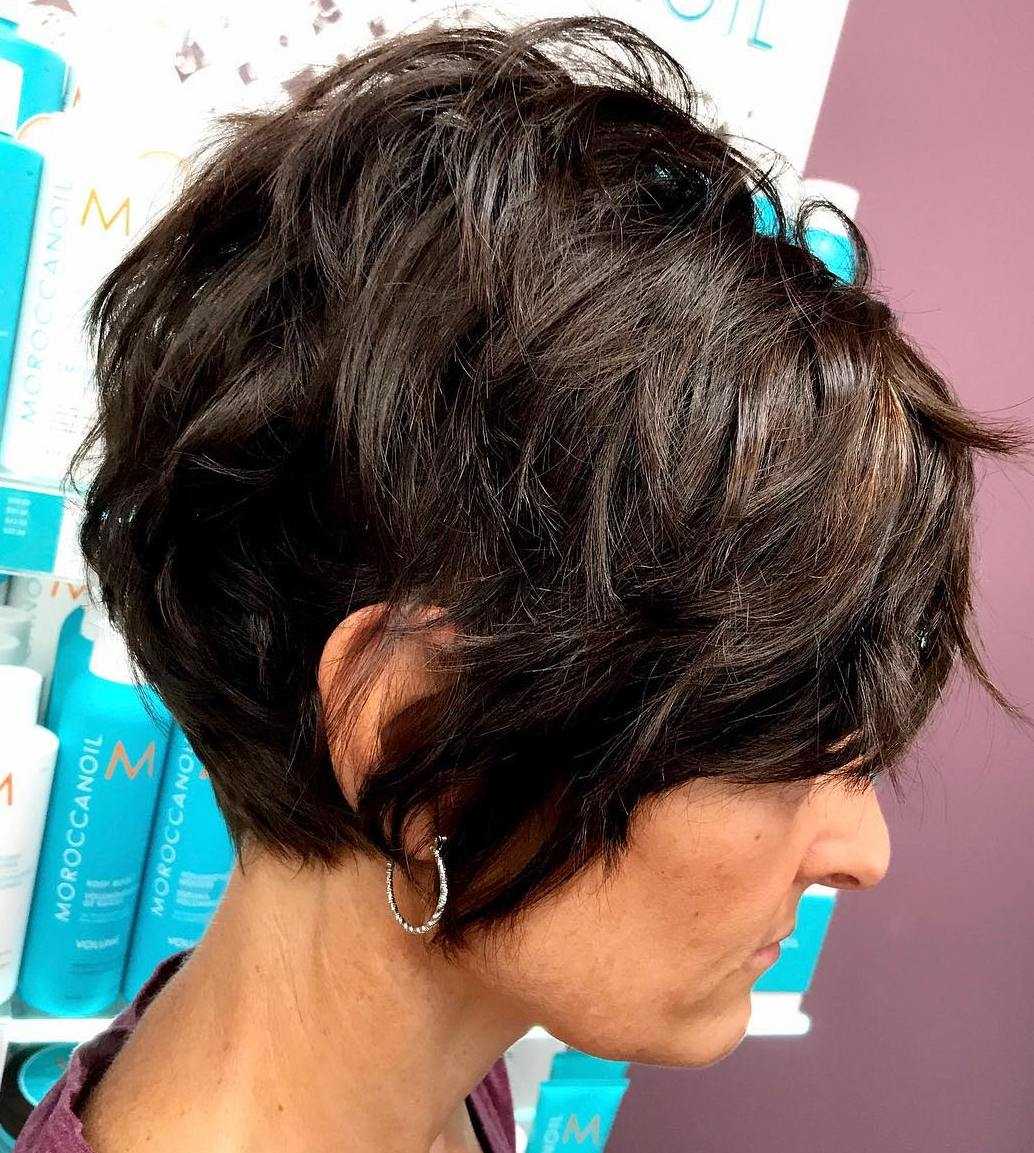 Instead of fighting with your wavy hair, embrace its natural texture in a charmingly messy pixie cut with stylish tapered tips.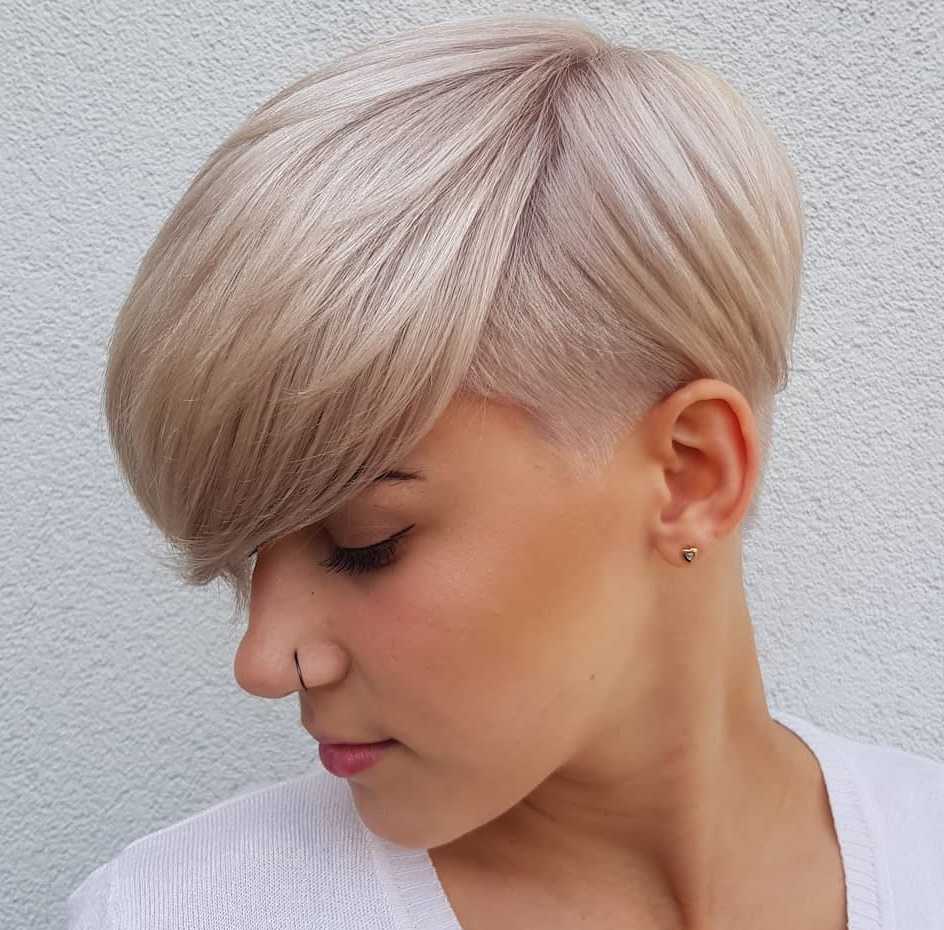 Steal this elegant look for straight hair packed into a clean shape and juiced up with piece-y tresses and a bold undercut.
Select Pixie Haircuts According to Your Face Shape
Sure, you have seen plenty of pixie cuts that have a stunning back view, yet they may be not so much flattering to the face. To avoid such an effect, take into account your bone structure prior to making a big chop. Don't stick only to the length of your haircut, since many other factors can influence the look you'll get, including bangs, face-framing tresses, texture, the width and height of the haircut, and more. If your facial features are too angular, go for a softening effect with waves, rounded shapes and all kinds of curves. Add asymmetrical lines or tapered layers to sharpen a round face, and remove any width or height from where they are in abundance.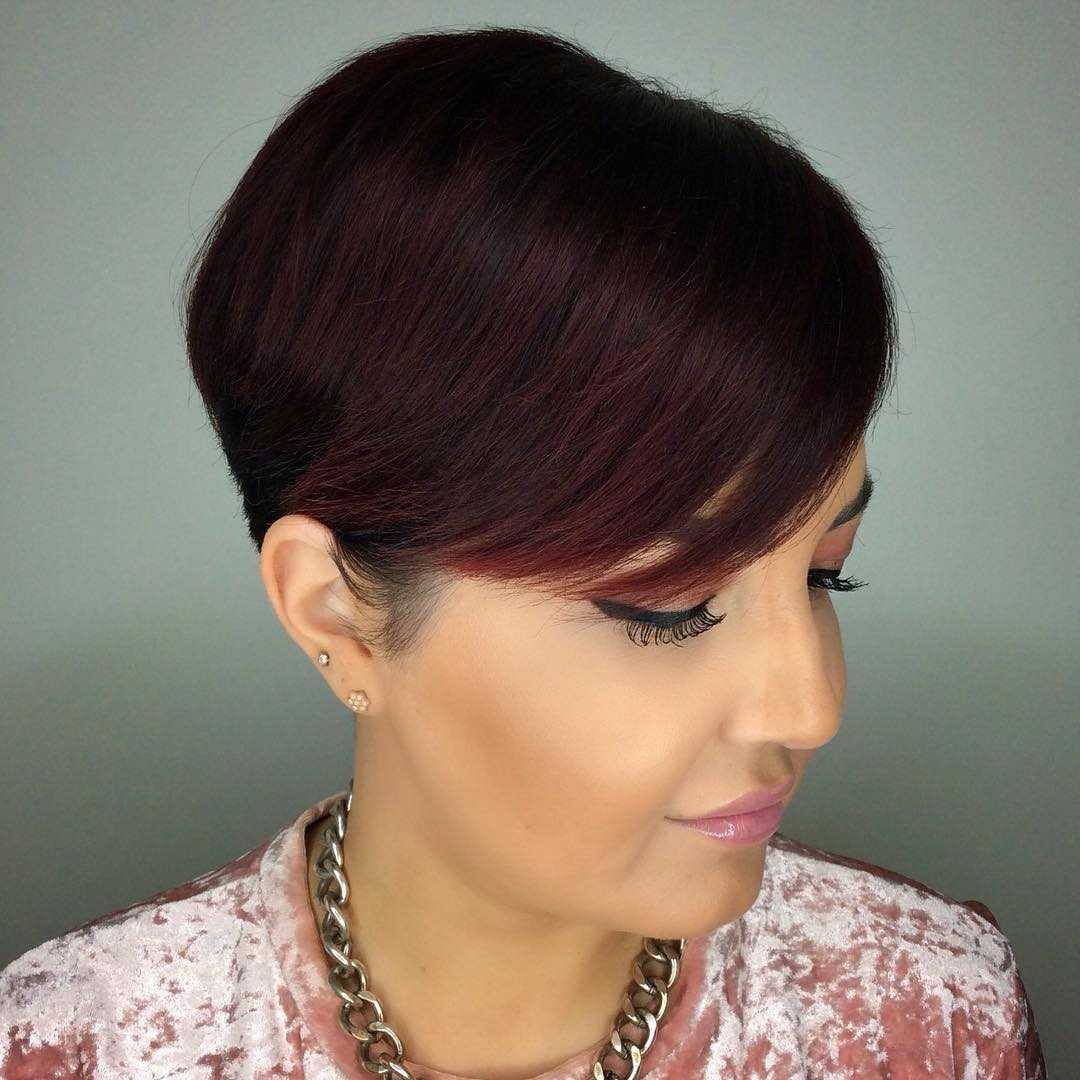 No width-adding locks on the sides, but a lifted top, an off-center parting and side bangs – that's what works fine for round chubby faces.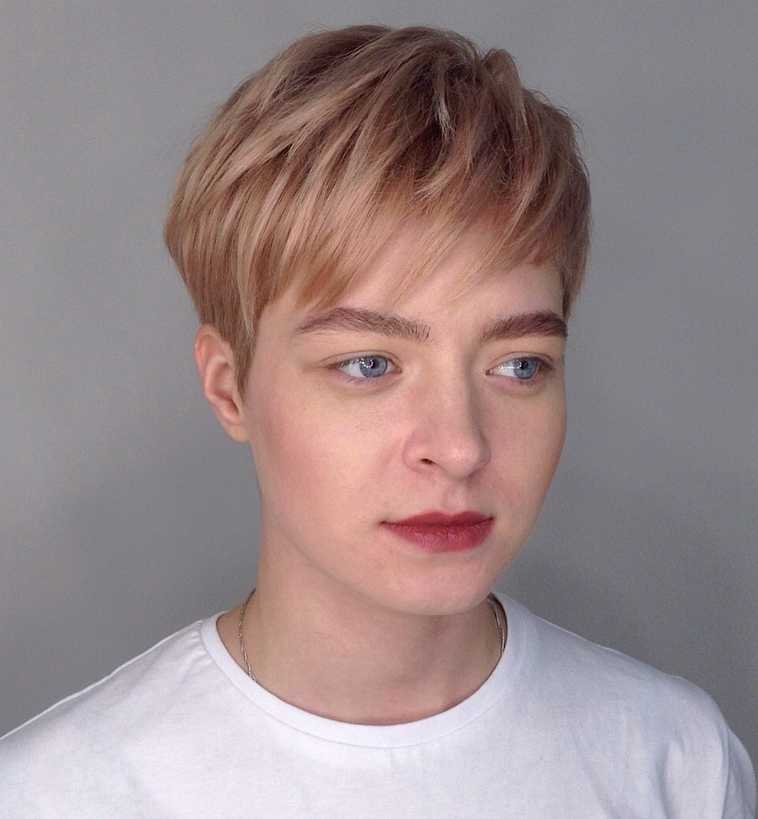 Her oval face is perfectly balanced with an abundance of angled layers and a choppy fringe, which come with this neat pixie, also boasting a stunning color transition.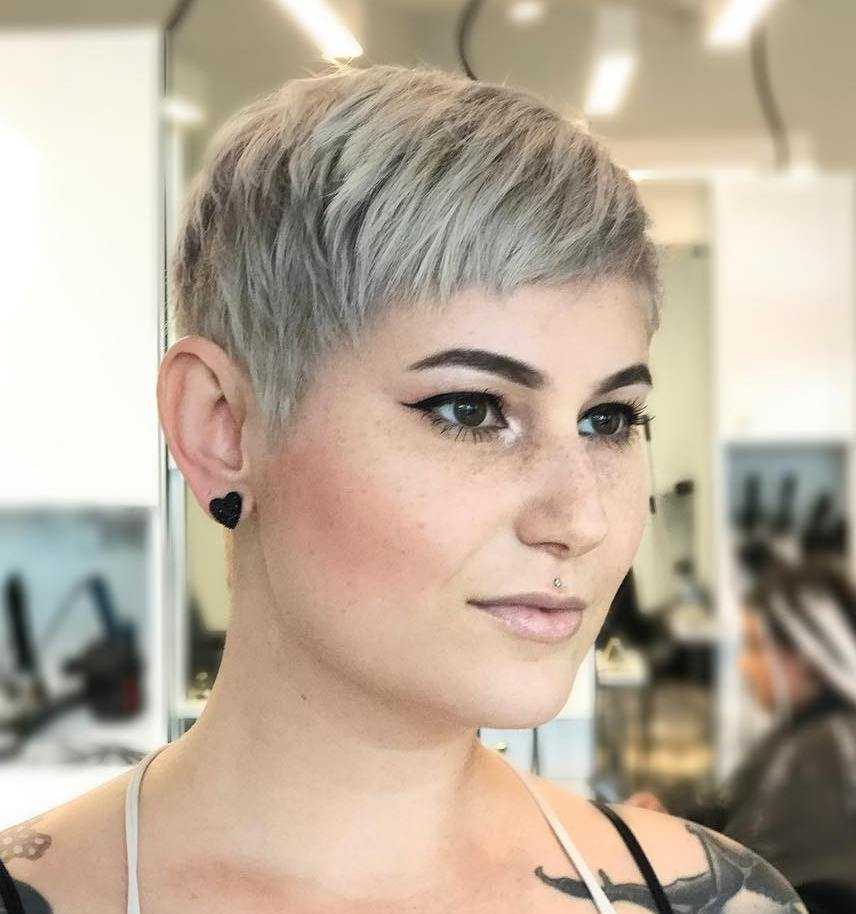 Want to deflect attention away from your square jaw-line? Shift it to the top with this silver crop. The tresses come close to the scalp for a rounded shape enhanced with side-swept styling.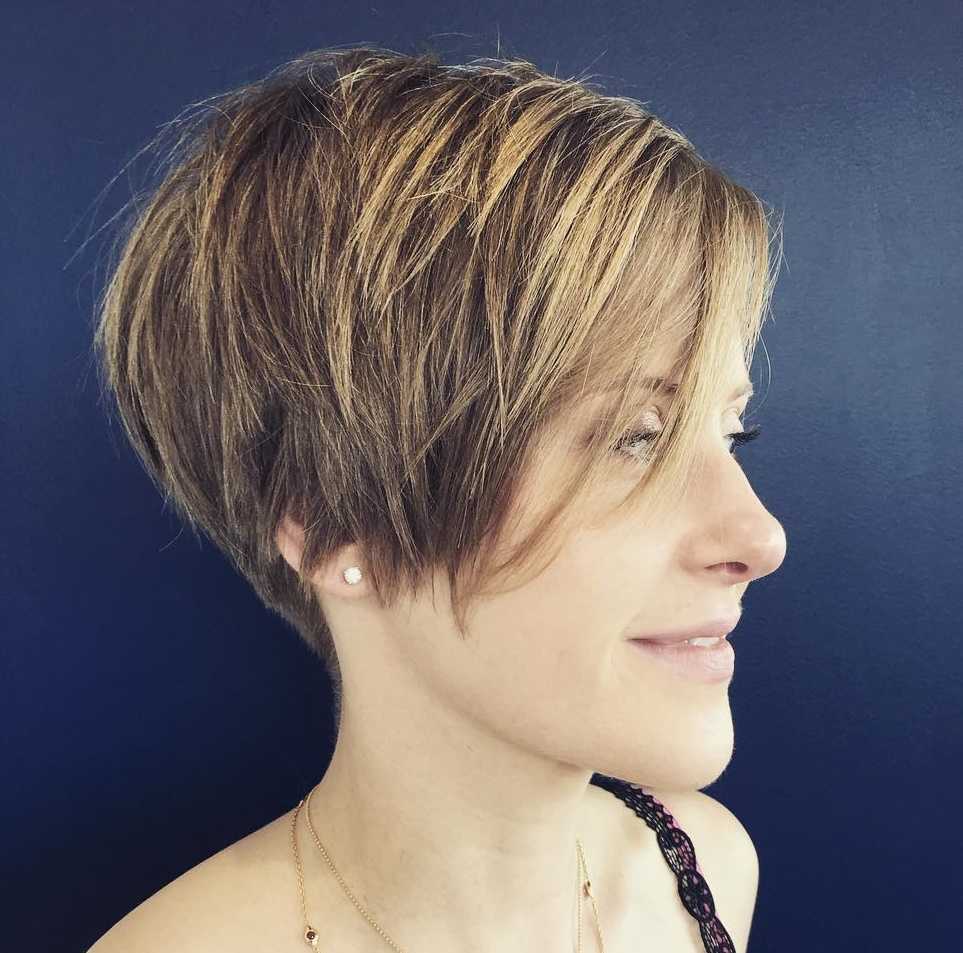 Multiple layers of varied lengths and chaotic styling can keep long faces away from straight elongating lines.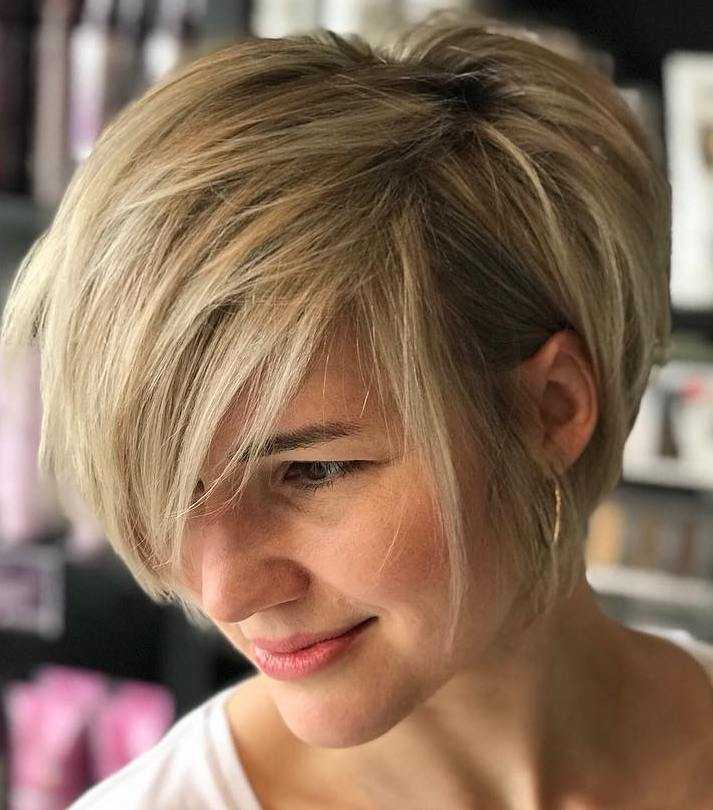 A narrow chin is not the best part of heart shaped faces. Bring your cheekbone into focus through the long fashion-forward pixie.
Wear Your Pixie with Bangs
Most of modern pixie cut styles come with some kind of bangs, cut and styled in dozens of ways. From long layered fringes falling down to cover at least the upper half of the face to dramatic micro bangs barely reaching the top half of the forehead, you are encouraged to choose your signature option."Bringing your bangs down typically helps to soften your look. Pushing them back tends to bring out your facial features, bone structure, and allows your face to take center stage," Kristin Ess, celeb hairstylist and self-named brand founder, explains in her blog. So, go for a side-swept, asymmetrical or even backcombed fringe to get the effect you like.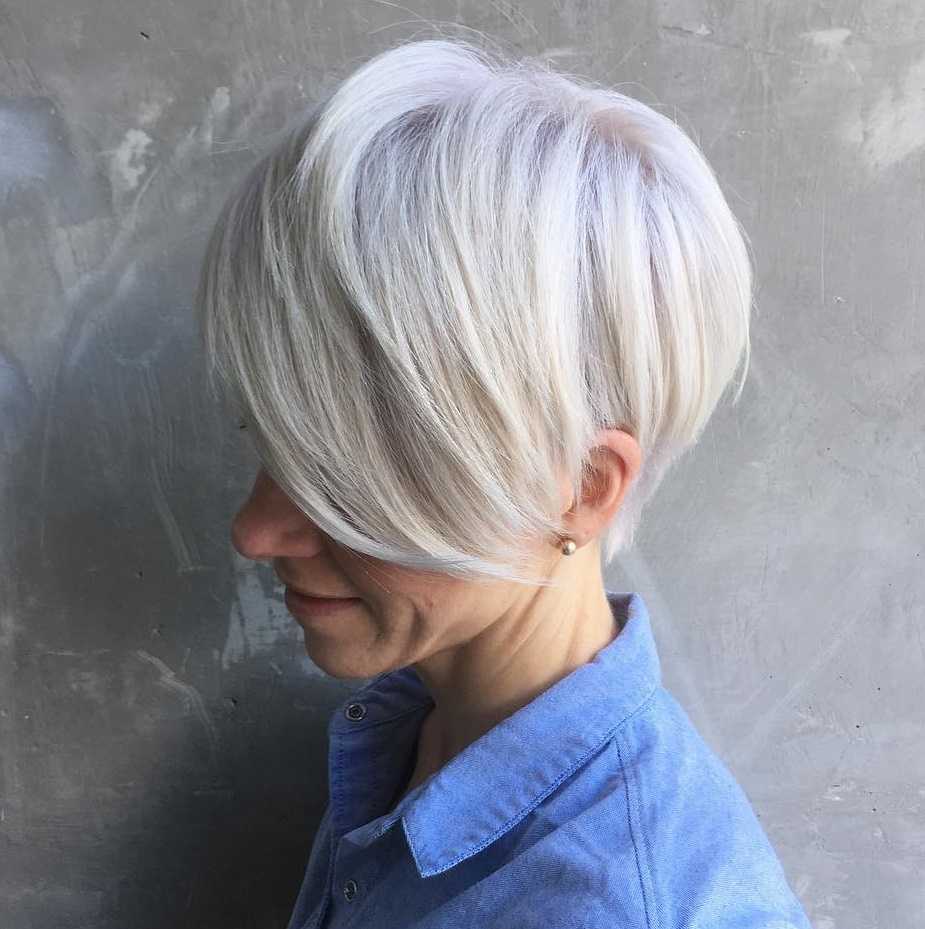 This gorgeous hairdo features extremely long bangs with a deep side part, adding a rounded shape to this almost bob pixie.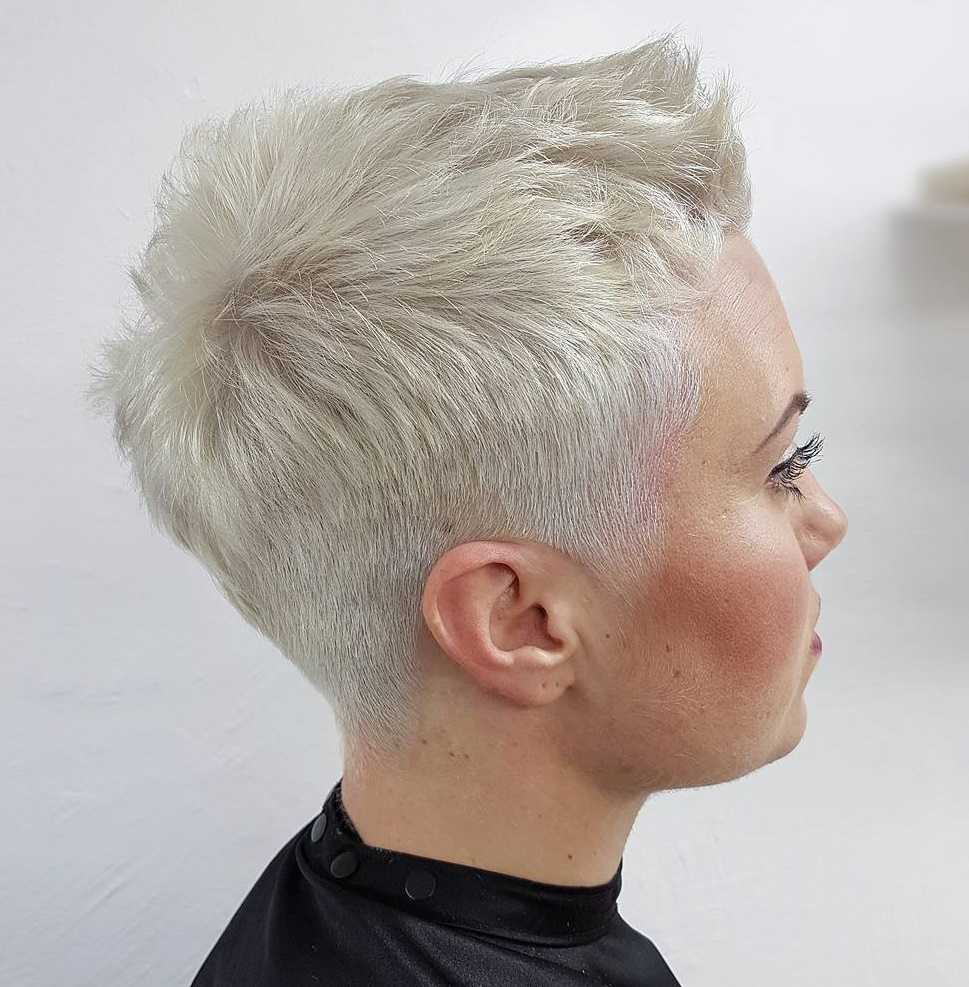 Very short sides and spiky bangs work to open the face of this daring girl, who knows how to rock a sassy blonde chop.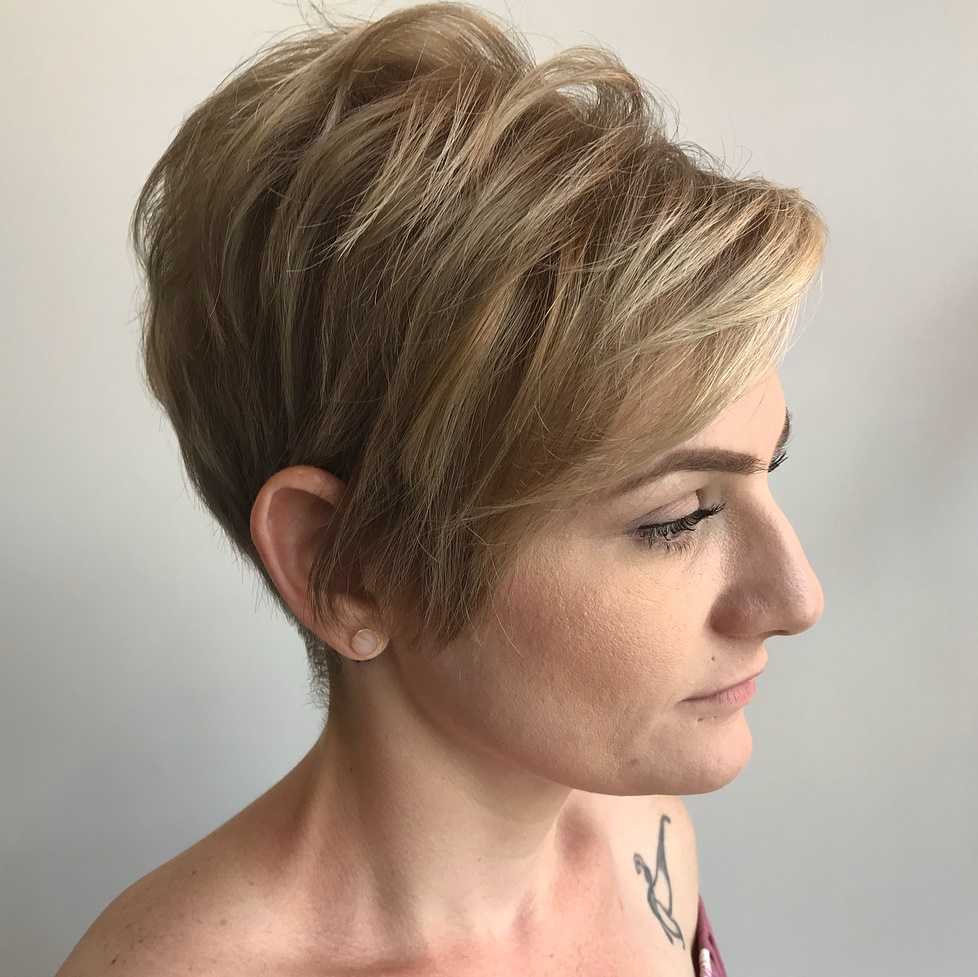 Incorporate side swept bangs into your cut to strengthen its multilayered effect and get both dimension and movement.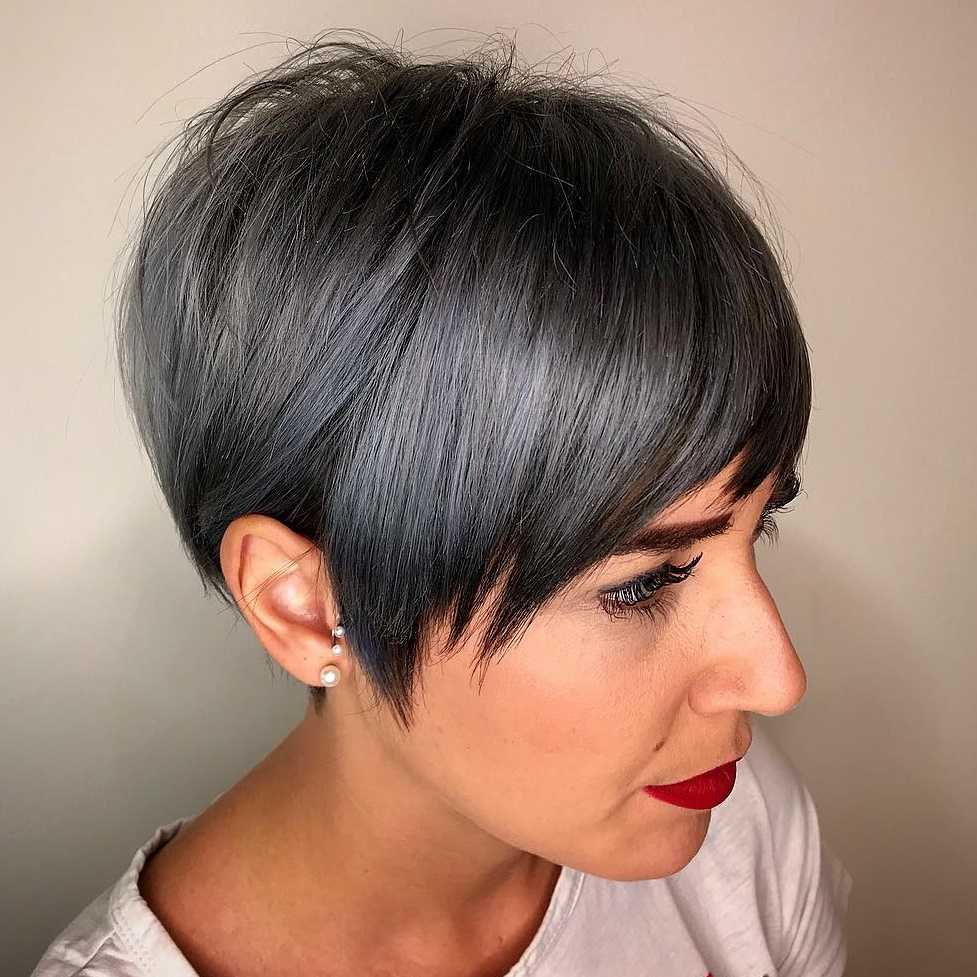 This hairstyle is eye-popping for its metallic blue grey color solution, but it won't be so graphic, if not for the smooth and tapered straight bangs.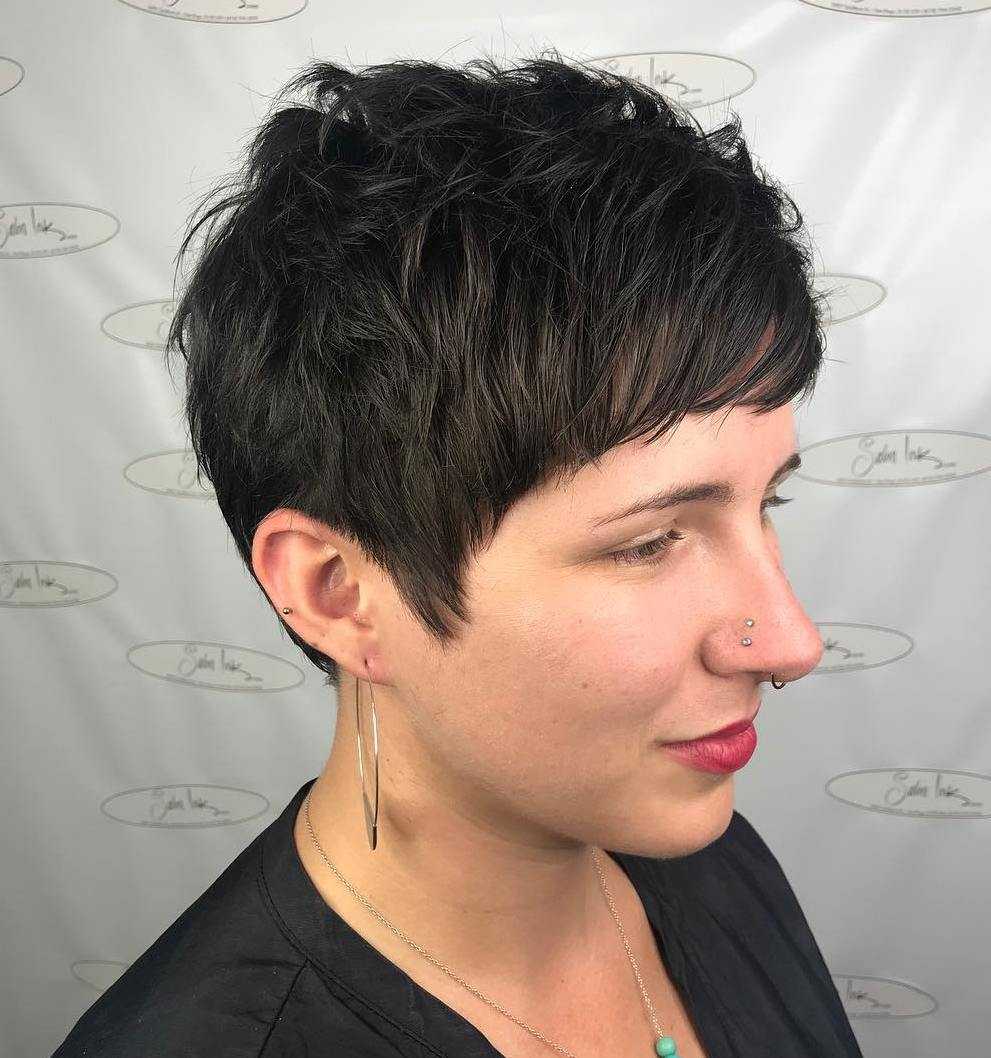 Short well-structured bangs can be a cool adornment to a layered pixie, making the look far more sophisticated.
Blonde Pixie Rules!
Since the pixie is such a drastic look to make a statement, it encourages going bold with colors, including bright and pastel hues or even a rainbow palette. But if you have been mulling over bleaching your hair blond for a while, it's just the right time to venture upon having them both – a cute pixie and a sharp blonde. Actually, short hair makes the process much easier, faster and (truth be told) cheaper, provided you have the chop first. Besides, it's a nice chance to get rid of damaged ends for a more uniform texture of your hair, which ensures the best look at the end of the process.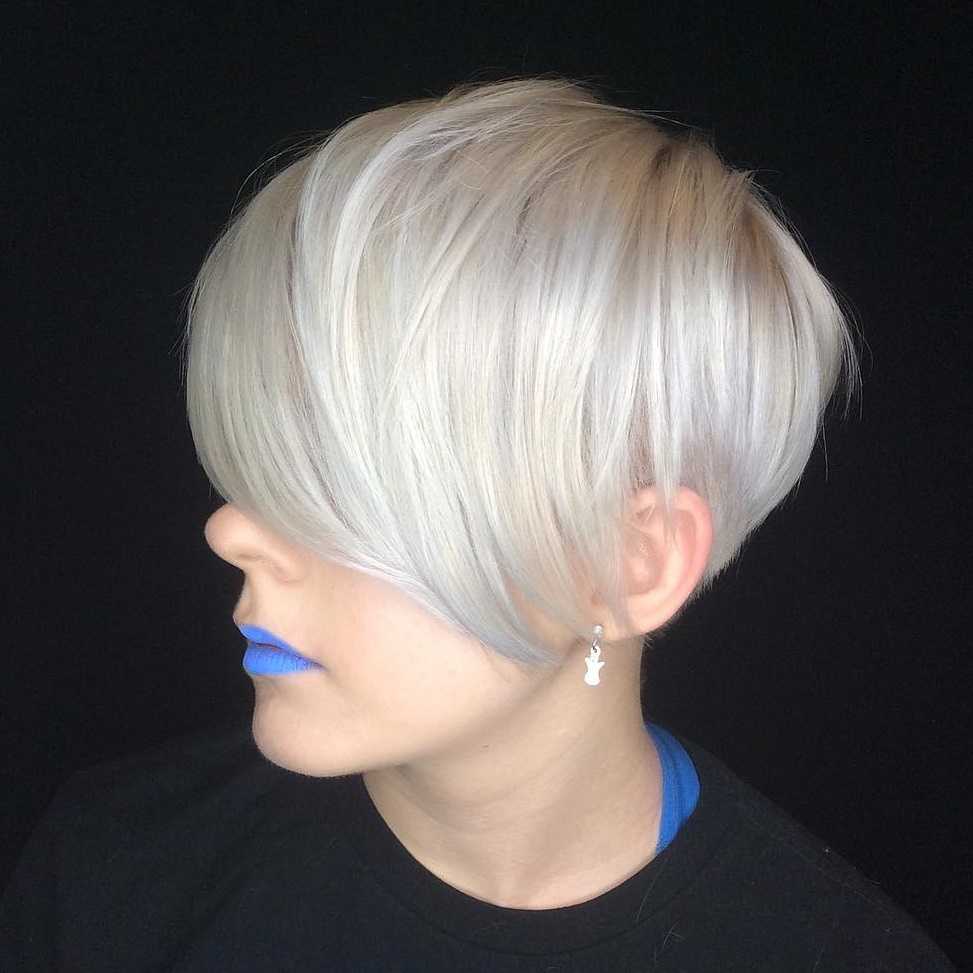 This glossy platinum pixie is drop dead gorgeous, showing both color and texture to the advantage, through subtle layering.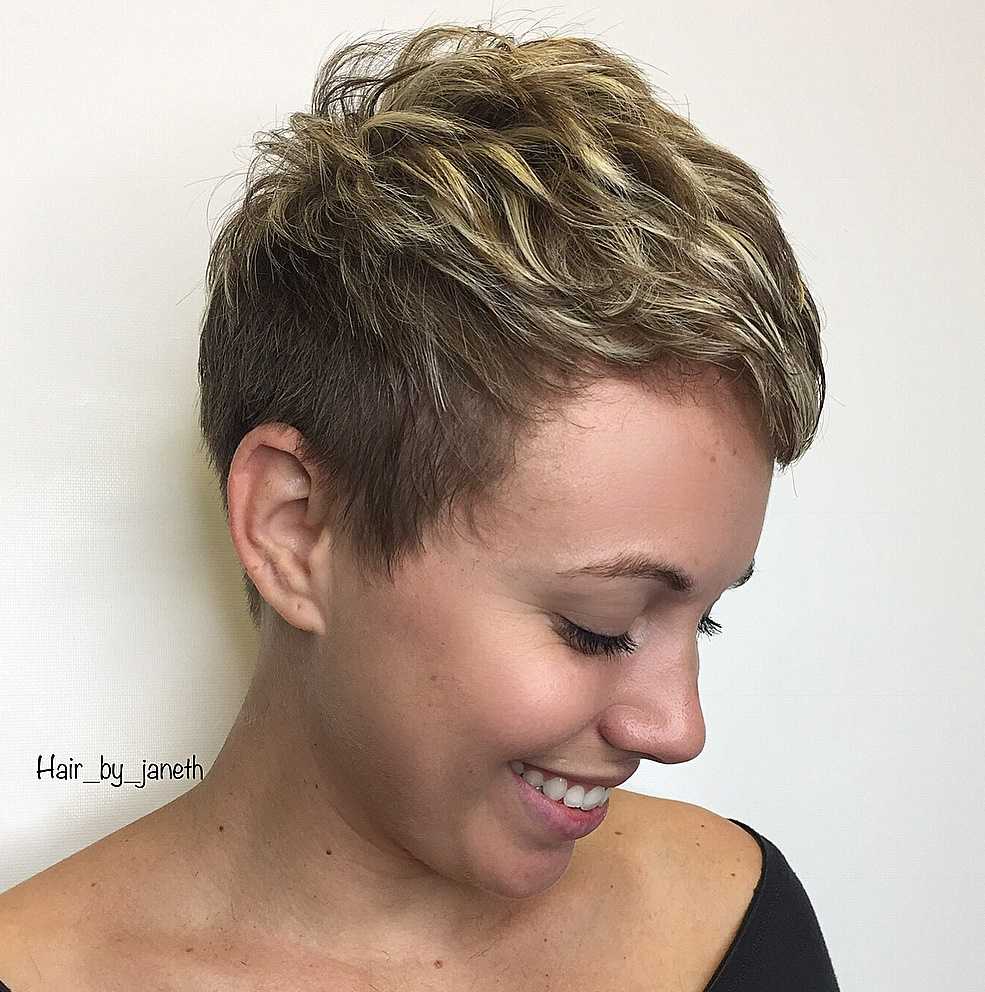 Short, jagged pieces are what you need to accentuate beautiful highlights and to create a unique pixie cut.
An ash blonde can glow, if you permit it to. Add long textured tresses on top to make the color glow and go bold with a side-to-side undercut.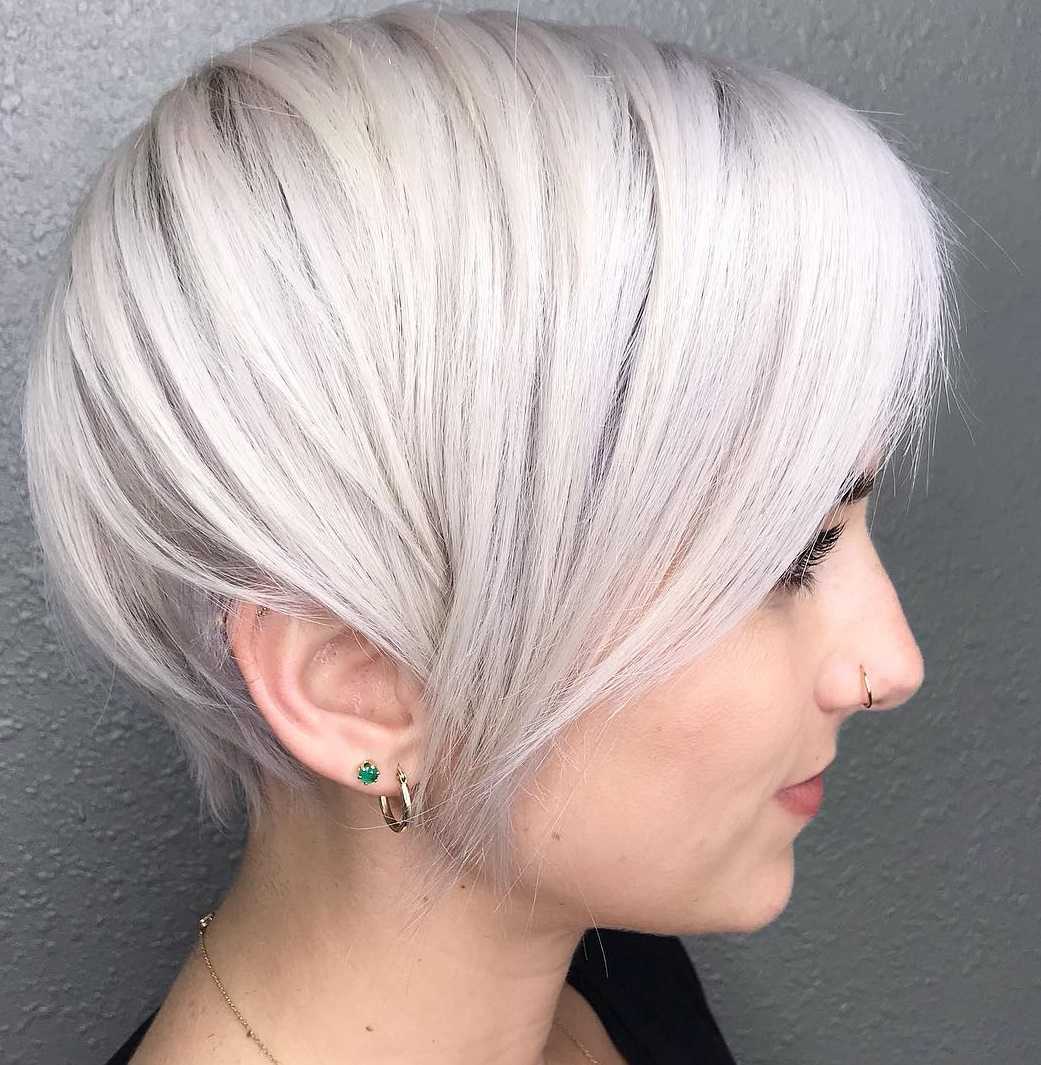 This look is sleek and feminine with shadow roots highlighting white hair and blended layers for a crisp feel.
The sky is the limit for weave hairstyles, and this killer pixie looks all natural thanks to its artistic color transition.
10 Best Pixie Haircut Ideas for Easy Styling
With so much discussion about how to choose your pixie depending on various factors, don't miss a styling issue you should also bear in mind. Even short crops leave some space for experimenting, and wearing longer versions you can refresh your look with a new twist every week. Waxes and pomades are great for adding a piece-y feel, gels and frizz fighters provide sleekness, and flat irons serve to create effortless waves.
However, you can take the easy route, since less is more for hot pixie cut styles."Use a moisturizing oil to add some shine, then comb your hair in the direction you want it to go and let it dry naturally without touching it. Don't overthink it," Marcus Francis, Suave celeb hairstylist, told to Teen Vogue. Let's browse through the best laid-back looks we have found.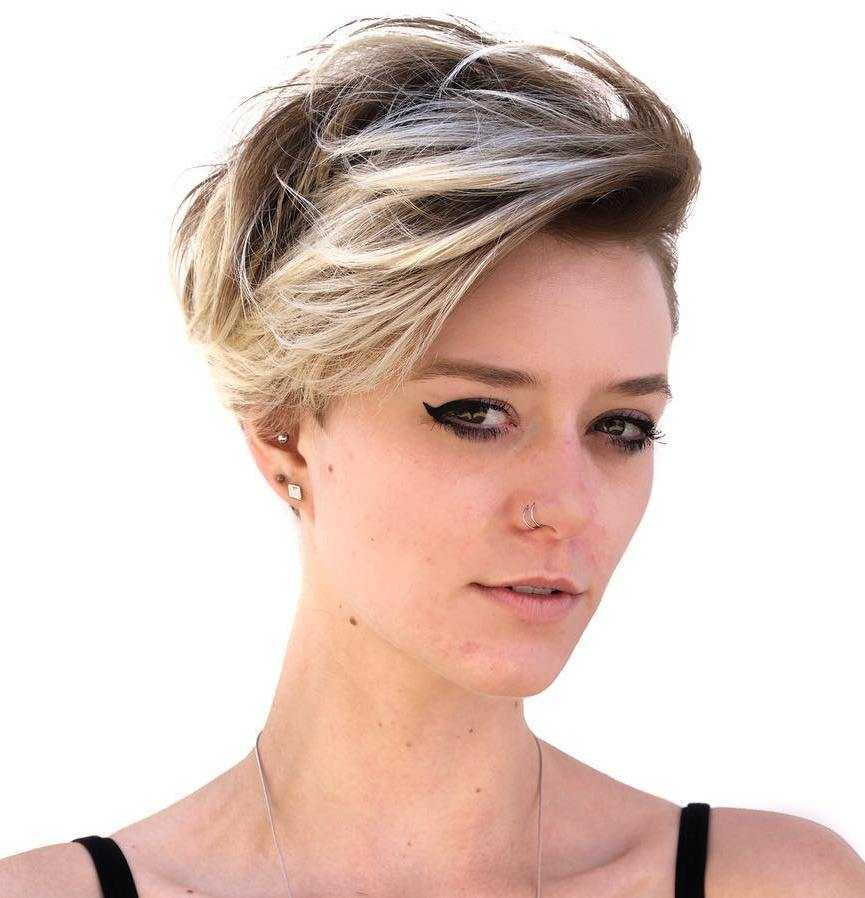 This messy pixie cut has a voluminous effect, bumped up with a lovely balayage – this is a go-to hairstyle for girls with fine hair.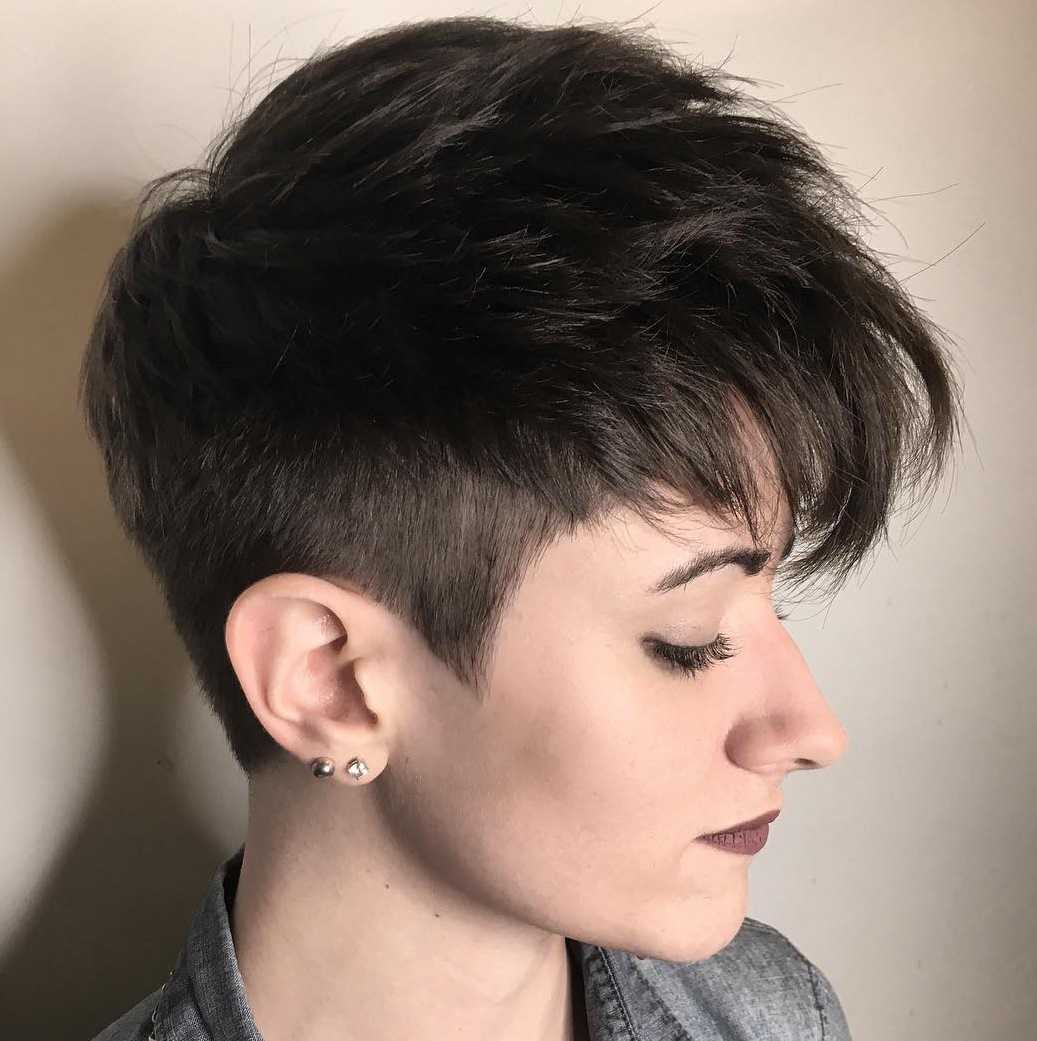 Having a thick mane, opt for a disheveled hairdo with shaved sides to create a striking contrast.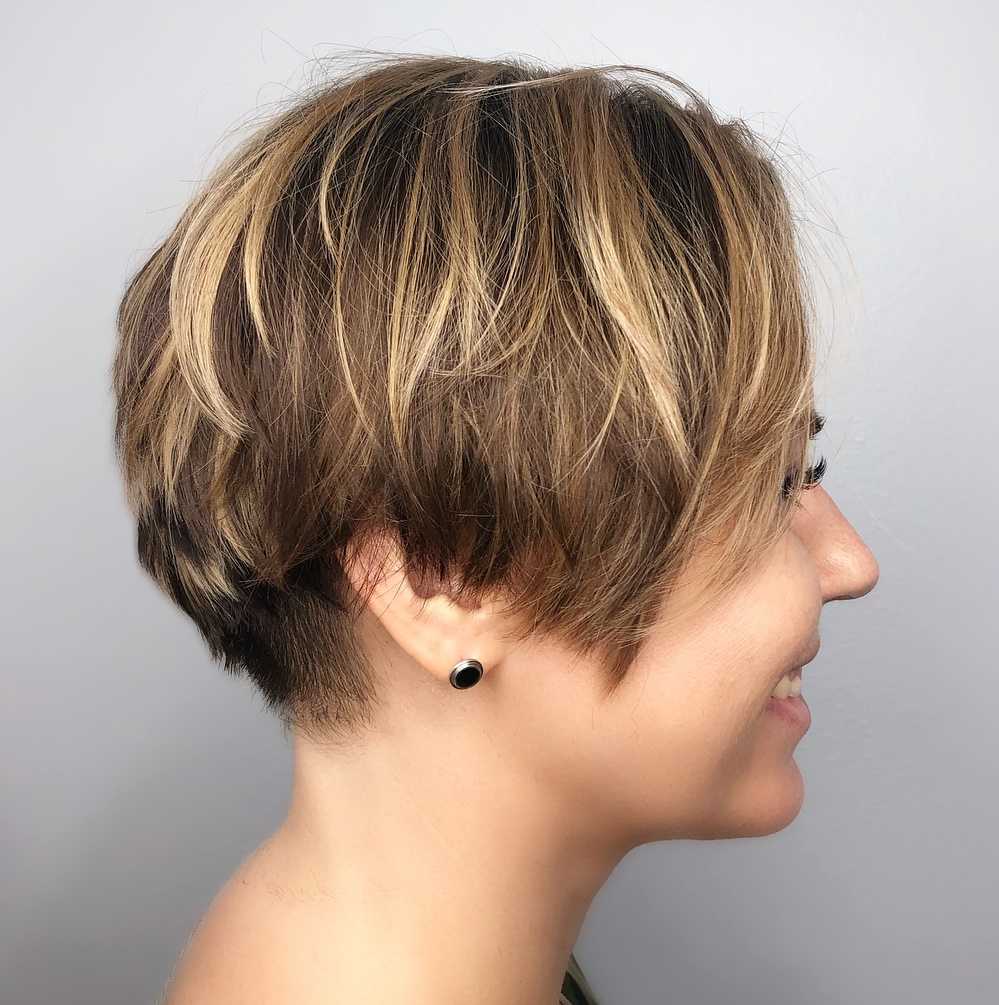 It is really easy to turn your mundane cut into an edgy hairstyle by adding a provocative undercut and blinks of color.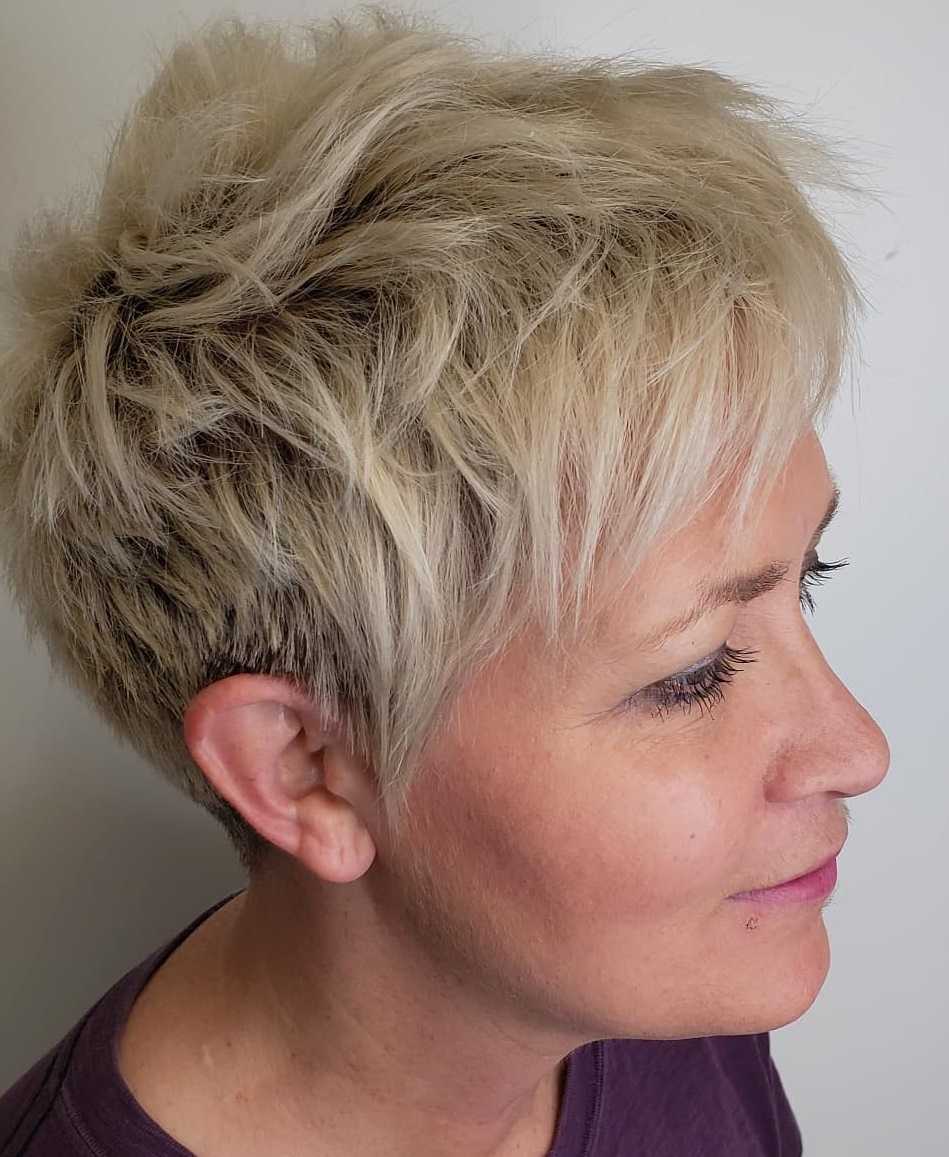 If your hair is coarse, let it stick out in piece-y layers to deliver a modern shaggy look. Shadow roots and an asymmetrical fringe double the effect.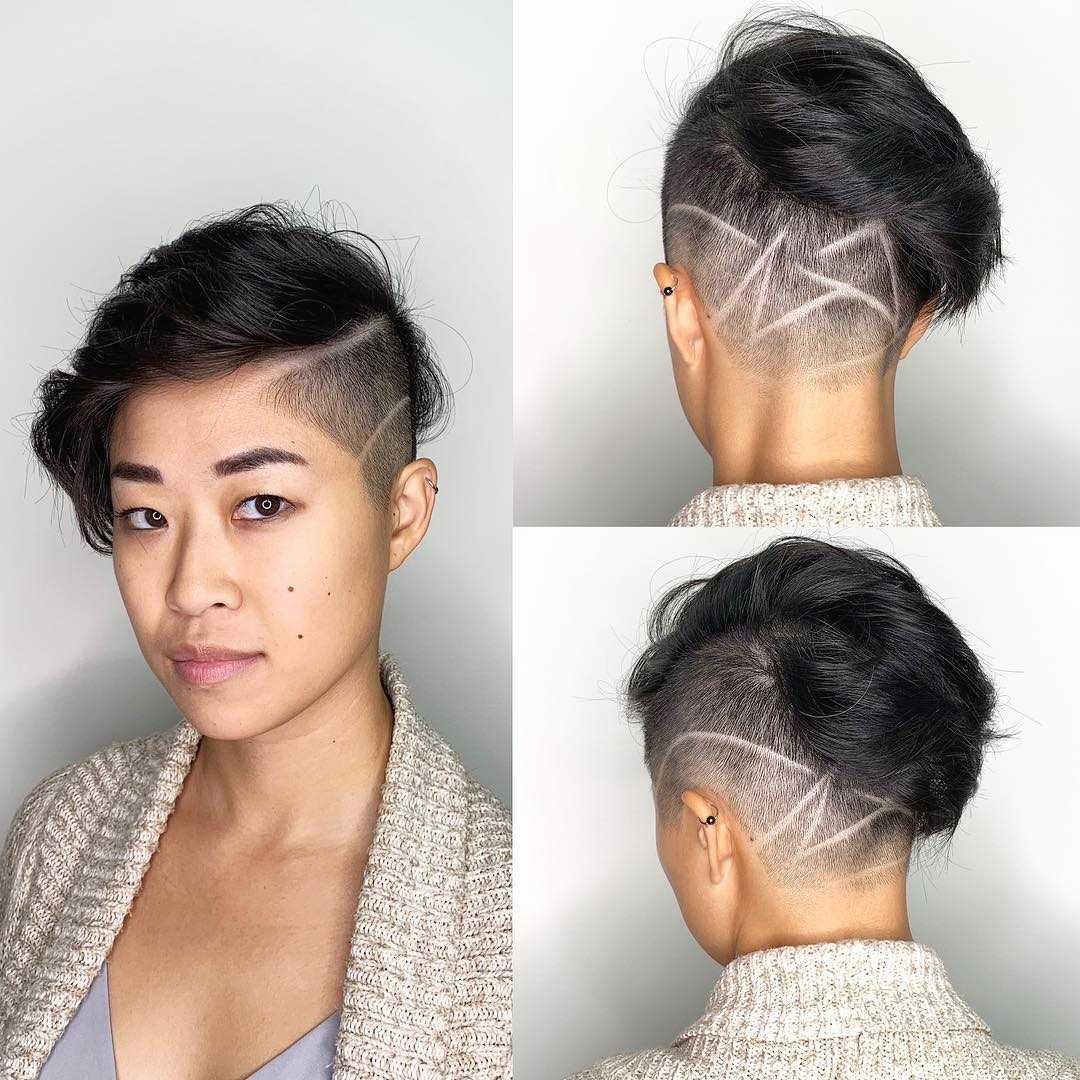 Look up to this Asian girl, who coupled her thick waves on top with a customized undercut.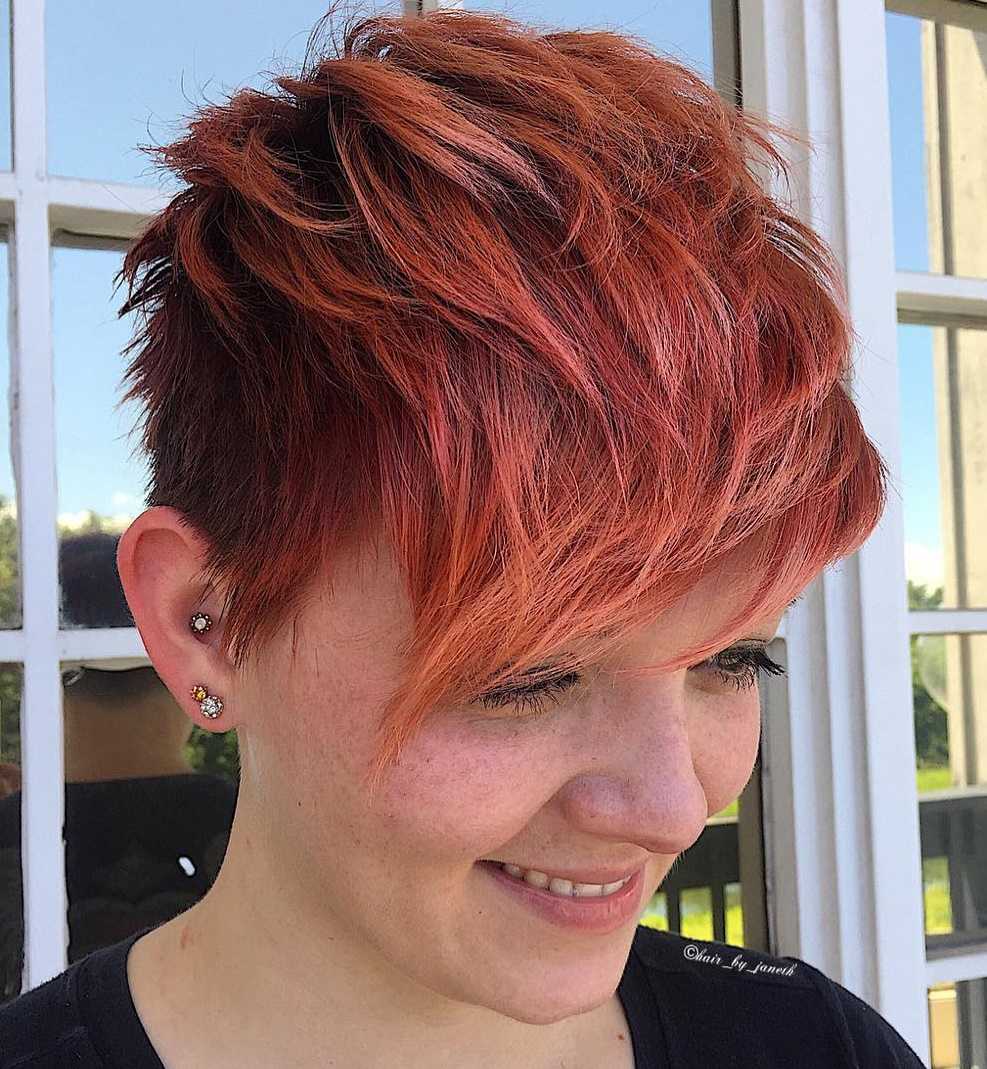 This hot red screams for a dramatic 'do, and it gets a fabulous choppy pixie with tons of texture and body.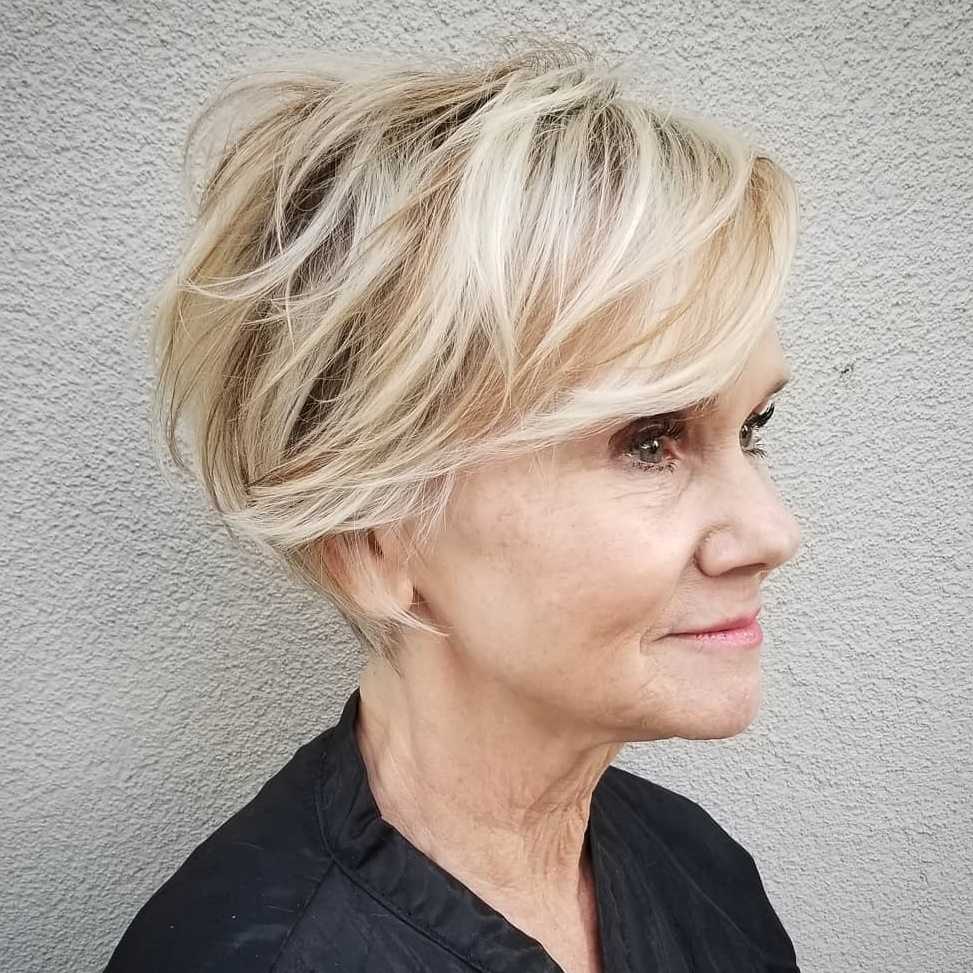 Older women may find softer looks in pixie hairstyles, like this long feathered cut complimented with airy side-swept bangs.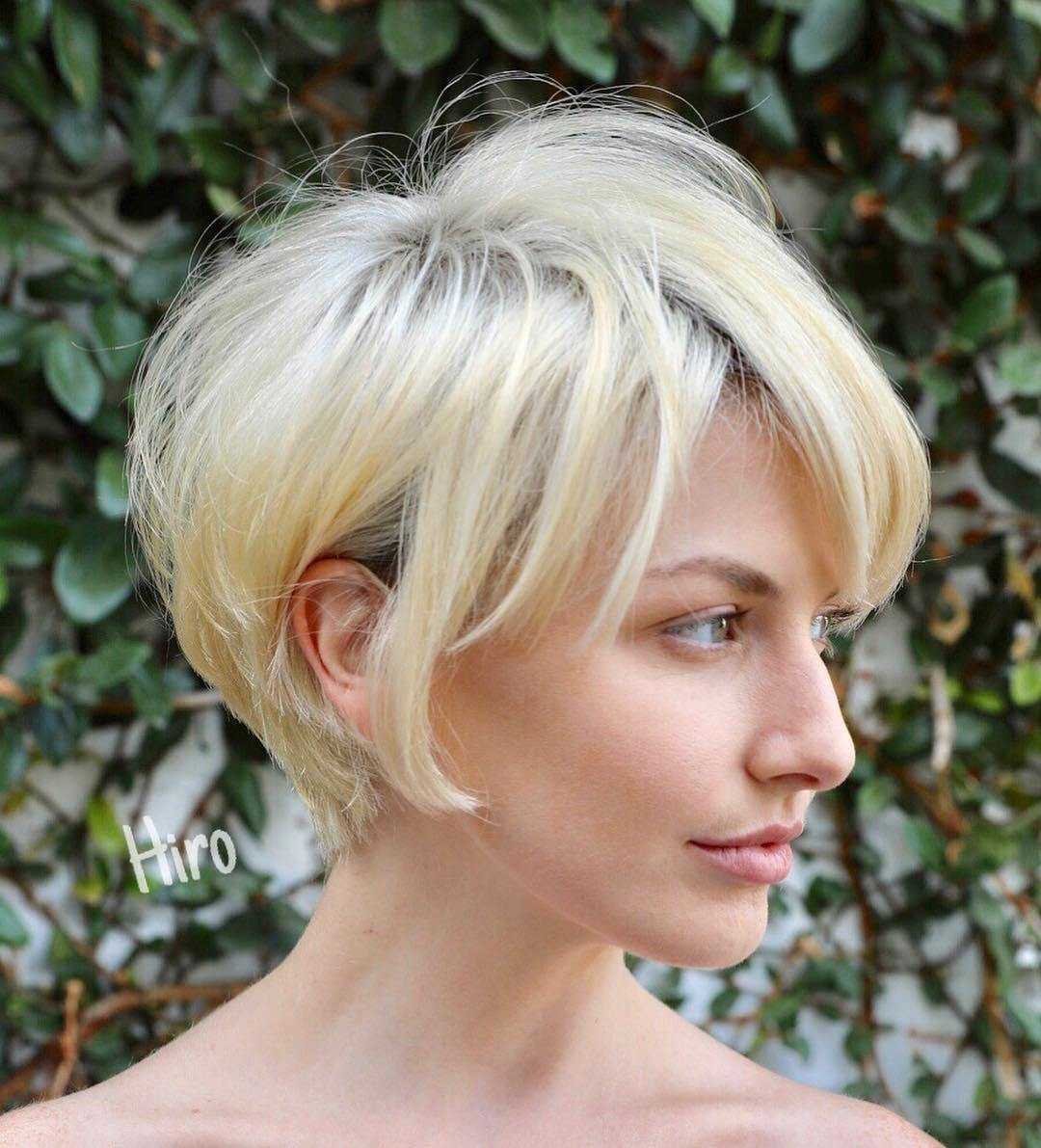 A delicate blonde will blend in perfectly with a soft shape, achieved through the longer top locks of this cute layered pixie.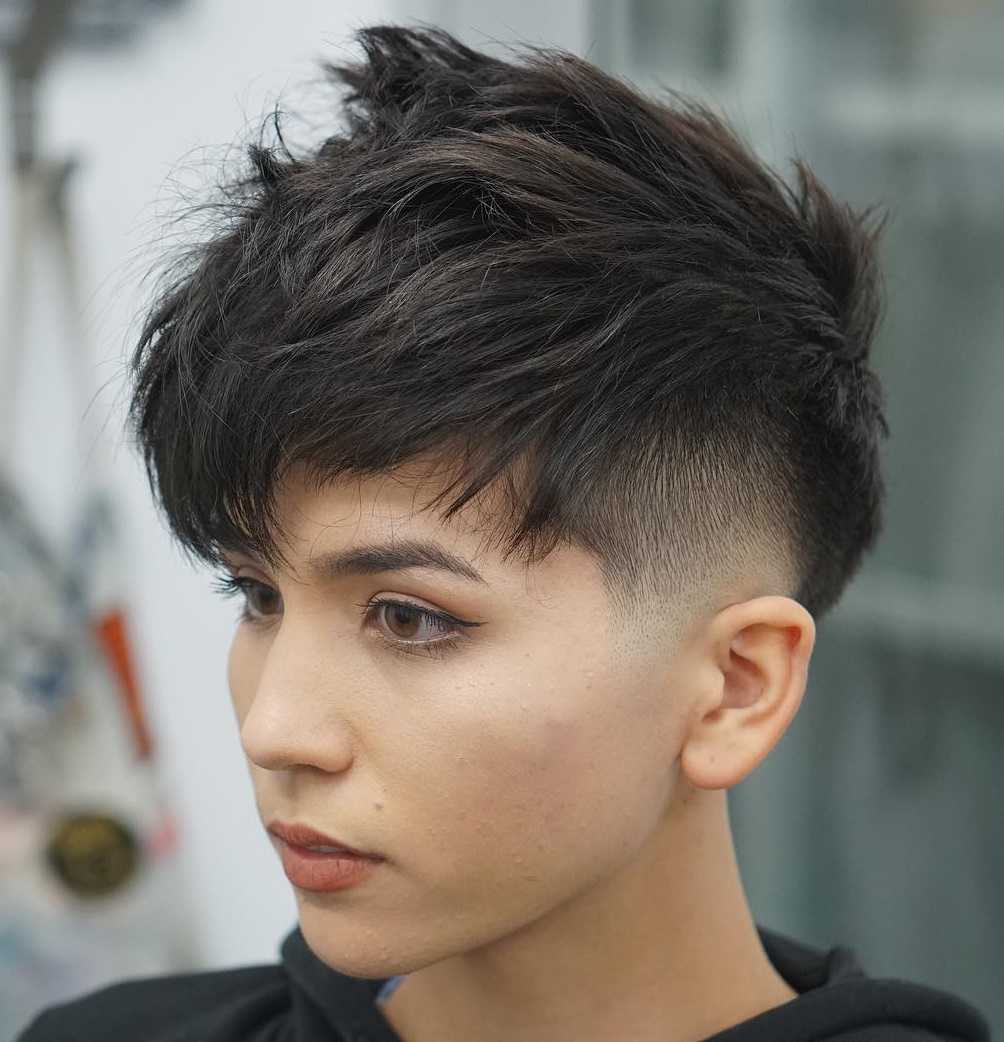 Chunky tapered pieces bring much dimension into this rebel hairdo, while the faded undercut on the sides places a greater focus on the face.
Sleek bangs and a textured crown can work together to create a chic look that features plenty of volume with no mess.
Now you are totally ready to rock a pixie cut, and it's only a matter of your courage how fast we'll see you starring on the Web. Start with a longer version to overcome your fear or go to extremes with bold fades, but don't hesitate to make your statement, since it's really fun.