It goes without saying that curls are more demanding and vulnerable than straight hair. There are also multiple curl types that need to be defined somehow, but they often wouldn't. And this infamous shrinkage that makes the cutting even trickier. Well, curly girls face a lot of challenges, but we can address at least one of them – by offering a little inspiration for chic curly hairstyles that are hot in 2021.
Hot Curly Hairstyles for Different Hair Lengths
Basically, hair stylists recommend keeping curly hair on its longer side, since the weight contributes to taming the frizz and making your naturally curly hair more manageable. Still, there are many types of curls, from soft to kinky, from thin to bushy, and, thus, there is a plethora of hairstyles for curly hair varying in length. Whatever you choose, maintenance is the key to a good look. "I really can't emphasize enough the importance of getting a regular trim every six to eight weeks.
Especially if you have a very specific cut with a very specific shape that you want to maintain and keep fresh," César DeLeon Ramirez, who counts Yara Shahidi, Kehlani and a couple of Kardashians among his clients, says to Allure. And here are some lovely curly hairstyles to set your sights on.
Pixie is among the most popular hairstyles for short curly hair. This cute short pixie is easy to care and stylish, leaving plenty of length on top for curls to bounce. And we love those babylights, adding vibe to the color.
We adore this awesome curly hairstyle! Just flip your long corkscrew locks to one side to get hot, big hair like this mane. Note how the layering works to structurize the hairstyle.
This 70-esque medium curly hairstyle with its lovely curtain bangs and layers, around the face, frames it beautifully, while giving both shape and lift to the curls
Add drama to your look with a very short bob hitting the ears and coupled with statement micro bangs. We find this curly hairstyle damn daring!
This shoulder length bob is a bit layered around the face and beautifully highlighted to make the soft curls sparkle.
Stylish Cuts for Different Hair Types
Whether your hair is kinky or semi-curly, fine or thick, soft or coarse, you need to factor the texture in rather than fighting against it when trying to achieve a sort of perfect look seen somewhere on the cover. "I often find if you try to over-style or force your curls to do something they don't want to do, you'll have a style that doesn't look authentic.
Curly hair is not designed to look finished, whatever that finish may be. It's designed to enhance its true beauty and be glorious within that," celeb hairstylist Vernon François, who styles Serena Williams and Lupita Nyong'o, tells Cosmopolitan. With an eye toward your hair type, scroll through our photo gallery.
This awesome cut brings out the most of thick curly hair – volume, bounce and density, while shaping it handsomely.
The curly bob with a deep side part works fine for thin tresses, adding them a nice lift along with a structured shape. And a balayage is a must to add vibrancy and a depth-boosting effect to this chic curly hairstyle.
A chin-length bob goes well with wavy hair, too. And here is a tip on gaining a fuller look – wear your center part irregular rather than sharp.
This layered bob with messy styling helps manage frizzy hair, also giving much versatility in flipping your hair to one side or another with its long curly bangs.
Fine hair gets both volume and texture with haphazardly styled curls and blended layers. Steal these babylights adding some natural-looking shine.
Trendy 'Dos for Different Face Shapes
Yes, your bone structure and even build should be kept in mind, when it comes to getting the right hairstyle. Someone may find it tiresome to bother about all those shapes and sizes, but think positive – the right curly hairstyle can wonderfully balance your facial features without going to extremes like cosmetic surgery. Indeed, you can visually make your facial features softer or shaper, narrower or wider by just adding a fringe or removing some bulk. Got a strong chin and a high forehead? "Reduce volume at the crown and increase volume around the chin. This will create more balance and will soften the sharpness of the chin area," César DeLeon Ramirez suggests in his comments to Allure. Look through other tips that work for various shapes.
A below-the-chin hairstyle is a sure-fire way to elongate round faces, yet you should keep the texture along the face at bay by smart layering.
Messy curls are great for softening square faces, but you can achieve even a better effect, if you ask for a curved fringe to shift the focus to the eyes.
Just look how curly hairstyles can magically balance oval faces. Girls with oblong faces can rock large curls packed into a rounded voluminous hairstyle like this one, since it adds width, balancing a long face.
This cutie with a heart shaped face gave preference to a shoulder-skimming cut with fluffy curls, scattered highlights and bangs bringing the eyes into focus.
While long and narrow faces can be dragged down by lengthy cuts, this is not gonna happen when volume is added to your curly hairstyle strategically.
Modern Curly Bob Hairstyles
Bobbed hairstyles are hot, and we don't need any other proofs with so many celebrities taking different bobs to the red carpet. But is it a check in the right box for curly girls? Yes, it is! "A bob is also a great length for curls and Afro hair because you can play with shapes and really tailor it to suit the curl," says Glamour columnist and hair stylist Larry King (he creates looks for Courtney Love and Pixie Lott to name a few) in his comments about trendy bob styles in the magazine. So, let's explore a range of bob-length curly hairstyles.
This short bob does a great job of drawing attention to the cheekbones and eyes rather than to the chin. And a nice color transition keeps this awesome curly hairstyle fresh and dimensional.
This black hairstyle stands out for its awesome mix of textures and glorious volume, shaped softly and flatteringly. Your best bet if you're looking for hairstyles for naturally curly black hair!
Thanks to weave hairstyles you can create lovely bob looks like this one, boasting an abundance of delicate silky curls.
This long bob is a real catch for those girls who have made up their mind to go natural. It's oh-so-touchable and masterfully carved to define a curl pattern.
This laid back wavy hairstyle with a rooty blonde color and wispy bangs is just the thing for a woman over 50. This is the case when a curly hairstyle delivers the right vibe, shape and volume.
Classy Curly Hairstyles for Prom
With amazing curly textures you can create multiple prom updos by twisting, braiding and pinning your locks. Since undone looks are trending now, it's OK to have flyaways, messy locks and other imperfections, which allows for quick and easy styling. The key thing you cannot miss is volume. "When you're creating your texture, it's important to get a lot of lift at the root, because you want those curls to cascade," AdirAbergel, a hair wizard behind Rosie Huntington-Whiteley and Rooney Mara, says to Refinery29 and recommends finding some time for spritzing the roots with a volumizer and then touching them with a blow dryer and lifting upwards with your fingers. Well, let's see where you can arrive by following this tip. Check out our list of cute hairstyles for curly hair to rock your prom night.
This naturally curly hair is artistically braided and wrapped into a low messy bun with multiple tendrils and flyways that give the curly hairstyle a romantic and relaxed feel.
Long hair can be packed into an elegant style with braids and curls mixed together to create a neat, full-of-texture updo.
Here comes one of our most favorite prom hairstyles for long curly hair. You can show off the gorgeous texture of your locks in a fancy half up half down 'do, styled into loose twists on top.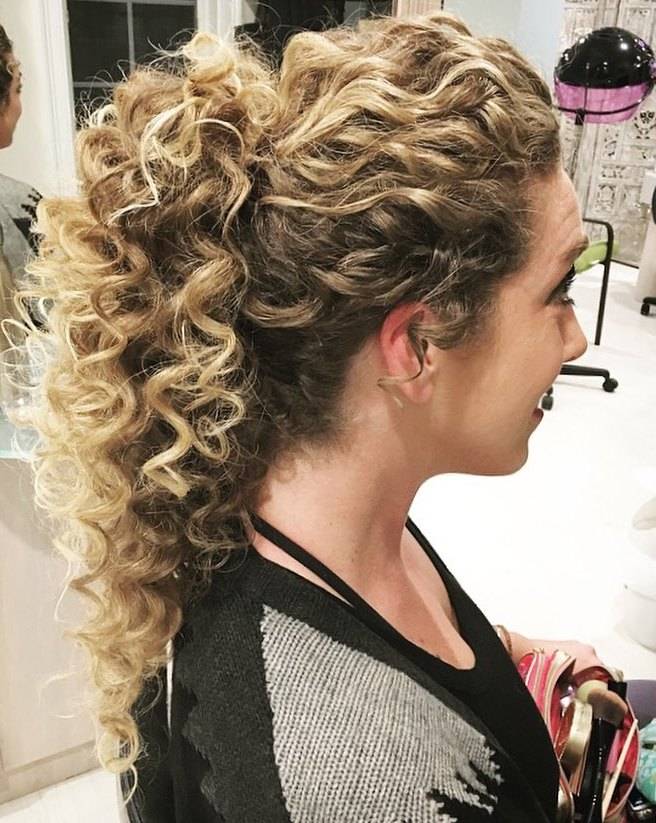 A voluminous ponytail with cascading curls that are beautifully highlighted to add vibe is exactly what's needed for a sassy and laid back look.
This is how mid-length locks can be arranged into a chic curly hairstyle: pull side tresses to the back and interlace them at the nape to shape a cute bun.
Sporty Black Hairstyles for Curls
From protective styling to relaxed 'dos, black women can enjoy a wealth of hairstyles, but natural curls are definitely the most authentic. However, since Afro hair is more prone to frizz, you should be aware of certain challenges, especially when choosing short cuts. "Having a short cut with curly hair often means a strict defrizzing regimen to avoid puffy or frizzy tufts," Nick Arrojo, founder of Arrojo hair line and celebrity hairstylist, says to Glamour and recommends working a generous amount of anti-frizz product into damp hair to tame the frizz. Sure, we don't want you to be limited to only short or natural hairstyles, and there are more curly options in our pick.
This cool tapered curly hairstyle shows natural spirals, still bringing much attention to the face, especially with those playful ringlets falling on the forehead.
This weave hairstyle is soft and dimensional, while nicely customized to give a flattering frame to the face.
It's a good idea to pair a long crochet hairstyle with a black-to-gold ombre, which adds depth and visual interest, while saving your fragile curls from bleach.
This African American gal embraces her natural texture with a long hairstyle, featuring subtle layers to gain a flattering soft shape and some lengthy bangs to frame the face.
Finally, our fave among the curly hairstyles for natural hair. This braided half up half down 'do is really hard to miss, since it arrests the eye with both cascading curls and fun highlights through the braid.
10 Best Curly Hairstyle Ideas to Prove That Ringlets Rule
Well, with so many chic looks we've shown, does anybody really want to barter away curls in exchange for straight tresses? Yes, we know, life is not that easy, when you have tight or kinky unruly hair, but it's worth trying to embrace your texture. "What I find with so many of my curly clients is they have difficulty managing their natural curls. They can get frustrated by dryness, frizz and unmanageability so instead they want to go for straighter styles. But with the right tips and products, women can find a new love for their curls." says Cynthia Alvarez, Dove Hair Curl Expert and hairstylist to Shakira and Dascha Polanco, in her comments for Forbes. And we've got ten more reasons to love curly hairstyles.
Enhance your curl pattern by using a texturizing product or curling wand and pull your locks backwards to get a chic loose hairstyle with a big messy bun.
Braid your tresses loosely across the back of your head and gather them into a low messy ponytail for a relaxed, yet stylish look.
Opt for a fun pixie with a shaved side to deliver a stunning contrast, accentuating those wild curls on top. An impressively cool curly hairstyle!
Looking for curly hairstyles for medium hair? Here's an idea: have your locks beautifully defined and layered, missing no chance to add these trendy curly bangs.
Embrace your natural texture with this charming tousled 'do for homecoming, created with random braids and curls fed into a bun. Although it might look complicated, it's actually one of the quite easy hairstyles for natural curly hair, so don't hesitate to give it a go.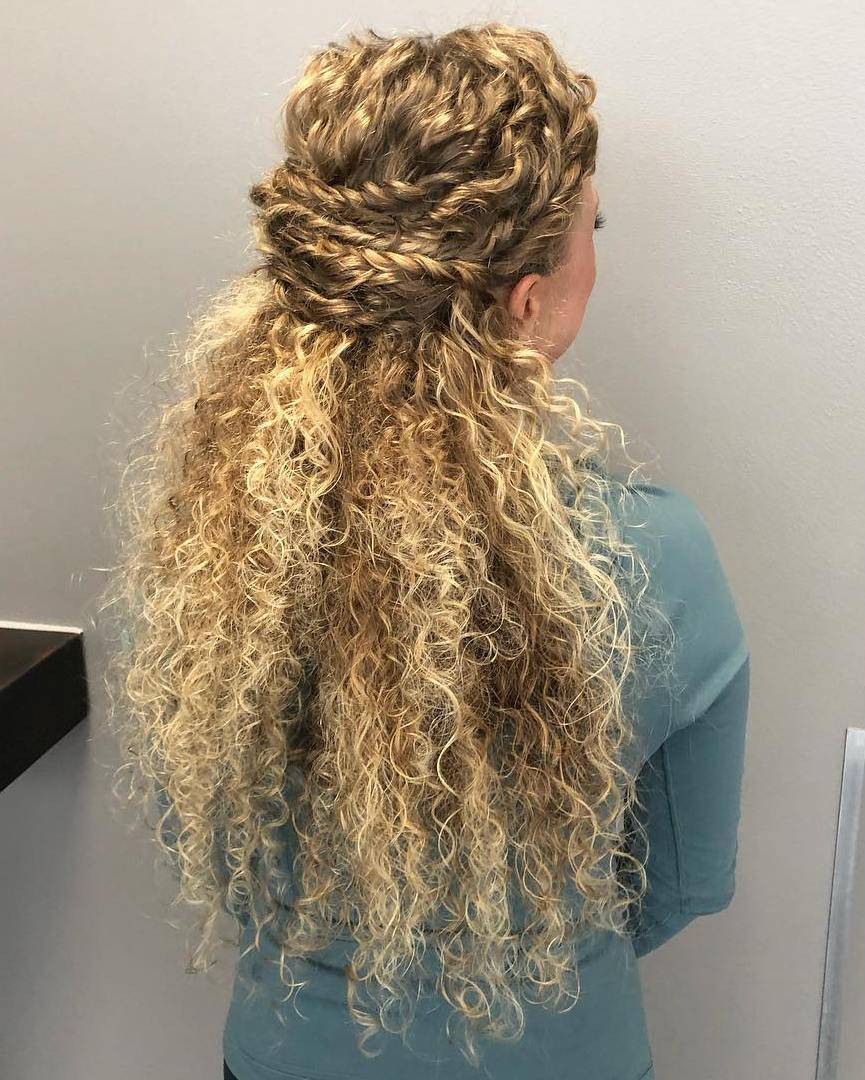 Tame your naturally curly hair by twisting or braiding your tresses across the back of your head to get the stunning half up half down with airy curls.
Opt for the edgy bob cut, boasting some lived-in highlights, a cool shaggy finish and arresting baby bangs.
Want a curly hairstyle to turn heads? This outstanding bob can do the job with the dramatic contrast between its straight short fringe and lush angled curls.
Enjoy this bob alternative to a gamine pixie cut that feels very Frenchy with its dense curly bangs and flirty ear length locks.
Wear your golden blonde curly hairstyle free-flowing with volume built by layering and a side parting.
We hope you like our fresh collection of hairstyles for curly hair, and maybe you've already found your next trendy 'do. Moreover, we are pretty sure that some straight-haired girls are inspired to go for curls, so we look forward to new pictures on Instagram, whether you have naturally curly hair or not!