While women are encouraged to embrace their natural hair texture and colorists are busy inventing new techniques for creating natural-looking color schemes, the same approach rules supreme when it comes to graying. Mature and older ladies do not feel awkward wearing their well-earned silver anymore, and gray shades have been trending over the past few years even among younger generations. So, let's have a closer look at a current take on gray hairstyles and learn how to adapt them to your personal needs.
Customizing Gray for Different Face Types
Lucky for us, today's hairstyles for gray hair are versatile enough to choose a couple of flattering options for each and every face shape. And this is vital, as older faces need a more thoughtful approach to the framing and balancing because of the age-related changes they undergo.
Generally, older ladies are recommended to stick to softer hairstyle lines in order to offset the loss of skin elasticity. "Consider side-swept bangs if you want to make your face look a bit rounder and your cheekbones stronger," Eva Scrivo, NY-based hairstylist who worked with a long list of celebrities before publishing her Eva Scrivo on Beauty book, says in her comments for Oprah.com. And what if your face is round? Take a look at our tips for all the main face types.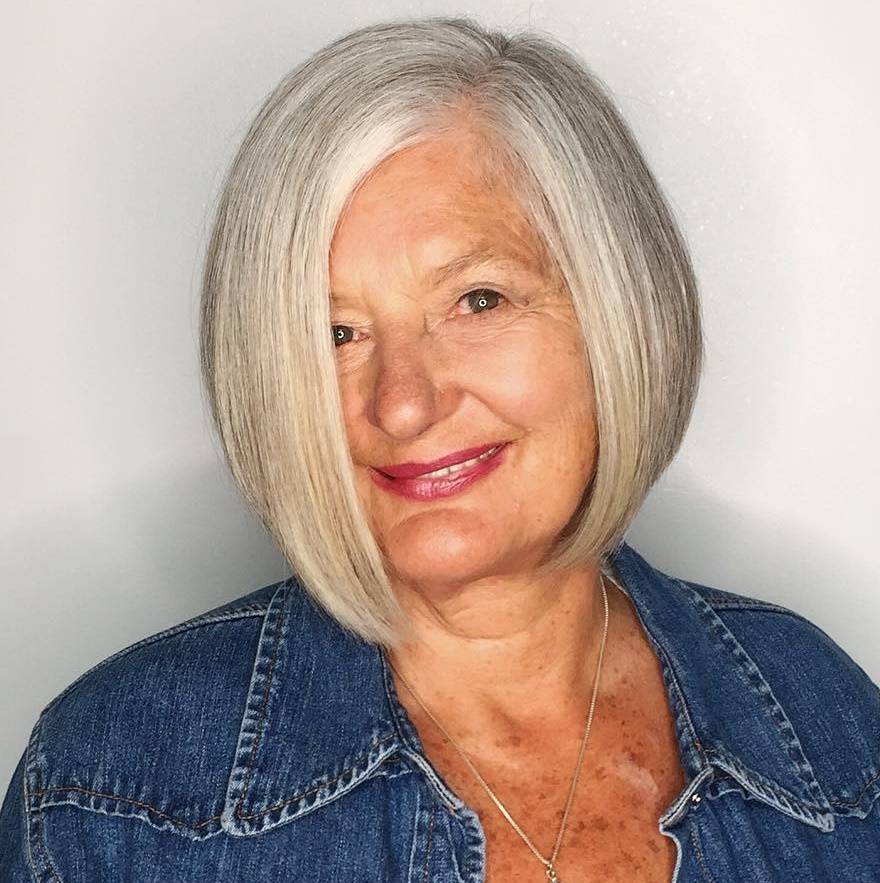 Due to the deep side part, this sleek bob delivers a bit of asymmetry to interrupt the circular accuracy of the round face.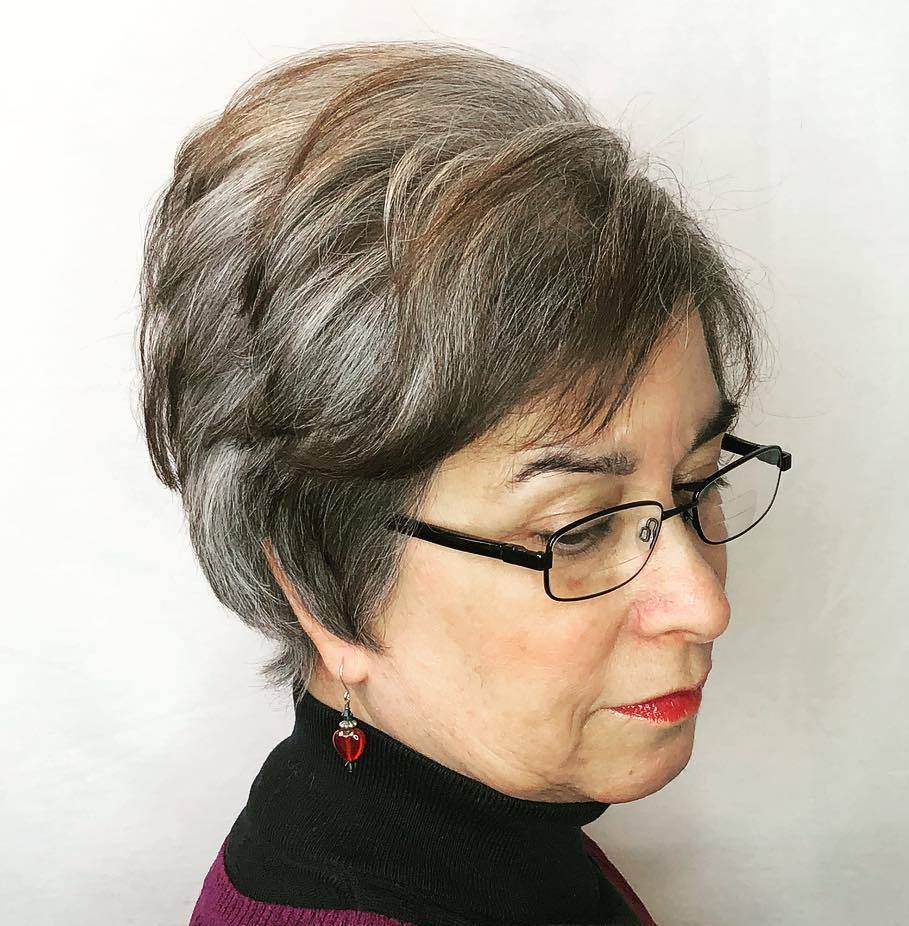 This cut arrests the eye with its outstanding and well matched color combination, while soft bangs and sideburns give a flattering frame for the oval face.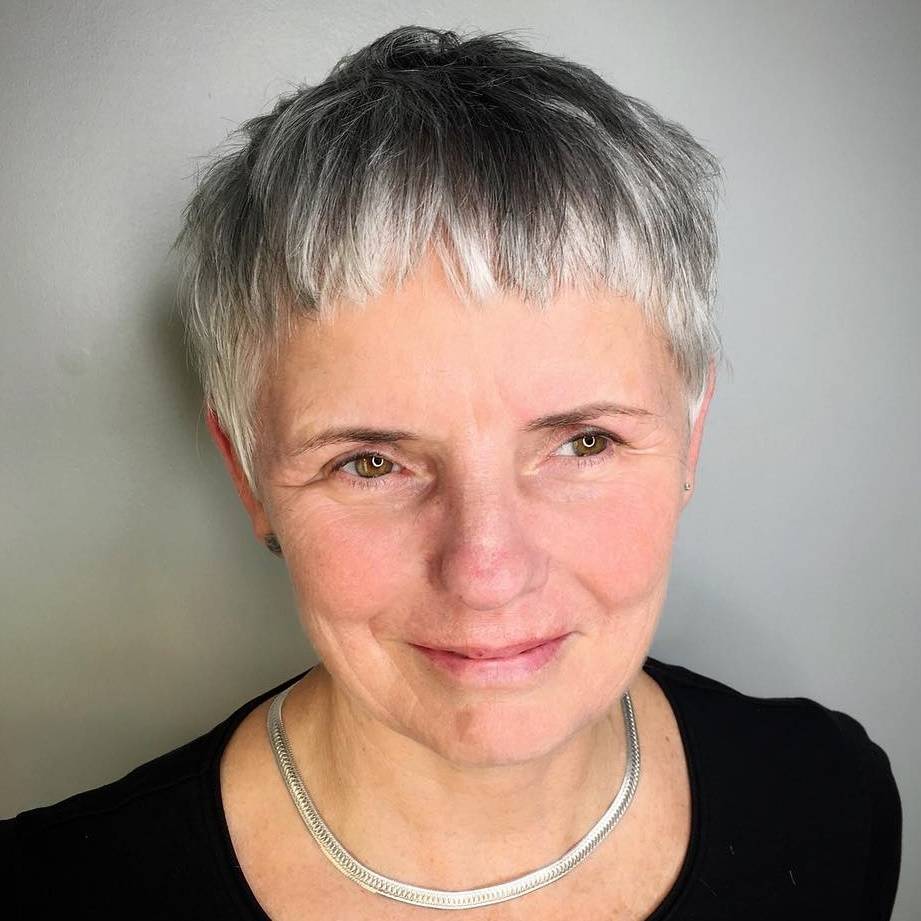 This gamine crop is really youthful and fun thanks to its choppy fringe and salt-and-pepper color. And it works well to shift attention away from the square bone structure, too.
Shining with a soft silver hue, this cut has just enough volume on the sides to add some width to the long face.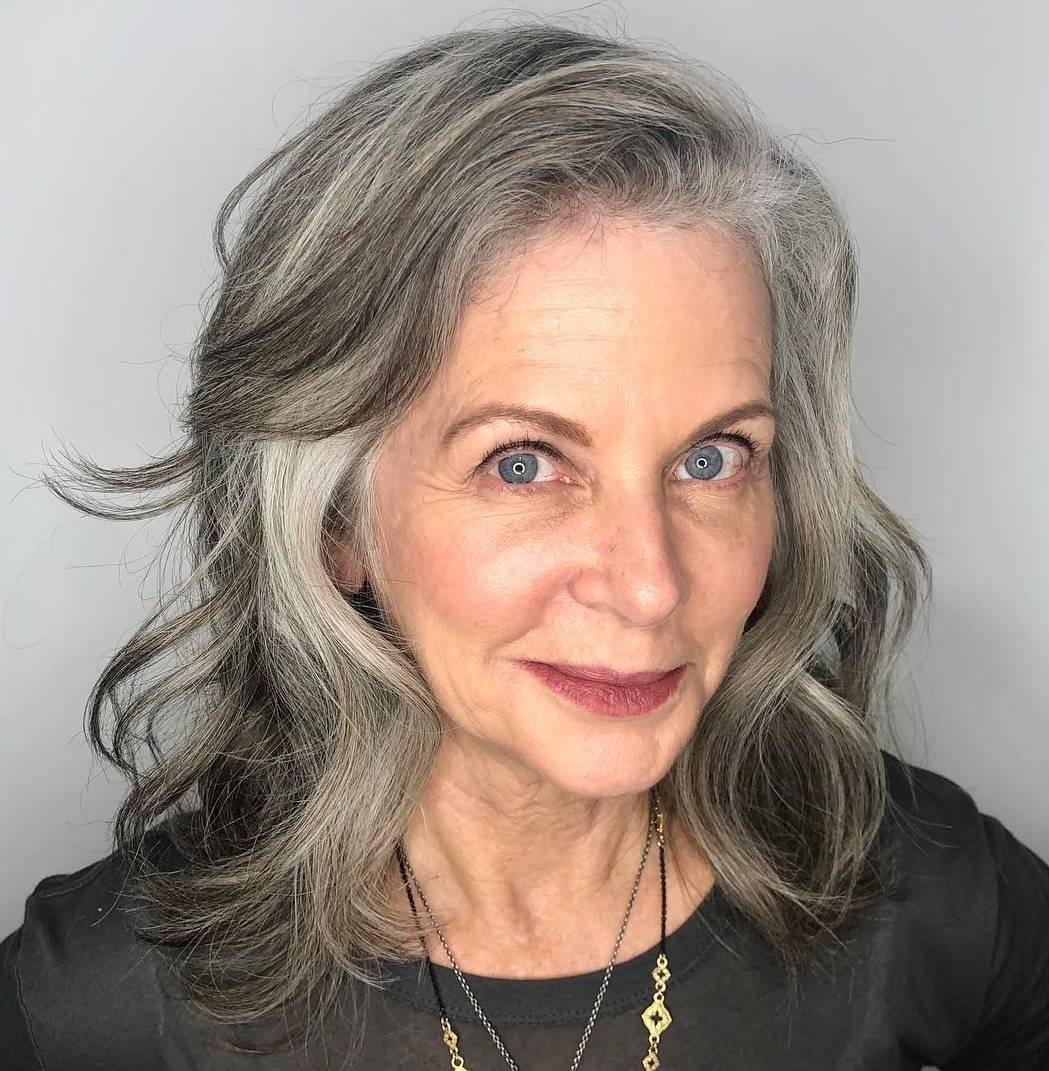 Textured waves below the chin are a go-to for heart-shaped faces, as they balance the lower part of the face and create plenty of movement.
Choosing Gray Styles for Different Hair Types
Whether you like it or not, but graying comes not only with a color change, but also with transformations in the hair texture caused by the age-related process. "It is unclear why, but the biological process that affects the color of the hair likely also affects the structure of the hair being produced as well," says Joshua Zeichner, Director of Cosmetic & Clinical Research in Dermatology at NY-based Mount Sinai Hospital, to Allure.
That's why an old lady might feel her hair coarser and even thicker, while actually, it becomes thinner. And that's why you need to discuss your hair texture with a hairdresser prior to getting a cut, since your tresses might require some treatment to hold the style or it might be even better to opt for another 'do. Here are some options to consider for various hair types.
The mix of random white and gray adds fun to this curly hair, and we know that curls are also great for creating volume.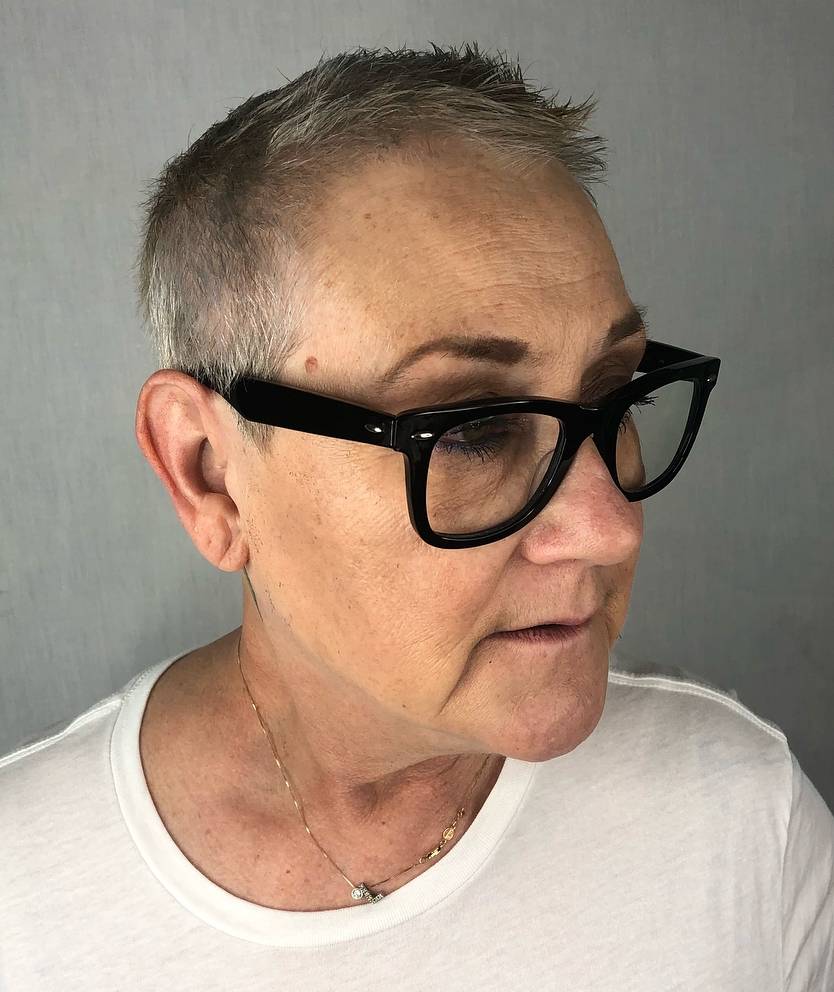 This crop cracks the problem of fine hair ultimately, leaving the strands to sit close to the scalp for a denser feel.
It's a nice idea to embrace frizzy hair by making the texture a part of a quirky twisted hairstyle – both dimension and low maintenance are guaranteed.
All you need to tame your thick coarse locks is a bulk-removing layered cut and messy styling. Sure, it will look sassier with those dark streaks.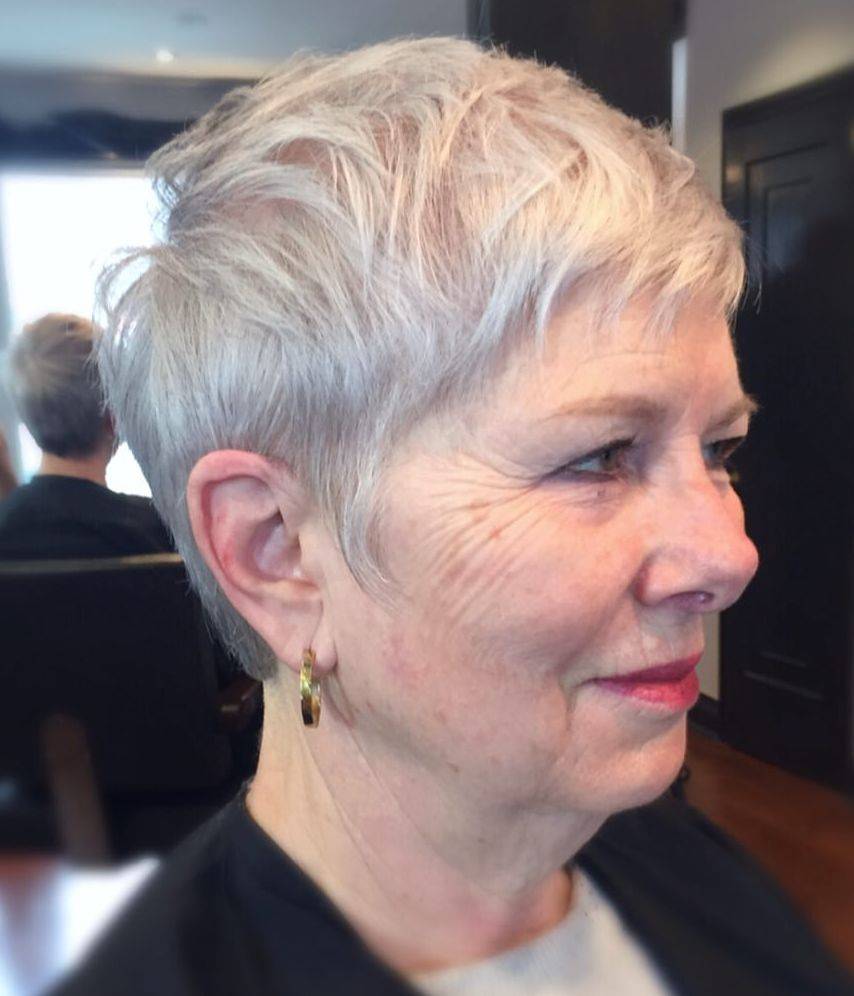 A textured pixie works fine for thin tresses, and you can hide the scarcity by pulling the locks frontwards. Don't miss this cute piece-y baby fringe – it's truly age-slaying.
Rocking Short Gray Hair
Short haircuts do a good job for gray hair because of that thinning we've mentioned. The more you chop off, the thicker is part left, since your hairs tend to grow thin and brittle towards the ends. Short cuts leave your hair with its stronger part and lighter weight to look denser and hold a lift better.
Besides, going short is a good idea when you're trying to grow out your gray. "Grow the gray roots long enough and get a short haircut so you can go directly to gray hair that way," says AJ Lordet, color director at one of the signature Frederic Fekkai salons, to Huff Post. Look through our pictures to find a couple of trendy cuts for inspiration.
This shaggy cut is perfect for showcasing a thick mane and radiating the awesome silver fox shade. Spice it up with a side-swept fringe.
This cute pixie is a nice fit for a lady over 60 with a wavy hair texture. We love both the lift at the roots and piece-y bangs, softening the face.
When wearing glasses, make sure your face is not overwhelmed – this rejuvenating spiky pixie is a case in point thanks to the lovely micro bangs.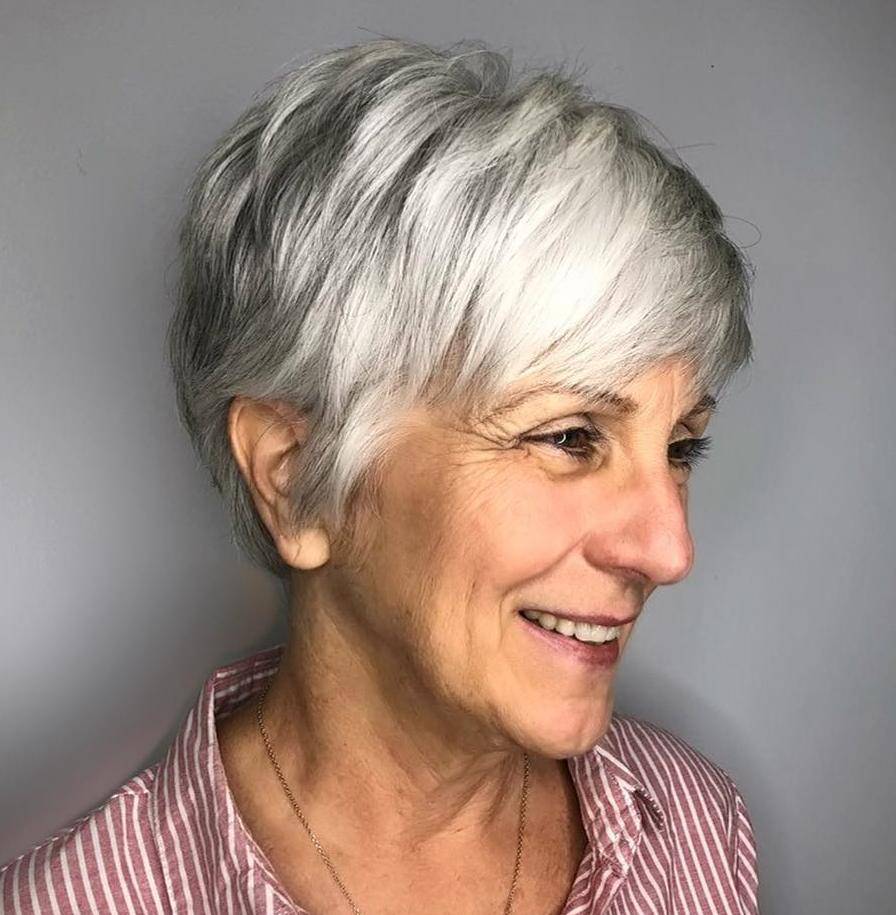 This is a longer version of modern pixie, catching the eye with its dense fringe and a shiny color, accentuating the texture.
The curly chin-length bob with bangs is so Frenchy, and it has that bouncy feel, making older women look younger and flirtier.
Nailing Long Locks
While short haircuts for gray hair promise low maintenance, long styles require an ongoing hair care routine, but it really pays off. Healthy silver locks look stunning and oh so feminine, also offering lots of ways to play with updos. To get things done, you need to focus on moisturizing, while avoiding hair care products that can make your tresses even drier. "I always recommend a cleansing milk. I find it much more moisturizing and it keeps the hair from getting too dry.
A cool blonde conditioner is great — the shampoo tends to dry out the hair but the conditioner deposits the tone, conditions the hair, and adds moisture," Aura Freidman, colorist who worked with Lady Gaga, Nicki Minaj and M.I.A among other A-listers, tells Allure. Meanwhile, we have a chance to enjoy healthy-looking and stylish long locks.
This is a great example of a lady over 50, embracing her beautiful natural silver, refreshed with some wispy layers.
This lady prefers rocking her long hair wavy – a clever move to soften the look, while the sliced tips add texture and a modern touch.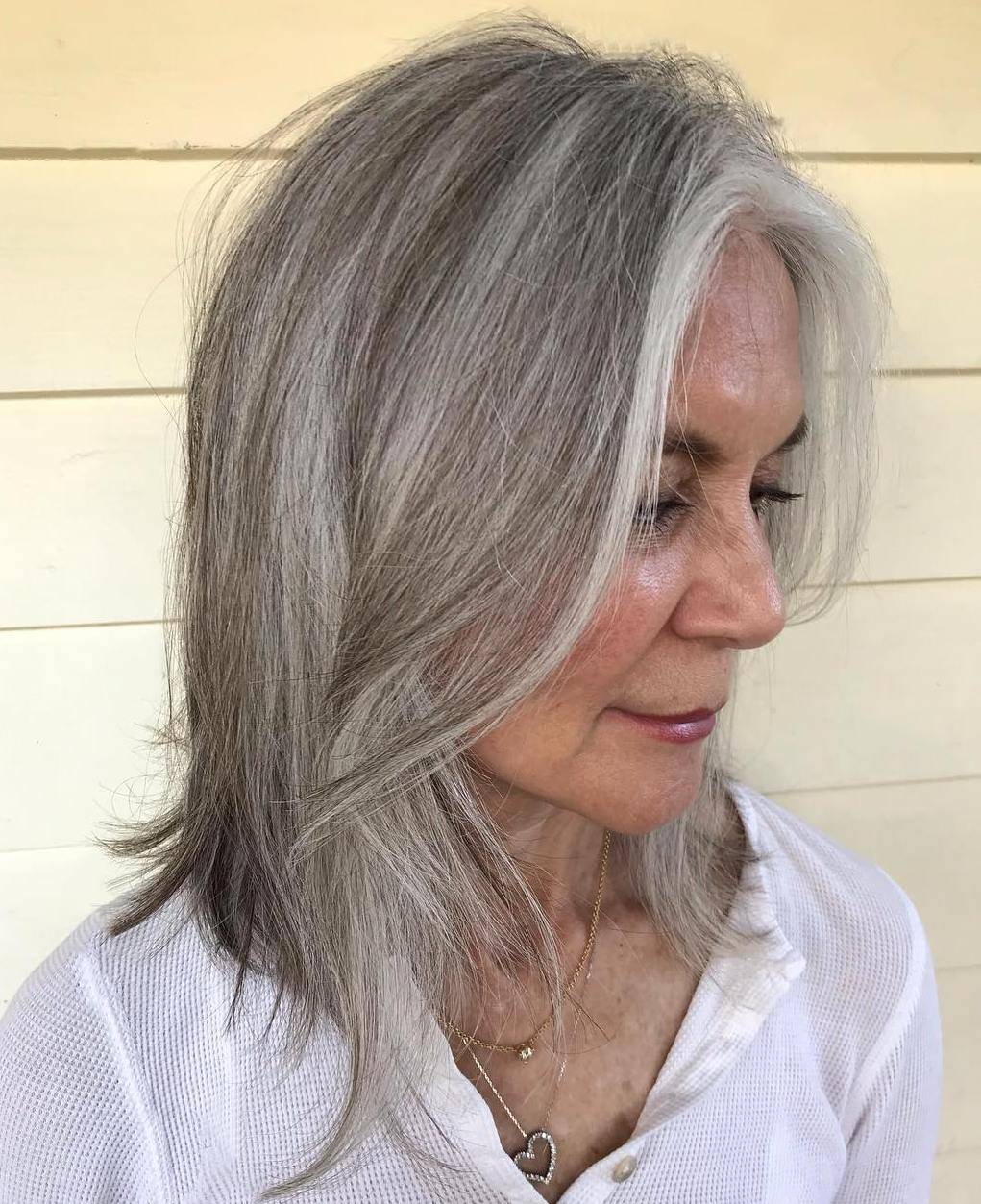 The long bob is never out of fashion, especially when it's customized through face-framing layers and highlighted with white streaks in the front.
When choosing a hairstyle with bangs, don't hesitate to ask for a cropped fringe that is seriously trending now, including when paired with long hair.
This stunningly lengthy and heavily layered hair makes us feel jealous! This proves that disconnection rules when it comes to thick or medium textures.
Bang-On Options for Black Women
Natural hair is a strong trend, and it goes well with natural graying. In fact, if you used to dye your hair and now you're going for your gray, the curly texture of Afro hair can make the transition less visible. But even if your hair is relaxed, the growing out is not all doom and gloom."Within five months or six months, you could be really near to your goal.
But (with) the line of demarcation, we need about an inch, and then we can start putting some highlights throughout, especially if you're dark, to try to mimic the silver. It breaks that line up, so it's not so garish. And all you need to do sometimes is just the top few layers," Lorraine Massey, renowned hairstylist and author of both Curly Girl: The Handbook and Silver Hair: A Handbook, tells in her interview for Chicago Tribune. And here are just a few hair goals to get inspired.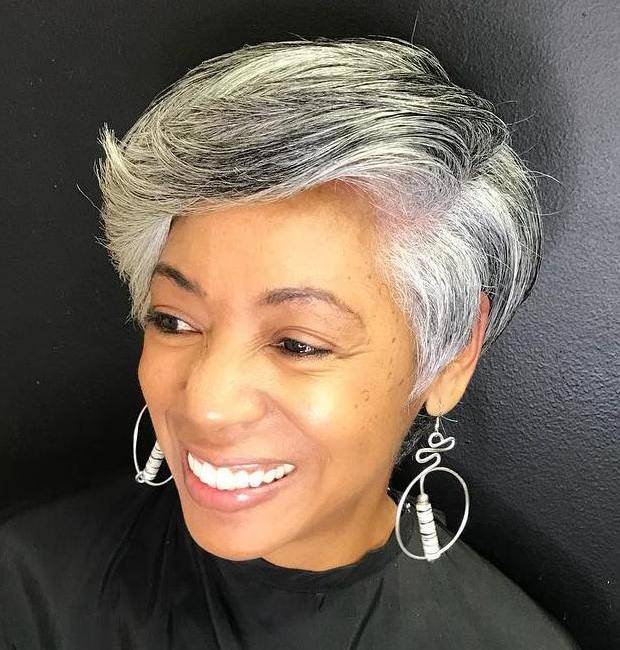 This African American gal nails graying, packed into an elegant short hairstyle with an astonishing flipped out fringe.
This ashy hair is natural gray with lowlights. We love the bounce enhanced through heavy layering on the bottom.
Crown braid hairstyles are not for young girls only! This lady proves that silver and grey locks can look really crisp when braided.
Yes, crochet hairstyles are also doable, blending well with graying. These gypsy locks shaped into an inverted lob that plays with colors and textures are just fascinating.
Bold enough for a very short cut? Steal this bang-on teeny weeny afro, adorned with a fun splash of white.
10 Best Hairstyles for Gray Hair We Cannot Resist
Do you still think that a gray hairstyle will make you look older? But it's not about the color! "I'm working with people who are celebrating their natural gray, but at the same time, 20-year-olds are coming into the salon wanting to be bleached with gray applied on top," says Josh Wood, Redken's Global Color Creative Director, to Refinery29.
With so many young girls striving for silver and with a bunch of older celebrities rocking their gray, who can say it's not crisp and trendy? The key is to take good care of your hair and to find a flattering age-slaying hairstyle – and we have 10 more looks to prove this is doable.
This silver bob with shadow roots is just the thing for thin-haired women. It builds the required depth, while layering adds dynamics.
This lady sports her white hair with a side-swept fringe and laid back wavy styling, supplemented with a fancy loose braid in the back.
The salt and pepper solution is one of our favorites for gray hair, and this voluminous hairstyle looks vibrant with its messy curls.
If you are not blessed with natural curls, go for perm to juice up your tresses with trendy beach waves.
This shoulder length shaggy bob sparkles with an icy shade of blonde and boasts plenty of texture due to the sliced ends.
What an elegant 'do you can have by pulling your silver locks into a perfectly polished ponytail, curled to get an impressive bounce!
This pink streaked pixie is miraculous! It blends perfectly with natural white and gray, and creates a dramatic contrast between the shaved sides and long top.
And this crop is ash gray with platinum highlights, but it's by no means flat thanks to the razor-cut texture, some lift in the back and a layered fringe.
If you want to look rather edgy than elegant, opt for a bolder pixie cut coupled with cool tapered bangs and shaggier layers.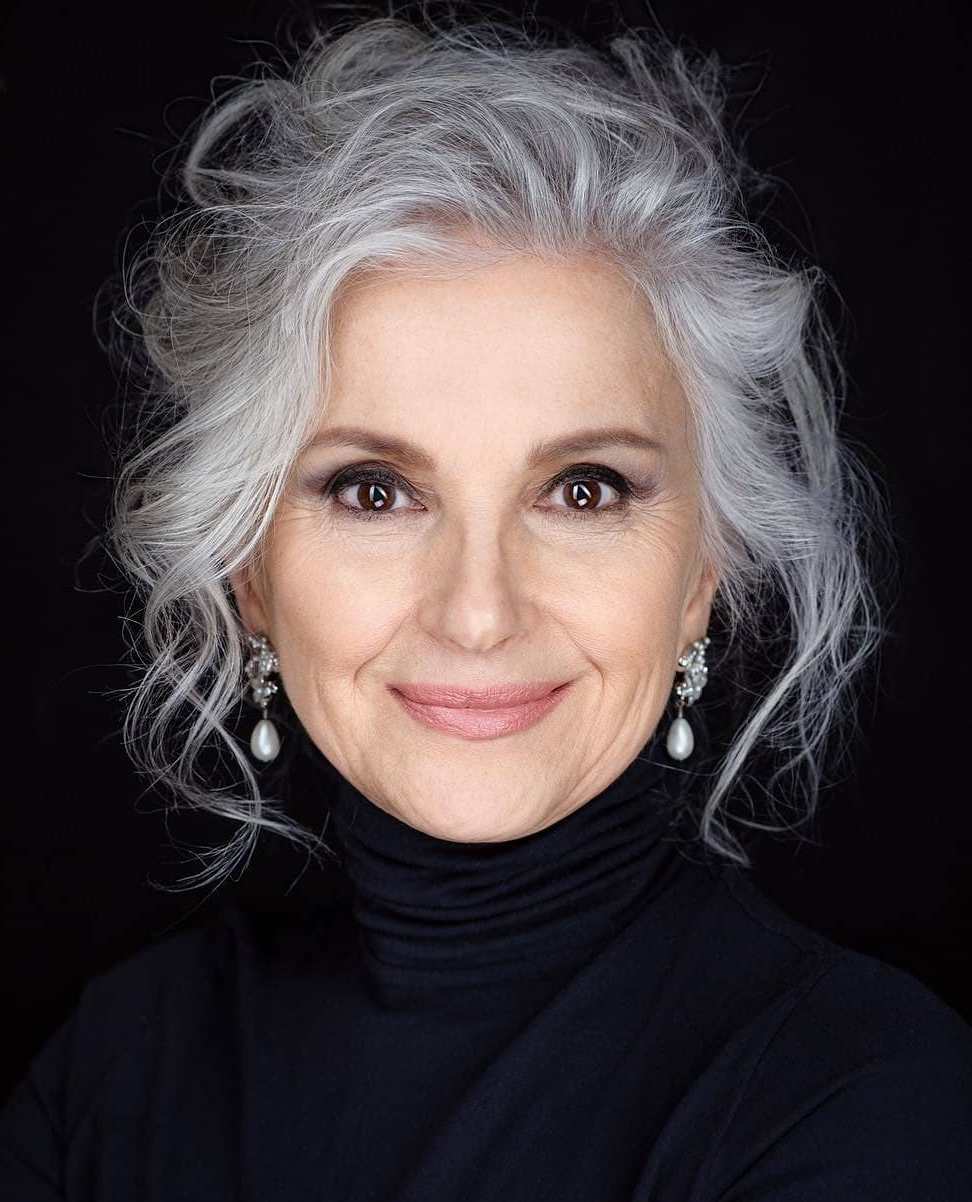 Here is a nice example of face-framing pieces, softening facial contours, creating dimension and bringing in a romantic touch.
From coveted silver fox to funky gray and pastel color combinations, gray hairstyles are versatile, modern and sexy. Though the transformation can be challenging, the result will be rewarding, provided that the style is chosen smartly. Take one of the pictures with you to your salon, and don't forget to share your new look with our age-embracing gang.