Dreadlocks can be just what you need if you're looking to avoid the hassle of styling your hair. This hairdo not only lasts months but also looks great while doing so, which is why many people choose it as their go-to for low-maintenance styles.
The women who rock this style do so because they are looking for more creative ways to express themselves. Dreadlocks, for example, can be colored or left natural. Anyway, it's been around forever and there's no sign that it's going away as a popular choice for those who want to try something different.
A timeless classic, it's an effortless style that will take you through spring and summer with ease! Here are a few ideas on how to wear your dreads. Keep reading!
1. Short Dreads
What's cuter than a short dread style? These locks have the same sassy quality as your go-to bob, but with even more attitude. Chic and simple to care for – all you need is in there waiting! Short hairstyles like dreads are great because they not only look great on everyone and come in different lengths, but they are also easy to maintain. No more worrying about pesky things like making your own hair look nice!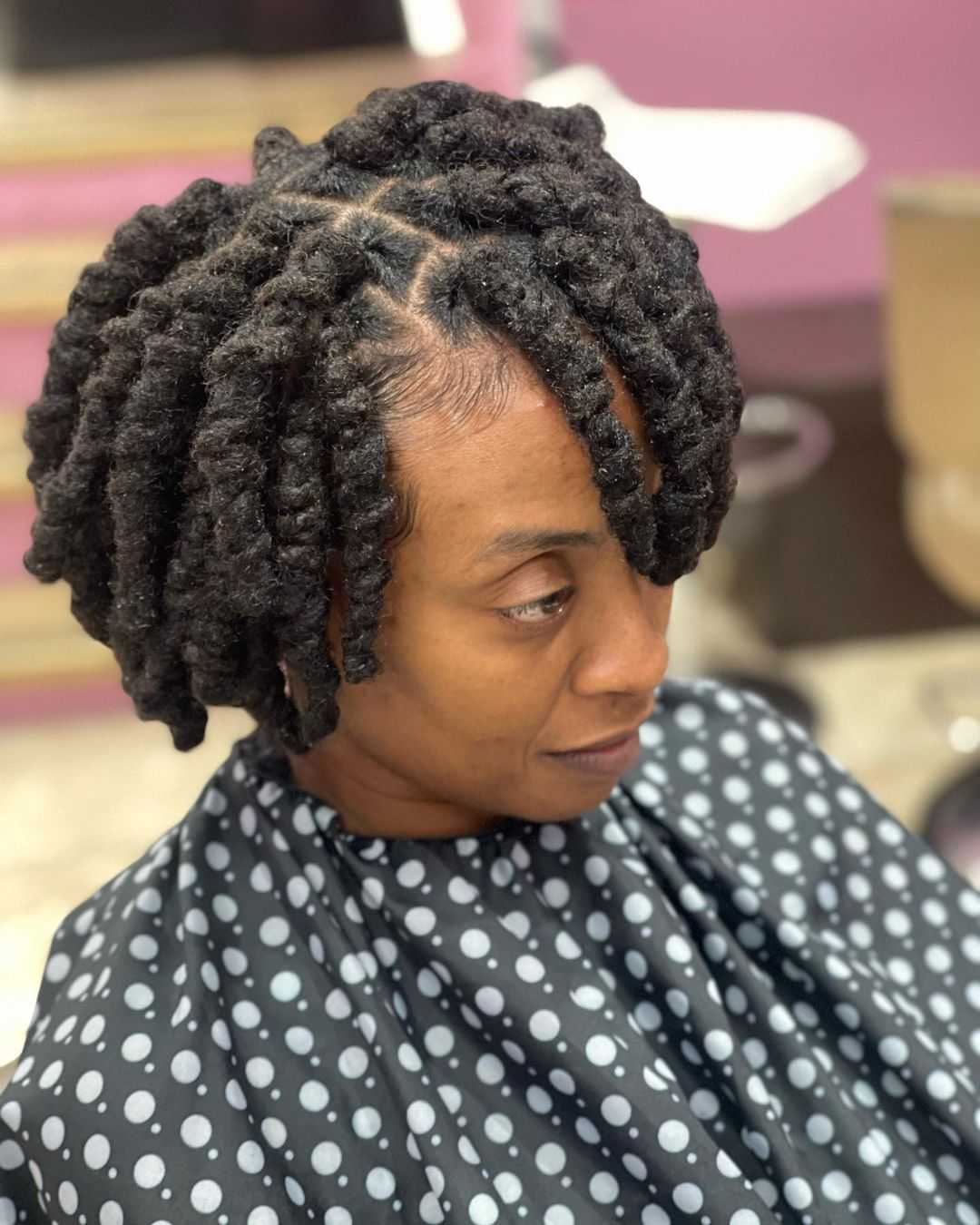 2. Dread Twist
This hairstyle is truly a work of art! There are many styles to choose from when it comes to dreadlocks for black girls, but this one is special. A series of twisted hairs are woven together to create an Instagram-worthy look that you'll want to show off on your next date or when meeting new people at the club tonight. Spice those locks up with an undercut too for some extra flair IRL (in real life).
3. Updo Dread Style
The best way to create a statement look is with the addition of dreadlocks. Whether you go for an upside-down bun or let your strands hang freely, this hairstyle will put you in the limelight. Try pairing it with some bold eye makeup and strong brows! You can also show off earrings that balance out what would otherwise be seen as a heavy top.
4. Braided Dreads
Braiding your dreads is similar to plaiting but it will give your hair some thickness and hold the style better than traditional braids or weaves! A three-strand braid looks great for special occasions like weddings because it has a feminine feel about it, but it can be just as fun on your regular day. This easy hairstyle never goes out of vogue (we hope!).
5. Couple Finger Tattoos
After years of waiting, patience will be rewarded with a long beautiful hairstyle. Doesn't it look gorgeous? But not everybody is so determined. Luckily, you can have the long dread style without waiting for years. You just need extensions braided into your natural hair and you're good to go! Put them on and take them down whenever you want.
6. Mohawk Dread Styles
In a world where everyone is trying to stand out, mohawk dreads are a perfect look to show off. This style isn't just for streetwear anymore; it can also be worn at school or even work if you are in some creative industry! Form your locks down the middle with sides shaved short. Since it can take months or even years for them all to grow out, you don't have to worry about how it will look in a few months (still gorgeous!).
7. Cute Dread Styles
A lot of us women just want our hair done without spending hours fussing over what helmet-like braids. Well thank goodness we found this quick fix. Those cute mid-length dreads are simply gorgeous. Just twist or pin one side to give yourself an elegant look that will still impress your coworkers on busy weekdays when you're running out the door with morning coffee before work starts.
8. Dread Retwist
Cornrows are the perfect way to show off your dreads and get a tighter braid. Not only will they make you look good, but cornrow braids can help with transitioning into longer styles like twists or weaves by keeping hair out of sight. Also, are you a fan of red? You can dye the tips of your dreadlocks red and keep the rest of your hair natural.
9. Medium Dreads
Growing your dreads to a medium length is the perfect look if you want tighter, thinner locks. This polished style has an elegant feel. It works great during all seasons, but it will really shine in the colder months when you want your hair styled slightly tighter. You also have more freedom over what type of accessories will show on top – rings and shells work well here!
10. Crochet Dreads
The term 'crochet' gets used a lot when it comes to dreads. This trend may be the next big thing in dreads. It's a revolutionary technique that not only makes you look thicker and smoother but also less expensive than installations! With crocheting, your locks will stay tight no matter how much time has passed. Also, crocheted hairstyles appear more natural than many others.
11. Fade Dread Style
It's no secret that men are the ones who get to rock this trend, but women can give it some extra flair too! If you want a low-medium fade or high fade on top of your existing long dreads just make sure they don't go shorter than an inch. This look is great during summer because there's less work involved in maintaining those longer locks – win/win, right?
12. Pineapple Dread Style
The messy bun is a popular hairstyle that's been around for quite some time now. The pineapple, on the other hand, has only recently taken over as an alternative due to its flatter structure and more liberal use of the product in order to create a texture like leaves from a fruit sticking out at different angles or directions – just not all facing upwards!
13. Ponytail Dread Style
There are so many ways to wear your dreaded hair, but this look might just be the easiest. For a majority of people, it is all about piling up those locks into an unruly ponytail and calling it a day. But if you're feeling more creative with styling then try to add some hair accessories like a thick elastic or hair scarf. Whatever works best for YOU will also turn heads on the streets.
14. Cool Dread Style
Long dreads are great for creating the half-up, half-down style. Instead of wearing your hair in a straightened manner all day long, try using big elastic to achieve this look instead. It will help you keep it up during the day while still looking put together and sexy during the nighttime! To make your look bolder, try dying your dreads a bright color like this bubblegum pink. And then go ahead make this absolutely epic Instagram pic.
15. Palm Tree Dread Style
This hairstyle is a popular way to wear dreads for both lasses and lads. The look involves spreading your hair out in the shape of an elegant, wide-brimmed hat resembling delicate palm leaves that hang limply to the sides. You can easily create this style with any type of large claw clip or by using hair ties that wrap around like vines binding their prey into captivity.
16. Curly Dreadlock Style for Women
If you're not a fan of simple and straight dreadlocks and always wanted to experiment with different hairstyles, curly dreadlocks are the perfect option. Getting tighter hair can be fun for those who have medium or lower-length locks. Practice is important to do this properly, but it looks absolutely stunning when done correctly.
17. Soft Dread Hairstyles for Women
Soft, pretty locks are the perfect look for when you don't want to go all-in with a more bold style. You can keep your hair simple enough so that it can be worn on any day and go nicely for nights out. Therefore, for those who are more reserved, a soft and feminine dread is ideal. The combination of this pretty style and understated makeup makes for the perfect casual yet glamorous look!
18. Wool Dreads
If you're looking for a protective style, wrapping your locks with wool is the way to go. It will prevent frizziness and make any outfit look better as it adds that extra touch of chicness! For different color combinations than just black or brown choose shades such as red/burgundy or white so they really shine through. Please remember that wool dreads will be heavier and take a longer time to dry when wet, so you won't be able to wash them as often.
19. Dreads in Wedding Hairstyle
Picking up dreadlocks in a cute bun is one of the most practical ways to style your hair for a fun, yet formal occasion. When dressed up in an elegant outfit it can exude grace and refinement that would be appropriate for the wedding reception or job interview. It will also be perfect for casual events such as picnics on Sundays when you'd rather not put much effort into doing your hair.
20. Half Dread Hairstyles
A full head of dreads is not for everyone, particularly if they interfere with your job oк your studies. But there's an excellent alternative for those who want their hair styled differently. Have you ever heard of partial dreadlocks? If you are not sure whether you want dreadlocks or not, this is a good option. They are very similar to traditional dreads but somewhat lighter. With this hairstyle, part of your hair remains loose (usually on top of your head).
21. Urban Soft Dread Hairstyles
Looking for a light, pretty, and girly way to style your hair? Try these soft dreads. Due to their pretty spirals and versatility, they were super popular in the 2000s. And they are making a comeback now! A messy updo is a great way to style your soft dreads, but always consult with a stylist for best results. Don't forget to add a personal touch to the hairstyle once you've achieved your desired look!
22. Hippie Dread Hairstyle
The easiest way to recreate the hippy dread look is by accessorizing your dreads. You can add some personality and creativity into the mix by adding scarves, necklaces, or other jewelry pieces to the strands of your hair. You are going to love this look if you are into the traditional old-school vibes.
23. Yarn Dreads
When it comes to wrapping your locks, yarn serves the same purpose as wool. "Yarn" can refer to any type of material, whereas "wool" is solely derived from sheep's hair. Compared to natural yarn, synthetic yarn offers all the benefits without the cons, and it's available in many textures such as silk, which makes it an excellent option for those who are allergic to wool.
24. Crinkle Dreads
Here's another quirky and fun way to style your traditional dreadlocks. As with mermaid waves on straight hair, you create them by following the same steps. Wet your dreads, then braid three locks at a time. Make sure you tuck all your braids into a hairband and allow them to dry. Your dreads will then have cute kinks and waves when you carefully unbraid them.
25. Wavy Dreadlocks
Wavy dreadlocks are a fun and creative way to change up your style, but they are best for medium-sized locks. You can make them wavy using silk or satin-covered hair rollers, just like with regular hair. And to achieve an even more romantic result, apply setting lotion on dampened locks before braiding them tightly and then leave it all to dry. You will love the outcome!
26. Bohemian Dreadlocks
If you want to go full boho mode, it's time for dreadlocks. The look is already associated with natural beauty and spiritual vibes, so why not go for it? Your locks will take on a whole new look with nature-inspired decorations like shells, flowers, or beads. The earthy vibes will definitely suit your taste when it comes to fashion and be a reflection of your personality.
27. Rasta Dreads
These dreads may be a religious symbol in Rastafarianism, but they're also aesthetic. Connecting with African roots and letting your natural hair grow without interference is key to this look! And do you know what is the best part about freeform styles like these? There are no unnatural techniques used to create them so you can use any shampoo.
28. Pin-up Dreads
The beehive updo is a stunning hairstyle that can help you create an elegant and sophisticated look – even with dreads. You will need some really voluminous locks in order to pull it off effectively! The best thing about it? It's easy to recreate. Just gather up all those twists from earlier and put them into one big bun before gently tucking under strands so they hang down over either side.
29. Faux Locks
With fake dreads, you can get that perfect streetwear look without the commitment. You'll just have your real hair braided and wrapped in some beautiful natural-looking locks. Whether they're made from synthetic or natural hair crochet threads, these fakes will give you all of those benefits with none of the work.
30. White Girl Dread Style
Depending on the type of hair, dreads may not form as quickly or easily. However, even though the process is not so straightforward, eventually the locks will be formed. There is a tendency for such dreadlocks to form only on specific parts of the hair, leaving the rest loose. It's no wonder that they're called 'neglect dreads' since they require little effort.
FAQs
What are dreadlocks?
Hairpieces twisted into rope-like clumps are called dreadlocks. Various methods, such as backcombing, rolling, or braiding, may be used to achieve this hairstyle. Dreads can also be complemented with a wide variety of synthetic and artificial elements, such as extensions and multicolored locks.
How to get dreadlocks?
Learning how to make dreadlocks with your hair is not an easy task so it's best to have a professional do it for you. It can take up to a year or more for the locks to form. But even though it takes time and patience, in return, you will get a style that looks amazing and lasts for a very long time.
How do you wash dreadlocks?
After you wash new dreads, they will appear a little more loose and messy. But don't worry! This is just part of the process. If you don't wash your locks based on the assumption that they may become messy, you will only end up with gunk and buildup that will further damage your hair. Just learn how to wash dreadlocks properly. You can use your regular shampoo but be gentle. And when you first get your dreads washed, they might get a little bit looser and messier. This is just part of the process. As your dreds get more mature, wash them at least once a week. You can use an extra-large shower cap the rest of the time when you take a shower to protect them from the humidity.
How to get rid of buildup in dreadlocks?
There are two main ways that product buildup can occur in your locks. You may use the wrong products, or you might not thoroughly remove old ones and leave behind a residue, which causes more hair to stick. Try using a clarifying shampoo to remove your residue. Your hair will feel renewed afterwards. Dreads can also be effectively cleaned with baking soda.
What is the best hair type for dreadlocks?
Despite the fact that dreads can form in any hair type and texture, certain kinds tend to bind more easily. Dreadlocks are best started on coarse and textured hair. The wiry texture of this type of hair makes it easier to tangle and create dreadlocks since it bonds together more easily.