The 60s was a time of change in women's fashion. Some evolving trends followed what people were doing at home or when socializing with friends, while others were influenced by social and political movements. So what was it like to be a woman in the 60s? What fashion choices were popular and why? Let's dive deeper into this topic.
Casual women's outfits in the 60s
Some of the most popular casual items were button-down shirts or turtlenecks with chunky sweaters. Young ladies would also wear short jackets made of suede-like fabrics and incorporate some shiny plastic-like vinyl details. Most women, however, opted for a blazer-type jackets that would be pretty enough when paired up nicely with dresses but still comfortable during those lazy weekends spent hanging out at home in jeans.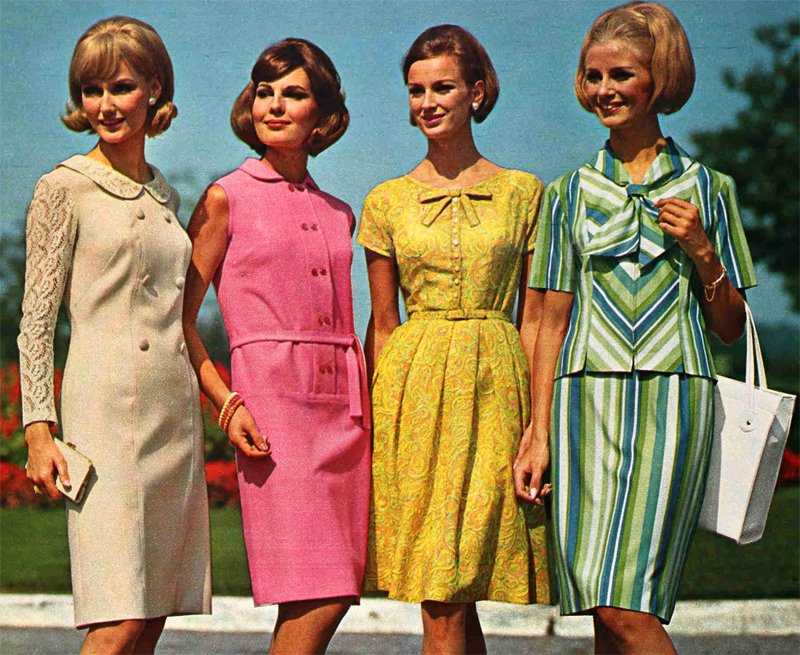 Women's pants in the 60s
One of the most popular items was the classic Jax pants with a very high waistline, side zipper, and long slim legs. They could be worn with the blouse both hanging loose or tucked in for more formal occasions. The knit stretch pants and stirrup pants were also popular for some time and it didn't matter whether the stirrup was visible until ankle boots became fashionable; afterwards, this look became a no-go.
Women's business fashion in the 60s
The 1960s witnessed the rise of a new trend in American fashion: preppy. The Kennedy administration – with its First Couple as iconic examples. Their influence shaped what people would wear at such an important period. It was a decade full of changes for women's office fashion, both subtle and obvious. While clothing in trousers was still uncommon at the workplace for women, they had become very popular outside of work.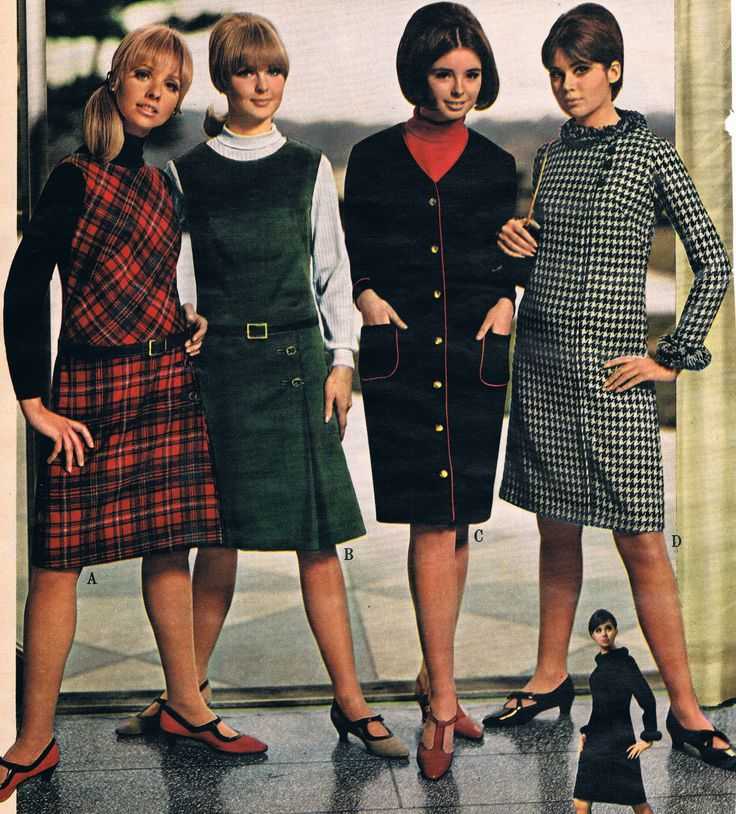 60s women's hippie fashion
During the hippie era, psychedelic colors were everywhere! Paisley swirls, neon flower daisies, and tropical beach prints were super common. Also, earth tones were all the rage. Moss green was a common scene throughout this time, and those who wanted an extra punch in their look without going too far with bright colors or patterns could choose burnt orange and mustard yellow.
Women's miniskirts in the 60s
The swinging 60s was a time of social change, and the miniskirt became an iconic symbol for it. The young people did not want to be like their parents, they didn't want clothes that were "dowdy" or restrained in any way. It also signified something else too – the start of our modern culture which values freedom over tradition! Miniskirts typically came in plaid, pleated, and corduroy. They would be worn with tights and tall go-go boots.
The 60s aesthetic in clothes
The 60s were the time when popular culture and fashion trends shifted as a whole towards a new, noisy, bright emphasis on youth. The general mood was hedonistic whereas the events like the space race provided inspiration for futuristic designs. This whole decade's aesthetics is all about freedom of expression and rebelliousness.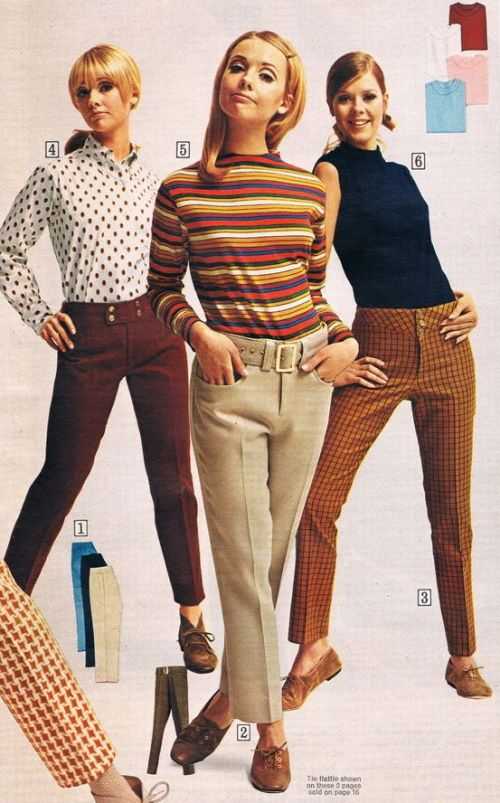 Black women's fashion in the 60s
From wearing vibrant colors to emphasize their skin tones, African American women in the early 60s were constantly pushing boundaries and redefining beauty standards by making themselves more colorful than ever before. The "Black is Beautiful" movement was a response to the global sentiment that black people are also beautiful. Fashion icons of this time transcended boldness and pride through their looks.
60s women's hat fashion
There were many different hair accessories and hat fashions that captivated young people's minds, such as wide satin headbands and scarves to keep hair at bay. Also, cloche hats experienced quite possibly their biggest revival here too as a part of mod style outfits, just like pillbox hats and flower hats were used to complement Jackie Kennedy-inspired look.
"Less is more" in the 60s women fashion
The younger generation's demand for informal but stylish clothes led to an explosion of fast-moving, ready-to-wear styles and a new boutique culture known as "youthquake".
This period saw new looks inspired by futuristic vibes while also embracing natural materials. No nipped-in waists here – just loose-flowing silhouettes.
60s women's suit fashion
Suit was the most professional choice for looking classy and ladylike. Every working woman in the 60s wanted to wear one. A typical combination was a dress or a skirt with a separate top worn with a matching jacket, but a feminine version of a traditional men's pantsuit was also very popular. For mature women, the tailored suit with a pencil skirt or cropped jacket was a popular choice. Young girls looking for something more eclectic would prefer knit suits and open cardigans.
60s women's top fashion
Casual clothing in the 1960s was quite different from the 1950s. The primary change that took place from the previous decade was for tops and sweaters to be worn untucked – straight on top of your body without emphasis placed upon bust or waistline; shirts could also hang over pants and skirts, growing longer as time went on. The necklines would become higher too.
60s rock and roll women's fashion
The 1960s proved to be a decade of individual expression, and it was particularly seen in rock and roll fashion. Miniskirts and trapezoid dresses were all the rage and girls would pair them with go-go boots or anything else that would show off their legs. The granny dresses worn with leather jackets were also very popular.
The 60s psychedelic women's fashion
The late '60s saw a movement of anti-fashion, which became so popular it soon transitioned into mainstream fashion. Early on, young people who attended festivals like Woodstock dressed in psychedelic colors with sixties style shifts or wigs as their hairpiece – but they were still wearing the latest styles from stores. Also, tye-die was super popular.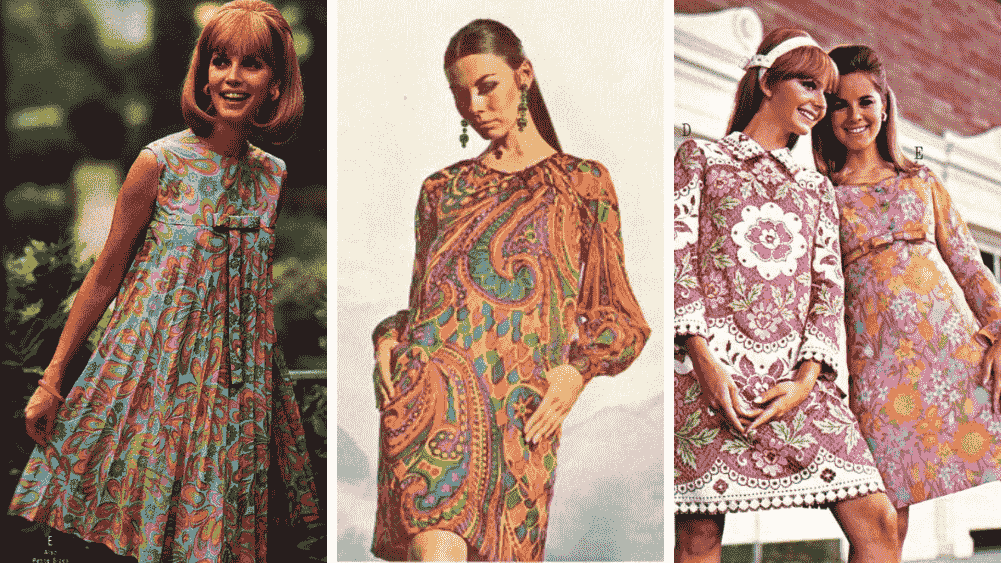 60s women's shoes fashion
With legs now fully exposed, things took a drastic turn from high fashion to streetwear and practicality. Women could choose between high-heeled boots or low-heeled shoes depending on their preference and the occasion. Due to new materials, such as PVC (Vinyl), shoes could be mass-produced at a low price and come in a variety of bright colors. There was no need for sophistication when you could be wild about your outfit without sacrificing any elegance or glamour.
60s jeans fashion
Faded denim jeans were the go-to for young people looking for ways to express themselves. On top of their jeans, many hippies added flower child decorations, such as patches and embroidery paintings. As a result, the folk-influenced mainstream designers turned back to homemade ethnic arts and crafts styles too. Bright yellow and brown suede were the signature colors of the ethnic-hippie movement.
60s summer fashion
Mini-dresses, skirts, and jumpsuits were an essential part of summer in the 60s. The popular outfits included skirts that varied in fit, from pleated A-line dresses to straight-based ones for those who preferred it that way. The designers would use different materials and cuts that were perfect for the summer. Outfits featured solid colors and bright prints.
Fashionable dresses for women in their 60s
The beauty of being an older woman is that you have seen it all before. You don't need to be trapped by someone else's vision, or follow everyone's latest trends when they won't even last two months! Being in your 60s is the best time to wear timeless styles. Properly picked and styled clothes will work for any age.
60s glamour fashion
Modernity meets tradition in the style of 60s glamour. With roots in film-making, this tendency is all about drama and glitz (think Audrey Hepburn or Catherine Deneuve). Glam is known for its bold prints, sparkling jewelry, and other rich details. It was largely used in cinema as a perfect symbol for the true drama playing out all around it.
Twiggy – fashion icon of the 60s
It is true that Twiggy took the fashion from hourglass-obsessed to a more gaunt and lanky fit, but she also changed the attitude towards flat-chested women who were considered not so good looking in the 1950s and early 1960s. Twiggy often incorporated men-inspired clothes into her wardrobe. She also introduced miniskirts with bare legs or fishnet tights and many more. Her style is a true inspiration even today.
60s French fashion
The 1960's are hands down a golden age in women's fashion. In the 60s, French women wore a more laid-back style. They would rather go for more neutral casual outfits than psychedelic hippie looks. The icons like Jane Birkin, Brigitte Bardot, and Catherine Deneuve had mastered that perfect combination between elegance and carelessness.
60s bold prints
In the sixties, bold and striking prints were an essential element of style. These loud patterns ranged from psychedelic designs to colorful tie-dye or florals with bright stripes for good measure! Embrace the trend today with a dress, top, or matching set in a multicolored or black and white print.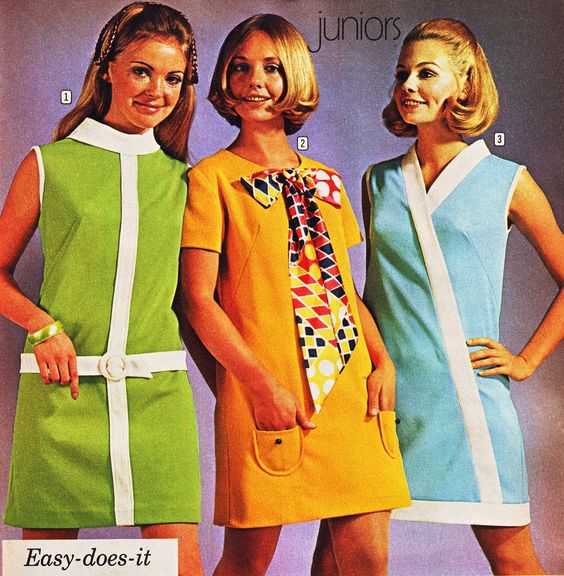 60s Italian fashion
The Italian auteur cinema also heavily influenced the way fashion was perceived around the globe. Federico Fellini and Michelangelo Antonioni in particular had a major influence on the Italian aesthetics of that time. In their films, they used lavish costumes that helped popularize stylized clothing. In particular, La Dolce Vita reaffirmed the timeless appeal of the little black dress and portrayed glamorous women as hallmarks of upscale Italian society.
60s street fashion
In the 1960s, fashion was breaking boundaries and traditions. The British influence led to the creation of daring hemlines that were popularized by Twiggy. This was the time when women had more fashion freedom than ever before in the sense of what they wore daily. There was a lot to get inspired by for sure.
60s beatnik fashion
The Beat Generation and their unfettered way of life were all the rage in America. This included a casual fashion sense, which continued on from what we saw during The 50s into the early-mid 60s. Their signature look consisted mainly of black turtlenecks or vests paired with jeans that fit tight around the legs. The outfits were teamed up by some cute beatnik hats such as berets and a nice pair of sunglasses.
60s black and white fashion
Black-and-white were major elements in the 60s style, but it wasn't just men who loved these combinations; women also got on board with their own statement looks that mixed black to white for an exciting new look. Wearing monochrome gave women authority and strength. It was the chance to break boundaries in fashion without going overboard.
Jackie Kennedy 60s fashion
With her understated but never boring sense of style, Jackie Kennedy defined what timeless American elegance would look like for decades. Her style was easy to imitate – minimalist, modern, ladylike, and stylized with a few accessories. Many of the recognizable trends of the '60s and '70s originated from her, such as pillbox hats, tailored coats, and strapless gowns.
Women's accessories in the 60s
Jewelry trends changed dramatically during the 1960s. The beginnings of the decade saw glamorous gold designs and feminine pearls. As the decade progressed, and mod fashion became widely popular, eye-catching plastic accessories became all the rage. Pop art-inspired accessories included striking geometric shapes, vibrant colors, and bold designs.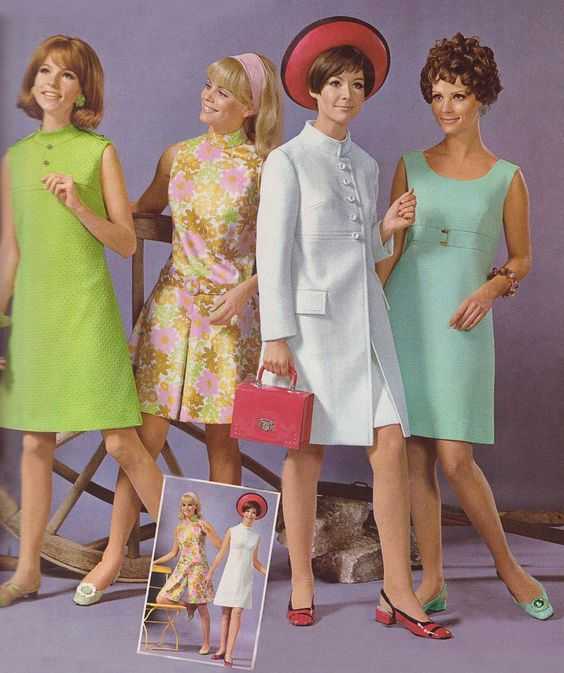 Go-go boots
Tall white shoes were a new style borrowed from the dancers in LA. They were called the "go-go boots" and they quickly became all the rage. The popularity spread quickly and practically everyone wanted them. They were usually worn with miniskirts and dresses.
60s swimwear fashion
In the early 1960s, swimwear was still a pretty conservative affair. But fashion ideals changed quickly with bikini and low-cut suit bottoms being introduced around 1965. By the mid-60s, nylon and lycra fabrics were becoming more common for swimsuit materials, and this was also reflected in the fit.
60s fashion turtleneck
Turtlenecks really took off in the 1950s and 1960s and became the epitome of relaxed, rebellious, and cool. It was an easy-to-wear, unisex design that put the focus on functionality rather than frills. Associated with the intellectual elite (and its wannabes), this item became a de facto uniform for diverse groups like activists, beatniks, nonconformists, and simply stylish women.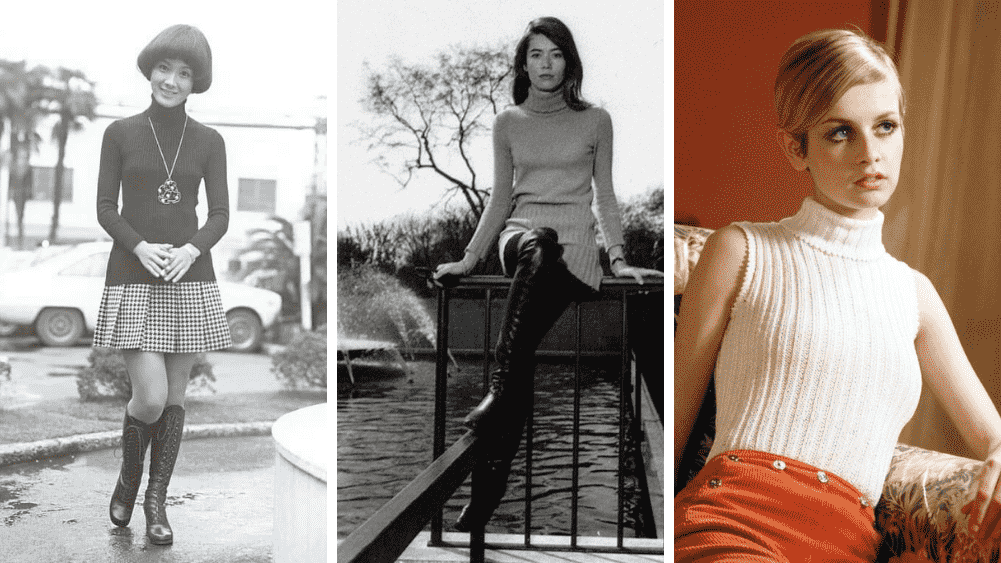 60s Western fashion
In the 1960s, fashion was a big deal. The designers broke many traditions to reflect society's changing attitudes and values during that decade, which led to more diverse outfits than ever before. As the decade progressed, fashions from small pockets in a few urban centers began to heavily influence both haute couture designs and mass-market manufacturers, shaping the trends we know and love till these days.
60s party fashion
While the 1960s saw many different fashions come and go, it is often remembered for its hippie-inspired clothing. The natural looks of this period are what usually springs to mind when you mention clothes from that decade. Indeed, hippies were the ones who partied the hardest, but let's not forget about more feminine trapezoid looks too. It's a classic.
Colored tights
Thanks to the sassy and youthful vibes of the 60s, colorful tights were another super popular trend that would make for a fun addition when paired with short dresses or miniskirts. It was an unexpected accent that added an eye-catching element to the outfit. Some of the most common hues of that period were orange, purple, yellow, and red.
60s makeup looks
The 1960s makeup look was all about making eyes stand out with a flicked upper eye line, vvivid eyeshadow hues, and loads of powder. The lips were thinly blushing or coral-colored, which looked lovely on fair skins. As the 1960s progressed, this style evolved into a more girlish look, typified by British models such as Jean Shrimpton and Twiggy.
1960s fashion icons
The sixties were one of the most stylish decades ever marked by iconic names like Audrey Hepburn, Twiggy, and Patti Smith. It was an era where no skirt was too short and the beehive hair was high enough to make any girl feel like a goddess (even if that feeling didn't always last). The 60s still provide designers with endless inspiration today, and it will never get old.
Frequently Asked Questions
How did women dress in the 60s?
From the psychedelic tie-dye shirts to wacky wild hair, 1960s fashion was bi-polar. Bright and swirling colors were featured in every design trend such as long skirts with Peter Pan collars or mini dresses that revealed the legs. PVC clothes and shoes were also having a moment. Denim jeans, culottes, go-go boots, and other trends have been spreading like wildfire among youngsters. There is no denying that this decade changed many traditions for good!
What did older women wear in the 1960s?
The 1960s were a conservative time for older women. Unlike younger generations, they weren't into the experiments. Most ladies would wear old-fashioned plaid skirts, blouses, and cardigans to match their signature hairstyle.
Which fashion trends were popular in the 1960s?
The 1960s were a decade of revolution. Specifically, women's fashion had some major changes that would go on to influence decades-to-come including mod and shift dresses paired with colorful tights or denim trousers, bold patterns like tie-dye, various prints, and miniskirts a la hippie culture – all this was topped off by go-go boots for extra youthful rebelliousness!
In the 1960s, what colors were popular?
In the 1960s, vibrant colors were pumped up for a striking effect. Yellow, green, gold, and orange were popular not only in clothes but in cars too! In previous eras, these hues had similar popularity but during this decade they became more vivid. Psychedelic combinations made an impact with their eye-catching vibrancy against one another.
I want to dress in the 60s fashion. What should I wear?
Every decade has its own unique style, and the 1960s are no exception. The long-established fashion trends from previous decades were tossed aside for bolder styles that would become a staple in many years to come. Bell-bottoms and miniskirts are timeless fashion pieces that have become iconic in our culture's memory. But this decade began with much more modest style choices – even if they still veered off into less conventional territory. So if you are looking for a '60s style, make sure to know what period you want to reflect in your outfit. For example, a casual, somewhat looser, but colorful vibe works for the late 60s look.