There is no need to go for the chop if you are bored of your regular hairstyle. The cute and effortless hairdos listed below will help you unleash your imagination and be different every day. Whether it's your first day at a new job or your first date: our fabulous updos fit perfectly into any occasion and suit any hair length. There are lots of options, so let's sort them out into categories and explore each of them.
Updos by Hair Length
Quick casual 'dos, funky knots or sophisticated buns with braids – you may think that the choice of updos depends solely on your preferred style. It's true, but the length and the type of your hair are also essential. So, let's start from the length and see what your hair is capable of.
Updos for Long Hair to Copy
If long hair is not necessary for a pretty updo, then what is? Take some hair styling products, add a YouTube tutorial and a bit of patience, and here you have a cute bun to stand out from the crowd. Add more time and effort, and you'll stay fresh on a hot summer day while emphasizing the beauty of your long hair with a braided topknot. Still, sounds too complicated?
Then don't tinker with braids and loops but use hair accessories, which are your best friends. "Try twisting the hair and securing with bobby pins or layer with decorative clips to hold the hair up," says Justine Marjan, hairstylist to Kardashians and Ashley Graham, to Refinery29. Well, long hair is worth working on it, and here are elegant updos to illustrate possible outcomes.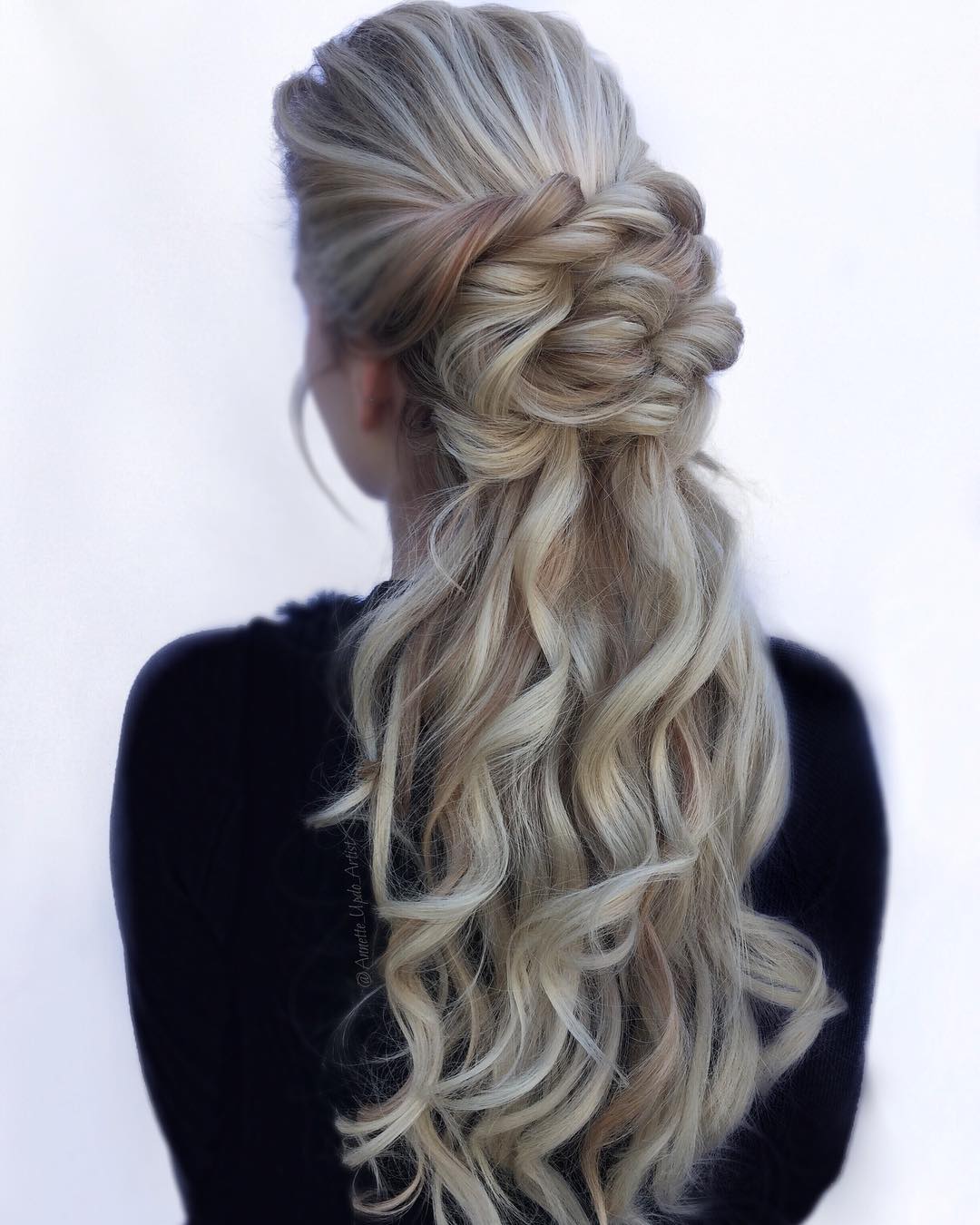 This half-up, half-down updo looks tough, but it's not, believe us. Just curl your hair into large curls, twist the upper half and pin in the back of your head. Hide the ends under the knot, and the perfect mermaid updo is yours now.
Brushed back, sleek knotted hair is one of the simplest casual updos. If your hair is straight and thick, you can't skip this elegant variant.
Sometimes it's so hard to make your thick hair hold. In this case, fix the bulk of the hair on the head crown and pin the ends with hair clips. A little bit of practice, and you get a gorgeous voluminous 'do for a prom or even a wedding.
A braided hairstyle is always here to make your day. Plait your hair starting from your part and make a messy twisted bun at the nape. And don't forget about adorable tendrils for face-framing!
The chunky braid and rolled chignon of this wedding 'do are as exciting as the event itself. Complete the look with a flower accessory for extra tenderness.
Cute Updo Ideas for Short Hair
We think it's unfair that with such numerous hairstyle ideas available online, the majority of them are designed for long hair. It's certainly tempting to create a fabulous 'do for long hair, where you have something to wind, braid, and tie into a bun. And how about lobs, jaw-skimming bobs or even long pixies?
After all, short-haired beauties deserve the same diversity of options. So, we've tried hard and found a pool of terrific ideas for short hair, and some of them even won't take your entire morning to style. Grab some bobby pins, hair ties, and hairspray, and go for easy updos that will transform your short hair.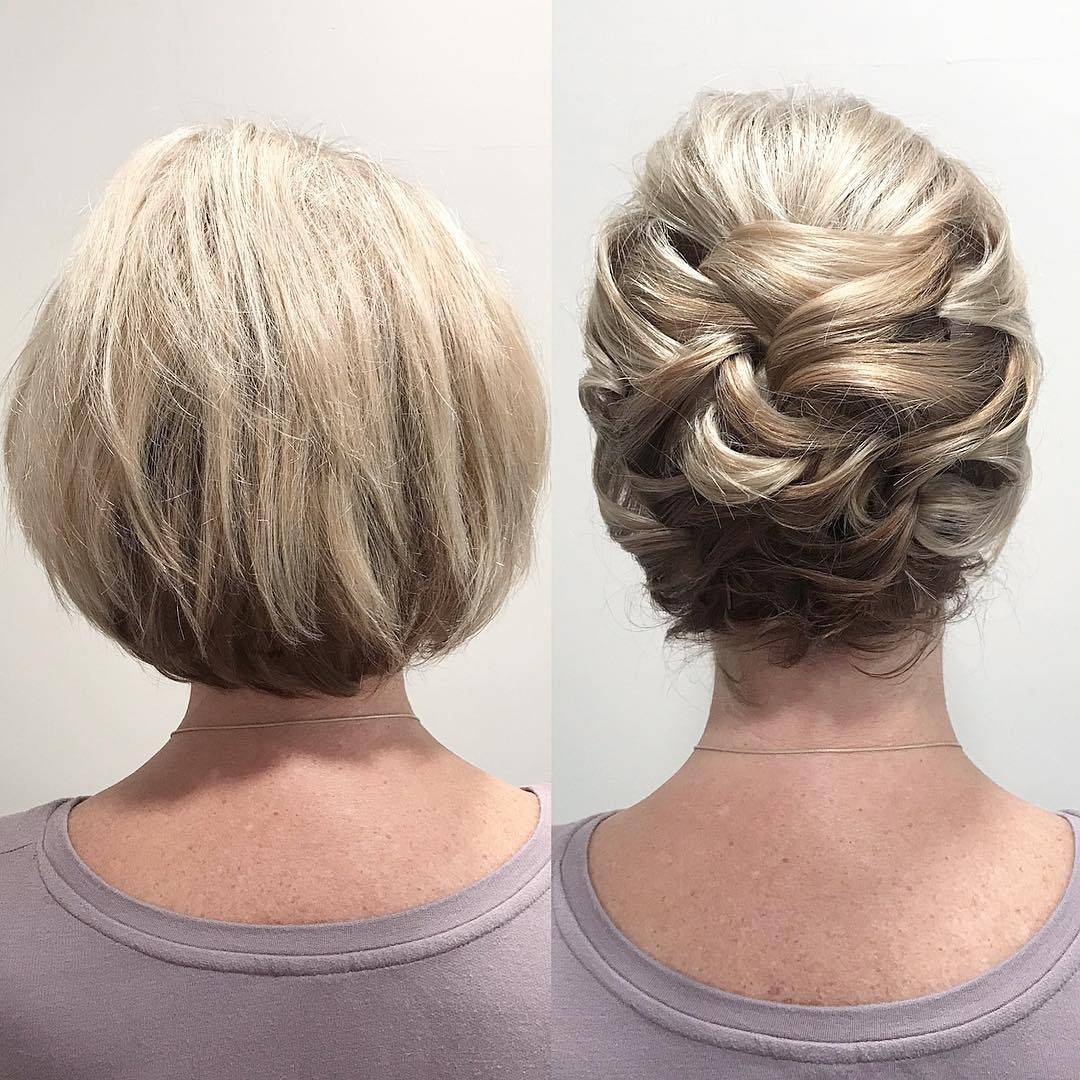 A stunning example of a woven 'do most short bob haircuts can offer! Just intertwine your locks in the back of the head and secure them with bobby pins. It's an excellent option for any dressy event.
Thin hair needs volume. And even a short cut can be amazingly arranged into a beautifully knotted chignon. A few loose pieces on the sides and a fancy hair clip are totally recommended.
Try a wavy bun with side twists for your short layered haircut. Add a bit of volume on the crown and leave some strands free to frame the face for a gentle, romantic feel.
Such a vintage updo needs shoulder-length hair and can take a couple of tries to get the hang of it, but it's truly worth sweating! You can complement the coif with big shiny earrings to make it look even more elegant.
A very short and layered haircut can be turned into an absolutely effortless-looking French twist decorated with fresh flowers or a sparkly hairpiece. And the best thing about this hairstyle is that you won't spend more than 20 minutes on it.
How to Arrange Medium Length Hair into Gorgeous Updos
Shoulder-grazing hair allows for plenty of gorgeous pulled up hairstyles. It's a hot topic for summer when you want to take your hair away from the face and neck. Besides, a pulled up style is more preferable for formal events. And what about everyday looks?
Take your time and check what we've found for your medium hair, and you will be surprised at how easily hairspray and a few tiny hairpins transform your haircut into lovely updo hairstyles. "It's almost like sculpting at that point," says L'Oréal Paris celebrity hairstylist Mara Roszak to Byrdie. "Just set your pins where you want the hair to kind of dip, where you want it to come out toward your eye, and then dip back in. You really can go in and create the shape that you want."
For this outstanding formal 'do, just sweep your hair back, make a side twist and twine it into a stylish chignon. For the best finishing touch, leave a couple of wispy strands to fall around the face.
Do you need a hairdo for homecoming or prom? Try this one with the lower layers rolled up and pinned to the voluminous top. It is so relaxed, yet oh-so-pretty – it will definitely help you become the belle of the ball.
Curly medium-length hair provides the base for creating stunning textured updos. Pull all the hair to the back. Then twist the lengths and pin them for a curly bun effect. You can also pull out a couple of strands to fall loosely for a careless impression.
Such a messy bun will take minimum time to style, but it will make you look and feel like a real lady.
A loose updo has become classic. It easily creates a feminine and romantic look. You can complement it with side braids, a scarf, or other details to make it stand out.
Chic Updos by Hair Type
Now you know how to make gorgeous hairdos that will suit your hair length. Well, let's proceed with hair types. Does it play any role in choosing an updo? We bet it does! Trust us, forcing your hair into a hairstyle that disagrees with the type of your hair adds much prep hassle and it can quickly fall apart despite the efforts you put into it. Vice versa, it will be smarter to show the natural beauty of your hair texture.
"It's equally important to take your face shape, the neckline of your dress and the weather into consideration, so your hair doesn't annoy you during someone's nuptials," says hairstylist Bridget Brager, who works with Kristen Stewart among other celebs, in her comments for People.com. Such a wise approach will help you achieve the right balance.
Ladies with curly hair, you are so lucky! There is no need for you to waste time with curling tongs in hands shaping waves for volume. Give some grip to your curls with hairspray and then just twist them into a lovely bun – and a stunning hairstyle is ready.
If you have thin or fine hair and want a more voluminous look, get a dimensional balayage first, and then try a breathtaking sculptured updo, such as this one, for instance.
The primary rule for fine hair: never try to make tiny curls – you will lose. You'd better go for fancy braids or polished 'dos to take gold in this competition.
Thick locks can be intricately twisted and packed into a massive textured updo. It can be messy or neat, but the messy one looks more current.
Straight hair starts to shine in textured 'dos. So, try not to overload it with styling products and choose comfortable but elegant options, inspired by the '60s to reveal the true beauty of your straight strands.
Stunning Braided Updos for Your Perfect Day
Now it's time to talk about a really remarkable element of current updos – braids. A braided updo is the best way to wear your long, short, or medium hair of any type just because it helps to create a special texture and make your hair more eye-catching. Besides, braided hairdos are appropriate for the office, parties, and even wedding ceremonies.
Whether you're enjoying a beachside walk or a meeting with friends, these styles won't let you down. The other side of the story is that you can create a braided look on your own – an excellent opportunity to save your cash. So, surf through our selection of beautifully braided hairdos that you may want to copy.
The twisted bun that accommodates loosely braided hair from the top of the head looks fabulous. You must try it if you have a round or diamond-shaped face – it will suit you perfectly.
And here is another version of incorporating French braids: couple a lacy loose braid with a tight thin plait and pack them both into a messy bun – an ideal variant of a braided 'do for thin hair.
Just look at this curly Mohawk with braided hair on the sides finished with Bantu knots – you won't be left without attention when wearing such a rocky hairdo.
Braids for thick black hair are very flattering, so you can opt for a tight inverted braid that feeds into a kind of a crown braid on the top.
It's about time to try extensions. This double braid updo is simple and basic but looks exquisite. It pairs well with any wardrobe.
Hairdos for Black Women You'll Never Get Tired to Wear
Tight springs, coarse coils or relaxed curls – it's not a piece of cake to find updo hairstyles for such a wide range of black hair types. However, braids and twists work great in every case – they help save fragile black hair from damage and allow for versatility and creativity. But protective styling is not the only option for afro hair, and we are going to prove this. Meanwhile, don't be carried away by styling while forgetting about hair nutrition, which is essential for black hair. In her comments to Refinery29, Vida Latimer, senior stylist at Devachan Salon, recommends using cream instead of gel when styling afro hair, since it offers both control and moisture. Keeping this advice in mind, let's look through our list of cool updos for black sisters.
Make your braided Mohawk more impressive with weave extensions. The curvy side rows are a cute solution providing neat braiding along the hairline.
The combination of micro braids and twist braids are a smart way to make a gorgeous updo for a special occasion or everyday wear.
Emphasize the natural beauty of your coily hair by sweeping it up and securing with stylish accessories.
We all love box braided updos, especially massive buns. However, if you want a sleeker, neater look, take this image for inspiration.
Diversify your crochet hairstyles and try this eye-catching half up featuring a stunning combination of textures and decorative beads.
Delightful Prom Updos
Certainly, your prom is an important occasion, and that's why finding the right hairstyle is crucial. Yet, this doesn't mean you need to spend a fortune in a salon. Opt for easy updos you can do at home with a bit of inspo and skill. "Braids! You can do braids half-up and half-down or small ones through your hair with waves. Or even a fishtail braid with texture can take any dress to the next level!", says Jen Atkin, who is known for styling Khloe Kardashian and Jessica Alba, to STYLECASTER. She also recommends classic clean buns and trendy messy updos – both are a safe choice. But if you want something more exquisite, our ideas are here to help.
The loose side braid with raised strands won't disappoint and show off long hair. Just make sure it holds well being spritzed with strong hair spray.
A messy low bun with braids on the sides can look even more astonishing when decorated with small golden accessories.
Sculptured half updos with floral accents will make you feel like a real princess attending her first ball.
Messy hairstyles work fine for curly hair of medium length. Just take it away from your face and wrap it into a textured bun.
If you lack length but want a voluminous updo, imitate a loose braid running down and blending with lovely flyaways.
Perfect Wedding Updo for Saying I Do
The wedding is the second most important day after your prom, we think. So, it's natural if you want to look your best because the whole attention will be focused on you. And all those countless photos you need to pose for! So, should you pull it up or keep it down?
"I always like an updo for a bride because you know what you're going to get, and it's going to last all night […]," says Jen Atkin to Harper's BAZAAR. She also favors volume for the occasion. "Hair always photographs smaller, so go big or go home," she says. We totally agree with the hair guru, and here are the proofs.
Even short hair can be wrapped into a delicate wedding updo if you choose a classy low chignon. Add a floral accessory as an eye-catching accent and some loose strands around the face for a romantic touch.
Who said that beauty should be symmetric? Side updos in a bit messy style can also be a perfect idea for your wedding.
To make thick black hair look just astonishing, choose a polished 'do with carefully placed pin curls. Give it a unique finishing touch without stealing the spotlight away from the rest of the hairstyle.
This tender hairdo has it all – dimension, texture, and color glimpses throughout the style as well as a messy touch to the whole look.
Sure, bridesmaids will be thrilled to wear something this gorgeous – those loops are quite out of the ordinary, yet sweet.
10 Best Updos Ideas for Any Occasion
So, what are those hot updo hairstyles we all should be craving for? "The early 2000s are back, and updated versions of the styles we grew up rocking are back," says Justine Marjan, celebrity hairstylist currently working with Camilla Luddington and Kristin Cavallari, to Refinery29.
"We see more stylized updos that feel sexier and more playful," she explains. Think of tousled buns, braids and knots, intentional flyaways, face-framing pieces, curtain bangs, and stylish hair accessories. Our top 10 has all this in abundance, with more fresh ideas added to fit every taste, hair length, and hair type.
The fuller your hair, the better your ponytail looks. Curl it and make it a bit messy, then finish it with hairspray.
A high dimensional bun paired with statement earrings is a simple, yet stylish choice for a romantic dinner or the prom night.
Steal this intricate braided updo for a gorgeous casual look – it's perfect for a medium haircut with bangs.
Partial dos' are new classics suitable for any party and casual wear. Add some texture with waves and tease the crown. Then criss-cross and pin pieces of the upper half of your hair hiding the ends with bobby pins.
Beauty has no age. If you are over 60, this pretty twisted bun will fit you perfectly and make you feel like an elegant lady.
A low updo works fabulously with any hair type and length. Besides, it is quick and easy to do yourself when following that modern tousled trend.
To make your blonde hair shine, take it back and gather into a low textured bun. If your hair is straight, pre-curl it.
Pieces of your layered cut may not hold in place when you try to force them into a polished 'do. Go intentionally messy and forget about the problem!
An updo with a loose crown braid is the most desirable variant for fine hair since the looseness makes it look more dimensional.
This half up half down faux mohawk feels perfect for a party, walk or whatever you like to do. It's so daring and romantic at the same time!
It was a great journey to the hair world, and we are so glad to see you here at the finish line. Hopefully, we were helpful, and now you know all the ins and outs of perfect updo hairstyles for any happenings, and you will always be ready to shine brilliantly no matter what.