With A-list celebrities ahead of the curve, perm hair made a remarkable comeback last year, and the trend is hot in 2022. However, nowadays perms are quite different from those super-curly backcombed looks we saw back in the 80s. They are natural-looking, customizable and gentler to hair, with a lot of treatment done to avoid hair damage. And if you want to keep up with the latest hair trends, it's time to learn about a fresh take on perm hair.
Bang-on Perms for Different Hair Lengths
Perm hairstyles look stunning on long locks, and they are fun when it comes to crops. Once your hair is long enough to be wrapped around rods, you can nail a perm. Yet, you need to understand that length stands for weight, and heavier hair is not so good at holding a curl. Nonetheless, a perm can last longer on fine or thin locks, even if they are quite lengthy, so it's better to discuss the procedure with your hairdresser beforehand.
Short Permed Hairstyles Radiating Happy Vibes
We'd say that girls with crops are less likely to be happy with the 80's poodle-like curls. But they can rest assured – though there are different types of perms available for short-haired ladies today, the approach they practice is more or less the same. "The process of wrapping is totally different than the traditional perm.
We wrap it so it's very relaxed and effortless — not springy or uniform. When I teach other stylists how to do it, I have them think about how they would do a curling iron set. I customize it to your head shape and the exact result you want," says Briana Dunning, Beverly Hills hairstylist who worked with Rosario Dawson and Bar Paly, to Refinery29. And you can check the results of this customization below.
These wild spiral locks incorporate frizz to create a charming halo around the head, totally in line with "I just woke up like this" trend.
When having a short cut with long top tresses, don't hesitate to boost their volume by getting loose curls with a lift at the roots.
Look how aptly this girl turned her regular bob into a crisp and trendy hairstyle just by adding an effortless and very soft wave.
Change the size and placement of rods, and you'll have quite another take on a chin-length bob – boasting loose curls and volume shifted to the bottom.
Tighter ringlets will bring in gorgeous texture and bounce, which is just the thing for saving your hair from looking flat.
Long Permed Locks Looking Natural
We know that long locks tend to look flat, especially when not layered and textured. But we also know that the flipside of perms is damage – your cherished hair may suffer from the use of chemicals. So, is it worth to take the plunge?
"The solutions used to activate the curl are less harsh, and stylists can modify the results to be more modern," Nunzio Saviano, celebrity stylist and owner of the namesake NY-based salon, tells Refinery29. "If you have straight, fine, or limp hair that doesn't hold a natural wave, you're the perfect candidate for a perm," he adds. With those picture-perfect long hairstyles in our gallery, we cannot but agree with the pro.
Doesn't it looks like Julia Roberts' 80s hair? And we are delighted with the lush volume of this curly look again.
This body wave hairstyle shows a beautiful mass of ringlets with zero frizz, promising low maintenance coupled with a vibrant appearance.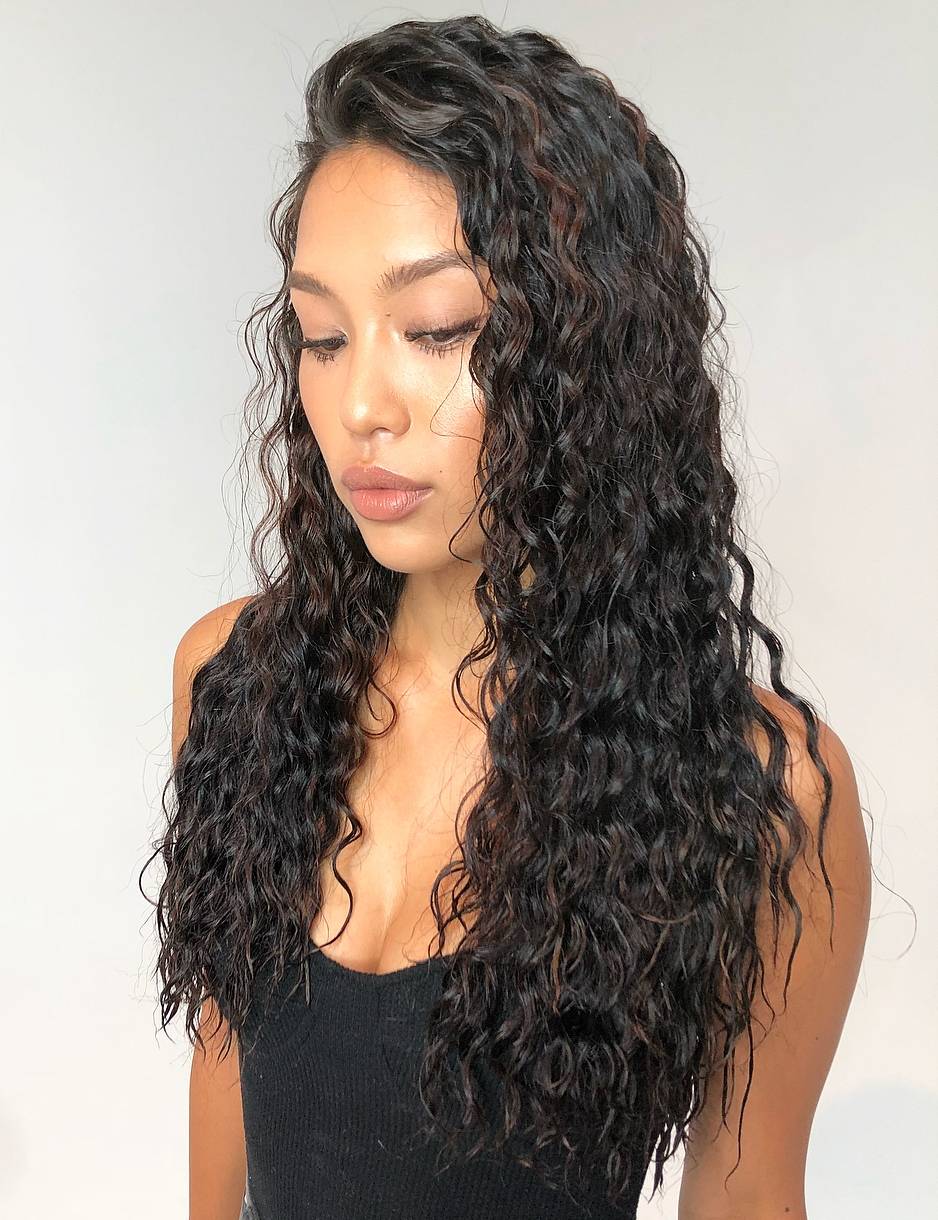 Looser S-shaped curls allow creating a hot and happening beach hairstyle no sweat – as this summery look illustrates.
Even having thin tresses, you can gain movement and dimension by switching your hair to a natural-looking wavy texture.
With the definition your hair gets when permed properly, you just need to air dry your locks and enjoy their bouncy feel.
Medium Length Cuts for Low Maintenance Girls
From the chin level to the collar bone length, medium perm hairstyles can make your hair routine much easier, since present-day perms do a nice job for wash and go girls. "It's a great look to get an air-dried finish and a great way to give straight hair a soft bend and movement without additional heat and styling time. There are also modern techniques where it can be straighter at the top half with the bend in the hair starting at the mid-length and ends.
The other big change is using a larger rod to create a loose, soft bend in the hair. We've also seen a big shift away from the overstyled curling iron waves to a more natural air-dry texture," George Papanikolas, celebrity stylist for Matrix with Hailey Baldwin and Jenna Dewan-Tatum among his clients, tells InStyle. This is how it works for mid-length cuts.
These loose waves feel really effortless and play great with the color transition featuring fun white-blonde tips.
Here, shoulder length hair is brightened up with tighter curls, which are still silky and natural-looking. Note these cool springy bangs and face framing ringlets.
When growing out your hair from a stacked bob or pixie, it's easy to mask the awkward stage with laid back waves and messy styling.
Would this one-length balayaged bob look so cute, if it is not for those soft spirals that add both dynamics and volume?
And this cutie rocks her mid length with tight large curls, handsomely highlighted and structurized to frame the face flatteringly.
Fancy Perms for Different Hair Types
It's quite clear that perm is most advantageous for fine and straight locks, giving them volume and texture they are short of. But what about other textures? "Perms work well on most hair types and textures.
If you have over processed hair, definitely consult with a hairstylist before," says co-owner of Mare Salon and celebrity hairstylist Mara Roszak, who is responsible for the last year's perm of Emma Stone and Jaime King, to Elle. "Colored hair can definitely get this process done now, thanks to the softer solution and rods we use on the hair. It can even de-frizz and redefine naturally wavy hair," she adds. So, it seems that whatever texture you have, you can find inspo among the pictures in our pick for different hair types.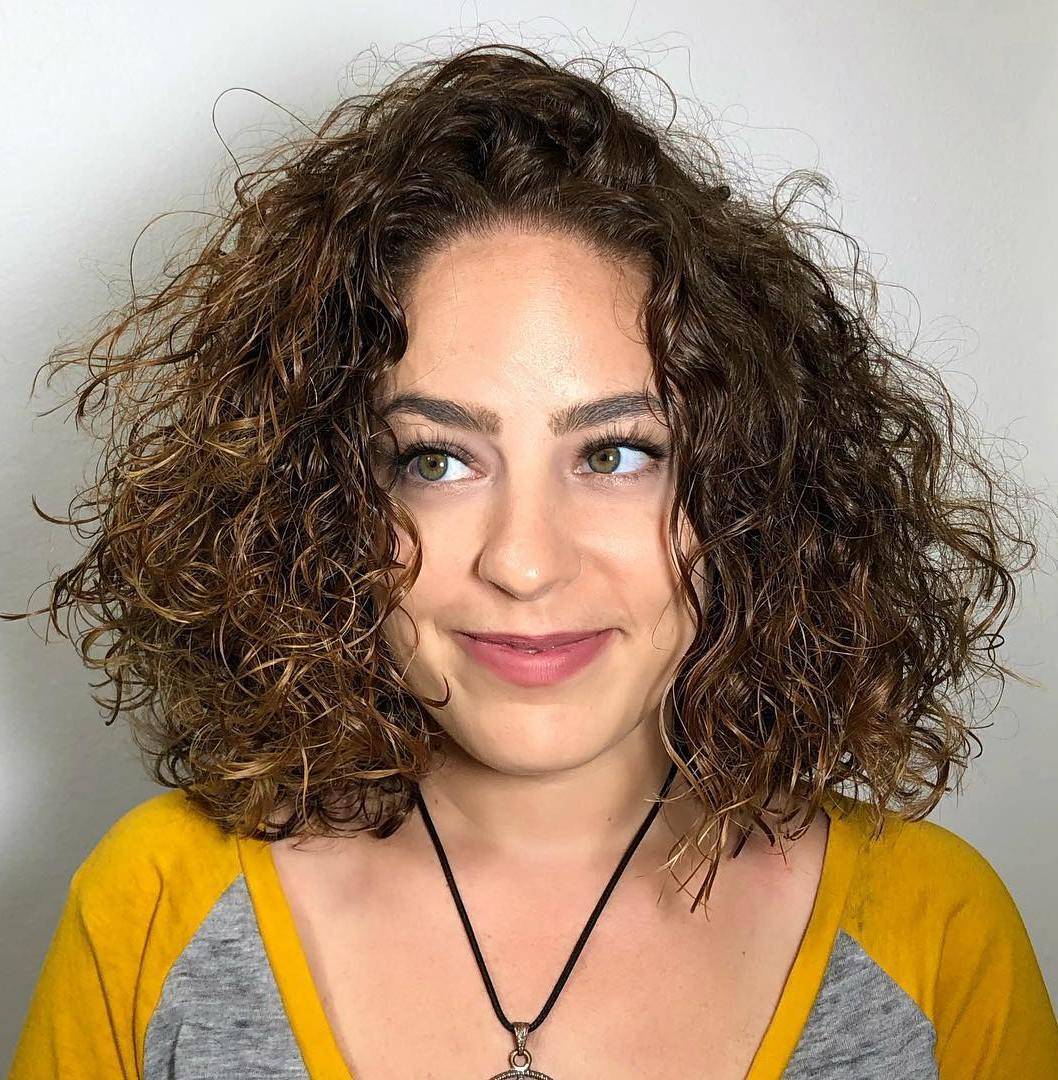 This dope curly bob is seriously voluminous thanks to ringlets galore coupled with layering and side-swept styling.
If your wavy locks lack definition and volume, body perm will deliver both, also adding a feel of greater density.
You don't need to transform your straight tresses into tight curls, but you can give a new twist to your bob haircut with subtle waves.
By getting a perm, you can introduce texture and dynamics into your fine locks, making even a simple bob cut vibrant and touchable.
It's amazing how much body thick manes showcase thanks to perm, still feeling airy and bouncy rather than bulky.
Stylish Perms for Black Hair
Actually, there are different types of perms for white and black girls. While the first ones use chemicals to have their tresses curled, the latter avail themselves of various solutions in order to get their curls straightened. Or at least, that's how it was until recently. "In the past three or four years, society has embraced curls. Now, all textures matter. Consequently, perms and relaxers are now viewed negatively in the natural hair community," Nai'vasha Johnson, Curl Queen and hair artist behind Yara Shahidi and Zendaya, tells Byrdie. Instead, the natural hair gang uses perm rods to set curls of every shape and tightness when they need to define or change their natural curl pattern. Scroll further to see fantastic looks they create.
This heart-shaped Afro looks amazing with a soft curl pattern that has plenty of volume teamed up with density and bounce.
Is it possible not to fall in love with perm hairstyles when looking at these wild corkscrew curls, artistically highlighted at the ends for extra gloss?
This modern crop embraces tight spirals easily, as the ringlets are perfectly defined, spiced up with random splashes of caramel and moisturized to radiate shine.
While natural perm enhances the pattern of your curls, don't forget to nicely shape your texture with a flattering cut like this sweet deeply-parted bob.
Tight curls and a cute tapered cut is a killer combo for an African American girl seeking for a neat, yet authentic look.
10 Best Perms Ideas to Steal for 2021
While perms give you the freedom to avoid that daily styling hassle, keep in mind that anyway you need to take a good care of your permed locks – for both a healthy look and longer life. "One of the best bits about perming hair is that you don't have to agonize about styling daily: the look is a major statement in itself," Sascha Breuer, founder of the charitable project The Kind Cut and hairstylist to celebrities like Anne Hathaway and Keira Knightley, says to InStyle.
He recommends avoiding heat styling and hair products containing alcohol and silicones, since they either make permed hair brittle and frizzy or lead to excess greasiness and heaviness. A smart hair care solution is to go for moisturizing, curl-enhancing, and protein-rich formulas with no weigh-down effect. Following these tips, you will enjoy your stunning look for a long while like girls from our collection do.
This blond spiral 'do boasts a plethora of depth and lift at the roots due to strategically placed rods and their smaller size.
For loose curls, larger rods are installed to get an awesome boho feel that comes with this mermaid long hair.
Because of tiny strands divided during the process, these permanent waves are so airy and voluminous, despite the length that would otherwise weigh them down.
On the contrary, this loose wave perm features wider strands to provide more density to thin tresses.
We are delighted with this bobbed curly perm that combines bold jet-black ringlets and even more daring violet highlights.
Here is a proof that mature ladies look younger with a springy hairstyle, especially when it is complimented with bangs.
Today's perms for medium length hair are anything but frizzy or bushy – a softer wave pattern makes them manageable and touchable.
Look how amazingly this thin hair is transformed into a head of delicate blonde curls without the slightest bit of scarcity visible.
This adorable haircut oozes a relaxed feel with its very soft and natural waves, skillfully incorporated to frame the face nicely.
If you want to bring a trendy bedhead touch into your bob, look no further than this slightly wavy texture gained with a perm.
We'd be happy to know that our tips and illustrations helped you get an idea of a modern take on perm hairstyles and maybe even inspired you to switch up your look. And while we are in search of the newest trends, give us a feedback by sharing your Instagram-perfect perm pictures.