Piercings in the ears will always be one of the fashion fads that will remain relevant no matter how many years will pass by. Whatever outfit you may be wearing, you can always complete your look with flashy or dainty earrings. You know what they say—a little ear jewelry never hurts.
Nowadays, you can never have too many piercings because many people would have multiple piercings on their ears. If it's your first time getting an ear piercing, or you're about to get a second one, you might be faced with the many options at your disposal.
Worry not, as we've created this ultimate guide of 34 types of ear piercings to help you figure out what your next piercing might be.
Ear Piercing Chart
Getting an ear piercing soon? Consider doing your research first before piercing through your ear and know how your ear's final style will look. There are at least 14 ear piercings you can get: standard lobe, upper lobe, transverse lobe, anti-tragus, tragus, inner conch, outer conch, snug, orbital, industrial, daith, rook, helix, and forward helix. Learn more about these types of ear piercings below.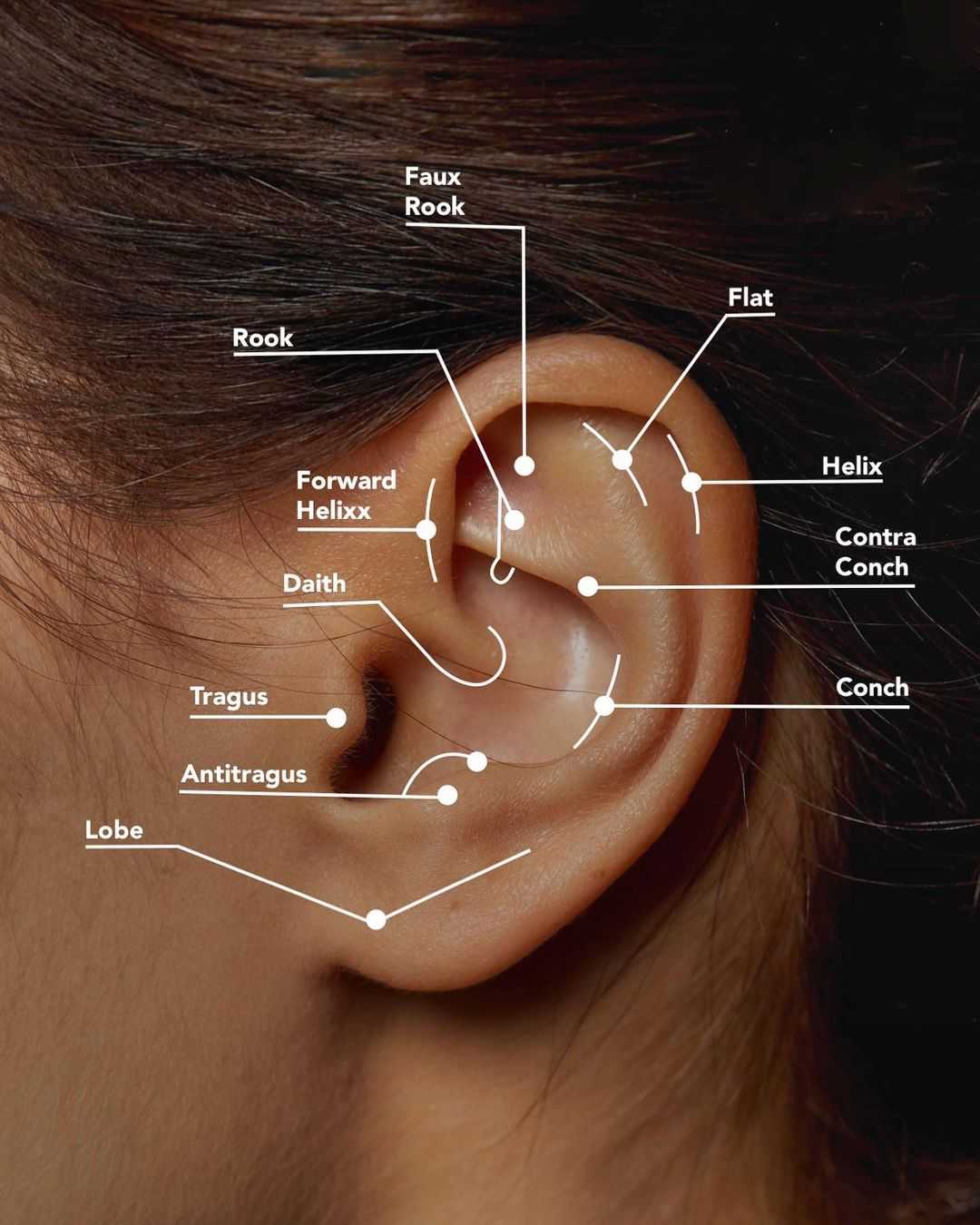 1. Helix Piercing
If you want to go for an edgy yet fashionable look, you can never go wrong with getting a helix piercing. This type of piercing is located on the upper section of your ear. The pain for helix piercing can be pretty low as it mainly uses a small needle. One of the common earring used for this piercing are barbells, but you can actually use whatever piercing you prefer.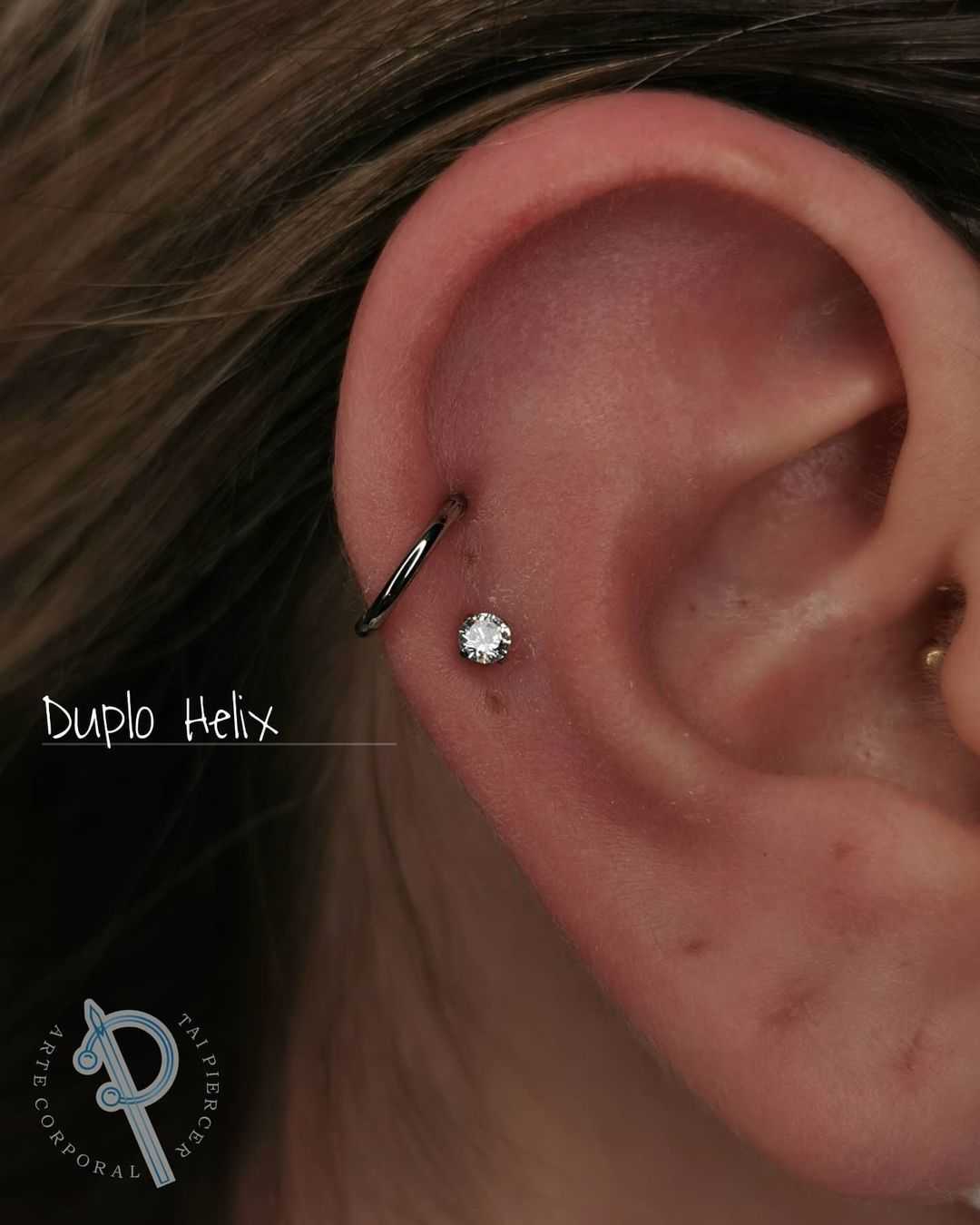 2. Industrial Piercing
Ever seen a piercing that's so eye-catching that you just can't help but be in awe? What you probably saw was an industrial piercing. Also considered as a bar, construction, or scaffold piercing, this type of piercing involves double punctures on your upper ear cartilage. Sure, accidentally touching this during its healing process may sound and feel painful. But once it heals, you can certainly say it's all worth it.
3. Snug Piercing
Do you want to keep your ear piercings literally snug? Then get a snug piercing. This type of piercing goes straight through the cartilage on the outer ridge of the ear and takes about 8-12 months to heal. It takes pretty longer than other ear piercings as it involves cartilage. Getting a snug piercing is just right, especially if you're looking for a unique and distinct piercing to pull off.
4. Orbital Piercing
Have you seen someone sporting earrings that go through two piercings at the same time? What you may have seen is an orbital piercing. This type of piercing is joined with just a single earring and done right on your ear's lobe area. And if you think two is too much, the orbital piercing can be done through more piercings and not just on your lobe.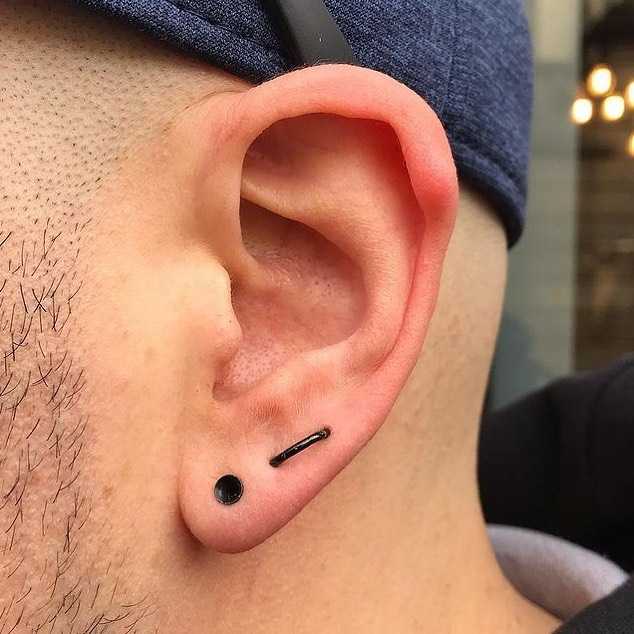 5. Outer Conch Piercing
To look for your outer conch on the mirror, look for the area closer to the first of the two ridges that make up the outside counters of your ear. If you see it, that's where the outer conch piercing will be located. This area can be thick, and piercing this part of your ear can be extra challenging. Just expect that this indicates that the piercing will be more painful than the majority of other regions.
6. Upper Lobe Piercing
Want to try something new but don't want to stray too far from the norm? Maybe an upper lobe piercing will satisfy that thirst. This type of piercing is similar to the standard lobe style, only that its location is right above your upper lobe. Getting this piercing is considered the second step of your multiple piercings journey, especially since it can complement the standard lobe ear piercing you may already have.
7. Standard Lobe Piercing
A standard lobe piercing is a type of piercing in the earlobe, as the name implies. It's one of the least painful and basic piercings to get since it's in the fleshy, bottom region of your ear. The recuperation period is also one of the fastest—lasting around 6 weeks. Once healed, the standard lobe piercing is pretty adaptable because it can be combined with other piercing types.
8. Transverse Lobe Piercing
Add a twist to the classic piercing style by getting a transverse lobe piercing. This type of piercing involves a barbell pierced horizontally through the earlobe instead of going from inside to the outside. It's important to note that the angle of this piercing is highly reliant on your earlobe's shape and size. Unfortunately for those with low pain tolerance, the transverse lobe piercing may take time to heal, and this only means that it's more susceptible to infection.
9. Anti-Tragus Piercing
Do you want to begin your cartilage piercing journey? You can start with an anti-tragus piercing, which is a form of cartilage piercing that takes place right above the lobe. This piercing has a lot in common with the tragus piercing in terms of qualities, but this earring is actually placed opposite the tragus by going through the daith or fold of your ear cartilage at the top of the lobe.
10. Inner Conch Piercing
If you get an inner conch piercing, expect that it would be impossible for you to wear earbuds while you have it unless it has completely healed. This is because the inner conch piercing is located parallel to the fold of your cartilage or daith and is found higher up. This is another type of ear piercing where you can expect more pain than the other areas.
11. Tragus Piercing
Planning on possibly wearing many earring styles? The versatile tragus piercing might be the best one for you yet. This piercing type penetrates through the thick cartilage located in front of the ear canal. The pain level for tragus piercing is dependent on the size of your tragus. And if you're a music lover who can't live without music wherever you go, you may want to think twice before getting this piercing as it can be painful if you have earbuds on.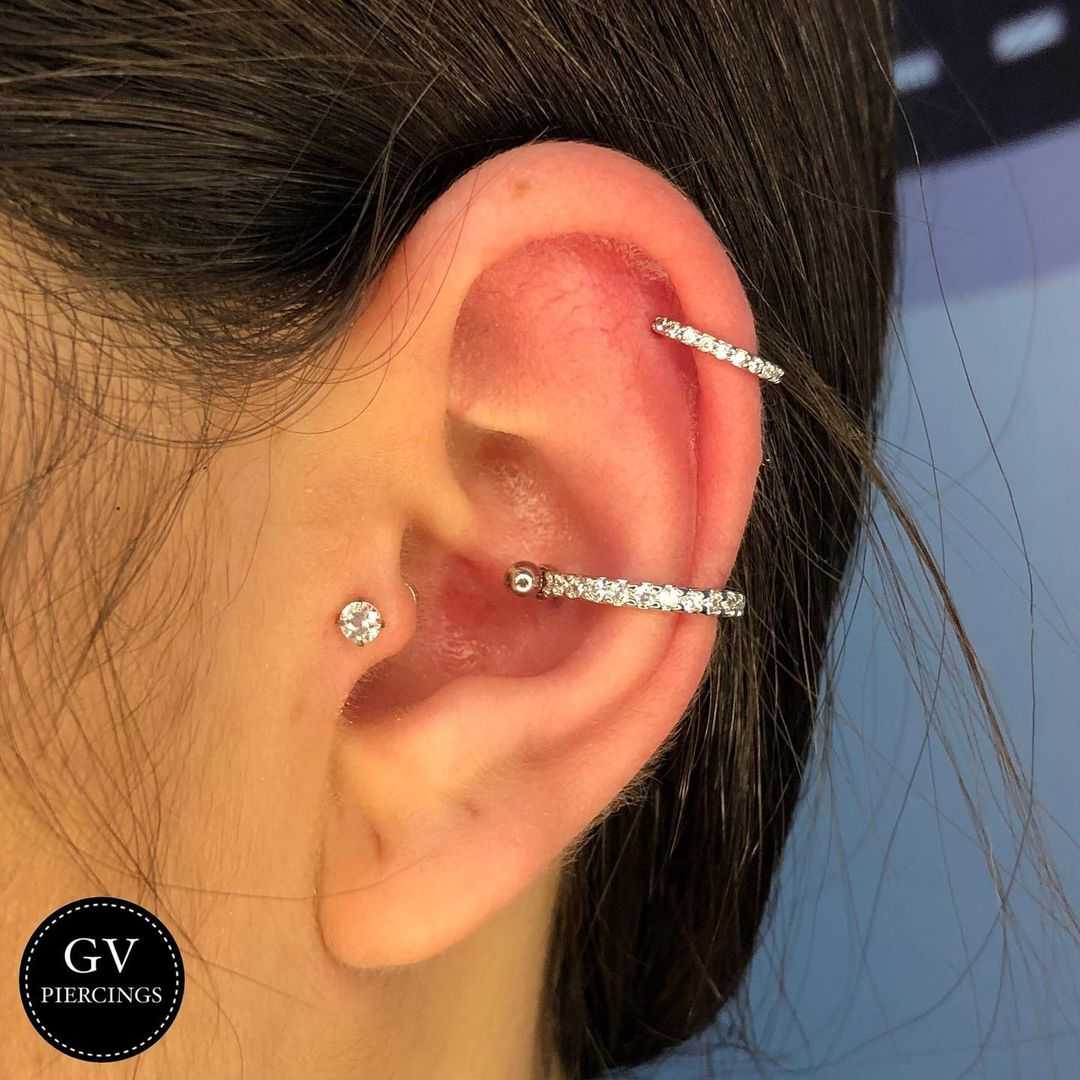 12. Daith Piercing
A daith is a hoop that wraps around your ear's cartilage. One of the best things about this type of piercing is that it's remarkably adaptable and can be worn by almost anyone who wants to sport this look. Some people also believe and feel that piercing the daith might aid with migraines induced by anxiety. It takes at least 6-10 months before daith piercing heals.
13. Forward Helix Piercing
If the cartilage at the front of your ear is pierced, what you have is a forward helix piercing. The position of a forward helix piercing differs from a typical helix piercing as it is located at the root of the helix or the bottom of the ear. The common jewelry used for this piercing are studs, but of course, you can use other than that. This piercing type may take from 6-10 months before it heals up completely.
14. Rook Piercing
Do you want to get cool piercings right away? Getting a rook piercing might be the right way! The location of this piercing highlights one of the areas of your ear that people wouldn't notice right away. Rook piercing is done parallel to the outer area of your ear and at the inner ridge of your cartilage. This piercing type might take anywhere from 6-10 months to heal entirely.
15. Double Ear Piercing
The earlobe is the most popular location for double ear piercings, but they can be inserted elsewhere on the ear. Double ear piercings are frequently done one at a time, with the first piercing completed first and the second piercing completed sometime later. But of course, you can get them all at once, especially if it's just located in your lobe area. You may combine several styles, such as a stud and a hoop, to create a dynamic look.
16. Сute Ear Piercing
Getting a cute ear piercing is all about curating the cutest pieces of earrings you can find to create an adorable look. In fact, you can just have a single piece of cute earrings and put it right on a very conspicuous area of your ear so that other people can easily notice and admire it. Who knows? You might just inspire them to get multiple ear piercings.
17. Bar Ear Piercing
Perfect for industrial ear piercing, a bar ear piercing involves, as the term suggests, a bar. This bar connects one area of your ear across the other part, which means it involves double perforation. This type of ear piercing may be scary to look at, but if you live off of attention and want to catch every passerby's eye, do it right with a bar ear piercing.
18. 3 Ear Piercings
Do you fancy two ear piercings on one or both of your ears? Maybe you want to put one more piercing to add more style and bling to your ear. Get yourself 3 ear piercings on your lobe area. You can have studs in all these three piercings, or you can mix and match them with hoops and chains to make it even more attractive to look at.
19. All Ear Piercing
This type of piercing is the epitome of "go big or go home" when it comes to ear piercings. It involves having all types of ear piercing possible in one ear. You can either have a cohesive theme for the earring design and styles here, or you can just add whatever earrings your heart desires. Additional tip: for a more dramatic look, you can never go wrong with adding chains.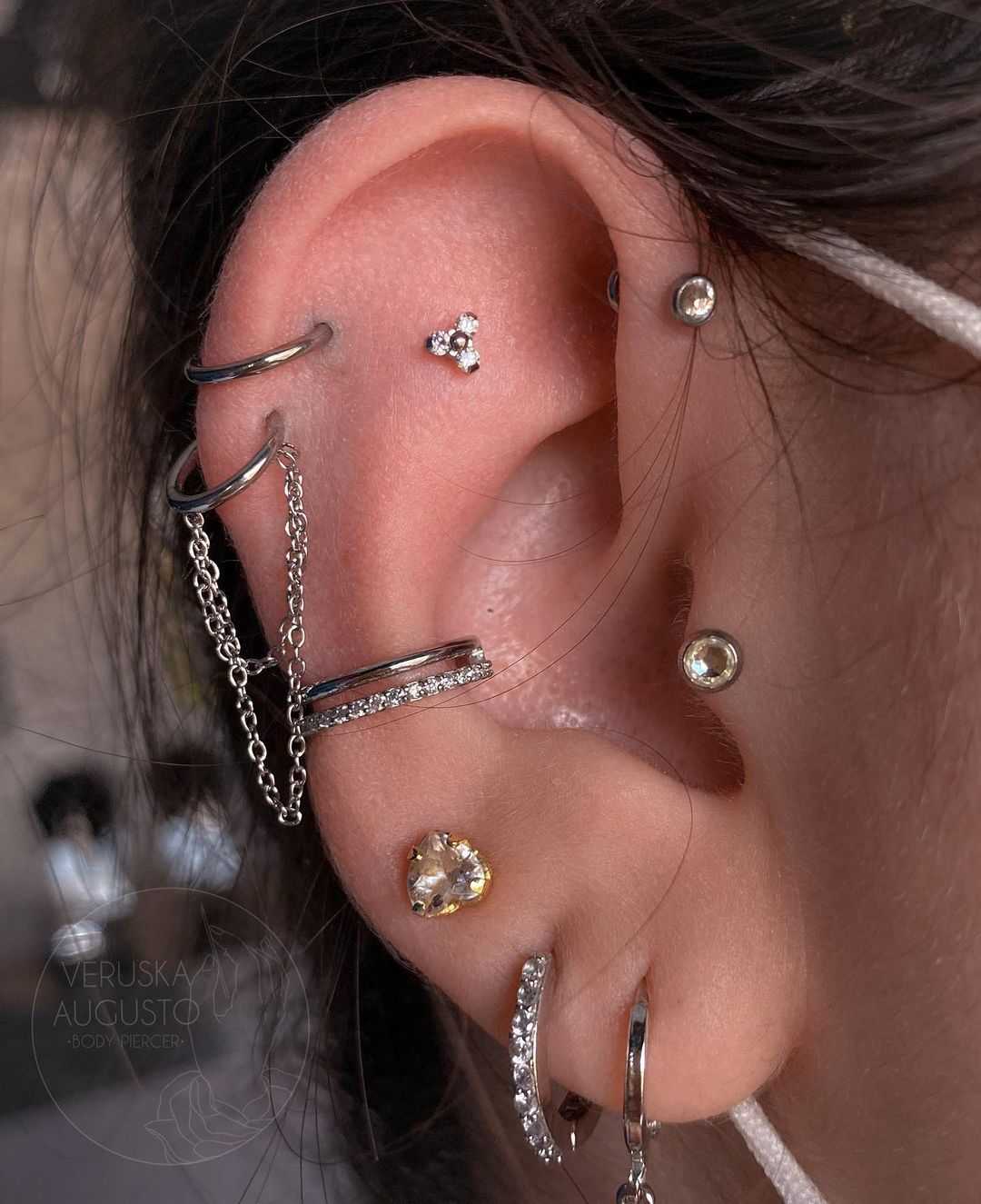 20. Constellation Ear Piercing
Do you want to have the stars literally align on your ear? You can get a constellation ear piercing that will be done on your upper and lower ear lobes. This ear piercing is intricately arranged across your ear to ensure that it will look like constellations and not just randomly scattered earrings. Once you get past the tricky placement, the stars on your ear can shine like so.
21. Ear Cuff Piercing
If you're planning to get a piercing on your cartilage, but are still hesitant because it can be painful with a time-consuming healing process, you may fancy getting an ear cuff first. What you can do with an ear cuff is simply place it on the ear cartilage area where it clings right away, and you can already wear this as if you have cartilage piercing without the pain and commitment.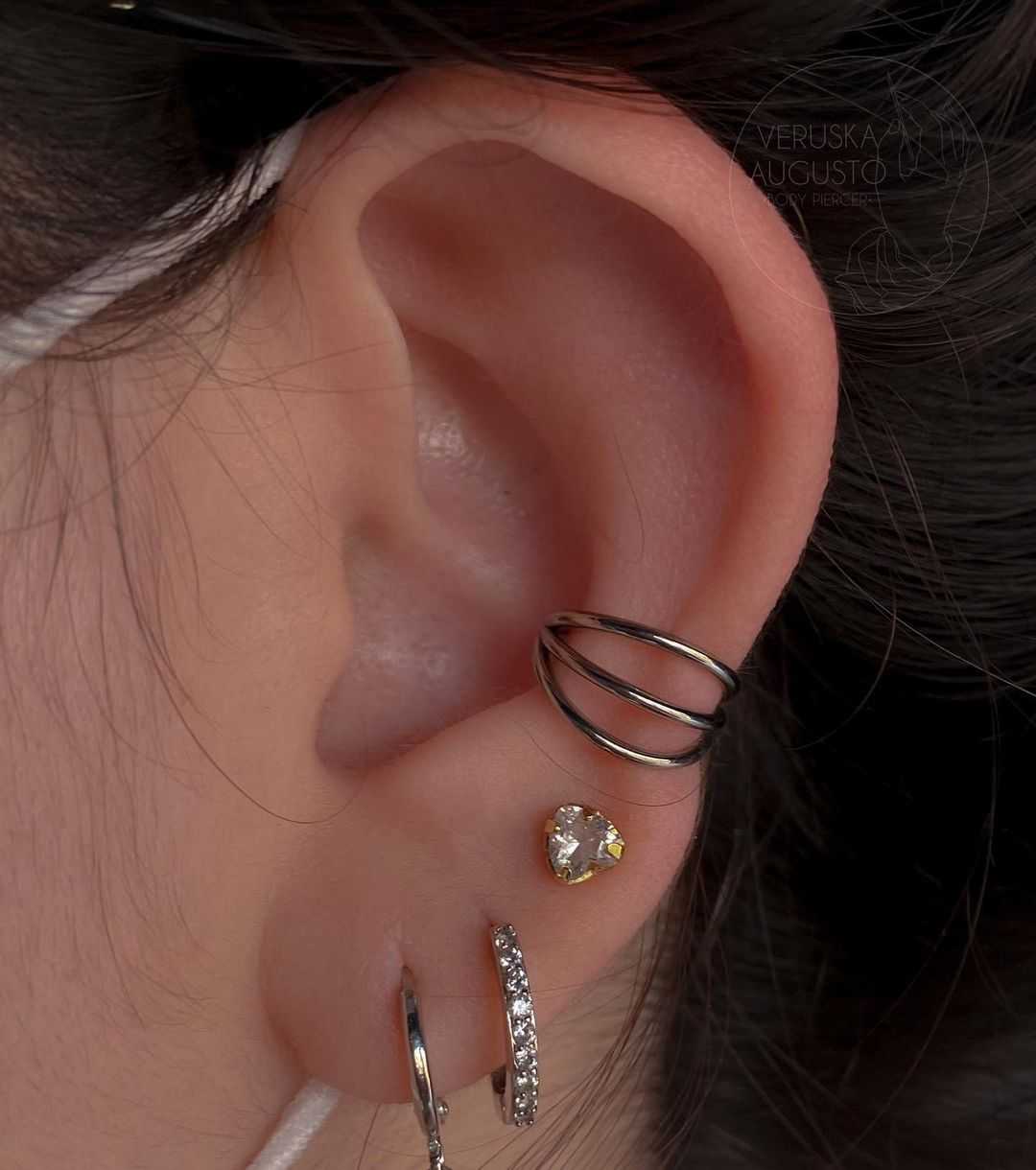 22. Unique Ear Piercing
DMultiple ear piercings will look even better if you play with unique ear piercing locations, including tragus piercing, industrial piercing, forward helix, conch piercing, and rook piercing. You can either combine this with the usual ear piercings, such as the ones located on the lobe or use unique earrings for a fabulous and stunning vibe.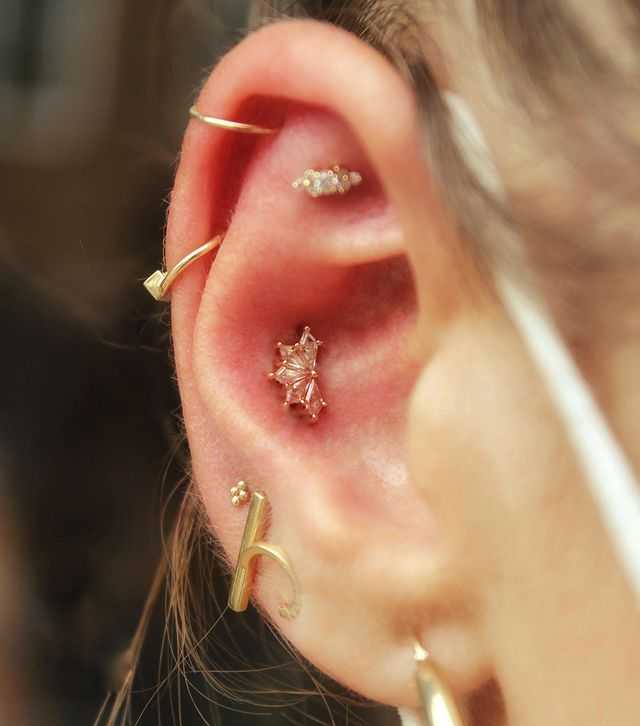 23. Triple Ear Piercing
Go to the daring and unusual piercing path by getting a triple ear piercing right. Use studs, hoops, cuffs, or a combination of the three and create an attractive row of bling on your ear. Nowadays, you need not worry about having triple ear piercing as it's no longer seen as rebellious and the like. In fact, it's seen as a form of art and expression that many people have adapted.
24. Ear Hole Piercing
Do you want to go bold with your ear hole piercing? There are small ear holes, and there are also large ear piercings you'll hardly ever miss and might want to try out for yourself. This ear piercing can also be called a plug, earplug, or earspool. It looks intimidating at a glance but once you already know how to style it, having one will no longer be a challenge for you.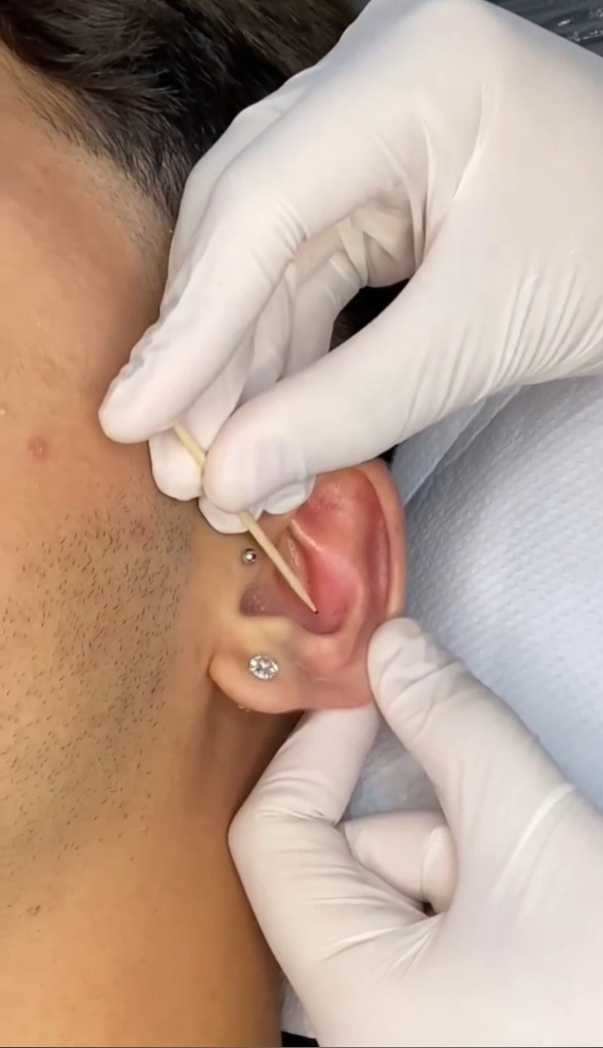 25. Pretty Ear Piercing
To get a pretty ear piercing, all you need is to have an equally pretty ear piercing combination. You can also use various pretty ear piercing combinations. These include single lobe + industrial, double lobe + double forward, and tragus + daith + triple lobe. There is a vast pretty combination of ear piercings and it takes a creative mind to achieve one.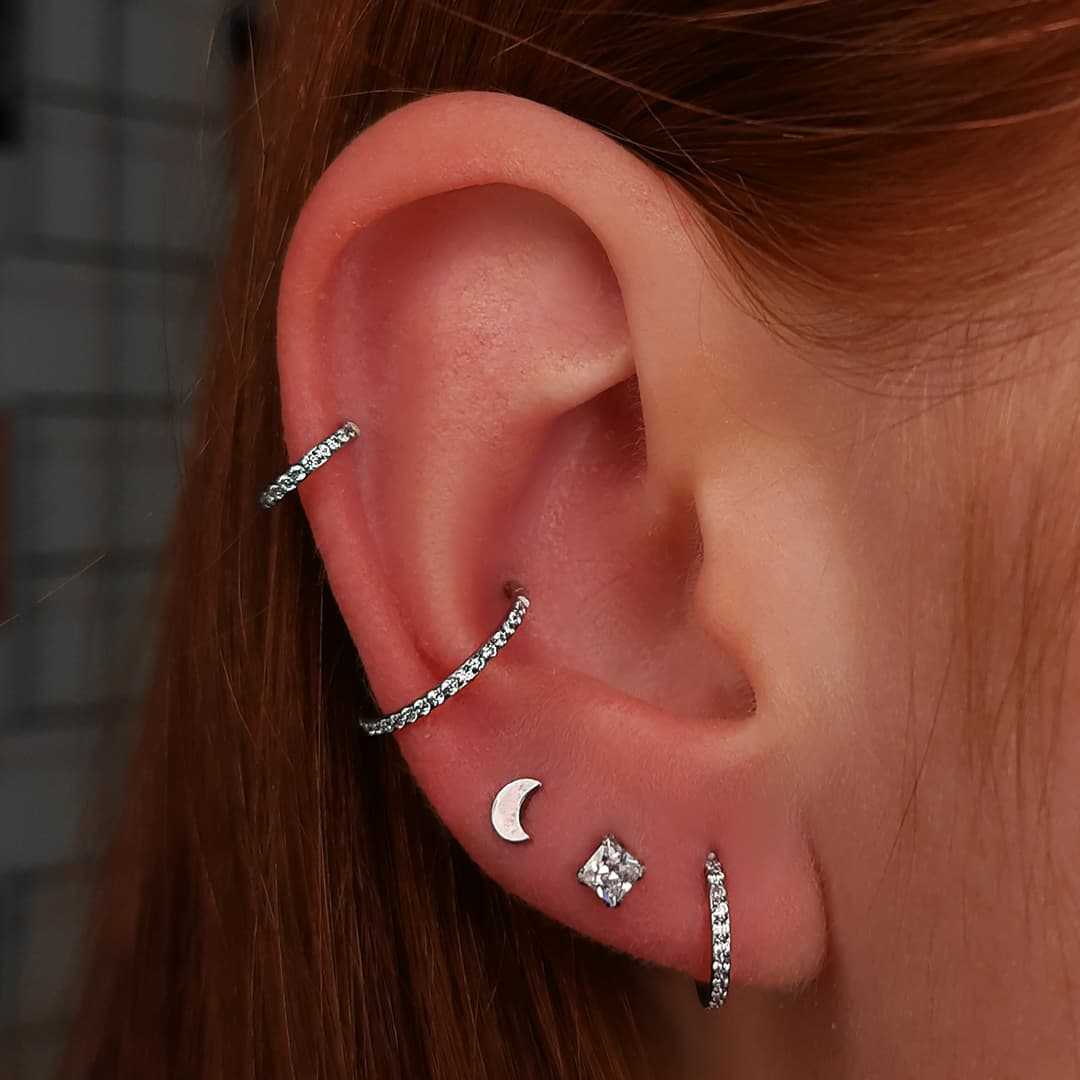 26. Stacked Ear Piercing
Stacked ear piercing involves stacking or wearing many earrings together along the lobe. There are no specific rules on how this ear piercing should look like. However, it's highly advised to wear one earring that will serve as the highlight of the stack and this should be dubbed as the "star of the show" while the rest of the earring pieces are built around it.
27. Piercings For Small Ears
For people with small ears, having an upper lobe piercing is ideal to achieve detailed piercings. Some individuals have ears that can accommodate up to three piercings between this location and the lower lobe, depending on their ear size. Additionally, the tragus and anti-tragus ear piercing is attractive because of its location. It would also look best with dainty ear piercings.
28. Aesthetic Ear Piercing
Ear piercings are already aesthetic in itself. But if you want to take it to the next level, you must use equally aesthetic ear piercing combinations to make it more creative. However, having multiple earrings can get tricky, especially if you choose pieces that don't complement each other. So, choose the best combinations and get that aesthetic look.
29. Barbell Ear Piercing
Barbell piercings are perhaps one of the most versatile ear piercings as they can be used on many parts of your body, including your tongue and ears. This type of piercings are undeniably attractive as they're bigger than other ear piercings. Hence, choose a design wisely to make the most of the experience of wearing a single or multiple barbell ear piercing.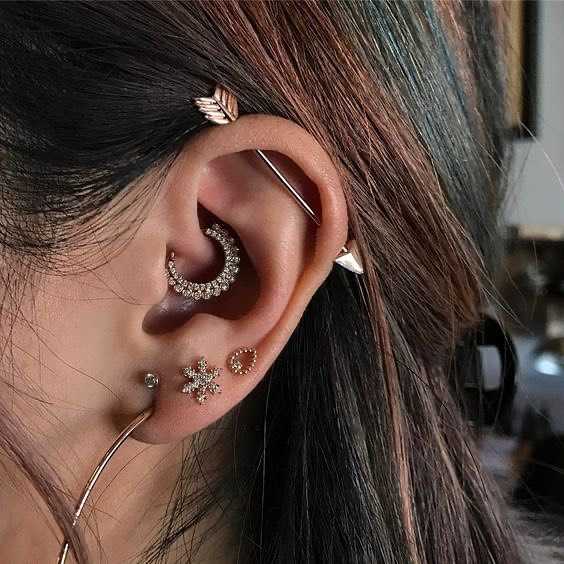 30. Cat Ear Piercing
For cat lovers out there, here's a type of ear piercing that will suit your liking—cat ear piercing! If you want to achieve a cute design, you can go ahead and wear earrings that feature a cat's face. But if you want to keep it minimal, there are ear piercings that simply have the silhouette of a cat's face or a cat's paw.
31. Hoop Ear Piercing
One can never have too many hoop earrings in one's ears. So, if you already have tons of earrings across your ear and want to take the bold step of adorning it, go ahead and try out hoop ear piercing. You can get creative and vary the sizes of your hoops for a more dynamic look and feel. Additionally, you can experiment with the color of earrings you use by mixing golds and silvers.
32. Zodiac Ear Piercings
Wear your zodiac sign with a zodiac ear piercing. You can form your zodiac symbol on your ear using the many piercings you have. But if you want to keep things simple, you can just use an earring that mainly features your zodiac symbol and use dainty pieces across your ear, so it wouldn't overshadow your zodiac symbol.
33. Dainty Ear Piercings
Simplicity is beauty, and this is true even for your ear's adornment. If you normally wear simple and dainty clothes, you can always complete your look with dainty ear piercings that aren't that distracting and annoying. No matter what you wear, or even if you're simply at home, these dainty ear piercings won't steal the show (but will surely make you look charming).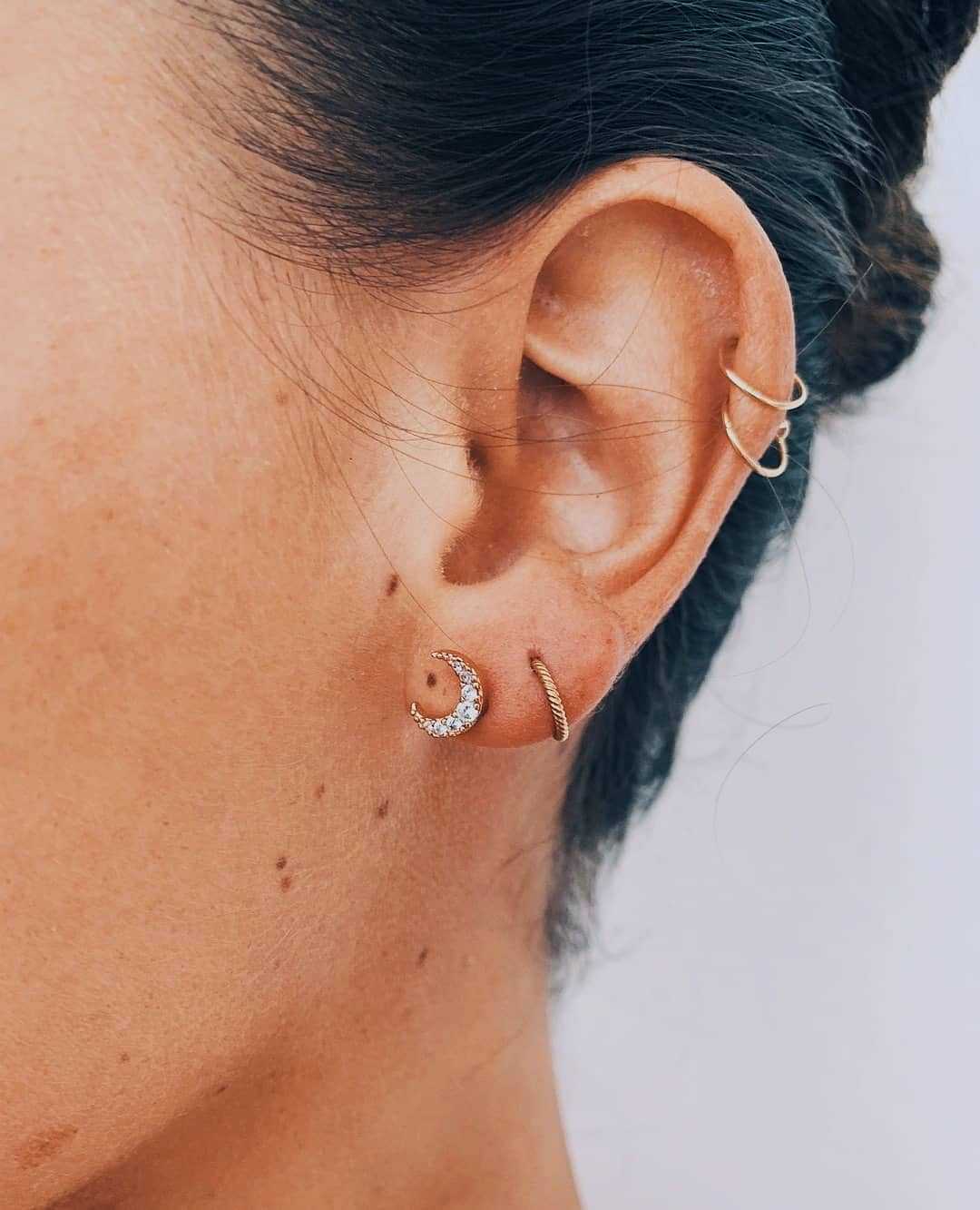 34. Ear Piercing Combinations
After reading through all the ear piercing ideas above, you are now more knowledgeable on the many ear piercing styles you can possibly combine. You can go for a flat and triple lobe look if you don't really want to fill your ear with too much bling. If you want to space things out, you can go for a single lobe, daith, and helix piercing. And if you want your piercings to look symmetrical, get a double lobe and a double forward helix.
When it comes to ear piercing combinations, the possibilities are endless. Guess you can now say goodbye to a single ear piercing and be all about quantity.
Ear Piercing FAQs
What is the most painful ear piercing?
Worried about getting a piercing? You shouldn't be. Because when the needle penetrates through your ear with lobe piercings, you should at least just feel a pinch. However, it can't be denied that getting cartilage piercings can be painful, especially if you have low pain tolerance. You might experience a quick and sharp feeling followed by a throbbing and dull pain.
What piercing helps with anxiety?
Many people believed and claimed that daith piercings can potentially aid with migraines and other anxiety-related issues. Daith piercing is a type of piercing done in the innermost fold of an ear.
How long do ear piercings take to heal?
The healing time varies depending on the location of the ear piercing. However, the average healing usually takes about 6-8 months for earlobes, while your cartilage piercings might take from 4 months to a whole year before it finally heals. You can always ask a professional to give you an estimate.
How to clean new ear piercing?
To keep bacteria at bay and avoid scabs, use a cotton ball dipped in salt solution and gently dab it on the pierced area at least twice a day. The use of rubbing alcohol is discouraged as it could slow down the healing process and kill the healthy cells. And of course, don't forget to wash your hands before doing your piercing cleaning routine.