Though a rule of thumb is keeping frizzy curly locks on their longer side for better manageability, this doesn't mean that getting a chop is a big no-no for black girls. In fact, many short hairstyles for black women offer low maintenance coupled with chic looks, so the key is to find out what crops are trending now and which ones work best for you. Well, let's explore our compilation of short hairstyles for black women.
Edgy Cuts for Different Hair Types
Since short black hairstyles are not one-size-fits-all, you need to understand whether your hair will hold the style you like and whether the style will show your hair texture to the advantage. For example, a trendy voluminous Afro works fine for coarse and tight curls, but not for loose and fine ringlets. "This is a modern, precision Afro.
It's a teardrop shape: round at the top and tapered at the ears to hug the jawline and give it more shape," Morgan Willhite, salon owner who worked as a creative director for Ouidad and celebrity stylist for premiers and awards shows, explains to Allure. For looser textures, she recommends a curly razor-cut shag, which is fuller towards the roots and wispier at the ends. Now, let's take a closer look at this and other hairstyle ideas for various hair types
This curly mane is tapered on the sides to gain more volume on the top for the spirals to pop, while keeping them nicely shaped.
Effortless styling is the hottest trend for wavy hair, and this jet-black angled short bob hits the mark with randomly bended locks.
Girls with straight tresses might be inspired by this roundish chin-length bob, boasting cascading face-framing strands and flipped out styling.
Curls are great for boosting dimension in thin hair, but actually this fancy pixie arrests the eye with its pastel blue color and elegant pin curls.
A big layered Afro is a go-to option for a naturally curly gal with thick hair. It gives the hair shape and structure, embracing the inborn frizz and texture.
Winning Crops for Your Face Type
If you are lucky to have an oval face, framing it with short natural hair is a piece of cake. "With an oval-shaped face, you have more versatility, just make sure to keep an overall balance. Opt for a cut that will play up the volume in your curls to fill out where your face may be most narrow. With this shape, you can even pull off shorter cuts," César DeLeon Ramirez, who styles Yara Shahidi among many other A-listers, says to Allure.
Chuck Amos, curly hair guru behind Solange and Vanessa Williams, suggests a diamond Afro, as "the diamond shape cuts in at the temples and at the jawline, while stopping at the neck, making an oval face look less oval and more round." While oval faces are the least demanding, there are flattering crops for other face types, too. Here are some good examples of how short hairstyles can flatter different face types.
Looking for short haircuts for black women with round faces? This poppy red bob cut frames the round face with glam curls galore, while building height on top for elongation.
It's an easy task for oval faces to pull off a demanding bobbed hairstyle like this one – blunt, short, polished and center-parted. One of the best black hairstyles for oval faces, definitely.
Don't shy away from crops if you have a long face shape! Be inspired by this slashing combo of line up, designer undercut and TWA curls.
This closely cut wavy pixie is all about a clean shape and tons of texture. And it gives a beautiful frame to the heart shape face, emphasizing the eyes and cheek-bones.
Create a diversion from the strong jaw-line of your square face by a tapered cut with a high top and dense spiral bangs. And if you are bold enough, rock it combined with a unique side undercut.
Hot Short Pixie for Black Girls
When searching for African American short hairstyles to fit your wash and go hair routine, pixie cuts with shorter locks on the sides and in the back are your sure-fire options. Think a tapered Afro, especially if you are after an edgy look like those badass cuts with fades and designs. "The tapered cut is a staple look that happens to be one of my most popular requests," says Daryce Brown-Willis, salon owner, texture expert and Mizani ambassador, to Refinery29.
"It doesn't necessarily mean that your sides are completely shaved with clippers. Shorter sides allow your hair on top to appear bigger and higher," she explains. And here are some short hairstyles for black women, both tapered and not, to get inspired for your next trip to the hairdresser.
This Teeny Weeny Afro looks stunning in the auburn shade of red, and we like the contrasting textures of short curls and a graphic undercut.
A tapered cut is one of the most popular hairstyles for African American girls with natural curls. This one is pretty neat and simple, featuring a slight and smooth length variation on the sides and top.
This striking blonde pixie is much longer and shaggier, boasting messy styling to enhance the texture of straightened tresses.
However, a longer pixie version is available for natural ringlets too, for example styled asymmetrically with a deep side parting.
This dusty red curly hair is both tapered and undercut, showing volume and long spirals on top and a creative fade design across the nape.
Great Bob Haircuts for Black Women
Modern bobs can be blunt, layered, sleek, messy, straight, curly, and whatever – anyone can find their option, which is flattering and easy to style, among such an array of chic bobbed hairstyles. Particularly, if you have fine to medium curly, wavy or straightened hair, opt for a cute one-length above-the-shoulder bob that is hot now. "My most current requested cut is a blunt bob above the shoulders.
I really think this haircut will continue trending well into spring. If you want the bob as full as possible, ask for a one length blunt bob above the shoulders, and just below the chin," says Buddy Porter, Beverly Hills-based stylist who does Halle Berry's locks, in his comments for OUAI. However, if your hair is very dense, kinky or frizzy, it's better to choose a more low-maintenance alternative from our pick. Let's have a look at diverse bob hairstyles for black women.
This black girl rocks a classic rounded bob with a stacked back and heavy side-swept bangs – simple, neat and dense.
What about a cute soft bob for natural defined curls? The key to the style is smart layering that builds its roundish shape and a nice curl definition.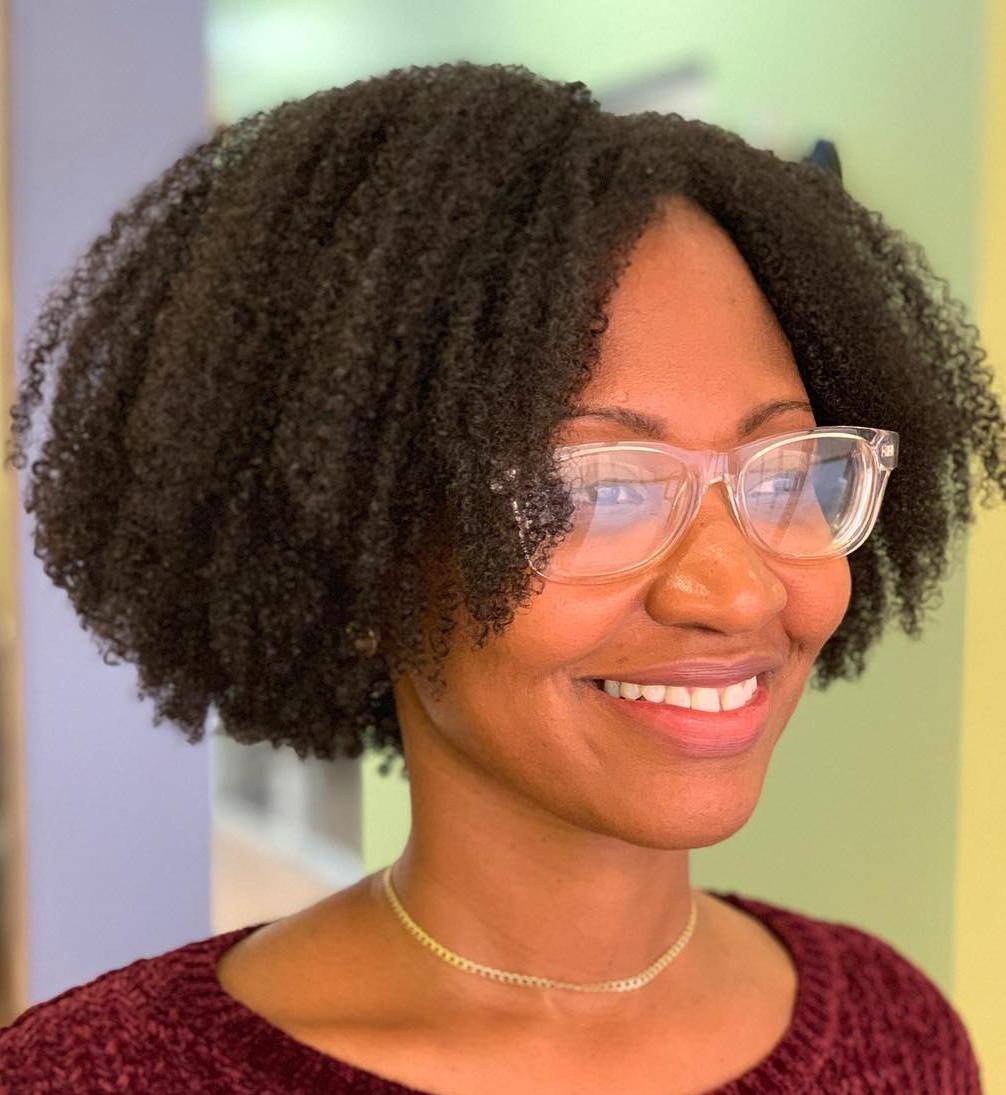 Definitely, this African American cutie with natural hair prefers doing things in a big way. That's why she pulls off a voluminous center-parted cut with a blunt finish.
From coils to large ringlets, bobbed hairstyles can incorporate any curly textures, including tight haphazard curls all around the perimeter.
And this A-line bob is straight and dense, yet not bulky thanks to its razor cut layers, cascading down from the front to the very back.
10 Best Short Black Hairstyle Ideas to Be in Focus in 2021
"Each day your curls will speak to you in a different way, and it's important to recognize that and engage with them. […] Curly hair is not designed to look finished, whatever that finish may be. It's designed to enhance its true beauty and be glorious within that," Vernon François, who is responsible for many Lupita Nyong'o and Serena Williams's looks, tells Cosmopolitan.
Truer words have never been spoken, so embrace your texture and don't over-style your cut or force a look that is inapplicable to your curls. Only then will you find this simple and quick to style crop you'll be happy with. Keep scrolling to stumble across the one.
This is one of the most daring short hairstyles, isn't it? Really eye-popping, combining a shaved bottom with a bright curly top.
Though monochromatic and simple-shaped, this raven-black weave hairstyle doesn't look dull with its feathered finish on top.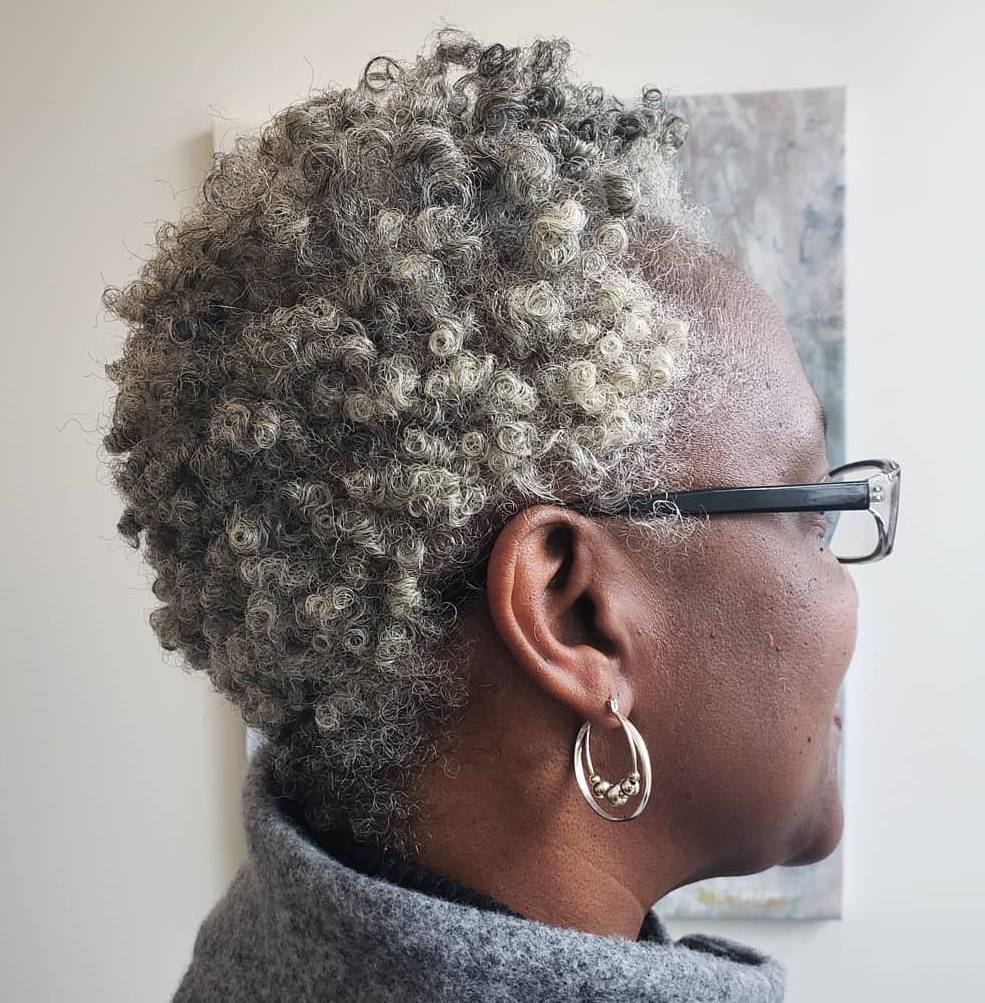 Short black hairstyles can look really elegant. Though monochromatic and simple-shaped, this raven-black weave hairstyle doesn't look dull with its feathered finish on top.
This very short crop is adorable for its touchable texture and perfectly selected hue to chime with the skin tone.
This permed cut turned frizzy shapeless coils into a cute textured hairstyle with invisible layers, serving to give structure to the bushy hair.
Yes, short hairstyles can be styled into cool updos, like this fun hairstyle with rows of flat twists in the back and bouncy spirals on the top.
Short textured hairstyles for black hair are simply adorable! Layered and heavily textured, this gamine crop shines with strategically placed highlights to accentuate the sliced tips and add glow, while side swept bangs make this cut modern and fresh.
We love Afro braids, and we have a passion for clean bobs, so it's no wonder we couldn't walk by this charming braided look.
Oozing a creamy shade of gold, this cropped hairstyle arrests the eye with its rich texture and body, while baby bangs and side pieces work to spotlight the face.
BTW, what about complimenting your pixie with long and airy bangs? It looks cool, especially in this sandy red version.
Our collection of short black hairstyles covers every hair texture and the newest hair trends for you to easily find an Instagram-worthy look. And if you happened to spot one, don't hesitate to take it to your salon for your hairdresser to get the best idea of your hair goal.